15 Spectacular Golf Course Photos to Help You Forget About the Cold
I don't care where you are, it's probably freezing right now.
Ok, maybe not those of you in Florida. You guys suck.
But there's a good chance that you're currently somewhere that makes golf either impossible, or about as unappealing as sticking a toothpick in your toenail and kicking a soccer ball.
Sorry for that, you visualized it didn't you?
While maybe it's not quite as unappealing as that, this whole "Polar Vortex" thing is getting pretty old.
That said the photos below should help you forget about the freezing weather, if only for a minute, and dream of the coming spring when you can head outside in shorts, with beer in hand, and play the greatest game there is.
These photos were all shot in 2013 while I was on my quest to play every Golf Digest Top 100 Course there is.
Enjoy!
#15 at Diamante Dunes – Cabo San Lucas, Mexico
Diamante is the only links course I've ever played with cacti on the side of the fairways. It was also one of the most spectacular sunsets I've ever seen.
#4 at The Bear at Grand Traverse – Acme, Michigan
One of Jack's toughest courses, and certainly one of the toughest built in the 80s, The Bear is about as tough as it gets.
#8 at Pronghorn (Fazio Course) – Bend, Oregon
The Fazio Course at Pronghorn is not only one of the most exclusive and well maintained courses in Oregon, it's also home to what is probably the most unique hole in the state. The Par 3, 8th hole was completely redesigned by Tom Fazio after they discovered an ancient lava tube while excavating the site.
#17 at Medinah #3 – Medinah, Illinois
One of the most storied golf venues in the United States, 3 of the 4 par 3s on the #3 Course at Medinah cross Lake Kadijah.
This was my favorite of all of them, #17.
 #18 at The Golf Club at Black Rock – Coeur d'Alene, Idaho
The Golf Club at Black Rock was hands down one of the most fun rounds I played in 2013, it was also my very first Top 100 Course. Every single hole is worthy of being included in here, but this is the Par 4, 18th which features architect Jim Engh's signature bowl around the green, which is a prominent feature on many of the holes here.
#5 at Blackwolf Run (River Course) – Kohler, Wisconsin
The River Course at Blackwolf Run featured some of the hardest, fastest, and most fun greens of the year. #5 was probably my favorite hole simply for the drive you hit from 100 feet up out of the trees.
#17 at Bandon Trails – Bandon, Oregon
The oft-overlooked Trails course at Bandon Dunes, actually proved to be my favorite of the bunch down there. While lacking the ocean views of the other three, you can't deny that holes like this, the par 3 17th, aren't just as beautiful.
#11 at Arcadia Bluffs – Arcadia, Michigan
In October 2013, I did a road trip and played 15 top 100 courses in 15 days. My favorite? Arcadia Bluffs. Why? Because it had the best marriage, of fun holes, risk/reward shots, and incredible scenery.
It's not hard to see why
#6 at Crosswater – Sunriver, Oregon
While it hovers right around #50 on the Top 100 Public Courses in the US, Crosswater is still one of my absolute favorites. It's got unbelievable views of Mt. Bachelor, crosses the Deschutes River nearly a dozen times (hence the name), and has some of the most fun holes of any course I've played.
If you get the chance, play it. You won't be disappointed.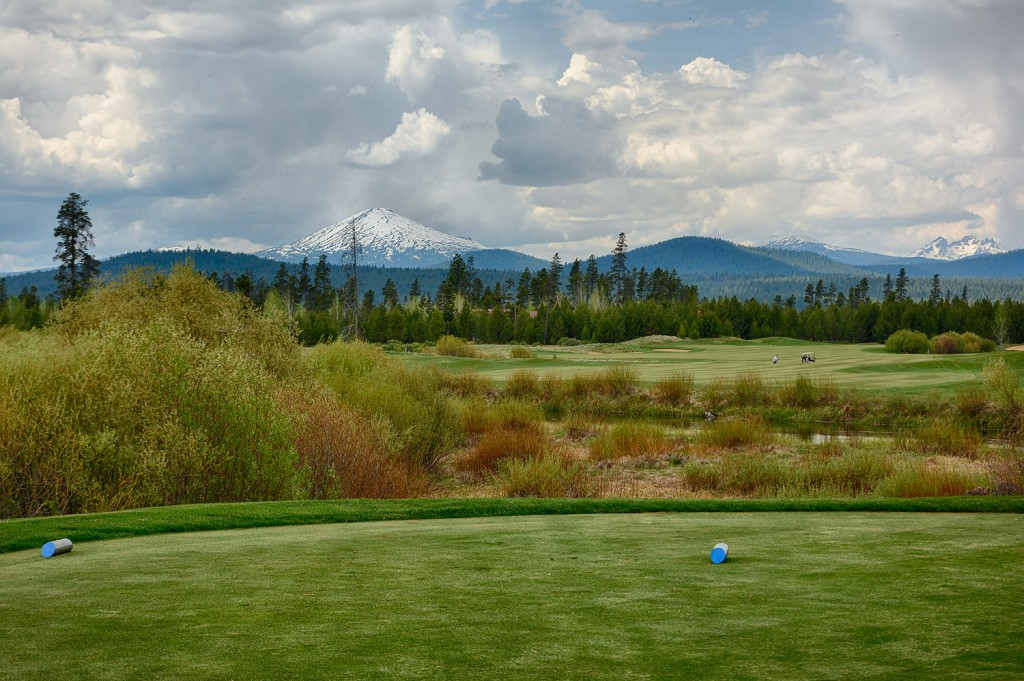 #7 at Whistling Straits – Kohler, Wisconsin
While it is might seem un-Godly expensive, the Straits Course at Whistling Straits is a round you'll remember for a long time. The collection of par 3s are some of the best I've ever seen, and you get even closer to Lake Michigan than I'd had expected.
#3 at Threetops Resort – Gaylord, Michigan
While in Northern Michigan, I couldn't help it. I had to make the trip over to Treetops Resort to play Threetops – widely regarded as the best par 3 course in the country. Bandon Preserve, may give that a run for it's money now, but there's no denying the tee shot on #3 Devil's Drop with a 140 foot drop isn't one of the most fun shots you'll ever hit.
#15 at Pronghorn (Nicklaus Course)
This was the round that started my entire quest.  While this one may look a little chilly, there's no denying it's better than where most of the US is right now.
#14 at Blackwolf Run (Meadow Valleys) – Kohler, Wisconsin
Often overlooked by the other Kohler Courses, you definitely don't want to miss the Meadow Valleys course while you're there. It's just as fun as the River Course, a little more forgiving, and $70 less.
 #8 at Olympic Club (Lake Course) – San Francisco, California 
The host of the 2012 US Open is not only a difficult course, it can be dangerous as well. There were numerous rolled sprained ankles on the hill to the right of this hole and off the 18th green as spectators struggled with slick conditions.
#12 at Forest Dunes – Roscommon, Michigan
Forest Dunes is one of the most well maintained courses I've ever played. It just barely fell out of the Top 100 last year, but it wouldn't shock me if it finds it's way back in in 2015 – it was that good.
#1 at Bandon Dunes – Bandon, Oregon
The first hole on the first course at what has become the #1 golf resort in the United States. The good news? It only gets better from here.
So while it may still be cold wherever you find yourself, hopefully these photos provided a brief reprieve and assurance that warmer weather is on the way…well, eventually at least!
Oh, and if you liked this? I'd love it if you'd share:
---
---
---