Banff Springs Golf Course: As Spectacular as Golf Gets
It's fitting that my first post about golf in the Canadian Rockies is about Banff Springs Golf Club.
Why?
Because for most people that aren't from Alberta, this is the course that's going to most likely get them to come in the first place.
Banff Springs is a 1928 Stanley Thompson design, and it's one of the most famous courses in Canada.
It's home to one of the most famous holes in golf, the par 3, 4th hole – dubbed the Devil's Cauldron.
To put it simply, Banff Springs is the single most spectacular setting for golf I've ever played.
More than Pebble. More than Bandon.
In terms of sheer natural beauty, the towering mountains above the course just do it for me.
But before I talk too much about the course and our experience in Banff in general, let's give you a brief history lesson.
Fairmont Banff Springs Golf Course: Some History
Originally Banff Springs was laid out as a 9 hole course by Bill Thomson, and later expanded to an 18 hole course in 1924 by the one and only Donald Ross.
But the layout as it plays today was done by Candadian architect Stanley Thompson in 1928.
It was built by the Canadian Pacific Railway and no expense was to be spared.
At the time, for a price tag of over $1 million, it was the most expensive course ever built.
One thing I find so unique about Banff Springs (and it's sister Fairmont course, in Jasper) is that neither of these courses would be built today.
Check out my full thoughts on the Fairmont Jasper Park Lodge
Banff Springs sits on the edge of Banff National Park, which didn't exist when the course was built. But now the land surrounding it is extremely protected – so much so that even throwing up a drone will result in an extremely large fine.
But because of this, golfers at Banff Springs are treated to an entirely unique golf course experience.
While the course looks very much as it did when Thompson finished it in 1928, in the 90s when the course built a new clubhouse, the routing was changed and the original 1st hole became the 15th.
Now rather than the course starting at the hotel, it starts from the clubhouse.
Playing Banff Springs: What to Expect
We visited Banff in mid-September, where historically the weather should be beautiful.
Unfortunately, we caught one of those freak weather events where things didn't work in our favor.
The previous day left us with an afternoon downpour, and the following day would include a freak unseasonable snow storm, that I'll elaborate on in another post.
The good news, is that for our round at Banff Springs, we had nearly perfect weather.
And all I can say is, wow.
First off, if you've never been to the Canadian Rockies before, it feels very little like the rockies of say Colorado.
They're much more dramatic here. It was more reminiscent of the European Alps than anything I've seen in the US.
Not only were they craggily, and towering, but the fact they completely surround you during your round is such a unique experience.
I purposefully didn't do much research on the course beforehand. I obviously knew about it's famed par 3, but was pleased at just how interesting so many of the holes were.
As we turned the corner to play the par 3, 2nd that was framed by a massive peak behind it, I knew we were in for a good day.
You wouldn't know it based on the mountain setting, and the downhill Cauldron hole, but there isn't a ton of elevation change on the course.
Rather the on course drama is provided by huge highly lipped bunkers that are one of Thompson's signatures.
The greens were relatively benign, but if you found yourself in one of these bunkers, making par just became a significant challenge.
When you play the course you definitely noticed remnants of the original Ross design as well. The most prevalent being the shortish, par 4 6th hole. An open fairway and a pushup green felt borderline out of place compared to the rest of the course, but was actually one of my favorite holes on the property.
Here are a few shots of some of the notable holes.
The opening tee shot sets the stage for what you can expect on this course: mountains.
The first par 3, you'll face. Hole #2:
We didn't quite get the light we'd hoped for on the Devil's Cauldron:
A solid Donald Ross hole with a beautiful mountain backdrop:
One of the best parts of the course was the stretch along the river that I wasn't expecting. My favorite spot on the entire course was the 9th green, where you have a mountain river, and towering peaks all around you. The 10th has a similar vibe:
11 was another favorite hole:
I won't lie, I think the course was better with it's original routing from the hotel. I mean, how killer would this view be for a closing hole? Don't worry, it's still pretty amazing as the 14th as well: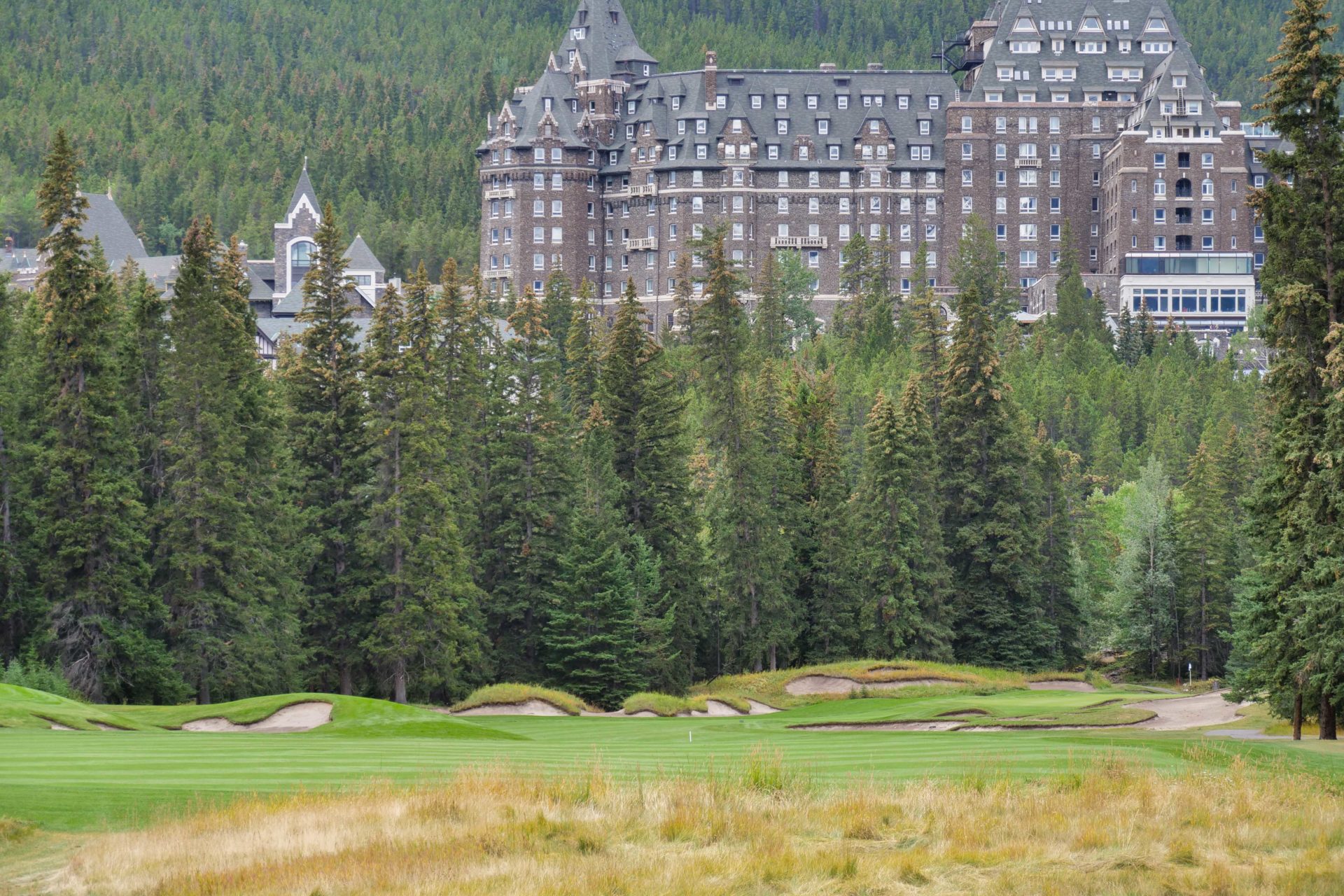 The 17th is a the 18th handicap and a great chance to make a birdie down the stretch:
The Town of Banff
Banff itself is beautiful, and it's remarkable just how close in proximity it is to so many beautiful lakes, trails, and peaks.
If you've been there before, you know crowds can be an issue, but the vibe is awesome, and there are some excellent options for accommodations, food, and drink.
One of the very best meals we had on the entire trip was at Chucks Steakhouse.
If you know me, you know that on top of my golf quest, I'm also constantly seeking out the best cocktail bars in the world. So any time I travel, I like to find a good bar and sample the local libations.
Multiple people recommended Chucks for both food and drinks, and let's just say we were not disappointed.
We also spent an afternoon after our round touring the iconic Fairmont Banff Springs and eating at the Waldhaus Pub which, as it turns out is the old clubhouse.
Whether you stay there or not, the hotel is a must see when visiting – it's truly unlike any hotel I've ever seen.
Final Thoughts on Banff Springs Golf Course
Banff Springs is an excellent resort course, that was some fantastic history, and some of the most breathtaking views you'll find on a golf course.
At over $250 it's not the cheapest round you'll play, but it's well worth it for the experience.
Unfortunately due to weather issues we were unable to play Thompson's course at Jasper Park Lodge, although we did do a bit of a snowy tour of it.
From what I could tell, it seemed like Jasper had a bit more of an interesting layout and variety of holes, but the mountains, setting, and scale of Banff Springs make it as must-play for any golfer in the area – and is well worth it even if you're not from Alberta.
I'm excited to bring a group of Eighty Club members back here in 2023. I've been excited to get back ever since the day I left – it truly is that impressive.
---
---
---