Best Golf Shoes of 2023: 13 Shoes for Every Type of Golfer
Updated in July 2023 to add the Adidas Tour 360, as well as updates to ensure accuracy.
Golf shoes are a lot like golf grips: Until you've gotten new ones, you never realize how badly you needed them. Too often, shoes become an afterthought.
Aching feet at the end of a round doesn't have to be the price you pay to play golf.
Water seeping in and soaking your socks shouldn't be the cost of being a dew sweeper.
Nailing your golf shoe selection might just be the single biggest thing you can do to improve your enjoyment of the game. The good shots will only feel better. And when the bad shots come? Hey, at least the dogs aren't barking.
When Mark Twain said, "Golf is a good walk spoiled," he must have been wearing worn-out shoes. Because with the right choice of golf shoe, your enjoyment of the game can increase exponentially.
The problem is knowing what to buy. How do you know what's right for you?
With this post, we're going to break down what you should look for in a golf shoe, and we're going to give you our top picks for the eight categories that we think are most likely to address most golfers' needs.
After reading this, you'll be armed with the knowledge you need to make an informed buying decision.
Best Golf Shoes: What To Look For
The main criteria to apply when shopping for golf shoes is almost identical to that of any other shoe-buying experience.
Basically, it comes down to:
Price

Comfort

Durability

Style

Performance
You want a shoe that you can afford, that's going to allow you to comfortably walk potentially hundreds of rounds without breaking down and that's going to give you the look you want.
On top of that, you need a shoe that's going to provide great traction in varying conditions and, ideally. keep your feet dry.
If you can find a shoe that does each of these things well – and you can – you're going to be able to forget about your feet. They'll be set.
A couple other factors to consider:
#1) Spiked or Spikeless?
Spikeless or hybrid golf shoes are becoming more and more popular. And traction-wise, they're getting better and better.
Generally, the big advantages of spikeless shoes are look and comfort. You can find some very stylish, casual golf shoes that don't look too much different from what you might otherwise wear out to dinner.
And they're pretty much just as comfortable as whatever other non-golf street shoes you have in your closet.
Spiked shoes, on the other hand, are still the best for ultimate traction, especially on wet or hilly courses.
You'll want to be sure you understand what you're getting waterproof-wise. Many spikeless or street golf shoes won't be designed to provide the same waterproofing you're more likely to find with spiked shoes.
For many golfers, the decision comes down to comfort and style vs. traction and stability. You can find spiked shoes that look good and are comfortable, but there are more options available for those factors with spikeless models.
And you can certainly find spikeless shoes that have very good traction and stability and are waterproof, but the ultimate in those categories is typically best found with spikes.
#2) A Word About Price
Everyone's got their own budget. I get and respect that. But if at all possible, I'd encourage you to reach just a little bit with your spending on the best golf shoes.
Seriously, if you consider how many miles you'll potentially walk with a single pair of golf shoes, it really is worth it to step up to the highest level that you can afford.
A quality shoe might last you three or more seasons. So the difference between say a $100 pair of shoes and a $150 pair of shoes becomes relatively negligible spread over a few years.
I'm not saying you should make an irresponsible decision and spend money you don't have, but if you can step it up just a bit, especially if you're following this guide, I can almost guarantee you'll be happy that you did.
That said, the best shoe for you may be one that's less expensive. For instance, some of the ones you'll see here are excellent and under $100.
So, what are the best golf shoes of 2023? Well, we're going to see a lot of new ones hit the market in the coming months as manufacturers roll out their latest offerings. But where we sit right now at the beginning of the year? These are the best golf shoes out there.
What Shoes Are Best for You?
There are dozens of different types of golf shoes out there, and every single person is looking for something slightly different.
Because of this, I spent two days putting together a quiz to help you figure out which shoes are best for you, based on your needs. It only takes about 30 seconds to take, and if you're not sure which way to go, I think you'll find it really helpful.
Check it out:
Best Overall Golf Shoe: Ecco Biom C4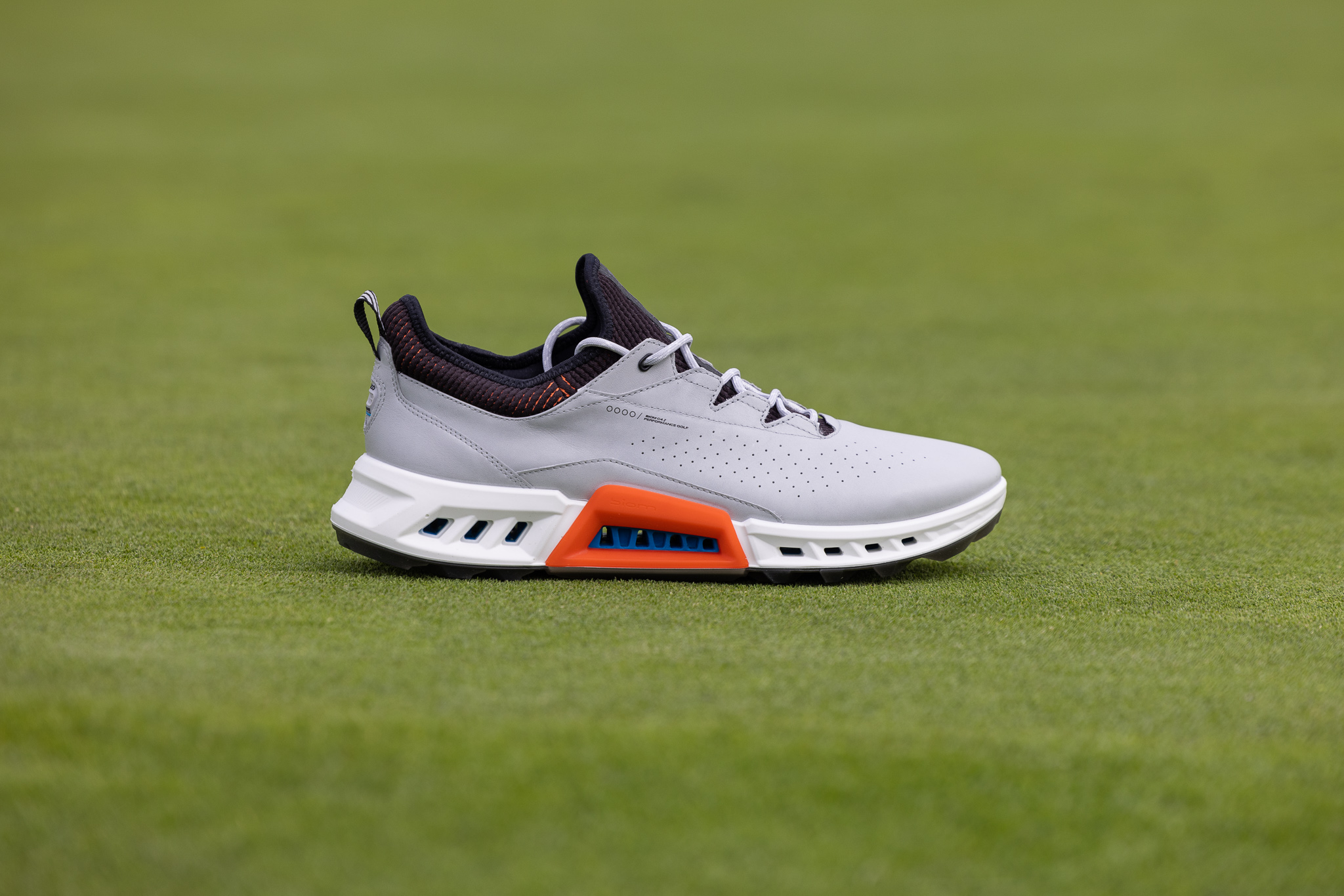 This is one of the latest golf shoes from Ecco, and quite simply it's the best golf shoe I've ever owned.
Ever.
Between 2 rounds in Punta Mita, and 3 rounds at Bandon Dunes – my feet have never felt happier after a round of golf.
Update: 18 months later, this continues to be true. I love this golf shoe.
They're even more cushioned than the excellent Biom H4.
The GORE-TEX Yak leather upper is incredibly soft and totally waterproof.
If you're going to buy one pair of golf shoes, and you want the best, these are the ones.
Best Tour Shoe: Adidas Tour 360
For years now I've been hearing from readers that Adidas has the best golf shoes on the market. After I was finally able to get a few rounds in the Adidas Tour 360, I can see why it has so many fans.
The build quality on these shoes is insane. Whether it's the super responsive boost soles or the high-quality waterproof leather, the Adidas Tour 360 is the very best Tour level golf shoe I've tested.
If you're looking for a shoe that's reliable, comfortable, stable, and affordable for the quality you're getting? This is absolutely a pair to consider.
Best Boa Golf Shoe: The Ecco Biom G5
It's no secret I think Ecco makes some of, if not the best golf shoes on the market. That said, they're expensive, so they won't be for everyone.
Recently I tested out the Ecco Biom G5. It's the first spiked model of Eccos I've worn, and honestly? They're just as good as I thought they'd be.
After breaking them in over a couple of rounds, they're nearly as comfortable the Biom C4, but with the traction and stability that comes with a Tour shoe.
Throw in the waterproof Goretex material, and you have a world-class shoe ready for any conditions you want to throw at it.
Best Golf Shoe Under $100: Nike Roshe G
These things are a straight-up steal for around $80 at a number of retailers. This is a great shoe for the price.
There's a reason the Roshe's are such a beloved shoe, and the golf version of them is no different.
The Roshe G's are extremely comfortable – surprisingly so for the price.
The drawbacks are that the shoe doesn't offer the greatest stability. You may notice your foot sliding around a little. Also, it may be too informal of a look for some.
If you're looking for a casual, comfortable shoe that's less than half the price of the Ecco's, this is a highly recommended option.
Best Traditional Golf Shoe: FootJoy DryJoys Premier Series Packard
This is the perfect shoe for those seeking performance, traction, and a more traditional look without feeling dated.
FootJoy has updated its aesthetic to strike a really nice balance between classic and sporty.
But the star of the show here is the stability. The tapered ankle locks you in and provides awesome lateral support. With so many golfers choosing to go with spikeless shoes, when you put these on you're reminded why so many pros still play with Tour shoes.
No issues whatsoever with waterproofing. You'll keep your feet dry for the lifespan of this shoe.
It really is tough to go wrong with FootJoy (with the exception of the Fury, honestly, we didn't love em).
Like the Ecco's these are a bit pricey for some people at $200. But you most certainly are going to have a durable, high-performing golf shoe that's going to likely last as long or longer than anything else you might buy.
Best Non-Traditional Golf Shoe: TRUE Linkswear Knit II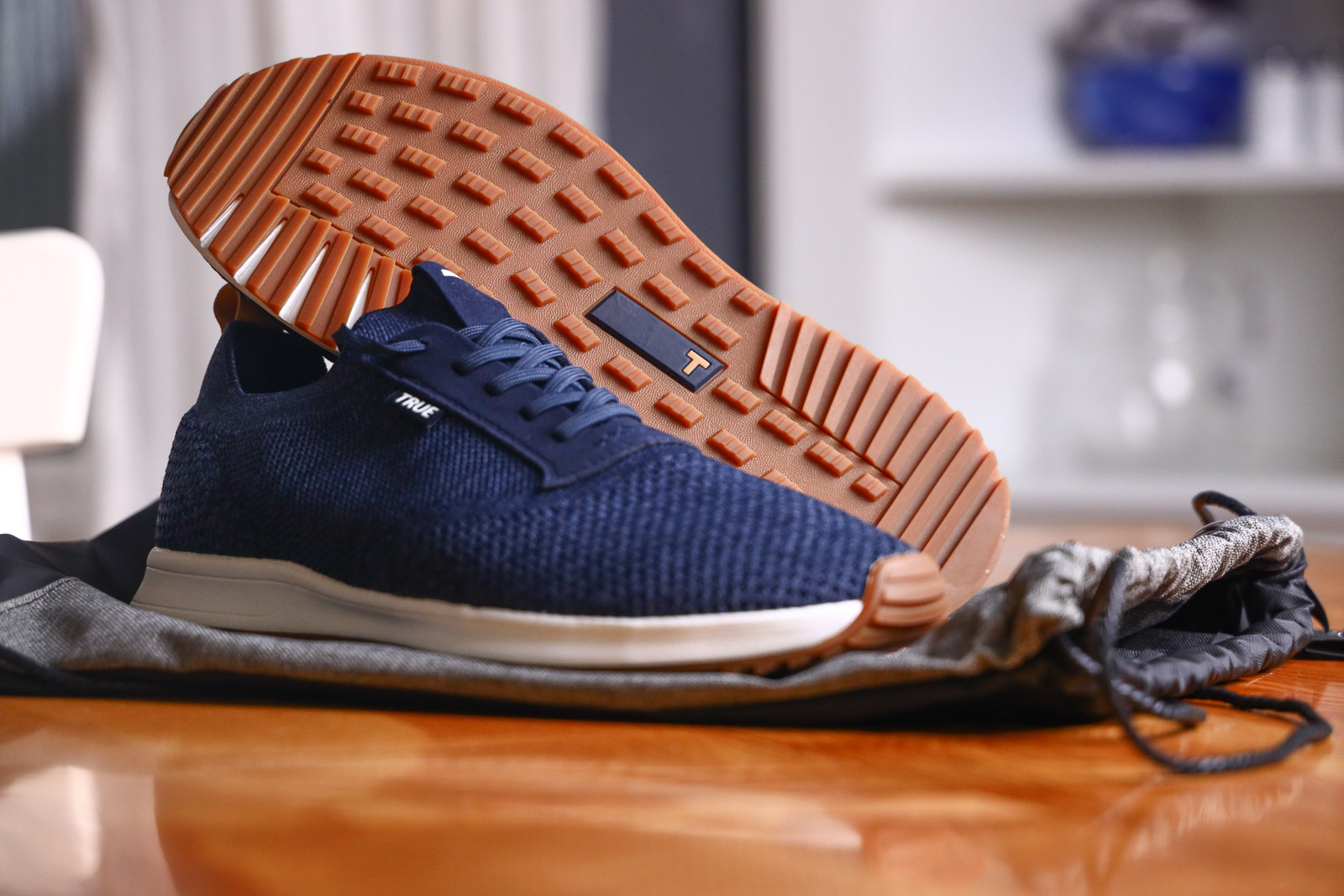 This is the first pair of golf shoes I've owned that I'd actually feel completely comfortable wearing in a non-golf setting. They are the epitome of style for a golf shoe.
And for as good as these shoes look, they perform remarkably well. I would personally like a little more room in the toe box, but that's a relatively minor quibble.
The TRUE brand is pure style. Check out the packaging, including a reusable bag:
This isn't a do-anything golf shoe. They're not waterproof and traction is an occasional issue. If you're only going to own one pair of golf shoes and you play a lot, you probably should look for a more dedicated golf shoe.
But for a second shoe – and one that you can wear anywhere – this is the perfect option.
It's also $40 less than the new All-Day Knit III while looking and performing just as good.
Best Women's Golf Shoe: Ecco Biom H4
Once again, Ecco nails it. Exactly the same as with the men's version, you can expect these shoes to be as comfortable as it gets.
They perform well and look good.
Ecco right now is in poll position for ticking all of the critical boxes: Price, comfort, durability, style and performance.
Best Hybrid Golf Shoe: TRUE Linkswear Lux Hybrid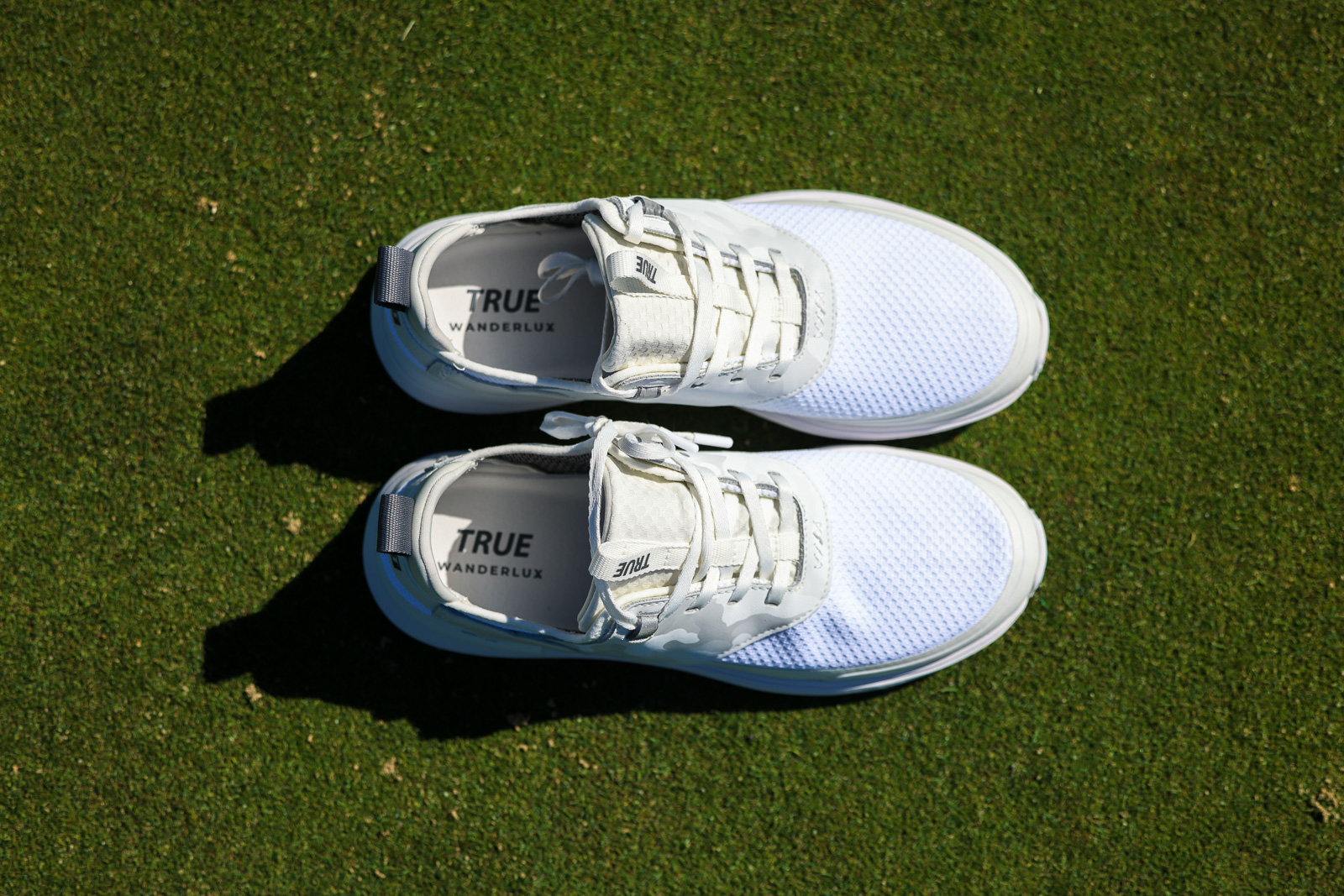 This title previously went to the also excellent, TRUE Lux Sport – but alas, there's a new guy in town.
The TRUE Lux Hybrid is currently my favorite pair of TRUE Linkswear shoes currently on the market. They're extremely comfortable and you can wear them off the course and actually look good doing it.
Best of all, they perform on the course. They're stable and waterproof which is something often missing from other spikeless or hybrid models.
They're a little pricey, but if you're looking for one hybrid shoe that you can put on in the Spring and not take off until Fall? This is the one for you.
Most Versatile: FootJoy Flex
Part sneaker, part golf shoe, fully versatile. The FootJoy Flex is a solid hybrid golf shoe for under $100.
FootJoy, of course, has a great reputation for quality and durability. So even their more budget shoes deliver.
The sole and traction of the shoe is similar to the Ecco Biom Hybrid series, only not as hard or durable.
These shoes are incredibly lightweight, but they do sacrifice a bit of support as a tradeoff.
If you're looking for an incredibly comfortable, lightweight shoe that will perform great on the golf course 95% of the time and give you the flexibility to wear it off the course as well, this is a solid option.
Check out our full review of the FootJoy Flex.
Best Looking Golf Shoe: G/Fore Galivanter
Obviously, we all have different needs and preferences for golf shoes. But if you held my feet to the fire and told me to choose the best-looking golf shoe on the market?
I'd go with the G/Fore Gallivanter.
It's the one shoe that every time I see someone wearing them I say "Man, those look good."
This shoe also has the special ability to make anyone look like a good golfer. If you're wearing these? I just assume you're scratch or better.
It's a cool blend between a traditional tour shoe, and a modern spikeless shoe – all while refusing to sacrifice on comfort or performance.
If you consider yourself a "stylish" golfer, then there's a good chance you already have these in your locker.
Best Barefoot Golf Shoe: TRUE Linkswear OG Feel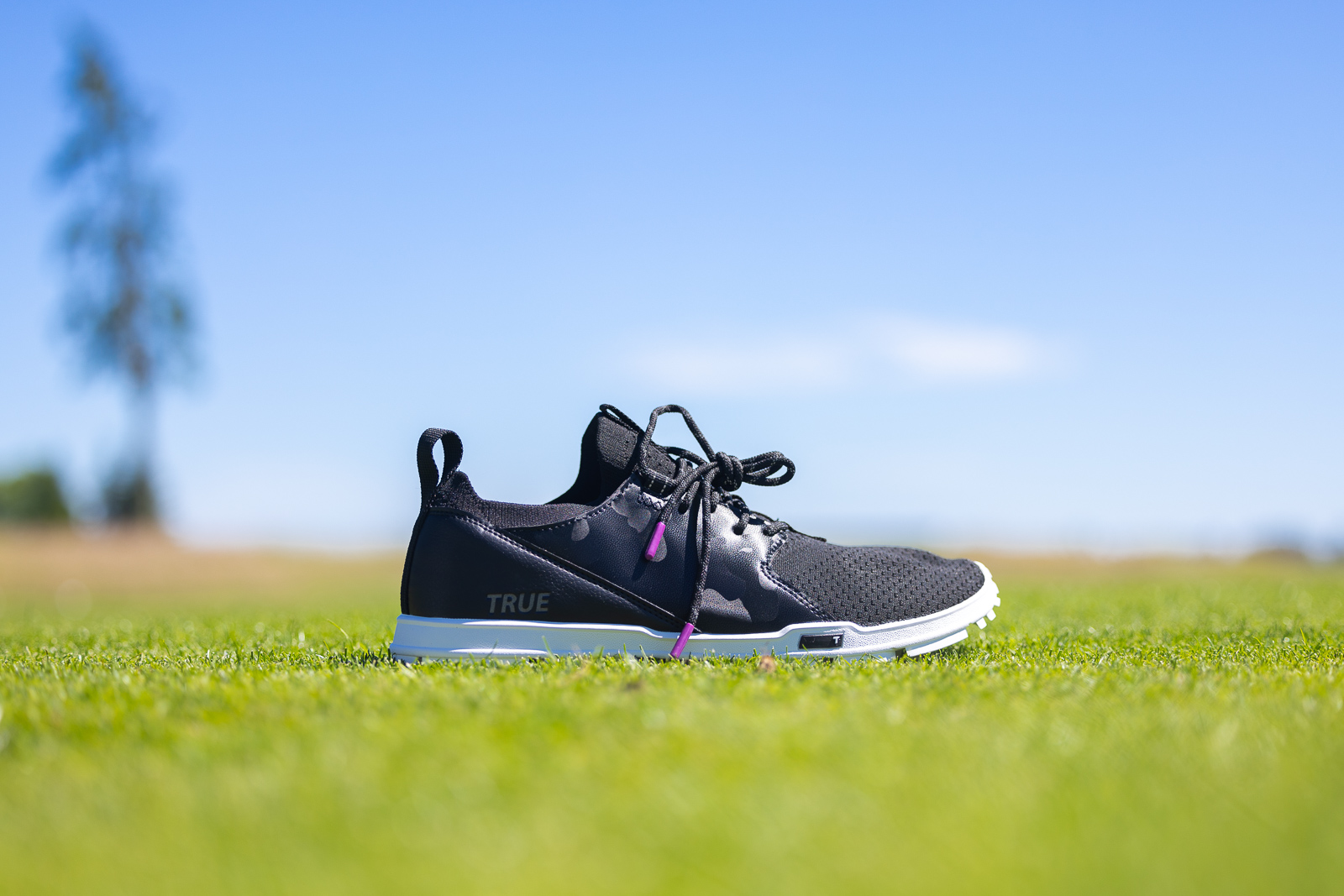 I realize this is the 3rd pair of TRUE Linkswear shoes we have on the list, but honestly, I continue to be impressed.
Each of their different spikeless shoes serves a different purpose, and the OG Feel is perhaps the most specific.
This is essentially a golf version of the Nike Free. It's meant to provide the experience of walking the course barefoot, and it does an excellent job of that.
And the best part? They look great doing it.
Best Value Spikeless Shoe: Payntr X 003
The Payntr X 003 may be my biggest surprise of the past year. I didn't expect a ton out of these shoes, but honestly? I was blown away.
Not only are they packed with technology and development chops, but they look good, feel great, and best of all?
They come in at only $140.
Sure that's still a lot of money to spend on shoes. But compared to many competitors that are $50 or even close to $100 more than them?
It represents a heck of a value for a golf shoe, especially one that's getting as much buzz as these are.
Most Stable Golf Shoe: Sqairz Speed
The marketing may be a little over the top, but if you can move past some fairly outlandish distance claims, the Sqairz Speed golf shoe really does offer a lot.
It's a solid Tour-level shoe, that's among the most stable golf shoes we've ever tried. So if stability is the number one thing you look for in a shoe? Look no further than a pair of Sqairz.
Editor's Choice: G/Fore MG4+
This is the first pair of G/Fore shoes I've worn personally, and I was incredibly impressed. Not only do they look good, but the unique "massage nubs" on the insole, provided for one of the most comfortable rounds of golf I've had.
They're waterproof and stable enough to function as your sole pair of shoes, and they definitely stand out from the crowd.
At $225, they're on the expensive side, but are on par with other similarly priced models on this list.
Best Golf Shoes of 2023: A Wrap-Up
We've got a concise but solid list of contenders here that should address the needs of most golfers. Sure, there are other great golf shoes, but we feel these are the standouts.
It all comes down to what you need or value most in a golf shoe. Consider price, comfort, durability, style and performance, and you should come out with golf shoes that last you multiple seasons.
Looking for Other Golf Product Reviews?
This page contains affiliate links. This means that if you click a link and buy one of the products on this page, we may receive a commission (at no extra cost to you!) This doesn't affect our opinions or our reviews. Everything we do is to benefit you as the reader, so all of our reviews are as honest and unbiased as possible.
---
---
---