Best Golf Bags for 2023: 10 Bags for Every Type of Golfer
This post was updated in April 2023 to add the Vessel Player IV and Sunday Golf Ryder Bag.
Trying to find the best golf bag for you can often be just as difficult as buying a new set of clubs.
It's not just about picking the "pretty one."
There's more competition than ever in the world of golf bags, with most brands having dozens of different products and styles to choose from.
The good news is that we've got you covered. Over the last year, we've reviewed a bunch of different golf bags, and have a really good sense of the pros and cons of the most popular bags on the market.
In this review of the best golf bags of 2023, we're going to help you choose a bag that will last you for years to come and fit right into your preferred budget.
What to Look for in a Golf Bag?
When trying to find the best golf bag for your needs and personal style, there's a lot to consider. One golfer's favorite bag may be one that simply doesn't work for you.
The last thing you want is to buy a bag designed for the minimalist golfer who likes to carry, only to find that you don't have space for that six-pack of beers you sneak onto the course during every round!
So how do you start?
First here are a few questions you should ask yourself to help narrow down what you're looking for:
Do you generally carry, push, or ride? Most stand bags will transfer well enough to a cart, but a cart bag? You're not lugging that around the course on your shoulders.
How important is storage? Be honest with yourself here.
Do you like a throwback or modern vibe?
Do you care about what's "cool" or do you just want something super functional?
How much do you want to spend?
Once you have answers to these, then the following recommendations will help you narrow down the best bag for you. I tried to cover both the highlights and lowlights of each bag to give you an honest assessment of what to expect.
Best Bag of 2023: Vessel Player IV Pro
Over the last two years, I've used the Vessel Player III more than any other bag. It's well built, versatile, and looks fantastic.
But with the release of the new Player IV and Player IV Pro, there's a new bag in town.
The new Player IV is very similar to the outgoing model, and is still a phenomenal bag.
But if you're going all out on a luxury golf bag, then it's worth the upgrade to the Player IV Pro. It's not cheap, but it feels like the true successor to the Player III with size, material, and feature upgrades.
Yes, you're paying for it.
But I continue to be extremely impressed with the quality that Vessel is putting out these days.
Runner up for Best Bag of 2023: Jones Trouper R
The Jones Trouper series is quite simply one of the coolest bags in golf.
It has a throwback style that feels like it's truly an ode to the game, but has modern conveniences like a built-in cooler, that make it a great everyday carry bag.
It may just be the best "do-anything" bag in golf.
Want a bag with plenty of space for everything you need? Check.
Want a throwback style that gets respect everywhere you take it? Check.
Want to carry light with a single strap? Check.
Load it up and go double strap or cart? Check and check.
This is the swiss army knife of golf bags, and gets my highest recommendation.
This and the Vessel duked it out for my top spot of the year. Despite the higher price, the Vessel narrowly edges it out currently, as it's finally back in stock and has some higher-end finishes.
But for many people? The Trouper R will absolutely be the better bag.
I've reviewed the original Utility Trouper and the Utility Trouper 2.0, but have yet to get my hands on a Trouper R. As soon as I do, I'll do a dedicated review. But as I understand it, the changes are relatively minor.
Best Looking Bag: Stitch SL2
The Stitch SL2 Golf Bag just flat out looks good.
Each of the last couple years, they've updated this bag with some new two-tone colorways, and honestly? They look goooood.
The SL2 is a walking golfer's dream in that it comes with both single and double straps, and at only 4 pounds is very lightweight.
The customized "ingot" you can get with your initials is a nice personalized touch as well.
If you're someone who prefers to carry your clubs, this is one of the very best out there.
Downsides? There are only 3 pockets, and they all feel a bit cramped. So don't plan on hauling a bunch of stuff in the SL2
s
Editor's Choice: Sun Mountain Mid-Stripe Bag
This new bag from Sun Mountain didn't fit into any other clear category, but let's get one thing straight: this is currently one of my favorite bags in golf.
It's every bit as good as the Jones Trouper R and the Vessel Player iii.
It's one of the best-looking bags on the market, and is super functional and comfortable as well.
It's kind of like if the Jones and Vessel bags had a baby. Its retro vintage style is similar to the Trouper series, but the Mid-Stripe also has more modern touches like the vinyl weather-resistant material of the Vessel bag.
And a huge bonus? This bag has been flying under the radar. I've received a TON of compliments on it over the past couple months. So if you want a great-looking, super functional bag, that you won't see a dozen of at the range? Give the Sun Mountain Mid Stripe a look.
Most Functional Golf Bag: Ping Hoofer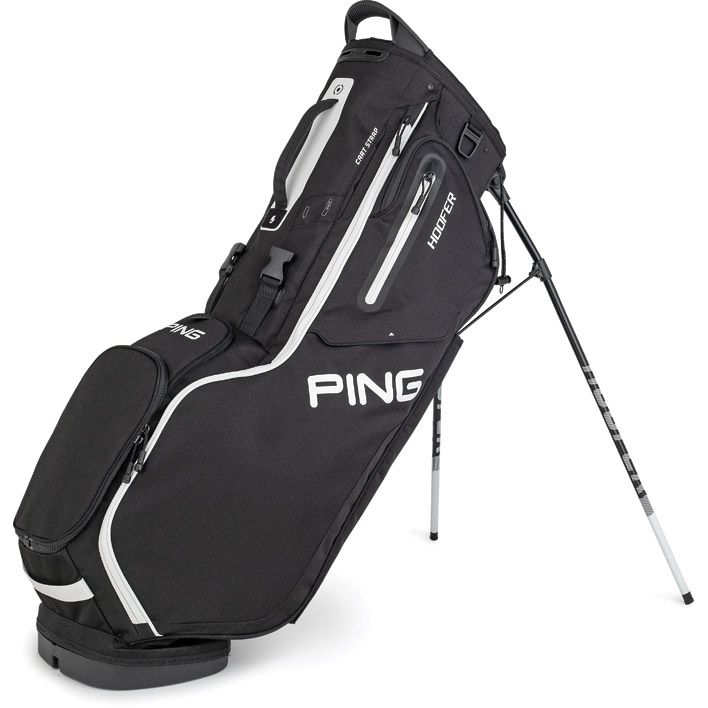 There's a reason the Ping Hoofer has been around and celebrated for so long: It's a fantastic golf bag that does everything well. You've got plenty of space, it's lighter than the similarly featured Vessel golf bag above, and it's less expensive too.
Downsides? I'm not a huge fan of the look of the Ping bags, as the branding is a little heavy for me.
But if you're looking for a fantastic all-around bag, that has tons of storage at a reasonable price? This is absolutely a bag worth checking out.
Lightest Golf Bag: Sun Mountain 2.5+ Golf Bag
I'm sure you could get creative and find lighter golf bags out there, but at less than 3 pounds the Sun Mountain 2.5+ is a fantastic lightweight golf bag.
Sun Mountain has been around for years and has built a name for itself with highly functional and reliable golf equipment.
I used one of the precursors to this bag, the Sun Mountain Front 9 for 4 years and absolutely loved it.
Not only is the build quality great, but there's more storage than you'd expect for a bag this light.
Downsides? You may or may not be a fan of Sun Mountain's styling.
Best Bag for Juniors: Sunday Golf Ryder Bag
The Ryder Bag is Sunday Golf's first foray into making a full-size golf bag. It's got a number of features, but still retains its smaller, svelte profile they've become known for.
We've found this makes it perfectly suitable for younger golfers looking for a bag that's easy to carry, feature heavy, and branded to be all about fun with your friends.
If you're a golf pack rat, you may find the bag a little too tight for your needs, but if you just need a few cold drinks, a sleeve of balls, and a very carryable bag – then the Ryder Bag is an excellent choice.
Best Golf Bag Under $100: Wilson QS Carry Bag
The Wilson QS Carry bag is certainly not the coolest or trendiest golf bag out there. But you know what? It has all the basic features you want (like a stand), has a clean look to it, and it only costs $80!
That's a third or even a fourth of what some of the bags on this list cost. So if you just want a solid functional golf bag from a reputable brand, that won't break the bank? I think this is a fantastic option.
Best Heirloom: MacKenzie Golf Bags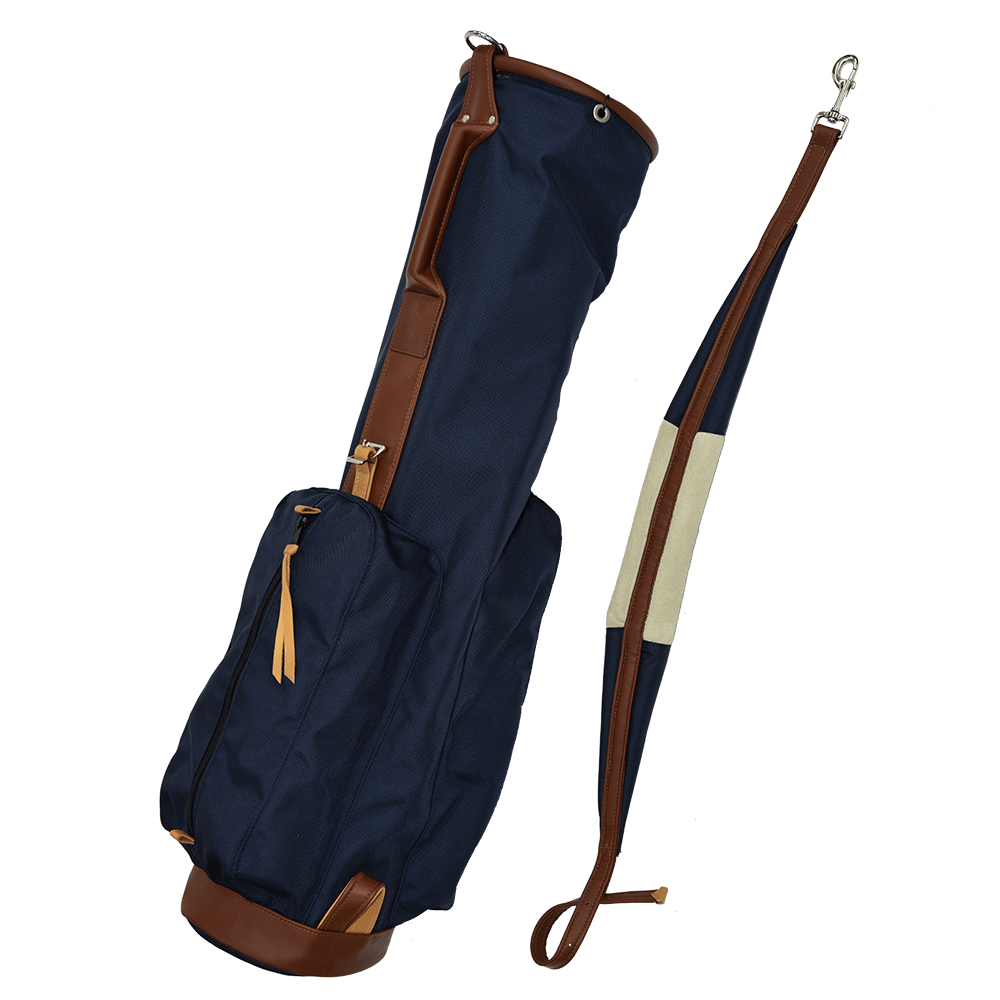 Do you want something more than just a golf bag? Something special that's customized to you, tells a story, and has the potential to be passed down to a family member in the future?
Then you want a MacKenzie bag.
You won't find fancy technology, tons of space, or even a double strap – but if you want something special, then Mackenzie is absolutely the first place I'd look.
Readers Choice: Titleist Linksmaster
When I recently posted a review of another bag, I asked Breaking Eighty readers what bag they would recommend, and a surprisingly high number of people came back raving about the Titleist Linksmaster.
As I understand it, the Linksmaster was built to directly compete with the Stitch SL2. It's the highest-end carry bag from Titlelist, and I've gotta say it looks great.
This bag is an investment, but I've had enough people I respect rave about it, that it's worth adding to this list.
Downsides? It can be tough to get your hands on one, as they aren't as easy to buy as most of the ones on this list.
Price: $375
Where to Buy: Check your local pro shop or Titleist.com
Solid Alternative: Stitch SL2 – Use code BE20 for 20% off.
Best Sunday Bag: Sunday Golf Loma Bag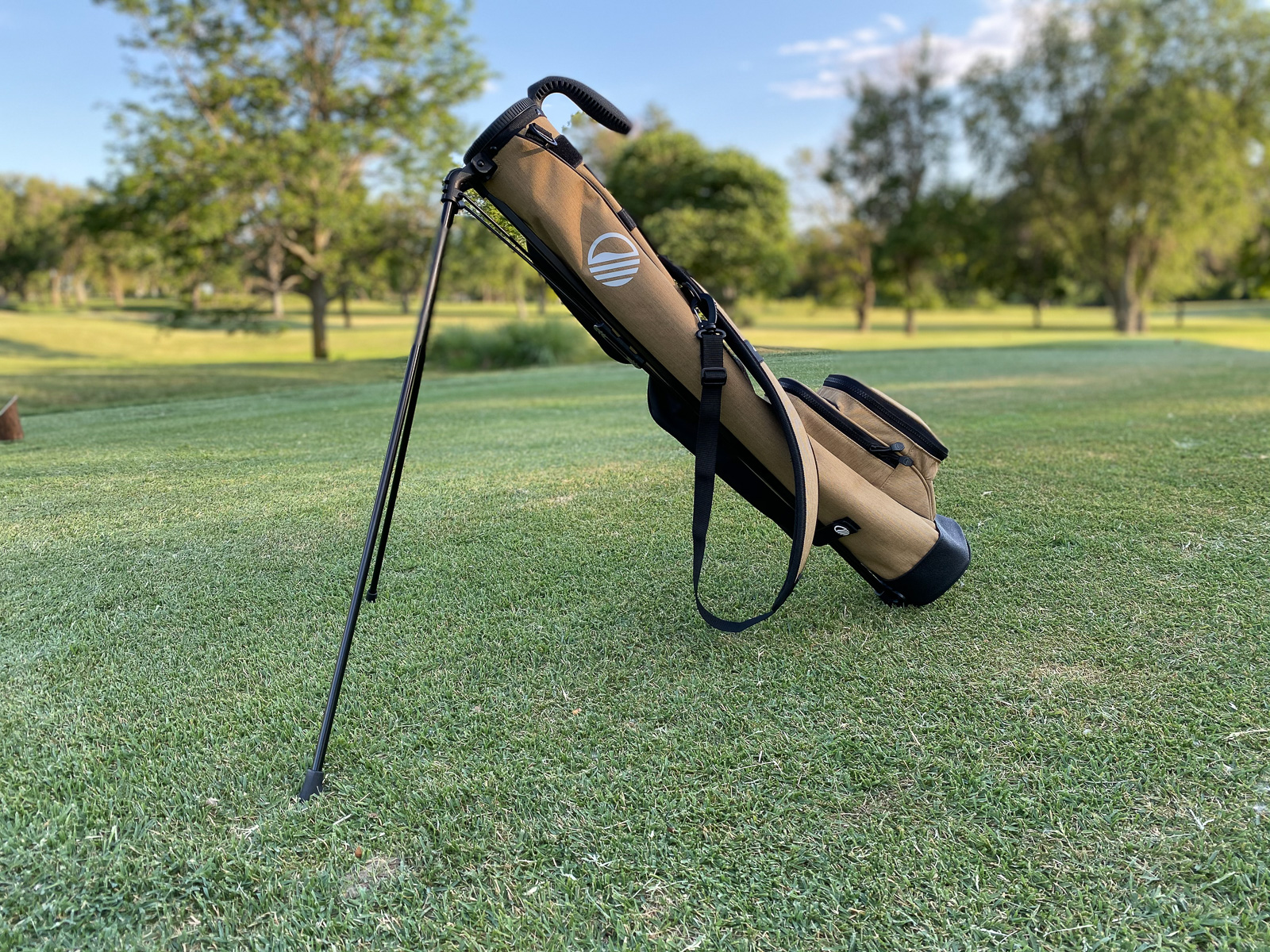 We all know that golf can take up a lot of time. In fact, it's not a stretch to say it can be a full 8 hour day from when you leave your house to when you get back home.
Because of that more and more people are enjoying shorter rounds. 9 holes, maybe even 6 holes, 3 holes – enough to get your fix without having to burn a whole day to do it.
And when you're playing shorter rounds, sometimes you don't need as much gear. A light bag for a half set of clubs and a couple balls?
Perfect.
And Sunday Golf has the perfect bag for this, or for the younger or novice golfer who isn't carrying a full set.
Best Duffel Bag: Jones Weekender
The first thing you notice about the Jones Weekender is that it's a fantastic-looking duffel bag. It looks rugged and ready for anything you could throw at it. The second may be, "well, can it hold all my stuff?"
Yes, yes it can.
I was shocked after my first trip with it. I took it down to Pebble Beach for 5 days, and couldn't believe how much just kept fitting in it.
It turns into a backpack which is a nice touch. My only wish is that it also had a shoulder strap.
Best Travel Bag: Club Glove Last Bag
When I first started traveling for golf, I picked up a $100 travel bag from Golf Galaxy. Worst. Move. Ever.
Within 5 trips, it was already ripping.
So I spent a bit more money and picked up a Club Glove Last Bag.
Over the past 7 years it's been on over 30 golf trips, been to half a dozen countries, and is still performing like the day I got it.
This truly is the last bag you'll need, and while it's on the expensive side, it's well worth it to know your club will make it to your destination safely.
There You Go, the Best Golf Bags of 2023!
So there you have it, the best golf bags out there for 2023. I'll continue to update this post as I test out new products and new bags hit the market later in the year!
Have something you want me to try? Drop a comment or shoot me a note and let me know!
Want to See More of Our Favorite Golf Products?
This page contains affiliate links. This means that if you click a link and buy one of the products on this page, I may receive a commission (at no extra cost to you!) This doesn't affect our opinions or our reviews. Everything we do is to benefit you as the reader, so all of our reviews are as honest and unbiased as possible.
---
---
---