Vessel Lux XV 2.0 Review: It Makes Me Want to Be a 'Cart Guy'
I review a lot of different products here at Breaking Eighty.
And part of that job is often reviewing product categories that aren't necessarily what I'd personally use on a day-to-day basis.
A great example? The cart bag.
I'm someone who almost always walks, either carrying my clubs or using a push cart.
There are always exceptions when playing resort courses or the occasional emergency 9, but I certainly don't play enough to warrant buying a dedicated cart bag.
But after using the Vessel Lux XV 2.0? It's making me wish I were a "cart guy."
If you've read any of my Vessel reviews, you know that I'm a big fan of the brand.
So I'm not surprised that after two rounds with the Lux XV 2.0, I'm just as impressed with it as I am with the other Vessel bags I've reviewed.
But let's address the elephant in the room: this is an expensive bag.
Does style and performance outweigh the hefty $455 price tag?
Let's find out in this Vessel Lux XV 2.0 review.
First Impressions of the Vessel Lux XV 2.0 Cart Bag
Taking the Vessel Lux XV 2.0 out of the box, I was even more impressed than I expected to be. This bag is stunning.
All of the Lux XV colorways minimize branding and go for a really clean look that I love. There have been some previous Vessel colorways I don't love.
The pebbled synthetic leather material feels luxurious, and is made even more so by accents of real leather in the handle and zipper pulls.
I am a little disappointed that the club divider was mesh, rather than the velvet micro-fiber that you get on the Player III and Player IV Pro.
My biggest complaint about every Vessel Bag I've reviewed is the weight. Even the lighter Player IV DXR still tips the scales at over 6 pounds.
And that's part of why I was so excited to get my hands on the Lux XV 2.o. It's a Vessel bag that I can review where the weight doesn't matter as much.
It comes in just under 8.5 pounds, and I expected it to be heavier given the materials and sheer amount of space in this bag.
Ahhh the space.
I'm a caddie's worst nightmare on the golf course. I'm a packrat. I'll throw in a dozen golf balls, a Bluetooth speaker, a jacket, vest, large camera, and a dozen other misc items and not even think about it.
And with all of the storage options in this bag, it's just begging me to overpack it.
But is that a good idea? Can the Lux XV handle all of the stuff you could possibly want to put in it?
Let's take a look at performance.
Vessel Lux XV 2.0 Performance
One point I want to reiterate about this review: I'm not a cart-bag guy.
I only repeat this because I want to be honest about the fact that I'm not necessarily an expert when it comes to cart bags. I could tell you everything there is to know about stand bags, but this is the first cart bag I've properly reviewed.
I'm going to try not to let my personal preference for having a ton of space cloud this review – because if there's one thing all cart bags have in common, it's that they have more space.
Man, maybe I should become a cart guy…
Whether it's attaching the Vessel Lux XV 2.0 to a cart, a push cart, or even a Stewart Golf Q-Follow – I loved the cart strap pass-through. It's very well integrated into the design of the bag, and is great in its subtlety.
The pass-through definitely works best on actual carts that have thin canvas straps. On some push carts if there are raised rubber straps I've found it slightly more difficult to attach via the pass-through.
One of the more unique features of the bag is the magnetic pouch that slides over the cart strap.
They call it the "Pocket Pod" and it lifts up so that you can strap in the bag, and then it magnetically snaps over the strap. It's a surprisingly functional design, and this is one of the pockets I used most often while on the course.
The bag also comes with a "cart sleeve" you can put over the strap to avoid wear and tear on the bag and elevate the look. For me personally, it felt like an unnecessary extra step, but this is a perfect example of a brand caring about the details.
Generally speaking, the Lux XV 2.0 had all of the things I love about Vessel bags, just more of them.
There's a rangefinder pouch, an interior locking pocket for valuables, two discrete drink pouches, and all the pockets you could ever want for storing whatever you need.
My biggest complaint with the bag is that I don't personally love the 15-way organizer. It works great and I haven't had any issues with clubs sticking, but I'm just personally not organized enough to want this kind of divider. Which means I'm definitely not organized enough to need the optional club organizer. But if you're the kind of person who is super particular about your clubs – this is a cool addition.
Final Thoughts on the Vessel Lux XV 2.0 Cart Bag
I don't think anyone will question the fact the Lux XV 2.0 bag is gorgeous with extremely high build quality and materials. This is what Vessel is known for, and it's even more evident on this larger cart bag than it is on their stand bags.
In fact, I might even go as far to say it's the best-looking bag I've ever reviewed. It's certainly up there at least.
The bag design is well thought out, and you'll find space for literally anything you could possibly want on a golf course.
Yes, I'm not a fan of the 15-way divider, and with some push carts it may take a few extra seconds to get the strap into the pass-through – but these are minor quibbles on an otherwise excellent bag.
I meant it when I said, this bag makes me wish I were someone who uses a cart bag on a regular basis. It's style, substance, and finishes all in one beautiful package.
The downside? You'll have to pony up $455 in order to get it. That said, considering the Player IV Pro stand bag is $435, I'm kind of surprised this didn't come in a little bit higher.
If you're looking for a high-end cart bag that both looks good and performs well, then this is absolutely a bag to consider. If I were personally going out to buy a cart bag today, and it was within budget, this is hands down the one I'd buy.
Best Cart Bag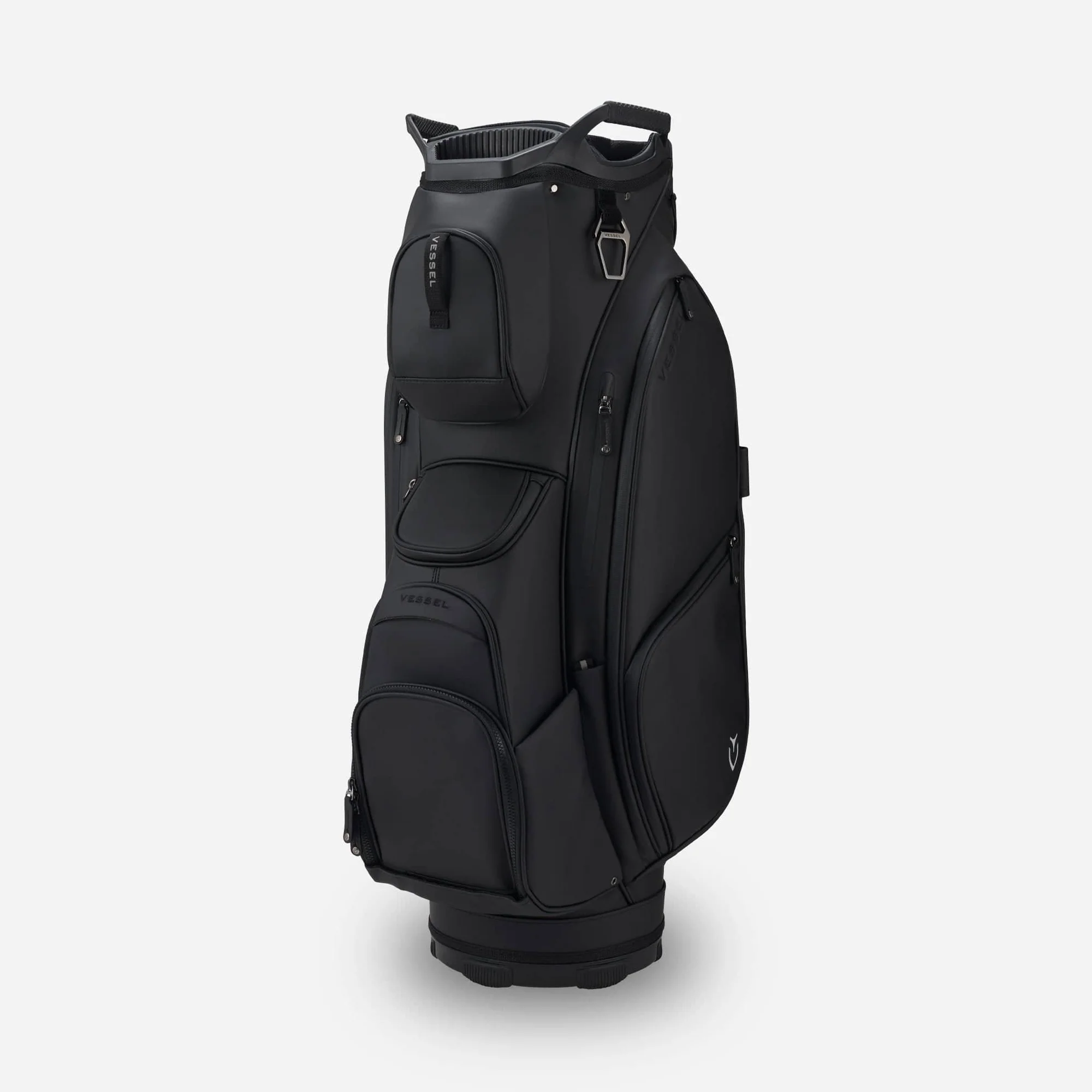 Vessel Lux XV 2.0 Golf Cart Bag
If you're someone who needs a cart bag, but doesn't want to sacrifice on quality, features, or looks, then the Vessel LUX XV 2.0 is the bag for you.
Buy from Vessel
We earn a commission if you click this link and make a purchase at no additional cost to you.
Good Things
Industry leading finishes and build quality
More space than you'll evern eed
Little touches not seen in other bags
Bad Things
It's Expensive
Cart pass through can be a little tight
No microfiber lining like on some other Vessel bags
The Breakdown
---
---
---
---
---