Best Golf Launch Monitors of 2023: 10 Amazing Options
Updated in October 2023 to add adjust pricing and notes on the Bushnell Launch Pro.
When it comes to the world of golf technology, I'm not sure there's a single product segment that has evolved further in the last five years than launch monitors.
It wasn't long ago that the only options for a launch monitor were Trackman and competing products that held price tags well into the five figures.
But now in 2023?
There are golf launch monitors available at just about every price point, all the way down to a couple hundred dollars.
And you know what's even more surprising than that?
Many of them are good.
Very good.
So before, when the only times you'd get the benefits of an accurate launch monitor were during a lesson or a club fitting, you can now get accurate(ish) distances every single time you head to the range or your garage.
But with so many options now on the market, which one is right for you?
It honestly can be pretty confusing, but I've personally gone out and reviewed nearly all of the best golf launch monitors under $3,000 so that you don't have to.
Ready to find your perfect device? Me too, let's go!
What is a Golf Launch Monitor?
First off, you may have stumbled upon this article and found yourself thinking "what the heck is a launch monitor?"
Simply put, a golf launch monitor is a doppler radar or camera-based device that measures various metrics about your golf shots. This can include carry distance, swing speed, ball speed, spin rate, and many more.
You set the launch monitor behind or to the side of your ball on a range, garage, or simulator – and either in a compatible app or on the device itself, it gives you all of the info you could want to know about a golf swing.
What metrics a launch monitor provides, how accurate the data is, and what additional features the device has will vary wildly depending on the price point.
What to Look for in a Launch Monitor?
Every single golfer is going to look for something slightly different in a launch monitor.
Are you a scratch golfer who is grinding to dial in his wedges down to the nearest yard? Then accuracy is going to be really important to you.
Are you a 15 handicap who gets bored on the range and you're just looking for a way to make practice more enjoyable? You're going to want a launch monitor that's easy to use, and also has some fun bonus features.
Are you setting up a simulator in your garage for off-season play and practice? You'll want to make sure it's compatible with your simulator software of choice.
To make matters more complicated, prices for launch monitors run from $200 to $30,000 or more.
So before deciding which device you want, it's really important to understand what you're looking for, as well as what your budget is.
When considering a golf launch monitor here are some of the things you should be considering:
Accuracy – How accurate do you really need it to be? Within a yard every time? Or are you ok with numbers that are in the right ballpark?
Portability – Are you setting your device up in the garage and then not touching it? Or will you be taking it out to the range on a regular basis?
Price – What features do you need, and is it really worth the extra money to jump from a device in the $500 range to spending $2,000 or more? Also, take note of whether or not there is a recurring subscription fee to use the device.
Ease of use – You want a device you'll use, and if you're someone who won't use something that is less user-friendly, this is worth considering.
Simulator Compatibility – Is your primary purpose to use this as a simulator? Make sure it's compatible. If this is the case, check out our ultimate guide to building a golf simulator for home.
Fun – It sounds weird, but some launch monitors are simply more fun to use than others. Either through their user experience or extra features, this is one of my biggest considerations personally.
A Quick Note on Launch Monitor Accuracy
Having now spent dozens of hours testing launch monitors, and talking to hundreds of readers about their experiences with portable launch monitors, I wanted to add a quick disclaimer here.
When it comes to any launch monitor, much of its accuracy is going to come down to proper setup.
There are a lot of variables at play here:
Lighting
Indoors/Outdoors
Where the device is positioned
Weather
And so on…
Spend some time to test and dial in your launch monitor. ALL of the devices here are capable of achieving pretty accurate results relative to their price point.
But in most cases, they also can give you pretty inaccurate results if they're not set up properly.
For literally every single device on this list I've heard from multiple people that it's "great and accurate enough for their needs," or "it's horribly inaccurate."
Now, especially on the lower end, you can expect some more variable results. But in most cases, if things seem wildly off, it likely has something to do with your setup and environment. So just keep this in mind as you're deciding whether or not a launch monitor is right for you or not.
Ok, with all that in mind, let's jump into the best golf launch monitors on the market in 2023.
We'll be focusing specifically on devices $4,000 or less. Once you go above that you end up in a different market.
Which Golf Launch Monitor Is Best For You?
I've spent hundreds of hours reviewing and testing golf launch monitors. It's safe to say I have a pretty good idea of what's out there, and what the best fit is for each type of person and their goals.
I created a quick quiz to help you find the perfect one for you.
Best Overall Launch Monitor: FlightScope Mevo+
There was a lot of competition for this one, but ultimately I believe the FlightScope Mevo+ is the best overall launch monitor on the market.
Sure there are devices that are more accurate, there are devices that are more fun, and there are certainly some that are less expensive – but the Mevo Plus is the right balance of all those things and that gives it the edge in my rankings.
It's extremely portable, it has a professional level experience, it's accurate, works with numerous simulator services, and can be upgraded to feature metrics generally only found on flagship, $10k+ devices.
This is all made that much better by a refresh for 2023 that doubles the battery life and improves accuracy.
For what it's worth, despite owning ALL of the models in this list – this is the one I turn to most often for my personal practice sessions.
Best Golf Launch Monitor Under $1,000: Rapsodo MLM 2 Pro
Simply put, the Rapsodo MLM 2 Pro is the most hyped golf tech product of 2023, and for good reason.
The combination of Doppler radar and two cameras makes it the most accurate launch monitor in this price range. Not only does the built-in camera help track the ball for accuracy, but the second camera will record your swing at 240fps allowing you to see every single detail of your swing.
Rapsodo has improved the user-experience over the previous MLM in every way. It's more fun, more accurate, and despite being more expensive – we've found it to truly be worth the upgrade.
It does a lot of the things that impressed us so much with the Garmin R10, but does them a little bit better, without having to pay too much of a premium to do it.
Related: If this is one you're considering check out our comparison of the best golf launch monitors under $1,000.
Best Value Golf Launch Monitor: Swing Caddie SC4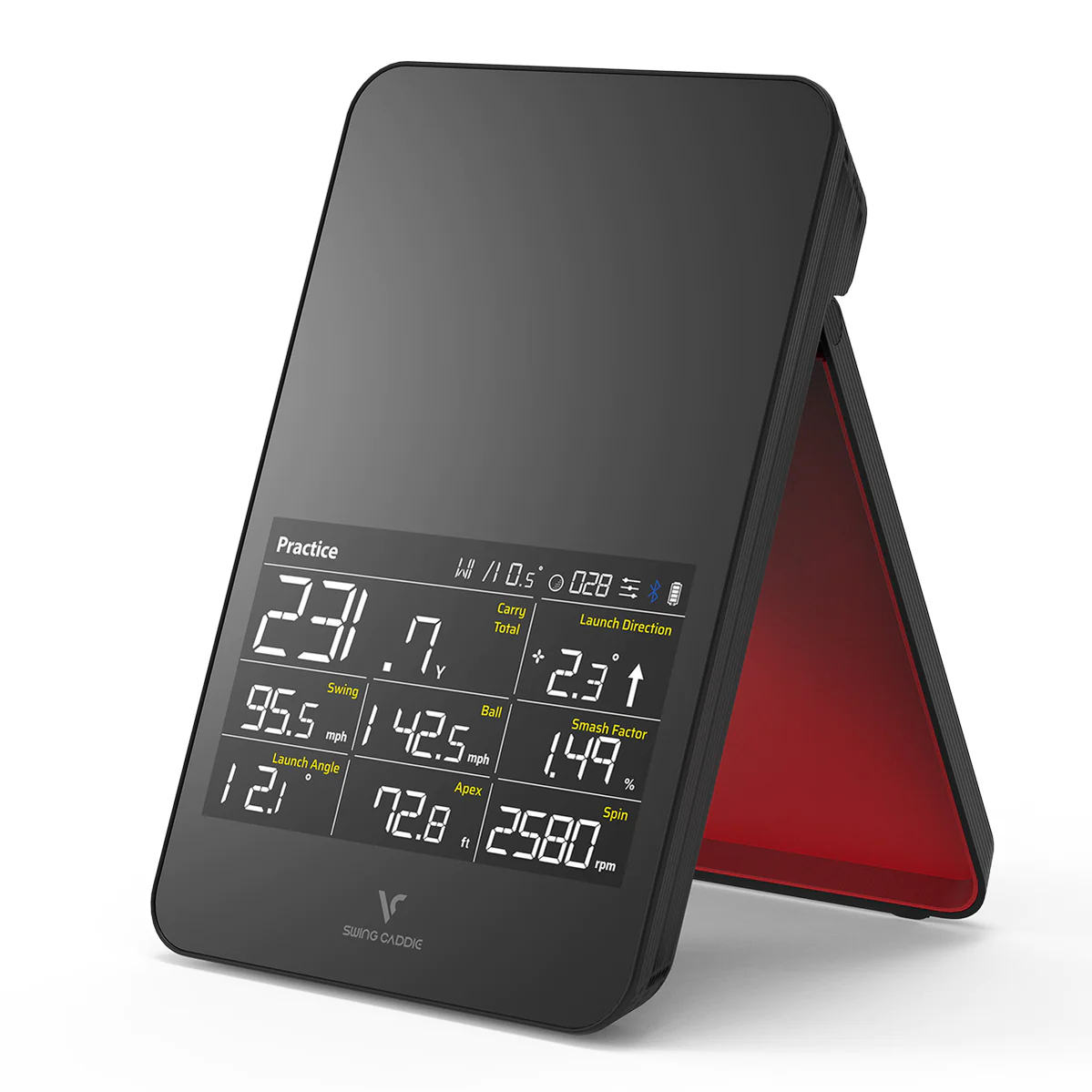 Last year I reviewed the Swing Caddie SC300i, which is very good. But the latest Swing Caddie launch monitor, the SC4? It blows it away.
The SC4 is by far the most feature-heavy launch monitor you'll find in the $500 price range. It has a built-in screen (which is even more useful than you'd expect), it has simulator capabilities, and can be used both indoors and outdoors.
Its spin numbers are a little suspect (as is usually always the case with budget devices), but a recent firmware update has greatly improved the accuracy across the board.
For a versatile launch monitor that you can use both at home and on the range? This one is tough to beat.
Best Golf Simulator for Most People: SkyTrak+
Most of the devices in this list can provide great home simulator experiences.
But in my testing, the SkyTrak+ might provide the best overall user experience if you're building a home simulator.
For starters, since it uses cameras rather than Doppler radar, it takes up about half as much space as the Mevo Plus or Rapsodo MLM2Pro.
The user-interace is also the most modern and enjoyable to use out of any of these devices as well.
Accuracy is close to the Launch Pro, which is the most accurate device on the list.
And to top it off it comes with both a mobile and PC license for E6 Connect simulator software.
Downsides are that it's really something you'll only want to use indoors, and doesn't feel quite as "pro" as the Mevo Plus or Bushnell. But if you want to setup a home simulator, have limited space, and want a device that simply works, and works well? The SkyTrak+ is an excellent choice.
Most Accurate Launch Monitor: Bushnell Launch Pro
Of all the launch monitors on this list, this definitely leans the most into "professional" territory.
The Bushnell Launch Pro is built on the GC3 Platform, and performs identically to that.
The Launch Pro uses a high-tech camera system rather than Doppler to give you your metrics and in my testing, it's led to the most accurate results of any devices I've tested.
Even better, Bushnell has completely changed their pricing structure, and it's now more affordable than ever before. You can get a Launch Pro with Ball data, fully unlocked (so lifetime access to all FSX software) for under $5k – which, while expensive, makes this a very compelling option for people who want to build out a home simulator.
If you're looking for a semi-permanent simulator setup, or you want a professional-level device that's a little more budget-friendly?
This is the launch monitor for you.
Just keep in mind, it's not as easy to setup as some of the others, and if you want to use it as a simulator beyond just your iPad? You'll need a gaming PC in order to do it.
Most Accurate Launch Monitor Under $500: FlightScope Mevo

The under $500 launch monitor market has gone crazy over the last couple years and there are a lot of very viable options here.
But I have to give the edge to the original FlightScope Mevo.
Why?
Two primary reasons:
I've found the Mevo to be the most accurate launch monitor in this price range, despite the fact that it doesn't have some features others have (like lateral shot data).
The Apple Watch compatibility also makes this very convenient to use on the range.
Not to mention the FlightScope Mevo is the most portable launch monitor on this list.
Best Launch Monitor Under $300: Rapsodo MLM
When it comes to the sub-$500 launch monitor market the FlightScope Mevo and the Rapsodo MLM are the two I hear about the most.
I give the edge to FlightScope for simplicity and accuracy.
But in terms of features? The Rapsodo is the winner.
And considering Rapsodo just dropped the MSRP from $499 to $299? This becomes the no-brainer pick for entry-level launch monitor.
For one, it has lateral data, and will show you a shot tracer view of every ball you hit.
Just the lateral data alone may be enough for some people to choose it over the Mevo. It also has a robust social experience with games you can play against other Rapsodo users.
I haven't found it to be quite as accurate as other devices, but it's usually still in the right ballpark. It's also nice that the design allows the phone to sit upright, so you can see the data easily.
Best Putting Experience: Golfzon Wave
There's a good chance you've never heard of the Golfzon Wave before. But if you've ever been in a high-end simulator studio, there's a good chance you've used one of the Golfzon Vision systems, which are among the very best golf simulators on the market.
And they better be when they can cost upwards of $75,000.
But now, you can get much of that same technology and experience at home, with their first consumer launch monitor and simulator the Golfzon Wave.
You get the same Vision software that's used on their high-end simulators but with a launch monitor you can use both at home or on the range.
But the real kicker is that they provide something no one else on this list does: an infared putting pad. This has an array of sensors that accurately track 8 different putting metrics.
So while putting on simulators is often disregarded, this is one of the only at-home setups that can actually provide useful numbers and an enjoyable experience.
Editor's Choice Launch Monitor: Garmin Approach R10
To be clear, for around $500, the Garmin Approach R10 is fantastic. And when it came out in 2021, there was nothing under $1,000 that could touch it.
But now in 2023? We have the Rapsodo MLM2Pro which while slightly more expensive, is more accurate.
And we also have the Swing Caddie SC4, which has more features, and you can get for less than the R10.
But this doesn't change the fact the R10 is great. This is especially true if you're already in the Garmin eco-system and use the CT10 sensors or a Garmin golf watch.
If this is the case, I'd go with the R10 over the other two simply for the convenience of having all of your data in one place.
Oh, and this is also the only launch monitor that lets you play Bandon Dunes for free on e6 Connect 🙂
Best for Warmups: Garmin Approach G80
The Garmin Approach G80 is a bit of a wildcard when it comes to launch monitors.
It primarily markets itself as a handheld GPS. It performs these duties very well, and if you need an external GPS rather than a phone app or a watch – this is as good as it gets.
But where it really starts to surprise you is in it's launch monitor capabilities.
You simply set it down beside you whenever you hit, and it gives you a handful of metrics, including carry distance, that are more accurate than you'd expect them to be.
This is by far the easiest device on the list to use. You turn it on, you set it next to you, you hit.
There are a number of extra built in features like some target games and tempo training that add to the usefulness.
At $500 it's a relatively expensive, niche device. But if you'll use the GPS, and you want truly the easiest device to pull out for your warm-ups before round? This is the one.
One I'd Probably Stay Away From: PRGR Launch Monitor
The PRGR Launch Monitor can be very appealing considering you can find it for just a little over $200 – making it the most affordable option on this list.
But in my testing, the results were pretty wildly variable, and I just couldn't trust the data enough to use it on a regular basis.
The caveat here, is I haven't tested the latest model, I've used a previous generation. So if price is your absolute biggest consideration, feel free to roll the dice here. And if you do, report back and let me know what you think!
But if I were considering this, I'd probably splurge and spend an extra $120 or so and get the Swing Caddie SC200 Plus or wait for a sale on the Mevo or Rapsodo.
Final Thoughts on the Best Golf Launch Monitors of 2023
As you've probably noticed, deciding on a golf launch monitor can be a fairly tricky process. Unlike the best golf rangefinders, which all generally do what they're supposed to do and have minor differences – launch monitors vary wildly in everything from size, to accuracy, to features, to price.
But I've had positive experiences with every single launch monitor on this list.
Sure on the lower end of the range, the data is not going to be as pinpoint accurate as with some of the more expensive devices, but these should all be close enough to make your purchase a wonderful tool for improving your game and having more fun on the range.
Have questions about any of these? I'm here to help! Drop a comment and I'll do my best to help out.
While you're here? Hop on our newsletter to get a weekly email of all our latest product reviews.
Looking for More Golf Products? We've Got You…
This page contains affiliate links. This means that if you click a link and buy one of the products on this page, I may receive a commission (at no extra cost to you!) This doesn't affect our opinions or our reviews. Everything we do is to benefit you as the reader, so all of our reviews are as honest and unbiased as possible.
---
---
---