SkyTrak+ Review: Is it the Best At Home Golf Simulator?
When the original Skytrak launch monitor came out in 2014 it was a little bit ahead of its time. It was one of the first true consumer-level simulator options to hit the market at a price point that was actually accessible for a lot of people.
By the time I got more serious about reviewing golf launch monitors in 2021, the SkyTrak had already been out for 7 years, and was still retailing for around $2k.
With new options from Garmin, FlightScope, Bushnell, and others – my thought (unfounded or not) was essentially: "Technology that is so much more modern, is likely going to be much better."
So because of that, I never made the time to review the original SkyTrak device (these things take a long time to properly review!)
Over the last 2 years I've had 100s (not exaggerating) of people ask me what I thought about SkyTrak, and more recently, the newly released follow-up, the SkyTrak+.
Having now spent the better part of the past week using, testing, and experimenting with the SkyTrak+ I've got some opinions. And one of the biggest one? Maybe I shouldn't have waited so long to jump on the SkyTrak train!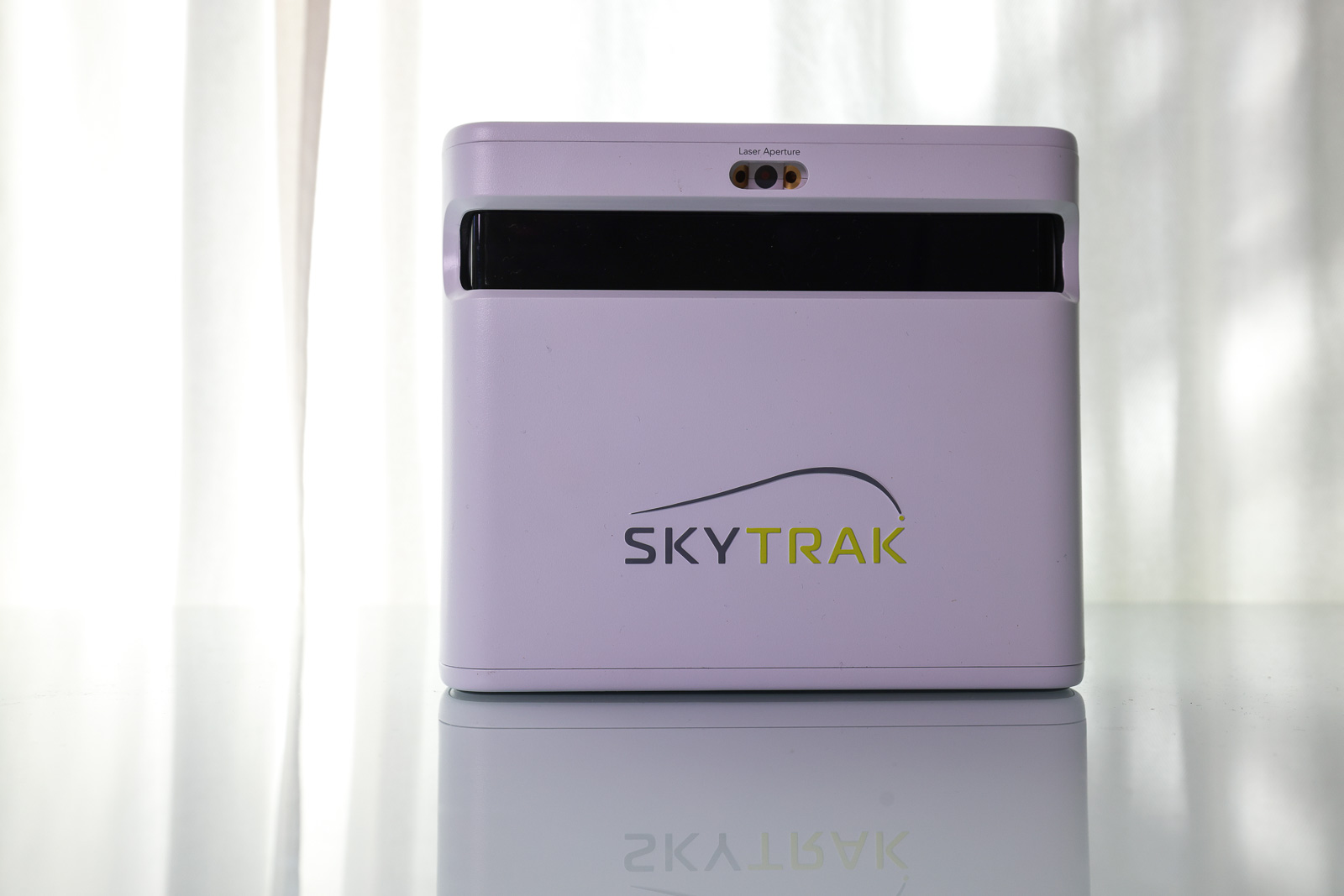 Today I'm going to do a full review of the brand-new SkyTrak+ launch monitor. In this SkyTrak+ review I'm going to talk about all the things I love about it (there's a lot), and some things that I didn't love so much.
There's never been so much competition in the world of home golf simulators before, so if you've been in the market for a mid-range device, you're going to definitely want to keep reading.
Let's do this.
First Impressions of the SkyTrak+
Opening up the box of the SkyTrak+, everything is well done, but nothing is over the top.
Considering the SkyTrak+ is just shy of $3k, I would have liked it to feel a little bit more from the packaging, but that's being nitpicky.
In the box is the SkyTrak+ unit itself, a couple different USB cables for connecting to a PC/charging, a QuickStart Guide, and a small nylon pouch to keep your cables.
The unit itself is plastic construction, but overall feels well-built. It's not the tank-like build quality of the Bushnell Launch Pro, but it does feel slightly more robust than the FlightScope Mevo+.
One of the main things that sets the SkyTrak apart from other competing models is the fact it uses a high-speed camera to track your metrics, rather than Doppler radar.
The major benefit to this is the fact that you can use it in much smaller spaces. With doppler devices like the Mevo Plus or Rapsodo MLM2Pro you have to place the devices 7-8 feet behind the ball. Camera-based systems are placed right next to the ball. This cuts the space necessary to create a home simulator setup in half.
There are three indicators across the top of the device for power, WiFi and status. These change colors depending on the state the device is in, and I love how big and easy to read they are.
The SkyTrak Plus is a fairly heavy device, so it's not necessarily something you'd be throwing in your bag and taking with you on a regular basis.
To that end, one of the major drawbacks to the SkyTrak+ is that it's really an indoor-only device. But we'll talk more about that a little bit later on.
Overall, my first impression of the Skytrak+ is really positive. It's well-built, well designed, and it has the look and feel of a high-end launch monitor.
But that means nothing if it doesn't perform as well. So does it?
Best Home Simulator
Setting up the SkyTrak+ Golf Simulator
One of the nice things about the SkyTrak+ unit is that it can function on iOS, Android, or PC.
With any of the more expensive launch monitors out there, I'd plan to set aside at least an hour to get everything set up before you plan to use it.
That's about how long it took me to be totally good to go with the SkyTrak+.
During this time you'll:
Create your SkyTrak account
Download mobile and PC versions of the software
Download and bind to your e6 Connect account
Install the most up-to-date firmware
Pair the SkyTrak+ to each of your devices
It can certainly take less time than that, especially if you're only using it on PC or mobile and not both. But regardless of which way you go, there is some setup involved.
The good news is that it's all pretty straightforward, and I didn't have any unexpected issues with the setup.
There are two primary ways to pair the SkyTrak+: via USB or direct via WiFi connection.
The USB-C solution with my PC worked great, and had me connected in seconds. I also appreciate that the SkyTrak Plus uses the more modern USB-C connector rather than older USB iterations.
The WiFi setup is also pretty seamless, although I do wish there were a Bluetooth option.
As I've talked about in both my Mevo+ and Rapsodo MLM2Pro reviews, if you're using an iPad without cellular, you'll run into a major annoyance.
Namely, in order to connect your iPad to the SkyTrak+, you have to connect it to the WiFi network emitted by the device – which doesn't have any internet access.
So once you do that, you effectively don't have internet available to your device. So if you need to download courses, pair accounts, or do anything else online, you'll need to disconnect from the SkyTrak+, connect to the internet, and then reconnect.
It's not the end of the world, but every time I have to go through this with any device I get a little annoyed.
So for the most seamless solution, I definitely prefer the PC and USB connection.
That said, once accounts were created and everything was setup properly, each subsequent use of the SkyTrak+ app was extremely smooth. Within about a minute of turning on the device, I could be connected via either my PC or iPad and be ready to rock.
It was a little bit of a different story when it comes to e6 Connect, but we'll talk more about that later on.
Positioning the Device
The best part about having a camera-based device is that they are so much easier to position than Doppler-based devices.
The FlightScope Mevo Plus has been my pick for "best overall launch monitor" for two years. But my biggest complaint with it is that you really need to spend 3-5 minutes dialing in its positioning in order to ensure you're getting accurate data.
With the SkyTrak+ you set it down 18 inches to the side of the ball and a red laser dot is emitted on the ground. You put the ball on the laser, and away you go.
It's fast, easy, and accurate – I love it. You could say the same about the Bushnell Launch Pro, but despite not having the built-in display of the Bushnell, overall the SkyTrak+ is easier and more seamless to use.
The SkyTrak+ Software
After a few sessions using the SkyTrak+ software, I've gotta tell you, I'm falling in love.
It works equally well on both iOS and PC, and the PC version has felt less buggy than other simulator software I've tested recently – specifically Golfzon Wave and Foresight.
I've said for a while now that FlightScope has my favorite software of any launch monitor. I think this is still true. It gives you more customization options, more data (depending on your package), and is really easy to dial in exactly the way you want it.
But, and this is a big but…
The SkyTrak+ software looks better and is easier to use.
I was really pleased to see how good the SkyTrak software looks.
It really feels like a modern interpretation of simulator software which can often feel a little outdated with some other brands.
The default view shows you some basic metrics like launch angle, carry distance, ball speed, club speed. and both back and side spin rates.
But one click into "shot details" opens up a whole new world of data, that makes it very easy to get all of the metrics you need.
One feature I personally love is the fact that it will give you a green, yellow, or red box for launch angle, spin rate, and descent angle.
These colors tell you if you're within the "optimal range" for each of these metrics for your specific shot.
While yes, the "Optimal" numbers should be different for everyone, having an easy visual reference for people new to shot statistics is extremely relevant and helpful.
SkyTrak+ takes it a step further, as every single metric display also has a little "i" information icon. Click it, and it opens up with a video and description detailing exactly what this metric is and what you should be trying to attain when considering it.
If you don't care about seeing your shot tracer, you can switch over to "Numeric Display" mode, you'll get a full-screen chart showing all of your metrics.
I've celebrated how well the FlightScope Mevo+ does this within their software, but honestly, I think the SkyTrak+ looks better than the Mevo+ implementation of it.
SkyTrak strikes the perfect balance between giving you all the data you need, while still being user-friendly.
SkyTrak+ Modes: Practice, Challenge, and Game Improvement
This is the part where some of you will let out a big groan, but before you do, hear me out.
There is an optional subscription fee with SkyTrak+.
Included with the unit you get the "Basic" package, which pretty much includes just the practice range.
Fortunately, it will still give you all of the statistics and metrics the SkyTrak+ is capable of without having to subscribe.
But if you want to use it as a simulator or want any of the extra practice features, you'll need to pay.
The Game Improvement package will basically get you everything but Sim access, and is a reasonable $129.95 a year.
If you want all of the game improvement stuff, plus the ability to use e6 Connect, it'll set you back $249.95 a year.
I'm going to go through what both of these include in more depth in just a second. But overall, it feels reasonably priced for what you get. This especially holds true when compared to the $699/year Gold Package for the Bushnell Launch Pro.
But I do have a couple of big gripes when it comes to how it works with E6, which I'll cover in just a minute.
First, let's look at what each of the packages get you.
SkyTrak Practice Range (Basic Subscription – $0)
SkyTrak+ comes with access to the Practice Range. As I explained in the "Software" section above, the SkyTrak Practice Range is fantastic.
It looks good, the metrics are easy to read, and it has most of what you'd like to see it have.
One big omission you'll find is there is no Face Impact Detection like you can get with the Mevo Plus, but it does have all the D-plane information such as face-to-path, face-to-target, swing path etc that you have to pay $1k extra for with FlightScope as part of the Pro Package.
If all you care about is practicing and grinding on your game, the Practice Range with the SkyTrak+ is one of the most enjoyable ways to do it.
But here's the reality.
Considering the SkyTrak+ is primarily an indoor device, you're likely setting it up at home. If you're spending $3k on it, you've also most likely got a hitting net or impact screen, and a projector with a full simulator setup.
If you're going through that much work and decide the SkyTrak+ is the right unit for you, then 99% of you will spend the extra $249 a year to get all of the extra stuff.
And you should, because especially with the Game Improvement additions, you're getting some very useful tools that you don't get in other places.
Game Improvement Features ($129.99/Year)
The Game Improvement package really opens up some genuinely useful software features of the SkyTrak+ that go beyond just being gimmicks. These modes are handy for both improving and understanding your own game.
Some of the modes it unlocks are:
Bag Mapping
This is hands down the most intuitive implementation I've seen of bag mapping.
Essentially this is a very detailed process where you tell it what your intended distances are, and then it walks you through hitting all of the clubs in your bag.
It will show you the average distances and dispersions for each club.
At the end, it will show you what all of your average yardages are, and make it very easy to see where there are gaps. Maybe the 10-yard difference you were expecting between your 6 and 7 irons is actually a 17-yard difference.
With this information, you can make adjustments to your clubs or your shots on the course to get your yardage gaps in line with where you want them to be.
The fact SkyTrak makes this so easy to do is huge, and genuinely helpful.
Skills Assessment
This is the next obvious section to work on after you've gone through the bag mapping process.
It evaluates how good you actually are with each club. You'll set your desired distance for each club, and then hit a series of target-based shots.
At the end, it will show you how accurate you were and give you a dynamic handicap for each club.
So maybe you're a 4hc with your pitching wedge, but you're a 14 with your 4 iron.
This helps you really pinpoint what you need to work and shows the strengths and weaknesses of your game.
To me, it feels like a simulator version of what Arccos Caddie data gives you after your rounds.
Personally, I've found the on-course data to be a little bit of a better representation of my actual game. However, this is mostly just due to the fact I've always struggled with truly being able to play and swing the same as I do on the course, in a simulator.
Regardless, doing this on a regular basis will allow you to track your progress and see improvements over time – which I love.
Wedge Matrix
Again, this is another genuinely useful mode that I haven't seen on other devices I've used.
In the Wedge Matrix mode, you'll select 4 of your wedges and then hit shots at full, 3/4, 1/2, and 1/4 swings with each of them.
You'll then be able to see yardages for each, which helps you know what the correct club is for all of your pitch and chips shots on the course.
Maybe you thought at 100 yards a 3/4 PW was the right play, but the reality is a full gap wedge is more consistent.
Challenge: Target Practice, Closest to the Pin, Long Drive
Along with the modes mentioned above, when you get the "Game Improvement' subscription, you're also getting access to three challenge modes:
Target Practice
Closest to the Pin
Long Drive
These are all pretty self-explanatory and similar to many other launch monitors that have similar modes.
You can select if you want the challenges to be based on 3 or 6 shots, and you'll get points for the accuracy or length of your shots.
The modes work pretty well, but I can see them getting a little old after a while if this were all you were doing.
One Other Note About the Game Improvement Plan
There are a handful of other modes within the Game Improvement plan, such as "Practice Randomizer" and a detailed "Shot History" section – but the ones listed above were the main ones I found to be the most interesting.
However, the other big thing to note, is that if you want to use third-party simulator software you'll have to have at least the Game Improvement plan.
As a little bonus, the Game Improvement package does include WGT by Top Golf Closest to the Hole challenge – but for anything more than that, you'll have to pony up a bit more.
Bottom line? If you plan to use the SkyTrak Plus as a simulator, you'll have to spend at least $130/year, plus the cost of the simulator software itself.
Best Home Simulator
Using SkyTrak+ as a Simulator (Play and Improve Package – $249.95)
Ok, here's the section many of you have been waiting for. How does the SkyTrak+ work as a true golf simulator?
The short answer is it works great.
But, it's not without a few frustrations that I think need to be mentioned.
So as it sits right now in August 2023, you can use the SkyTrak+ with:
E6 Connect – You can use this directly with the SkyTrak "Play and Improve" Subscription for $249/year
WGT by Top Golf – (This is for IOS only and includes 15 courses. Included with "Play and Improve" package
The Golf Club 2019 ($895 one time)
Creative Golf 3D ($300/year or $700 one time)
Fitness Golf ($199.95)
It's disappointing to not see GS Pro or Awesome Golf included in these – but I've heard rumblings of some more partnerships, so it wouldn't surprise me to see either or both become compatible soon.
Overall, for the amount of money that you're paying for SkyTrak, I do wish that it had some sort of dedicated simulator software included in the SkyTrak app itself.
It's great that both E6 Connect and WGT are included with the "Play and Improve" package – but as you'll see, I've got my critiques of both of these solutions.
The SkyTrak software is just so user-friendly and enjoyable to use, that switching to something else feels like a little bit of a bummer.
E6 Connect on SkyTrak+
These days a lot of consumer or "prosumer" level launch monitors come with E6 Connect Access.
Each device has a little bit of a different deal with E6 though, so when you see this offered, it's not always apples to apples.
For instance, the new SwingCaddie SC4 only comes with one course.
The FlightScope Mevo+ comes with 10 courses.
The Garmin R10 only has 5 courses, but is one of the only ones to include Bandon Dunes – which is pretty cool.
The SkyTrak is a little bit different than all of them, however.
So SkyTrak is the only one of these that forces you to pay a subscription in order to use it. As mentioned, it's $249 a year for the "Play and Improve" package.
The good news, and something that sets the SkyTrak+ apart is that with a subscription, you're getting not just mobile iOS access to E6 Connect, you're also getting the PC version.
The Mevo Plus is the only other device I can think of that provides PC access along with mobile included with the device.
If you're serious about a home simulator E6 both looks and runs better on PC than it does on mobile – so I'd opt for that if you want the best experience.
The SkyTrak E6 Bundle comes with 15 very good courses.
A few of the ones it includes are:
Among some other good ones.
But there's one more downside, and it's a big one.
Based on my experience so far, it seems as though the only mode available on E6 Connect on the SkyTrak is Stroke Play.
Other devices which may not have as many courses or be mobile only include Stroke Play, Match Play, Stableford, and a bunch more.
Considering I personally far prefer to do Match Play when I'm on a simulator, this is a big miss if you're hoping to play with others.
I'm still working to confirm this is true, and will update once I get confirmation.
WGT by Top Golf
I've now spent over an hour across two sessions trying to get this to work properly on my phone.
Honestly, I was really excited about using WGT with the SkyTrak+. WGT looks fantastic.
So it seemed as though it could be a great simulator option.
But both times I've tried to set it up, it's been a nightmare.
The first time I started using WGT I got into a game, but apparently hadn't connected the SkyTrak+ yet to my phone.
When I went to do so, it said I couldn't do it while a game was active.
I tried to quit the game, wouldn't let me.
I completely shut down the app, hoping I could get back to the main menu and pair the SkyTrak+.
Nope, it immediately dropped me right back into a game against some random person online.
This continued on for a while before I got so annoyed I gave up.
The second go around I had similar issues, and also had trouble connecting the SkyTrak+ to the software.
In the interest of being thorough, at some point I'll jump back in and try and get this to work, but for me, WGT is a no-go.
A Few Other Simulator Notes
I've always found E6 Connect to be a little buggy and challenging to setup both on PC and iOS.
That's no different here, but once you're in a game and playing – it works great.
e6 is a totally viable simulator option for SkyTrak+. It also includes PC compatibility along with iOS access to the software, so that's great.
But with The Golf Club 2019 costing a whopping $895, and WGT only being available on mobile (and not working well) the other simulator options all have their drawbacks.
Is the SkyTrak+ Accurate?
To be honest, one of my preconceived notions about SkyTrak+ is that it was more of a consumer-level product, than a professional one.
Maybe it's the fact you could only use it indoors, or the fact that I'd never heard of a club fitter or teaching pro using SkyTrak as their primary tool. Whatever it is, I actually think I was kind of right.
More than the Launch Pro or Mevo+ the SkyTrak does feel more consumer oriented.
I think making the statement "The SkyTrak+ is the best consumer-first simulator on the market" would be fairly accurate.
I think the Bushnell Launch Pro and to a slightly lesser extent, the Mevo Plus are geared towards more professional use cases like teaching pros or club fitters.
Whereas the SkyTrak+ feels like it's for the average person like you or me.
That statement might have come across poorly, but I mean it as a good thing for one specific reason:
It's still very accurate.
For $3k, you'd hope the SkyTrak+ would be accurate, but when I put it up against the Mevo Plus and Launch Pro all of the numbers I received were very similar across the board.
Spin rates, carry distances, and club tracking were all right in line with the Launch Pro from wedges all the way up to driver.
The Launch Pro is still the most accurate of all of these. But in testing all 3 of these indoors with about 8 feet of ball flight, they all put up similar numbers.
When you consider the SkyTrak is easier to setup and align than the Mevo Plus, and all the software is more user-friendly and enjoyable to use when compared to the Launch Pro – you have a really compelling product geared towards consumers – which is great.
Putting with the SkyTrak+
One area that isn't quite as robust as some other simulator solutions is putting. It's usable enough to play simulated rounds with the SkyTrak+, but it doesn't give nearly as much data and isn't as accurate as the Launch Pro. Even the Mevo Plus has a built-in putting practice mode, which while it's barebones, is more than what the SkyTrak+ has.
If you're using third-party simulator software, you can putt, but results are a bit variable.
If putting is of primary importance to you? Well then, you should probably not be using a simulator ha.
But jokes aside, if you want your putting experience to be as good as possible, then you might look at the Golfzon Wave. It comes with an infrared putting mat, that makes for the absolute best-putting solution of any home golf simulator under $5k.
Final Thoughts on the SkyTrak+ Launch Monitor and Simulator
Simply put, I'm incredibly impressed with the SkyTrak+. Much more so than I expected to be if I'm honest.
If you're just looking at the practice experience, I think it's probably my favorite of all the launch monitors out there.
The design is clean and modern, it's beginner friendly, and it gives you all of the data that you need.
Accuracy is very good and on par with other launch monitors in its price range. But the kicker here is that the SkyTrak+ is also easier to setup than many of its competitors as well.
But as we all know, there's no such thing as a perfect simulator.
The fact you can't take this outside to the range will be a big downside for many. And while there are numerous simulator software options available, all have their pros and cons, and all are relatively expensive.
But the good outweighs the bad here by a long shot.
I am thoroughly enjoying using the SkyTrak+. Especially how easy it is to use, and how modern the user interface is.
In fact, it's probably my current favorite when it comes to the standard practice experience.
So if you're looking for a home golf simulator that's easy to set up, accurate, doesn't need a lot of space, and most importantly is really fun to use? The SkyTrak+ is one of the very best options on the market.
Best Home Simulator
This page contains affiliate links. This means that if you click a link and buy one of the products on this page, I may receive a commission (at no extra cost to you!) This doesn't affect our opinions or our reviews. Everything we do is to benefit you as the reader, so all of our reviews are as honest and unbiased as possible.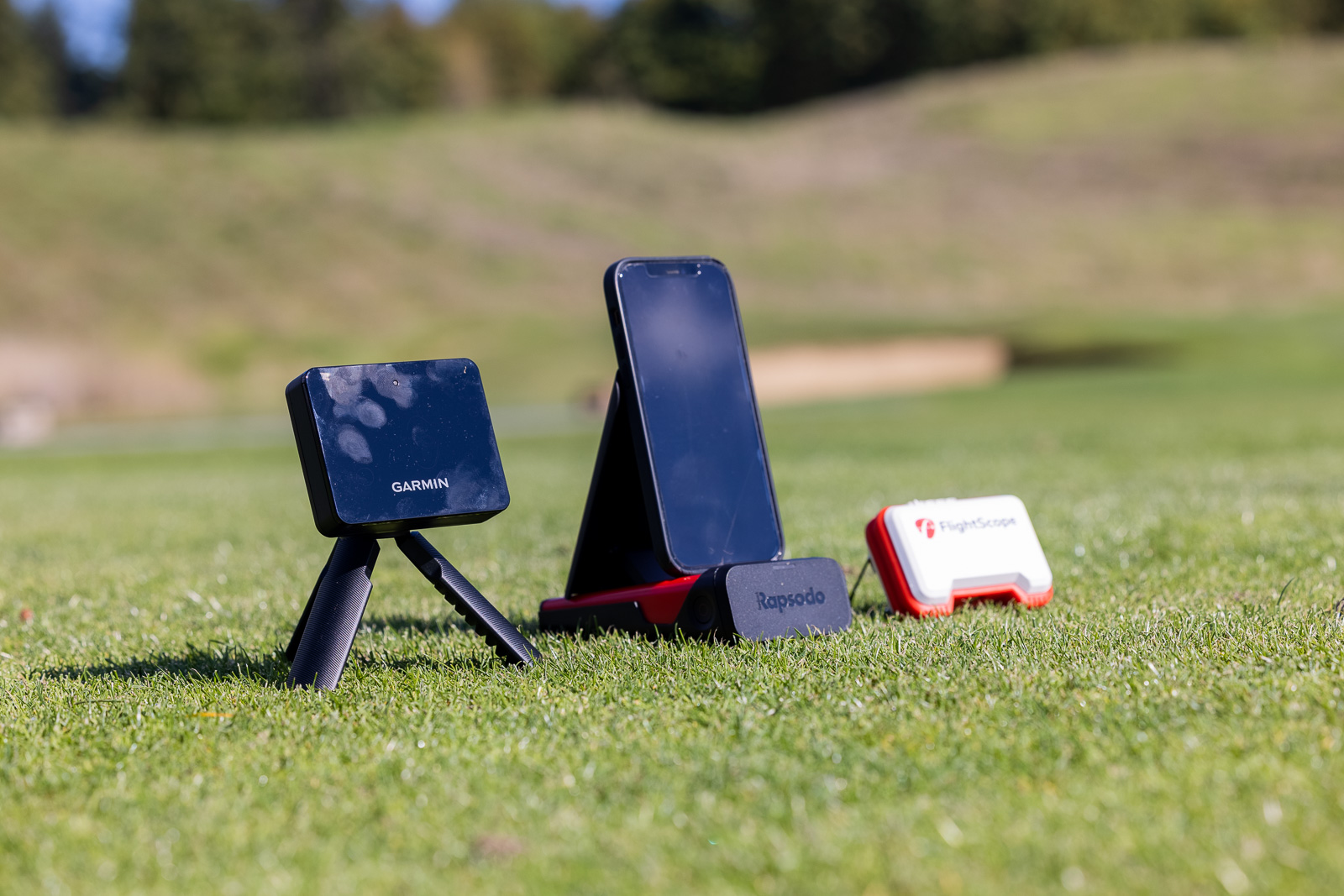 Which Golf Launch Monitor is Right for You?
I've spent hundreds of hours reviewing golf launch monitors. Take my quick 30 second quiz and I'll tell you which one is right for you!
Take the Quiz!
We earn a commission if you click this link and make a purchase at no additional cost to you.
Good Things
Wonderful user interface
Very accurate
Nice selection of modes and data
Bad Things
Mandatory subscription for simulator use
Can't reliably use it outside
The Breakdown
---
---
---
---
---