Swing Caddie SC4 Review: The Best "Budget" Golf Launch Monitor?
As golfers, we're getting spoiled for choice as technology trickles down to make launch monitors and simulators more affordable than they've ever been.
In the last couple of years we've seen some wonderful products under $1,000. The Rapsodo MLM2PRo, the Garmin Approach R10, and the FlightScope Mevo. All of them are accurate enough to be useful tools and make your practice sessions more fun.
Earlier this year Swing Caddie released their new entry to the market: the SC4 launch monitor and simulator.
On paper? It might represent the best bang for the buck out of anything under $1,000.
It has a built-in screen, a remote, the ability to use it both indoors and outdoors, and connects with e6 Connect to make it into a true golf simulator. Oh, and it does all this while costing only $549.
But how does it work in practice?
Is it accurate? How does it work as a simulator? Is it easy to setup?
We're going to answer all of these questions and more in this Swing Caddie SC4 review.
First Impressions of the Swing Caddie SC4
The previous generation of the SC4, the Swing Caddie SC300i was a unique device in the world of budget rangefinders. Specifically, it's one of the only units to have a built-in screen.
Unfortunately, the app experience wasn't great and it lacked some of the features that competitors provided at a similar price.
But for just getting basic numbers on the range? It was (and is) one of the easiest to use and more underrated launch monitors on the market.
With the SC4, Swing Caddie set out to improve upon every aspect of the previous generation, while leaning into the things that made it successful.
Swing Caddie has been doing a very good job with their packaging lately. Whether it's the Voice Caddie T9 watch or the SL3 GPS rangefinder, everything I've reviewed has felt high-end and worthy of its price point (and then some).
The SC4 is no different.
The packaging is very thoughtful, and when you open it up it feels like an occasion. At $549, the SC4 is on the lower end of the launch monitor spectrum, but when you take it out of the box it feels like it's on the same level as more expensive offerings from Rapsodo and FlightScope.
The unit itself is actually a bit smaller than I expected it to be, which is a good thing.
Despite its small size, the build quality is excellent. It doesn't feel like a flimsy piece of plastic. The SC300i feels kind of cheap – this does not.
The exception to this is the glass covering the screen. While it's fine, it does feel prone to fingerprints and scratches, so you'll want to be careful when handling it.
The included remote tucks underneath the stand and is a very well-thought-out design.
Not only is this one of the only products in its class to have a built-in screen, but it's also one of the only ones with a remote. This makes using it on the range so much more convenient.
One downside you'll notice upon taking it out of the box, is that the Swing Caddie SC4 doesn't come with any kind of a case. You can buy a portable case along with an alignment plate and portable battery for an extra $60, but this is definitely a bit of a bummer. Even a small nylon bag would have been welcome to help avoid scratching during transport.
And considering you can save $50 buying the SC4 using our code from Play Better, buying the $60 case is something I'd recommend. It's a very well-built case, and it's great for using as a stand if you're trying to use at a range with uneven terrain.
But despite that one downside, everything about the SC4 feels like a product very worth of its price.
Setting up the Swing Caddie SC4
One of my favorite features of the Swing Caddie SC4 is the fact that it allows you to make your practice as simple or complex as you want it to be.
If you don't want to deal with an app and just want to get some general distances? You literally turn it on, put it 5 feet behind you, and away you go.
But if you want to track distances, compare shots, or use simulator features then you can pair it to the MySwingCaddie app to have an experience similar to the Rapsodo, FlightScope and Garmin devices.
As far as setting up the SC4 on the range or at home, it's a breeze. You only need to place it 5 feet behind you, which is the shortest distance I've seen for Doppler Radar-based units. Both the Rapsodo MLM2PRO and Garmin Approach R10 recommend 7 feet, and the FlightScope Mevo Plus is ideally 8.
So this gives you more flexibility, and it also helps make alignment easier.
Setting up the app is a little more involved, but is still a pretty simple and intuitive process.
In the MySwingCaddie app there's a Bluetooth symbol in the top right. You select that, turn on the SC4, and it should pop up as an option. Select it, and you're paired and good to go.
It's worth noting if you already have a Voice Caddie device like the T9 watch – there are two different apps. I made the mistake of opening up the Voice Caddie app first and got confused when it wasn't recognizing the SC4.
It'd be nice if the brand selected one common name (Voice Caddie and Swing Caddie are the same company), and also just used a single app similar to how Garmin has approached their golf app.
How Does the Swing Caddie SC4 Perform?
When you turn on the SC4, you immediately notice how bright and high-quality the screen looks. The white text against the black device, looks really good. It's a big step up from the orange screen of the SC300i and SC200.
On the screen, it shows you 8 different metrics by default:
Carry Distance
Launch Direction
Swing Speed
Ball Speed
Smash Factor
Launch Angle
Apex
Spin Rate
Using the included remote you can also easily push a button to change carry to an estimated "total" distance, or change the club that you're using.
It can take a session or two to understand exactly where each metric is located on the screen. Because it does show so much information, some of the metrics can feel a little small and tough to read.
But once you understand what everything is and where it is in the layout, it becomes much easier to glance and get your desired information.
You can also have it audibly tell you statistics. But unless I'm totally alone, I usually keep the volume at zero.
As far as performance and accuracy goes, I've been pleasantly surprised with the SC4.
For each of my sessions, I've compared it against the Bushnell Launch Pro, which is the most accurate launch monitor I have.
Distances with wedges and irons were within 2-3 yards on average of the Bushnell, with a few outliers being 5-7 yards difference.
For a device you can get for under $500, this feels totally acceptable.
Launch direction often varied by a few degrees, but it always got the direction right. When you're hitting into a net it's not always easy to tell if you sliced, pushed etc.
The SC4 did a great job with this direction data, allowing you to get the general data you need in order to make improvements.
The biggest surprise was spin.
After the most recent firmware update, spin seems to be much better than it was initially. I've been consistently getting results within 100-300 rpm of the Launch Pro. I was fully anticipating this to be much farther off, so this was a nice surprise.
The exception to all of this is with driver data. With irons and wedges, I found the data to be very solid when compared to the Bushnell.
With Driver, things have been a little more variable.
About half of the shots are within 3-7 yards difference, with similar launch and spin data.
But the other half I found both spin and distances numbers to vary pretty wildly. Distance could be off by 20 yards, and spin differences in the 2-3k range.
It did seem like this happened more often with shots that weren't hit quite as well, but the discrepancies have been far more noticeable with driver than with irons and wedges.
However considering that a fully unlocked Launch Pro is around $7500, and the SC4 costs less than 10% of that? I think the SC4 overall performs very well given its price point.
Best Value Under $1k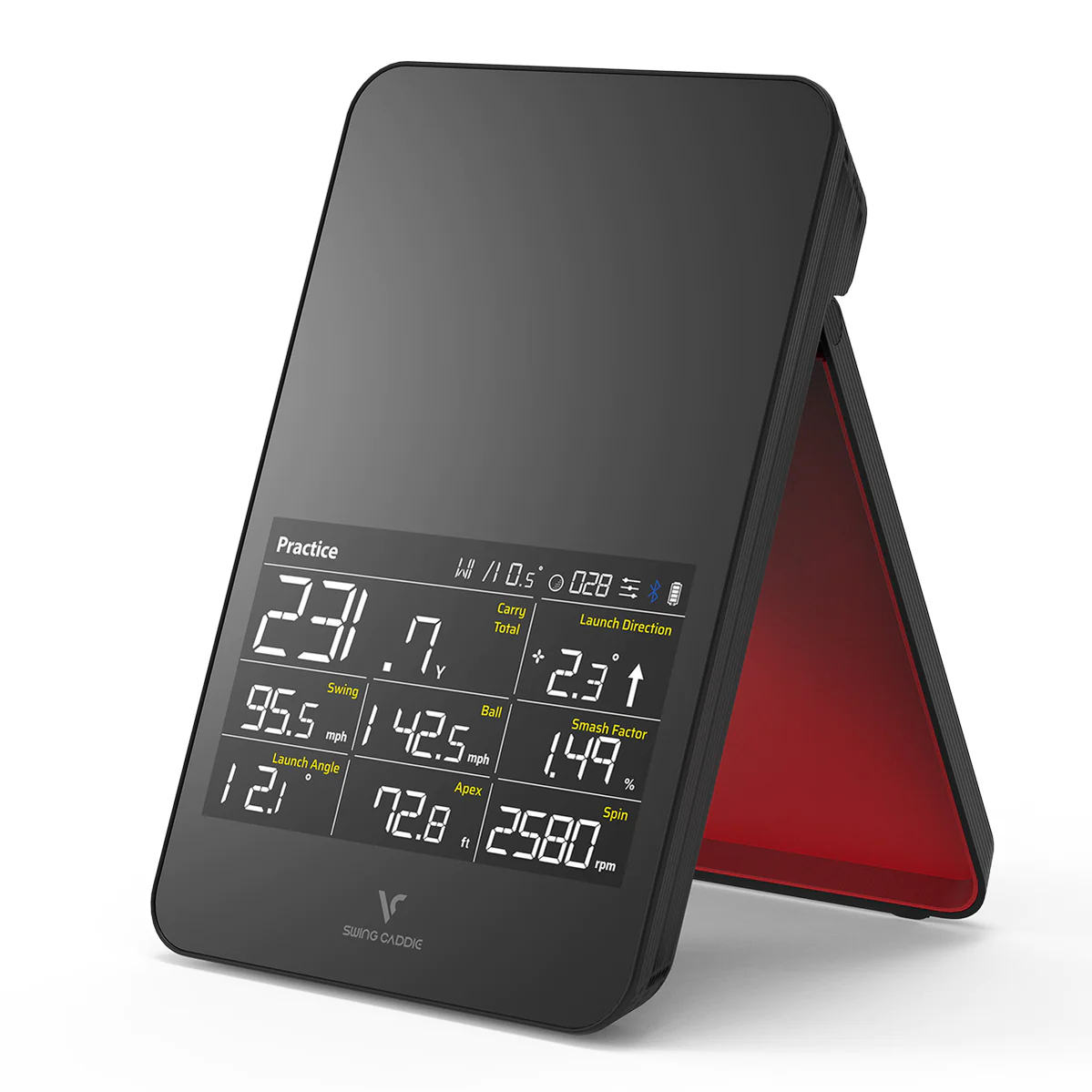 The MySwingCaddie App and the SC4 Launch Monitor
One of the things I was most excited to test with the SC4 is the app experience. The "app" on the previous gen SC300i, was basically a glorified website that they made an "app."
It wasn't great.
The good news is the app has undergone a big refresh and is much better than the old one.
It now actually feels like a proper app.
The bad news, is I've found the app to still have a ways to go in terms of usability and design.
With devices like this, I can't understate how important it is to have an easy-to-use app.
It's the thing that will really dictate how enjoyable your experience is with a launch monitor or simulator.
For me, the FlightScope Mevo Plus is the gold standard when it comes to relatively affordable launch monitors.
It allows you to customize the data however you want, it feels professional level, but is also totally usable for the average golfer who doesn't quite understand everything.
But, it's also 4 times the price.
The Rapsodo MLM2Pro and Garmin Approach R10 are more direct competitors to the SC4.
The apps of both of those feel decidedly geared toward consumers, but they are both intuitive and easy to use. While I have my critiques with each, overall it's very easy to do your practice sessions, review data, and get comfortable within the app.
I haven't had that same experience with the MySwingCaddie app.
The data is all in there, but trying to figure out how to find it, compare it to previous sessions, and leverage the graphs and charts isn't super intuitive.
For instance, here's a screen from a session with my pitching wedge. I hit a handful of shots, but this trajectory screen only shows 2 – and there's no explanation for what it means.
Despite the fact the Rapsodo MLM2PRO doesn't make it easy to view a chart of all your metrics at once, one area it really excels is helping you understand what all of your data and metrics mean.
With the Swing Caddie app, you don't get any of that information, and many of the screens feel incomplete and like there are elements missing.
The app is absolutely moving in the right direction, but it still has a ways to go to become both an indispensable practice tool and a feature that enhances the enjoyment of using the SC4.
Using the SC4 as a Simulator
When the SC4 was first released it didn't feature simulator access, yet.
Now it's been out for a few months, and when I last logged into the app, I got a notification that simulator compatibility was now available and to check my email for access.
I actually just got the e6 code to give me access, but as of the time of writing this, I haven't had time to test it out yet.
I will update this review as soon as I'm able to do so.
One thing worth noting is that with the SC4 you only get free access to one course on e6.
This is compared to 5 with the R10, 6 for the MLM2PRO, and 10 with the 2023 Mevo Plus.
So not the end of the world, but a little bit more variety would be nice.
Swing Caddie SC4 vs. Garmin Approach R10
The biggest direct competitor to the SC4 is the Garmin Approach R10.
And on paper? The SC4 seems to be the winner.
You can get it for $100 less, it has a built-in screen and remote, and has most of the same features that the Garmin has.
But everything about the Garmin Golf App feels much more refined than the SC4. It's easier to digest data, it's easier to read and use the app while you're practicing, and because the app experience is so much better, it just tends to make me feel more confident in the device as a whole.
I don't think the R10 is necessarily any more accurate than the SC4. But the package it provides makes me feel more confident using it.
That said, I think the Swing Caddie SC4 is going to get there. There's already been such a big leap from the old version of the app to the new one, that I have no doubt it'll continue to improve.
So which one to buy I think depends more on how you'll use it.
Do you want the better app experience, and do you want it to be as user-friendly as possible to compare sessions, do simulated rounds, and save data? The Garmin is the better choice.
But do you love the idea of having a device with a built-in screen, that takes up less space, and costs a little bit less? Go with the SC4.
Final Thoughts on the Swing Caddie SC4
I was surprised by how many people were asking about the the Swing Caddie SC4 in the comments of my Rapsodo MLM2Pro review a few months back. There really was a lot of pent-up demand for it, and a lot of people were wondering if it's as good as the Rapsodo at a lower price, without a subscription.
And I'm happy to report that the SC4 is an incredible value for the money.
If you use the coupon code B80-SC450 you can save $50 on this through Play Better, which brings the cost down to $499.
This is a wonderful deal for under $500.
It's accurate enough to allow you to trust the data you're getting (in most cases), the built-in screen makes it extremely convenient, and it's only going to continue to improve as they push more updates.
The downside is the app experience is where it's lacking. It's not on the same level as either the Rapsodo or the Garmin (yet), and that does impact ease of use and enjoyment when using the SC4.
To be fair, the more you use it, and the more time you spend in the app, the better the experience becomes. But it's still lacking some key user experience features that I hope are added in the future.
Considering everything you get, I think this may be best golf launch monitor under $500 for most people. That said, I'd like to test it more before I say that definitively. I'll update this review as I do.
If you don't need the screen, I might consider spending a little bit more for the enhanced app and simulator experience of the R10 – but both are similar in terms of accuracy of data.
Swing Caddie is off to a great start with the SC4. The big question is, will they continue to support it and improve upon the app in the months to come. If so? This will continue to become the obvious choice for an entry-level launch monitor.
Best Value Under $1k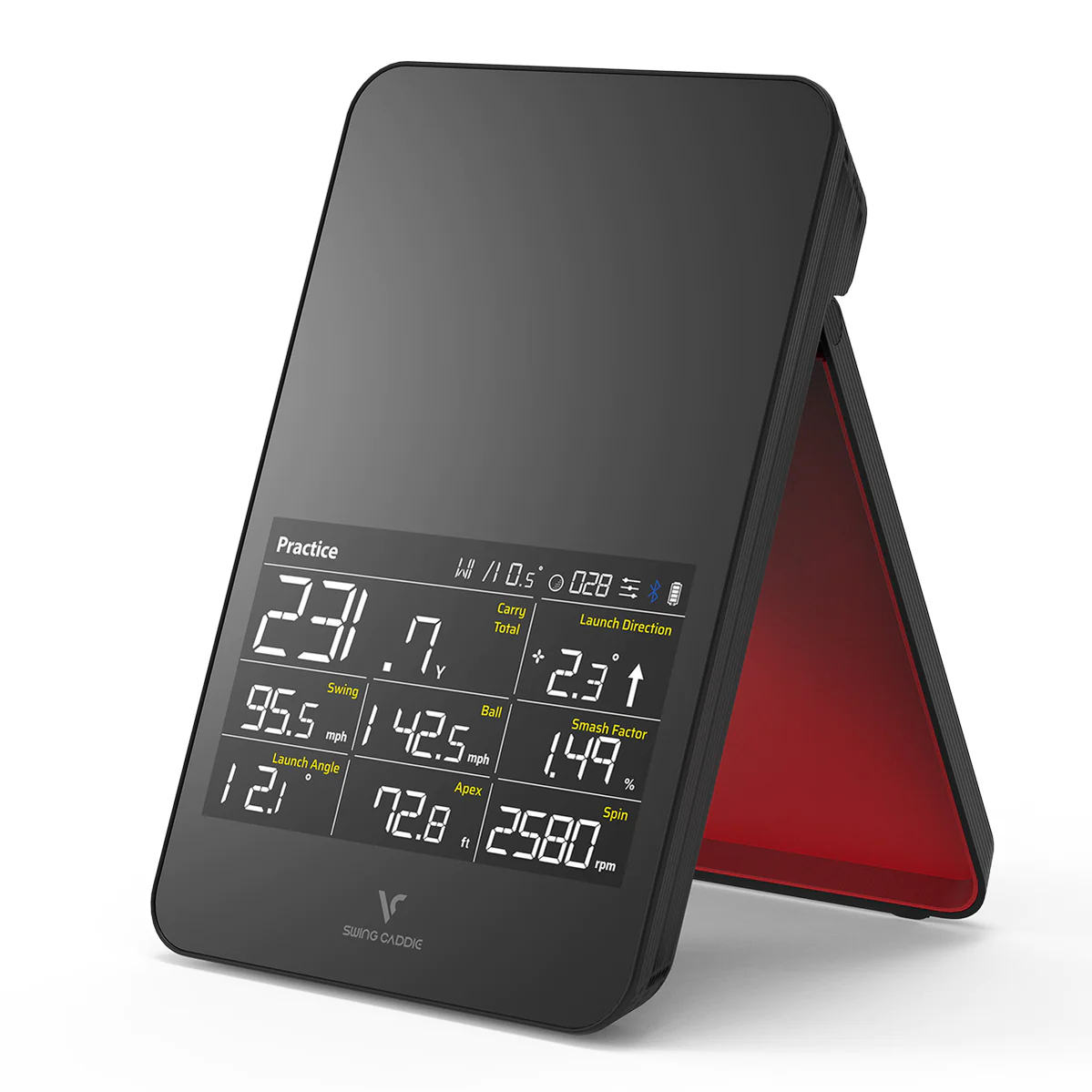 This page contains affiliate links. This means that if you click a link and buy one of the products on this page, we may receive a commission (at no extra cost to you!) This doesn't affect our opinions or our reviews. Everything we do is to benefit you as the reader, so all of our reviews are as honest and unbiased as possible.
Good Things
Good looking and well thought out design
Built in screen sets it apart from competitors
Tons of features for the price
Bad Things
No carrying case included
App still has a ways to go
Accuracy is a bit variable depending on environment and club
The Breakdown
---
---
---
---
---