FlightScope Mevo Review: The Best Consumer Level Launch Monitor?
Updated in April 2023 to reflect new features, pricing, and competitive models.
Over the years I've reviewed a lot of different golf tech products, but there's one that I've been wanting to try that up until recently had eluded me: the FlightScope Mevo.
When it comes to respected names in launch monitors, there are two that most people immediately jump to: Trackman and FlightScope.
Considering you'll be spending at least 5 figures for even the cheapest of Trackmans, FlightScope is the only feasible option of these two for people looking for a product at a more consumer-friendly price point.
They've still got their very expensive professional setups that the likes of Bryson use to aid their practicing – but unlike Trackman, they also have two less-expensive options in the Mevo and Mevo+.
The Mevo retails for $500, and the Mevo+ adds in some extra features but quadruples the price tag to just over $2k. Here is our full FlightScope Mevo Plus review.
But the question is, are these more affordable FlightScopes actually worth the still considerable expense? Are they accurate? Will they actually help you with your golf game?
That's what I set out to discover in this FlightScope Mevo review.
And if you want a little hint of what's to come? It honestly has exceeded my expectations.
Let's dig in.
Note: Already know you want to pick up a Mevo? Sweet! Use the code "BREAKINGEIGHTY" and get 15% off 🙂
First Impressions of the FlightScope Mevo
The first thing I realized when I got my FlightScope Mevo out of the box was just how small it really is.
It's tiny.
It's smaller than my iPhone, and feels similar to a deck of cards, but just a little thicker. It's also the smallest when compared to it's biggest rivals the Rapsodo MLM, Garmin Approach R10, and even the Swing Caddie Sc300. With the Flightscope being by far the easiest to keep in your bag at all times.
Being so small, I kind of expected it to feel cheap – but it absolutely doesn't.
From the moment I took the Mevo out of the box, this felt like a very high-quality product in a package that is literally about as convenient and portable as it gets.
In the box, you'll find the Mevo, a small carrying bag, a USB charger, silver stickers, and an instruction book.
I was very pleased with the packaging, build quality, and what I'd call "professional feel" of the device, but if it doesn't work well then none of this matters.
Related: Want to know if this really is the best golf launch monitor for under $500?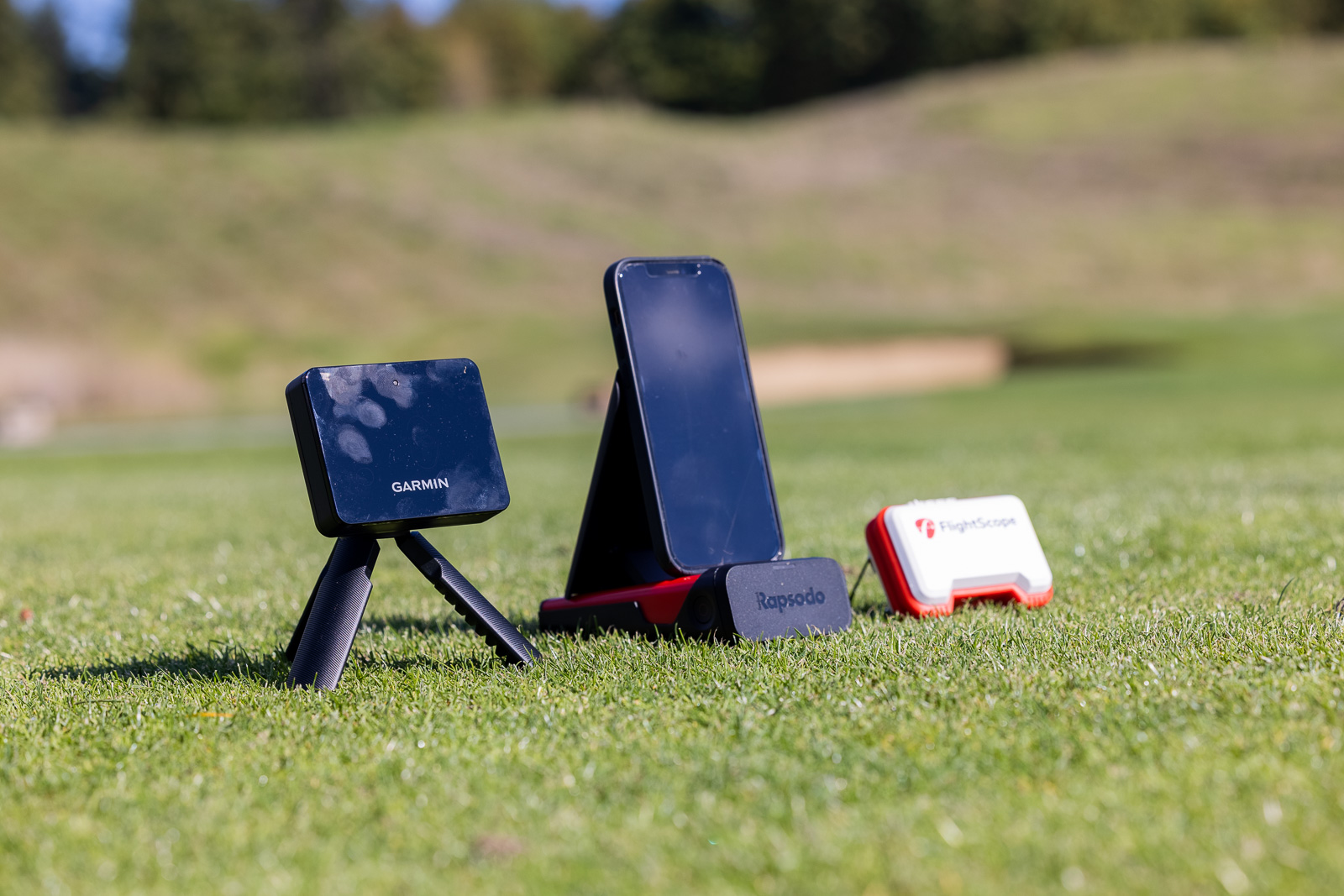 Which Golf Launch Monitor is Right for You?
I've spent hundreds of hours reviewing golf launch monitors. Take my quick 30 second quiz and I'll tell you which one is right for you!
Take the Quiz!
We earn a commission if you click this link and make a purchase at no additional cost to you.
Setting Up the FlightScope Mevo: It's A Dream
With most of the tech devices I test out on this site, there's a little bit of a learning curve or troubleshooting the first go around. This has been the case with the Rapsodo MLM, the Blast Motion, and even Arccos.
So I expected similar issues when setting up the Mevo.
I couldn't have been more wrong.
I've never used a golf product that was so dead simple to setup.
I downloaded the FS Mevo app to my iPhone 12 Pro, and signed up for a FlightScope account.
It took less than 60 seconds.
I then turned on the Mevo which I'd charged overnight, and I immediately watched the screen in the top right of the app switch from Disconnected (red), to Connected (Blue), to Ready (green) in a total of about 10 seconds.
It couldn't be this simple…could it?
I placed the Mevo 6 feet behind my spot on the range, hit a shot, and almost instantly had numbers for carry, spin, ball speed, clubhead speed, and launch angle.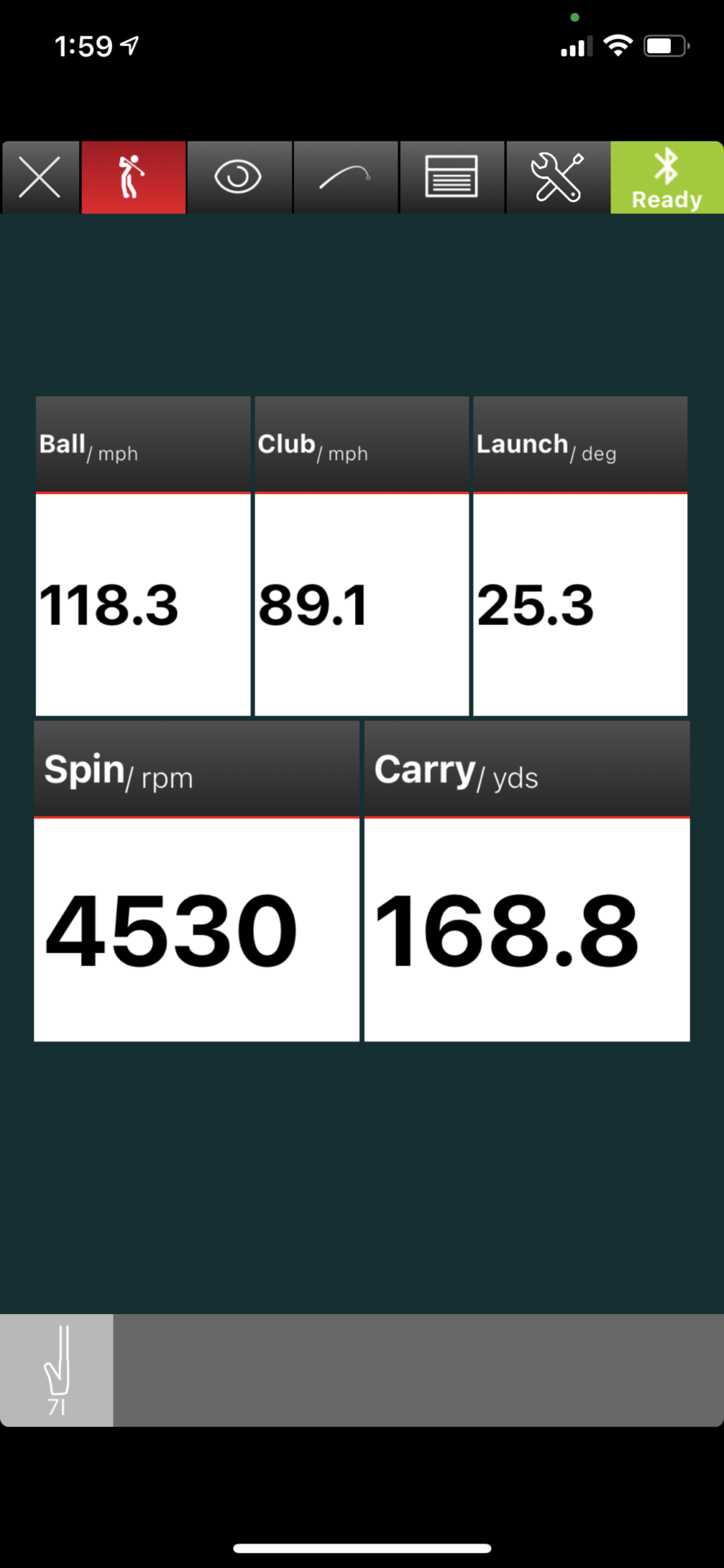 No fumbling, no questioning, no wonky Bluetooth pairing or flipping through menus.
It. Just. Worked.
And I couldn't have been happier about this.
I've reviewed the Swing Caddie SC200 in the past, which had a similar easy setup – but there was no app included with that (you'll need the more expensive sc300 for that). The marriage between the Mevo and the Mevo app is so incredibly seamless. This shouldn't come as a surprise considering FlightScope's reputation for professional-level launch monitors.
I just wasn't sure if it would truly trickle down to a product at such a reasonable price point.
But again, ease of setup only goes so far if the numbers aren't accurate, or you can't actually use the rest of the features in a user-friendly way.
Using the FlightScope Mevo
Every time I went into the FlightScope app I found it generally very easy to do the things I needed to.
Across the menu bar on top there are menus for:
Tracking: This is the mode you're in when hitting balls.
Reviewing: You can go into this mode to review your previous shot
Session graph: A visual representation of all the shots hit during this session
Session List: A list of each shot hit during the session including club and shot info.
Settings: How you customize the app for your preferences
Status: This shows if the device is connected and if it's ready to use.
There are two different settings for when you're hitting shots: video and data.
In data mode, there's no camera and it just gives you the shot data.
In video mode, the Mevo will automatically recognize your swing, take a video, and allow you to play it back, draw on it, and so on.
This works really well.
You have the option of recording in slow motion if you really want to break down your swing, and you can easily choose between the front or rear-facing camera on your phone in the settings section of the app.
I found the app very intuitive, and pretty much anything I wanted to adjust could be done in the settings section.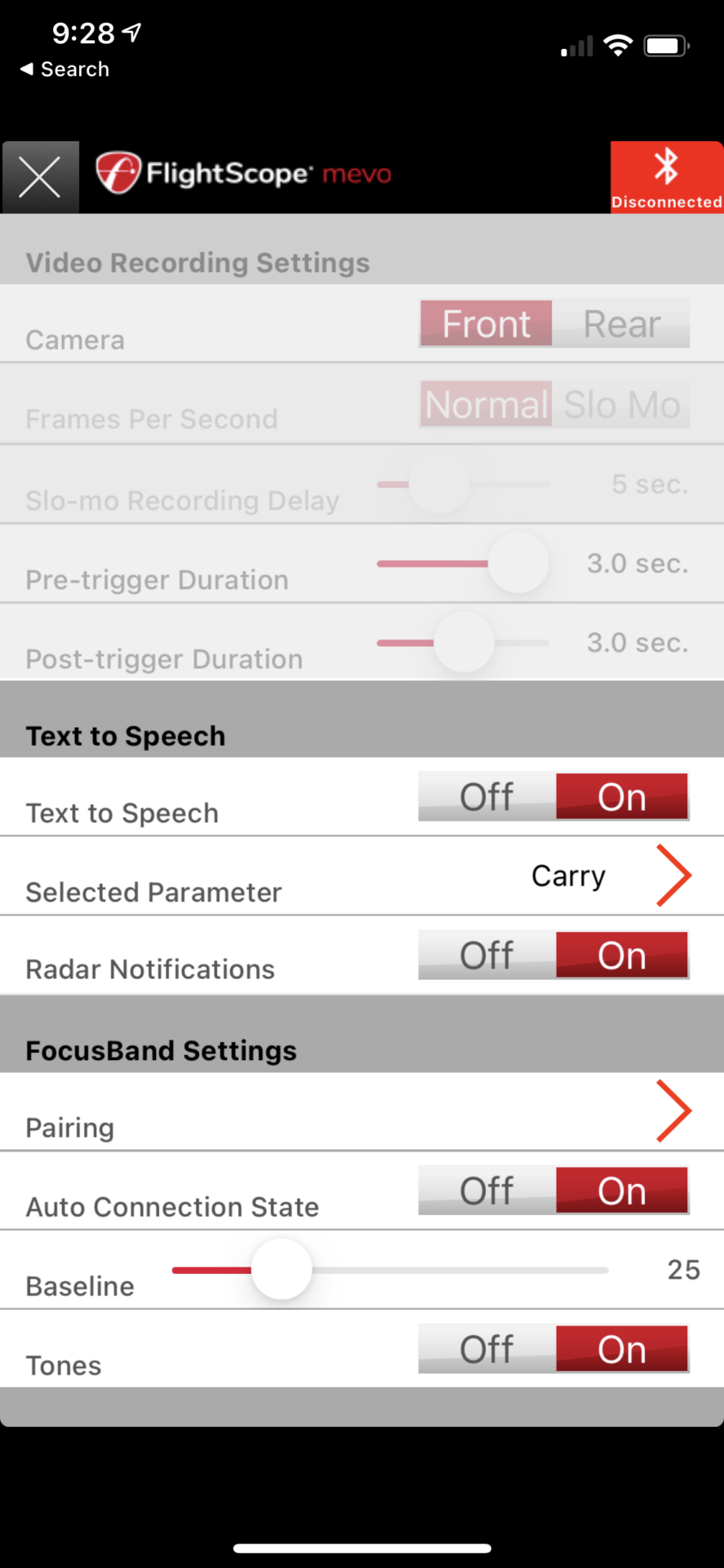 FlightScope Mevo on FS Golf App
Honestly, my only real critique of the app and experience is the FlightScope Mevo app is starting to show its age a little bit.
Not that it's even all that old, but the user experience doesn't feel quite as modern as it does on some of the apps of competitors like the R10, or even its big brother the Mevo Plus.
This doesn't hurt functionality. As I mentioned, it's so easy to setup and use.
Here's the good news, though.
You can now use the Mevo on the FS Golf App. This is the app the Mevo Plus uses, and it solves all of those critiques I've just laid out.
I'll be breaking out my Mevo again soon to test out using it with the upgraded app soon.
What Data do You Get with the FlightScope Mevo?
A nice feature was being able to adjust how information was presented to you. There are eight pieces of data you can get from the FlightScope Mevo:
Carry Distance
Clubhead Speed
Smash Factor
Apex Height
Flight Time
Ball Speed
Spin Rate
Vertical Launch Angle
By default, you'll be able to see 4 of these on the screen after each shot you hit. However, you can customize which data points are shown, which order they are shown in, and how many data points are displayed.
You can have anywhere from 1 to 6 displayed – but all of the data is captured and available for review.
It'd be nice to be able to see all 8 points at once, but honestly for what I use it for, I don't need most of them all at the same time.
You also might notice that there is a screen for Mushin and Quiet Eye, which are for integrations you can use with other products.
If I had a knock on the FlightScope Mevo app, it would be the aesthetics. It feels very clinical, and it doesn't feel as modern as the apps for some similar devices.
However, this doesn't affect the usability of the device at all – it's very intuitive to use.
Is the Flightscope Mevo Data Accurate?
When you're hitting balls, the response from the Mevo is almost instantaneous. You'll get the read-out you chose based on the above within a second or two of hitting your shot, and the user experience works really well.
But if the data isn't accurate, then what's the point?
I can safely say this is the first time I've personally tested a launch monitor where I had full confidence in the accuracy of the data.
With the Rapsodo and Swing Caddie I had some outliers that didn't really feel right – but with the Mevo I truly felt that I was getting the most accurate data possible for a sub $500 launch monitor.
Some of the others are close, but this one takes the cake in my tests.
While I don't exactly have a super scientific way to judge the accuracy, I did my best. I took a rangefinder and got the exact distance to one of the pins, and then hit balls with a gap wedge and based on my shot would try and guess how far the ball was based on the proximity to the flag.
And every time the Mevo provided a number that was right in the realm of what I'd expect.
Having this much confidence in the data I got from the Mevo is huge for really being able to rely and lean into this as a true training tool.
But….it's not perfect.
The FlightScope Mevo's Biggest Flaw
If you can't tell I absolutely love using the Mevo. The accuracy, speed, portability, and ease of use exceeded my expectations.
However, there is one very big drawback for me personally.
Lateral data.
There is none.
The data you receive is accurate, however, my biggest problem is hitting the ball straight and fixing my slice.
And unfortunately, since there isn't any lateral data, it's tough to truly get a sense of how your accuracy is improving – especially if the thing you're working on is fixing a swing flaw like a slice.
I had some shots that were way off, but if you were to just look at some of the stats, you wouldn't necessarily see that.
This is one of the biggest benefits you'll notice when upgrading to the Mevo+.
It gives you all of that data, and displays it in a 3d style chart more akin to what you'd see in a professional fitting studio.
Along with the 8 data points above, the Mevo Plus adds:
Horizontal Launch Angle
Lateral Landing
Angle of Attack
Total Distance
Roll Distance
Spin Axis
Spin Loft
Shot Shape
We recently reviewed the Mevo Plus, and found it to be the perfect marriage of consumer-level usability and price, but with serious professional performance and features.
It's a pretty significant upgrade in terms of price, but if you're serious about your practice and tracking your progress – it's an investment that may be worth it.
The best option I've seen in this price range that does include all of those features is the Garmin R10. The accuracy is in a similar range to the Mevo, but it has substantially more features. Not the least of which is the ability to turn the R10 into a full-blown home golf simulator.
Indoor Use with the Mevo
One of the benefits to the Mevo is its ability to use it inside with a net.
In order to properly track the shots, FlightScope provides you with little silver stickers that you can put on the balls in order to more properly track spin and data when hitting into a net.
I have yet to be able to test this out indoors, but I'm hoping to soon and will update this review accordingly.
This was one of the biggest advantages the Mevo had over the Rapsodo MLM, but they've recently updated their device to be able to use indoors as well, so I'll be testing them both and discussing in my comparison.
Apple Watch Support: An Incredibly Convenient Surprise
I'm pretty convinced that the most useful piece of golf tech isn't a golf product at all, but rather the Apple Watch. Whether you're using it as part of a GPS app like GolfLogix, or in conjunction with a product like Mevo or Arccos – I've been continually impressed with how well many of the Apple Watch integrations have been.
And the Mevo was no different.
It wasn't until I was setting it up that I realized the app supported the Apple Watch, so naturally, I had to try it out.
One of the biggest problems with using the Mevo is trying to figure out how to properly place your phone so that you can easily access and view the data, or position it for using the camera (more on that in a minute).
But the watch made this incredibly easy.
It would display the same data view that you customized on the device immediately after every shot you hit.
Even better, it allowed you to change the club you are using from directly on the watch.
It feels like a small thing to be able to do this, but I found being able to use my watch to be an incredibly convenient and useful tool while I was on the range using the FlightScope.
This is especially true if you don't have a proper place to put your phone for easy viewing/access, and you opt to turn the voice responses on silent.
Most Accurate Launch Monitor Under $500
How Well Does the Video Work on the Flightscope Mevo?
There are quite a few products now that have built-in tools for capturing video of your swing, and the Mevo is no different.
As mentioned you can easily flip the switch for "data only" or "video" in the settings section, and then choose which camera you want to use for your video.
The video implementation for the FlightScope is very well done.
I found turning it to the front-facing camera, and then propping it up on my golf bag behind me worked pretty well. The data is still displayed over the video, so you're able to both get a nice replay of your shot immediately afterward. This also still lets you see your stats as well.
All of your swing videos are saved, so you can go back and check them out whenever you want after your session.
I might be missing it, but I do wish there was a better way to star or highlight certain swings or videos.
It'd be nice to have an easy way to say "oh, that was the perfect swing," and then with a touch of a button star it for future reference or comparison.
It wouldn't surprise me if there's a way to do this, but I haven't found it yet.
Also as far as I can tell it doesn't look like my videos are automatically updated to be able to view on the My FlightScope website. However, it is nice to be able to have an easy way to digest all of that information on the computer.
And I'm sure there's a lot more on the site if you decide to go farther than the FlightScope rabbit hole, or are frequently using a more Pro level FlightScope setup.
One thing I'd add if you're serious about using the FlightScope on a regular basis – get a cheap tripod to use.
This is especially important if you want good videos of your swings. But having your phone on a tripod directly behind the Mevo where you can easily see data, video reviews and so on, will make your experience much more seamless.
Or if you want an even better, integrated solution then pick up SelfieGolf at checkout when you get your Mevo. It's an extra $30 bucks, but it's essentially a cell phone holder you can attach to a driver or alignment rod to be able to easily display data and record video on your phone while using your Mevo.
This was one feature the Garmin R10 nailed, when they included a phone mount with the device.
Final Thoughts on the FlightScope Mevo
Honestly, I love this device. It's better than I expected it to be in almost all aspects except the availability of data points like total distance, lateral data, and shot shape.
For as good as the device is, this is a fairly big detractor from me. I'd love to be able to see visual representations of where all of my shots landed, so that over time I can see that scatter plot get tighter and tighter.
But if you want that from FlightScope you'll need to pony up for the Mevo+.
Yet even with that one caveat, this is arguably the most accurate and one of my favorite consumer-level launch monitors to use. Not just that, it's one of the best and most dependable pieces of golf tech I've ever reviewed on the site.
I tend to have a lot of products that sit on the shelf after I review them. But this has very quickly earned a spot in my regular practice routine, and I'll be using it during pretty much every range session moving forward.
Most Accurate Launch Monitor Under $500
Related: Best Golf Launch Monitors: 8 Devices for Every Need and Budget.
This page contains affiliate links. This means that if you click a link and buy one of the products on this page, I may receive a commission (at no extra cost to you!) This doesn't affect our opinions or our reviews. Everything we do is to benefit you as the reader, so all of our reviews are as honest and unbiased as possible.
Good Things
Very accurate
Incredibly easy to use
Extremely portable
Bad Things
Not as much data as I'd like
The Breakdown
---
---
---
---
---