Swing Caddie SC300i Review: Most Underrated Launch Monitor in Golf?
Updated July 2023 to include comparisons to the new Swing Caddie SC4
This year there's been a ton of hype about a bunch of different launch monitors.
The Garmin R10…
These are the devices that are in highest demand and that I get asked about repeatedly on this site.
But you know what the most underrated golf launch monitor of the year may be?
For under (barely) $500, the SC300i provides one of the most streamlined and user-friendly experiences out there.
It doesn't have some of the features of app-heavy launch monitors like the Rapsodo MLM or R10, but it does have a variety of features that neither of those have – which makes it a really good fit for a certain type of person.
Which person is that?
Read on to find out.
Video Review of the Voice Caddie SC300i:
Video more your speed? Watch our SC300i video review:
July 2023 Update: Also Consider the Swing Caddie SC4
It's worth noting that Swing Caddie has recently released the follow up to the SC300i, the SC4.
It's better in just about every way, and is only $150 more than the current price of the SC300i, which is $399.
Even better, if you buy it through Play Better (use code "b80-SC450"), you can get $50 off the SC4. So for only $100 more you get a more accurate launch monitor that also can function as a simulator.
As you'll see in this SC300i review, it's great. But for not much more you can get something even better.
Check out the full Swing Caddie SC4 review.
First Impressions of the Swing Caddie Sc300i
You don't hear quite as much about Swing Caddie products when compared to many industry stalwarts, but I've always been impressed by the products of theirs that I've used.
I'm also not going to lie, I'm a little confused as to which products are marketed as "Swing Caddie" and which products are "Voice Caddie."
The fact it is the same company, but using different names (with two different apps) is a bit confusing.
The Swing Caddie SC200 was the first launch monitor I ever tested, a little over 3 years ago.
It's great. A little basic by today's standards, but it was accurate enough and easy to use.
We'll talk more about comparisons between these two later on.
Earlier this year I reviewed the T9 GPS watch – also great.
The T9 made it clear to me that Swing Caddie has upped their game when it comes to presentation.
Same goes for the SC300i.
As soon as you get the box, it feels well executed and put together.
One of the first things I noticed was the inclusion of a remote – which is actually super valuable.
To get the most accurate data, you're going to want to tell it which club you're hitting. And having the remote makes this much easier.
It also allows you to switch modes, change display preferences, adjust volume, and adjust other metrics like switching from total distance to carry distance.
The SC300i is a nice size coming in at just barely over an inch thick, 6.5 inches wide, and just over 4 inches tall.
As I write this it is currently in my golf bag. It has such a small footprint that it's really easy to throw in the bag, and honestly, you could pretty much leave it there for use on the range before or after rounds.
It has the same motif as previous iterations of Swing Caddie launch monitors with a purple body and orange screen. The whole unit is made of plastic, and doesn't feel quite as expensive as some other devices, but by no means does it feel cheap.
The orange screen is great for contrast and makes it easy to see regardless of how bright it is out.
Overall the presentation, size, and look of the SC300i is really good.
I also like that it comes with a usb-c port for charging, rather than some proprietary connection that I'll likely lose, and then have to buy another one of 🙂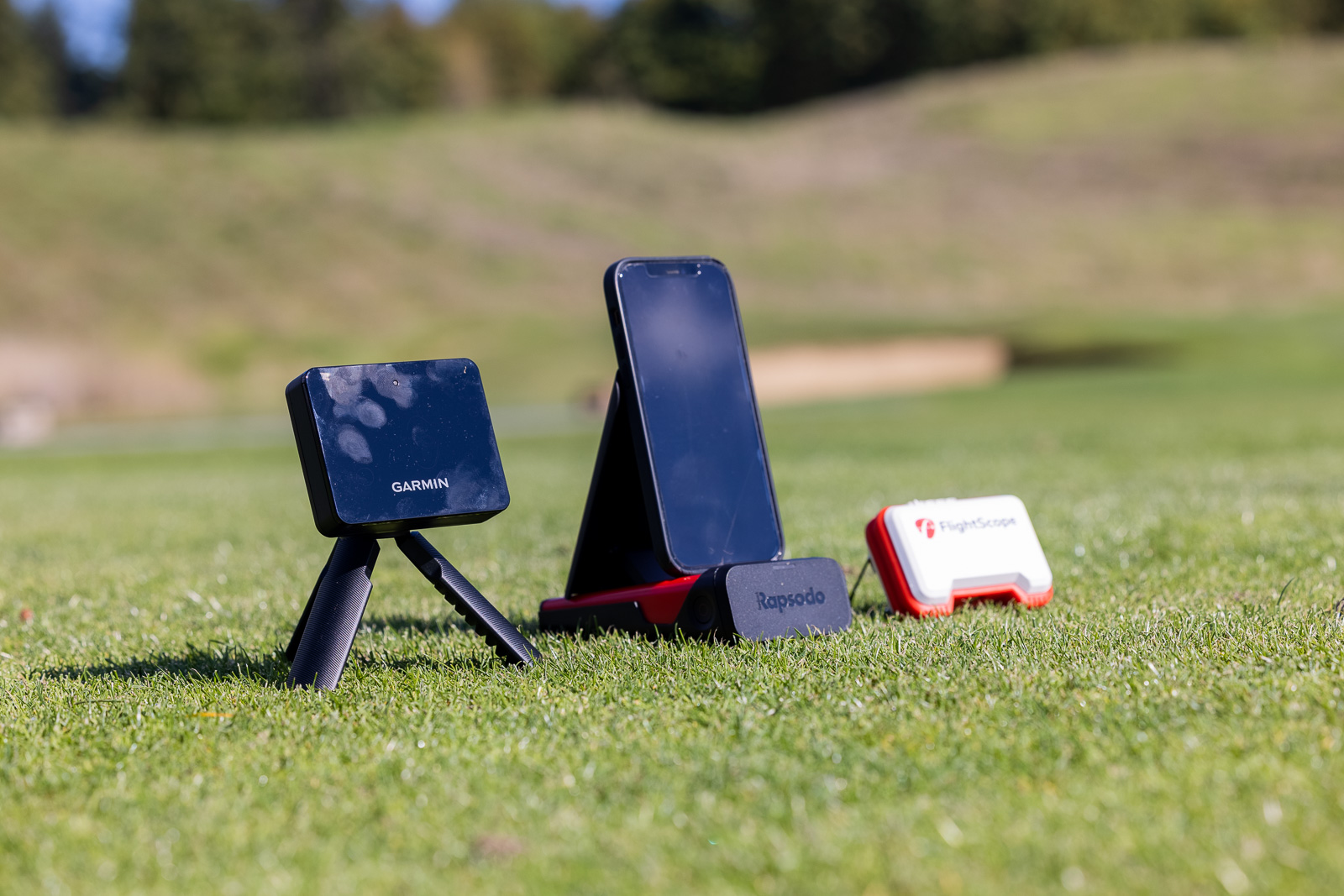 Which Golf Launch Monitor is Right for You?
I've spent hundreds of hours reviewing golf launch monitors. Take my quick 30 second quiz and I'll tell you which one is right for you!
Take the Quiz!
We earn a commission if you click this link and make a purchase at no additional cost to you.
Setting Up the Swing Caddie SC300i
One of the most underrated benefits of the Sc300i is just how inconspicuous it is.
For instance, with the Garmin R10 or Mevo Plus, you have to spend some time fumbling with an app. You also have to find a place to display a phone or iPad to use the devices properly.
The SC300i has an app that we'll talk about below, but you don't have to use it.
The single biggest selling point of this device is the fact it has a built-in screen.
You literally turn it on, put it behind you, hit the ball – and within seconds you have distances.
I've found this to work just as well as advertised in my time with the launch monitor.
It's also really nice that it only needs to be 5 feet behind the ball, whereas you need 7 feet for the R10 and 8 feet for the Mevo Plus.
I found that on a standard range hitting mat, you can put it on the very back edge, and put your ball on the front edge of the mat and get solid results despite maybe being just shy of 5 feet.
The Swing Caddie SC300i tracks 6 key metrics directly on the device:
Distance
Swing Speed
Ball Speed
Launch Angle
Smash Factor
Apex
And then within the app it adds spin rate. However, I'd guess it's calculating this via an algorithm, rather than measuring it directly like you'd find on a more expensive device like the Bushnell Launch Pro.
Swing Caddie SC300i Performance
By far the biggest selling feature of the SC300i is its simplicity when compared to other sub-$500 launch monitors.
It's low profile, easy to setup, and can be used without an app.
But this doesn't mean much unless it works well.
So how does it perform?
Overall, I was pleased with the performance of the SC300i.
In my experience, the results were within about 3 yards of accuracy 75% of the time.
Shots hit more or less on line, seem to register with pretty accurate carry, apex, and smash factor numbers.
If you hook it up to the app, you're also able to get spin rate, which seemed to be in the ballpark most of the time as well.
Where I've found the SC300i to struggle more is if you hit offline shots.
If you hit a big slice or hook, but still had a high swing speed, oftentimes I found that it told me the shot was farther than it really was.
In Practice Mode, the Swing Caddie is advertised as accurate within 3%. This feels about right. As I mentioned above, most of the time the metrics feel pretty close, but especially with longer clubs, a 3% difference can actually be a fairly significant distance.
If you're hitting 200 yard 4 irons, that means your accuracy is going to be +/- 6 yards – which isn't insignificant.
I've found most of the time it's more accurate than that, but in each practice session I've had, there have certainly been some outliers where I said "ooh, I definitely didn't hit it that far."
The SC300i is geared more towards the casual golfer, who is looking to make their practice sessions more fun, and don't need their numbers to be pinpoint accurate.
With a product like this, you have to understand what it is and what it isn't. I've personally found it pretty easy to just shrug off an inaccurate reading a say "ok, well that doesn't seem right."
And doing this just kind of comes with the territory of buying a budget launch monitor.
No device under $500 is going to provide laser-like accuracy all of the time, and the SC300i is no different.
That said, I did find it to be accurate enough for casual use, and to be a genuinely useful and enjoyable practice tool.
Battery life is rated at up to 20 hours, which is fantastic.
I haven't had to charge it since my initial charge, and the battery is still going strong.
This is a huge benefit, considering other devices the R10 give you half that at 10 hours.
Or even more so, the Mevo Plus is a paltry 90 minutes on battery power alone.
Using the My Swing Caddie App
The primary difference between the SC300i and its little brother the SC200 is the fact you can pair it to a mobile app – and this is a great feature.
This is the only device I've used under $500 that has both a screen on the device and the benefits of a mobile app, and overall the app works pretty well.
It's definitely more stripped down and a little rougher around the edges than products from Garmin or Flightscope whose devices rely entirely on using the app.
Setting up your My Swing Caddie account is easy, and I've found pairing the device to the phone to be very quick and painless as well.
After you've setup your account and connected the SC300i to your phone or tablet, you'll be able to select "Practice" or "Target".
Target is a nice little gamification feature, where you can set a distance you want to hit it to, and then get points for how close you're able to get.
While it certainly isn't as full-featured as say the FlightScope Skills app or a 3rd party product like, Awesome Golf, it's an enjoyable way to mix up your practice routine.
In Practice mode, you'll be able to grind to your heart's content while tracking all of your shots.
You can use the remote or your mobile device to easily switch between clubs, and this is one area where I found the remote to be very useful.
When connected to the app it will save all of your shot data for each shot you hit. Over time, this can really become useful information as you work on improving certain metrics, shots, or other aspects of your game.
One of the biggest drawbacks to the SC300i however is its lack of lateral data. (This is one area where the new SC4 is a HUGE improvement.)
The SC300i can tell you how high and how far you hit the ball, but it can't tell you anything about its lateral trajectory.
This is the one biggest area where the Rapsodo MLM and Garmin R10 have a big leg up.
Yes, I can see essentially a spreadsheet of all my data and numbers, but there isn't a ton of visual representation here.
Even the FlightScope Mevo which also doesn't have lateral data does a good job of providing more in the way of visual data charts.
And the R10 and Rapsodo can take this way further with scatterplots of every shot you hit, so you can not only see distance, but you can see if it was straight as well.
The good news about this brings us right back to the device's main selling point: simplicity.
It's easy to setup, easy to use, and you don't have to spend a ton of time fumbling through a series of app menus to use it.
Honestly, for most of my sessions I've simply paired the app, set my phone down, and then not touched it.
That way, I have the data afterward, but I can simply use the screen for my information while I'm practicing.
Final Thoughts on the Swing Caddie SC300i Launch Monitor
I think the Swing Caddie Sc300i is a very good launch monitor, at a very good price.
The SC300i is going to be for a slightly different audience than the Garmin R10 or Rapsodo MLM.
This is for the person who values ease of use and simplicity.
The person who doesn't want to spend their whole practice session in an app, and is mostly looking to get some general data to make their practice sessions more enjoyable and productive.
If accuracy is paramount above all else? Then this probably isn't for you.
But as of July 2023, considering you can pick it up for only $100 more – I'd consider the Swing Caddie SC4. It has lateral data, can be used as simulator, and is more accurate than the SC300i – all while still keeping the same ease of use I mentioned above.
I think there's a large swath of casual golfers that will get more value out of the built-in screen, than some of the "cool" in-app features other products provide which make for great selling points, but in reality, will rarely get used.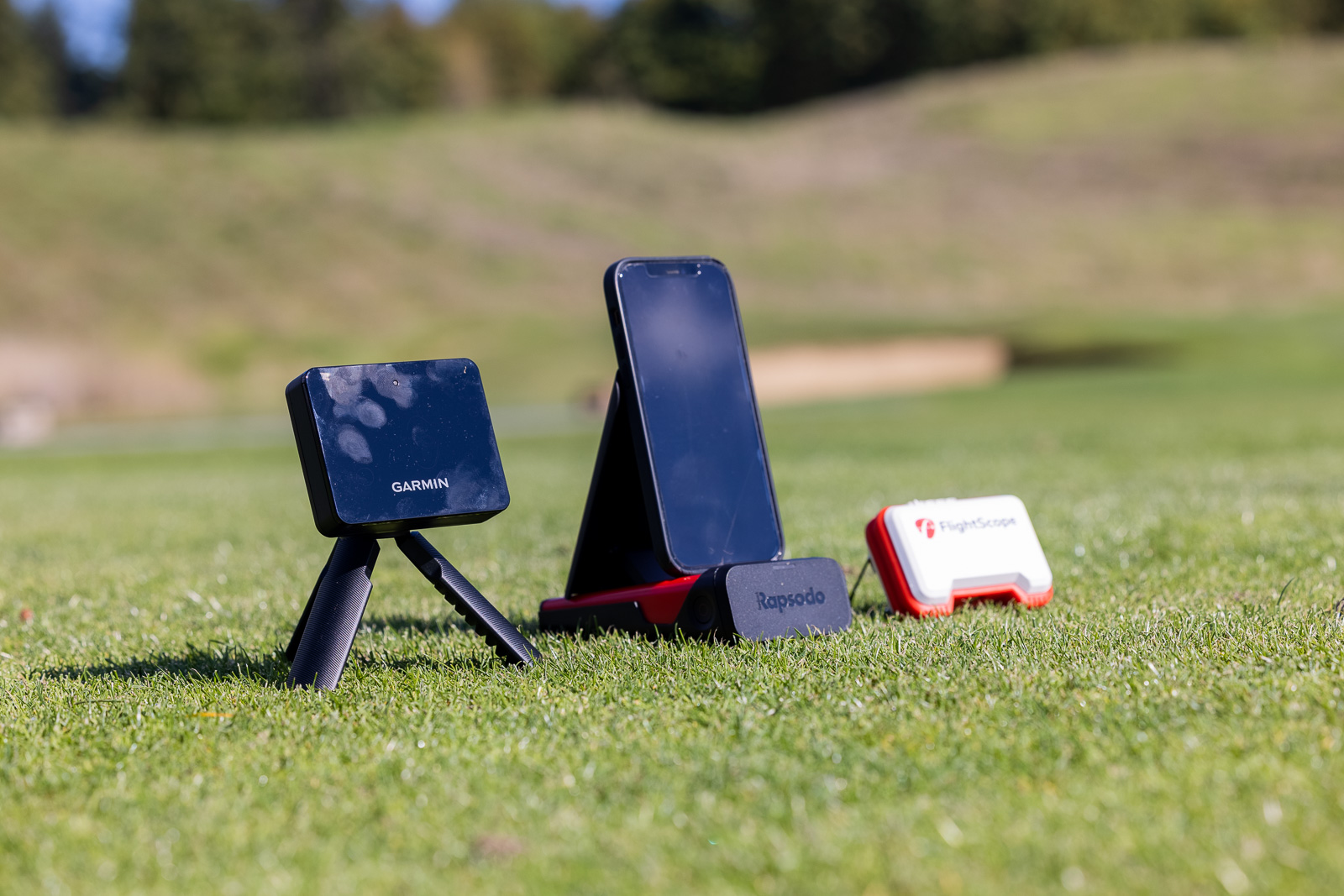 Which Golf Launch Monitor is Right for You?
I've spent hundreds of hours reviewing golf launch monitors. Take my quick 30 second quiz and I'll tell you which one is right for you!
Take the Quiz!
We earn a commission if you click this link and make a purchase at no additional cost to you.
This page contains affiliate links. This means that if you click a link and buy one of the products on this page, I may receive a commission (at no extra cost to you!) This doesn't affect our opinions or our reviews. Everything we do is to benefit you as the reader, so all of our reviews are as honest and unbiased as possible.
Good Things
Built in screen is awesome
Remote makes using device easier
Only device in this price range to have both app support and built in screen
Bad Things
App isnt as good as competitors
Accuracy may not be precise enough for some.
The Breakdown
---
---
---
---
---