Garmin Approach R10 Review: The Best Launch Monitor Under $1k?
Updated November 2023 to include new comparisons to the Rapsodo MLM2PRO update pricing, and give more long-term feedback after using the Garmin R10 for a year.
Each year I review dozens of golf products, but it's not very often I get truly excited about something.
After my first half an hour on the range with the Garmin R10 personal launch monitor, I was literally calling over friends to say "dude, come look at this!"
This might be the most excited I've been for a new golf tech product all year.
The personal launch monitor space has been heating up over the last few years.
Devices like the Rapsodo MLM, Flightscope Mevo, and Swing Caddie SC300i – have all made getting accurate(ish) distances accessible for the average golfer during their practice sessions.
But none of those have been perfect.
The lack of lateral data on the Mevo was a dealbreaker for many.
I struggled with questions of accuracy and user experience with the Rapsodo.
And the Swing Caddie simply didn't have the feature set of the other two.
So when I first heard about the Garmin R10 – I got excited.
But after a few hours using it? I'm even more excited.
What sets this apart from other launch monitors in this price range? Let's take a look and find out.
First Impressions of the Garmin R10 Launch Monitor
With previous Garmin products I've reviewed, the packaging has always been well done, but not over the top nice.
It was never like opening up an Apple product or truly high-end gadget where when you pop the top and it feels like a bright glow is emanating as you hear a chorus of "ahhhhhhhhhhhh."
That has changed with the R10.
Upon opening the included leather case, I audibly said "Damn! This thing looks sweet!"
It had the feeling of opening up a Pelican case with the molded foam inside it – it just feels very high-end.
Then you throw the fact that the Garmin just looks badass on top of it, and you immediately feel like you're getting an expensive, aspirational device.
…Did I really just say badass?
Yes?
Oh well.
…but it really does look cool.
The R10 itself is very small at only about 2×3 inches and half an inch deep.
Personally, I think it's the best looking of all of the launch monitors in its category.
That said, when compared to the Mevo or Rapsodo – the case is the biggest. It certainly isn't as easy to just toss in your bag as the tiny Mevo, or even the Rapsodo which has a less bulky case. But the device itself is very small.
It comes with a little tripod, which works very well, and I've found it to be sturdy on both grass or pavement behind a mat.
I was also very pleased to see the R10 doesn't use a proprietary charger like the Garmin watches do. While I'd prefer it to be USB-C, the USB-mini it comes with is great. I still have plenty of those cords lying around too 🙂
Perhaps the most welcome addition in the box, was the phone holder.
It comes in two pieces, one to hold the phone, and another that attaches to it with a ball head, and then clips anywhere you want. I found it to work great by clipping it onto the box of balls at the driving range:
This was one of my big complaints with the FlightScope Mevo – there's no great place to put your phone (although this is mitigated by it's Apple Watch integration).
Related: Still can't find an R10? Check out our list of the best launch monitors currently on the market.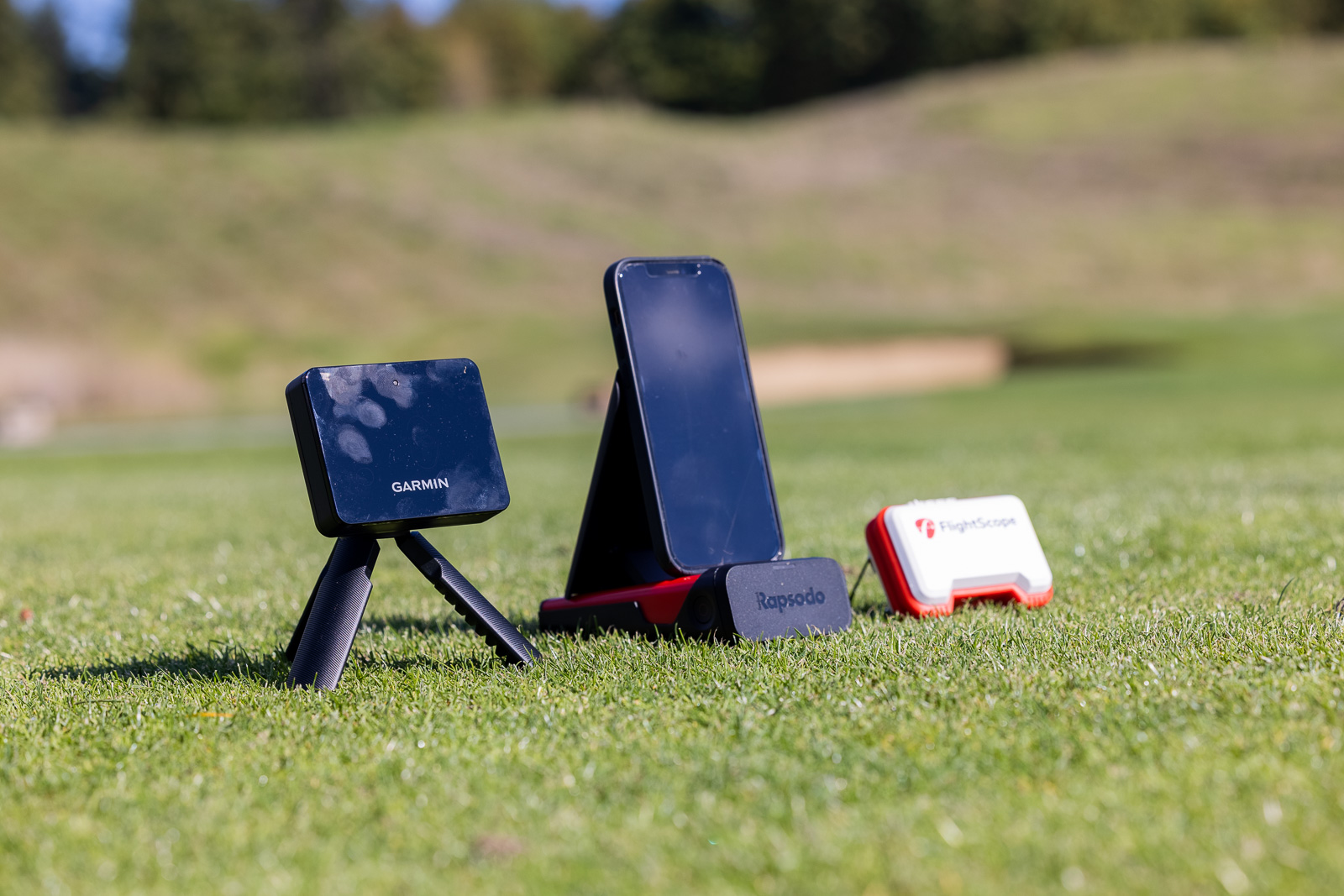 Which Golf Launch Monitor is Right for You?
I've spent hundreds of hours reviewing golf launch monitors. Take my quick 30 second quiz and I'll tell you which one is right for you!
Take the Quiz!
We earn a commission if you click this link and make a purchase at no additional cost to you.
Setting Up the Garmin R10
I'm always kind of shocked when bluetooth devices work straight out of the gate. Most golf bluetooth devices have some kind of learning curve, or bugs I need to sort out before they work properly.
The Approach R10? Was working perfectly in under two minutes.
I was honestly kind of surprised when I had it setup, went to go hit a shot, and it accurately tracked exactly what I did.
Trying to connect it to an iPad however, was a different story. More on that below.
Using the Garmin Golf App
I feel like Garmin has created an entire golf ecosystem within their app, that has kind of flown under the radar.
You could use a Garmin Approach GPS device (like an S42 or G12) and CT10 sensors to track all the data for your rounds.
Combine this with the R10 and you've got all of your practice data.
As they improve this, having all of that data in one spot is pretty powerful.
It kind of just reinforced how awesome it would be to see Arccos Caddie be able to combine more practice data into their ecosystem.
Using the Garmin Golf App with the R10 is really user-friendly and doesn't take long to understand.
When you open it up you have 4 options: Home Tee Hero, Driving Range, Weekly Tournament, and TruGolf E6 Connect.
A Range Session with the R10 and Garmin App
Let's start with the driving range as this is where most users will go first.
Assuming your R10 is turned on and you've paired it in the past, you should be able to set it up, hit Start Training and be good to go.
On the screen you can easily tell it which club you're hitting, and you're set.
There are 5 different screens you can choose from when you're hitting, based on personal preference. I don't know if there are official names for these, so I'm just using my own descriptors here:
Golfer View:
This is the default view where it will show a 3D screen with shot tracer of your ball flight, and gives you 3 customizable stats. I have mine set to Total Distance, Carry Distance, and Spin Rate.
Video:
You can setup the R10 to record video on all of your shots for easy storage and playback. Shots that have a video attached to them will display a little camera icon when you're reviewing so that you know there's video data attached.
You can also mark shots good or bad, and add notes.
Visual Metrics:
This shows more data than the Golfer view, including things like: spin, path, launch angles, and ball flight info. Each one has some included visual data showing the point of impact which is interesting to see.
Full Metrics:
Here are all of the numbers included. This image doesn't even show everything, as you can scroll down for more.
Large Metrics:
If you just want to easily see the most important numbers to you? You can use this large screen that shows 3 metrics of your choosing.
General Thoughts on Using the R10 Driving Range
I personally used Golfer mode most of the time, as honestly? There is a thing as too much information. And as someone who isn't a huge data nerd, a lot of the more detailed data wasn't what I wanted to see on a simple range session.
This being said, knowing I have it is awesome.
Let's say I want to go in and work on making my club speed more consistent or straighten up my launch direction.
Knowing I can easily customize the Garmin Approach R10 to do that is great.
Every single shot is saved, and I love the scatter plot view of my shots. I'll like it even more when I can see the shot dispersion getting tighter and tighter over time as I practice more.
Overall when compared to other launch monitors at a similar price point, I found the R10 to have the best user experience.
The fact it came with a separate holder to put your phone somewhere visible and accessible made the R10 feel more functional than others.
I did miss the Apple Watch integration of the Flightscope, but it became less of an issue since I was able to easily see everything close by on my phone.
And while Rapsodo's design with the phone built-in is interesting, it isn't quite as functional as being able to have your phone separate from the launch monitor itself.
Garmin R10 Performance and Accuracy
The biggest question I know many of you will have is "how does it perform to a GC Quad or a Trackman?"
You know, the truly professional launch monitors that costs thousands of dollars.
Answer?
Better than you might think, but definitely not perfect.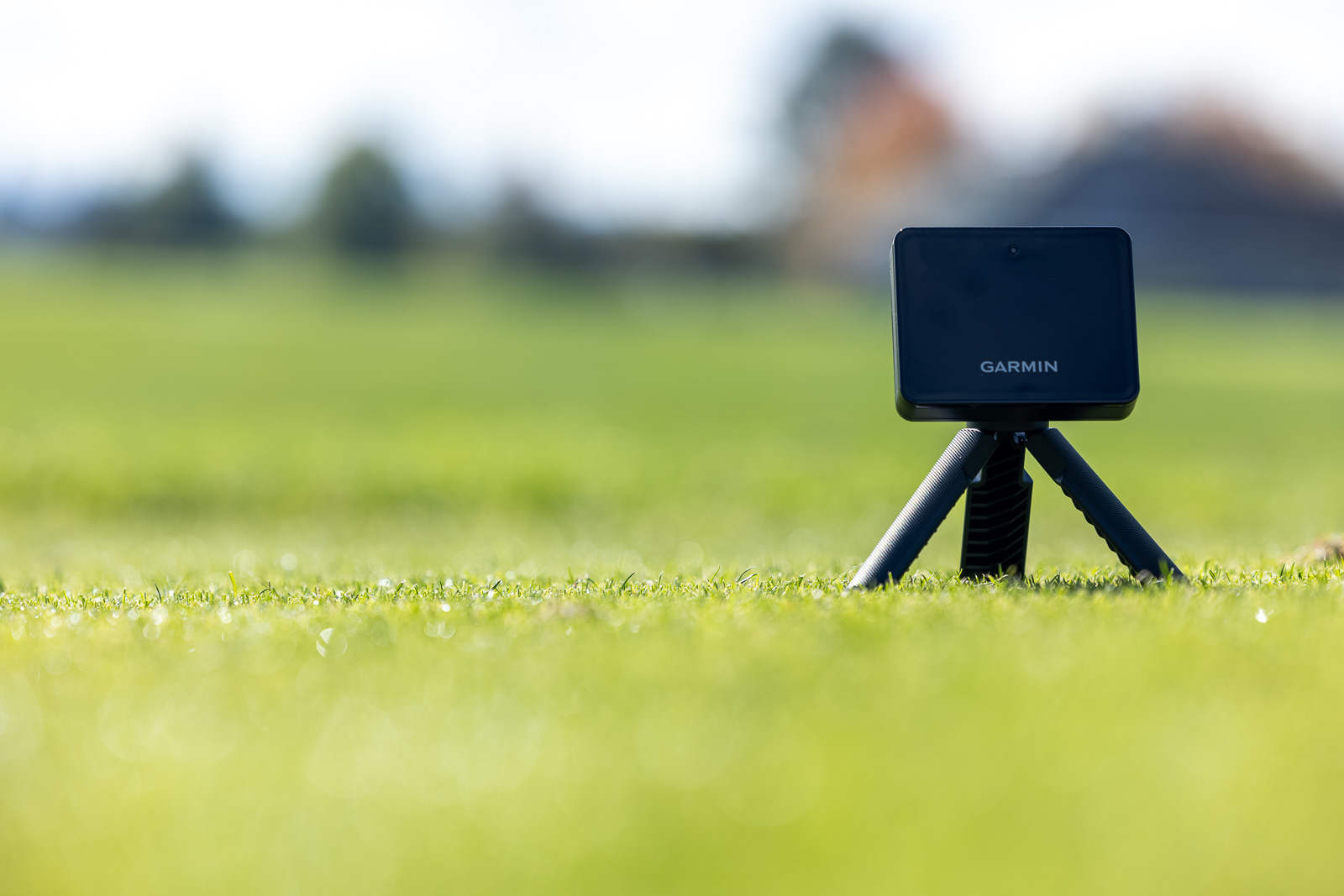 With any personal launch monitor, I try and treat information as a relative rather than an absolute. If a Trackman tells you you hit it 256 yards with 2400 rpm of spin – you can bank on that being true.
If the Garmin R10 or another comparable product tells you that? It's likely in the ballpark most of the time, but probably not exact. You're also likely to get more extravagant outliers on a somewhat regular basis.
As I've found with both the Mevo and Rapsodo, 80% of shots seem accurate to within a yard or two when it comes to distances on the R10.
In my testing, I used a rangefinder to get distances to flags on the driving range and then hit different clubs to see how close it was to the real distance.
The carry distance was usually within about 2 yards. Every once in a while, there would be an outlier, but overall it felt accurate when it comes to distances.
I think the thing that shocked me the most was how the shot tracer worked.
If I hit it low? It would show that.
If I hit it high? It would show that.
Right? Left? Showed it perfectly.
Again, there were outliers. Occasionally it would struggle more with a subtle draw or fade, as opposed to a big slice or hook.
But for a $600 device? DAMN.
It handled this aspect far better than the Rapsodo, and considering the Mevo doesn't even provide lateral data, watching this blew me away.
I found the R10 to be accurate and consistent enough that it would be very helpful to me as a practice tool during my range sessions.
Best Launch Monitor for Most People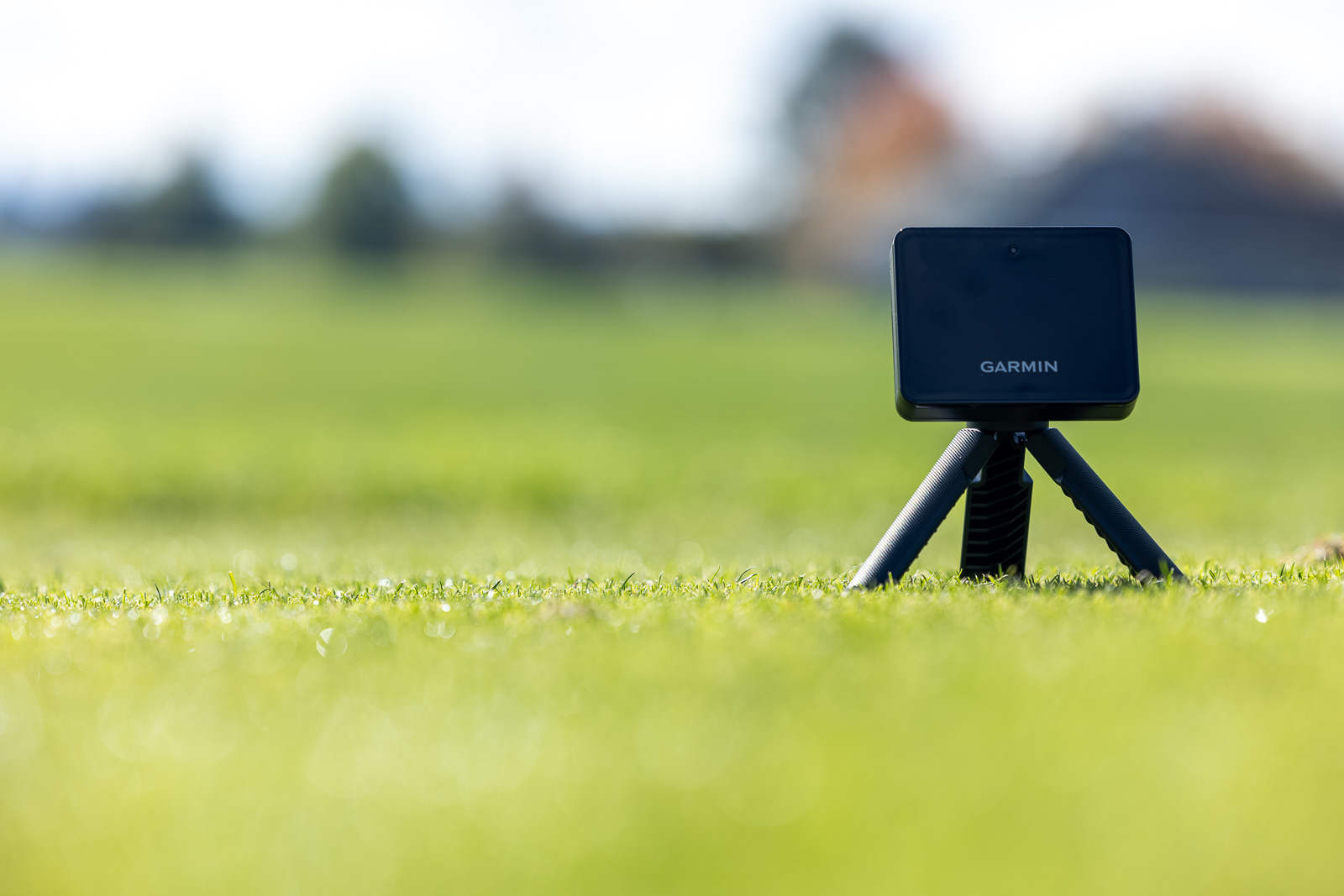 Using Home Tee Hero on the Garmin R10
Let's do a quick recap up to this point.
So far I've found the design to be the best when compared to it's competitors.
I've found the user experience to be the best…
And while I think accuracy is similar amongst all of the products I've compared it against, I'd give this the edge over the Rapsodo, and it beats out the Flightscope due to having more data (like lateral information).
So already the R10 is looking like a pretty killer device.
But this next section is where Garmin truly sets itself apart from the competition.
With Home Tee Hero, you can select literally any golf course in the world and play it on the driving range.
It's not full-on simulator status, it just gives you an overhead view of the hole.
But the implementation of it is done so well, that I think it may be the most fun I've ever had practicing by myself on the range.
I decided to start out with my home course, that I know very well.
And I was shocked when I was hitting the same shots in the app, that I'd be hitting on the course.
On the par 3, 5th at Witch Hollow? Sliced my 5 iron into the water – just like I do 7 times out of 10 in real life!
Tee up an aggressive line on #3 at Pebble Beach to carry the trees and bunkers? Oddly felt nearly as satisfying as doing it in real life.
I find the Home Tee Hero feature to be a true game-changer – and it makes this worth buying over it's competition.
You can play with up to 4 people, and it also works indoors into a net (although I haven't tested it yet).
It allows you to turn chip shots on or off, and then your number of putts is dependent on how close you are to the center of the green.
However, there's always a catch. And in the case of Home Tee Hero, it's the monthly fee. I'll talk about the "Garmin Golf Club" membership below.
E6 Connect Compatibility…For Free?
So, even just having the option for Home Tee Hero is a game-changer.
But the E6 Connect compatibility is where things truly get pushed over the top.
E6 is one of the most well-known simulator software companies. They have dozens of courses mapped out, and many of the best simulators in the world use their software.
Well, when you buy the Garmin R10 – you get limited access to their iOS app.
Yes, with the R10 you can play a full-on 3D, simulated round of golf on your phone.
To be clear, most E6 packages are expensive. It's expensive to buy licenses for the courses, as they're usually being used in a commercial setting.
That said, when you purchase the R10, you get a demo package that includes 5 real-world courses that you can tee it up on.
The best part? These aren't some no-name courses. You're able to play full rounds at:
Aviara Golf Club
Sanctuary Golf Club
Stone Canyon Golf Club
Wade Hampton Golf Club (one of my personal bucket list courses)
Yes, when you buy an R10, you can play full rounds of golf in 3D at Bandon Dunes.
I mean just look at this:
Sure the graphics may not be Playstation 5 level, but to have all of that data and be able to do this in your garage in the winter?
That's a pretty killer bonus feature if you ask me.
This E6 package only works for IOS. So you won't be able to hook it up to your PC for a true simulator experience (you'd need to pay more for that).
If you're looking for a launch monitor that includes PC e6 access included in the purchase price, then consider the FlighrScope Mevo Plus or the SkyTrak+.
That said, the R10 is the cheapest option we recommend when looking at the best golf simulators on the market.
Garmin Golf Club Membership
As is becoming standard with devices like these, there's a monthly fee for certain services associated with the R10.
You get a free month of Garmin Golf Club membership when you buy your Approach R10.
There are two key features this gets you:
Home Tee Hero Virtual Course access
Ability to save all of your videos from a practice session in the app
So yes it's going to cost you a bit extra to use two of the best features we've talked about in this review.
After your trial, it's $9.99/month or $99.99 a year.
Is it worth it?
That depends on who you are and what you're wanting to use the device for?
If you love practicing as if you're playing and you often treat range sessions like an actual round of golf? Then this becomes a no-brainer.
Same goes if you're someone who really relies on video feedback to improve your game.
It's worth noting that the TruGolf e6 package is not part of the membership. Everyone who purchases the R10 will get access to those 5 courses.
Using the Garmin R10 with an iPad.
When I first was testing the R10 in early 2022, I was unable to get the R10 to connect to my iPad Air 2.
However, that isn't the case these days. With the latest software and firmware updates I've had no issues connecting the unit to my iPad.
It's worth noting though, that it can only be connected to one device at a time. So you'll need to disconnect from your phone in order to get it to work.
Where is the Garmin Watch Integration?
I mentioned above that Garmin has done a really good job of building a golf ecosystem within their golf app.
I also mentioned how much I enjoy the Apple Watch integration of the FlightScope Mevo.
It seems like a huge missed opportunity to not be able to have the R10 integrate with their smartwatches such as the Approach S42, or the high-end Approach S70.
Being able to get real-time distances and stats straight to my watch, would really make it compelling to own both and get even more engrained in the Garmin ecosystem.
And I'd love Apple Watch integration, but that seems like I might be asking too much.
Garmin R10 vs. Rapsodo MLM Pro 2
In 2024, one of the biggest questions many buyers of the Garmin R10 will likely have is: should I get the R10 or Rapsodo MLM2PRO?
Both are at a similar price point well under $1,000, and both have a ton of features for the price.
You can find a full comparison between these and the Swing Caddie SC4 here, but a few of the reasons to buy the Garmin R10 over the Rapsodo:
It's less expensive. At $599 it's $100 less than the Rapsodo, and having been around a little bit longer, we've also seen it go on sale as low as $499 making the price gap significant.
Garmin Ecosystem. While I'm still waiting for that watch integration, Garmin has big plans for their golf business. They do such a good job of integrating it all within one app, that it's nice to be able to rely on that. Especially if you use the CT10 shot-tracking sensors.
It's more convenient to use. Between the smaller size and the included mount for your phone, there's a big convenience factor to the R10 which is one reason why it continues to be one of my favorite launch monitors.
Accuracy is similar. The MLM2PRO gets a little bit of a nod, because the built-in cameras combined with the Doppler radar help accuracy of the device. But in my comparisons, the numbers are pretty close. So to have a more convenient, lower priced launch monitor that's close to as accurate? That makes a compelling case.
Premium Membership – Garmin's is nearly half the price of the Rapsodo Membership, but more importantly, you can still use most of the R10 features without the subscription. With the MLM 2 Pro, you're pretty much forced to pay $199 a year if you want to use most of the features on the device.
Also worth noting Swing Caddie just released their new SC4, which is another contender in this same market. It has a few unique features, is the least expensive, and has no subscription fee.
Here is my Swing Caddie SC4 review.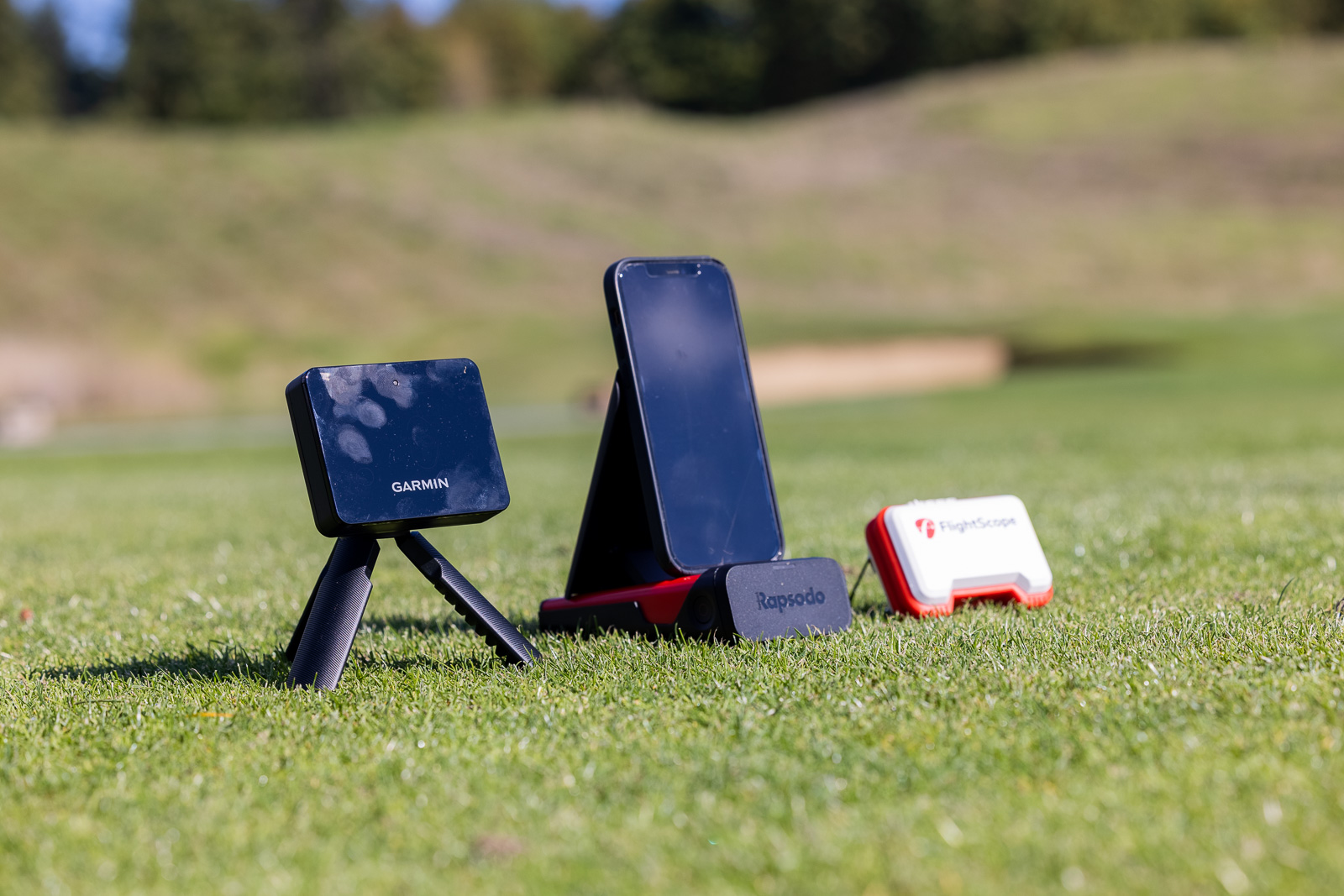 Which Golf Launch Monitor is Right for You?
I've spent hundreds of hours reviewing golf launch monitors. Take my quick 30 second quiz and I'll tell you which one is right for you!
Take the Quiz!
We earn a commission if you click this link and make a purchase at no additional cost to you.
Final Thoughts on the Garmin R10 Personal Launch Monitor
It's not very often these days that I'm truly blown away by a golf product.
But the Garmin R10 has won me over.
Don't get me wrong, I still think the Rapsodo MLM and Flightscope Mevo are great devices – and if you pick either of those up, you'll be glad you did.
But for me, the Garmin feels a little bit better all the way around in terms of usability, features, and accuracy.
It also costs $100 more than both the FlightScope and now $300 more than the MLM.
Throw in $100 a year for the Membership, and it's a tier up in terms of price.
The Rapsodo MLM2Pro complicates things a bit, as its release has squarely put the R10 in its crosshairs. Both of these devices offer a lot more in terms of value over the Mevo and original MLM.
But if I were personally going to go out and buy a launch monitor and I wasn't willing to jump up in price to a Mevo Plus – then the Garmin Approach R10 still makes a very compelling argument.
It ups the game in a big way, and frankly, it just makes practicing more fun than it's ever been for me.
Best Launch Monitor for Most People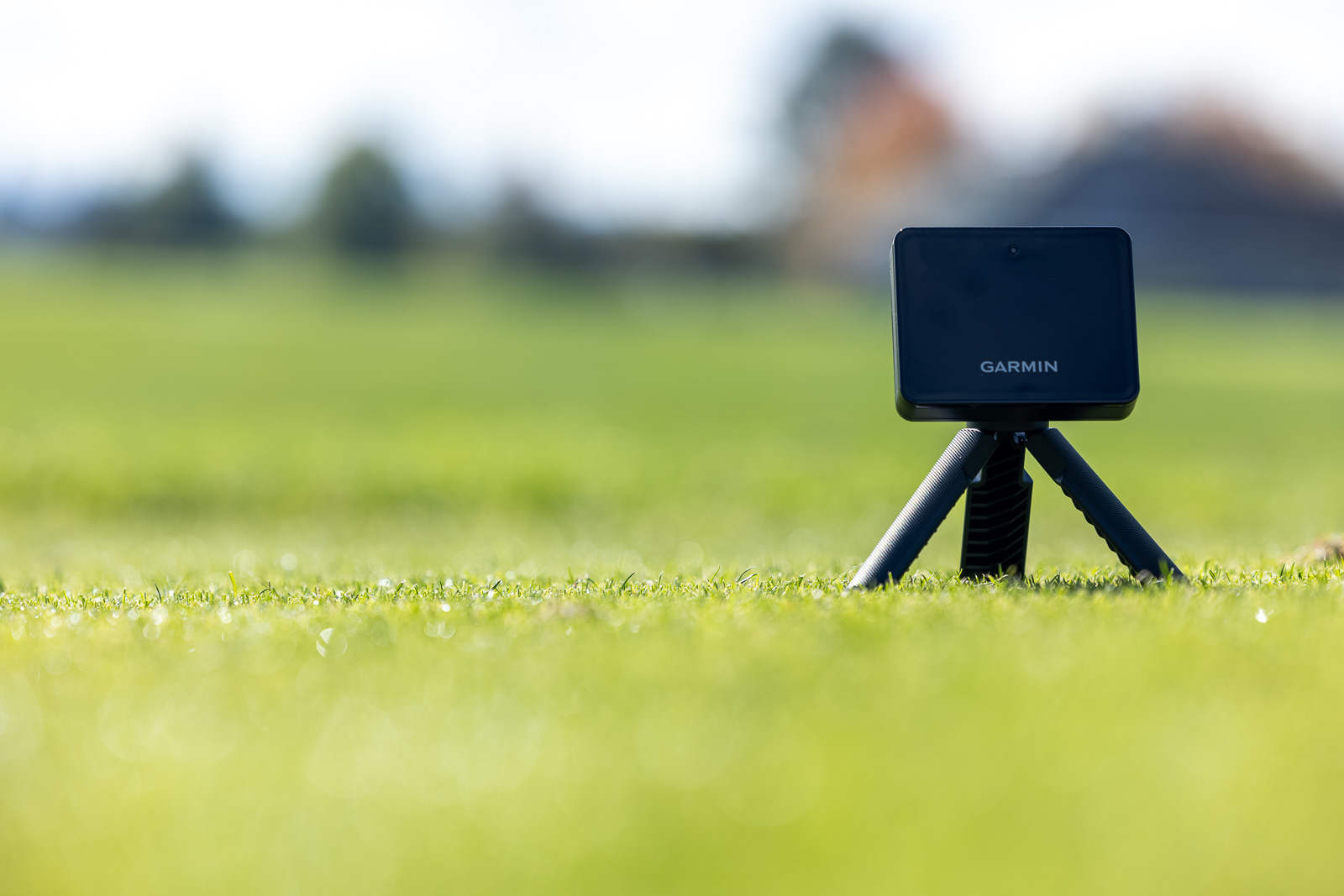 This page contains affiliate links. This means that if you click a link and buy one of the products on this page, I may receive a commission (at no extra cost to you!) This doesn't affect our opinions or our reviews. Everything we do is to benefit you as the reader, so all of our reviews are as honest and unbiased as possible.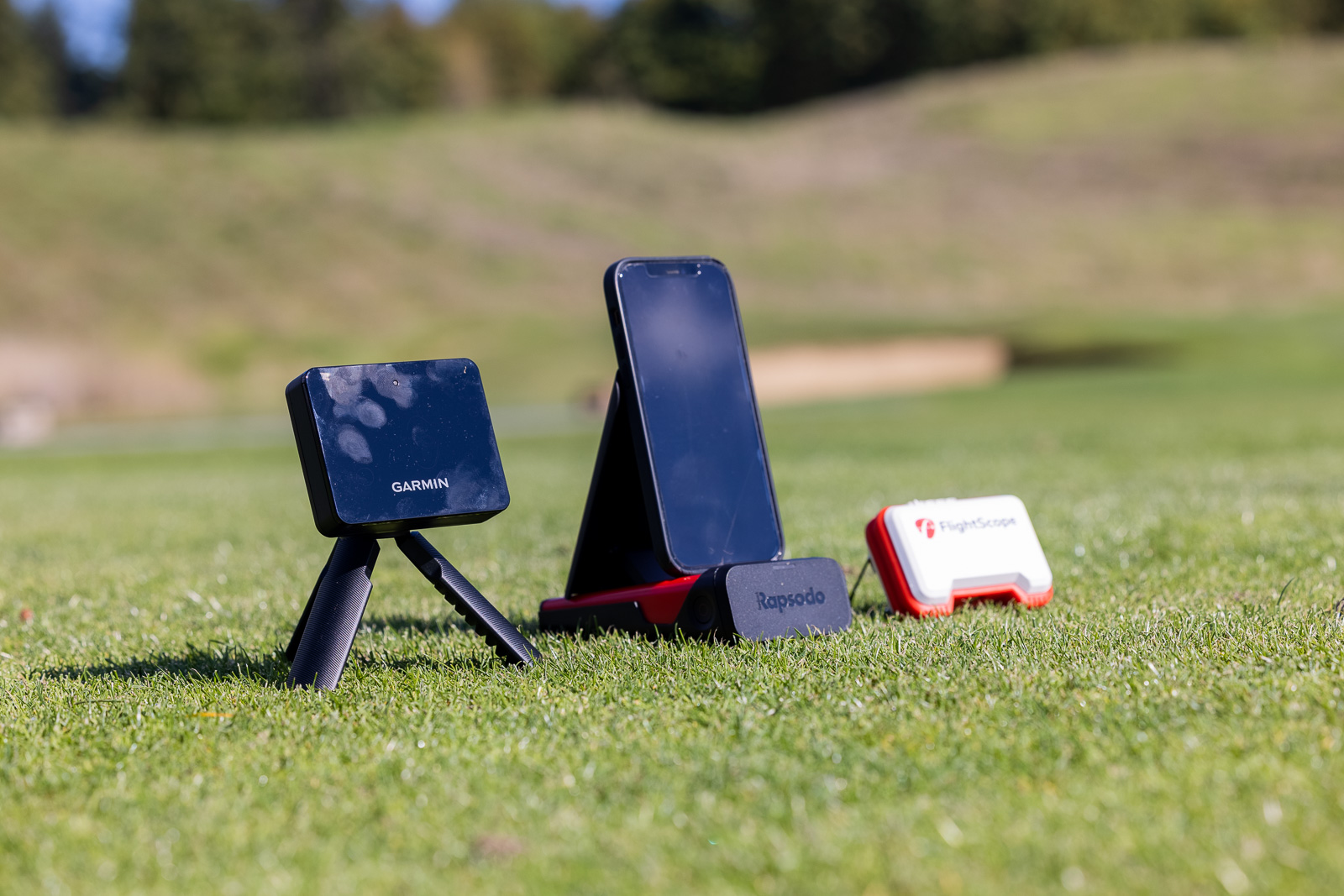 Which Golf Launch Monitor is Right for You?
I've spent hundreds of hours reviewing golf launch monitors. Take my quick 30 second quiz and I'll tell you which one is right for you!
Take the Quiz!
We earn a commission if you click this link and make a purchase at no additional cost to you.
Good Things
Looks great
Excellent user interface
Unique simulator features
Bad Things
Box is a little big
Not as accurate as Trackman
The Breakdown
---
---
---
---
---