Arccos Golf Review: Is it Still the Best Shot Tracker in Golf?
Updated in May 2023 to include new updates to the Arccos app on Apple Watch.
When it comes to products I've reviewed here on Breaking Eighty, Arccos might be the one I've had the longest relationship with.
I still remember the first time I saw the tech. I played the Course at Yale (amazing btw), with Sal the Founder a few months before they officially launched the product.
I was blown away. I couldn't believe how much it could track, but more importantly, how it could do it so accurately.
Fast forward 8 years, and here we are in 2022.
The company has gone through many iterations. It's evolved into entirely new product sets. The app itself looks nothing like what that early beta version did back in 2014.
So here's the question, has it all paid off? Have the millions of dollars spent and millions of shots tracked resulted in a product that's worth your time?
Does Arccos Caddie live up to the promise of giving the amateur golfer Tour Level statistics, while also not interfering with your round?
Today I'm doing a full review of where Arccos Caddie Smart Grips and Smart Sensors stand in 2022. But more importantly, I want to help you decide if it's a product you should buy this year.
What is Arccos Caddie?
Next to a reliable rangefinder, I think Arccos is the single greatest piece of golf tech a golfer can own. Wow, Sean, way to spoil the surprise.
Why?
Because it provides all of the information I want to be able to see and review as a golfer.
Arccos Caddie is essentially a game tracker.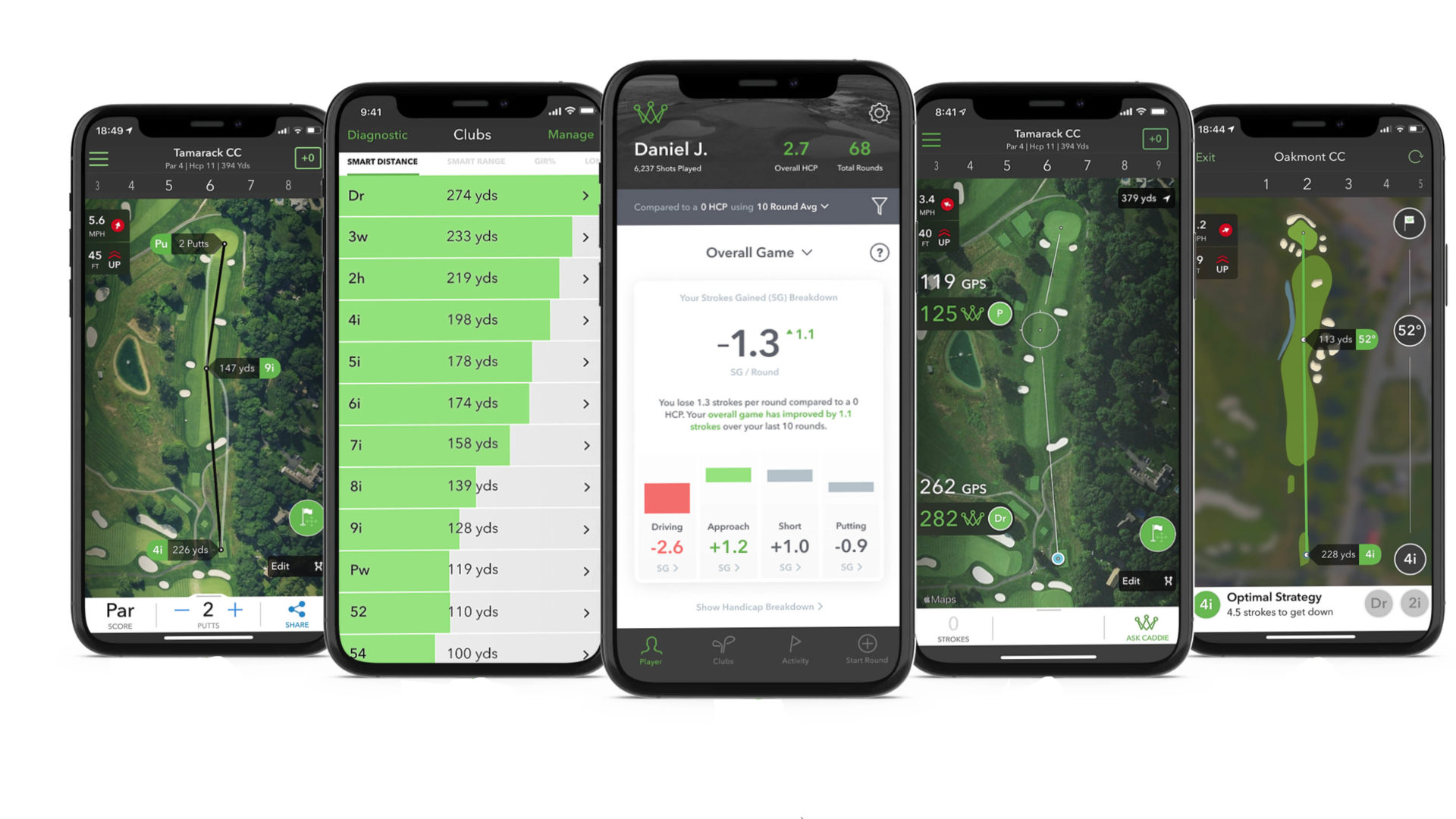 It utilizes sensors on each of your clubs, along with a smartphone app, to track and record every single shot that you hit.
This allows you to gain tour-level statistics and analytics that have never been available to the average consumer before.
On top of that, they've refined their on-course features to not only give you GPS distances to greens and hazards, but to essentially become the caddie you never knew you needed (more on that later).
It allows me to see how far I really hit each of my clubs.
It gamifies my golf stats and allows me to more easily compete against myself, as I work to improve everything from my driving accuracy to my putts per round.
It's also the ultimate gift for someone like myself who travels so extensively for golf. It gives you the ability to re-live every round shot by shot.
As an example, I just tried to think of the most memorable shot I've ever hit. The first one that comes to mind is a hole-out from 165 at Champions Retreat in Augusta, Georgia. I just scrolled through the app. And here you go:
I didn't say it was pretty, but it's pretty cool to be able to do that for literally any shot, from any round.
That's a lot of value from one product, and we're just scratching the surface.
Arccos Caddie Smart Sensors and Smart Grips
Currently, there are two primary ways you can use Arccos golf: Smart Grips and Smart Sensors.
The Smart Sensors are the most similar to how Arccos has worked traditionally. You're given a set of 14 sensors that you screw into the butt of your clubs.
Smart Grips already have the sensors built into the grip of each of your clubs.
Both of them allow you to track every single facet of your game.
In this review, I'm going to talk about all of the different components that make up the Arccos ecosystem and what the experience is like using the product.
What are Arccos Golf Smart Sensors?
Arccos Smart Sensors are the latest evolution of the product that's essentially been around since 2014.
What you're getting with Arccos Smart Sensors are 14 sensors that each screw into the top of your club's grip. After the pairing process, you can then seamlessly track every shot you hit during a round of golf, and get an unbelievable amount of data in the process.
Arccos has mapped nearly every golf course in the world (I have yet to play one that isn't mapped), and by choosing the course and starting your round, you now have the world's smartest A.I. caddie and game tracker in your pocket.
We'll talk more about the A.I. features when I get into the specifics of the app below.
The sensors themselves are about 3/4 of an inch tall and screw flush into your grip.
Personally, I've never found them to get in the way, add unwanted weight to my club, or inconvenience me at all.
Occasionally after dozens of rounds played, I found that the rubber hole it screws into starts to loosen a bit, which would cause me to have to occasionally tighten the sensors – but this was a pretty rare occurrence and didn't affect my experience.
Check out our Arccos Coupon Code for 15% off.
What are Arccos Smart Grips?
Arccos Smart Grips are the newest Arccos sensors. It essentially does the exact same thing as the Smart Sensors, except the sensors are built into Lamkin Crossline grips.
I've had these grips on my clubs for nearly two years, and I've gotta say, I love them.
I haven't noticed any major differences in accuracy compared to the Smart Sensors – they're both very accurate. Each year the technology seems to get better with every app update.
Personally, I prefer having the sensors built into the grips. The sensors are great, but having them in the grips just gives you one less thing to think about.
The grips themselves are great, as to be expected from Lamkin which always makes high-quality products.
The downside to this, is that if you get new clubs, you can't transfer your system. With the sensors, you can just screw them into the new clubs, and re-pair. Obviously, you can't do that with the grips.
Best Overall Gift
How Does Arccos Caddie Work?
This is going to be the big question most new users have.
When you hit a drive, through a combination of both motion and sound sensing through the microphone on your phone, Arccos registers you hit a shot.
Every element of your course has been GPS mapped. The fairways, bunkers, greens – all of it. When you hit your shot, the exact spot on the course is recorded within the app.
Then when you hit your next shot, say a 7 iron, it knows exactly what the distance is between the two shots – giving you the precise distance of your drive.
Then because of the GPS data, it can also tell if you're in the fairway, in a bunker, on the green, and so on.
It does this for every shot you hit.
Pretty quickly you can start to see just how much data Arccos is tracking, and later in this review you'll see just how powerful having that data is for your game.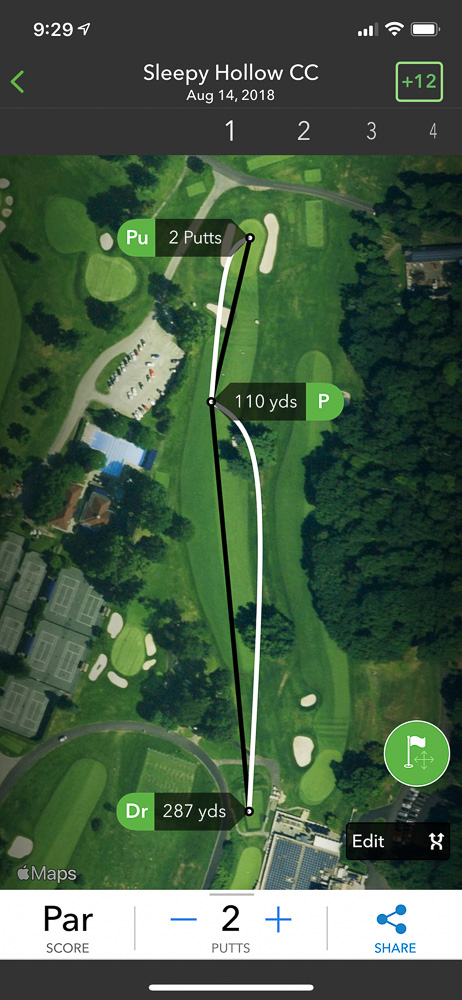 The Pairing Process
The pairing process for both the sensors and grips only takes about 10 minutes, and it works really well with both types of sensors.
You simply tell it what clubs you have, and then when it prompts you for each club you point the camera on your phone at the sensors – and voila! Paired.
The Arccos Caddie App
The Smart Sensxors and Smart Grips are really just the vehicles to get you to the app, which is where all of the magic happens.
The Arccos Caddie app is truly a golfer's new best friend.
I can't tell you how many people I've shown it to, who are completely blown away by what it allows you to do. Usually, they run right out and buy a set that day.
In the app, there are four main tabs across the bottom:
1) Player Tab
This is the tab that will give you all of the statistics about your game as a whole and is essentially a data nerd's best friend.
Arccos has built the app around the "Strokes Gained" methodology. So it looks at your driving, putting, approach, short game, and bunker play to assess how many strokes you're gaining or losing in each round in each of those categories.
If you haven't read Every Shot Counts, I highly recommend checking it out. As it will completely change your perspective on your game and how you approach it.
Every Shot Counts: The Strokes Gained Methodology
if you're looking to leverage data to improve your golf game, the Strokes Gained methodology is the most accurate way to do it. Pair this book with a set of Arccos Caddie sensors? You have Tour Player level statistics.
Buy on Amazon
We earn a commission if you click this link and make a purchase at no additional cost to you.
12/09/2023 05:10 am GMT
On a fundamental level for any time frame (your last round or the averages of up to your last fifty rounds), you're able to see these statistics.
You can also see your stats as compared to the average handicap of your choice. For instance, right now I'm a 12, and I'd like to be a 7. I can compare my current statistics to a 7 handicap to see where I need to improve:
Clearly, I have some work to do.
On top of that you can see more basic data like the percentage of shots that missed right, left, or hit the fairway GIRs and more.
There's another slider letting you choose between driving, approach, chipping, sand, and putting. There's a ton of information here, and even more displayed if you login to dashboard on a desktop computer.
2) Clubs Tab
On the Clubs tab you can see each of your clubs listed out and the "smart distance" for each.
Smart Distance is:
"Arccos' estimation of your expected distance on a well-struck shot. Based on your historical data, it excludes mishits, and abnormally long shots giving you a much better picture of your true club distances."
So on this tab, you get a sense for how far you really hit each club, and you can then go down and get more statistics on each club, and see every shot hit with each one.
3) Activity Tab
This where you can get information on every round you've played with Arccos. You can see your score, and then there are links for personal best from the round, statistics from the round, and the hole by hole breakdown of the round.
You can also swipe right to see rounds from your "friends" in the app, and then people you follow.
4) Start Round
Exactly what it sounds like, here is where you search for your course (it will automatically show the ones closest to you), and start your round.
Arccos Caddie AI Recommendations
One of the most unique features of Arccos is the fact that you can get real-time recommendations on what club to hit, based on Arccos partnership with Microsoft on some of their artificial intelligence technology.
It's pretty remarkable, actually.
When you're standing on the tee, it will take into account all of your statistics, the tee box you're playing, and even current weather conditions to make a recommendation on which club to hit that will give you the best chance of success.
You can even see that by hitting say driver your expected score is a 4.7, a 3 wood is 4.9, but a 4 iron is 4.6.
It's pretty cool stuff, that's actually useful.
Curious as to what types of things it's taking into consideration with its recommendations? Here you go:
My Honest Thoughts About Using Arccos After Nearly 300 Rounds
I've played hundreds of rounds with Arccos, so I'm really familiar with the system and the pros and cons of using it.
Plain and simple, I love Arccos Caddie.
Seriously.
I use it for every round I play. I review every round I play. And on the rare occasions where I'm able to get out and practice these days, I'll dig into my statistics to see what I actually need to be working on.
For instance, I've learned that I'm better out of the rough than I am in the fairway:
I'm better from 100-150 out than I am from 50-100:
And my bunker play isn't as bad as I think it is.
All of these have helped shape how I approach the game.
One of the things I like about the Arccos Caddie app is the fact that you can use it as much or as little as you want.
On the course you can use it for GPS distances, you can use the AI Caddie features, you can dig back into all of your Club distances, and you can look at the satellite imagery to get a sense of what a hole looks like.
Or you know, you can do none of those things and leave the phone in your pocket and review it all after the round.
I personally tend to trend towards doing the latter. I check it every couple holes to make sure things track properly and to add on the (not-so) occasional penalty stroke.
But once you've played a round or two with it, the app is very easy to use. I've found it hardly ever gets in the way on the course, and it's clear a lot of time has been invested in making sure every aspect of the product is buttoned up.
How is Arccos Caddie Battery Life?
One of the most common questions I've received about Arccos Caddie is about battery life.
Personally, I have had zero issues with battery life. After a couple years, I've had the batteries die on a couple of my most used clubs. If you're using the Smart Sensors, you can purchase a new one for under $20. Or if you're like me, and use the Smart Grips, you can buy replacement batteries at any store – and it just takes minute or two to switch them out.
The batteries are guaranteed for 2 years, but designed to last 5. I'm going on about 4 years with my current Arccos grips, and have only had two batteries ned to be switched out.
So while it's certainly a valid concern, I don't think battery life should be an issue for most people.
What Don't I Like About Arccos Caddie?
As far as the on-course user experience, there's honestly very little I don't like about Arccos.
The technology is at the point where it almost always works as expected, and you can use it as much or as little on the course or after the round based on your personal needs (stat tracking vs. using GPS distances for instance).
There are a few things I'm not crazy about though.
It's More of a Process to Install Grips than the Sensors
You might have noticed this is the first time I've ever reviewed grips on this site. It's not for a lack of opportunity, I've had probably a dozen offers to have grips sent to me – but it's the process of putting them on your clubs.
I don't have any interest in doing it myself, so my Arccos grips sat in the box staring at me longingly for a week and a half until I had the chance to head to a local course and have them put it on.
Once I did that it was done in less than two hours for the reasonable price of $3 per club, but it is a bit of a process to put the grips on.
Now it's done, and I don't have to worry about it, so I love the grips, but it was a little inconvenient for me personally.
Your Phone Has to Be in Your Right Pocket
In order for Arccos to work properly, your phone has to be in close proximity.
And by close proximity, I mean in your right front pocket.
With the old Bluetooth sensors they used to use, I could keep it in my back pocket which is what I prefer, but with the newer sensor types, it needs to be in a front pocket.
(Read on for a fix for this).
This isn't the end of the world, and I got over it quickly. However, there's been a time or two where I'd take it out and either put it in the wrong pocket or left it in a cart, and a shot doesn't get tracked.
Those are few and far between and you learn to adjust your habits after just a couple of rounds.
You Can't Use Arccos and Listen to Bluetooth
This is my biggest complaint of all. I'm someone who enjoys listening to music on the course. The problem with this is that if you're using Arccos you can't simultaneously connect to a Bluetooth speaker and listen to music.
This is a real bummer, and is something I hope they can fix within the app soon.
There is good news, however.
If these last two things are deal breakers for you, then Arccos Link is your savior.
Arccos Link is a Gamechanger
Last year Arccos released Arccos Link, which is an accessory that attaches to your belt buckle, and it allows you to use Arccos without needing to have your phone in your pocket.
Not only that, when you're using Arccos Link, you can listen to a Bluetooth speaker as well.
You can read my full Arccos Link review here.
There's also another solution for people who don't want their phone in their pocket.
Best Golf Tech Product
Arccos Caddie + Apple Watch
As Arccos Caddie has progressed over the years, certain features get better and better.
But for me, the biggest advancement since building the sensors into the clubs, may be its functionality with an Apple Watch.
It's fantastic.
Not only does it make the Apple Watch, what I consider to be the best golf GPS watch out there, it's another solution for people who don't like having their phones in their pocket.
Earlier this year Arccos made a couple updates that have made the Apple Watch functionality even better.
You can now start a round directly from your watch, which completely removes the need to use your phone at all (if you don't want to).
They've also added a "pin placement" button. When you get to the green you simply walk up to the pin, and hit a button to mark where the pin is located.
This makes all of your approach and putting statistics more accurate than it's ever been.
Pair this with an Apple Watch Ultra and you truly have a fantastic device, that allows you to use Arccos in the way you enjoy most.
Here are some more thoughts on Arccos Caddie + Apple Watch.
Arccos Caddie Isn't for Everyone
For as much as I love Arccos Caddie, I'll admit, it isn't for everyone.
To ensure you get accurate results, you do need to keep an eye on your phone every few holes. It may be to add a putt, or a penalty stroke. Occasionally, a shot won't get registered and you'll have to add it in manually.
For some people? They just don't want to do this.
And I get it! Golf can be an escape from technology, and none of us need more time on our phones.
If that sounds like you, then this may not be the best fit. No matter how hands-off, and automatic becomes, there will always be that small manual component.
This doesn't bother me, and has become second nature. But consider how you feel about technology on the golf course, and you'll have an idea of whether or not this is a fit for you.
How Much Does Arccos Caddie Cost?
The pricing can be slightly confusing with Arccos if you're not paying attention.
Both of the Smart Sensors and grips retail for $199.99.
The Smart Grips are $199.99 for the basic Lamkin grips. However, they have a few options for upgraded grips that bump the price up to as high as $250 depending on what you're looking for.
Note: If you use our code "BE15" at check out, you'll be able to get 15% off any product you choose.
On top of that Arccos does have an annual subscription fee of $155/year that is free for the first year after buying your sensors.
This will for sure put some people off, but if you use it on a regular basis, in my opinion, it's well worth it. Getting this kind of data about your game for a hundred bucks a year is pretty insane.
That said if you're budget conscious, this is something to be aware of.
Here are some alternative golf swing analyzers to consider as well, if price is an issue.
Should You Get Arccos Smart Grips or Smart Sensors?
Whether you get the Smart Grips or Smart Sensors is more a matter of personal preference. The grips definitely have a more sleek feel, since you can't even tell that there are sensors built-in.
If you're someone who plays competitively, these are probably the way to go.
The nice thing about the Smart Sensors is that you can easily transfer them from one club to another. If you're someone who changes things up a lot, this gives you a little more flexibility (not to mention, you don't have to go through the process of installing them on your clubs).
If you haven't been able to tell already, I love where Arccos has taken their technology and their products.
In fact, this was the first-ever 10/10 product I've ever reviewed on the site. Does it mean it's perfect? No, no product (especially a tech product ever will be). But in thinking about how it fits each category compared to other reviews, it truly stands out across the board in terms of performance, price, presentation, and certainly, personal affinity.
To give you a quick example of this, a few weeks ago I was playing a course that didn't have cell service at the course. Normally you don't need to worry about downloading course data on Arccos, but if you're going to be out of cell range, you'll want to download the GPS date beforehand.
I didn't.
I then spent the first 5 holes of the round trying to pair to my friend's wifi hotspot, so that I could get the data and track my round. When you're used to having Arccos, not having it makes you feel naked. And every birdie or par you make that isn't getting tracked just kind of hurts…
It was at that point I realized just how big of an Arccos Caddie fan I really am.
I think the Smart Sensors and Smart Grips are the single best golf tech products on the market, and if you're serious about getting better, like to compete against yourself, and play more than once a month – this will be the best (and most enjoyable) investment you make in your golf game this year.
This page contains affiliate links. This means that if you click a link and buy one of the products on this page, I may receive a commission (at no extra cost to you!) This doesn't affect our opinions or our reviews. Everything we do is to benefit you as the reader, so all of our reviews are as honest and unbiased as possible.
Good Things
Everything about the brand is cool, and well done
Tracks incredibly well
Give you an unbelievable amount of detail
Bad Things
Not crazy about annual pricing for Smart Grips
Would be nice to not have to keep phone in front pocket
The Breakdown
---
---
---
---
---