Best Golf Gifts: 50+ Fantastic Christmas Gift Ideas for Golfers (All Price Ranges!)
Updated in August 2023 to reflect the best golf gifts currently available.
I get it, trying to find the best golf gift idea for your husband, father, or any other golfer in your family can be really difficult.
There are thousands of different golf products out there, and if you listen to the marketing, they're all touting themselves as the "latest and greatest".
But most of them? They aren't very good.
Luckily I've used and reviewed dozens of the best golf products on the market. So whether you're looking for a gift for Christmas, Father's Day or a birthday, I'm going help you find the very best golf gifts for the golfer in your family – regardless of budget.
Being that it's that time of year again, we've updated this post for June of 2023 to reflect all of the latest products heading into Father's Day this year. We have something for every price point and type of golfer in year life.
And the good news? This year there are more great golfing gifts out there than ever before.
I originally shot this video for Black Friday last year, but nearly all of these are still excellent recommendations for golf gifts in 2023:
The Very Best Golf Gift: Arccos Caddie Smart Sensors ($199)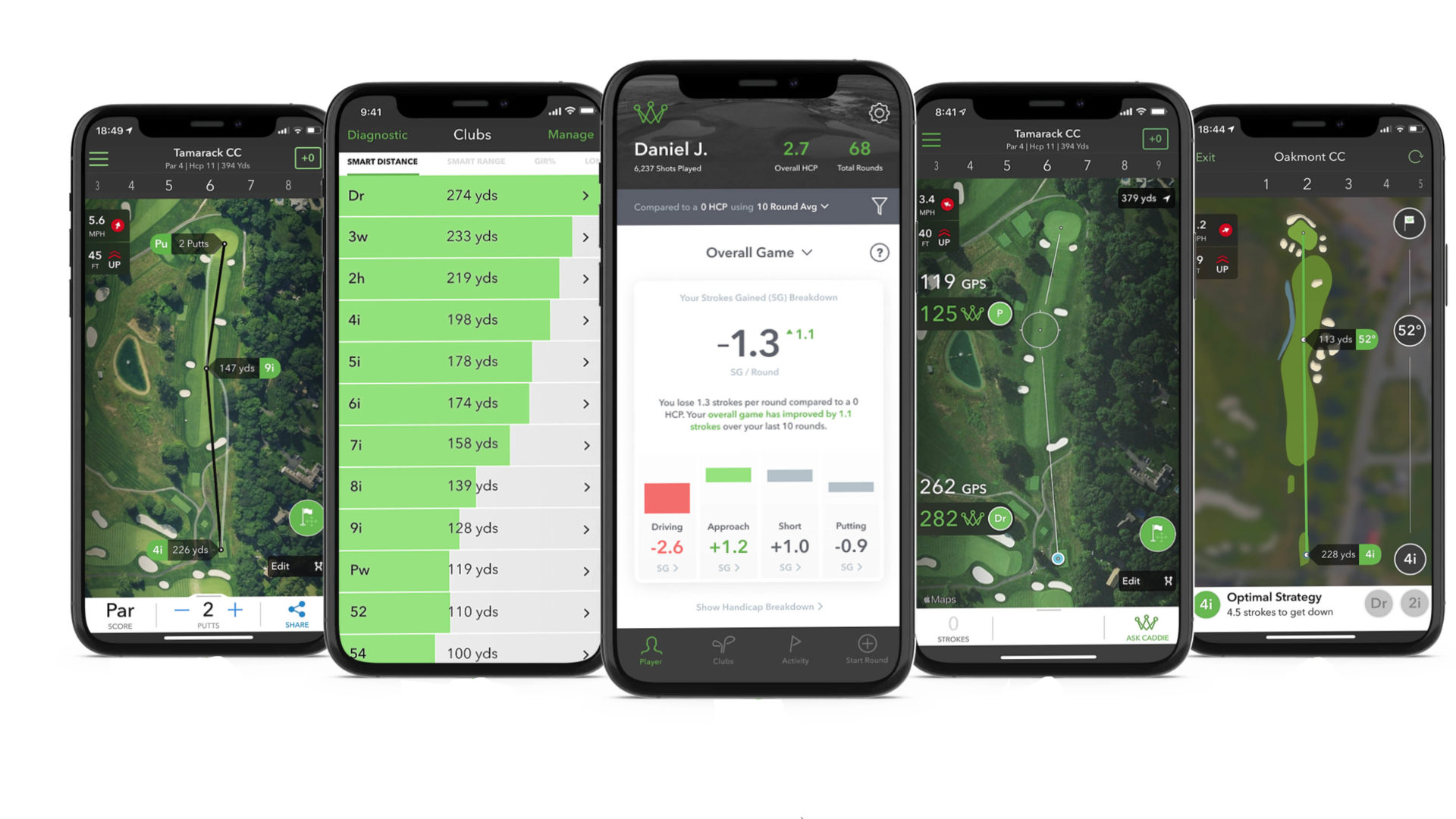 For the last five years, my best gift recommendation has come from Arccos Golf.
This isn't just me picking a random product, either.
This is legitimately my most gifted golf product of the past few years – I've probably given a half dozen of them as gifts to different people in my life.
Their Arccos Caddie Sensors and Smart Grips are honestly some of the coolest and most useful golf products on the market.
Why?
Essentially they track every shot you hit so that you get statistics about your game that were previously only available to Tour players.
Whether you're looking for a gift for a gadget lover, scratch golfer, or for the person just getting going – this will help all of them.
They have two products to choose from the Smart Sensors and Smart Grips.
For the diehard, better golfer, the Grips are more seamless and it's what I personally use.
But as a gift or if you're unsure of what to get, the sensors may be a better bet.
You can add them to any club without having to re-grip them.
Something to note is that after the first year, there is a $155/year subscription fee to use Arccos.
Best Golf Clubs to Gift: Stix Golf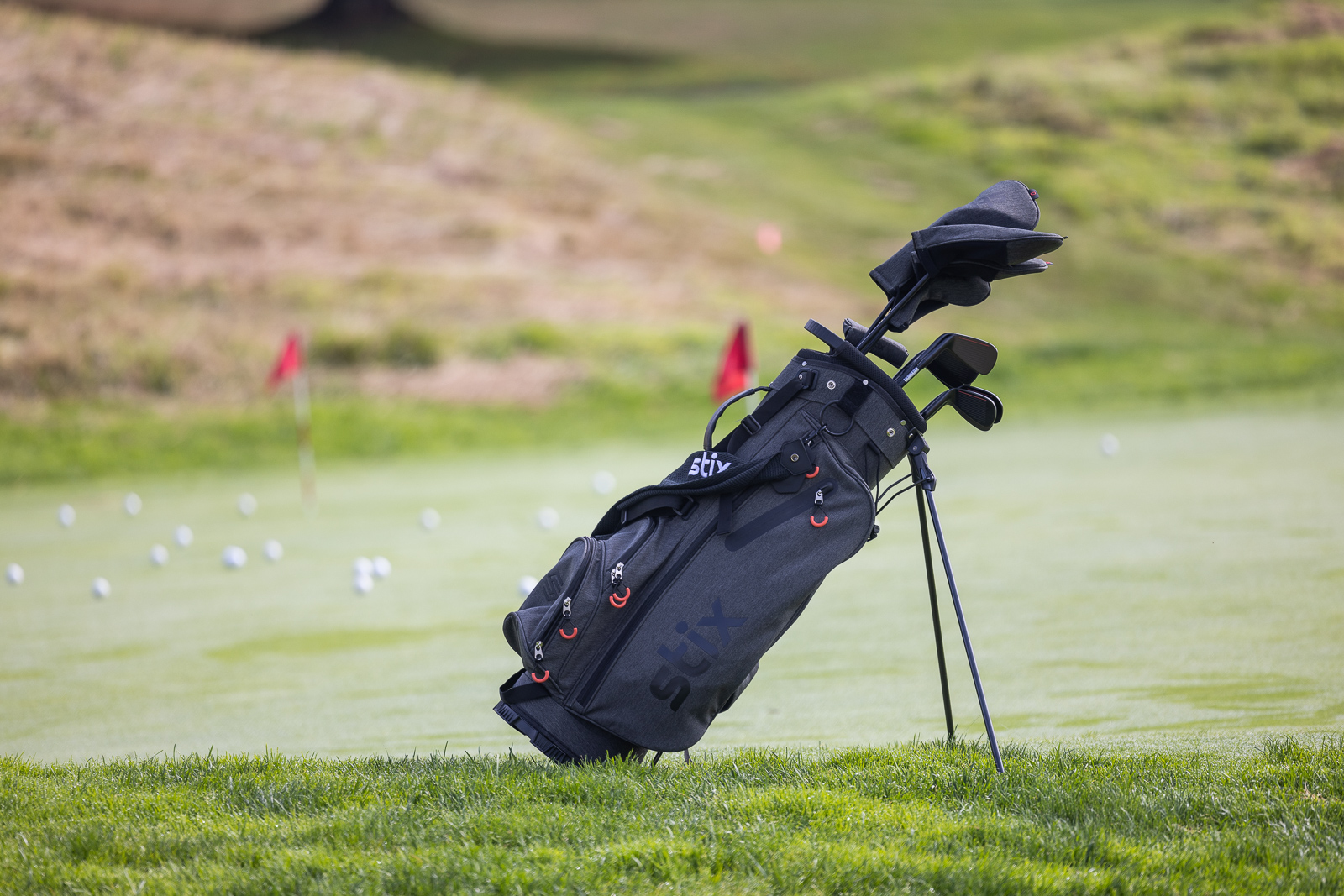 I was highly skeptical about Stix golf clubs. A complete set of 14 clubs, for under $1,000, that are actually good.
No way. Can't be done.
But it can, and it has been done.
After multiple rounds with a full set of Stix, I'm legitimately impressed. They look good, they feel good, and they're fantastic for the new golfer to mid-handicap that's looking for a set of clubs to fix their slice and make them more consistent. In fact, I'd go as far to say as they're the best golf clubs for beginners.
They have a great 30-day return policy as well. So if you're looking to buy a new golfer in your life a set of clubs, and are overwhelmed with where to start? Look no further, Stix is probably your best answer.
Best Golf Travel Gift: Club Glove Last Bag ($299)
Years ago when I started traveling for golf, I bought a cheap $100 travel bag. It lasted 4 trips before I had to stitch it together with duct tape just to make it home.
After that, I decided to invest in a bag that would (hopefully) last, and I got a Club Glove Last Bag.
That was 9 years ago.
My Last Bag has been on dozens of flights and to golf courses all over the world. It's still going strong, and is hands down my recommendation for best golf bag, if you're looking to find a travel gift for the golfer in your life.
Best Golf Swing Training Gift: Blast Motion Golf Sensor ($149)
Have you ever watched the pros and wondered how their swing tempo looks so effortless? Or how they manage to hit the ball straight every time they want to?
Yeah, me too. And the Blast Motion Golf Swing Sensor may be the single best device I've tested to help you improve your tempo, square up your club at impact, and give you an obscene amount of club data for when you're practicing on the range or putting green.
This will help not only hit straighter, more consistent shots, but it'll help you drain more putts as well, leading to lower scores.
This is one of the best ways to improve your putting stroke or swing at home, and considering they just recently upgraded the Blast hardware? It's a fantastic time to start practicing.
Best Golf Launch Monitor Under $1,000: Rapsodo MLM2 Pro
Rapsodo just recently launched the follow-up to the wildly popular MLM launch monitor, and it's among the hottest golf tech products on the market.
It's the most accurate launch monitor under $2,000 we've tested, and it's the only one anywhere close to that price to feature dual cameras as well as doppler radar technology.
The Combine, Simulator, and Range modes make practicing a ton of fun, and when you're using the included Callaway RPT balls, the spin is nearly just as accurate as the Bushnell Launch Pro which costs 5 times the price.
The downside is that in order to access the coolest features, there is a $199/year subscription, but the first year is included free.
Best Golf Launch Monitor Under $500: FlightScope Mevo ($499)
The portable launch monitor market has heated up over the last couple of years, and there are a lot of great options.
The two biggest players at this price range are FlightScope and Rapsodo.
In my testing I found the FlightScope to be more accurate and easier to use, but the Rapsodo has recently updated its device to make it perform better as well.
This is honestly a toss-up, and it comes down a bit to what the golfer in your life values more: better accuracy or more features.
Both devices allow you to record video of your shots, and both are wonderful tools to use on the driving range and improve your game.
Best Premium Golf Simulator: FlightScope Mevo+
Ok, this could have also fallen under the category of "best golf launch monitor" but the fact is, the FlightScope Mevo+ is the best product for most people who want a high-end simulator or launch monitor experience.
The Mevo Plus isn't cheap.
But it's also far less than competitors, while being more user-friendly and feature-heavy.
If you're looking for a splurge gift for a significant other that has been wanting to practice more, or build a golf simulator for home. This is a gift that anyone would love to receive.
Best Golf Rangefinder: Bushnell Pro X3 ($599)
I've found that a rangefinder is one of the most asked for golf gifts you can find. Why? Because to know exactly how far away you are from the pin on any given spot on the golf course will give you a huge advantage.
This is an absolute must for any regular golfer.
And the king of rangefinders? It's Bushnell.
There's a reason 98% of tour players use the devices – because they're well built, feature heavy, and extremely reliable.
And after making us a wait a few years, Bushnell has finally released their new flagship rangefinder: the X3.
For years their top-of-the-line Pro XE was my recommendation for "best rangefinder."
But they've improved upon it in nearly every way with the release of the Pro X3.
While there are a lot of fantastic rangefinders for less money, if you truly want the best of the best?
It's hard to argue against the Bushnell Pro X3.
It isn't cheap, but if you want a product that will last for years – this is it.
Best Budget Rangefinder: Precision Pro NX10 ($279)
Use the code BREAKINGEIGHTY for $20 off most Precision Pro Products.
The Bushnell rangefinders have been at the top of the rangefinder game for years.
But with the recently released Precision Pro NX10, it finally has some stiff competition. Both perform similarly, but the kicker is that the Precision Pro costs nearly half as much!
Not only is this one of the best rangefinders on the market, but the ability to personalize it via a removable faceplate makes the NX10 one of the hottest products in golf right now.
Best GPS Golf Watch: Garmin Approach S70
This will likely be one of the most popular Father's Day gifts for 2023. The brand new Garmin Approach S70 is quite simply, the best golf watch ever made.
It has a beautiful OLED screen, enhanced "Plays Like" and Virtual Caddie features that aren't featured in any other Garmin watch, and it has all of the fitness features and health features that make Garmin the favored watch brand of millions of athletes.
I never thought I'd trade in my Apple Watch Ultra for day-to-day wear. But in the 3 weeks I've had the S70? It's hardly left my wrist.
If you're looking to buy the dad in your life a golf watch, this is 100% the one to get.
Best Rangefinder Alternative: Bushnell Phantom 2 Golf GPS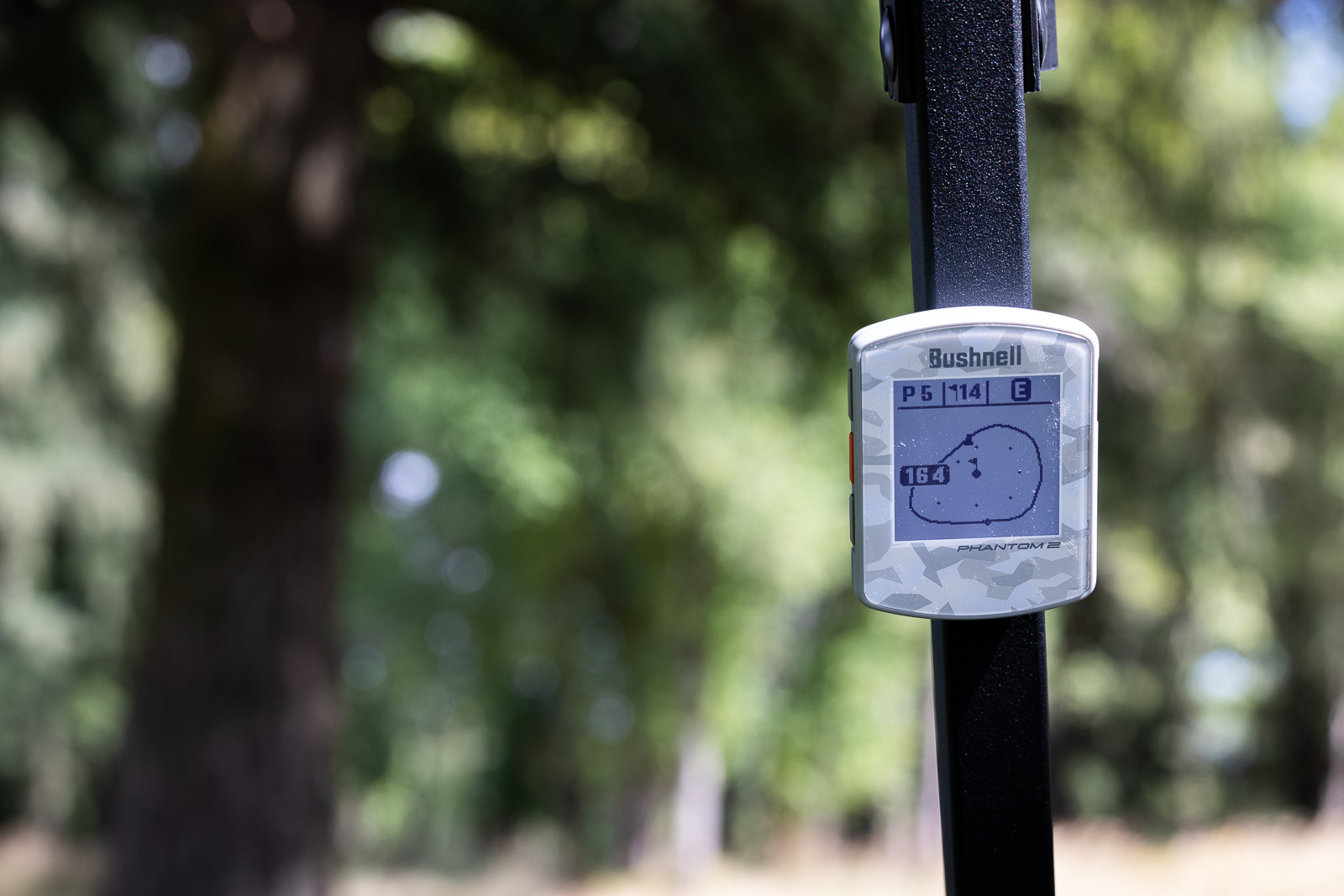 Looking for a gift around $100 that will be incredibly useful for the golfer in your life?
Then look no further than the Bushnell Phantom 2 GPS. This is for the golfer who generally rides in a cart, and its ease of use is very impressive.
It automatically detects the course you're on, and then you just attach it to any metal surface on the cart (it's magnetic), and away you go.
There's also a clip that allows you to attach it to a golf bag or belt, but this is primarily for cart riders.
Best Gift Golf Bag: Stitch Golf SL2
We picked the Stitch SL2 as the best-looking golf bag of the year, and for good reason.
The thing is beautiful.
Everything about it feels high-end, and when you throw in the personalized nameplate you can get with your initials? It feels like the ultimate bag to give as a gift.
It's not the cheapest bag on the market, but if the golfer in your life is someone who likes to carry their clubs and has an appreciation for style? This is the gift for you.
Best Golf Gift for the Partier: Chippo Golf Set
Who doesn't love a game of cornhole with a red solo cup in hand, during a summer night's BBQ?
The only thing missing? Golf, duh.
Chippo is the answer for that.
It's cornhole, but it's golf – and it's awesome.
Best Gift for a Hot (or Cold Day): SIC Cups ($20)
SIC stands for "Seriously Ice Cold" and I've gotta say – they live up to the name.
The founder hit me up a while back asking if I wanted to check one of his "golf ball coolers" out.
And I gotta say, I was skeptical – on a lot of levels.
But after receiving a few, and using them, I gotta say I'm impressed!
The cups keep drinks hot or cold just as well as my Yeti tumblers do, and do it for less money.
The ones I received also have a golf ball design on them, that is more subtle than it sounds and is a perfect nod to golf for the golfer in your life.
They have a variety of sizes and styles to choose from as well.
SIC Water Bottle Review: It's my favorite water bottle ever.
Best Take on a Boring Gift: Bn3th Underwear ($30)
You know how you'd usually groan when your mom or significant other buys you underwear for Christmas?
No more.
Bn3th Underwear is hands down the best I've used, and now that their latest models (finally) have a built-in fly, they're perfect for the golf course.
The material is super comfortable, you've got plenty of mobility, and they have some fun prints as well.
Best Golf Pants: Bluffworks Ascender Chinos ($125)
These are a bit left field, because they aren't technically golf pants – but rather, travel pants.
And they're my favorite travel pants.
Why?
Because they're incredibly versatile, comfortable, and durable. You can dress them up and wear them to dinner, they're perfect on the golf course, or you can take them on a hike (like I did in the Dolomites above).
I wear these for at least half of my golf rounds when I'm on the road, and like them more than any of my pants from actual golf brands.
Best Golf Gift for the Arccos User: Arccos Link ($129)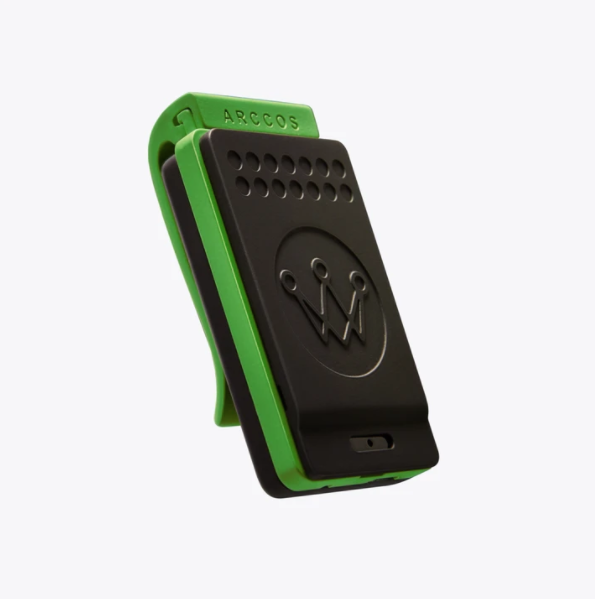 I mentioned above how I think Arccos Caddie is the best overall golf gift for the year.
But what about the person who already has Arccos and loves it?
Well this year, get them Arccos Link.
Arccos Link is an accessory that you clip to your belt that allows you to use the system, without having to keep your phone in your pocket. This has historically been one of the dealbreakers that have kept people from trying out the system.
And the feature that I might like even more? When you use Arccos Link, you're able to use Arccos and a Bluetooth speaker at the same time. So you don't have to sacrifice your tunes in the name of stats.
Best Gift for the Home Course: GolfLogix Green Books ($30-50)
GolfLogix Green and Yardage Books were a surprising new product last year. For a company that made a name for itself with a mobile phone app, to create an analog yardage book was an interesting move.
But these books are incredibly detailed, and if the golfer in your life has a home course they play day in and day out, one of these books will make a fantastic gift that will help them shave a few strokes off each round.
They aren't exactly cheap at $30-50, but that's why it can make a great gift for someone who might not ordinarily buy one for themselves.
My review of GolfLogix Green Books
Solid Alternative? PuttView Books – Very similar to the Golf Logix Books, with even more detail.
Best Golf Glove: North Coast Golf Gloves ($25)
I love supporting smaller and lesser-known companies, and North Coast is one of my favorites.
They make leather golf gloves that fit well, look good, and are durable. I've been using the same glove for going on 20 rounds now and it has continued to hold up better than gloves from many of the name brands that I've had.
This is one of those gifts that is great because the golfer in your life may not be familiar with North Coast, but they'll be glad you did your research when they find their new favorite golf accessory.
Best Golf Polo: Holderness and Bourne Maxwell ($90)
There's more competition than ever these days in the golf polo market, and many of them are VERY good options.
But of all the polos I have, the one I find myself reaching for most often is the Maxwell by Holderness and Bourne.
They have close to a dozen other styles, but for me, this hits the right balance of fit, look, and performance – while still maintaining its roots in golf tradition.
You can't go wrong with any of their polos though.
Best Lifestyle Apparel: Redvanly
I knew Redvanly was branching out into some more lifestyle-oriented styles, but I didn't realize just how good they'd be.
I personally wear the Larkin Hoodie all the time (in fact, I'm wearing it as I write this). It's comfortable, fits perfectly, and the performance material just feels high-end.
I have a feeling any golfer in your like will enjoy this as much as I do, whether on the course or off.
Check out my review of the Redvanly Lifestyle line of Clothes
Best Golf Shoes Under $100: Nike Roshe G
Time and time I've again I've heard friends say it: the Nike Roshe G is the best golf shoe under $100.
Half the golfers I know (including myself) have a pair. They're super comfortable, perform well, and are a fraction of the price of many popular golf shoes out there.
This is a perfect for just about any golfer out there, as it's one of those shoes everyone should have in their locker.
The Footjoy Flex have so much going for them. They're incredibly comfortable, you can wear them off the course easily if necessary, and the best part? They're really affordable coming in at under $100 – which is tough to do for golf shoes these days.
The only drawback is they aren't waterproof, so if you're looking for a golf gift for the golfer who plays a lot in inclement weather, these may not be the best fit.
But if you want a solid fair-weather golf shoe, you won't find many better options than this.
Best Golf Shoes Under $150: Payntr X 003
I've reviewed countless golf shoes on this site, and I'm not sure I've been more pleasantly surprised by a pair of shoes than the Payntr X 003.
I'd never heard of Payntr before I got the shoes. But apparently, I was in the minority. I got asked no less than six times about them while wearing the shoes at a golf tournament over the Summer.
They're new and unique, which gives them a legitimate cool factor.
But the best part? They're incredibly comfortable and perform even better than I'd expected.
The shoes are packed with high-end features, and at $140, they feel like a downright bargain in a world of inflation and ever-increasing prices.
Best Golf Shoes Under $200: TRUE Linkswear Lux Hybrid
I've worn close to a dozen pairs of TRUE Linkswear shoes at this point. What I love about them is that they've literally got a shoe for just about every type of golfer.
They're easily one of the most versatile shoe brands in golf, and there's at least 3 models I could potentially point to as my personal favorite.
But right now, I'm loving the TRUE Lux Hybrids. They're fully waterproof, perform on the golf course, and you can wear them off the course as well.
Best Recovery Tool Under: Theragun Mini
Is the golfer in your life getting a little bit older this year? It's time to start helping them take care of themselves off the course, so that they can spend more time on it.
The Theragun Mini is a massage gun that packs a huge punch in a small package. It's the entry-level Theragun product, but for most people? This is the one to get. It's very powerful, and more portable than the more professional models. This makes it easy to travel with, or use around the house.
Best *Selfish* Gift to Your Significant Other: Eight Sleep Pod 3 Cover
I wasn't prepared for just how much more my wife would love me after getting an Eight Sleep Pod 3 cover.
It's a heated and cooled sleep system that also has built-in sleep tracking without the need for a wearable.
It's expensive, so I expected it to be good. But I didn't realize just how good it would be. This has essentially negated the need for air conditioning while sleeping in the middle of the Summer.
In a month of using it, I'm sleeping better, deeper, and waking up feeling more well-rested. So is my wife.
This is one of the best golf recovery tools out there. But if you're looking to get your significant other a special gift that you'll both benefit from for years to come? This is my pick.
Best Biohack: Lumen Metabolism
Yes, this isn't a golf gift per say – but it is one a lot of my golfing friends are interested in.
As you get older and your metabolism changes, it can be tough to know what you need to do in order to actually lose weight and get back in shape.
A huge part of that comes down to simply knowing when your body is burning fat and when it's burning carbs – and then being able to act accordingly.
I've been using Lumen for a few weeks now (review forthcoming), and I've been super impressed by it.
If the golfer in your life is also looking to change some habits and get back in shape in the new year? This little device might be their secret weapon.
Best Golf Books for a Gift
Let's face it, in terms of something that's easy and affordable, there probably isn't a better golf gift than a golf book.
Here are a few of my favorites that I'd recommend:
Need more? Check out my recommendation for the best golf books on the market in 2023.
Best Golf Video Game: Golf+ ($30)
I've played a lot of golf video games over the years, but not a single one has been as good as Golf+ for the Oculus Quest.
Formerly called "Top Golf Pro Putt" Golf+ is hands down the most realistic golf video game short of actually playing a round on a course or simulator.
You can play full courses like Valhalla or Wolf Creek, play at a Top Golf range with your friends, or my personal favorite, play the Pro Putt mini golf courses – which are one of the most realistic experiences I've ever had playing VR.
The Golf+ game itself is only 30 bucks, but the golfer in your life will need a Meta Quest 2 to play it.
So it depends on how much you like this person if you want to give them the $330 gift of golf.
But if you do? They'll love you for life.
Best Tour Golf Balls: Titleist ProV1 or ProV1x
In previous year's gift guides, I've had either Vice or Tayormade as my recommended "Tour Ball Gift."
They perform well and often cost less than ProV1s.
But the reality is?
There's no better golf ball to receive as a gift than a box of Titleist ProV1s. They've long been considered the gold standard in golf balls. And whenever you find one on the course? It's like a little slice of Christmas morning.
So while there are balls that have performance on par with the ProV1s and may actually cost less, when it comes to giving a premium golf ball as a gift, just go with the ProV1s. No one is ever bummed about receiving them.
Best Cheap Golf Balls: Noodle Long & Soft ($22 for 24 balls)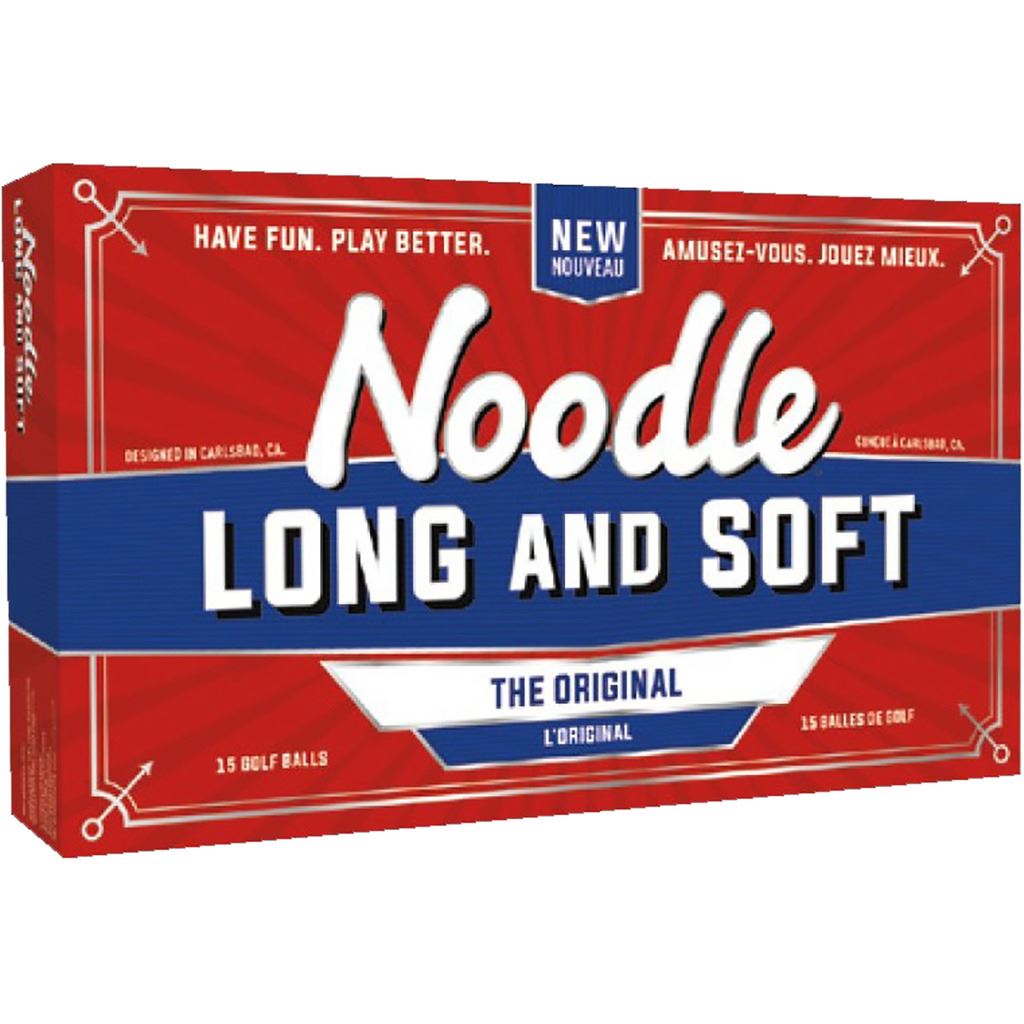 Sometimes you just need a casual gift for the casual golfer, that won't break the bank.
For so many of us, the most useful gift like that is a box of balls.
And our favorite golf balls for the average golfer who doesn't need anything special, but doesn't want to be hitting rocks either?
For under $25 you get a box of 8 sleeves (24 balls), and they were good enough to have me shooting an 86 at TPC Sawgrass recently. I was shocked at the quality of the ball for the price, and it's my number one recommendation for golfers who don't need anything fancy.
Best Golf Gift Under $20: Golfing Gizmos Club Brush ($14)
Sometimes you don't want to spend a ton of money on a gift, and you just need a little golf stocking stuffer. While a bag of tees is always a good stocking stuffer, I'd recommend checking out the Golfing Gizmos Club Brush.
It's built extremely well, has a retractable cord for easy access from the bag, and even comes with a bonus divot tool and ball marker.
Who it is for? The person who wants to give a golf gift, not spend a fortune, and has no idea what else to get.
Who is it not for? The person who has zero interest in cleaning their clubs. Ever.
Solid Alternative? Greens Towel (Pack of 3). Every golfer needs a good towel to attach to their bag to clean clubs, balls, and whatever else gets dirty out on the course. These microfiber towels are an incredible deal and are the perfect gift or stocking stuffer for the casual golfer. And at $13 for the three-pack? You can't go wrong.
Best Golf Rain Gear: Sun Mountain Cirque
When it comes to high-end, bulletproof rain gear Galvin Green is usually the first name that comes to mind.
But recently I reviewed the Cirque jacket and pants from Sun Mountain and was extremely impressed.
At a much lower price point, they've created a product that's very waterproof, comfortable to wear, and isn't quite as hard on your wallet as their European counterpart.
Best Golf Magazine: The Golfers Journal
I'm not sure there is anyone out there pushing golf content and community forward more than The Golfers Journal.
They've taken their passion for the game and not only created a beautiful magazine, but they've expanded into merchandise and events, with a fiercely loyal following.
The stories are great. The photos are beautiful. And whether you're looking for a piece of Broken Tee merch, or want to read the quarterly physical magazine. This would make an excellent gift to the diehard golfer in your life.
There's been a rising trend lately premium magazines. Most of them are in the $30-40 an issue range and come out 2-4 times a year.
In the golf space, Golfers Journal is probably my favorite. They do an awesome job with their photography, writing – and it simply makes you want to go out and golf.
They aren't cheap, but unlike your typical issue Golf Digest it's something you'll collect and return to on a regular basis.
Best Gift for Pool Owners: Aquashot Golf
We've seen all kinds of ways that people have modified golf to work in environments outside the golf course.
But one of the most fun? Aquashot Golf.
Its unique design essentially turns any pool into a driving range that's perfect for realistic chipping practice.
The innertube targets catch balls making it very easy to see if you were on target, as well as making it easy to collect the balls after the pool party practice sesh, is over.
This is basically a must-have for any golfer who owns a pool.
Don't have a pool of your own? What better way to get invited back to your friend's pool than to bring this along as a gift?
Best Thoughtful Gift: Seamus Golf Headcovers
I love Seamus Golf. When you see other people who have their head covers, you're in the "club" – and it almost always leads to a good conversation.
I think this is a great, thoughtful gift. Because it's something your golfer might not buy themselves, but will totally appreciate once they have them. For instance, I bought both my dad and my father-in-law driver covers for our wedding day. They also have a lot of other cool golf accessories, and most of them can be personalized.
Best Bluetooth Speaker: BlueTees Player Speaker
More people than ever are listening to music on the golf course these days.
This means more brands than ever are releasing speakers specifically for the golf crowd.
We've reviewed quite a few golf Bluetooth speakers, and there's one that stood above all the others.
The BlueTees Player Series speaker.
Now, it doesn't have some of the GPS tech features as the Wingman or Ace, and it isn't as small as the JBL Clip.
But it's the loudest, has the best Bluetooth range, and the strongest magnet. It's easy to use, and was the one that allowed us to most easily do what a Bluetooth speaker is meant to do: listen to music.
Best Gift for the Lady in Your Life: Chrysmela Earring Locks
Any of us who does anything active with women on a regular basis has probably found themselves scouring the ground looking for that one lost earring.
For lady golfers, this can happen all too often – but it doesn't need to!
Chrysmela earring locks help keep earrings secure and definitely gets my pick for one of the best golf gifts your wife didn't know she needed.
Want Even More Golf Gift Ideas?
I put together an entire book on my favorite golf resources. It's called the Breaking Eighty Arsenal, and guess what? It's absolutely free!
So if you haven't found the perfect gift idea in this list, then I've got dozens more in the book.
This page contains affiliate links. This means that if you click a link and buy one of the products on this page, I may receive a commission (at no extra cost to you!) This doesn't affect our opinions or our reviews. Everything we do is to benefit you as the reader, so all of our reviews are as honest and unbiased as possible.
---
---
---