Footjoy Flex Golf Shoes Review: A Solid Hybrid Golf Shoe Under $100
Simply put, Footjoy has one of the best reputations in golf.
Their shoes are known for being comfortable, having fantastic performance, and being super durable, so if you buy a pair, you know you'll get plenty of use out of it.
Yet surprisingly, in 7 years of doing golf reviews, I've never worn a pair of Footjoy shoes.
Well, recently this changed when I was introduced to the FootJoy Flex.
Part sneaker, part golf shoe, fully versatile.
On paper, the FootJoy Flex seems fantastic. It's a shoe that you can wear to and from the course, yet still performs like a true hybrid golf shoe, and does this for less than $100 (which is a lot less than many competing shoes).
So does it pull it off, and is the FootJoy Flex a must buy?
Let's find out.
First Impressions of the FootJoy Flex Golf Shoe
When I opened up the box for the first time to try on the FootJoy Flex, my very first impression was "man, these are light."
I think the shoes look pretty good, especially the black and white color way, and double especially if you were able to snag a pair of the "Blackout" limited edition ones for the PGA Championship at Bethpage.
I, however, was not so fortunate.
The soles reminded me of the Ecco Biom Hybrid 3 in the sense that they had clearly designed them with "zones" in mind to maximize traction on the course.
However the material the Flex uses on the sole doesn't seem as hard or as durable as what you'll find on the Eccos, so I was curious as to how this will translate on the course.
The Flex are clearly shoes that wouldn't look out of place if you were to wear them on the street, which is a big part of the idea for the shoe.
But are these shoes I'd be wearing out for beers downtown? Personally, probably not.
I'm still not one of those people who can (or would) do golf shoes off the course.
However, I will say there is very much a time and place for them in my own life.
I travel a lot, and as such, bringing a change of shoes is often impractical.
For instance, when I'm staying in NYC, hopping on the subway with my clubs, transferring to a regional train, getting picked up by host at the station, and then driving to the course – carrying my golf shoes separately is a huge pain.
And these are perfect for those situations.
On vacation (like I am now), and need to hit the store after the round? No problem! These shoes are great for that!
Wearing traditional spikes? Never.
So in that sense, the Flex very much lives up to its name.
Ok, that may have gone a little beyond "first impressions", but whatever. It's my review, I can do what I want :).
FootJoy Flex Performance
I mentioned above that one of the first things I noticed about the shoe is how light they are.
If you're going to be walking 5, 6, 7 miles at a time, then obviously a light shoe is going to make things easier on you – the question, do they sacrifice on support in order to do it?
The answer? Kind of.
It mostly depends on what you're looking for, and what your expectations are.
Again, looking at the Ecco Biom (as they are my primary frame of reference for this kind of shoe), when you put on the Eccos you immediately feel the arch support in a way that is almost unexpected.
Even for a low profile shoe, they have tremendous support.
The Flex isn't quite on this level – but still has adequate support to play a round comfortably.
I do wonder how well they'll hold up if they're your primary shoe over dozens of rounds, but after three rounds playing with them, the support has been good.
Just as important, the shoes are comfortable. I don't know if I'll say they're absolutely the most comfortable golf shoes I've owned, but they're up there.
Much more comfortable than some of the more recent Nike's I've tried, and on par with the Eccos. (Although the Nike Roshe's at a similar price point are excellent);
On the course, the shoes performed great under dry conditions.
Our first round of my annual Memorial Day trip, we played the Glaze Meadow Course at Black Butte in Central Oregon, and it was a great, dry day.
I didn't find myself slipping, even right out of the box the shoes didn't wear in any odd ways or cause any blisters, and I was very impressed.
The second day at the amazing hidden gem Tokatee Golf Club was a little more of a mixed bag.
We had wetter conditions, and on a couple occasions I did find myself slipping on tee shots.
It wasn't terrible, but it definitely happened – and that's where my concerns about the sole being a little bit softer than some competing brands might have had some credence to them.
Despite not being marketed as waterproof, even with a damp course, I didn't run into any issues with my feet getting wet.
If it were actively raining, this may be another story however.
Should You Buy the FootJoy Flex Golf Shoe?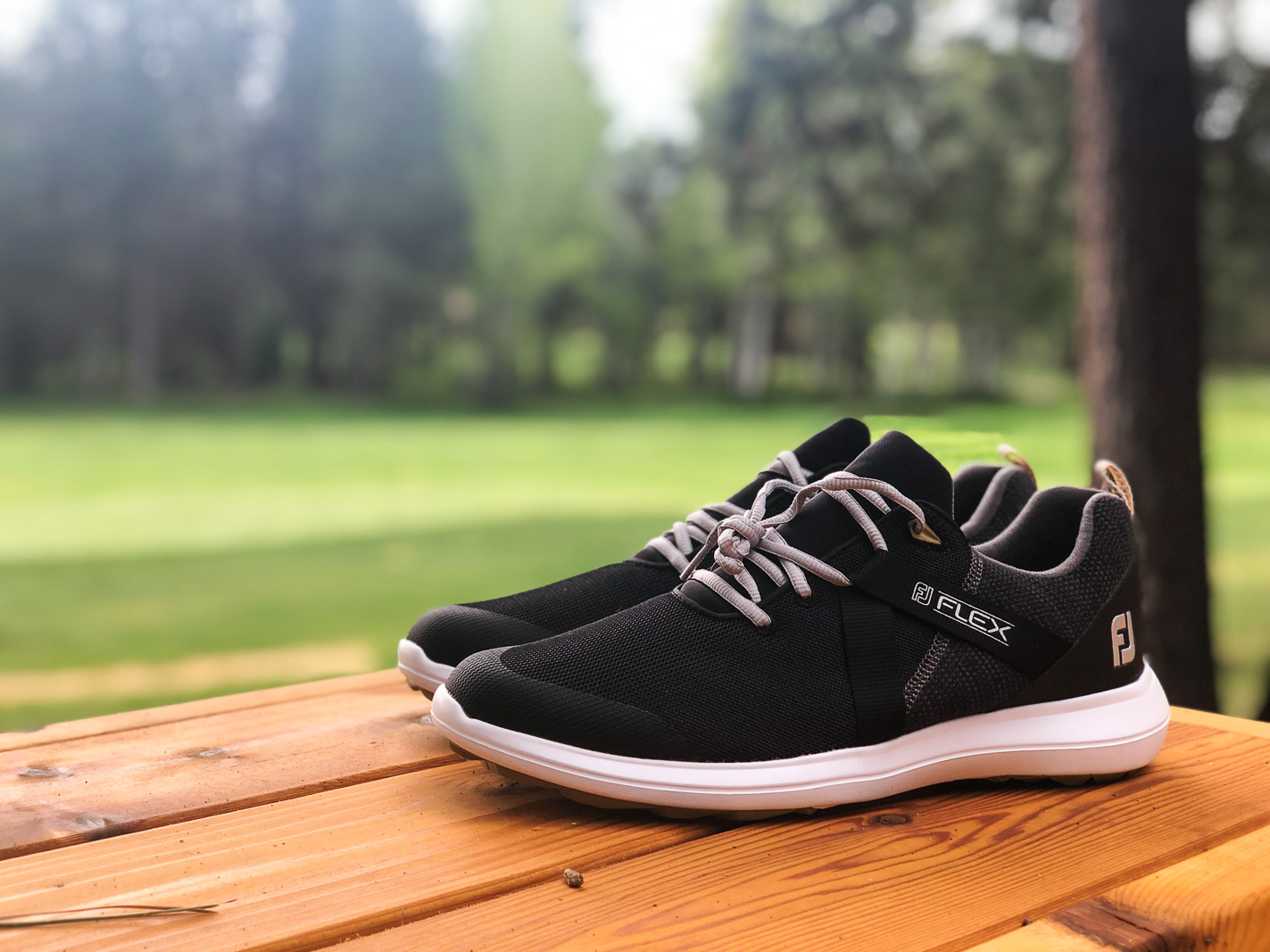 Here's the bottom line, is the FootJoy Flex the best hybrid golf shoe I've tested?
No, I think overall the Ecco Biom Hybrid is a better golf shoe. They have better traction, more support, and are waterproof.
But, and this is a big but: the Ecco shoes retail for $200.
At a retail price of under $90 for the FootJoy Flex? This is a very good shoe, that serves a slightly different market.
If you're looking for an incredibly comfortable, lightweight shoe, that will perform great on the golf course 95% of the time, and give you the flexibility to wear it off the course as well?
Then I'm not sure there is a better value out there that I've seen.
I will 100% be wearing these this summer and is it a coincidence that my first two rounds with the shoes were also my best two scores of the year?
Maybe, Maybe not 🙂
This page contains affiliate links. This means that if you click a link and buy one of the products on this page, I may receive a commission (at no extra cost to you!) This doesn't effect or opinions or our reviews. Everything we do is to benefit you as the reader, so all of our reviews are as honest and unbiased as possible.
Good Things
Very lightweight
Flexible enough for off course use
Excellent Price
Bad Things
Traction concerns in wet conditions
Not fully waterproof
The Breakdown
---
---
---
---
---