Stix Golf Clubs Review: Are they the Best Value in Golf?
This Stix Golf review was updated in March 2023 to reflect updated pricing and availability changes.
The first club I pulled on the practice green before my initial round with Stix was their 56 degree wedge.
On my second shot with it? I holed out a 20-yard chip.
First hole? Hit a driver dead center of the fairway. I hit one more to see if it was a fluke. It landed 5 feet from the first one.
Then my first iron shot with Stix? An 8 iron to 5 feet.
Drained the putt for a birdie.
The question is, was this initial experience with Stix golf clubs a fluke? Or are the clubs actually that good? I'm going to tell you in this Stix Golf Clubs review.
What are Stix Golf Clubs?
Over the last five years, we've seen an explosion in direct-to-consumer brands both in and outside of the golf world.
Companies are starting to embrace the idea that you don't need a middleman (who will take 50% of your profits) to sell consumer goods.
And perhaps most interesting of all? Stix for golf clubs.
Stix Golf is a direct-to-consumer brand that says it makes "high-quality golf clubs with a premium feel for a fair price."
Essentially Stix is selling golf clubs that they claim offer performance that's on par with all of the big-name brands, for half the price.
Anyone that can pull that off is going to do very well. But it's a tall order and I've been highly skeptical.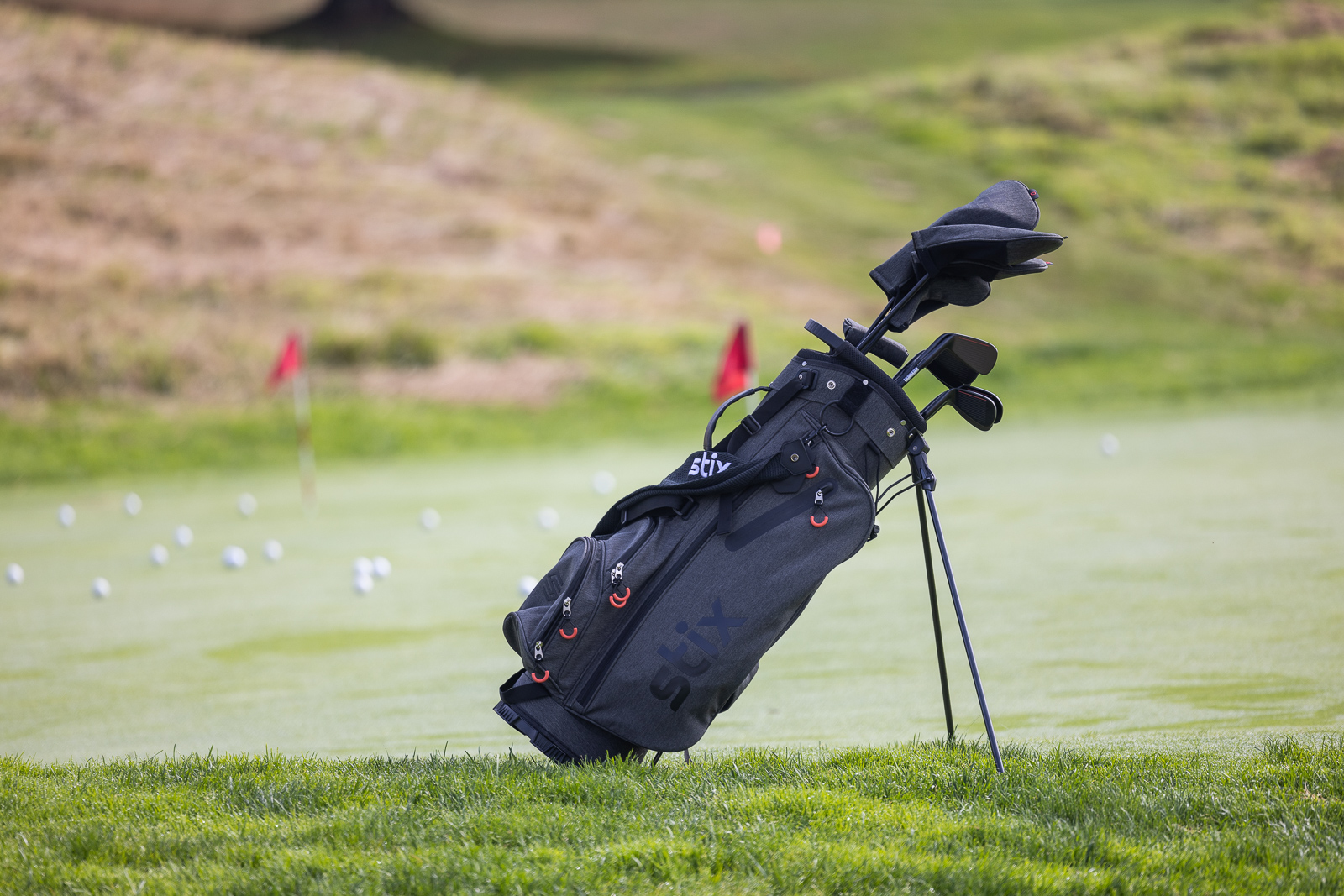 Historically in golf, you've mostly had two options:
You buy the beginner set from say, Costco, for a few hundred bucks. It doesn't take long before you realize they suck, and you end up spending more money quickly thereafter on better clubs.
You buy clubs from a well-known brand that will often cost you upwards of $2k or more to get fully outfitted.
There hasn't been a ton of in-between.
Stix set out to fill that market. For around $1k you can get an entire set of clubs that are actually decent.
Or at least that's the hope.
And in this Stix golf review, I'm going to break it all down for you. I've now played with the entire Stix set for multiple rounds and multiple range sessions.
How did they fare? Should you buy them? Let's find out.
First Impressions of Stix Golf Clubs
I got the full set of Stix Golf Clubs, including the Stix bag, which I'll talk more about in a little bit.
The full set includes:
Driver
3 and 5 wood
4 hybrid
5 iron – PW
52, 56, 60 degree wedges
Putter
When Stix first launched they only came in a matte black, which is their signature look. In 2022, they released a matte silver style as well that looks more like a traditional golf club.
Upon pulling the clubs out of the box, the first thing I noticed?
These things look good.
While the black won't be to everyone's taste, I think they look very sleek and super modern.
Because they look so different from a typical set of clubs, you can expect to get some attention on the course.
And once you tell them what they are? Expect some follow-up questions.
The driver, woods, and putter all have a shiny chrome motif that adds to the aesthetic. The only downside is they're a magnet for fingerprints, so prepare yourself if you're easily bothered by this.
The graphite shafts are also matte black, regardless of which finish you choose for your clubheads. Again, they look fantastic.
One downside that I learned of early in my experience with Stix? The headcovers are horrible.
They don't look good, and they're very hard to get on and off. So when you pick up your set of Stix, I'd just prepare to add your own flair to the clubs with your own headcovers. Seamus is always a good option here.
Overall, at first glance? I'm very impressed with the way the Stix set looks.
How to Order Your Stix Clubs
So before we talk about performance, let's talk about what it's like to buy a set of Stix golf clubs.
Traditionally you might go into a club fitter and test out a bunch of clubs to see what the right clubs are for you.
With Stix, you don't have that luxury. It's a little disconcerting to spend upwards of a grand on clubs you've never hit before.
The good news is they make it very easy to find the right clubs for you. Better yet? They have a great 30-day trial policy, so if you hit them, and don't like them? No harm no foul, just return them for a full refund.
That said, I found my set of clubs to be pretty much perfect for me. They have a nice variety of choices, but not so many as to overwhelm you. Most of them will be pretty obvious based on the type of golfer you are.
If you're not sure what you need they have a handy "Help Me Choose" page that breaks down exactly what you likely need based on height, skill, etc.
Here are your customization options when you buy your set of Stix:
Right or Left-Handed: This one is pretty obvious.
Shaft Choice: Stiff shaft for higher swing speeds, Regular shaft (for most people), Active shaft for slower swing speeds. I got stiff shafts.
Shaft length: There are 5 options here in half-inch increments. So you can get lengths + or – 1 inch from standard. Mine are +0.5 inches.
Number of Clubs: 14 (Full Set), 11 (Classic Set), 9 (Casual Set). I got the Full Set.
Club Finish: Matte black or silver. I got matte black.
If you're still unsure of what is right for you, they make it very easy to hop on a chat with a support person to talk about your specific needs and find the right clubs for you.
Best Clubs for Beginners
Are Stix Golf Clubs Any Good? A Full Stix Performance Review
The intro to this post? That wasn't hyperbole.
My second shot ever with a Stix club was a chip-in on the chipping green.
My first two drives were perfect.
And I birdied the first hole I played.
This was with hardly any warm-up, and having never hit the clubs before.
That absolutely is no basis for saying whether or not Stix Clubs are good or bad.
But what that does tell me? It tells me that Stix clubs are easy to hit.
I'm a 12 handicap right now, trending towards a 20. My golf game has been in pretty rough shape this year.
So I was especially curious to see how I'd handle a completely new set of clubs.
For the last 5 years, I've been playing with Mizuno JPX-900 irons. But unfortunately, as I've regressed as a golfer, they often don't feel like the right clubs for me anymore.
I have a Callaway Mavrik driver with a Ventus shaft.
A combo of Miura and Mizuno t7 Wedges.
And a custom Round 4 putter that I've played with for over 7 years.
I've now played 3 rounds with Stix Clubs and had 3 range sessions with them to formulate this review.
I'm going to go through each type of club separately and then give an overview of the full set.
The Stix Driver
One thing you notice with Stix clubs across the board, is they're very minimalist – and that's by design. They specifically say they keep them as simple as possible, so you're not spending extra money on superfluous design elements and branding.
This is clearly evident with the driver.
The crown is a beautiful matte gray, which I like the look of. I've found it can be pretty prone to surface scratching, but it always seems to wipe off easily. There's a red alignment dot in the center, which adds a nice hint of color.
The stiff shaft on the club, as is the case with all of the clubs, feels very nice – and honestly is more stiff than I expected it to be.
I haven't quite come around to how the Stix driver looks at address. It doesn't feel as refined as your typical Callaway or Taylormade (but it's also a fraction of the price).
After my first round with the Stix Clubs one of the biggest things I noticed? My (severe) slice was noticeably better.
Most newer golfers or people in the target market for a set of Stix are going to slice the ball, so it feels like all of the clubs are designed to combat this – and I love it.
This has always been my biggest issue, and I was shocked at how much these clubs helped my slice right out of the gate.
It certainly didn't fix it altogether, but some shots even had slight draw tendencies which was nice to see for a change.
The Stix driver is pretty forgiving, helps a slice, and the distance feels pretty solid. The high-pitched sound isn't great. It's not as bad as the old Nike SQ drivers, but doesn't sound as good as most premier drivers on the market.
Overall, the Stix driver is good for the money. I haven't found it to be as confidence-inspiring as I'd hoped. While it has helped my slice, and distance is pretty good, it still doesn't feel as good as my Mavrik.
Although lately my Callaway has been costing me 3-4 penalty strokes a round, and the Stix driver has greatly reduced this – so perhaps I need to get on board!
If you're a newer or higher handicap golfer? The Stix driver will be great.
If you're a better golfer? The driver is probably the one club in the Stix bag you might be inclined to switch out.
Looking for other options? Here's our take on the best golf drivers currently available.
The Stix 3 Wood and 5 Wood
As you might expect, the 3 wood and 5 woods look very similar to the driver. Same matte grey tops, and mirrored bottoms.
Note: I realized as I was writing this review that I didn't do a very good job of photographing all of the different types of clubs – so expect an update soon with more photos!
I've found both of these clubs to be very good. I've never had a 5 wood in my bag, and after a few rounds with this, I'm glad I do now!
Both of these are easy to hit and have a pretty closed face, helping the typical person who slices the balls.
They launch high with a decent amount of spin.
Personally, I've liked the woods more than the driver, and I've found them to be enjoyable to use, help with my slice, and give me plenty of distance in the process.
Related: Best Golf Fairway Woods: 10 Excellent Options for All Levels
The 4 Hybrid
I know for most medium to high handicap golfers a 4 hybrid should be much easier to hit and more consistent than a 4 iron.
But my 4 iron and I have become very good friends. This past Summer it's been my most consistent club, and has become my favorite club in the bag.
So I was a little disappointed to not see a 4 iron in the Stix set, but I 100% understand how having the hybrid is a better fit for most people.
I'm still working on getting to know the hybrid. So far I've enjoyed the 5 wood and 5 irons more than the 4 hybrid – but I think part of that is just getting used to playing with this type of club.
In my current set, I have a 3 hybrid in my bag, but it's bad. It's 7+ years old, and was a bad club when I got it, so to be honest? Not sure why it's even still in there.
I'll update this review as I use it more, but the 4 hybrid is the club I've used the least so far. Because in most cases I gravitated to either the 5 wood or 5 iron which are both excellent.
Stix Golf Irons
Ok, this is where things start to really get good.
Honestly, while I think the woods are great, Stix clubs just get better and better as you move up the set.
All of the irons up to the pitching wedge are cavity backs, and as you'd expect are very forgiving.
I've played with a number of "super game improvement" and "game improvement" sets – and they usually feel like a real step backward for me. I'd consider the Stix set "game improvement".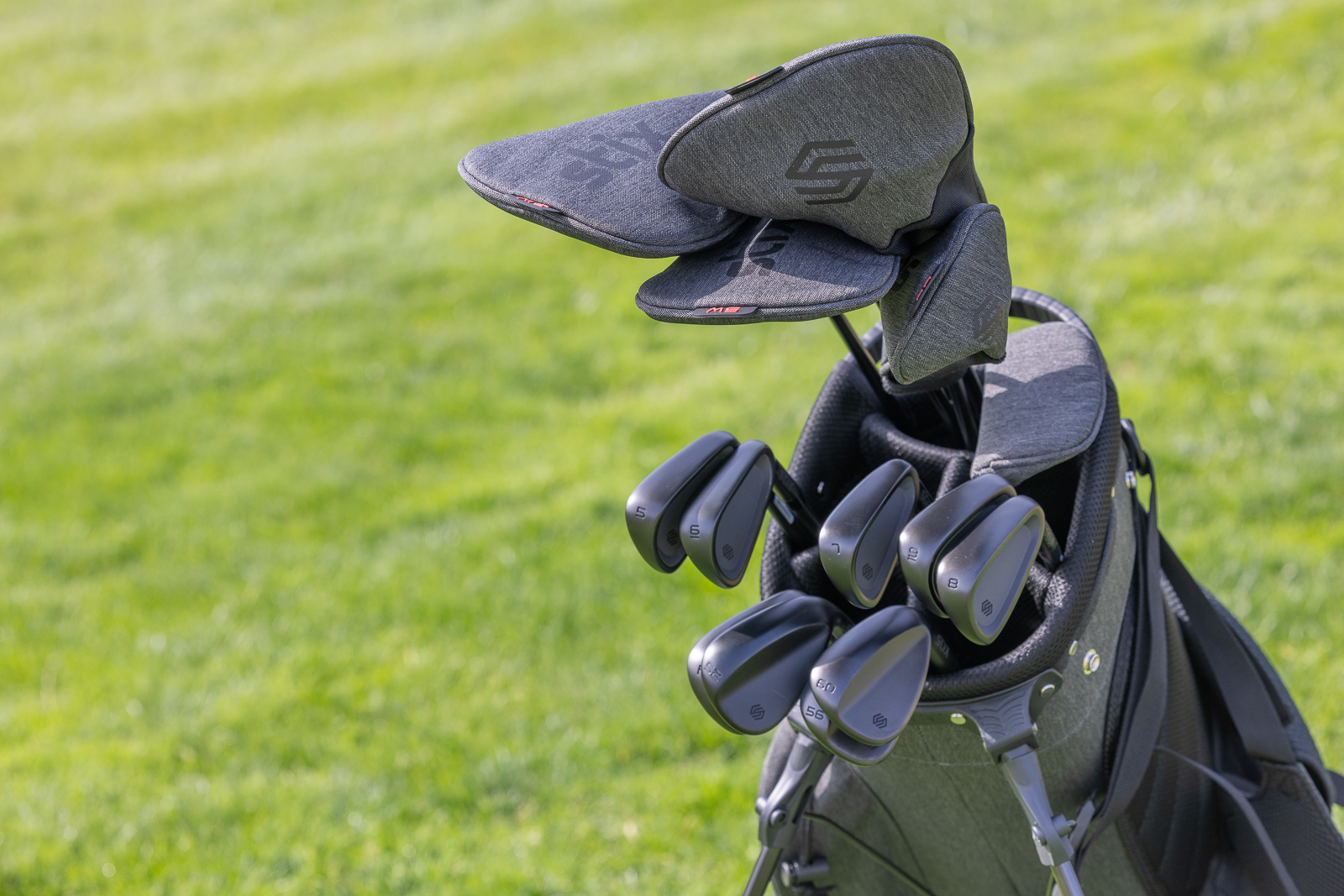 I review a lot of clubs for this site, so I try and take my own game out of it as much as possible and provide as unbiased of a review as possible.
But often with the super game improvement sets, I find the irons feeling hollow, cheap, and completely lacking feel.
Yes, they can be much easier to hit for the beginner, but not worth it for anyone else.
The Stix irons? They aren't like that at all.
They feel good.
They don't feel quite as clean as when I pure my Mizuno irons. But across the board, they're more forgiving, so they feel as good or better on one of my typical shots. You may be surprised to learn this, but I don't pure every shot I hit.
I know. Shocker.
On that first hole I told you about before? I pulled out an 8 iron on my approach.
There was a slight draw. I never see this on my irons.
And over the course of 3 rounds, my irons have been straighter than they ever have been. The more I use them and get them dialed in, the better they feel, and the more confident I am playing them.
Yes, I feel like I sacrifice a little bit on my best shots with the Stix, but on the other 75% of swings? They feel as good or better than my current irons, because they're more forgiving and easier to hit.
Stix Golf Wedges
From that first chip with the 56 degree wedge, I knew I was going to like these wedges.
The matte black style fits with the rest of the clubs. The clubs are blade style but have a high bounce helping to make them more forgiving for the higher handicap.
Personally, I found the wedges to be one of the highlights of the set. Across the board, they feel great. It took me a few rounds to dial in that 80-100 yard shot with the 52 degree wedge, but both the 56 and 60 feel great out of the rough, in the sand, or on tight lies.
I had no trouble getting balls to spin and check on the greens, which was a nice surprise.
This also could be due to the fact they're just a brand new set of wedges. My current Mizuno and Miura wedges have all seen thousands of shots hit at this point, and are probably due for an upgrade. Err, maybe I should say replacement. In no world is a Stix wedge an upgrade from a Miura.
But I will say I've had great results so far, and have thoroughly enjoyed using them. They also feel much more premium than I expected them to.
Stix Golf Putter
And finally, we have the Stix putter.
And you know what?
It's my favorite part of the set.
I love the feel of this putter. It feels premium in just about every way.
Now, it should be noted that I'm not a "putter snob."
I'm not the person who can tell the difference between every Scotty Cameron out there, or someone who has a collection of dozens of putters.
So take my opinion for what it's worth on this one, but I think this is the highlight of the entire set.
The Stix putter has a very heavy head (it's 430g). It feels premium, and coming from a lighter putter, this one inspired a ton of confidence from the moment I started using it.
I've consistently been making more putts, and rolling more putts close.
The face doesn't feel overly hot, rather it has a nice dampened feel that provides good feedback and control.
Their putter has an offset L-shaped hosel, that I like – but if you're coming from something different it may take a little getting used to.
The milled face is high quality as well.
Earlier in this review, I talked about the terrible headcovers. The only exception to this is the putter headcover. It comes in a dark heather grey, has a nice magnetic flap, and is easy to get on and off.
Regardless of what happens with the rest of the set, I have a feeling I'll be using this putter for a while.
Best Clubs for Beginners
Stix Golf Club Durability
One of my biggest concerns with any golf clubs that aren't silver comes down to wear and durability. My initial expectation with the black Stix clubs was that the coating would be coming off after a round or two.
They tout their "Diamond Like Coating" (DLC) as being the most durable black finish in the golf world, and that it's "only available on a limited number of extremely high-end clubs."
I can't necessarily verify that, but so far? I'm very impressed with how the finish has held up. Certainly, at some point I'll begin to see some wear, and I'll update this review as necessary.
But a few weeks in, and the finish is holding up great. If you like the look at black clubs, but have been hesitant to pick some up because of durability concerns, then Stix may finally have an option that works for you.
The Stix Golf Bag
With my set, I also got a Stix golf bag. Overall, the bag looks good and is better than I expected. As you might expect, it sticks with the black/gray color scheme.
The bag has most of the features you'd expect on a modern bag, with a waterproof valuables pocket, a rain hood, and plenty of space for anything you'd typically put in a golf bag.
The retail price of the bag is $250
While I'm actually pretty impressed with the bag, at that price point I'd look elsewhere.
You can get a fantastic Jones Utility Trouper for less than that.
Also for most of us, we don't necessarily want to scream "I've got a box set of clubs!" when it comes to aesthetics.
So for me, and I think for many of you as well, when you do pick up a full set of sStix Clubs, I think it's worth adding your own flavor to it.
Get a different brand of bag. Add some unique headcovers to it.
You don't need to be a walking billboard for Stix.
That said, if you do find a deal on Stix Clubs where you can get the bag thrown in at a discount? Then there's absolutely nothing wrong with the bag itself. And anyone who does pick one up will find it more than serviceable.
Final Thoughts on Stix Golf
Overall, I'm honestly surprised by how much I've enjoyed the complete Stix set of golf clubs.
If I'm being totally self-aware and honest with myself, my golf game has been in decline for about 4 years now. I was as low as a 7 index, and now I'm a 12.
While most of this decline can be attributed directly to poor driver play, I lack the confidence I used to have on the course.
I know if I were to go get a solid club fitting at a place like True Spec, I'd likely be fit for something far different than what I'm currently playing.
I can't say I have ambitions of being a scratch golfer, but if I can get back to a solid single-digit – I'd feel good about that. For a few grand, I'd likely get fit into something that will aid in that goal.
But here's the thing. Over the last few rounds, I feel like I've been playing better, more consistent golf, with this set of Stix clubs.
When I'm playing well on a consistent basis? My Mizunos have better feel and allow me to be more precise. But that's not where I'm at right now.
There's a bit of an ego hit going back to something more geared towards game improvement, or gasp, going to a box set of clubs coming from a current set that in total retails for around $4k.
But you know what?
I don't care.
These Stix clubs have helped fix my slice. They've helped me drain more putts. And they've helped me play golf with a level of confidence I haven't seen in a while.
Are they as good as a premium set from the likes of Titelist, Taylormade, or Callaway?
No.
Is a scratch golfer likely going to pick up a pair of Stix? Probably not.
But are they what I believe to be the best full set of golf clubs you can get for less than $1,000?
Yes. Absolutely yes.
In fact, this is probably the best review I can give the Stix Clubs:
I got these clubs to review, and expected to play a few rounds with them and be done.
But at least for the moment? They're staying in the bag.
I know I'll get a little crap from some friends for playing a boxed set of clubs, but hey, I can't argue with results!
So for $1,049 (after using our "BE50" discount code), I truly don't believe you'll find a better full set of clubs for anywhere close to that price.
There's a good chance I may switch out the driver, and perhaps the hybrid, but I'm going to keep riding the Stix train for a while and see where it takes me.
If you're a newer golfer looking to get into a set of clubs that's a step up from what you'd typically be looking at?
You should 100% consider buying a pair of Stix clubs.
Use code "BE50" to save $50 off a set of Stix!
Best Clubs for Beginners
This page contains affiliate links. This means that if you click a link and buy one of the products on this page, I may receive a commission (at no extra cost to you!) This doesn't affect our opinions or our reviews. Everything we do is to benefit you as the reader, so all of our reviews are as honest and unbiased as possible.
Good Things
Matte black provides a cool, modern look
Incredible value for a full set of clubs
Irons through putter are as good as anything I've hit
Bad Things
Driver lacks feel, and sound isn't great
The bag is good, but expensive for what it is
The Breakdown
---
---
---
---
---