Garmin Approach S70 Review: The Golf Watch You've Been Waiting For
Updated October 2023 to make direct comparisons to the Epix line of watches to help you better decide which Garmin golf watch is right for you.
When I first reviewed the Garmin Approach S62, I declared it the best GPS golf watch on the market.
And that's been the case ever since.
Any GPS golf watch will give you accurate distances to the green, but few provided the level of detail and functionality of Garmin's flagship S62.
But it wasn't perfect.
If you're used to an Apple Watch the screen quality is a noticeable downgrade on the S62, and it's lacking many of the health and fitness features that would make it a go-to option for daily wear.
But on the course, its distances, maps, and virtual caddie feature are pretty much unrivaled in the golf watch market. That is, unless you wanted to drop over 2 grand on the luxury Marq Golfer series from Garmin.
But I think we'll all admit, that's a lot of money to spend on a smartwatch (despite being undeniably cool.)
That's why I'm so excited that the S62 is finally getting an upgrade:
Introducing, the Garmin Approach S70.
Is this the watch that will finally get me to take my Apple Watch off my wrist, and switch to Garmin full time for my golf and fitness data?
It very well might be.
In this review, we'll look at all the features of the Approach S70 and I'll let you know who it's for, how it compares to Garmin's other models, and if it's worth the $699 price tag this unit costs.
Ready to dig in? Me too, this one is going to be fun.
First Impressions of the Garmin Approach S70
Before we go too far into this review, I want to make a disclaimer.
Last week, I joined a small group of people from Garmin at Big Cedar Lodge in Missouri for a hands-on look at the watch. Garmin sponsored this trip, but all thoughts and opinions about this watch are my own, and they don't get to preview this review before it goes live.
My first impression of the Approach S70 is that it looks very similar to the S62. This is generally a good thing. It very much fits in line with the form and aesthetics of other Garmin fitness watches.
The Approach S70 also marks the first time that Garmin has released the same golf watch in two different sizes. I've got the larger 47mm model, and there's a smaller 42mm model which is perfect for those with smaller wrists.
One minor change I did notice is that they used an integrated bracelet with the new model that looks a little cleaner and feels slightly more high-end.
There's an orange ring around the bezel and the top button has a textured orange trim that looks really nice.
The watch itself is very light, which is something I appreciate. I wear the Apple Watch Ultra on a daily basis, and I often forget how heavy it is until I put on a watch like this.
The S70 truly disappears on your wrist when you wear it. This is great for when you're on the golf course, but even better when you're wearing it for day-to-day functions – which we'll talk more about in a bit.
The S70 uses a proprietary Garmin charger that's the same as with many of their most recent models. While I'm not a fan of proprietary chargers, the S70 did upgrade its charger to be USB-C which is nice to see.
We're going to talk about a lot of interesting features in this review, but there are two very big upgrades that make the biggest impact. Let's talk about the first one.
The New AMOLED Screen on the Garmin Approach S70 is Wonderful
By far, my biggest critique with every single GPS golf watch I've used to date is the screen.
In a world where millions of us use an Apple Watch with beautiful Retina screens – anything less than that can feel like a disappointment.
This is one of the biggest reasons I haven't used a golf watch more frequently for personal use – I've simply been spoiled with the high-res screen from Apple.
So when I first turned on the Garmin Approach S70 and saw a beautiful, bright OLED screen I literally said out loud "Yessssssssss."
I can't stress enough about how much of a game-changer this is.
While I wouldn't say it's quite on par with the screen of the Apple Watch Ultra, it's close enough to not be an issue for most people anymore.
When put side by side with the Approach S62, it's truly a night and day difference when it comes to brightness and clarity.
Simply put, the display on the new S70 is wonderful. I don't know this for sure, but I'd guess it's the same display as the MARQ Golfer watch, which also looks great, but costs nearly triple the price.
My first round was a hot, sunny day at Payne's Valley at Big Cedar Lodge, and I never once had any issues seeing the display. It's plenty bright for pretty much all conditions.
That's the first game-changer in this watch. And even if that were the only upgrade from the Approach S62, it'd make it worth the upgrade.
We'll get to the second game-changing new feature here in a little bit.
But first, let's talk setup.
Best Overall Golf Watch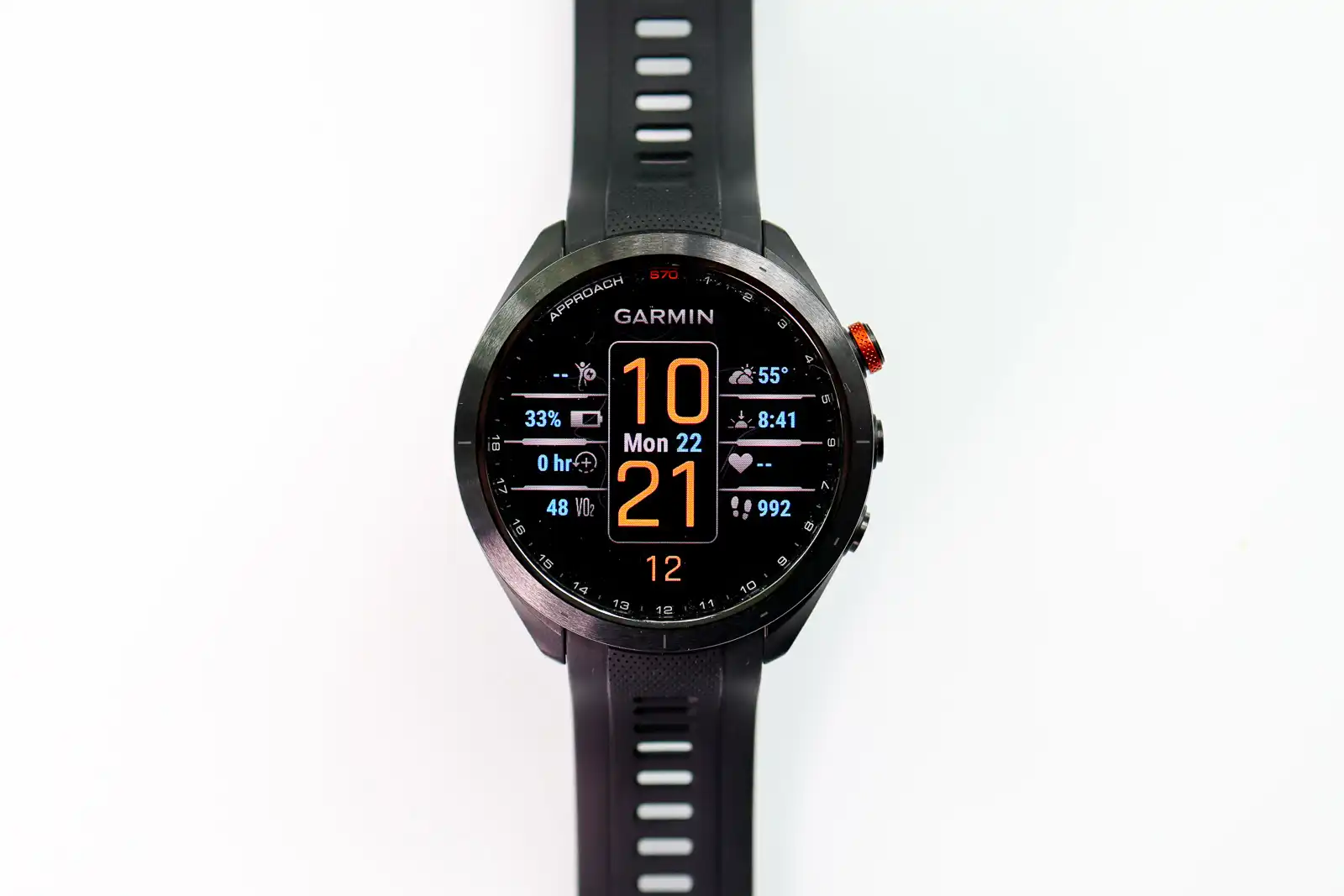 Garmin Approach S70 Golf Watch
Let's make this very clear: the Garmin Approach S70 is the best overall GPS golf watch ever made. Period. If you're in the market for a watch, and this is in budget? Just buy it.
Buy from Play Better
Buy from Garmin
We earn a commission if you click this link and make a purchase at no additional cost to you.
Setting Up the Garmin Approach S70 Watch
Since I received my watch at a media event, I didn't quite get the same experience as opening up the box and setting it up at home.
Because of this, I can't comment on packaging and presentation, although I'd be willing to bet it will be similar if not identical to how the packaging for the Approach S62 or S42 came.
Garmin is pretty consistent with how it packages all its golf products, so I'd expect it to be very well done without being over the top.
Pairing your phone with your watch is a breeze, and the Garmin Golf (or Connect) apps walk you through exactly what you need to do.
We ran into a minor issue with about 8 of us trying to all pair at the same time, so some of our Bluetooth signals got crossed, leading to a few setup hiccups.
I wouldn't expect this to be an issue for anyone else, unless you and your friends decided to all set up your new identical watches at the same time in the same place 🙂
The Garmin Golf App continues to be the best "all in one" app in the golf tech space.
I love that you simply use one app for all of your Garmin products.
Let's say you use the Approach R10 launch monitor, you'll get all of your practice and club data in there.
Then maybe you use the S70 watch paired with CT10 sensors to record your course and round data. All of that is still within the Garmin app.
Or maybe you don't have a watch, but you keep your score using the Approach Z82 rangefinder? Yep, all your data will save in the app.
We'll talk about more specifics of the app later in this review, but all that to say, setup is great, and I love the ecosystem that Garmin has built over the last few years.
Watch Faces and Design
With the other Garmin watches I've reviewed over the years, there's always been a minor level of customizability with watch faces – but not much.
With the Approach S70, this changes.
There are a bunch of different watch face designs, each of which you can customize the colors on.
More importantly than that, you can also customize what data is shown. So regardless of what's important to you, you can make sure you're getting the exact information you're wanting whenever you need it.
With the new screen, all of these watch faces are beautiful and a huge step up from any other GPS golf watch I've used.
I do wish there were a way that I could easily save multiple watch faces for quick reference, like I can with the Apple Watch. I love that with the Apple you can literally just swipe and access a different watch face that I've saved.
I'm pretty sure you can save customized watch faces in the Garmin Connect app, but I haven't gone deep into this.
Using the Garmin Approach S70 on the Course
Starting a round with the Garmin Approach S70 is super easy. Hit the top button on the watch, and select the big "Play Golf" screen.
You'll tell it if you want to keep score or not, select the course, tees, and almost immediately it'll take you to the first hole.
The GPS locks on within a few seconds, which is great. Often this is where less expensive devices like the Bushnell iON Elite, or more recently the Shot Scope X5 can struggle. The latter took a few minutes actually to lock onto the satellites.
The S70 was easily the fastest I've seen a watch connect to GPS.
There are a lot of features within the S70, so it'll likely take a round or two to get fully comfortable with everything the S70 can do.
That said, for the most basic of functions like getting distances, keeping score, and so on – it's very intuitive and most people will get the hang of it right away.
The standard screen will show you distances to the front, middle, and back on the left, with an aerial view of the hole on the right.
The graphics for the holes have received a pretty big upgrade over the S62, and are the best-looking I've seen on a golf watch to date.
With a simple tap on the left side of the screen you can switch from actual distances to "plays like" distances.
This makes it very easy to get an accurate sense of how the hole is actually going to play.
If you scroll on these numbers you can get even more data about the "plays like" distance.
The next screen will show you what adjustments it makes for elevation, wind, and local weather (humidity, temperature etc).
This works great, and the only slight issue I had was that you'll need to be paired to the Garmin Golf app on your phone to get wind data. I've had a couple instances where I hadn't looked at the app in a while, and the wind data wasn't showing up. So you just need to open the app to have it refresh the connection. A minor inconvenience, but worth a mention.
If you continue to swipe on the distances, you'll also get screens giving you even more data.
The watch is very responsive, and you can tap on the hole overview to zoom in, and get a distance to any spot on the hole. You can swipe up and down on the right-hand side of the watch face to zoom in and out, which works very well. It's not quite as responsive as an Apple Watch, but it's still very good, and makes for an enjoyable user experience.
It's very easy to get distances to any hazards in front of you by tapping, or scrolling through each of the hazards for the hole.
One cool feature is that the watch will ask you what your typical drive distance is when you setup your watch. Let's say it's 235 yards.
When you're looking at the hole overview, there will be a line going across the fairway which illustrates where 235 yards is. So if you're debating whether or not you can clear a bunker, or trying to decide if you should take less club, this feature makes it very easy to tell at a glance what you should do.
Overall the Approach S70 does the basics extremely well, and makes it fast and easy to get any distance you want on the course.
I also love a color-coded feature around the bezel. Like many golf watches, the bezel has numbers 1-18 listed. After you finish a hole, it will add a little colored mark next to the hole to dictate your score. Green is par, and then it goes yellow to red as your score gets higher, or blue down to dark blue as it gets better.
I found having the extra visual makes it easy to get a quick sense of trends within the round. I was particularly excited to see a dark blue mark next to the 12th hole, after I holed one out for eagle on a short par 4 🙂
Using the Virtual Caddie Feature
Like other flagship Garmin golf watches, the Approach S70 has a virtual caddie feature built in.
First, you'll want to make sure you have "statistic tracking" set on within the watch. I had it off during my first round at Payne's Valley, and was a little disappointed as to why it didn't ask me how many putts I had after each hole.
Halfway through my second round at Pumpkin Ridge I found the answer to this.
Now, after each hole it'll ask for my score, number of putts, and penalties.
Without any additional sensors the S70 can do shot tracking, so it knows where you hit each shot on the course. I've found this works surprisingly well.
I was reviewing my shots from my last round with this watch, and it pretty much nailed every single location and shot throughout the entire round.
Depending on how much extra work you want to do, you can go into the Garmin app after the round and tell it which clubs you used for each shot.
But if this is something that's important to you, the better option would be to pair the S70 with a set of CT10 sensors. These are Garmin's shot-tracking sensors, and they generally work very well.
Sensors or not, once you've played 5 rounds the Virtual Caddie feature can be enabled, and the S70 can make recommendations based on what club you should hit for each shot. With a simple swipe, you can see alternate suggestions as well.
One cool aspect of this is the fact it isn't just based on your club distances. The more you use your S70 with shot tracking, the more it learns about your game. For instance, it may know that you're terrible out of bunkers. So the Virtual Caddie will factor that into its club suggestion and may make a recommendation to help minimize your chance of going in a bunker.
As I've only had two full rounds with the watch, I haven't been able to test out this feature, but will update my review when I do.
That said, I've been impressed by the shot-tracking capabilities and level of statistics and information it gives even without Virtual Caddie and without the sensors.
Garmin Golf Membership and Green Contours Data
As is the case with many of the latest tech products in golf, there is an optional subscription fee that you can use with the S70.
But the good news is that you're not missing out on too much if you choose not to get it.
There's just one golf subscription for all of Garmin's golf products, so the people who will get the most out of it are the ones who also have other Garmin products like the Approach R10 launch monitor.
But the primary feature you get if you purchase the $10/month membership for the watch, is access to green contours data.
This will show you both a heatmap as well as directional arrows for all the breaks on the green.
It's useful information, and it's well executed on the watch. The best use case I've found isn't necessarily to even help you read the green. Rather, it's great for figuring out where to aim on your approach, if it's a green you're not familiar with.
I will say, the fact you need the subscription for this is a bit of a bummer. You can buy a Swing Caddie T9 for less than half the price of the S70 and also get this contour data, without a subscription fee.
But in the world of subscription fees, this one isn't that bad. It's a cool feature, but won't be an absolute necessity for most people. Contrast this to the new Rapsodo MLM 2 Pro, where you have a $200/year subscription that you basically have to purchases in order to use all of the device's best features.
In case you're curious, the Garmin Subscription also gets you:
Green Contour data on the S70 and Z82 rangefinder
Home Tee Hero Simulation (Approach R10)
Extra video data storage (Approach R10)
So the membership is clearly most useful for those who have the R10, but if green data is something you really want on your watch – you'll have to pony up.
Best Overall Golf Watch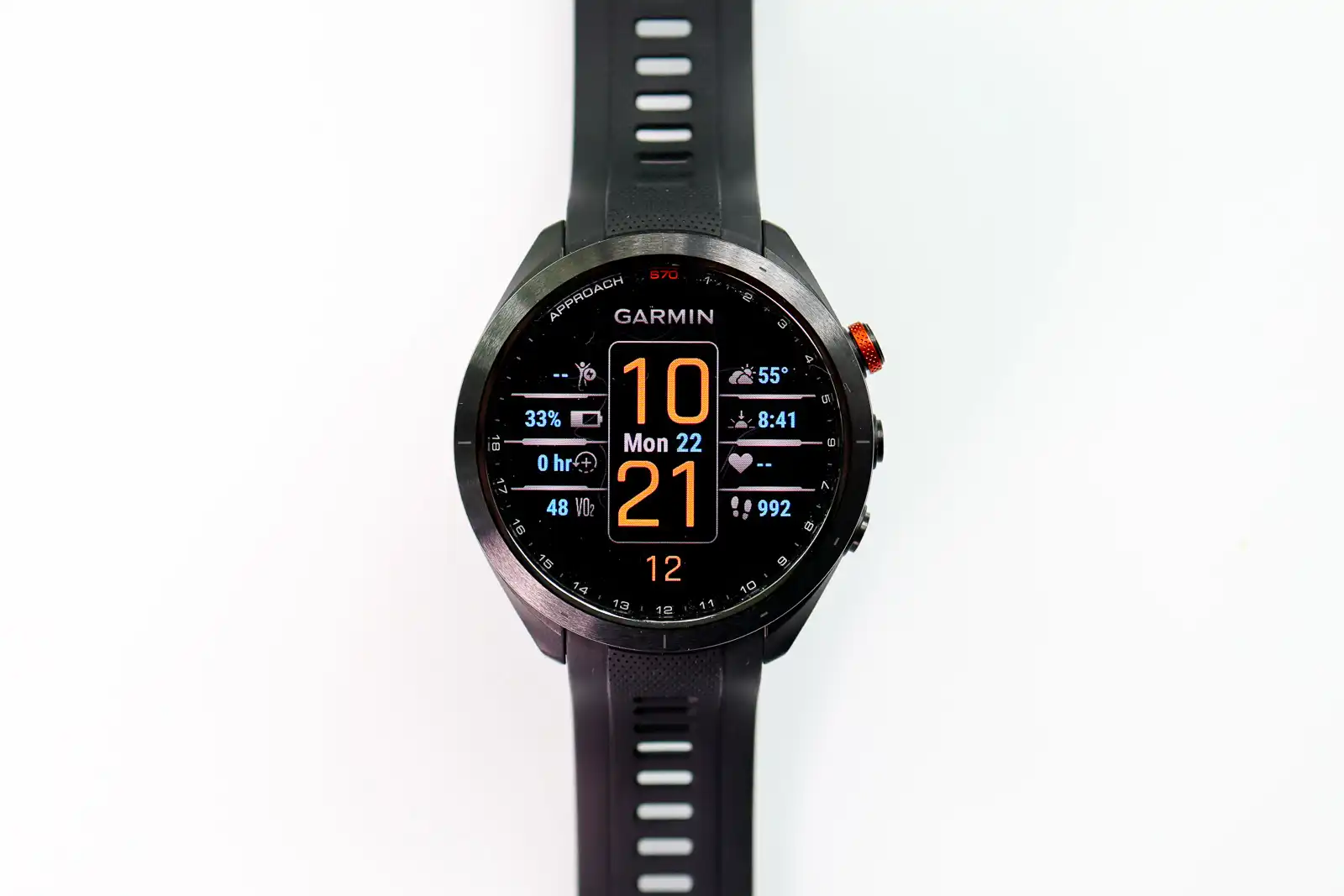 Garmin Approach S70 Golf Watch
Let's make this very clear: the Garmin Approach S70 is the best overall GPS golf watch ever made. Period. If you're in the market for a watch, and this is in budget? Just buy it.
Buy from Play Better
Buy from Garmin
We earn a commission if you click this link and make a purchase at no additional cost to you.
The Second Game-Changing Feature of the Approach S70
I mentioned the first game-changing feature earlier with the AMOLED screen.
The second one is just as important.
The Garmin Approach S70 is the first Garmin golf watch to have the full suite of Garmin health and fitness features.
I'll be honest, every time I looked at the specs of a Garmin Fenix or Epix Gen 2, I got pretty jealous of all the health and wellness features.
Specialized data for any activity or workout, "Body Battery", advanced sleep-tracking – the list goes on.
I've wished that the golf watches had all of this stuff built in. That would truly make these watches realistic for wearing everyday.
And now, with the release of the S70 – we finally have the perfect all-in-one watch.
I've had my S70 for a week now, and I'm loving all of the health and wellness features.
While the Apple Watch has great integration with my iPhone and Apple Health, the data you get from the Garmin is just so much more in-depth, and frankly, useful.
I've found it to be like having an Apple Watch and a Whoop band all in one – which is exactly what I've been wanting for years.
Along with connecting to the Garmin Golf app the S70 also connects to the fitness-oriented Garmin Connect app. I could do an entire post just on the data and features you get from that app alone. But needless to say, I'm impressed.
Specifically, I love that for things like workouts and sleep, it not only gives you all kinds of metrics, but then does a great job of telling you what those metrics mean.
For instance, on my trail run it told me my primary benefit I got during the workout was "VO2 Max" and then told me that I went a little hard and was "Overreaching."
For sleep, it'll tell me if 56 minutes of "deep sleep" is good or not, and how that relates to the rest of my sleep for the night.
If you've used other Garmin watches in the past, these features may not be as exciting to you.
But this truly feels like the first dedicated golf GPS watch that can truly do everything for the active individual – and I think that alone is going to get a lot of people excited.
Battery Life on the Approach S70
The battery life on this watch is fantastic.
It's rated for 20 hours of GPS use and up to 16 days in smartwatch mode.
Again, coming from an Apple Watch, this feels like the ultimate luxury. Even with the better battery life of the Ultra, I'm still only getting about 2.5 days of charge under normal use.
In my first 5 days of wearing this watch, I have played a round of golf, slept with it every night, and done a trail run – and we're sitting at about 30% of battery life left.
Oh, and I've had the "always on display" turned on as well.
Amazing.
So if battery life is a big deal for you, then you should be very happy with the S70.
A Few Other Pros, Cons, and Quirks to the Approach S70
I could literally write another 3,000 words about this watch, but this is already getting very long. So I wanted to just quickly touch on a few other features I love, some things I don't, and some minor quirks to the system.
Elevation Data in a Golf Cart
I noticed during my round that the watch didn't seem to necessarily recognize that I was in a golf cart. This was evidenced by me breaking my goal of climbing 10 flights of stairs for the day, but a factor of about 15.
The watch didn't seem to differentiate between walking and being in a cart, which led to some skewed data.
I had a similar issue with the watch during my second round where I didn't fully end the round until I got home. This led to my watch saying I've traveled "27 miles" during my round – obviously not accurate.
Not that big of a deal, but if you're using the watch as your primary fitness tracker, it's a bit of an annoyance.
Syncing with Apple Health
I've found that Garmin Connect does sync with Apple Health data, but it doesn't seem to import nearly as much data as I've hoped.
Considering I have years of health and fitness-related information in there, I was hoping the S70 would sync up everything the Apple Watch does (and maybe more).
While it does seem to import heart rate data, it doesn't seem to be syncing things like HRV, Sleep data and others.
Hopefully, this is a setting I may have missed, but so far I haven't been able to figure it out.
It Works Great for Music
One feature I was really happy to see is that it's compatible with both Apple Music and Spotify when it comes to music. It can store about 2k downloaded songs on the watch.
So as someone who has used Spotify for a decade and doesn't want to work out or go for runs with my phone, this is a welcome addition.
You'll need to download the Connect IQ app from Garmin, which allows you to download new tools and functionality for your watch.
It's certainly not quite as seamless as it is to get an app like Spotify on an Apple Watch, but I found the process to work smoothly and be pretty straightforward.
I have yet to dig into Connect much more than downloading Spotify, but it's a cool feature.
Apple or Garmin: Which is Better?
Ok, this is the ultimate question, and it's one I've spent the last week trying to figure out for myself.
Also, if you're an Android user, then I'm sorry! I just have no experience with Android wearables, so I can't comment on their performance relative to the S70.
The user-interface and iPhone integration of the Apple Watch is truly unparalleled. It just works, and it works really well.
As a golf GPS watch, the Apple Watch when paired with Arccos is fantastic. It's been my personal go-to for a while now, despite not having nearly as much course data available as a proper golf watch for while you're playing.
But with the release of the Garmin Approach S70, it has me rethinking things a bit.
To be clear, I think this is truly the best dedicated golf watch ever made. It's feature-rich, accurate, has a beautiful screen, and has so many amazing lifestyle features – that there's nothing else on the market that's even close.
It's giving me health data and features that I've been longing for on my Apple Watch for years, which I love.
When it comes to the usability of the day-to-day watch, I still prefer the Apple. Its combination of apps, user interface, and compatibility with other devices is next to impossible to compete with.
But the S70 is the first watch that has me legitimately considering giving up what I love about the Apple Watch in favor of a more health and fitness-oriented watch that is also as good as it gets on the golf course.
As a whole, it's tough to say which one is "better" as it really comes down to what you're personally looking for.
Garmin Approach S70 vs. Epix Gen 2
While the Apple Watch and the Approach S70 are slightly apples to oranges, the more direct comparison might come between the S70 and other dedicated Garmin watches.
The closest in terms of features is the Epix Gen 2 or Epix Pro.
Depending on which model you get, the Epix line is anywhere from $100 to $400 more expensive than the Approach S70.
A recent update has provided it with nearly all of the same golf watch functionality, it just doesn't do it quite as elegantly.
What is does give you in exchange however are far more health and fitness features than the S70 has.
While the S70 breaks new ground in this regard as a dedicated golf watch, the Epix line is for active people who do golf – and everything else, and want a watch that can keep up.
For most people considering a Garmin watch, you'll be weighing the pros and cons of the $500 S62, the $350 S42, or the $700 S70.
And if you've made it this far through the review, you can probably tell I think the extra money is worth it for the S70.
If all you care about is yardage, you can spend less than $200 on the Bushnell iON Elite or the Garmin Approach S12, and be just fine.
But if you're thinking you want to go all-in on Garmin for golf and all of the other activities in your life, in my opinion it's worth spending a little bit more to get either the Epix 2 or Epix Pro.
In my Epix 2 review, I compare all 3 of these options to help you figure out if one is right for you.
Final Thoughts on the Garmin Approach S70 Watch
When I first g0t my hands on the Garmin Approach S70, I was expecting it to simply be a better version of the already great, Approach S62.
But this is something else entirely.
The golf features are very similar. When you're on the course, the data and information you get isn't going to be remarkably different than what you get on the S62.
It's everything else that makes this watch the very best GPS golf watch ever made.
The beautiful screen, the Garmin Connect compatibility, and all of the health and lifestyle benefits that other Garmin golf watches have been lacking.
This is the first golf watch I can truly see myself wearing every day.
And to be honest? I have been. It's hardly left my wrist in a week. My Apple Watch Ultra is sitting on my nightstand, dead, for the first time ever.
If you're looking for a smartwatch to wear everyday not just for golf, but for health and fitness as well, you should check out our Garmin Epix 2 Review. As it's a very worth option as well.
If you're just looking for a basic watch that can give you accurate yardages? You can spend far less money and still get that with any of the other watches in Garmin's lineup, or on our list of best GPS golf watches.
But for the person that is looking for a smartwatch that can do a little bit of everything and be as good as it gets on the course? You can stop looking.
This is the watch for you.
It's exceeded my expectations in almost every way.
And I'm not saying this because Garmin gave me the watch or had me out to preview it beforehand. I'm saying it because I truly believe it. It's the only dedicated golf watch I've ever used that has me considering ditching the Apple Watch (something I didn't think was possible.)
This is the highest form of praise I can give it.
I've given out fewer than half a dozen "10s" on this site. And when I do this, it's not me saying a product is perfect. There is no "perfect" product. But rather, I'm saying all of the elements combined are truly a best-in-class representation of its product category.
And that's exactly what the Garmin Approach S70 is.
I've said it multiple times in this review, but I'll end it by saying it one more time.
When you factor in price and value, the Approach S70 is the best GPS golf watch ever made – and it's not even close.
Best Overall Golf Watch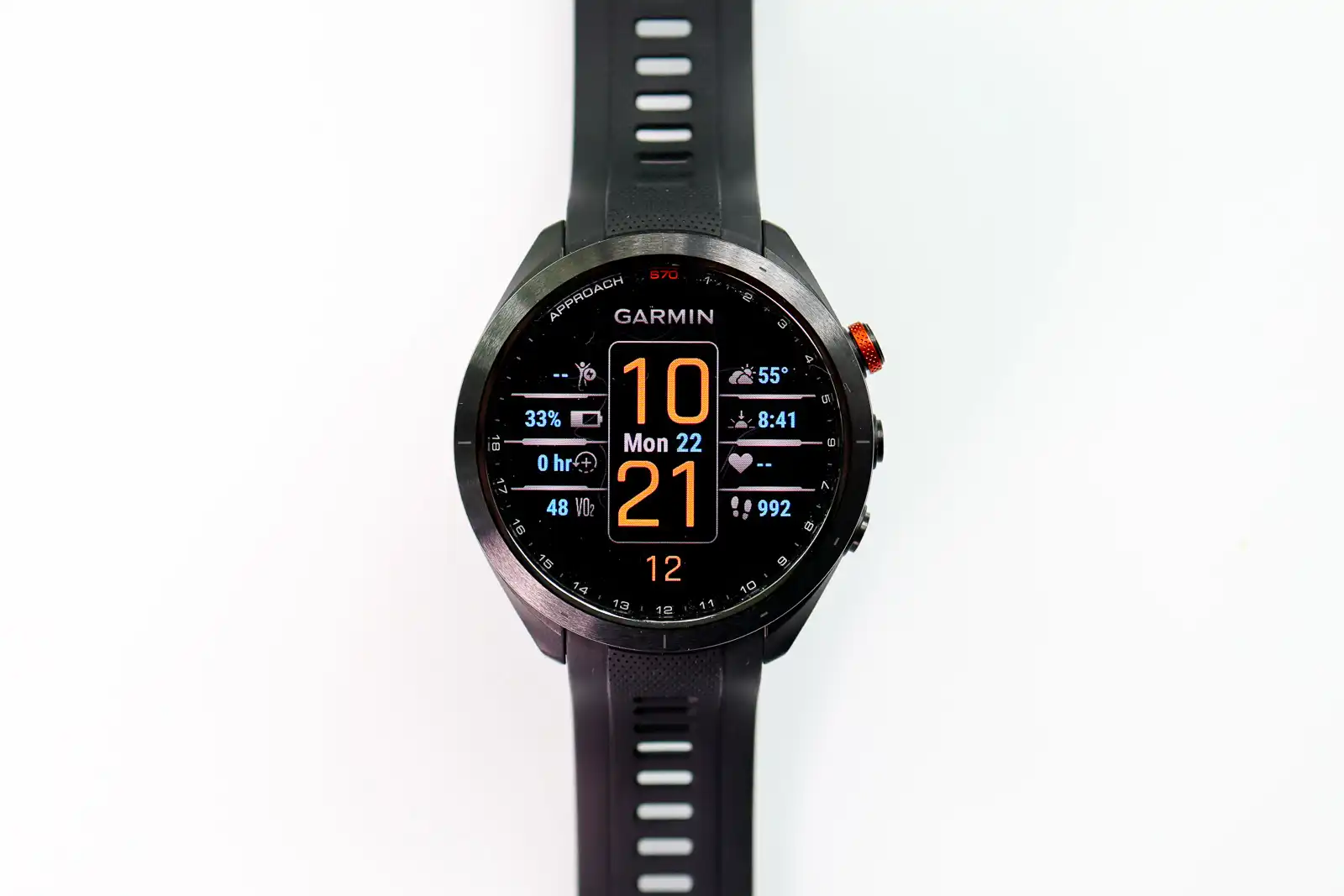 Garmin Approach S70 Golf Watch
Let's make this very clear: the Garmin Approach S70 is the best overall GPS golf watch ever made. Period. If you're in the market for a watch, and this is in budget? Just buy it.
Buy from Play Better
Buy from Garmin
We earn a commission if you click this link and make a purchase at no additional cost to you.
This page contains affiliate links. This means that if you click a link and buy one of the products on this page, I may receive a commission (at no extra cost to you!) This doesn't affect our opinions or our reviews. Everything we do is to benefit you as the reader, so all of our reviews are as honest and unbiased as possible.
Good Things
Screen is the best yet in a Garmin golf watch
Accuracy and shot tracking features all best in class
Built in health and fitness features make it a watch you can wear all the time
Bad Things
A few data hiccups when riding in a car or golf cart
User interface and app functionality not quite as seamless as with Apple
The Breakdown
---
---
---
---
---