Garmin Approach Z82 Golf Rangefinder Review: Seriously High Tech
Updated July 2023 to get more accurate pricing and compare to the Voice Caddie SL3.
When it comes to golf tech, I'm not sure there's another company pushing things forward more than Garmin.
Wait, what?
Garmin?
Not exactly the first company I personally think of when it comes to golf. But they've quietly (and now not so quietly) been making waves with their latest slate of golf products.
You likely know them for their excellent GPS golf watches. The Approach S42 is very impressive, and the Garmin Approach S62 even more so.
But I don't think the average golfer realizes just how robust the Garmin Golf ecosystem has become.
They're covering all of the bases.
They created what very well might be the best affordable launch monitor with the R10. Their CT10 sensors give the likes of ShotScope and Arccos a run for their money.
And over the past few years? They've been perfecting their rangefinder game.
The Garmin Approach Z82 golf rangefinder is, to put it bluntly, the most high-tech rangefinder I've ever used.
But just because it's high-tech and full of cool features – does that mean it's right for you?
Maybe, maybe not. And that's what we're looking at in this Garmin golf rangefinder review.
Most High-Tech Rangefinder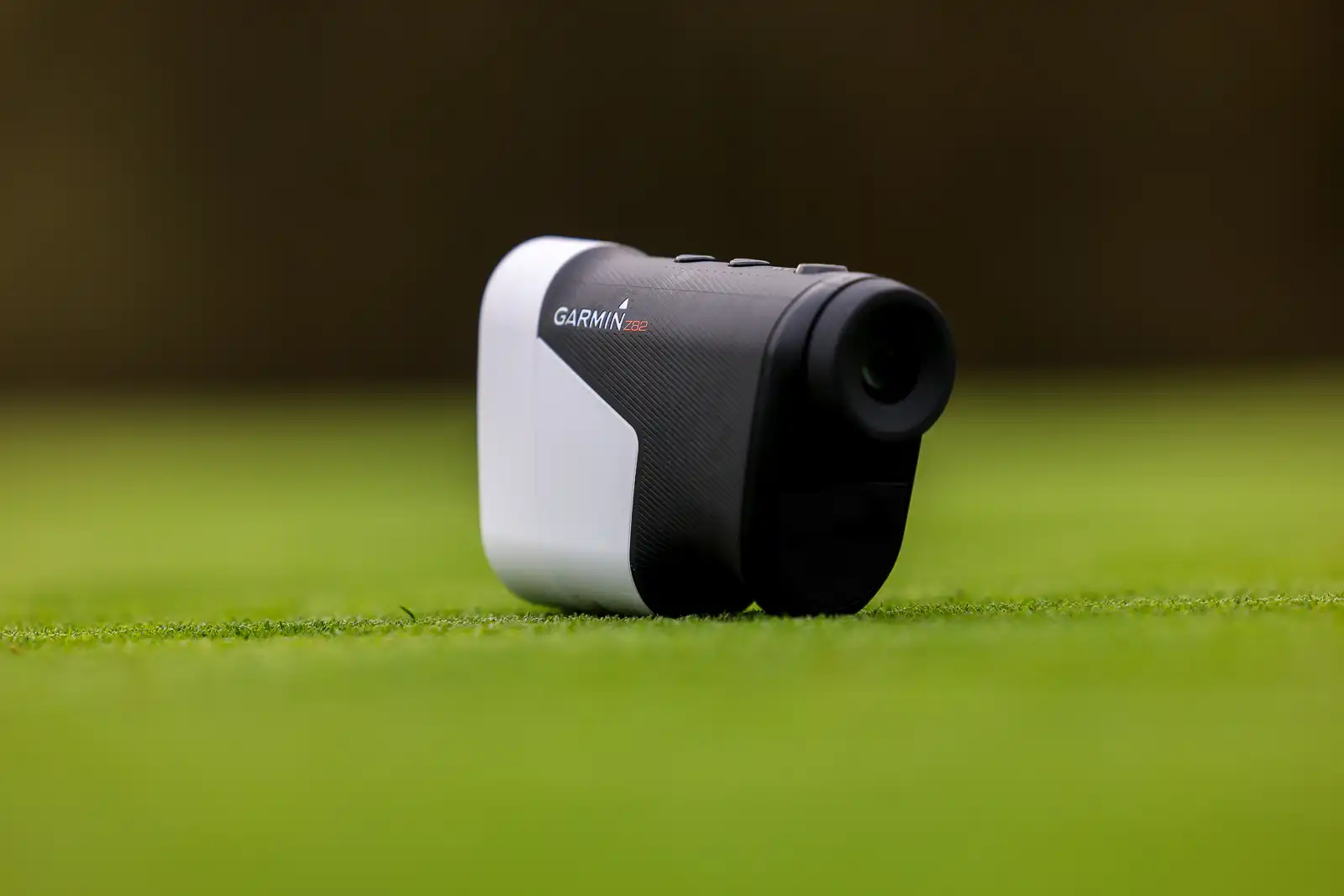 What is the Garmin Approach Z82?
Typically this is the part where I'd jump straight into my first impressions of the product.
But this one needs a little bit more of an introduction.
The Garmin Approach Z82 is a gps rangefinder.
There are have been a handful of other GPS rangefinders over the last few years. But oddly, many of them have failed to make a splash for their companies.
The Bushnell Hybrid is no longer on the market.
Same goes for the Precision Pro R1, which is an even bigger surprise.
The biggest current competitor to the Z82 is the Voice Caddie SL3 – which takes a bit of a different approach than the Garmin with how it displays GPS data.
This Garmin Rangefinder does the standard stuff:
You shoot the laser, it gives you distances
It vibrates when you lock on target
But then there are all the other features that no other rangefinder offers:
A GPS map with distances and hazards of the hole you're playing in the viewfinder
A pin seeker function that will show you with a compass which direction the pin is
The ability to keep score and see your scorecard
Current wind conditions
You might be thinking, how does it display all of this in an optical viewfinder?
Great question and the answer is that it's not optical.
It's for lack of a better term, a video display.
So when you're looking into the device you're actually seeing a video screen that shows you all of the data.
It's the only traditional rangefinder I've come across that does this. But the question remains? Does that work well? Is it better than a regular rangefinder? We'll get to that.
First Impressions of the Garmin Approach Z82 Rangefinder
Out of the box, this Garmin Rangefinder looks very nice. The packaging and presentation wasn't quite on the same level as their R10, which really wowed me, but it's nicely done and totally functional.
The biggest surprise out of the box was their included carrying case for the device. Unlike the typical canvas case that you see most golf rangefinders come with, this one looked a bit fancier.
The bottom part of it is a harder shell, and then the top has a lightweight waterproof material and a drawstring.
It looks pretty cool, but in practice, I found it both difficult to attach to my bag, and not the most functional on the course. It makes it more difficult than it should be to quickly get it out, use it, put it back in, and repeat.
The rangefinder itself looks very sharp in a black and white motif.
It has a nice weight to it, and the 3 buttons on top are well spaced and of high quality.
The Z82 doesn't feel quite as rugged as say the Bushnell Pro XE, which is the most popular rangefinder in this price segment – and is still our pick for best golf rangefinder on the market nearly 3 years since its release.
But it certainly doesn't feel cheap.
A lot of lower-priced rangefinders feel light and of low quality. This is absolutely not the case with the Z82.
Despite not seeming as rugged, it shares the same waterproof rating as the Pro XE at IPX7. Meaning it is fully waterproof and should still work if submerged in up to 1 meter of water.
I was pleasantly surprised it had such as high rating, given all of the tech inside of it. It's nice to know you don't need to worry about it shorting out if you hit some weather next time you're down at Bandon Dunes!
Setting up the Garmin Approach Z82
When you turn on the Approach Z82 from fully off, it will take a few seconds. There are a few screens it will show for Garmin and the GPS data service it uses. So you'll have to be patient.
That said, this doesn't happen during your round. Just on the first cold startup.
Setting up the Garmin GPS rangefinder was a breeze.
The Garmin Golf app tends to work really well, and I love the fact that you have one app you use for all of your Garmin devices.
I put it in pairing mode, and it immediately recognized and connected to the device.
It will take you a little bit of time to get used to the menu system and using the Z82.
Most rangefinders will have a two-button setup on the top of it, but this one has 3 – to facilitate being able to scroll through menus. While there isn't a ton of menu scrolling you'll need to do, there are a few instances where it will be necessary. We'll cover those below.
Using the Garmin GPS Golf Rangefinder
I mentioned this was the most high-tech rangefinder I've ever used, and I mean that.
As such, there's a little bit more of a learning curve to it than your standard point and shoot rangefinder.
I found it took me 6 holes to get my bearings with it, another 6 holes to be able to really use the features comfortably, and another round or so to be able to use it all quickly without getting bogged down.
So if you do purchase, make sure to give yourself a couple rounds to get acclimated.
The first thing you notice when using it, is that, well, there's a screen inside!
The best way to describe this is like going through the change from a DSLR camera to a mirrorless.
You're used to looking through an optical lens, and now you've got a screen with all of your data.
The screen quality on the Z82 is good, but not great.
Especially if you're used to a crystal clear optical image, this simply isn't that.
It's on par with the earlier generation mirrorless camera viewfinders from 4 or 5 years ago.
I was initially a little disappointed in this, but I tended to not even notice once I started using it.
Garmin Approach Z82 Rangefinder Accuracy
Considering this is unlike any product I've used there is a lot to cover and only so much I can. But let's start with the most important aspect: how does it function as a standard rangefinder? Is it accurate?
As you'd expect the laser seems to be very accurate.
To use it, you hit the button and it will show you the real-time distance of everything it sees.
Typically if you're looking for a flag, it will find it and lock on quickly, and then give you the distance, as well as the "plays like distance."
I found this to work very well. It also made it easy to quickly scan for other features. So if you're trying to figure out how far the trees behind the green are, as well as the distance to clear the pond in front of the green – the scrolling distance makes it very easy to do this. But it also locks on quickly when you want it to and gives you a satisfying vibration when it finds the pin.
But What About the GPS Features?
But here's the thing about this device, while being able to quickly scan for distances is nice, you usually won't need to rely on that.
Why?
Because of all the GPS data it gives you.
When you're looking through the viewfinder, you can obviously see what's happening on the course, and a digital overlay will give you your lasered distances.
But across the bottom of the screen? You've got front, center, and back of the green yardages.
Over on the left-hand side? You have a dynamically changing GPS overlay of the hole.
Not only does it give you lay-up and hazard distances, but it will put a red line across the hole that represents the distance you're currently targetting.
This makes it really easy to see which hazards are actually in play, and gives you better data for selecting layup distances or deciding whether to go for it on a par 5.
Speaking of hazards…
Honestly, I've never used a better device for getting accurate distances to hazards on a course.
One of the coolest features of the Z82 is its hazard detection feature.
You turn it on, and then find and laser a hazard you want to know information about.
It selects it, and then in your GPS overview shows you the hazard, as well as distances for the front and back of it.
So if you want pinpoint accuracy for knowing if you can clear that fairway bunker?
The Approach Z82 has got you.
I found this feature to be remarkably useful, and one I've used on a very regular basis during my rounds.
A Few Other Cool Things About the Garmin Rangefinder
If you're a technology nut, there's a lot to like about this device. Here are a few other features that I thought were particularly cool:
You'll Never Lose Your Rangefinder Again
At some point I think we've all done it: left our rangefinder at the course.
If you're lucky you realize it before you make it to your car, and you can run back and grab it.
Other times? It's frantic phone calls to the pro shop hoping someone found it and was kind enough to turn it in.
With this Garmin being a GPS device, that's a thing of the past. You can track the location of it wherever it is, as long as it's been turned on.
Also if it looks like you're going too far out of range from the rangefinder, you'll get a push notification telling you that you might have lost it.
Super helpful, and for some people this feature is worth the cost of admission alone.
Don't Have to Constantly Be Looking at Your Phone
As I've learned over the years from my Arccos review comments, a lot of people hate having to have their phone on them during a round.
But if you use a GPS app, then you're kind of stuck with pulling it out of your pocket every time you want to know if you can clear that bunker.
While the Garmin golf rangefinder does require you to use their companion app, you can totally leave your phone in your bag and still leverage all the features of this device.
So if you want hazard distances, green information, and to even keep score – you can do that all within the rangefinder.
That said, the drawback is you're spending more time looking through a rangefinder than you might like – but as you use it more, it becomes much faster to use.
Environmental Data Such as Wind
This is something we're seeing more of with the most cutting-edge golf tech products.
The Bushnell Pro XE was the first rangefinder to introduce barometric pressure into its device – helping to give you distances that factor in things like altitude.
The Arccos Caddie app can go a step further and take both that and current weather and wind conditions into account.
But the Garmin Approach Z82 is the first rangefinder I've seen that will give you that data within the device.
At any given time along with the GPS data it will show you wind speed and wind direction as well, which is pretty cool.
Then when you shoot a target, it gives you both the actual distance as well as an advanced "plays like" distance that goes beyond just adjusting for slope.
That said, you can turn all of this off and put it in tournament mode as well.
Most High-Tech Rangefinder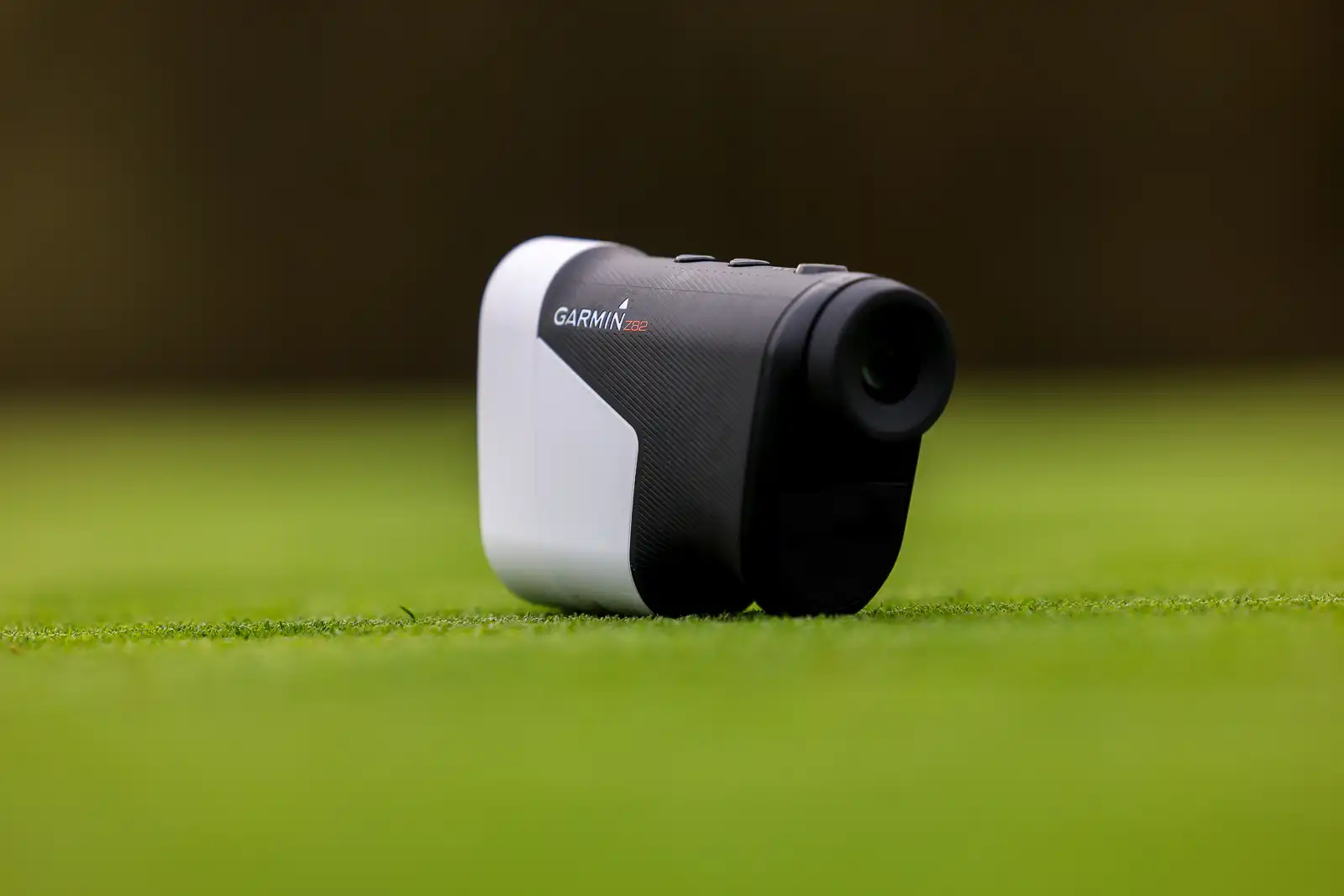 A Few Drawbacks to the Garmin Z82
The Battery Charging Situation Isn't My Favorite
This brings me to my biggest personal complaint with the Garmin golf rangefinder: the battery.
Unlike most rangefinders which include a traditional battery, the Z82 needs to be charged via a mini-USB port.
Personally, I'm not someone that brings my clubs and golf stuff into the house every night.
They usually stay in my trunk.
And so having to remember to bring my rangefinder in after every round, charge it, and remember to put it back in my bag? I'll probably forget it half the time.
And I have.
I took it on my recent trip to Quivira and had planned to review it there. But forgot to make sure it was charged for my first round, and then forgot to grab it on my second round.
Now that's on me, and not necessarily a flaw with the device – but consider how you use your golf products and whether or not this will be an issue for you.
The battery life is solid at 15 hours, although in my testing I got a little bit less than that. You should be good for two rounds, though.
There's No Magnet
One of the standard features on most higher-end rangefinders coming out these days is a magnet so that you can attach it easily to your golf cart.
The Garmin Approach Z82 doesn't have this.
Not a deal-breaker, but when you're spending this kind of money for a rangefinder – you kind of want it to have all the features. Although, what you're losing in a magnet, you're gaining in cool high-tech stuff none of your buddies will have – so it all evens out, right?
It will lose track of what hole you're on occasionally
In practice, I found that a couple times a round, the Z82 would think I was on a different hole. This is easy enough to fix in the menu, but it takes 10 seconds or so, and 10 seconds scrolling through a menu on a rangefinder can definitely be a bit annoying in the middle of a round.
Granted you can always just use the laser and ignore the GPS when this happens.
It really only happened to me when I was nearby another hole, so if there are two parallel holes and I hit my drive close by the other fairway – it might get confused.
How Much Does the Garmin Approach Z82 Rangefinder Cost?
The Garmin Approach Z82 rangefinder costs $599. This places it squarely in the premium rangefinder category, and retail is in line with the most expensive Bushnell we've reviewed, the Pro X3.
How Does the Z82 Compare to the Voice Caddie SL3?
Right now, the biggest competitor to the Garmin Z82 is the Voice Caddie SL3. They're both the same price, but the SL3 uses a traditional optical viewfinder, rather than the screen built into the Z82.
Instead, it provides it's GPS data via screen that's mounted on the outside of the device.
The Z82 is more high tech, but the ability to more easily use the SL3 as a "dumb" rangefinder, is nice for those times you don't want to deal with the extra pairing of the Garmin app.
There also isn't an extra fee for green heatmaps, like there is with the Garmin.
Both are very cool devices, but the right one for you just depends on which features and style you prefer.
Here's our Voice Caddie SL3 review for reference.
Should You buy the Garmin Golf Rangefinder?
So the big question is, should you buy the Garmin Approach Z82.
The answer?
Maybe.
You'd think with our self-imposed moniker of "world's most high tech golf rangefinder" it would be a no-brainer.
But unfortunately, that's not the case.
In fact, this Garmin golf rangefinder won't be for most people.
Most golfers just care about getting a distance to the pin as quickly as possible. There are tons of rangefinders out there that can do that, and at a much lower cost than this.
The Garmin golf rangefinder has a learning curve. And even once you really understand it, it's still not quite as fast as the best traditional rangefinders out there.
Other people will be turned off by the fact you have to charge it before every round. Or that you'll have to pair with an app if you want to get the most data out if it.
All of these are very much legitimate concerns, and when you add them up, it just won't be worth it for a lot of people.
So then who is it for?
If you always want the coolest tech gadgets out there? Then this is for you.
There's no denying this is one seriously cool piece of tech.
I found that the more I used it and the more familiar I became with this Garmin golf rangefinder, the more I enjoyed using it.
I got to the point where I could pull it out and grab a quick distance to the pin, just like I would with any other rangefinder.
And then once I got used to how it worked, the GPS data became incredibly useful and fun to use. Having the front and back green distances sitting right there for instance, is very useful.
9 holes in? I was like "this is cool, but not for me."
But after 36 with it? I couldn't help but think, "hmmm maybe I'll keep this in the bag for a while."
Another person this is a good fit for is someone who is deeply engrained in the Garmin Golf ecosystem. As I mentioned at the beginning of the post, the Garmin Golf app can give you a ton of data depending on what accessories you invest in.
But if you've been practicing with the Approach R10 launch monitor, tracking your rounds with the CT10 sensors, then this might be the final piece of the puzzle to give you the ultimate golf tech ecosystem.
Final Thoughts on the Garmin Golf Rangefinder
In the end whether or not the Approach Z82 will be worth it for you, is well, up to you.
There are certainly a handful of drawbacks compared to a traditional rangefinder. Notably having to recharge the battery, a little bit of a slower process, and using the screen as opposed to an optical viewfinder.
But if those compromises don't turn you off, then what you'll gain in easily accessible information about the golf course and your next shot is second to none.
This is not only the most high-tech rangefinder in golf, but it's also one of the most unique as well.
And for the person who wants cool gadgets and as much information as possible? There aren't many better options than the Garmin Z82.
Most High-Tech Rangefinder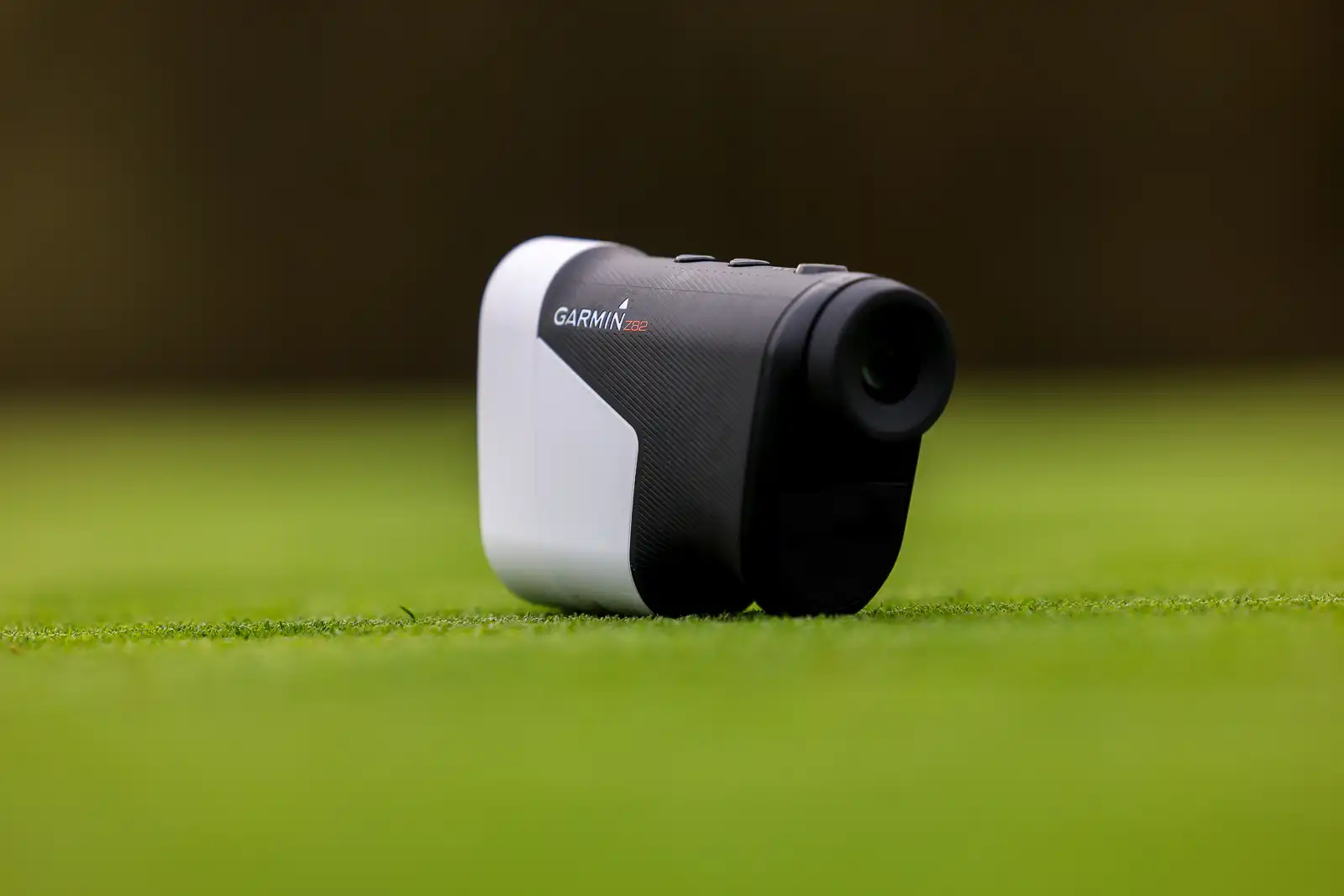 This page contains affiliate links. This means that if you click a link and buy one of the products on this page, I may receive a commission (at no extra cost to you!) This doesn't affect our opinions or our reviews. Everything we do is to benefit you as the reader, so all of our reviews are as honest and unbiased as possible.
Good Things
Most high-tech rangefinder on the market
Very accurate, and useful GPS features
Loss prevention feature is handy
Bad Things
Screen quality isn't the best
Have to charge before every round
On the expensive side
The Breakdown
---
---
---
---
---