Garmin Approach S62 GPS Golf Watch Review: Is It Worth $500?
Updated in October 2023 to make comparisons to the newer Approach S70 and Epix Gen 2.
We're not breaking any news when we say the Garmin Approach S62 is a killer piece of golf equipment. It's been out a couple of years now, and in the past it's topped pretty much every best-of list, including our own best golf watches list.
But (there's always a but, right?).
As of May 2023, Garmin released the brand new Approach S70 – their new flagship golf watch. It comes in at $200 more than the S62, but it also brings a whole lot more to the table.
So the question becomes, is it worth buying the Garmin S62 as we move into 2024? Or should you spend a little bit more (or quite a bit less) to get something that's going to be a better fit?
We've never had more options when it comes to buying a high quality GPS golf watch, so the good news is that there really isn't a wrong choice.
But let's look at everything the S62 offers, how it compares to more expensive Garmin models like the Approach S70 and Epix Gen 2, as well as what it offers over cheaper alternatives like the S42 or Voice Caddie T9.
Ready to dig in and check out how the Garmin S62 performs? Let's do this thing.
Best Golf GPS Watch
First Impressions of the Garmin Approach S62 GPS Golf Watch
The S62 arrives in the same robust, straightforward packaging as all of Garmin's recent golf products. It's not quite the luxury feel of Apple, but I would describe the packaging look and feel as classy.
Upon opening the box, you're greeted with a very front-and-center presentation of the watch face, which is sizable. Maybe it was because I was so excited to try this thing out, but for me, the simple, minimalist packaging design gave me the first impression that this was a serious piece of tech and a product good enough on its own merit that it didn't need to be dressed up. It really does exude quality.
The S62 comes with a very nice silicone band that's both functional and good-looking. The band is flexible and very clearly durable. It's not the band you might find on a dressier watch, but for a "working" golf GPS watch, it does have a luxury look and feel to it.
The watch is available with either a white band or black band. The face and black ceramic bezel are the same with either option. To me, the body of this watch looks sporty and modern and like a luxury smart watch.
All this talk of aesthetics to say this: The Garmin S62 to my eyes is a watch you can wear as a daily driver. We'll get into the functionality and how that might help you in your day-to-day, but talking just looks — yeah, you can wear this thing out to dinner, no problem.
Upon firing the watch up, you're given the option to pair it with a smartphone. This process is very intuitive and straightforward. It took me only a few minutes.
In fact, I found navigating throughout the watch to be super simple after just a little bit of acclimating.
You've got three buttons on the right side of the watch.
The top button is larger than the other two and has a red bezel that contrasts nicely with the black. This is your action button and the one you press to begin a round of golf.
The middle button gives you your setting options.
And the bottom button allows you to go back as you navigate.
The S62 is also a touchscreen watch. So, between the buttons and the touchscreen, you have multiple navigation paths that after a little bit of use start to feel very intuitive and logical.
The Garmin Approach S62: Features Upon Features
Beyond golf, this watch is a very legitimate fitness tracker. You've got a heart rate monitor, a pulse oxygen sensor, a sleep sensor, a step counter, a stress level monitor and more. I mean, this thing is loaded. Even by modern Garmin watch standards that have come out more recently, the S62 is still one of the most feature-heavy dedicated golf watches out there.
But you're probably considering the S62 as a golf watch with the bonus of fitness tracking, not the other way around. So, let's talk some golf.
Where the Garmin Approach S62 really outshines cheaper competitors is with its virtual caddie function. This was Garmin's first golf watch that can independently compile your club data and then make recommendations depending on the playing conditions and how you're likely to hit each individual club.
You can now find this feature on the S70, Epix line, as well as the MARQ 2 Golfer watch as well.
But it's still a high tech feature.
And if you pair it with optional CT10 sensors? Then you've truly got world-class shot tracking and data.
Yeah, you can get that kind of data and feedback using club sensors or interfacing with your phone or computer.
But in the case of the S62, we're talking just the watch itself.
After you hit a shot, the watch will ask you what club you hit. It then counts off the distance from that shot to the location of your next shot. That's how it tabulates your distances.
After you play five rounds, the watch has enough data to begin making club recommendations.
But what's even more next level is that the virtual caddie is also taking into account the wind speed and direction and the slope.
So, you're sitting there thinking you can clear that 220-yard water with your 3-wood. The caddie gently reminds you that you're hitting into a 15-mile-per-hour wind, going uphill. Oh, and by the way, you only hit your 3 wood an average of 210 yards.
One thing to note however, is that unlike the latest Garmin watches mentioned above, it doesn't take advanced personal statistics into account. For instance, with the newer S70 if it knows you suck hitting out of bunkers, it will adjust it's recommendations to reduce the chances of you hitting in a bunker.
It's a minor difference, but can make a major difference on the course.
See Related: Arccos Caddie Review
The caddie will give you alternative suggestions for playing a hole. Instead of always grabbing the driver, the caddie will show you how you can carve up the same hole with a different approach to club selection.
We're seeing more products with features like this, but few dedicated watches that implement it as well as Garmin – especially at the $500 price point.
Beyond the caddie, you get a color, touchscreen map of each hole. You can scroll through to see distances to each hazard. You can pinch and swipe to study different parts of the hole. You can get yardages to multiple layup distances.
The watch will even show you where your average drive is likely to land so that you can see what trouble or safety might be in that area.
For every distance, you can tap the watch face and get a "plays-like" distance that factors in slope and wind.
There's a green view. And while you do not get a heat map showing you the undulations like with the Voice Caddie T9 or Approach S70, you can drag the pin around to place it where the hole is cut that day so that you can get accurate yardages to that specific spot.
Another really cool feature is what Garmin calls a "Pin Pointer." Using a compass, the watch will show you where you want to aim on blind shots.
The watch also comes with a built-in swing tempo monitor, which can be very useful for practice sessions.
I'm telling you, this watch is really, really smart.
The scoring system is pretty straightforward. The watch will ask you at the end of the hole how you did. Based on your swings, it will already have a pretty good idea, though it won't pick up your putts. You'll have to manually enter those along with any penalty strokes.
Also, at the end of the hole, the watch will ask you whether you hit your drive left, right or center. That's a very slick feature that allows you to see your driving tendencies after multiple rounds. Take it from me: the data can be a little sobering.
Like all of the Garmin products, the S62 is preloaded with more than 41,000 golf courses. I've yet to hear of a course where you can't use this watch.
Using the Garmin Approach S62 on the Course
I'm just gonna say it: I've loved golfing with this watch.
First of all, it's comfortable. It weighs just 2.2 ounces. And I've never had any issue with the buttons hitting the back of my hand or interfering with my swing in any way.
But it's all the features that make using this product kind of addicting. The touchscreen ease of moving around a given hole to scout out yardages is just really nice.
And having the wind speed and slope further informing your decision-making is very cool.
I found the virtual caddie to be very useful, but I will say that if you're inconsistent with how you hit your clubs, like I am, you're not always going to be able to trust what the caddie is telling you.
For example, I play most of my rounds on a very tight, tree-lined golf course. Because I'm anything but consistent, I play plenty of shots per round from the trees. I usually use my 5-iron to punch out from the trees. Those punch shots often go 50 yards or less.
So now the watch thinks I hit my 5 iron considerably shorter than I actually do if I'm taking a full swing.
One workaround would be to just not enter the punch shots or other irregular shots so that you better preserve your full-shot club averages. You can still enter your total score at the end of the hole, even if you didn't input the club information for some of your shots.
It took me a few rounds to get familiar with the watch to the point that I felt like I was consistently using all it had to offer. I think this would be the case for any product with this much technology. There's just a lot going on here. It may take a little bit to find the in-round rhythm that works for you.
After your rounds, the Garmin golf app has all of your shot data stored and ready for your review. If you're like me, you won't always like what you see. But hey, we've all got to face the truth about our golf games.
The app shows you things like your average greens in regulation, average putts per hole, driving accuracy, longest drive and average distances for each club. You can even see how you compare to other Garmin users in average strokes gained for tee shots, approach shots, chips and putts.
Garmin Approach S62 vs. Garmin Approach S42
The S62 does still have that same proprietary Garmin charging system that drives us a bit nuts. As we've said before, we'd prefer a more universal USB-C port.
The S62 is noticeably larger than the S42, especially in the profile. The S62 has a thicker profile that makes the watch sit a bit higher above your wrist. To some, the sleeker S42, which also has a more narrow band, might be preferable for off-the-course style.
The S42 has just one button with the rest of the navigation being touchscreen. As mentioned, the S62 is also touchscreen but has three buttons. Personally, I like the additional buttons. They don't get in the way of anything, and I find that they allow for faster overall navigation once you are familiar with the watch.
And if I'm being totally honest, more than the 3 button setup of the S62 and S70, I prefer the 5 button setup of the Epix 2 – but that's getting into a different price range.
The big upgrade on the fitness side comes with the S62's addition of a heart rate monitor, which is a significant feature.
On the golf side, the showstopper difference is with the virtual caddie, which really is awesome. Pair it with some Garmin CT10 sensors, and then you've really got some shot-tracking power.
Overall, the S62 has a much more fun, fluid feel than the more mechanical features of the S42. The beautiful color view of the hole and the ability to zoom in and out of various parts and to drag targets around to get different distances is really nice.
Garmin prices the S42 at $299.99 and the S62 at $499.99.
Here's my take.
Yes, the S62 is worth $200 more than the S42. No question.
But to me, if you don't want all that the S62 does, I'd recommend a handful of other golf watches before I'd recommend the S42.
I just find the S42 to be caught in a bit of no-man's land. It's not the best. And it also doesn't do enough extra above what you get in something less expensive.
And if you want shot tracking and a GPS watch but don't want to shell out for a Garmin system, you may consider the Shot Scope X5. It has it's drawbacks, but the price is certainly right.
Garmin Approach S62 vs. Approach S70 vs. Epix Gen 2
On the opposite end of the spectrum are the more expensive options in the S70 and the Epix Gen 2.
The S70 comes in at $699 for the primary 47mm size, which is a lot of money if you're only planning to use it on the golf course,
But here's the deal, the screen is so much better on the newer model.
If that were the only upgrade from the S62, it'd be worth it.
But the S70 also has enhanced Garmin fitness features, updates sensors, and the most advanced Virtual Caddie and plays like features in any golf watch to date.
All of these things make it an even better daily wear watch than the S62 as well.
If it were me, I'd bite the bullet and spend the extra money on the Approach S70. The S62 is one of the best golf watches out there, but the S70 bests it in every way but price.
Then if you're a total fitness nut, the Epix Gen 2 is 95% as good of a golf watch of the other two, but also adds in way more features for other sports and activities.
It jumps up again in price to at least $799 – but if you're an active person and want something that will perform across all levels, this is the watch that can do it.
For what it's worth, the Epix 2 is the watch that got me to give up my Apple Watch Ultra for good.
Best Overall Golf Watch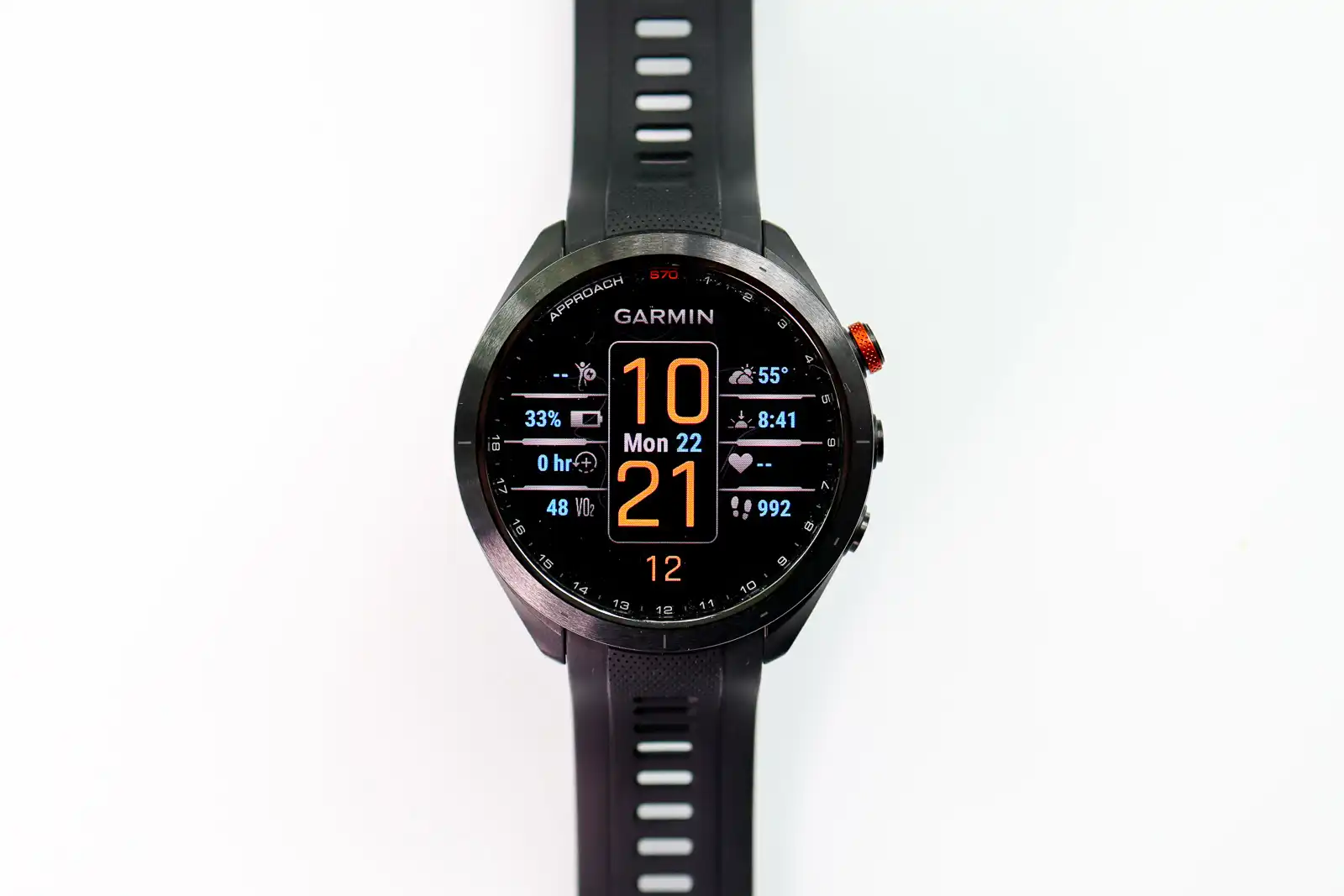 Garmin Approach S70 Golf Watch
Let's make this very clear: the Garmin Approach S70 is the best overall GPS golf watch ever made. Period. If you're in the market for a watch, and this is in budget? Just buy it.
Buy from Play Better
Buy from Garmin
We earn a commission if you click this link and make a purchase at no additional cost to you.
So, Is the Garmin Approach S62 GPS Golf Watch Really Worth $500?
I understand that spending decisions are entirely personal. But the S62 is still one of the most capable golf watches on the market. It's lustre has been dulled a bit by the release of the S70, but the S62 is still a great pick if you find it on sale, or if you prefer the transflective screen over the AMOLED one (some people do!)
That said, despite how good the S70 is, the S62 is nearly as good on the golf course in every category.
There are a few minor updates the S70 got, but for the most part, the S62 is going to provide the same, useful, high-end experience on the course.
Do you need to spend $500 to get accurate yardages? Of course not. There are a bunch of less expensive options that do a damn good job at spitting out the most crucial information.
But for the avid golfer…
For the golfer that spends $500-plus on a new driver…
Or the golfer that pays hundreds of dollars to play a single round…
Or the golfer who travels a lot and regularly plays new and unfamiliar courses…
Or for the golfer who just wants one of the very best with some of the coolest tech and features…
If you fit any of those profiles, and you've got $500 in your golf budget, I highly recommend you give the Garmin Approach S62 some serious consideration.
This golf GPS watch has the potential to improve your game. At the very least, I'm confident it will improve your enjoyment of the game.
Best Golf GPS Watch
Want More Golf Watch Options?
This page contains affiliate links. This means that if you click a link and buy one of the products on this page, I may receive a commission (at no extra cost to you!) This doesn't affect our opinions or our reviews. Everything we do is to benefit you as the reader, so all of our reviews are as honest and unbiased as possible.
Good Things
Wonderful feature set
Enough health features to want to use off the course
Shot tracking is a unique addition
Bad Things
Still don't love the proprietary charger
Shot tracking isn't quite as good as dedicated sensors
The Breakdown
---
---
---
---
---