Bandon Dunes Golf: The Ultimate Guide to Visiting the World's Best Golf Resort
This Bandon Dunes Guide was updated in November 2023 to reflect pricing changes for 2024, additional resort amenities, and some new tips from a recent trip.
There are a lot of special places in the world of golf, perhaps none more so than Bandon Dunes Golf Resort.
Yeah, bold statement.
Sure, it doesn't have the history of the Old Course, the luxury cache of Pebble Beach, or the PGA pedigree of TPC Sawgrass – but even without all of that, it's managed to become the best golf resort in the world.
Sure, I may have some personal bias.
It's the place where I broke 80 for the first time…
Learned an important lesson about how handicaps work…
And where I had one of the best trips ever with my dad (who isn't even really a golfer).
You simply don't leave Bandon without a bunch of incredible memories and stories.
And if you've found yourself reading this guide, there's a good chance you're planning on visiting sometime in the near future.
If so? Congratulations. You're about to embark on one of the very best golf experiences you can possibly have.
It doesn't matter if it's your first trip, or your fiftieth – every Bandon excursion is different and special in its own way.
But it can be a little intimidating to plan a trip there. After all, you've only got a few days and you want to make it as good as it can possibly be.
Way back in 1999 when the resort first opened, it was easy. You show up, you stay at the main lodge (after it got built), and you play the original Bandon Dunes course a few times.
But now? You've got half a dozen courses, lodging options, dining options, par 3 courses, and so much more.
The purpose of this guide is to help you make sense of it all and plan the best trip possible for your specific situation.
In this guide you're going to learn:
When the best time to visit Bandon Dunes is
What courses to play (and what order to play them)
Where you should stay at Bandon Dunes
What you need to bring
Where you should eat
And everything else you've been asking yourself but aren't sure about
So rather than babble on with the introduction, let's get right down to our ultimate guide to visiting Bandon Dunes Golf Resort.
Why Should You Visit Bandon Dunes?
If you're sitting there on the fence about whether or not a trip to Bandon is worth it, let me just stop you right there: it is.
Period.
Why should you go?
Well for starters, there is no other place on the planet that has 5 Top 100 courses all at the same resort or Club.
I don't know of another resort that even has 4….or 3…. top-100 courses!
But based on the current Golf Magazine list, Bandon Dunes has 3 of the top 100 golf courses in the world, and all 5 of them are ranked in the top 100 in America.
Note: Check out my personal top 100 golf courses list.
That alone should be enough to get you there.
But throw in the oceanfront views…
The best links golf outside of Scotland…
And you start to hit on the real reason to visit Bandon:
It's the experience. All of it.
Bandon is not easy to get to (as you'll see in a minute), so every single person there is someone who has made a conscious effort to go out of their way to make the journey.
Because of that? Everyone is simply happy to be there. At any given time, each person golfing on the property is one of the luckiest people on the planet.
People are in a good mood, and you all have something in common. It's easier to strike up a conversation with someone at Bandon Dunes than just about any place else I've been.
Combine all of this and you have a golf resort unlike any other.
Just ask this guy, he should know:
Bandon Dunes Weather: When Should You Visit?
The very first thing you're going to think about when planning a trip to Bandon Dunes is deciding when to visit.
The obvious answer is sometime in the summer between June and September. That's when you have the best shot at getting the best weather.
But it's also when you'll be paying the highest prices and fighting the biggest crowds.
I've personally been to Bandon three times in January, twice in November, and in February, April, and June.
The trips with the best weather all the way around? January.
I've been to Bandon in January 3 times. This is what it looked like when we arrived in January 2023:
Bandon has its own weather patterns. My first January trip, I had 5 straight days of 65-degree days and played in shorts.
My first February trip? It looked like this:
But one of the best-kept secrets in golf is that you have a better than 50/50 shot of getting great weather in the offseason. So take that for what it's worth.
You can get wind and rain regardless of time of the year, so here's what I'd consider when trying to plan when to visit Bandon:
Is cost a big factor? If so, go between November and February. It's a fraction of the price, but you'll get all of the Bandon experience
Is this the only time you think you'll ever go and you want to give yourself the best chance of it being perfect? Go in the Summer.
Want to play the courses exactly the way they were designed? Go in the Summer. The winds change in the off-season to generally blow out of the opposite direction. Making some holes downright brutal when the wind is up – especially at Old Mac.
Trying to find the best balance of weather and price? Shoulder periods like late April or early October are a great time to go.
Want to play as many holes as possible? You can comfortably fit in 54-hole days in peak season if you plan for it. If you visit in December or January make sure you book early so you can get the first tee times of the day in order to squeeze in a full 36.
Taking a big group? Consider the shoulder season or off-season. It will be easiest to book a big group, especially if you're planning less than a year out.
How to Get to Bandon Dunes
While Bandon may not be as remote as say Cabot or Silvies Valley Ranch, it's certainly not the easiest place to get to.
If you're flying in from out of state, you generally have three options:
Fly into Portland (PDX)
Fly into Eugene (EUG)
Fly into North Bend
Which one is right for you? Here are the pros and cons of each.
Option 1: Flying into Portland (4.5 Hour Drive)
Generally speaking, Portland is the easiest and cheapest airport to fly into. It's about a 4.5 hour drive from PDX to get to Bandon Dunes.
You can easily rent a charter bus or van to take you down if you have a group.
This is a great option if you have other things you want to do on the trip as well. It'll take you a solid half-day each way, so if there are other non-Bandon golf courses you're interested in playing along the way, this is a good option.
The Willamette Valley also has incredible wineries, so if you're into wine, add an extra stop in Dundee on the way down, it's worth it.
Portland is the most common way people fly in, but it certainly adds some hours of hassle along the way.
Option 2: Fly into Eugene (2.5 Hour Drive)
Eugene is a decent-sized national airport and has regular flights from all over the west coast. The chances of getting a direct flight from your hometown is less likely, but it might be worth it to spend half a day less in a car across both trips.
Being a smaller airport, there's also less hassle with meeting groups and getting luggage.
Option 3: Fly into North Bend (30 minute Drive)
This is the best option if you want to get as close as possible to Bandon. It's only a 30-minute drive to the resort and there are direct flights from Denver during peak season – so there's a good chance you can go this route with only one layover.
The downside to doing this is that flights will likely be more expensive, but more importantly, flights here have a susceptibility to getting canceled or delayed due to fog and weather.
The most frustrating thing ever is to get amped up for your Bandon trip, only to have it postponed due to your flight. It certainly doesn't happen all the time, but there's a higher likelihood of it happening than with the other two options.
And if money is no object? Fly your private jet into Bandon State Airport 10 minutes away. Also, if that's you? Hit me up, let's be friends.
Looking for more details on getting to Bandon Dunes? You can find them here.
Where Else to Golf on the Way to Bandon Dunes
A lot of people like to tack on an extra round or two when visiting Bandon on the way up or down to the resort.
Here are my recommendations for good options based on course quality and location:
Pumpkin Ridge – The Ghost Creek course is a perennial Top 100 public course, and if you have access, the Witch Hollow course is even better. The only downside is it's on the opposite side of town from the airport. Expect it to take 45-60 minutes depending on time of day.
Langdon Farms – A solid public option right off the freeway about 30 minutes from PDX
Columbia Edgewater – If you have private club connections, Columbia is just a few minutes from the airport and I-5. It's a wonderful course that really gives you northwest parkland vibes and is a good compliment to the links courses you'll play in Bandon
Eugene Country Club – Another one that will take some private connections, but is widely regarded as the best "non-Bandon" course in the state. And it truly is that good. If you're able to get on, and especially if you're flying into Eugene – this is the course you want to play.
Bend – I think Bend is one of the most underrated golf destinations on the planet. And if you have a week or more and want to see a completely different style of golf? Make the 4 hour trip over from Bandon to Bend (not to be confused with North Bend). Crosswater, Pronghorn, and Tetherow are all top 100 public tracks that will allow you to experience three very different styles of golf.
What Does it Cost to Play Bandon Dunes?
This is one of the things that sets Bandon apart. Unlike a place like Pebble Beach where you're paying over $500 regardless of what time of year you visit, Bandon can get downright affordable at different times of the season.
In 2023, a peak season (July-September) round is $350. Or close to half of what you'd pay to play Pebble Beach.
And significantly less than other elite public rounds like Whistling Straits, TPC Sawgrass, or even Spyglass Hill.
But you know, it still isn't cheap.
Here's the cool part: your second round of the day is half off that. And you can play any of the courses at the resort, it doesn't have to be (and shouldn't be) a replay of the same course.
Even better? If you can make it for a third round? It's on the house.
But if you go in December or January? 110 bucks. $55 replay.
Yeah, you read that correctly.
This makes playing at Bandon Dunes affordable for literally just about any golfer.
There is no place in the WORLD where you can play two Top 100 courses in the world golf courses on the same day for $165 total.
Period.
February and March is the sweet spot for rates, with $130 and $155 respectively. And if you can hit it in the second half of March after daylight savings time? It makes getting that second round in that much easier.
Here are the full 2024 rates:
What Courses Should You Play at Bandon Dunes?
I was going to get into lodging and dining here – but honestly, let's just jump straight to the good stuff: the courses.
After all, that's what you really care about!
Here's the good news: there isn't a bad course at Bandon Dunes.
No…there isn't even a course that isn't great. So regardless of what courses you play, you'll be in good shape.
So what should you play?
Short answer: all of them.
Seriously, if you're making the trek, do everything you can to play all 6 courses (Bandon Preserve included). They are all much more different from each other than you'd expect, and are all very worth playing.
I'm going to give you a quick rundown on the high-level details of each course, and then share my thoughts on what you should play, what you should cut (if you're forced to), and most importantly the order you should play them (as I absolutely think there's a correct order).
Bandon Dunes Golf Course: The Original
The original course at the resort was designed by David McLay-Kidd, and opened in 1999. If this course wasn't amazing, none of the rest of them would exist.
If visiting, this one is a must-play. The routing is one of the best-routed golf courses I've ever played. The way it flows in and out of the coastline throughout the round is masterful. It teases you, excites you, and gives you something to look forward to throughout the entirety of the round.
It feels like a more modern links course in the vein of say Castle Stuart or Kingsbarns.
Historically when looking at major publications, Bandon Dunes is the 2nd best course at the resort and is consistently ranked among the top 100 courses in the world.
My original review of Bandon Dunes
Pacific Dunes Golf Course: The Best of the Best
Pacific Dunes was designed by Tom Doak, and was the 2nd course to open at the resort in 2001.
Pacific feels very different from its older brother Bandon Dunes. It feels like it was truly carved out of the dunes, and like it was more discovered than built. It's less open, at times more dramatic, and also shares a wonderful routing that keeps you entertained throughout.
It's generally regarded as the best course at the resort. It's been named the very best public course in the country in the past, and frequently falls into the top 25 courses in the world on most major lists. It's another must-play on any visit to Bandon.
Check out my Pacific Dunes review.
Bandon Trails Golf Course: The Most Underrated Course
Bandon Trails was the third course at the resort, designed by Coore and Crenshaw and opening in 2005.
Unlike the previous two courses, it sits inland and doesn't have any holes directly on the water.
Because of this, this land was perceived to be "inferior" to the rest.
But there is nothing inferior about Bandon Trails when compared to the rest of the rounds.
In fact, I personally think Bandon Trails is the best course there, and it's one my top 5 in the world.
It's that good.
Hundreds of courses have oceanfront, and sure, they can be dramatic and beautiful.
But Trails is unique in its own way. It weaves from dunes, to meadows, to coastal forests – and back again. Three distinct landscapes, that none of the other Bandon courses (or many courses anywhere) can boast.
It's the most skipped course at the resort, but shouldn't be.
It's arguably the most difficult as well, and is certainly the most difficult walk.
So keep that in mind.
Check out: Why Bandon Trails is the Most Underrated Course in the Country
Worth noting, in Golf Magazine's most recent top 100 in America list, they ranked Trails #38 – or 2nd at the resort. So it's nice to see it finally getting its due. And in a recent Instagram poll, Breaking Eighty followers voted Trails as the best, with Pacific a close second.
Old Macdonald Golf Course: The Red-Headed Step-Child at Bandon
Old Macdonald is the most love-it-or-hate-it course at the resort.
I've found it's usually people's favorite or least favorite course.
Tom Doak designed it as the 4th 18-hole course at Bandon in 2010 as an homage to C.B. Macdonald. Macdonald built some of the most notable courses in the world like National Golf Links of America, Chicago Golf Club, and the Mid Ocean Club.
Each hole is based off one of his famous golf hole templates such as Redan, Biarritz, or Cape (there are a couple of exceptions).
This makes it really interesting from an architectural standpoint – but why is it so polarizing?
A number of reasons.
There are some holes that are just downright long and hard. Specifically, the stretch of 9 through 12 can really beat you up, especially in high winds.
I'd argue the course is the least scenic of all the Bandon courses as well. So if you're used to spectacular vistas like you get on Bandon, Pacific, or Sheep Ranch – you might be disappointed.
However, it does have the best halfway house views:
That said, I've come to respect, and even enjoy Old Macdonald – after well….not being a fan of it for years.
I recently wrote a much more in-depth piece about Old Macdonald. I'd read before locking in your final Bandon itinerary.
Sheep Ranch Golf Course: The Newest Course at Bandon
The Sheep Ranch opened in June of 2020 and is one of the most highly anticipated golf openings in recent memory.
The course was built on top of the old "Sheep Ranch" which was essentially the secret course at Bandon Dunes.
The original Sheep Ranch was honestly one of the most unique and memorable golf experiences I've ever had, so I must say, I was a little bummed when I heard they were developing it.
But fortunately, Coore and Crenshaw did something really special here. In part, because they had so little land to work with.
It was originally thought there simply wasn't enough room to build a full-length course here. But not only were they able to do it through some unique routing tricks, but they did so with NINE greens sitting on the cliff overlooking the ocean.
The Sheep Ranch is arguably the easiest course at the resort and it has the most dramatic views. It also has some of the most memorable shots like the tee shots on 6, 16, and 17.
If you've been to Bandon but have yet to be back to play the Sheep Ranch, then it's a must-play on your next trip.
Here's my full review of the new Sheep Ranch course.
Bandon Preserve: The Best Par 3 Course in the World?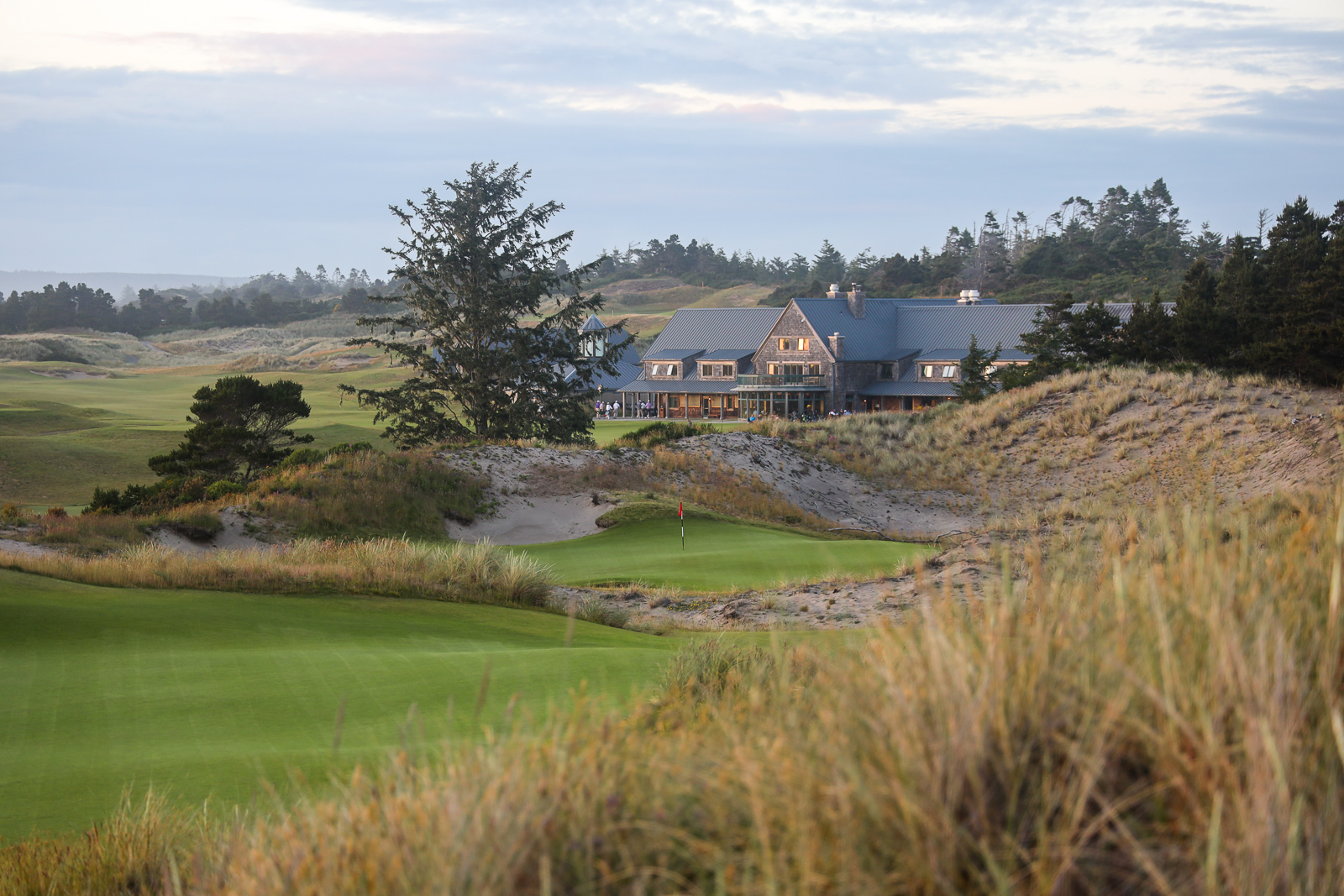 Bandon Preserve is the 13 hole par 3 course that was built in 2012 and sits right next to Trails.
Recently on Instagram I made the bold statement that I think it's the best par 3 course in the world. Sure I haven't played the courses at Pine Valley or Augusta – but the terrain, the views, and most importantly the fun of Bandon Preserve makes it truly something special.
Peak season it's $120 a round – which can feel steep for a short course.
But trust me, it's worth it.
The Preserve is also unique in that it's more casual than the other courses. You can go out with a bunch of beers as an eight-some. You can play barefoot. You can make hole-in-ones with your putter.
It's plain ol' fun. And it's a perfect option if you want more than just 18 holes, but dont't have it in you (or don't have daylight) to get in another full 18. Just make sure to book a tee time well in advance, because chances are you won't be able to walk on after your full-length rounds.
Unfortunately, last time I wrote about Bandon Preserve, the conditions were less than ideal.
What Order to Play Bandon Dunes Courses?
After close to a dozen Bandon trips and playing all of the courses at least 4 times, I have very strong opinions about the order in which you should play the courses.
Because more so than most golf resorts, how and when you play the course can dictate your enjoyment of them.
For starters, whenever possible you should play Old Macdonald first.
Why?
Because you're just getting to Bandon so no matter what, you're going to be hyped. It's the least scenic of the courses, so you won't feel a letdown when you play it, and I think there's something to say for keeping some anticipation of "the best is yet to come."
Also, I'd stay away from playing it as the second round of the day or on really windy winter days. If you play it as your second round it can be a bit of a tiring slog, and if you play it on a windy winter day, the long holes will feel nearly impossible.
You Should Play Sheep Ranch First or Last
I generally think you should play the Sheep Ranch as the last round of the trip.
I say this because the entire round is just one spectacular panoramic vista, and after playing, it can make the views of the other courses not quite as special.
For instance, I think the best moment at the entire resort is walking down 4 fairway at Bandon Dunes and seeing the green and ocean for the first time. But when I was out there with my dad for his first Bandon trip, that moment wasn't quite as intense since he'd already played Sheep Ranch.
So saving the best views for last, I think is a smart play.
BUT, if you can't do that, then I think playing it first is the next best move. It's the easiest course, but not necessarily the best in my opinion. Despite maybe taking some of the luster off the views of the other courses, it's an excellent introduction to the resort, and may allow you to shoot a low score straight out of the gate and get you excited for the rest of the rounds.
One other thing to note is that while you can get some spectacular sunsets on Sheep Ranch, it's by far the most exposed course. So on bad weather days or if the wind is heavy in the afternoon – you can expect to get beat up a bit.
Play Bandon or Pacific Any Time
Both Bandon Dunes and Pacific Dunes are fantastic and you can really play them any time on your trip. They make great morning rounds as well as spectacular sunset rounds.
So I don't feel as strongly about when on your trip you should play these as I do with some of the other courses. They're unbelievable courses and are good all the time.
That said, I do think Bandon Dunes is the best "sunset" round on the property. Playing 16 as the sun sets is about as good as it gets.
When to Play Bandon Trails Depends
Bandon Trails is the most difficult walk at the resort, but it's also the most well-protected from the wind.
So all things being equal, I'd generally choose to play Bandon Trails in the afternoon so that wind is less of a factor.
Playing Trails on a recent trip with my friend Zach who had never played it before is also one of the single most enjoyable rounds of golf I've ever had. The light was incredible, it felt like we had the place to ourselves, oh, and I broke 80 there (again!) for my only sub-80 round of the year.
Check the Instagram story from that round.
That said, if walking is already difficult for you, then I'd make this a morning round when you have fresh legs. It can be a bit exhausting if you've already trekked 6 miles earlier in the day.
When to Play Bandon Preserve
Bandon Preserve is at its very best as your last round of the day with good friends and good drinks. So I'd try and fit it in as such. This works great as a third round in the summer if your group is up for it.
The exception to this is on travel days. If you get in late, or have to leave earlier in the day, you can get around this in less than two hours – so it's a great chance to get some golf in if you don't have time for a full 18.
My Perfect 3-Day Bandon Itinerary
If I had three days to play in the summer or shoulder season when you've got some daylight to work with, this is what my ideal trip would look like:
Day 1: Arrive by Noon. Play Old Macdonald and Bandon Preserve.
Day 2: Morning: Bandon Dunes. Afternoon: Bandon Trails
Day 3: Morning: Pacific Dunes. Afternoon: Sheep Ranch
Day 4: Dealers Choice (I'd personally go Trails, but most would prefer Bandon or Pacific).
This itinerary gives you something to look forward to throughout the whole trip. You start with my least favorite, but then get arguably the most fun course with the Preserve.
On day 2 you get Bandon Dunes which has great views, and is an easier walk than Pacific Dunes. This gives you a bit more energy for an afternoon round at Trails.
This builds the suspense leading into day 3 where you get the most "critically acclaimed" course in Pacific Dunes, as well as the best views with Sheep Ranch.
Sheep Ranch is also probably the easiest walk of them all, so assuming the wind isn't too bad, it's a nice way to finish.
Only Have Three Rounds at Bandon Dunes?
What if you're not someone who is into playing 36 holes a day, and you'll only have three rounds to play while you're there?
If this is the case, then I would skip Old Macdonald and Sheep Ranch.
Controversial pick with Sheep Ranch, but views aside, I think the other three are better golf courses.
The caveat to this, is if you've played the others and haven't played Sheep Ranch yet? Then obviously you should play it!
Bandon Dunes Courses Ranked
The best part about Bandon is that if you ask 10 people to rank the 5 courses, you'll likely get 10 different answers. They're all world-class, but each definitely has its own personality and caters to different personal preferences.
But because I get asked all the time, here's how I rank them, take it for what it's worth:
Bandon Trails – Put this course on the ocean? It's top 10 in the world. And without it? It's still among the very best anywhere.
Bandon Dunes – My most recent trip had me liking Pacific more than I ever have, so I'm tempted to bump it up to 2. But the routing of the original is just so enjoyable.
Pacific Dunes – The critic's favorite and is the one cited most often as their favorite at the resort.
Sheep Ranch – Views on views on views.
Old Macdonald – I've got a lot more respect for Old Mac these days. It may be last on this list, but it'd be first at most other golf resorts.
Ok, I think that's enough about the courses.
Tl:dr: They're all amazing. You can't make a bad choice with your itinerary.
Bandon Dunes Lodging: Where Should You Stay?
The lodging at Bandon Dunes is one of the best parts of the resort.
I wouldn't call any of the rooms there luxurious by any means, but all of the rooms there are well above average for what you'd expect at a typical hotel.
The rooms are very clean, the beds are comfortable, the showers have good water pressure, and they're exactly what you'd expect from a place like this.
It's no St. Regis, but it's better than your typical Hampton Inn.
These photos give you a good idea of what to expect. This is the standard Chrome Lake room. The lofts are quite a bit different, but as you can see the standard Chrome Lake rooms are very comfortable:
Personally, I think the only wrong choice is not to stay on property.
There are a handful of vacation rentals and motels relatively close by, but staying on property at Bandon Dunes is all part of the experience.
You have shuttles to take you everywhere you need to go, and you also get the best rates when you stay at the resort.
But with that in mind, where should you stay?
I'm going to do my best to help you figure that out.
My Favorite Lodging Option at Bandon Dunes: Chrome Lake Lofts
I think the Chrome Lake lofts are the best lodging option on the property.
They each feature two bedrooms with king-size beds, as well as two bathrooms. They have a shared living space for the two of them, with fantastic reclining chairs that I spent quite some time in during a recent COVID trip.
All the Chrome Lake buildings are tucked into the forest near the entrance, so the vibe just feels extra special, and the high lofted ceilings of these rooms just feel more spacious and comfortable than anything else.
Only downside? At $720 peak season, they aren't cheap. But keep in mind that is for two bedrooms, and plenty of extra living room space. So you could pretty easily fit four adults here, especially if you don't mind sharing beds or getting a couple of role-aways.
Price: $380-790
Best Views: The Golf Double at the Inn
Perched off the 18 green of Bandon Dunes is the Inn. And every single time I finish walking the course I see someone sitting outside on their patio, drinking a beer, overlooking the green.
Each time I say: "man, I need to book one of those!"
They are pretty specific rooms, but if you can snag one of the ground floors with the patio, it's worth it.
Update: I actually stayed in one of these patio rooms in January 2023. My quick thought? It's great if you're someone who thinks you'll actually use the patio. So if it's Summer and you're only going to play one round a day and want to enjoy a glass of wine watching people on 18? It's awesome.
But for 36 hole days in January? We didn't have time (or temperatures) to truly enjoy it.
If budget allows, the Golf Suite or Lodge Suite, probably have the best actual views – but they're pricey and can be difficult to book.
Price: $220-480
Best Value Bandon Rooms: Lily Pond
If you're on a budget but still want to stay at the resort (and trust me, you want to stay at the resort) the Lily Pond rooms are your best option.
They're located out near Bandon Trails, and rooms feature two queen beds and even have a fireplace (not bad for the "budget" option).
In the off-season you can get this down to $100 per person, per night – which is fantastic. And if you and your friends are cozy and want to share beds? $50 each.
Worth noting, you can get the Forest View rooms in the Inn for a similar price, but I think the Lily Pond are a better value with the fireplace.
Price: $220-480
Ultimate Buddies Accommodations: The Grove Cottages
If you're looking for the ultimate accommodation for your buddies foursome, then look no further than 4 bedroom Grove Cottages.
These are similar to a cabin you might find at a private club, and it can definitely make a round at Bandon feel special.
It ain't cheap at $2k per night peak season, but if money isn't an issue – it's a great option.
There are also a handful of 4 bedroom suites in the Lodge, but there's something nice about being in a standalone unit with no shared walls that give this the nod for us over those units.
Oh, and did I mention the Grove units have their own private fire pit?
Price: $1,100-2,100
Get all the details on pricing and photos of lodging at the Bandon Dunes website.
Most Modern Rooms: Round Lake
The Round Lake rooms are the newest accommodations at the resort, and they really are a significant step up in terms of comfort and modern amenities.
They sit in between the 6th and 7th hole of Bandon Trails, as well as, you guessed it, Round Lake.
They're a little bit further away from the main lodge than the Inn or Lily Pond, but what you lose in convenience, you make up for in luxury.
While the Chrome Lake Lofts may still get my nod for my personal favorite, for my upcoming Bandon Eighty Club trip, I booked us all at Round Lake.
$245-505 for Double Rooms
Dining at Bandon Dunes: Where Should You Eat?
As you'd expect from a golf resort as large as Bandon Dunes, where most people will never leave the property, there are plenty of great options for food.
Across the board, the food is fantastic at all of the restaurants there, so there isn't really a wrong choice.
Best Dining at Bandon Dunes: McKee's Pub
McKee's Pub is one of the all-time great golf pubs of the world. It's loud, full of excitement, and is the one "must visit" dining option at Bandon Dunes.
If you were looking for one place to consistently go each evening – this would be it.
The burgers and pizzas are fantastic, they serve their own Bandon Dunes Pale Ale, and the meatloaf is a signature.
Best Breakfast at Bandon Dunes: Tufted Puffin
Almost every morning I'm at Bandon I grab breakfast at the Tufted Puffin inside the Lodge at Bandon Dunes. I'll usually even forgo the range if I have to choose between warming up or breakfast here.
The value is incredible.
Personally, I skip the buffet and order one of the excellent items off the menu like the massive omelet and hashbrowns – or a breakfast burrito.
Service is great, and they know you have a tee time, so it's always pretty quick in the mornings.
Pro tip: You can get a scone instead of toast for no extra cost.
If you need a quick bite, the breakfast sandwich at the turnstand at Bandon Dunes is excellent.
Best Seafood at Bandon: Pacific Grill
Pacific Grill is the restaurant at the Pacific Dunes clubhouse. You'll find it's very common to hang out with drinks at the Punchbowl until dark, and then work your way up to dinner. Just make sure you have a reservation as the restaurant isn't as big as McKees or the Forge.
It's got the best seafood options at the resort, but on my most recent trip I had the pork chop, and it was excellent.
It's also got a solid sunset view, so make your reservation time accordingly.
Most Unique Menu: Trails End
The menus at most of the Bandon restaurants are fairly straight ahead, but Trails mixes it up with some Asian fusion. If you're looking for a change of pace from pub food or steaks, give Trails End a shot.
Best Place for a Steak or "Nice Meal": Ghost Tree Grill
McKee's got the nod for "Best Dining" in this list, in part because it's so iconic.
Before the most recent update of this post, "The Forge" at the Lodge won this category. But as of late 2023, the Forge is currently undergoing renovations.
But the good news is that Ghost Tree Grill has just opened. It's the largest dining option at the resort and as it sits right now is the best option for a nicer dinner or a dinner with a larger group.
I'll update this once I've experienced Ghost Tree Grill first hand.
Best Late Night Spot: Bunker Bar
Ah the infamous Bunker Bar. I've literally made a career out of visiting the world's best bars, and I can safely say there's nothing like the Bunker Bar. Golfers from all over the world converge here until the wee hours of the morning to drink, smoke cigars, play cards and share stories.
It's magical.
The only thing that isn't? Your tee time coming a little too early the next day
Other Bandon Dunes FAQs
There's so much to cover about Bandon Dunes, that even at going on 6,000 words – I'm only scratching the surface. That said, I wanted to answer some of the most common questions I've heard about visiting Bandon Dunes and give my insight where applicable.
What questions am I missing or do you have? Drop a comment and I'll update this over time.
Do You Have to Have a Caddie at Bandon Dunes?
No, you don't have to have a caddie at Bandon, but it's highly recommended. I've played an equal number of rounds with and without a caddie. The experience having one is fantastic, and I promise they'll save you some strokes on the round.
The caddie rate at Bandon is $100, plus gratuity.
That last part can be a stressful thing if you're not used to playing with a caddie. "How much is fair?"
It's honestly a question I didn't know the answer to until just recently, as suggested gratuities (like everything else in the world) have gone up over time.
These days 50% is considered standard. So if you go to Bandon, you should expect to pay $150 if your caddie provides good service.
If budget is a concern, consider getting a group caddie. It's basically a caddie who will walk with your group, give you lines, strategy, read putts and so on – but you'll carry your own bag.
For a foursome expect to pay $50 per person.
Can I take a cart at Bandon Dunes?
Nope, no carts allowed. The only exception to this is with a medical note, I believe. But in over 40 rounds there I've never seen a cart on the course.
Push carts are allowed, however. They have two-wheeled trolleys available to rent at all of the courses if that's your jam.
How Hard is it to Walk at Bandon Dunes?
Walking Bandon Dunes is certainly no Bethpage, but it's also not the easiest walk either.
If you're used to walking at your home course, you'll be fine. But a stroll around any of the courses can be 6 miles or more, and most of the courses have at least a couple sections with fairly steep hills.
If you're concerned about this, I'd highly recommend a caddie.
And if you want to plan around courses that are an easier walk, here is how I'd personally rank the difficulty of the walks starting with the toughest:
Bandon Trails
Old Macdonald (most of the course is flat, but the hills on 3, 7, 8, 14, and 15 can be challenging). It's also very exposed, which can make the walk more difficult under inclement weather.
Pacific Dunes
Bandon Dunes
Sheep Ranch
What to Bring to Bandon Dunes
Basically, you should bring everything you would normally bring on an epic golf trip. But I'll share a few things of extra importance that I make sure to have with me on every Bandon trip:
Extra socks and shoes. I always change socks between same day rounds, and often will change shoes as well. Fun fact: every room at Bandon has an electric shoe dryer, which I'd never seen at a golf resort before. SUPER thoughtful and a great touch.
Layers – The weather here can be extremely variable, so plan to bring a few cold-weather layers regardless of time of year.
Shorts – Yep, even in the winter. I've played in shorts during two of my January Bandon trips over the years, and could have on my third if I'd wanted.
Umbrella and Rain gear – Don't have either of those? Go buy them. The only thing worse than a rainy Bandon trip is not having the right attire to keep it enjoyable. I recommend Galvin Green or Sun Mountain.
Sunscreen and lip balm – This goes without saying.
Here are some more on how to plan a golf trip.
What to Do Before Visiting Bandon Dunes?
The one thing I recommend everyone do before visiting Bandon is to read the book Dream Golf: The Making of Bandon Dunes. Not only will it make you more excited for the upcoming trip, but understanding how it came to be will make the experience of visiting even more enjoyable than it is on its own.
You might even learn a fun fact or two that you can impress your friends with.
Check out more of the best golf books here.
What Else Should You Do at Bandon Dunes?
Bandon truly is a golf resort, but if you're looking for ideas of what to do beyond just playing the 18-hole courses, you'll find there's a surprising number of things to see and do while you're there.
The Punchbowl Putting Course
Modeled after the Himalayas putting course at St. Andrews, this is probably the most fun thing to do once you finish your rounds for the day. It's located right at Pacific Dunes, and while there's a set route of 18 holes, it's kind of a choose-your-own adventure, cross-country putting course.
Grab some friends, grab some beers, and have some fun before or after dinner. You won't regret it. I certainly didn't after winning $175 in a little 18 hole skins game recently 🙂
Shorty's
Bandon has one of the largest practice areas you'll ever see, and included in that is two driving ranges. One of those driving ranges doubles as a Par 3 course, called Shorty's. It's free when it's open, and is a great casual way to get some bonus golf in.
This is a great thing to do if you have a few extra minutes to kill, or are just truly trying to see everything Bandon has to offer when it comes to golf.
And in 2024 things get a little bit more confusing, as they're opening up a new 19-hole short course also called Shorty's. This will be the 7th course at the resort, and is shaping up to be spectacular.
The Labyrinth
Most guests at Bandon don't even know the Labyrinth exists. Tucked behind Chrome Lake is a cool spot for meditation or just getting away from the more crowded areas of the resort.
Hiking Trails
Another feature of the property that many golfers are unaware of are the hiking trails that meander all over the grounds. Over six miles in total, when exploring them not only will you come across the Labyrinth mentioned above, but also the spot where Mike Keiser first stood when he decided to build the resort. There's a good chance you'll see wildlife while out on a walk, as well.
On one Summer trip, I even saw a black bear cub.
Get more details about the various trails here.
Sauna and Hot Tub
I always try and hit up the sauna and hot tub at least once while I'm at Bandon Dunes resort. Not only does it feel great after a long day of golf, but you'll often find other golfers from all over the world there. I've had some great conversations in that hot tub.
Bandon Crossings
Just 15 minutes away is the Dan Hixson designed Bandon Crossings. It's a fantastic course that doesn't get as much press as it should due to, well, being so close to Bandon Dunes. But if you're looking for a different golf experience on the way in or out of your trip, this one is worth playing.
Town of Bandon
The Oregon Coast has some spectacular vistas and some quaint towns along the way as well. The town of Bandon is small, but well worth the 15 minute drive into town from the resort for a change of pace.
Check out Tony's Crab Shack if you're looking for great seafood.
And if you want to make friends with some of the caddies, head over to Arcade Tavern, a popular caddie hang out.
Final Thoughts on Bandon Dunes
If you're reading this and planning your next trip to Bandon, then count me among the jealous people in your life.
I've traveled to many of the very best golf resorts and private clubs in the world, and simply put: there's nothing like Bandon.
There's no place on the planet where you can play 5 courses (six with Preserve) of such high caliber all in one spot.
So while it may be a hike to get there, I can all but promise you, you won't regret the effort and expense it takes to make the journey.
Short of a visit to the Old Course, it may be the most worthy pilgrimage a modern-day golfer can make.
Traveling to Oregon and curious where else you should play? Check out our guide on the best golf courses in Oregon.
---
---
---