The Breaking Eighty Top 100 Courses in the World (2021)
I started this website nine years ago.
For seven of those years, I've always published a list of my personal favorite golf courses – until last year.
Between COVID and a pregnant wife, I simply didn't play enough new courses to warrant updating the list.
But this year? I'm finally getting back to golf travel, and excited to update our top 100 list for the first time in 2 years.
This past decade, I've been fortunate enough to play a lot of really good golf courses all over the world.
I've taken thousands of photos, played thousands of holes, and started to have a much better understanding of what makes a good golf course.
I've also been able to form opinions about which courses I enjoy the most.
There's a very distinct (and at times, quite large) difference between what I enjoy and what constitutes a good course by traditional standards.
If you look at many of the "top 100" lists from major publications you'll in many cases see a big slant towards difficult, championship golf courses with a lot of historic pedigree.
Usually, those courses are worthy of being as highly ranked as they are. However, does that mean that some of them were my favorite courses to play?
Not exactly.
The fun thing about this list, is that I get to decide what get's ranked where, and why. This is the Breaking Eighty Top 100 Golf Courses list for 2021.
What This List is Not
This is not a list of which courses I think are the best from an architectural standpoint. If I were rating them for say GolfWeek or Golf Digest I would rank them very differently based on their architectural merits.
With this list I asked myself one simple question:
Which courses do I enjoy playing the most?
I went through and asked myself over and over and over again "would you rather play course #1 or course #2" – this list is based on those answers.
As much as possible, I tried to throw out exclusivity and pedigree. For instance in all honesty, if you told me I could go play Tobacco Road or Oakland Hills – I'd probably still choose Oakland Hills – yet I have Tobacco Road ranked higher.
This leads to the question "How on earth could you have Tobacco Road ranked higher than Oakland Hills??"
My Primary Top 100 Ranking Factor
When creating this list, I took into account everything from course difficulty, strategic shot values, scenery and personal affinity – but there's one ranking factor that will always remain paramount for me.
Fun.
How much fun did I have playing the course? Was there a lot of variety? Was each hole distinct and keep me entertained throughout the round?
I mean, after all, that's what golf is supposed to be about right? Having fun?
This is why in many cases you'll find very highly ranked courses (by traditional measures) that are far superior from an architectural standpoint, not ranking as high as other courses.
That said, in some cases, much of the fun can be derived from the exclusivity, location, or history of a course.
Top 100 Golf Course Rankings: Each Year it Gets Harder
Hands down my 2021 top golf courses list has been by far the hardest to write over the 8 years that I've been doing it.
There are a few reasons for this.
One is that every year I'm playing more and more golf.
At first, it was easy to push out a lot of the mediocre courses, but now, there are very good courses not on this list. And in some cases, I pushed out a "better" course because I just didn't enjoy it as much as some of the ones I left on the list.
I spent a lot of time this year reviewing old photos, videos, journal entries, and blog posts to refresh my memory on some of the courses where it's been a few years since I've played them.
The second is that the hate I've received for this list in the past is still fresh in my mind.
Long story short, I was called a bunch of names, and hammered over some of the items on this list from people who know a lot more about golf courses than me.
Frankly, I find it amazing that for something as subjective as a list of favorite golf courses, so many people were bold enough to tell me just how wrong I was.
A couple things to keep in mind while you read this list:
When it comes to favorite golf courses (not the best), no one is wrong. Everyone likes different things, and that's one of the things that makes this game so great.
It's just golf. If you get worked up reading this list, then that means you've probably played a lot of these courses. In that case, you are an extremely privileged human being. Be thankful for that (I know I certainly am), and recognize that none of this is life or death, or even close to it. So smile, and be glad that you've been fortunate enough to travel to play cool golf courses.
And then you should read this.
Now that you understand a bit about my unconventional ranking strategy, let's get on with it.
Keep in mind, this list is based on courses that I've played, so when you say "why isn't Cypress Point or Pine Valley listed?" It's probably because I haven't been there…yet.
I'll be releasing ten new courses on this list over the next ten days, so enjoy, and keep checking back!
And with that? Time to jump into our 2021 top 100 golf courses list!
#100: Pinehurst #2 – Pinehurst, NC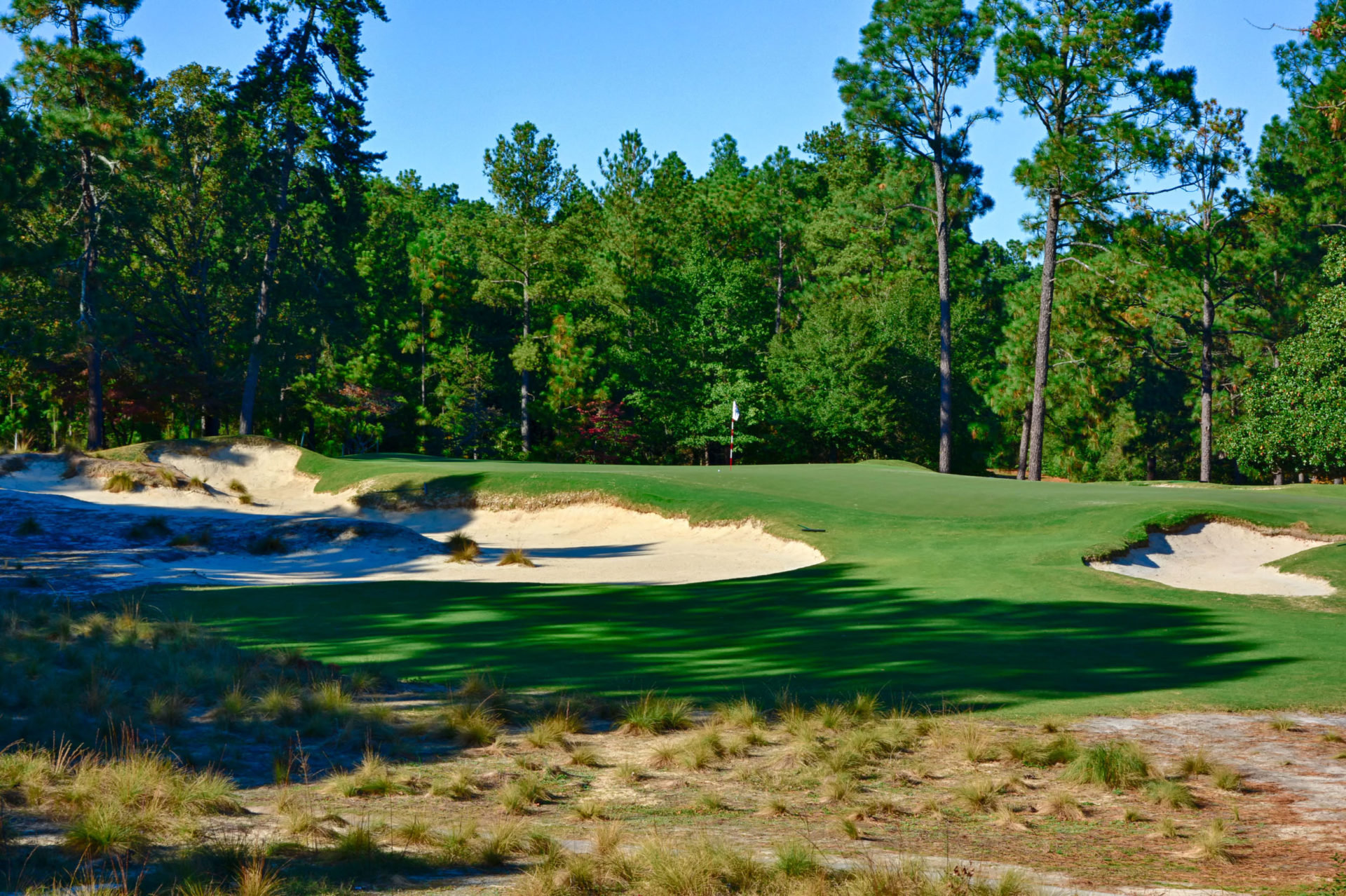 You're probably thinking, "how on earth is this so low?!". The reality of Pinehurst #2? It's a long, difficult golf course. It's worth doing once as a bucket list item, but at $450/round, there are other courses in the area that are immensely more enjoyable.
Those Ross greens are pretty spectacular though.
That said, it's been years since I've played it. So I'm excited to make a return trip sometime soon to see if my feelings have changed.
Note: Remember, this is the ranking for my favorites, not my opinion of which are the best!
Full Recap: How I Shot My Best Round Ever on Pinehurst #2
#99: Medinah #3 – Chicago, IL
One of the most famous championship venues in golf, Medinah #3 has some great holes, but by the end became a little long and repetitive.
The pars 3s, while all excellent, began to feel similar by #17, and with a score over a 100, I took quite the beating.
Check out: What it's Like to Play Medinah #3
#98: Turnberry (Ailsa Course) – Ayrshire, Scotland
I've talked to a lot of people who say Turnberry is their favorite course. Anywhere.
While I thoroughly enjoyed my round, there were many other courses in Scotland that I preferred.
From what I hear though, the recent remodel has made some fantastic changes and 9-11 are even better than they already were. I look forward to playing it again on the next Scotland trip to see for myself!
Full Recap: Turnberry (Ailsa) – The Most Scenic Open Rota Course in Scotland?
#97: Streamsong (Red Course) – Bowling Green, FL
People often ask me what I thought of Streamsong. Short answer? The courses there are great!
But there's always a caveat…it didn't meet my expectations.
It had been talked up for so long and been spoken so highly of, I think my expectations were way too high.
I found the Red to have a fantastic opening set of holes, but after the first six, I found there to be more of a mix of great holes, and some that were a bit more forgettable.
#96: Spanish Bay Golf Links – Monterey, California
I've played Spanish Bay twice now, and both times I found myself wondering "how does this course not get talked about more?"
The answer is because it's siblings are Pebble Beach and Spyglass Hill.
But there are some wonderfully fun golf holes at Spanish Bay, and some spectacular views to match. Not to mention the hotel there is one of the great hotels in all of golf.
Check out: Why the Lexus Champions for Charity May be the Best Event in Golf
#95: Atlantic City Country Club – Atlantic City, New Jersey
Atlantic City Country Club, on top of being the birth place of the term "birdie" is one of the biggest surprises I've had in my golf travels.
Some of the inland holes were a bit more pedestrian, but the ones out near the water like 3 and 4, and for much of the back 9 are about as good as it gets.
This is one that's worth the two-hour drive from NYC to go visit if you ever find yourself in the area.
#94: Garden City Men's Club – Garden City, NY
Garden City Men's Club is among the most exclusive golf courses I've ever played. The experience was incredible, and the company great. But the day I played it was early in the season and the course was still coming back from the winter and wasn't in the best shape.
Would love to experience it again to better appreciate its subtleties.
#93: Chambers Bay – Tacoma, Washington
Chambers is another course that many people love to hate after the debacle that was the 2015 US Open. However, the variety, the fun holes, and the views make this a course that would be hard not to enjoy. You'll definitely hit a few golf shots there you won't see anywhere else.
Full Recap: Salish Cliffs and Chambers Bay: The Perfect Golf Getaway
#92: Olympic Club (Lake Course) – San Francisco, CA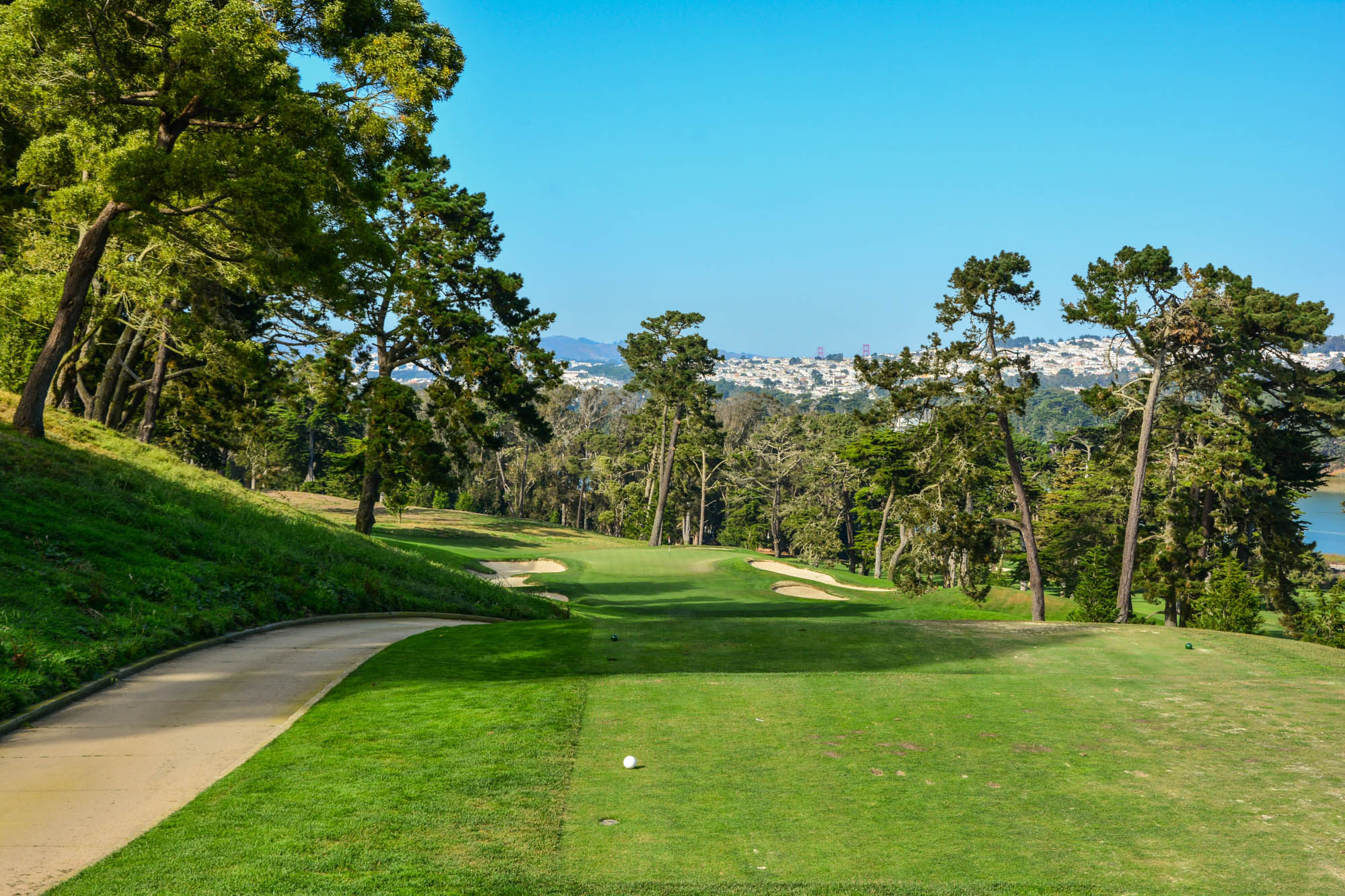 Let's not be mistaken, the Olympic Club is hard. It forces you to move the ball in every direction possible, and be on top of your putting game in the process. It's truly a championship course, and while I found some of the holes to feel a little familiar by the end, there's no doubt it's a place I'd enjoy getting beat up when given the opportunity.
Not to be missed: the burger dog, and the men's locker room.
#91: Portmarnock Golf Club – Dublin, Ireland
Portmarnock was one of the most special rounds of golf I had in 2017. We had the course to ourselves, and the fact it was on January 3rd, and we actually were able to get it in without any major weather issue was a fantastic surprise.
This is one I imagine might move up the list with a few more plays. It has a fantastic routing, and the history at the club is unparalleled.
#90: Forest Dunes Golf Club – Rosscommon, MI
Forest Dunes is in the middle of nowhere, but the Weiskopf layout is worth the trip.
It's in a beautiful region of the country, and you can get some awesome stay-and-play deals in the fall.
And there has never been a better time to go considering they also built a Doak reversible routing called The Loop, which was named best new public course by Golf Digest when it opened.
Check out: Forest Dunes Review
#89: Circling Raven Golf Course – Worley, Idaho
The Floating Green at the Resort Course gets most of the Coeur d'Alene attention, but here's an insider's secret: Circling Raven is probably the better golf course.
It used to make regular appearances on top 100 public lists, and frankly, I'm shocked it isn't still on most of them.
This is a BIG golf course that's challenging, yet incredibly fun at the same time. There's some very good golf in this part of the country, and you're missing out if you don't play Circling Raven on any trip to the area.
Check out: Circling Raven Golf Club: A Wonderful NW Stay and Play
#88: The Country Club (Clyde/Squirrel) – Brookline, Mass
This is another one that the purists will totally hate on me for. The Country Club is one of the most exclusive courses in the country, and playing it was such a special treat. If you asked me to rank it based on the design and architecture – it'd be top 50 in the world.
But for how much I enjoyed it? It's not quite as high. I enjoyed the back 9 much more than the front, but also my experience was skewed having played off-season in some pretty nasty weather.
#87: Scioto Country Club – Columbus, Ohio
The average golfer might not know it, but Columbus is a hotbed of world-class golf. Flying a little more under the radar next to some pretty heavy hitters is Jack Nicklaus' childhood course where he learned to golf: Scioto.
Scioto is a championship course that has some teeth – but aside from the fact I got food poisoning the day of my round there – I truly enjoyed it. Memorable par 3s, and hands down one of the best, and busiest country clubs I've been to.
Full Recap: Scioto Country Club (My Biggest Victory Ever)
#86: Carnoustie Golf Links – Carnoustie, Scotland
Carnoustie is kind of akin to Bethpage Black here in the states. It's long, hard, public, and has sort of a no-frills vibe going for it. While not nearly as scenic as some of its other Scottish neighbors, I enjoyed my round here more than expected – and the history is second to none. Just be prepared for a beating.
Full Recap: Carnoustie Golf Club
#85: Cascata Golf Club – Boulder City, NV
When it was built, Cascata was Caesar's answer to MGM's Shadow Creek. While not quite the transformation that Shadow was, it's a dramatic course with tons of great elevation, and the Vegas price tag to go along with.
That said, everything about the experience is first-rate, and if you don't feel like blowing another 400 bucks at the blackjack table, this would be a great alternative.
See the video: Cascata Golf Club
#84: Atlanta Athletic Club (Highlands Course) – Atlanta, GA
Atlanta Athletic Club, unfortunately, got the designation of what may have been my highest score of the year, the year I played it. Pretty sure I didn't break 100. But there wasn't much to complain about considering the conditioning was perfect, there were many memorable (and scenic) holes, and it's got history rivaled by very few in the South.
Hopefully next time I'm able to make it back and play the Club's other course, as I've heard nothing but good things.
Check out: Atlanta Athletic Club: The Best 36 Hole Club in the South?
#83: Great Waters Golf Course – Lake Oconee, Georgia
Great Waters is the crown jewel of the Reynolds Lake Oconee community. It has one of the great back 9s in golf, with the lake coming into play on 9 or the last 10 holes.
Not only are the views incredible, but the course has great variety as well.
I was incredibly impressed by the entire Reynolds experience, not just the Great Waters course. So if you're looking for a luxury golf escape, you could do a whole lot worse than a few days here.
Check out: Great Waters Golf Course – The Crown Jewel of Reynolds Lake Oconee
#82: Old Macdonald – Bandon, Oregon
I've now played Old Macdonald 4 times, and honestly? During the first three, I didn't love it.
But on my 4th time playing it, I finally got it.
While I still generally enjoy the other courses at the resort more, there is a ton to like about Old Mac.
Check out: Old Macdonald: The Most Mis-Understood Course at Bandon Dunes
#81: Wolf Creek – Mesquite, Nevada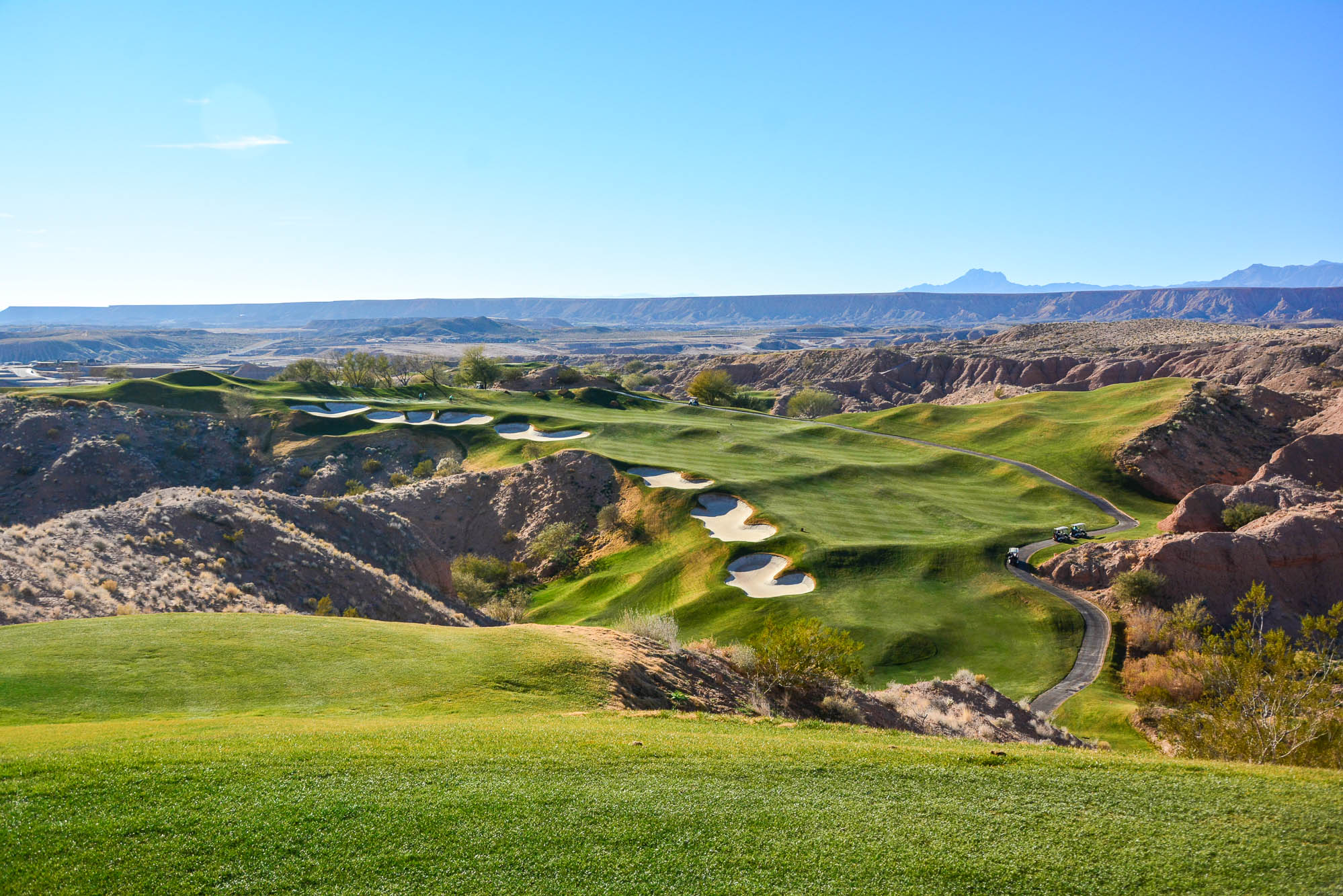 This is like the Six Flags of golf courses. Up, down, left, right – you won't find many courses rival this for flat out fun. You pretty much have to take a cart, and you'll play holes that while not always the most strategic, may very well give you vertigo.
This is one of those "must play at least once" type courses.
Full Recap: Wolf Creek Golf Club
#80: Stonewall (Old Course) – Philadelphia, PA
I believe the Old Course at Stonewall was Tom Doak's first private design, and it's clear why it helped put him on the map. Great elevation change, a nice variety of holes, and a beautiful setting all combine to make this one of the finest courses in the Philadelphia area.
Stonewall was home to our 2018 Eighty Club Championship, as well.
#79: Valhalla Golf Club – Louisville, KY
After our round at Double Eagle Club was canceled due to weather, we were able to line up a tee time at Valhalla on short notice. In a stroke of luck, our very first Eighty Club member happened to be in town, and we were able to have an extremely enjoyable round at the Club.
I found Valhalla to have a more interesting routing than expected, and the course truly exceeded my expectations. It wasn't difficult to remember every hole, and it strikes a great balance of an enjoyable members course, and a stern test for the pros.
Full Recap: Valhalla Golf Club – Even Better than Expected
#78: Sentosa Golf Club (Serapong Course) – Singapore
I didn't have overly high expectations for the Serapong Course, but I was pleasantly surprised at how much I enjoyed it. Specifically, the opening 7 holes is one of the better stretches of golf I've had in recent memory.
The back nine didn't quite have the views and drama of the front, but challenging bunkering, and a good routing, helps this stay solidly in the top 100 this year.
#77: Hawks Ridge – Ball Ground, GA
I'd played Hawks Ridge once before, but after a second round earlier this year I was reminded by just how much fun this golf course is.
There's some fantastic elevation changes, and risk-reward opportunities are on nearly every hole.
This is one of Bob Cupp's best, and if you have the opportunity to play it, it's well worth the effort to venture deep into Atlanta's suburbs for a round.
#76: Tetherow Golf Club – Bend, Oregon
The exact opposite of Pronghorn, Tetherow is one of the most unique courses in the world. It's in the high desert, but the fescue grass has it playing like a links course. It's extremely high on the fun factor, and the greens can leave you some truly terrifying putts. I enjoy it every time I head out, and with the work they've been doing there, it's only getting better.
Full Recap: Tetherow: The Most Polarizing Course in Oregon
#75: Dormie Club – North Carolina
Dormie Club has had a tumultuous history, but I'm just glad to see they're still in business as it's one of the best courses in the Pinehurst area. Now not only are they surviving, but with the investment from the Dormie Network, their future is looking brighter than ever.
Full Recap: The Dormie Club
#74: Plainfield Country Club – Edison, NJ
Home of 2016's Barclays, Plainfield is a fantastic Donald Ross layout. It starts to border on the "long, championship-style" courses that aren't always my favorite, but I really enjoyed my round out here – especially the back nine.
11 is one of my favorite par 3s in the country.
Recap: Photo Tour of 2015 NYC Road Trip
#73: Rolling Green Country Club – Springfield, PA
During a trip to Philly a couple years ago, Rolling Green was the course I didn't know a whole lot about, and next to places like Merion, Aronimink, and Philly Cricket – I wasn't totally giddy about playing it.
After the round though? Wow. Great variety, lots of elevation, and some really fun and unique holes. It's easy to see why it was chosen to host the 2017 US Woman's Amateur. Totally underrated in not only the Philly area, but in the US as a whole.
Full Recap: Rolling Green Golf Club
#72: Huntingdon Valley Country Club – Huntingdon Valley, PA
Huntingdon Valley was the first stop in our 2017 Eighty Club event in Philly, and it certainly didn't disappoint. We played the Toomey/Flynn nines, which have fantastic elevation change, a handful of excellent short pars 4s, and one of the best clubhouse views you'll find.
It's a sleeper in the stacked world of Philadelphia golf, and one I'd love to play again.
#71: Sheep Ranch – Bandon, Oregon
I can't think of a course opening that has been more highly anticipated in the last few years than the Sheep Ranch at Bandon Dunes.
What do you get when you combine the most scenic piece of property, at the best golf resort in the world, with one of the best architects in the game?
Sheep Ranch.
The views rival any course in the world, and there are a handful of shots on the course you'll simply never hit anywhere else.
Check out: Sheep Ranch at Bandon Dunes: The Most Stunning of All
#70: Spyglass Hill – Monterey, CA
Anything on the Monterey Peninsula is going to have some cache, and Spyglass Hill is no exception. The bigger, more brutal brother to Pebble Beach might the best opening 5 holes in golf, or at least it should be up there.
While I'm not as much of a fan of Spyglass as a lot of people are, I've enjoyed it more and more after each of my three rounds there. The par 3s are strong, the opening hole is one of the best openers in the world, and 4 is one of the coolest greens you'll ever see.
I was last there for the 2019 Lexus Champions of Charity, and we had a pretty fun challenge on the epic 4th hole:
#69: Waverley Country Club – Portland, OR
Waverley is set on one of the most beautiful pieces of land for golf in the state of Oregon. Very few places I've played compare with the finish on 16-18.
There's truly something special about this club that you don't see often in Oregon. It feels like it'd be more at home with the Golden Age clubs of the Northeast. If there's one place I hope to be a member at one day, this is it.
Full Recap: Waverley Country Club
#68: Eugene Country Club – Eugene, Oregon
For years Eugene Country Club had been ranked among the top 100 courses in the US. Most people I know agree, it's the best "non-Bandon" course in Oregon.
And this year? It's gotten even better.
They just did a full renovation of the course, and from everything I've seen? It's phenomenal. I'd expect this to climb in my rankings next year once I've played the new and improved ECC.
#67: Camargo Club – Cincinnati, OH
One of the very best collections of template par 3s I've ever played. Camargo Club is truly special in the world of golf. It's understated, quiet, and it doesn't need to be loud or flashy to let the world know just how good it is. It was one of my first Raynors, and is the type of course that I can only imagine enjoying more and more with more plays.
Full Recap: Camargo Club – The Best Par 3 Templates in the World?
#66: The Golf Club – New Albany, OH
Teeing it up at The Golf Club was one of the most pure experiences I've had on a golf course. You pull through the gates and you're transported to another secluded world. A world where no one will bother you, where you nearly always have the course to yourself, and where Pete Dye displayed some of his very best (and earliest) work.
Full Recap: The Golf Club – An Uber-Exclusive Golfing Haven
#65: Streamsong (Blue Course) – Bowling Green, FL
While it's usually Streamsong Red that gets the nod as the best of the three courses, personally I preferred Tom Doak's Blue Course. It's big, it's bold, it's fun – and if you're not on your game, you'll probably have a long day.
#64: Erin Hills – Hartford, Wisconsin
Host of the 2017 US Open, Erin Hills is another very difficult walk, and the course, which can be stretched out to over 8,000 yards is no slouch either. There are some excellent stay-and-play deals, and if you live in the midwest, this is a must-play.
Full Recap: Erin Hills: Home of the 2017 eriUS Open
#63: Oakland Hills (South Course) – Bloomfield Hills, Michigan
There aren't many major tournaments Oakland Hills hasn't hosted. This struck a better balance of difficulty and hole variety, than say Medinah or Olympic – and the greens are some of the slickest I've ever putted on.
I can't wait to revisit soon after they complete the renovation of the course.
Full Recap: Oakland Hills (South Course)
#62: Ferry Point Golf Links – New York
I had a feeling Ferry Point was going to be good, but it ended up being even better than I'd expected it to be. The course is truly a links-style course in the middle of the city, and it was also one of the most enjoyable photography days I've had. Every hole is scenic in it's own way, and the routing was both memorable and enjoyable with a wide variety of holes.
If you can put aside the polarizing politics of Ferry Point, you'll be treated to one of the most enjoyable public courses on the east coast.
#61: Creek Club – Lake Oconee, GA
Whereas some purists will be mad I have certain courses so low, this is one where I imagine I'll catch some heat for having it so high.
Creek Club is….wild.
But you know what else it is? Fun. You hit shots on that course you'll never see anywhere else. The greens are imaginative. And the whole place is a visual delight. It's not a course I'd want to play everyday, but when I do play it? I love it.
#60: Winged Foot (West Course) – Mamaroneck, NY
After having the good fortune of playing the East Course in 2017, to be invited back to play the West in 2018 was a real treat (thanks Chris!).
We had an absolute Chamber of Commerce day, and the West might have been the most well-manicured course I've ever played. It was exactly as I expected, long and challenging, but frankly, I think I preferred the quirkier East Course.
Full Recap: Winged Foot Golf Club: The Finest 36 Hole Club in the Country?
#59: Old Sandwich – Plymouth, MA
Old Sandwich was the part of our tandem of courses for our "Breaking Boston" Eighty Club event this year, and it lived up to all the hype. The course is fun and interesting, and the lodging on property is easily some of the best I've ever seen.
The Cape hole #5, is one of the most unique I've seen, and rivaled by only a few others in my book (Mid Ocean and Machrihanish)
#58: Bethpage (Black Course) – Farmingdale, NY
What many consider Tillinghast's best work, barely cracks my top 3 of his. Bethpage is another course everyone should play at least once, due to its accessibility and increasing lore in the golf history books. Expect lots of sand, extremely difficult rough, and a brutal walk that will leave you begging for more.
Full Recap: Bethpage Black
#57: Mid Ocean Club – Bermuda
Living on the west coast of the US, Bermuda wasn't exactly on the top of my list of places to visit. However, after visiting for our first annual Eighty Club Breaking Bermuda event last year, I'm so glad I went.
The CB Macdonald Mid Ocean Club is phenomenal. It has the templates, it has the views, and everyone I met there is so laid back and chill – it's exactly the type of place you'd like to be a member at and play over and over again.
#56: Galloway National – Absecon, NJ
On the outskirts of Atlantic City, Galloway is a course that's largely flown under the radar. It's always been in perfect shape when I've been, and while it's one of the more difficult courses I've played, I still found it very enjoyable and full of memorable holes.
The short par 4 12th, and par 3 17th are two in particular that really stand out, and it's one of the most underrated courses in the country in my opinion.
#55: St. Andrews (Old Course) – St. Andrews, Scotland
From an architecture stand point, the Old Course is one of the greatest (if not the greatest) courses in the world. From a history stand point? It's unparalleled.
Any golfer will get goosebumps when you stand on the first tee. But I think this is a course that takes many plays and/or lots of study to truly understand its greatness (outside of its obvious importance in the history of golf).
The course itself isn't overly scenic, and it's quite flat. If you were to take an average golfer and have them play The Old Course, and say, Tobacco Road (without knowing anything about either), I'd be willing to bet at least half of them would choose the latter as their favorite.
#54: Pronghorn (Nicklaus Course) – Bend, Oregon
This was the course that started it all for me. My very first top 100 public course I played. I love Bend and Pronghorn. The course has a few of my favorite holes in Oregon (12-15) and is a treat to play every time I have the opportunity.
Not to be missed on a trip to Central Oregon
Full Recap: Pronghorn (Nicklaus Course)
#53: The Valley Club of Montecito – Montecito, CA
Playing at The Valley Club is a really special experience. The club itself has one of the best vibes I've ever seen. The membership is more laid back than you'd expect, and the Clubhouse is one of the all time greats. Things get even better once you hit the course. A nearly original Mackenzie design shows off a unique routing, excellent bunkering, and a course that won't overwhelm you with difficulty – in the best way possible.
#52: Trump International Golf Club – Aberdeenshire, Scotland
This might have been the longest, toughest, most difficult walk of my life. – partially due to the torrential wind and rain, I'm sure. But I found this to be a more difficult walk than both brutes like Yale and Bethpage Black.
I was surprised by just how good Trump's course here really was. It had a modern take on links golf that kept things interesting and fun, even if I thought my lungs were going to give out at times.
Full Recap: Trump International Scotland
#51: The Creek Club – Locust Valley, NY
No, the other "Creek Club"
Before my round at The Creek, I admittedly didn't know a whole lot about it – and I'm glad I didn't. The surprises kept coming around every turn, leading to a very memorable experience.
The view going over the crest on 5 is one of golf's all-time great reveals.
Some might knock it for a weak opener (which has improved with a recent Hanse reno), but I actually found the first 5 holes (save for a pretty weak Eden hole) to be very good – and things only got better from there. I can only imagine how good it is now post-renovation.
#50: Ballyneal Golf Club – Holyoke, CO
Ballyneal is close to the most remote golf course I've ever played. I mean, it's out there – but in the best way possible.
It's the ultimate destination club, and fortunately, their golf course makes every second of the journey worth it. It feels like a links course in the middle of nowhere, and that's because, well, that's essentially what it is.
There are no tee boxes at Ballyneal, so each round feels very much like a game of "choose your own adventure."
#49: Crosswater Golf Club – Sunriver, Oregon
I usually play Crosswater in Sunriver, Oregon a few times a year, and love it every time.
It has a solid variety of holes, forcing you to be very strategic at times (4th hole with extremely shallow green), and to flat out bomb it at others (687 yard par 5, 12th). While I do wish there were a bit more elevation at times, it's underrated in PNW golf – especially if you catch one of their $99/night stay and play deals.
Full Recap: Crosswater Golf Club
#48: Pumpkin Ridge (Witch Hollow) – North Plains, Oregon
I may be slightly biased on this one, considering it's my home course – but the setting and variety here is absolutely stunning.
The par 5 14th is one of the best short par 5s in the world, and while it may not have the length to host a modern-day US Open, it's a course that can still challenge some of the best players in the world, which it did for years hosting the Korn Ferry season finale.
#47: Banff Springs Golf Course – Banff, Alberta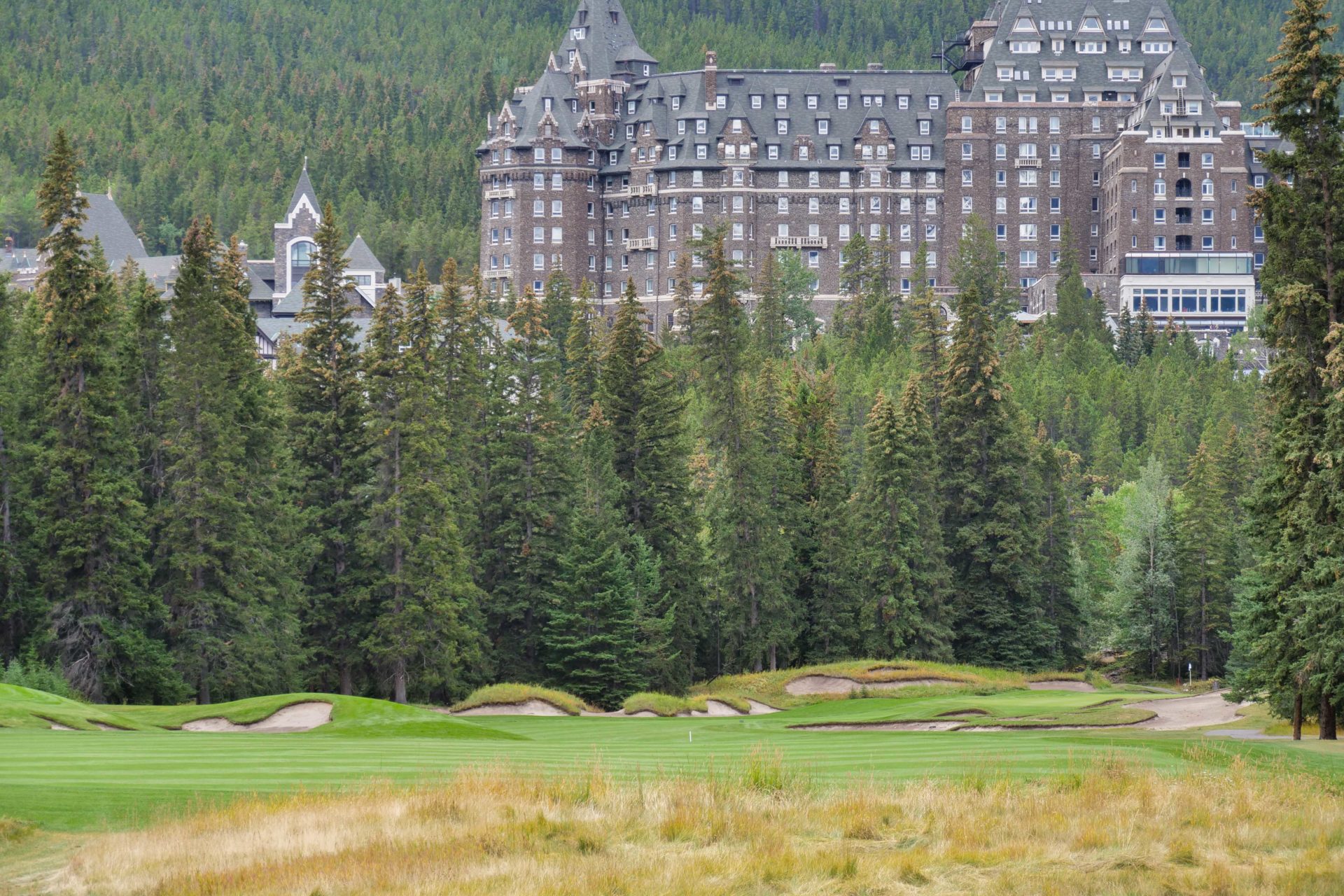 I've played golf in some pretty spectacular places. Pebble, Punta Espada, the Maldives – but Banff Springs may have the most dramatic backdrop for golf I've ever seen. Towering peaks around every corner, and unlike many courses in amazing settings – the course is every bit as good as the scenery.
Full Recap: Playing Banff Springs Golf Club: As Spectacular as Golf Gets
#46: California Golf Club of San Francisco – San Francisco, CA
Cal Club as most people affectionately call it, has some of the most brutal (and beautiful) bunkering I've ever seen – no surprise, considering Alistair Mackenzie helped with them. This course has flown under the radar until more recently, but it's among the best courses in a state full of phenomenal golf.
Full Recap: Best Golf Courses in California
#45: Myopia Hunt Club – Hamilton, Massachusetts
Walking off the highly unique short par 4, first hole, I knew I was going to like this course. It goes up, it goes down, it goes short, it goes long. Its tradition and history is deep and the course itself is extremely special.
With that said, it seemed on nearly every hole drives I thought were pretty good ended up in bunkers I didn't know were there 🙂
#44: Pronghorn (Fazio Course) – Bend, Oregon
The Fazio course at Pronghorn gets very little play, and as such is in immaculate condition. Its views of the Three Sisters mountains are unparalleled, and the par 3 8th over an ancient lava tube is one of the best and most unique par 3s you'll ever play.
Full Recap: Pronghorn (Fazio Course)
#43: Colorado Golf Club – Parker, CO
I knew I was going to like Colorado Golf Club before I even set foot on the property. It's Coore Crenshaw on a beautiful piece of land, and some incredibly unique holes.
CGC is also one of the best match-play courses I've ever played, and it has some excellent risk-reward short par 4s and par 5s.
Full Recap: Best Golf Courses in Colorado
#42: Blackwolf Run (River Course) – Kohler, Wisconsin
When I think of the River Course, the first word that comes to mind is fun. Dye uses bunkers and water, to weave you through a tapestry of different landscapes, and he gives you multiple options on every hole – with the best example of this being the three distinct fairway options on the par 4, 9th.
Full Recap: Blackwolf Run (River Course)
#41: Philly Cricket Club (Wissahickon Course) – Philadelphia, PA
Possibly with the exception of Pinehurst #2 or Sleepy Hollow, I'm not sure there has been a more celebrated restoration in America than the Tillinghast designed Wissahickon course. It's just so good. You're engaged all the way through the round, and there isn't a weak hole on the property.
Check out: Philly Cricket Club: A Classic Reborn
#40: Prairie Dunes Country Club – Hutchinson, Kansas
Before heading to Prairie Dunes, I was telling some friends about my upcoming trip to Kansas.
And the response I got?
"Why??"
Clearly these friends aren't golfers. Prairie Dunes is Perry Maxwell's Golden Age masterpiece that is one of the most challenging and enjoyable courses I've played recently. It was the perfect setting for our final Eighty Club event of 2019.
#39: Quivira Golf Club
When you hear about Quivira, usually it's all about the crazy cliff-side holes.
What people don't tell you?
The rest of the course is VERY good as well.
I expected 2 or 3 really fun holes, and for the rest of the course to be mediocre.
With the exception of a slightly anti-climactic finish, I don't think there was a single hole I didn't enjoy.
Check out: Quivira Golf Club: A Seaside Rollercoaster
#38: Tobacco Road – Sanford, North Carolina

Tobacco Road is one of the most polarizing courses in the US.
Personally? I love it. It's unique, rebellious, and features one unique hole after another.
In fact, it's so good, I'm still trying to convince some of my golfing buddies to fly across the country to play it with me for a repeat visit.
Full Recap: Tobacco Road
#37: Kingsbarns – Fife, Scotland
When I played Kingsbarns the Scottish fog was out in full force (as were the flashing red guidance lights) – but that didn't keep me from immensely enjoying the course.
Kyle Phillips did a tremendous job of blending old and new, and making a course that's one of the most fun and enjoyable anywhere.
#36: Sleepy Hollow Country Club – Scarborough, NY
Sleepy Hollow has recently been completely transformed back to its former glory by Gil Hanse – and it's a sight to behold. Most people have seen the phenomenal par 3 16th, but unless you've played it you don't realize just how good the land, views, and interest of the holes are.
It's 100% deserving of all the praise it's been getting over the last couple of years, and is truly one of the best golf courses in New York, if not the country.
#35: Pacific Dunes – Bandon, Oregon
There have been countless debates about the best courses at Bandon. The fact you can justify saying any one of their 5 courses is the best is a testament to how good the golf is there.
But for me? While I really enjoy Pacific, there are a couple others at the resort I like even more.
Check out: How I Broke 80 at Bandon in the Coolest Way Possible
#34: Riviera Country Club – Los Angeles, CA
There are certain clubs who have a greatness that you can't quite quantify or identify without experiencing it. I found Riviera to be one of those clubs. If you're a diehard about golf course architecture, this is one of those "must study" courses. As everything from concept to execution is a masterclass in golf course design.
It's difficult yet playable, tough yet fair, and the Redan 4th is one of the toughest par 3s I've played. Simply put, while I was unsure going into it, Riviera is every bit as good as it is made out to be.
#33: Gleneagles (Kings Course) – Gleneagles, Scotland
There were a handful of big surprises in 2016, but none were as big as the Kings Course. This was literally a matter of "we have some time, where in Scotland can we drive and go play a round?"
We randomly decided on Gleneagles, and almost played the Centenary course instead. What a mistake that would have been. The Kings course was incredibly diverse, with fantastic long holes, short holes, wide fairways, narrow fairways – it made you think throughout the whole round.
We barely got the whole thing in before dark, and I'm amazed this course doesn't get more attention than it does – it was that good.
#32: Atlanta Country Club – Marietta, GA
Hands down, the number one best surprise of 2017. I arranged a tee time at Atlanta Country Club on short notice while down for the Masters after a couple other scheduled rounds fell through.
I didn't know a whole lot about it, but had heard nothing but good things. The way the course weaves through a canyon makes for a unique setting, and I felt like I had strategic decisions to make on nearly every hole. Highly underrated and worth playing when in the area.
#31: The Course at Yale – New Haven, Connecticut
I think Yale may be the most underrated course in the world.
Literally.
So many of the traditional raters will knock it for being rough around the edges and for having poor conditioning. But the course itself? Is phenomenal.
With Gil Hanse doing a course renovation soon, you can bet Yale is finally going to get the recognition it's due.
Playing Yale? Check out more of the best golf courses in Connecticut.
#30: TPC Sawgrass – Ponte Vedra Beach, FL
I liked TPC Sawgrass much more than I expected to. While it's always in Top 100 lists and in the Top 10 of the best public courses, I haven't met many people who truly raved about it.
But I thought it was a fantastic test of golf that while challenging, was also really enjoyable. The water wasn't as penal as I expected it to be, the greens were hands down the fastest I've ever putted on, and regardless what anyone says, the 17th is truly a bucket list hole.
Check out: TPC Sawgrass Review
#29: Winged Foot (East) – Mamaroneck, NY
To be totally honest, I really didn't think I was going to like Winged Foot East. I thought it was going to be a long, hard championship course that while great for the pros, would be a brutal and tedious for someone like me.
Boy was I wrong. Winged Foot had memorable par 3s, great risk reward short par 4s and was one a real treat to experience the history of the Club.
Check out: Winged Foot Golf Club: The Greatest 36 Hole Golf Club in America?
#28: Whistling Straits – Kohler, Wisconsin
One of the most well known, and highly ranked public courses in the country, Whistling Straits is grand in every sense of the word. Each of the 4 par 3s rests on the banks of Lake Michigan, and if the views don't distract you and kill your round, the nearly 1,000 bunkers on the course most likely will.
Full Recap: Whistling Straits
#27: Arcadia Bluffs – Arcadia, Michigan
Is Arcadia Bluffs the most strategic course? Nope. Is it a holy grail to quality golf architecture? Ha, not a chance. But this is one of those courses, where the overall experience and fun factor make you forget about all of that. I can remember every hole on the course, the views are second to none, and there aren't many rounds where I've had more fun than here.
And yes, personally, I enjoy it more than that other course across the lake 🙂
Full Review: Arcadia Bluffs
#26: The Golf Club at Black Rock – Coeur d'Alene, Idaho
This was the first top 100 course I ever played, and is another one where I could see purists cringe – but there's no denying the course is incredibly fun and scenic at the same time.
The par 4 11th hole with an approach in between two waterfalls is one of the most unique holes you'll ever play, and there's at least 3 or 4 other holes that would be in contention for a top 100 holes list.
After another play last summer, I was reminded why I enjoy this golf course so much.
Full Recap: The Golf Club at Black Rock
#25: Boston Golf Club – Hingham, Massachusetts
My Boston whirlwind a few years back was fun because we got to play 4 of the best courses in the city (make that country): Essex County, Myopia, Boston, and The Country Club. Everyone we talked to had a different opinion on how these ranked. I knew I would love Boston. I like modern course designs, and Hanse did an incredible job crafting memorable and strategic holes.
#5, "Shipwrecked," might be the most unique short par 4 I've ever played – and if you know me, you know I love short par 4s!
I'm looking forward to seeing it for a third time in our Boston GC/Old Sandwich Eighty Club next year.
#24: Estancia Club – Scottsdale, AZ
If you ask anyone these days to name their favorite architect, I'd be surprised if 1 in 10 were to say Tom Fazio.
Yet, as I've played more and more of his top-tier courses, I continually find myself counting them among my favorites. It'd be interesting to add up how many of each architect are on my list, but it wouldn't surprise me if he tops the list.
Estancia is beautiful, fun, and the whole experience is a memorable one. It's not hard to see why it's consistently ranked among the best in Arizona.
#23: Quaker Ridge Golf Club – Scarsdale, NY
Each time I play Quaker Ridge I enjoy it more and more. And while I still don't like the OB bordering the first 8 holes, there's no denying that the course is fun, challenging, and unique.
Oh, and it may have the best back-to-back par 3s in the world at 9 and 10.
Ok, save for Cypress Point…
#22: Pasatiempo – Santa Cruz, California
Pasatiempo was my first Mackenzie course, and is another one Golf Digest didn't have ranked highly. While there may be a few pedestrian holes, more often than not the course is world class with some of the best bunkering I've ever seen.
16 is easily one of the top 5 green complexes I've seen. This is one of the most underrated courses by traditional measures that's on my list.
#21: Loch Lomond – Alexandria, Scotland
There's no denying that part of the allure of Loch Lomond is that it is so hard to get an invitation to play. Next to Merion, it was probably my most anticipated round of 2016, and it didn't disappoint.
The setting right on Loch Lomond and within the national park is spectacular, and I found the course to be engaging all the way through. I wasn't expecting to like the inland holes as much as I did, either.
It's becoming pretty clear that I'm a big fan of modern parkland courses – and this might be the best example I've played.
Full Recap: Loch Lomond: The Most Private Club in Europe
#20: Hudson National – Croton-on-Hudson, New York
Apparently, I have a thing for big downhill holes, as #5 at Hudson National is the epitome of this. Hudson was the first top private I played in the NYC area and I enjoyed it immensely. Fazio created a unique, and fun course that uses elevation change to create a true adventure of a golf course.
Full Review: Hudson National
#19: San Francisco Golf Club – San Francisco, CA
This proves I don't just like modern designs. SFGC was one of the most special experiences I've ever had on a golf course. It's one of Tillinghast's earliest designs, and similar to Somerset Hills, stands out as being quite a bit different than his other work.
It took me two years to get on the course, but a really big thank you to the two people who helped make this happen. I sincerely hope we can do it again one day, and that I can find a way to return the favor!
#18: Peachtree Golf Club – Atlanta, GA
There are very few places I've been more excited to play than Peachtree.
The course exceeded my expectations, and I'm not sure I could name a bad hole on the property.
It's a tough invite to get, but if you get the chance to play, you'll have a lot to look forward to.
#17: Bandon Dunes – Bandon, Oregon
I used to have Pacific Dunes ranked ahead of Bandon, but having played them both a few times since, I just keep finding myself enjoying Bandon Dunes more. The ebb and flow of the course from inland to water constantly keeps you entertained and excited for the next leg of the journey.
Full Recap: Bandon Dunes
#16: Somerset Hills – Bernardsville, New Jersey
When you think of Tillinghast you think of ball-busting courses like Bethpage Black. Somerset is much more subdued and friendly – and I loved it. From the beautiful and severe #2 redan hole, I was hooked.
Integrating features of the land, like the old horse race track on the property make it all the more special.
Last year someone commented on my top 100 list "I lost all respect for your list and your credibility when I saw how highly you had Somerset Hills ranked."
Clearly, that person must not have ever actually played the course.
Full Recap: Photo Tour of 2015 NYC Trip
#15: Diamante Dunes – Cabo San Lucas, Mexico
Diamante is the top ranked course in Mexico, and for good reason. It's essentially a links experience in the desert, and was unlike anything I've experienced before. The views were amazing, and the "all-inclusive" atmosphere makes for a gluttonous, but incredibly rewarding experience.
I also took my favorite golf photo I've ever taken here.
Full Recap: Diamante Dunes
#14: Gozzer Ranch Golf & Lake Club – Coeur d'Alene, ID
Recently I was able to play Gozzer Ranch for this first time, and it 100% met my admittedly high expectations. Everything about Coeur D'Alene is laid back and has a truly relaxing vibe. Gozzer felt the same way, and it just happened to do it with world-class infinity greens and views for days.
#13: Cruden Bay – Aberdeenshire, Scotland
You want to talk about adventure golf? It doesn't get much more adventurous than this. It's amazing this course was built so long ago, because it has so many features that I love in the more modern courses I play – you know except for so many blind shots.
There are few things as rewarding in golf as the view from the 9th tee box after the hike to get up there.
#12: Maidstone Club – East Hampton, New York
I've heard complaints that Maidstone has a weak opening and a weak finish – but I didn't think so. I thought the course eased you into the round beautifully, and then smacked you in the face with some world-class holes.
It's not overly long or difficult by today's standards, but it had just the right amount of personality and quirk to make me fall in love with it.
Full Recap: Maidstone Club: An Unforgettable Experience
#11: Fishers Island Club – Fishers Island, NY
Fishers Island wins the award for one of the more difficult courses to get to, as after your drive or train ride to New London, you board a 45 minute ferry to the island – and another 10 minute drive to the Club.
You're rewarded for your expedition however with the crown jewel of architect Seth Raynor's repertoire. It's one of the most scenic courses on the planet, and has some excellent template holes – including a Double Plateau that is one of my favorite greens in the world.
Check out: Fishers Island Club: A Very Remote and Memorable Round
#10: Muirfield Village – Dublin, OH
"Jack's Place" was so much more than I thought it would be. It felt like "Augusta Jr." in regards to everything from infrastructure to conditioning, and while a brutal challenge I found the course to be more fun and varied in its routing than I'd anticipated.
Each hole led to a new surprise, which had me saying "oh, now this is cool." And that's a sign of a good course in my book.
Check out: Muirfield Village Golf Club: It's Basically Baby-Augusta
#9: Punta Espada Golf Club – Cap Cana, Dominican Republic
And the award for biggest surprise of 2019? Hands down Punta Espada. The trip came together just a week or two before I left, but this course had it all for me. It weaved out to the ocean and back no less than 4 times. Had dramatic tee shots over the water, was strategic, but more than anything it was one of the most fun golf courses I've ever seen.
Casa de Campo may get most of the fame and have the history, but Punta Espada might be the true crown jewel of the Caribbean.
Check out: Punta Espada Golf Club: The Crown Jewel of Caribbean Golf
#8: Castle Stuart – Inverness, Scotland
Castle Stuart is modern links at it's finest. Infinity greens, risk-reward par 5s, and a handful of dramatic holes you simply won't see anywhere else.
I'd be curious to play some of the links courses that I've ranked above it again, because it would not surprise me to see this rise even higher in the future – it's that good.
#7: North Berwick – East Lothian, Scotland
Often overlooked by many on Scotland trips in favor for Open Rota courses, North Berwick is one that should never be missed. It's home to the original redan green, and at just over 6400 yards won't scare anyone with its length.
However, the quirkiness of the course made me fall in love with it. The 16th psuedo-biarritz green might be my favorite green in the world, and the 13th green tucked behind a stone wall is something you won't find anywhere else.
Full Recap: North Berwick
#6: Los Angeles Country Club (North Course) – Los Angeles, CA
While unfortunately, we were only able to experience LACC during one of the wettest LA days on record – it didn't dampen the experience of one of the best golf courses I've ever played.
The routing is genius and always leaves you a little disoriented as to where you are on the property. The holes are memorable, and the devilish little tongue on the short par 3, 15th – is one of the coolest pin locations I've seen on a golf course – making it only 78 yards long.
#5: Bandon Trails – Bandon, Oregon
In my previous top 25 list many years ago, Bandon Trails was the outright winner. Many were surprised, as traditionally, it's the lowest-ranked of the four courses at Bandon.
But my rationale? It's the most unique.
Hundreds of courses have ocean views.
Very few weave dunes, meadows, and forest together in a way that flows so well. And as for 14? I don't hate it as much as everyone else. Just calls for a different strategy!
Full Recap: Why Bandon Trails is One of the Most Underrated Courses in the US
#4: Royal Dornoch – Dornoch, Scotland
What's there to say about Dornoch? It's one of the oldest courses in the world, and the more courses I play, the more I see course architects that have been heavily influenced by the course. Tom Watson once said it's "the most fun he's ever had on a golf course."
For me, it's not hard to see why. It's a bit of a trek to get there, but totally worth it.
Full Recap: Royal Dornoch
#3: Merion Golf Club (East) – Ardmore, PA
To put it simply, Merion has everything I look for in a golf course. Unique, fun holes. A bevy of short par 4s, and does all of this while still being strategic, and providing a true challenge and test of golf.
I knew before I played it that Merion would either shoot to the top of the list, or I'd find it wasn't my style and would consider it overrated.
Luckily, in this case, it was the former that prevailed.
Full Recap: Merion Golf Club: Weird Flagsticks, World Class Golf
#2: National Golf Links of America – Southhampton, NY
Deciding on #1 vs #2 was probably the most difficult decision I had to make with this list. NGLA is one of the most special places I've ever been. The course is one world-class hole after another, and the setting is about as good as it gets.
Depending on the day this could very well take the top spot, but on this day it just barely gets edged out.
#1: Pebble Beach – Monterey Peninsula, California
I should preface this by saying, I had lowered my expectations for Pebble after hearing so many people say it's overrated.
I'm sorry, Pebble Beach is an absolutely phenomenal golf course. Not only are the water holes unique and beautiful, but even the inland ones (with one or two exceptions) were still world-class.
Someone recently told me Pebble beach was boring. If you think Pebble Beach is boring, I can't imagine what course you would say is fun.
For me, I've yet to see a better combo of fun and excellence in architecture and design. It's that good.
Full Recap: Pebble Beach, a Camaro, and an MVP
Thanks for tuning in to this year's Top 100! It's been fun receiving so many messages with your thoughts and own preferences.
What courses just missed the cut? Here's our 2021 Honorable Mentions
---
---
---