My 25 Top Golf Courses of All Time
I love lists.
I love golf.
It was only a matter of time before I started compiling a few lists of my favorite golf experiences out there – so I figured I'd start with the most obvious.
Over the last year or two, I've had the opportunity to play a lot of good golf courses, and for the past week I've been trying to definitively narrow them down to my top 25 (I've played a lot, but not enough to do a true top 100 list). Here's the result. I'd love to hear which ones you agree on, as well as what your favorite courses are.
#25: Aspen Lakes – Sisters, Oregon
I've played Aspen Lakes every year since I was in college. It's unique red cinder bunkers, and spectacular views of the Three Sisters mountains make this one of the best values in Central Oregon.
#24: The Bull at Pinehurst Farms – Kohler, Wisconsin
Often overlooked due to it's proximity to Blackwolf Run and Whistling Straits, The Bull at Pinehurst Farms is easily one of the best courses in Wisconsin. It's a difficult Nicklaus design that takes you through beautiful forests and open meadows.
At #72 on the Greatest 100 Public list, I'd go as far to says it's underrated, and is probably closer to a top 50 course. However, you'd better bring your A game, because the Bull will definitely gore you if you aren't prepared for it.
#23: Bay Harbor (Links/Quarry)
Bay Harbor has 27 holes and the Links and Quarry combo of nines is a bit of a Jekyll and Hyde.
The Links course perched above the water is scenic, but nothing like the Quarry which runs through an old stone quarry. It doesn't really feel like a cohesive 18 hole course, but both nines are so much fun that you'll forget all about that and never get bored on the course.
#22: Coeur d'Alene Resort – Coeur d'Alene, Idaho
I would love to rank the CDA Resort even higher, considering it's such a fun course. A resort course in every sense of the word, it's in fantastic shape, has some extremely scenic holes, and one of the most famous par 3s in the world: the floating green.
This course is by no means a challenge, and it has some extremely forgiving local rules. I played this round in the pouring rain, and I still enjoyed it enough to add it to this list. Make sure you show up early for your pre-round massage, and don't worry if it's a cold day: the carts have seat warmers.
#21: Forest Dunes – Roscommon, Michigan
Forest Dunes is deep. It's out in the middle of nowhere, and that's part of what makes it so worth the trip.
It's one of the most well manicured courses I've ever played, and the Tom Weiskopf track that runs through, you guessed it, forests and dunes, keeps you entertained all along the way. This is also one of Matt Ginella's favorite courses – and after one trip out there, I totally get it. I'll be back for sure.
#20: Pumpkin Ridge (Witch Hollow) –  North Plains, Oregon
In the last 20 years I'm not sure there's a course in Oregon that has a more prominent tournament history.  It's famously the site where Tiger Woods won his unprecedented 3rd US Amateur, and has been the host to two Women's US Opens.
Witch Hollow is a beautiful course that has some serious teeth. I haven't experienced rough like this since playing Cog Hill last year.  That said, it's an incredible test of golf that will have you hitting every club in the bag. Just make sure your sand game is ready, because there are a lot of bunkers to contend with.
#19: Old Macdonald – Bandon, Oregon
This is one that may rank higher after I get a chance to play it again. I've only played one round on the newest full length course at Bandon, and it was the second in a long 36 hole day.
It's the truest links course at Bandon, and has some incredibly fun holes. However holes 9-12 were a beast that wore me down and I think it soured my taste for the course.
#18 Blackwolf Run (Meadow Valleys)
Often when taking a trip to Kohler, you play three rounds: Straits, River, and then you have to decide between Meadow Valleys or the Irish Course.
I'd go for Meadow Valleys.
It certainly feels like a more modern course, and some of Dye's bunkers are brutal, but I thought many of the holes were just as good if not better than those on it's counterpart the River Course. That being said, for 14 of 18 holes on the Irish Course I couldn't see 50 feet in front of me, so it may not be a fair comparison.
#17: Medinah #3 – Medinah, Illinois
Medinah #3 is one of the most storied courses in golf, having hosted just about every major tournament there is – most recently, the Ryder Cup in 2012.
As soon as you pull through the gates you know you're in for a special day. Weaving through the courses and looking out at Lake Kajidah, you have no idea just how tricky the course is you're about to play. This was one of the more memorable courses I've played on my quest so far, but it definitely kicked my ass.
#16: Erin Hills – Hartford, Wisconsin
Just a few hours north of Medinah is the host of the 2017 US Open, Erin Hills. My round at Erin Hills can best be described as a long, wet, walk. It stretches out to over 8100 and for half a second I thought about playing from there – then I got smart.
It's out in kind of the middle of nowhere, and truly felt at times like I was playing a course 100s of years old in Ireland. This is a great option for a buddies trip, as they have some lodging on property that only helps the experience. This course has already seen numerous renovations in it's short life as they're trying to perfect if for the tournament – wouldn't shock me to see a few more in the next two years either.
#15: Nirwana Golf Club – Bali, Indonesia
Nirwana was one of the first truly world class courses I played (#55 Greatest 100 in the World). A few years back I lived in Bali for a couple months and actually got a chance to play Nirwana a couple of times.  The par 3 #7 over the ocean, with Tanah Lot temple on the left is one of the best par 3s out there. Don't miss this if you happen to find yourself in Indonesia.
#14: Pronghorn (Nicklaus Course) – Bend, Oregon
This was the first Greatest 100 Public Course I've played, and it was the catalyst for the whole journey.
The Nicklaus course at Pronghorn blends seamlessly into the high desert landscape, that makes for a round unlike any other. The sweeping cape hole 13, is one of the best holes in Oregon. The two courses at Pronghorn can rival any other course duo in the country.
#13: Olympic Club (Lake Course) – San Francisco, California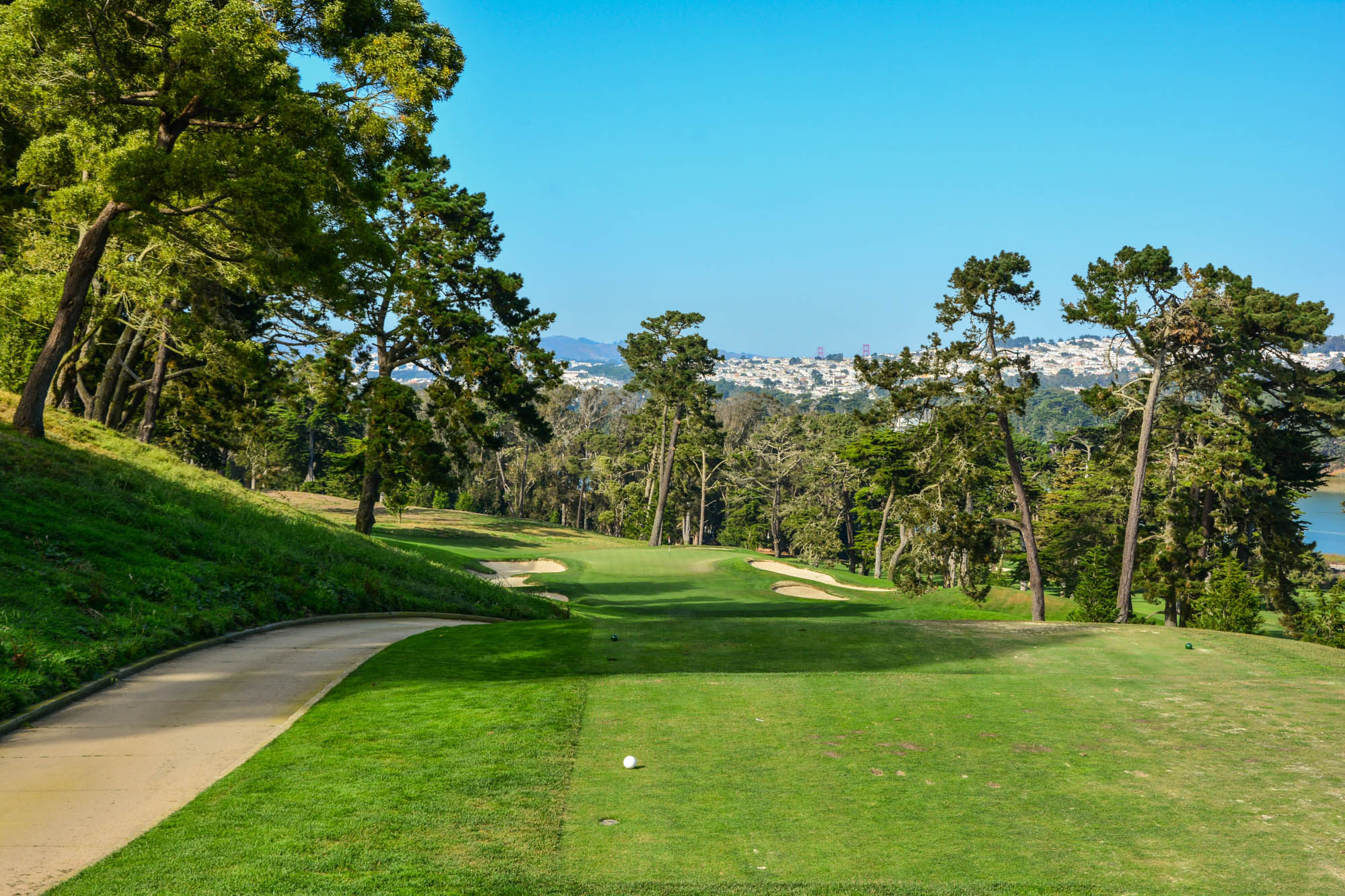 Perched on the side of a hill in San Francisco, the Lake Course challenges you with it's length and undulating fairways that seemingly never give you a level lie.
On a clear day you can see the Golden Gate bridge from the third tee, and the burger dog is hands down one of the best country club specialities I've had.
#12: Wolf Creek – Mesquite, Nevada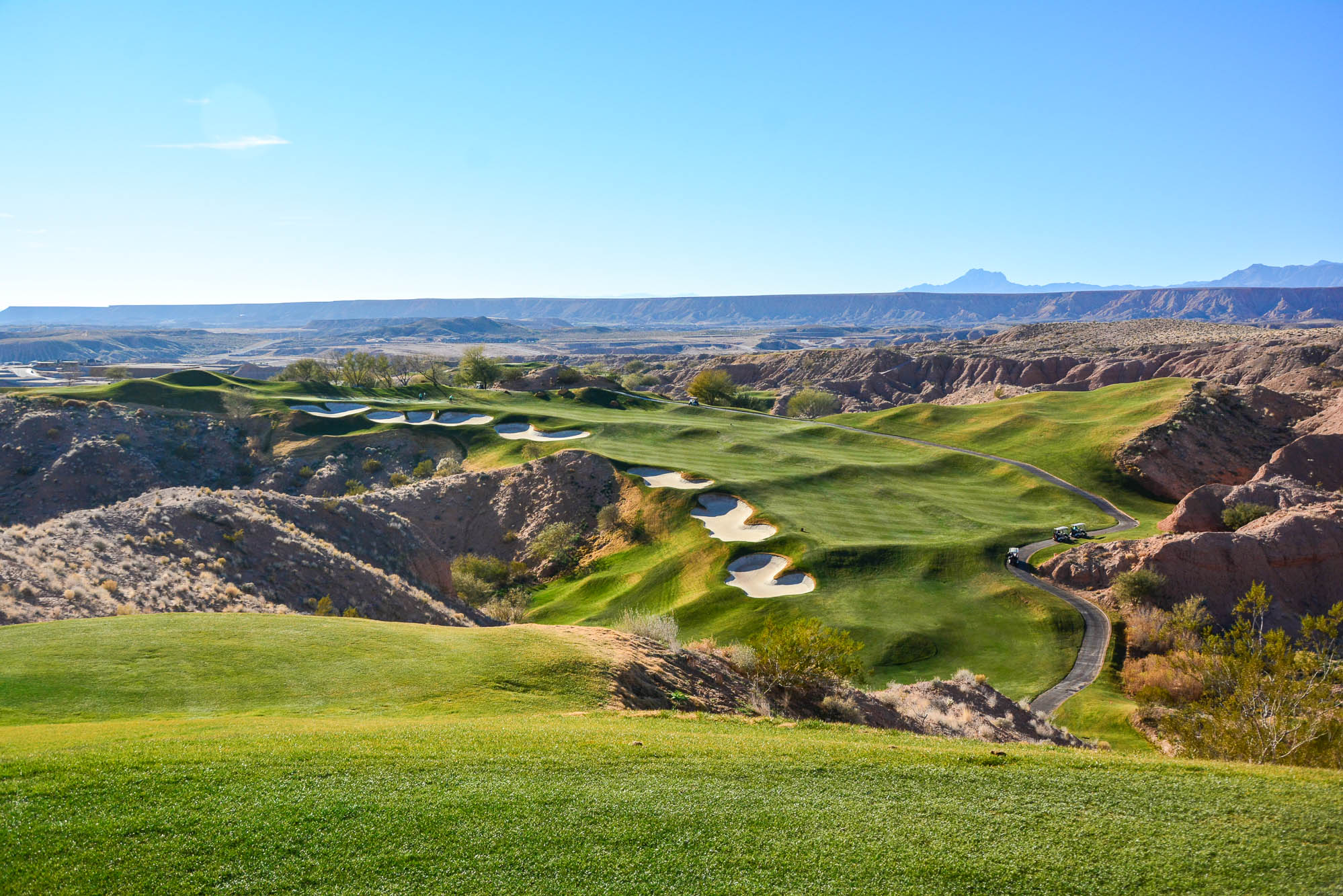 The more top courses I've played, the more I've begun to realize what I really like. Generally I've found I like fun courses, more than the traditional, difficult championship course.
Wolf Creek is a great example of this.
Some might call it gimmicky, but Wolf Creek is like a course straight out of a video game. It's fun, and you'll hit shots that you'll remember for the rest of your life. Totally worth the hour and a half trek from Vegas to play it.
#11: Bandon Dunes – Bandon, Oregon
Bandon Dune's stock is rising after the last time I played it. It has a great balance between modern and traditional, scenic and playable, and after playing it's very clear why it sparked such a craze in the golf world.
The stretch between holes 4-6 is one of the best I've ever played, and turning the corner to hit your approach on hole #4 is one of the best moments a golfer can have.
#10 Oakland Hills (South Course) – Bloomfield Hills, Michigan
Of all of the US Open venues I've played, I think Oakland Hills is probably my favorite. It features extremely narrow fairways at times, and unique bunkering that makes it a really fun round. I was inches away from holes in one on both 3 and 9, so that might certainly help with my fondness for the course.
They also brew their own IPA at the clubhouse, and the bourbon barrel aged version of it was hands down one of the best beers I've ever had.
#9 Whistling Straits (Straits Course)  – Kohler, Wisconsin
Whistling Straits may very well have the best collection of par 3s of any course in the world – they're all along the water, and all a ton of fun to play.
The Straits Course plays along the shores of Lake Michigan, and is often remembered for the 2010 PGA Championship when Dustin Johnson grounded his club on 18. The course is extremely memorable, but it's expensive and often a relatively slow round. That said, it's still a bucket list course and is one you wont regret playing at least once in your life.
#8 Pronghorn (Fazio Course) – Bend, Oregon
The Fazio course at Pronghorn is every golfers dream. It gets very little play, is in absolute perfect condition,  and features some of my favorite holes in the state. Most notably the par 3 8th that was carved out of an ancient lava tube, and a beautiful par 5 finishing hole that leads you back to the clubhouse.
Access can be a bit difficult here, but if you keep an eye on the right deal, it isn't necessarily impossible.
#7: Blackwolf Run (River Course) – Kohler, Wisconsin
The River Course was hands down the best course in Kohler in my mind.
It winds through some of the most beautiful scenery you could imagine, prompting one person I played with there to say "I'd pay a greens fee just to walk this course." From heroic water carries on holes like the short par 4, 14th, to drives from 100 feet up out of a forest, like that on #5 – you'll never be bored on this course.
#6: Diamante Dunes – Cabo San Lucas, Mexico
It's not hard to see why Golf Digest has Diamante Dunes in it's Greatest 100 List, as well as the #1 course in Mexico. I mean when was the last time you saw a links course with cacti on it? Doesn't happen very often. It's about as full service as it gets, and the views are unbelievable.
#5: Crosswater – Sunriver, Oregon
I've played Crosswater about half a dozen times now, and every time I like it more and more. It has unique and fun holes that make you think, unmatched views of the Deschutes River and Mt. Bachelor, and the greens are always in impeccable shape.
It's ranked 49th as a top public course, but I think it should be much higher. It's held a Champions Tour major, as well as the NCAA championships. Once you play it once, you'll want to run right back out to the first tee and start again.
#4: Pacific Dunes – Bandon, Oregon
There's not much I can say about Pacific Dunes that hasn't already been said.
It features two of the greatest par 4s in golf (#4 and 13). It blends in seamlessly with the landscape, challenges without overwhelming, and truly tests every club in the bag – including that putter from 30 yards out.
Everyone has a different opinion on the best courses at Bandon, but I could never fault anyone for saying Pacific is their favorite. After all it's in the top 5 if not top 3 on just about every major list of top public courses in the US
#3: Arcadia Bluffs – Arcadia, Michigan
Arcadia Bluffs was a huge surprise, and my favorite course of last years Golf Road Trip.
Having just played Whistling Straits, I didn't think this would be able to compare, but oh boy did it. The stretch of 10-14 is one of the most fun stretches of holes I've played, and it doesn't hurt that you can see the blue waters of Lake Michigan from just about every spot on the property. It's hard to get to, but totally worth it – especially if you rope in a trip to Forest Dunes along with it.
#2: The Golf Club at Black Rock
With #1 and 2 you might get a different answer depending on the day you ask me.  Black Rock was probably the most fun golf course I've ever played.
It's not a walking course, and many might call it "gimmicky", but I call it one of the best all around golf experiences you can have. The holes make you think and constantly weigh risk vs reward, and the scenery through the forests above Lake Coeur d'Alene are as good as it gets. It's not easy to get on, but this one is worth the trek out to CDA to check out if you can.
#1: Bandon Trails – Bandon, Oregon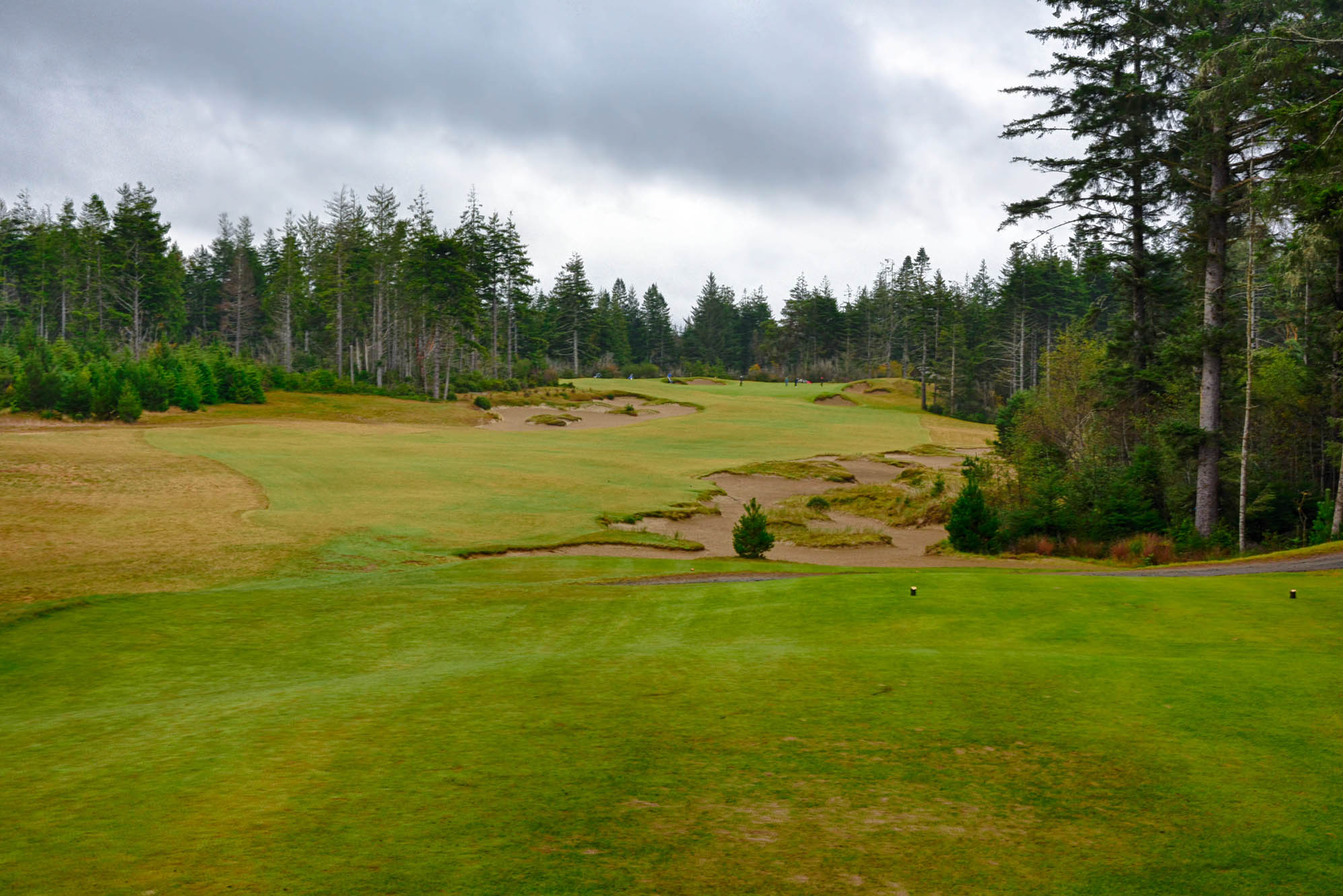 Often overlooked by golfers coming out for only a couple days, those that choose to skip it are missing the best course on the property.
Sure there might not be an ocean front view, but I'd go out on a limb and say Trails is even more unique than any of the courses along the water. Weaving through dunes, meadows, and forests Bandon Trails is unlike any course I've ever played. Wide fairways in the forest, with huge blown out bunkers – it truly is a delight.
Apples to apples, Trails has the best layout and most interesting holes on the property – and the 5th green is one of the most fun greens you'll find anywhere.
Honorable Mention: Tokatee Golf Club – Blue River, Oregon
Tokatee makes the list as much for it's sentimental value to me, as it does it's incredible views and well maintained course.
Back in the 90s this was on a lot of national lists for best affordable courses.  It's out of the way, scenic, and fun – and costs less than $50 in the middle of the summer. It's much more open than you'd expect from a course deep in the forest, but that doesn't mean the trees are always out of play. If you're in the Eugene or Sisters area, make the hour trip to Tokatee for one of Oregon's best kept golf secrets.
So what are your favorite courses? Where would you like to see photos and recaps from?
---
---
---