Forest Dunes Golf Club: A Private Club Experience (for the Public)
We originally played Forest Dunes in October 2013. This review was updated in May 2022 for accuracy.
Throughout the course of my Golf Road Trip there was one place that people in both Michigan and Wisconsin would ask me about.
"Have you been to Forest Dunes yet?"
"Is Forest Dunes on your list to play?"
For a course that I was thinking was relatively obscure, everyone seemed to know about it, and more importantly, they all seemed to have nothing but amazing things to say about the course.
Needless to say, I'm glad that we added it to the list.
Forest Dunes is, how shall we put this…remote.
We drove in from the now-defunct Elk Ridge (also in the middle of nowhere) where we played the previous day and it was all backcountry roads without an interstate to be seen. This isn't a bad thing at all, but it's something you should be prepared for if you're planning on making the trip.
Like many other developments in the middle of the early naughts, it was originally planned to be a two-course private club. With the economy and such, that didn't materialize quite as expected, and after a couple of owners, it has landed at where it is now: The conditions, quality, and experience of a private club – that's open to the public.
I don't think I can describe it any other way.
Forest Dunes was the most well-manicured course I played on this entire trip. The greens are lightning fast. And every single person we came into contact with genuinely seemed interested in us and making sure we had the best time possible.
We arrived the night before our round and stayed in their Lake AuSable Lodge.
While not huge at 14 rooms, it's exactly what we wanted. Simple but very tastefully appointed rooms, and the first tee was about 25 yards off of our back porch – not too shabby.
The food at Forest Dunes was the best of all the Michigan courses we played, and walking out at sunrise the morning of our round was easily one of the most magical views I've ever seen.
We ended up with a bit of a frost delay, which actually worked to our advantage. We got a chance to take our time with the included breakfast, and experience the full range of practice facilities at the course.
Around 11:30 it was off to the races.
Forest Dunes can be described as the tale of two nines. While the course is absolutely cohesive and flows together very nicely, the front 9 is a little more forest and the back 9 is a little more dunes.
Forest Dunes: Just the Facts
Designer: Tom Weiskopf
Built in: 1998
Rank: #33 Top 100 Public (Golf Digest)
Location: Roscommon, Michigan
Greens fees: $95-185 depending on time of day/year.
Website: http://www.forestdunesgolf.com
Update for 2022:
It's been almost a decade since my original trip to Forest Dunes, and while a lot has changed – much of the best stuff hasn't.
What I love about Forest Dunes is the fact that it's about as close to a destination private club experience as you'll find at a public course.
It's remote, so it takes effort to get there.
But the quality of the course is on par with, and in many cases exceeds, that of a lot of private clubs.
I wouldn't say it feels like Ballyneal, but the remoteness of the experience feels kind of similar.
Since this initial trip, they've opened the Tom Doak-designed reversible course – The Loop.
One day it plays as the "Red" course and the following day the routing reverses to play as the "Black" course.
Apparently, this is becoming a thing for remote golf destinations, as we recently also played the reversible courses at Silvies Valley Ranch in (very) rural Oregon.
They've also added a putting course and new cottages as well, truly rounding it out as a wonderful golf destination for a long weekend.
I'm looking forward to the day I can return to Roscommon to experience the Loop for myself.
But in the meantime, we'll finish our rundown of the original Weiskopf gem, Forest Dunes.
Forest Dunes Golf Club: Hole By Hole Recap
We played from the ii/iii combo tees which measured at 6309 – so all distances will be from there.
Hole 1 (Par 4, 371 yards)
Not overly difficult, a long dogleg right where you get to decide how much you want to bite off over the waste area on the right. Careful, as if you decide to go directly over the right bunker you'l need a pretty decent amount of carry to clear. Neither Dan or I did.
Hole 2 (Par 4, 387 yards)
So this is where the "Forest" comes from in the name? An absolutely gorgeous golf hole that's a long dogleg left. There's a bit of a bailout on the right if you don't want to go over the left bunker for a left pin placement.
Hole 3 (Par 3, 178 yards)
Short to mid-length par 3 with trouble by way of bunkers all around the green. Even though the front 9 is considered the forest part of the course, the big bunker in front of the tee box doesn't let you forget that the dunes are a big part of what make this golf course special.
Hole 4 (Par 4, 372 yards)
Pretty straightforward dogleg right. Be careful off the tee as balls that end up in the right trees are pretty much gone.
Hole 5 (Par 5, 521 yards)
I was feeling pretty conflicted at this point. The course is absolutely gorgeous. I was blown away with how well maintained it was. But with the possible exception of the River Course at Blackwolf Run, these were the fastest greens of the trip – and boy did I have trouble with them. This would be my 4th 3 putt in a row – not exactly how you want to start out a round.
This was also a tricky par 5. At 521 yards (567 from the ii tees), it's a pretty solid 3 shot hole – especially given the fairly sharp dogleg left. Between the 1st and 2nd shot.
Play it smart with a 3 wood off the tee. You know, or bomb it over the tree on the left and hope for the best 🙂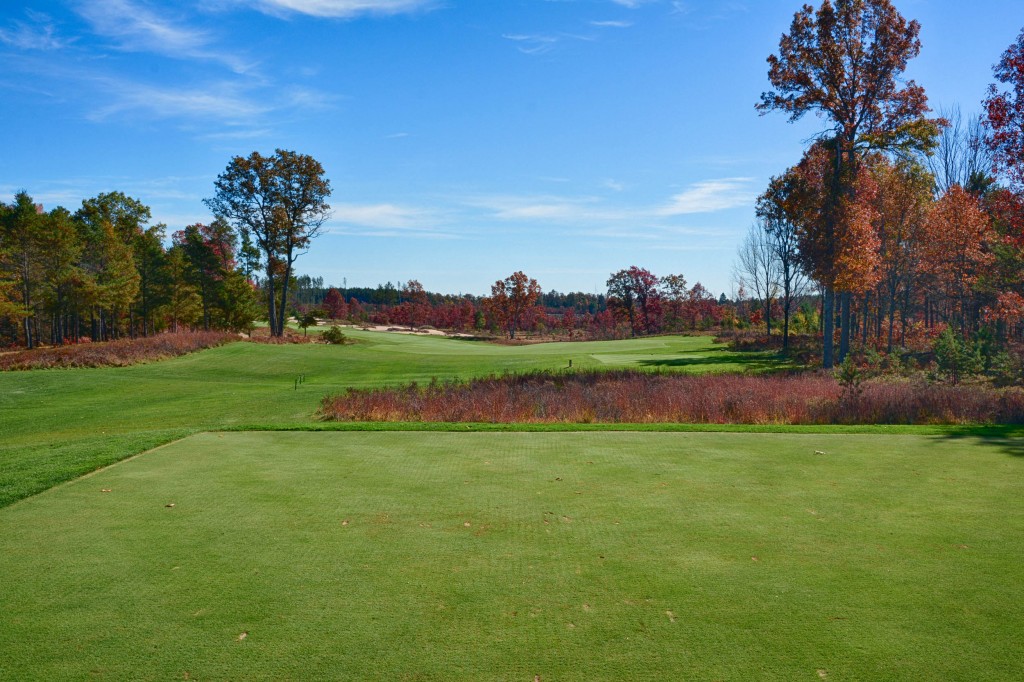 Hole 6 ( Par 4, 344 yards)
This is a really cool, but somewhat deceiving hole. If you haven't played it before, it can be tough to understand exactly what to aim at off the tee.
You'll see a big tree in what looks like the middle of the fairway and some bunkers.
You've got options, its not a long hole, so you can go mid-iron, mid-iron and probably be just fine. But for a shorter approach and a more fun tee shot, pull driver and just watch the slice as there are a few right side bunkers you can't see from the tee.
Hole 7 (Par 5, 499 yards)
I got lucky on "Goal Posts" – the name for the par 5, 7th. I went three wood off the tee and clipped the overhanging tree. I punched it up the fairway and still had a 200+ yard approach shot, with which I had to clear the goal posts guarding the green.
Totally reachable, and with no major trouble directly in front of the green, you've got a good shot at birdie with a couple of solid long shots.
Hole 8 (Par 4, 375 yards)
One of the toughest holes on the course. A sharp dogleg right, with a big bunker at the corner – pretty much exactly where I'd want to hit it with my fade.
The green is much more protected than you think. The water extends way up the right and there's a bunker that will catch everything long. So play with both eyes open on this one.
Hole 9 (Par 3, 163 yards)
Slightly intimidating as 9 plays over water directly in front of the clubhouse. Oh, and then there's the plethora of bunkers to avoid if you get it past the water. The #17 handicap hole on the course, but don't let that lure you into a false sense of comfort.
One of my favorite holes on the course.
Hole 10 (Par 4, 360 yards)
This is arguably one of the most unique holes on the course. There's split fairways that are separated by a giant bunker. If you manage to avoid that, on your approach shot, pay close attention to which side of the green the pin is on, as there's a bunker that splits much of the green – making it a very difficult two putt if you're on the opposite side.
Hole 11 (Par 3, 140 yards)
This sums up Forest Dunes perfectly.
Dunes in the front. Forest in the back.
Oh and a blazing fast green – but most of them are.
No really, I'd imagine this is what putting at Augusta is like. I had 8 3 putts during my round. I hit 50% of the greens and still only shot a 97.
Luckily 11 is fairly benign as far as this course goes, so enjoy it, and remember that short is better than long as you have a bit of room in the front of the green.
Hole 12 (Par 4, 371 yards)
This is another favorite. Off the tee, it's a straight away, narrow shot. Avoid the bunkers on the left, and you should have a good shot at the green which is a really fun approach. Trees and bunkers in back and a lake that comes out from the right to guard the green.
Hole 13 (Par 4, 344 yards)
Straight forward, mid-length par 4. Trees on both sides, so use whatever club is going to get you in the middle of the fairway. That said, you have a little more room on the right if you get it out far enough, but there's also a tree that can block your approach depending on the pin placement.
Hole 14 (Par 4, 375 yards)
A long, difficult par 4. The fairway is narrowed by a bunker and water right in the middle of the landing area for your drive. The lake on the left works it's way all the way up to the green and a strategically placed bunker in front of the shallow green makes far left pin placements particularly scary.
Hole 15 (Par 5, 531 yards)
Mid-length par 5 with a big (and scenic) meadow carry off the tee. A fairly straightforward hole, until you get to the green which is slightly below the level of the fairway. Makes for an interesting feature, and not sure if it is, but it felt like one of the smaller greens on the course.
Hole 16 (Par 3, 198 yards)
Named Hell's Acre paying homage to "Hell's Half Acre" at the #1 course on the planet, Pine Valley.
The green is tough, and the course isn't made any easier because of its length – the longest par 3 on the course.
Hole 17 (Par 4, 278 yards)
Probably my favorite hole on the course.
A short par 4, that begs you to hit driver, although an iron or hybrid is easily the smart play.
There's a wide fairway in front of the green, and room behind as well. But with bunkers heavily guarding your approach, you'll have to hit one hell of a drive to land the green here.
I'll leave it up to you to decide if you want to hit the smart shot, or the fun shot. After all, you didn't drive all the way out here for nothing!
Hole 18 (Par 5, 496 yards)
A fantastic finishing hole. Waste area on both sides of the fairway, that is heavily guarded by bunkers on the right of the green, and water all to the left and behind. Fairway narrows at about 300 yards out, but shouldn't be too big of an issue. If you're getting it close to there, then this hole will definitely live up to it's name: "Eagle Chance".
Hole 19: The "Bye Hole" (Par 3, 120 yards)
This is one of the coolest features I've seen on any course yet: The "Bye" hole. Although many refer to it as the "Buy" hole.
It's the 19th, bet settling hole. A short par 3 with a bunker smack in the middle of the green.
Not to miss an opportunity, Dan bet lunch. I landed in the back bunker, and he flubbed a short chip, luckily leaving us both with bogeys. I dodged a bullet, but it was a fantastic addition to a fantastic course.
In the end, we both agreed that Forest Dunes was one of our favorite courses. Over the last few years it's fallen off of Golf Digest's Greatest 100 list, but don't be fooled, it's just as good as any course on the top list – and probably better maintained.
There are definitely similarities here to the only other Weiskopf design I've played in Loch Lomond.
Their motto states this is "bucket list golf" and you know what? It truly is. Don't miss this if you ever find yourself in northern Michigan, and I can't wait to head back and play it again.
---
---
---