Bethpage Black: The Best Municipal Golf Course in the Country?
The Black Course at Bethpage State Park in Farmingdale, New York has quickly become one of those pilgrimages every golfer has to make at some point in their lives.
Why?
Because it's unlike any other course in the country.
The Tillinghast design that was built in 1936 has always been a great course, but it's always had kind of a cult status in the golf community.
Everything changed in 2002 when Bethpage hosted its first US Open.
For a tournament that's often held at extremely private venues like Medinah, Olympic Club, or Winged Foot it was a big deal to be playing it at not only a public course, but a muni-course at that.
The 2002 US Open became known as one of the most difficult courses in the tournament's history, and Tiger Woods was the only player to shoot under par.
It was such a hit that it hosted the tournament again in 2009, as well as the 2019 PGA Championship.
And coming up in 2024 it's hosting the Ryder Cup. Can you imagine a New York Ryder Cup crowd? Talk about electricty.
Why is Bethpage Black so different than other courses out there?
Because it's one of the few opportunities the average golfer has to play a world-class PGA course – that doesn't cost an arm and a leg.
It was $130 for me to play mid-week. It's under $80 if you play twilight or you're a New York state resident.
7 years after my first round, the green fees are still the same. Nice to see inflation isn't getting to everyone.
There are 5 courses at Bethpage State Park, and the facility is massive. You pull up to a huge parking lot, and notice the clubhouse, which frankly looks quite a bit nicer from the outside than it is on the inside.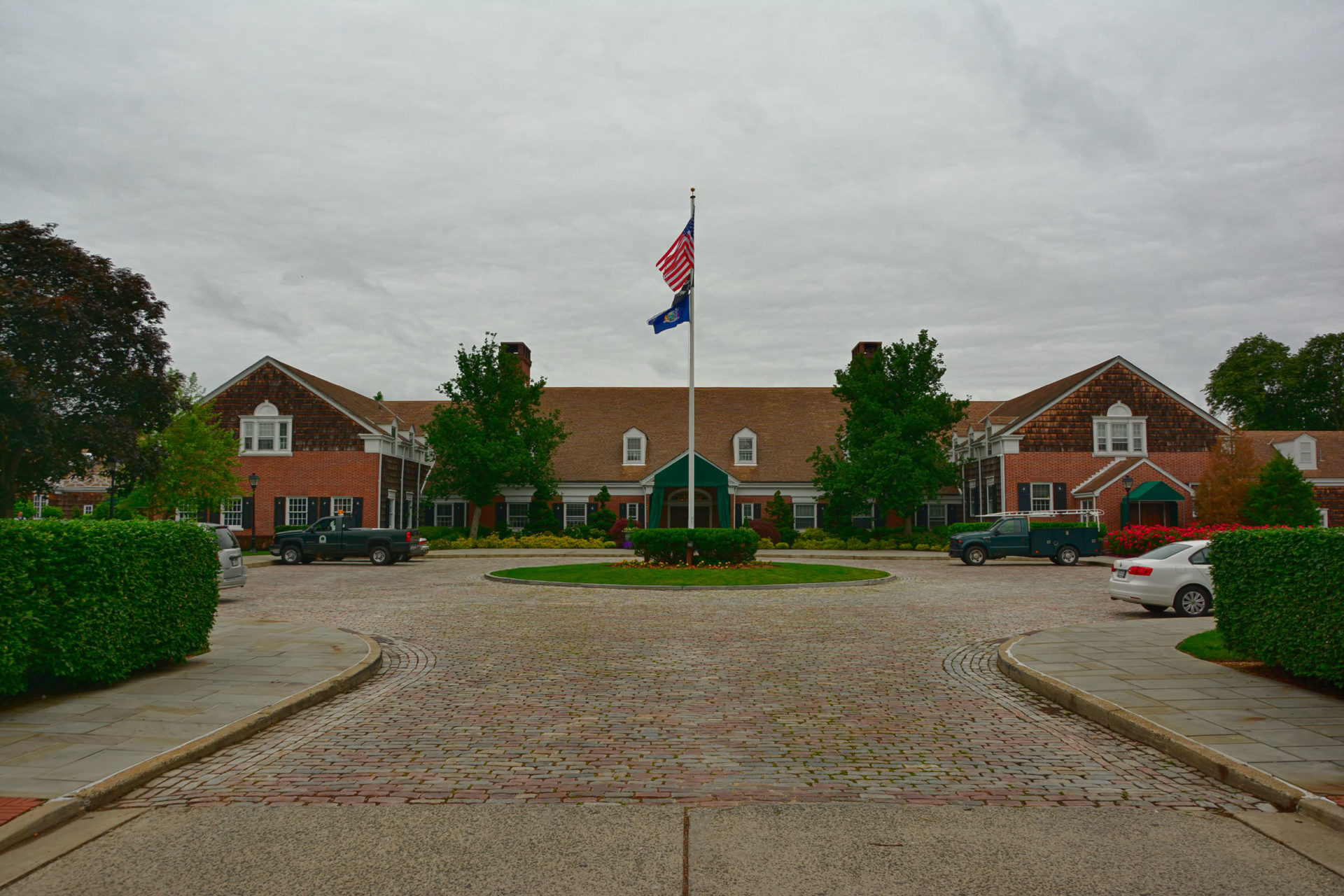 For being such a good course, you have to remember that Bethpage Black is still a municipal course, so you're not going to be finding any buckets of Pro-V1s sitting there waiting for you.
The range was to be honest, one of the worst I've seen in my travels. When I saw it, it kind of reminded me of arriving at Cog Hill for the first time.
Highly touted course, mediocre amenities.
Getting to Bethpage is extremely easy from New York. You head straight out I-495 for an hour (or much more with traffic), and the park is just a couple miles off the exit.
My second trip out there I took the Long Island Railroad. Unfortunately seconds after getting on the train I got a text saying the course would be closed for the rest of the day due to heavy rain. But that's a story for another time.
Back to the first trip. We had an 8:30 tee time, and left around 6am. We got arrived by 7:15 with absolutely no trouble.
This is a good time to mention tee times. Things don't exactly work the way you'd expect when it comes to getting a tee time on the Black Course.
Bethpage Black Tee Times: How to Get One
If you're a New York resident, getting a tee time is pretty easy. You call at 7pm exactly 7 days before the day you want to play, probably call back a few times after receiving a busy signal, and then choose the time you want to play via an automated recording.
This is simple enough playing mid-week, but in the summer on a weekend? Let's just say it's a little more competitive.
The real struggle is for those people from out of state. They can only make tee times 48 hours in advance, and as you can imagine, usually by then, things have been pretty well booked up.
There's also the historic way of doing things, where you camp out the night before for a handful of tee times.
The best way to do it though? Find a friend who is a NY resident, and play with them mid-week. Personally, I got extremely lucky.
Danny of NYNJ Golf had been following my blog and instagram account for awhile, and sent me a message asking me if I had plans for Bethpage yet. The answer was no, and he offered to come out and play with me and arrange the tee time.
Danny, you're still the man, and I can't thank you enough!
But enough about the backstory, let's get to the course!
Just the Facts
Designer: A.W. Tillinghast
Built in: 1936
Rank:

#40:Top 100 Courses in America (Golf Digest)
#8: Top 100 Public Courses in America (Golf Digest)
#53: Top 100 Golf Courses in the World (Golf Magazine)
#30: Top 100 Golf Courses in America (Golf Magazine)
#5: Top 100 Courses You Can Play (Golf Magazine)

Location: Farmingdale, NY
Fees: $78-150 depending on time of day (less for NY residents)
Slope: 152, Rating: 78.1
Originally Played: June 2014
Bethpage Black Course: Hole by Hole
We didn't need to do anything to make the course any more difficult than it already was, so we played the white tees, which measured in at a stout (for whites) 6,684 yards. All distances are from these tees.
Hole 1 (Par 4, 429 yards)
The first thing you notice as you walk around the clubhouse to the first tee (aside from the famous sign), is the sense of grandeur this course has. Everything feels, big, hard, and larger than life.
The first hole is all right there, you can see the fairway, you can see the green around the sharp dogleg right (or at least you can from the tee). To get to past the dogleg you've gotta really bomb it, otherwise the trees on your right are going to give you some trouble.
As a side note, I may have completely topped my tee shot into the rough halfway down the hill. Quite possibly my worst opening drive on any top 100 course. (Update: Riviera now takes the cake for this one)
Everything on Bethpage Black has teeth – with the exception of the greens. The greens are actually relatively flat, and if you can get there, you'll have a great chance of making some pars. Luckily, they don't normally run them as fast as they do on some tournament days.
Hole 2 (Par 4, 354 yards)
I knew exactly what the first hole looked like at Bethpage, however after that I didn't really know much about the course.
We went under the tunnel to the second tee, and were met with an uphill par 4 that looked like a lot of fun. I decided to play it safe with a three wood, and landed right off the fairway in the rough.
Oooooh, the rough.
Before the round someone said this to me "If you're in the rough and you think you can get there, you can't. Do whatever you have to do to get it in the fairway, and then go from there."
It took me 5 holes to finally start heeding this advice. The rough isn't necessarily super long, it's just thick. Hitting out of it felt nearly impossible.
But of course I'd be able to hit the steeply elevated green from 160 out.
I had to try it. More rough.
My first chip shot? Rough again.
Luckily I had back to back 1 putts on the first two holes to keep me from getting off to a really rough start.
Hole 3 (Par 3, 158 yards)
The first short hole at Bethpage shouldn't be too difficult as long as you don't go short. Deep bunkers surround any shot short left, or to the right, but you've got some room to go long. Don't worry the rough is long enough it won't roll very far back to the trees 🙂
Danny had the first par of the day here.
Hole 4 (Par 5, 461 yards)
The signature hole at Bethpage Black, that mostly just looked like sheer terror to me. Don't let the yardage fool you, this is one of the most difficult holes on the course.
The first par 5 has three tiers to it. A long drive might tempt you to skip a tier and go for the elevated green in two. Ummmm, don't.
I kept just missing my targets and ending up in the rough. Then the sand. Then over the green for a penalty.
I took a 9 on this hole and was pretty sure my round was over afterwards. It was also about this time that I decided Tillinghast must have been a total dick.
Hole 5 (Par 4, 423 yards)
The 5th is a really fun hole. You get to decide how much of the sand you want to bite off on the drive.
For us the bunkers actually didn't go nearly as far out as they appeared, and a couple of us had drives that cleared the bunker, went through the fairway and ended in the rough.
This is where I started playing smart. I just punched it out to the fairway, and got on in 3, barely missing my par putt for a bogey that I was completely happy with.
Bogeys at Bethpage are pars anywhere else – take them, and be happy.
Hole 6 (Par 4, 386 yards)
It started to rain a little bit at this point in our round, and we're also learning just how hard of a walk Bethpage really is. I mean nothing seems that crazy, but the elevation changes and transfers add up!
Here you have a couple options. You can aim just to the left of the right bunker with a wood and give yourself a longish approach at the green, or you can go driver to the left and try and catch the steep downhill ridge, which will leave you with a short wedge into the green.
The approach here pretty much sums up what Bethpage is all about: Elevation change, deep bunkers everywhere, and relatively benign green.
Hole 7 (Par 5, 502 yards)
When you step up to the white tees you're greeted to a sign that says this played as a 489 yard par 4 in the 2009 US Open.
Note: I think that's what it said, might have been a yard or two different, I don't have a photo of it.
So I get out there and bomb my drive. When I get out to my ball, I'm like "man, why am I still so far away!" I hit another solid three wood that leaves me 40 yards from the green.
That's when I finally look at the scorecard, and realize it's actually a par 5, they were just playing it as a par 4.
A nice pitch and two putt, and I'd finally had my first par of the day.
Hole 8 (Par 3, 191 yards)
"I can't tell you how many balls I've lost short on this hole playing Tiger Woods" – Danny, as we got to the tee.
I was terrified of leaving it short, as you're pretty much guaranteed to have it roll back into the water.
This was my favorite par 3 on the course. A big green, but trouble all over the place, and the elevation drop can play tricks with your club selection.
Hole 9 (Par 4, 385 yards)
The play on the par 4 9th is straight over the bunker on the left. Do that, and you'll set yourself up for an easy mid iron to the short to mid iron to the green.
Hole 10 (Par 4, 434 yards)
There are a lot of 400 yard + par 4s on the Black Course, but this felt like one of the longest. I didn't have the best drive and was left with 225 to the green, but was sitting in the middle of the fairway. I had my best drive of the day with a hybrid that barely cleared the left bunkers to land in the center of the green.
The fairways have been pretty open up to this point, and it's clear the main defense of the course is the length, the rough, and the sand.
Hole 11 (Par 4, 421 yards)
It was around this time the course started to feel slightly redundant to me. I'd played the Course at Yale the day before (can't believe I forgot my camera), and every hole on that course truly felt like a unique adventure. Bethpage Black is fantastic, but the long par 4s with the same bunkering all over the place started to feel a little old to me at this point.
Hole 12 (Par 4, 432 yards)
Pick and choose your tee shot wisely here. The farther left you go, the more crap there is for you to clear, but the closer you'll be to the green. If you try and stay away from the bunkers and go way right, you'll have an extremely difficult time getting there in regulation.
Hole 13 (Par 5, 480 yards)
13 is where I felt like we got out of the long par 4 stretch and the holes started getting a little bit more interesting to me again. This is a short par 5 that begs you to go for it in 2, but as with every hole on this course, it's probably best to you know, not.
I really liked the bunkering on the left side of the fairway, as it really forced you to play more to the right – which puts you in danger of the trees. Lots to think about here.
Hole 14 (Par 3, 152 yards)
With the first par 3 on the back, you want to be anywhere but that deep bunker. Getting it up and down from there is going to be a challenge, and pretty much anything short and right of the hole is in big trouble.
There's a killer view of the 15th hole from the green, as with most of the holes, the green is pretty easy.
On the walk over to 15, I started realizing just how tired I was, and couldn't believe my eyes when I saw the next couple holes: it doesn't get any easier.

Hole 15 (Par 4, 430 yards)
We're now back on the other side of the main road for the closing holes, and 15 is a fun one.
A sweeping dogleg left that gives you a pretty open tee shot, but has one of the most difficult approaches on the course. Pictures don't do this one justice, this green is up there. Take at least an extra club and a half. I hit a 5 iron from 160, and it just barely squeaked on.

Hole 16 (Par 4, 457 yards)
The longest par 4 on the course at 457 yards, it's also one of the most fun tee shots.
At this point you'll be tired, but don't be lazy on your tee shot. Follow through and avoid the heavy slice that every one in our group hit, each being worse than the other.
Hole 17 (Par 3, 195 yards)
A beast of a par 3, that's about as intimidating as it gets as far as bunkers go. Supposedly they had massive grandstands here during the US Open's that made for quite the raucous scene.
After landing the green, my buddy's caddie said: "Well done, I hardly ever see anyone hit both 15 and 17 greens."
That made me feel pretty good, especially when I realized I played the short holes +1 on the day.
Hole 18 (Par 4, 394 yards)
The hole I'd been waiting for. We've also seen photos of it, and I had dreams of striping a perfect drive right down the center.
In reality, it didn't really go like that, and all of those bunkers in the middle, well those are very much in play.
Finishing up on the green was a hell of an experience as we soaked in what we'd just been through, but there's no denying that at the end of it, I was incredibly tired!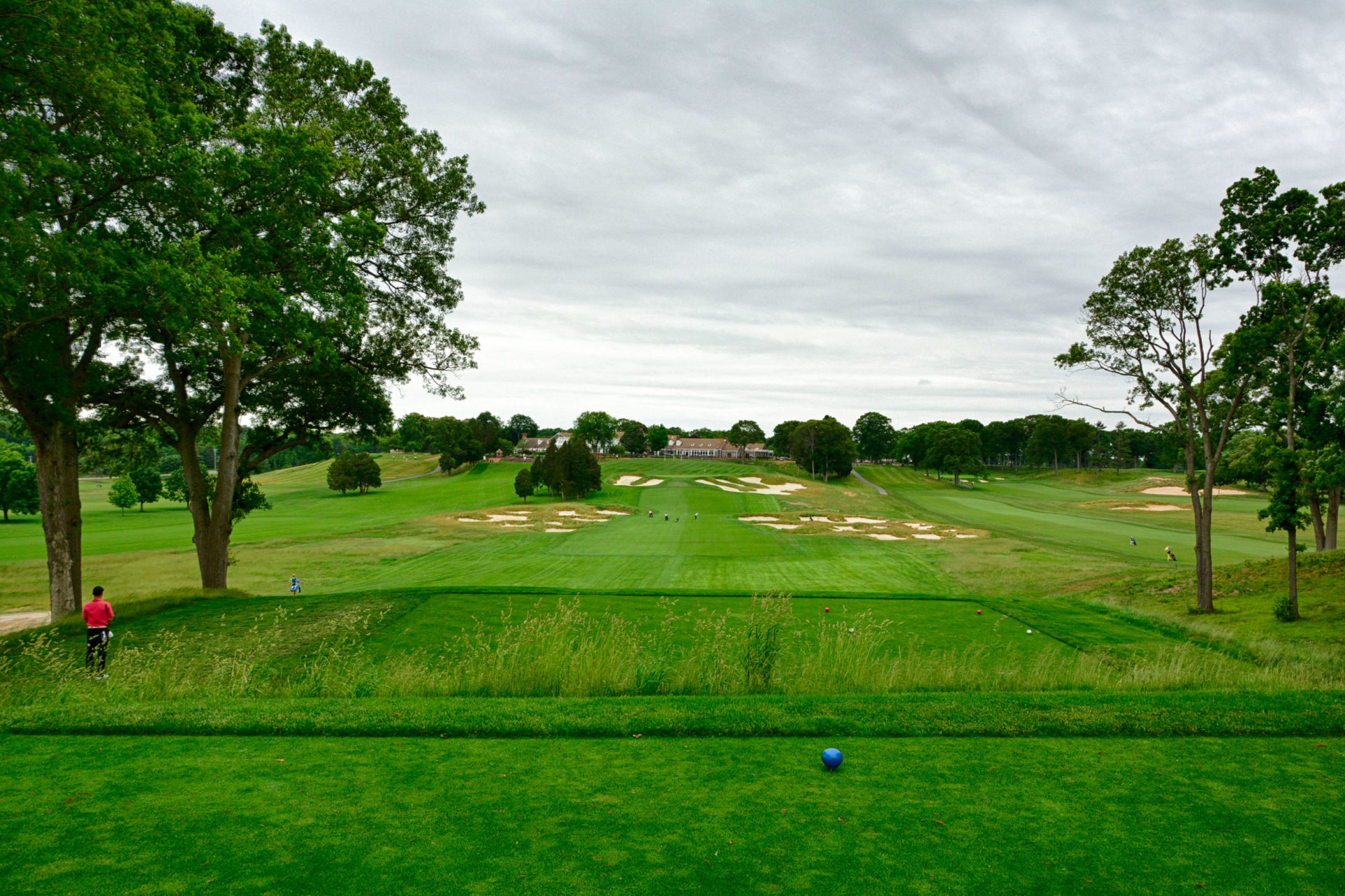 A Quick Note on Caddies
You can get caddies at Bethpage, but they were a little bit more expensive than at most places other public courses I've played, and our caddie, to be perfectly honest, was terrible.
He didn't read any greens, and on more than one occasion when he was acting as forecaddie he'd watch each 3 of our balls, and then start walking before the final person hit. This would be fine if it weren't for the fact the final person was the person he was supposed to be working for.
He dropped head covers in the fairway and never would have noticed had we not picked them up. It certainly was nothing like my Hudson National experience.
So all of that to say if you're planning to use a caddie during your round, be prepared for what it could be like.
Final Thoughts on Bethpage Black
Playing Bethpage Black is something every golfer should do at least once. It's a unique Tillinghast course that's one of the hardest you'll ever play. Was it my favorite course of all time? Definitely not. Would I be thrilled to play it again. Absolutely.
Also, you really can't beat it for the price and proximity to New York.
It's worth noting that of the top 30 best golf courses in New York, only one is public. By now I'm sure you know which one this is.
But fortunately, it's a very good one.
If the Black is too difficult to get on, also consider the Red course. It's another Tillinghast design, with many of the same features, and as of 2022 Golf Magazine has it among the top 100 public courses in the country.
---
---
---