Wolf Creek Golf Club – Mesquite, Nevada
I remember the first time I played the Wolf Creek course on the Tiger Woods video game. I wasn't sure if it was an actual course or one of those fantasy courses, the landscape was that intense and surreal.
Located in Mesquite, Nevada, about an hour and a half outside of Las Vegas – Wolf Creek is truly a one of a kind course, er, experience.
We made the quick trip over, not knowing what to expect.
It's literally located 3 minutes from the center of Mesquite, which was not what I was expecting. Based on photos and landscape I thought it would be out on its own high up in the mountains.
As I've mentioned in the past, the courses that I like most are the ones that can be summed up in one word: fun.
Sure I love playing the tough tests of golf, with championship history, but more often than not you'll remember the 350 yard drive you hit over the waterfall and down the 150 foot cliff to a sprawling fairway.
Wolf Creek is the epitome of the latter.
Each hole seems to be more ridiculous than the last.
Purists will probably balk at Wolf Creek. It's tricked up in every sense of the word – but because of this, it makes for one of the most memorable golf experiences you'll have anywhere.
When we first pulled in, I must admit, I wasn't incredibly impressed. It seemed a bit rough around the edges, with empty buildings surrounding the clubhouse and one of the worst driving ranges I've seen.
You could't use anything other than irons, and you were basically hitting off straight dirt.
I should also mention up front, the course wasn't exactly in stellar condition when we played.*
*Understatement of the year.
Apparently they used the wrong kind of fertilizer on their greens, and pretty much all of them suffered massive burns.
What did this mean for us?
Well the greens were pretty much the worst I'd ever seen. Ever.
They took $10 off our greens fee and gave us each a $25 gift certificate for our trouble – but it still definitely hampered the experience a bit.
That being said, I'm going to try not to judge the course by that – because overall there were still so many positives.
Just the facts
Designer: Dennis and John Rider
Built in: 2001
Rank: Golf Digest America's Top 100 Public: 37; Golf.com Top 100 Courses You Can Play: 65
Location: Mesquite, Nevada
Fees: $55-195 depending on time of year.
Private Website: http://www.golfwolfcreek.com
Slope: 154, Rating: 75.4
Hole by Hole
To kick things off, I think it's worth mentioning that there isn't a single boring hole on this golf course. It's fun, it's scenic, and you'll hit shots you never thought you'd be able to. Now let's get this roller coaster started.
Note: You can view an enlarged sideshow of the photos by clicking on any of them
Hole 1 (Par 5, 467 yards)
While we may not have been entirely impressed upon pulling into the parking lot, once you step up to the first tee all of that changes.
From an elevated tee, you're hitting down to a wide open fairway below with bunkers along both edges.
It's a par 5, that's easily reachable in two with a good drive.  A manmade creek runs down the right side, and all of a sudden you're introduced to a lot of what Wolf Creek is all about: Dramatic features, huge tee shots, and lots of difficult bunkering.
Hole 2 (Par 4, 385 yards)
You park your gas cart (there's no way you could walk this course, and also no way they'd be able to use electric carts), and walk up a few flights of stairs to a tee box that over looks the entire property.
A sweeping dogleg left, without much room to miss left.
Upon walking back down you're introduced to a bit of what it takes to maintain such a wild course: you can see the mower parked inside a manmade boulder. There's simply no way you'd be able to get mowers up to some of these tee locations every single day.
Hole 3 (Par 3, 175 yards)
The first par 3 is certainly a unique one.  Instead of going straight down hill, you're faced with a shot straight up hill of about ___ yards.  And, it's steep.
I knocked my hybrid up there thinking I over clubbed, but ended up being pin high with a good 20 yards of green behind me I could have worked with.
Hole 4 (Par 4, 279 yards)
The 4th hole is a fun par 4 with a sharp dogleg right. Smart play is a hybrid or long iron straight up the middle, that will leave you with a wedge into the green.
An early routing of Wolf Creek was done by architect Jim Engh, who happens to be one of my favorite designers. One of my favorite courses of 2013, was The Golf Club at Black Rock – which had his signature amphitheater style greens. This approach is very reminiscent of that.
Hole 5 (Par 5, 453 yards)
One of the signature holes on a course of signature holes. Due to the elevation changes all of the par 5s at Wolf Creek are reachable – especially this one, if you're feeling ballsy.
You get to choose how much of that ridge you want to bite off. If you get enough of it, you'll have a mid iron into the elevated green. Don't get it there, and well, you can guess what will happen.
Hole 6 (Par 4, 414 yards)
A downhill par 4 that probably doesn't require driver, unless you know you can clear 250 – but it doesn't get you that much. I hit 3 wood and rolled up to about 20 feet of the creek.
Hole 7 (Par 4, 263 yards)
A fun par 4 that also isn't much of a driver hole. Hit hybrid or 3 wood to 215 and to carry the ridge and roll down to the bottom of the hill.  From there you have an short wedge over the river and up onto the green. Just make sure you hit your approach far enough, as there isn't much room to miss short.
Hole 8 (Par 3, 152 yards)
One of the most beautiful par 3s I've ever played, and probably my favorite on the course. Playing a stout 248 from the back tees, you don't have a whole lot of room to work with. Creek in front, creek behind, and a relatively small green means you better hit your mark!
Hole 9 (Par 4, 271 yards)
A bit of a breather coming back in on 9. A short, drivable par 4 with a big green guarding the right side of the green.
Hole 10 (Par 4, 367 yards)
To start off the back, you get a brief reprieve from the heroic tee shots, to one that's actually relatively flat, but no less interesting.
With a lake followed by bunkers on the left, and brush on the right, your landing area is actually relatively narrow – so don't under estimate it.
Hole 11 (Par 3, 166 yards)
Another big drop to a circular green.
The cart paths at Wolf Creek are easily the most intense I've ever seen.  This is abundantly apparent on 11s drive down to the green. To your left you'll see an abandoned path that was the original route.  Rumor has it someone lost control, rolled the cart, and killed themselves in the process.
It doesn't take a huge stretch in the imagination to picture this.
Hole 12 (Par 5, 490 yards)
Another reachable par 5, and one of the highlights of my round. A sweeping dogleg left with a fairway that slopes severely towards the lake on the left. If you draw it too hard, be careful.
I launched  drive that left me about 180 in. Dropped it to about 8 feet and missed my eagle putt by inches.
Hole 13 (Par 4, 301 yards)
Fun short par 4, similar to hole #4, with a better chance to drive the green if you're feeling like taking a chance.  If you look at the bolder just to the left of the point on the right side of the photo, you can fade it right over that and drop it right on the green. It's one of the more fun shots on the course, so use your best judgment 🙂
Hole 14 (Par 4, 367 yards)
A sweeping dogleg left, with 6 bunkers down the left side waiting to eat up and errant balls. This is easily one of the most fun golf shots I've ever hit, as you truly feel like you're on top of the world for this one.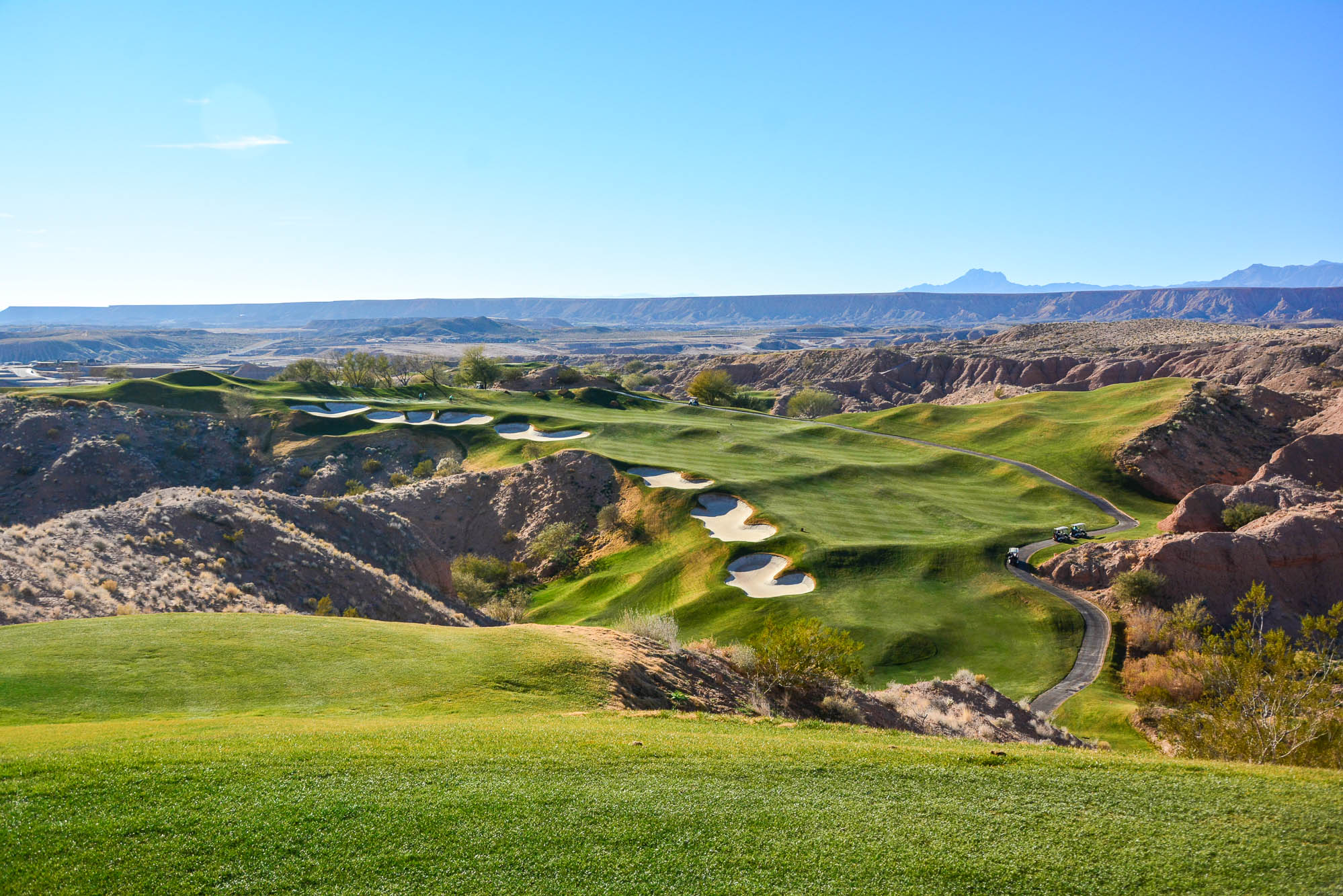 Hole 15 (Par 3, 113 yards)
Shortest hole on the course, and probably the easiest. As long as you don't go left into these deep bunkers.
Hole 16 (Par 4, 346 yards)
Playing through he top of the hills, this mid length par 4 requires you to clear a canyon and then a couple of greenside bunkers on the approach.
Hole 17 (Par 5, 511 yards)
One of my favorite holes on the course. The par 5 17th may have the longest drop of any drive on the course. With the added distance, a good drive will leave you with a shot at the green in two – but for most it's probably not worth it as if you go even a little short your ball will roll back into the lake.
Hole 18 (Par 4, 278 yards)
A short par 4 to finish things out, a tee shot is a pretty easy hybrid or wood, but the approach will certainly test your mettle. A waterfall on the left, deep bunkers and rocks on the right, and a two tiered green that will leave you with a tough two putt if you find yourself on the wrong tier.
Closing Thoughts
Is Wolf Creek going to impress the most diehard follower of classical golf architecture? Probably not.
Everything about it is tricked out, but you know what? I absolutely don't care, because Wolf Creek is hands down one of the most fun courses I've ever played – and I don't think anyone can argue with that.
That being said, I would have loved to see an extra set of tees. Without looking real closely at the yardage we played the whites, which came in at a modest 5,798 yards. I ended up playing the blues from most of the tees simply for the more fun tee shots, but I would have liked to see an extra 200 yards on both the whites and blues.
While the greens were also a severe disappointment, I'm not going to hold that against the course. Stuff happens, and I look forward to heading back out to Wolf Creek some time in the future and playing the course under better conditions.
Worth the Trip? Absolutely no question. Yes. Go. It's worth it. I promise.
---
---
---