Tobacco Road Golf Club: Is it Actually as Crazy as People Say?
Simply put, there are very few golf courses in thw world that are as unique, and polarizing, as Tobacco Road in North Carolina.
Before playing it I had one reader say:
"If you like fun golf courses, RUN, don't walk, to Tobacco Road. You'll thank me."
Another said:
"You're intereted in playing the Top 100 Public Courses? So that means, you're playing Tobacco Road, right? You're going to love it."
In the years since I've played this course, I've had conversations and debates with over 100 other golfers about this course.
Some call it "Mickey Mouse."
Some call it "tricked up."
Others call it "gimmicky."
I call it one of the most fun golf courses on the planet.
Tobacco Road is a golf experience that I think every golfer should experience at least once in their life.
I'm not saying it will be your favorite course – but it very well might be.
Every single hole is it's own piece of art. The only other modern architect I can think of that is similar is Jim Engh, who has designed beautiful landscapes like Black Rock or Creek Club.
But Mike Strantz has managed to create courses that are even more polarizing and unique.
Tobacco Road is "fun golf" at it's finest. So much so that I've got the course ranked in the top 50 of my all time favorites.
What makes the course so fun? It'll be easier to show rather than tell.
Arriving at Tobacco Road Golf Club
I'd had a conference in Charlotte the week I'd planned to play Tobacco Road.
It would be the first round I played out of a half dozen that at the time were ranked among the country's best publically accessible courses.
This trip included:
Pinehurst #8
Pine Needles
Tobacco Road
I setup a tee time for 2:30 the day my conference ended, so after rushing to pack after the closing keynote, hopping an Uber to the airport to get a rental car, I was off in my hamster car – a sweet Kia Soul. Ha.
I was going to be cutting it close, so I was keeping my fingers crossed for no wrong turns.
I made the trip without incident, and pulled into Tobacco Road about 10 minutes before my tee time.
When you pull in, you wind in and out of pine trees, and the simple clubhouse is up on your right. After changing and grabbing my clubs, I headed up to where they told me I should tee off on 10 to avoid some long delays of foursomes in front of me – and to ensure that I got done before it got dark.
Tobacco road opened in 1998 and was designed by the late Mike Strantz.
I've never played any of his other courses, but his Shore Course at Monterey Peninsula Country Club is easily one of the top 10 courses I'd most like to play in the world.
The guy obviously loved elevation, crazy angles, and unique, fun golf holes that are unlike anything I've experienced anywhere else in a decade of golf travel.
Even though I played the back first, I'm going to write about them in order.
However, I will say from the moment I hit my first tee shot down ten, I could tell I'd be in for a special experience.
Just the Facts
Built in: 1998
Designer: Mike Strantz
Rank:
Location: Sanford, North Carolina
Fees: $80-225 depending on time of year.
Website: http://www.tobaccoroadgolf.com/
Slope: 150, Rating: 73.2
The Front 9 at Tobacco Road Golf Club
I played from the "Disc" tees which measured in at 6,304 yards. The course isn't long by any means, with the ripper tees (tips) barely topping 6500 yards.
The Front 9 at Tobacco Road
Hole 1 (Par 5, 547 yards)
Even though this is where I was making the turn during my round, I can only imagine what it would feel like coming up to this as the first tee. You're staring down a canyon with outcroppings cutting into the fairway about 200 yards out – making you question your club selection.
I haven't played Pine Valley (yet), but based on what I know I can see where this got the reputation of being "Pine Valley on Steroids".
The green is guarded by 3 deep bunkers, and after a pretty terrible second shot I threw up a 4iron and just hoped I'd get it close. Luckily it landed smack on the left hand side of the green.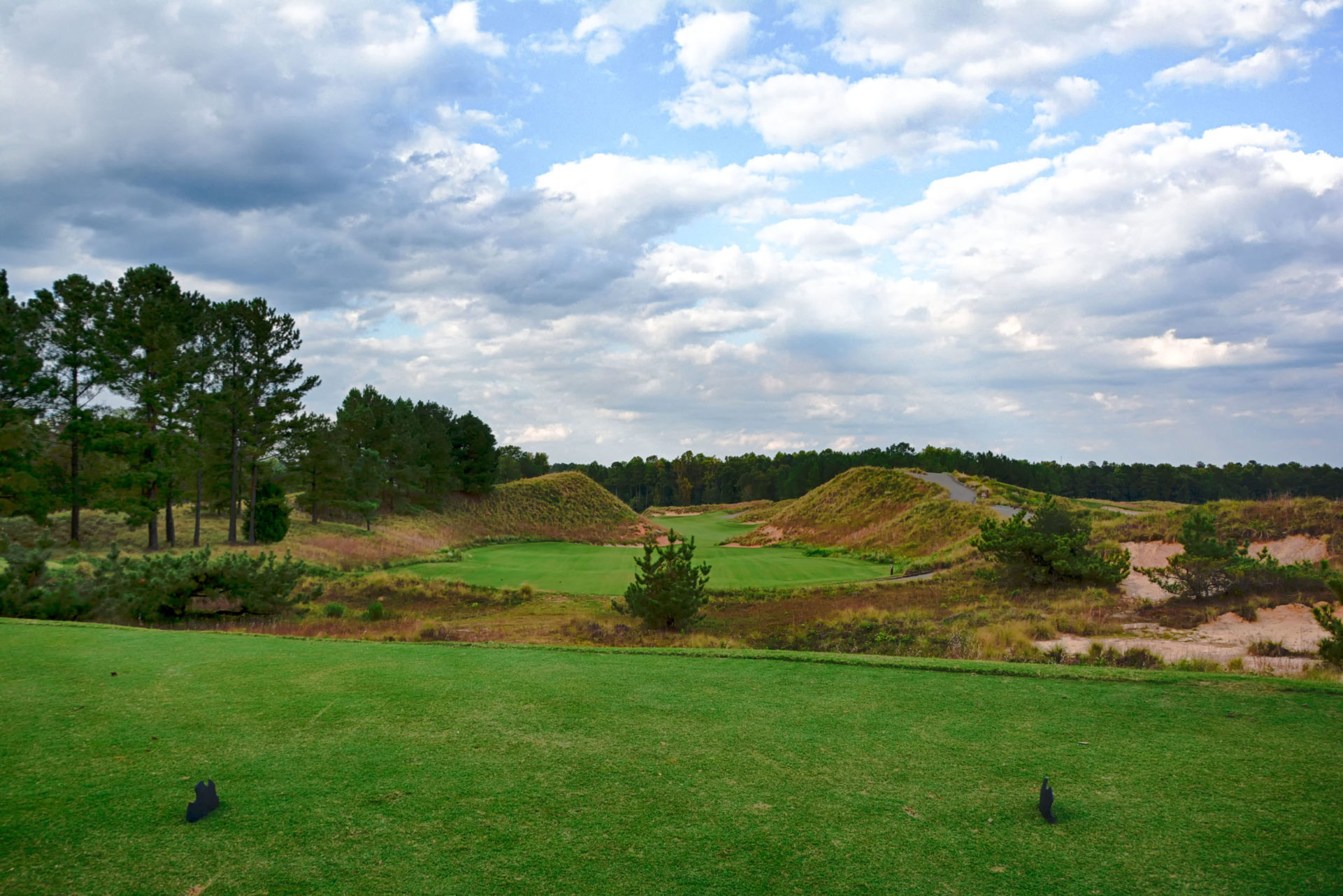 Hole 2 (Par 4, 357 yards)
#2 is a mid-length par 4 with a giant hump of sand right in the middle of the hole. The play is to stay as far left as possible, as that will give you the best angle at the green.
If you're too far right, you won't have a clear shot (I didn't). There's bunkering all down the left of the green, and if you miss and are lucky enough to miss the sand, you can expect some steep rolloff as well.
These first two holes do an excellent job of setting up s0me of the features you can expect to see on the course.
Hole 3 (Par 3, 147 yards)
The first par 3 on the course and one of the wilder greens. The front right has a giant ridge to contend with and any pin close to that is sure to be a challenge. There's bunkering pretty much everywhere, so if you don't hit the green you best be ready to pull out your sand wedge.
Hole 4 (Par 4, 507 yards)
The par 5, 4th isn't that difficult of a hole, but man did it give me problems.
This is another excellent risk reward hole, as a good drive will leave you in a position that just begs you to go for it in two.
I sliced the hell out of it and ended up in the woods, but even after my drop I was tempted to go for it.
Lost that one in the woods left of the sand.
Somehow got up and down from there to save a bogey, but this is definitely one of the better birdie opportunities on the course if you play it smart.
You know…and don't lose two balls.
Hole 5 (Par 4, 322 yards)
Speaking of risk/reward, we've got another one!
This is one of the more fun and rewarding short par 4s I've seen. The fairway is off to the right and is the sensible play. But if you can knock it 250-270 off the tee, you can clear the entire waste area and get up near the green.
There's actually more room in front of the green than you think in a collection area, so going for it isn't quite as stupid as it first seemed.
I missed clearing the sand by a few feet, but was still able to pitch it up and two putt for a par.
That's what I get for letting instagram decide whether I should go for it or not 🙂
Hole 6 (Par 3, 143 yards)
The second of three short holes on the front is also one of the more scenic. You've got waste bunkers everywhere, but when it comes down to it, you're really faced with a narrow green and bunkers just waiting to swallow up anything short or long.
I would find both of them before settling with a double bogey.
Hole 7 (Par 4, 401 yards)
This is another hole, that if you haven't played it before can be a little confusing. You can't see the green from the fairway, so it's tough to figure out where to put the ball.
Basically if you bomb it straight down the fairway you should get some roll and be in a good position to have a mid to short iron in.
This is a large and undulating green with a giant bunker guarding the front right.
Hole 8 (Par 3, 173 yards)
Another solid par 3 that is one of the longer ones on the course. It's downhill and a ton of fun if the pin position is in the front as you have a pretty huge backstop due to the green slope. So if you go a little too far there's a good chance you'll get some roll back down towards the pin.
Watch out for the two bunkers on either side of the green, especially if you're hit with an upper right pin. Don't try and be a hero.
Hole 9 (Par 4, 415 yards)
Another spectacular hole that's one of my favorites on the course. Like many of the holes here, it's all about the approach.
Pictures can't do justice just how elevated the green is on #9.
Pretty much regardless of how well struck your drive is, you'll have a tricky second shot. But enjoy it, as you won't see many like it anywhere else!

The Back 9 at Tobacco Road
Hole 10 (Par 4, 421 Yards)
As I mentioned at the beginning of this post, I started on 10 and was pretty rushed getting up to the tee.
But there are only a handful of courses I've ever played that have the anticiption of Tobacco Road.
Because I was a single, and daylight would be in short supply, we decided teeing off on 10 would be the best bet in order to avoid as much traffic as possible.
The 10th hole is a sweeping, downhill dogleg right – and a nice sampling of what was to come for the rest of the round.
One unique feature of Tobacco Road is that all of the bunkers are played as waste areas – so grounding of your club is permitted. After a perfect drive, my approach came up slightly short and I quickly learned that if you don't hit your spots on this course – there's a good chance you'll be finding the sand.
Hole 11 (Par 5, 511 yards)
A beast of a par 5 that has everything I love in a golf course. It's got risk/reward, pronounced features, and plenty of scenic value.
If you hit a solid drive you'll be tempted to go for this one in two. The green is tucked way back above what has to be the deepest bunker I've ever seen – even more so than #11 at Whistling Straits.
If you're in the middle of if, it wouldn't be too big of a deal, but if you hit the lip and find yourself at the base of the wall, you're screwed.
My poor second shot, left me with an 8 iron in. I went with a 7 because I sure as hell didn't want to find myself in that beast.
Hole 12 (Par 4, 412 yards)
A dogleg left with a big landing area. The real magic on this hole is the approach. There's a bunker all down the left of the fairway and a giant ridge between it and the green. It makes for a partially blind approach, so you have to take a close look at the pin location and trust your yardage.
Hole 13 (Par 5, 536 yards)
This is not only one of my favorite holes on the course, it's one of my favorites in the world.
What I love about Tobacco Road is that around every corner is a surprise. A unique hole, shot, or piece of scenery. Tobacco Road is basically the Mecca of "fun golf" – and the 13th is the perfect example of this.
A true par 5 that has you on an elevated tee hitting down to a sweeping dogleg right. Choose your club and line wisely, because it's totally possible to drive through the fairway if you're not careful.
The second shot is relatively benign, basically just putting it in play over a narrow gap to set yourself up for the approach.
The approach on 13 is one of the finest anywhere. There's a very, very tight opening to an elevated and narrow green that's tucked in a canyon. It's absolutely gorgeous, and difficult at the same time.
Hole 14 (Par 3, 178 yards)
How do you follow up a hole like 13? With a beautiful par 3 over a lake. This is one of the tougher greens on the course, as it's pretty sectioned off, and if the pin is in the back part of the green you've got a much tougher shot ahead of you.
This was probably my favorite par 3 on the course.
Hole 15 (Par 4, 365 yards)
One of the unique aspects of Tobacco Road is just how many blind shots there are. You rarely see such a modern course incorporate so many blind shots – both due to pace of play and safety (this became an issue on 18) – but that's part of what makes it so much fun.
A notable exception to this is Old Macdonald at Bandon Dunes.
The green on 15 is a great example of one of those blind shots. It's tucked below the fairway and surrounded by difficult bunkers. It's not totally blind, but if you haven't played the course before you'll have a few moments of "where am I supposed to hit this, again?"
That's part of the fun though!
Hole 16 (Par 4, 321 yards)
A short, and severe dogleg left. All you need is a hybrid to knock it 210 out into the fairway, before you're met with a steep uphill approach to a deep green with a giant hump through the middle.
My tee shot was positioned perfectly, but I left my approach just a little too short and watched the ball roll all the way back down to the bottom of the fairway.
I got the next one up to about 15 feet and rolled it in for par. The guys up above me on the 18th tee yelled out "nice birdie" and I had to fess up to the fact I missed the first approach.
Hole 17 (Par 3, 134 yards)
A short downhill par 3 that has one of the widest greens I've ever seen. Seriously it must have been 100 yards from one side to the next, forming a giant U shape. The selected pin location can make this a very different hole from one day to the next.
Hole 18 (Par 4, 414 yards)
Another incredibly fun and unique hole.
We got held up here on the tee for a long time, which was a little frustrating – but I cruised through the rest of the 9 so I cant complain too much.
The tee shot has you hitting over a giant waste area to the fairway about 175 yards out. It's a blind shot, so you have to wait for the people in front of you to ring the bell.
Apparently the group behind me didnt get that message.
As I was standing in the middle of the fairway I hear a "tiiiing!".
It's a good thing I heard it, because after running behind my cart, a ball came flying down, hitting the exact same spot where I'd been previously standing.
The people behind me didn't seem to care too much that they almost killed me, when I confronted them at the end of the hole.
But I digress.
You've got another narrow approach shot that's somewhat reminiscent to the one on 13. Just add more bunkers and make it slightly less narrow 🙂
Final Thoughts on Tobacco Road Golf Club
In the end, I LOVED Tobacco Road. It's fun, unique, and I wish they'd build more courses like this one.
While I do think it should be ranked higher than it is, I can also understand why it might not be in the truly upper echelon of courses in the US. While it's a ton of fun, and there are tons of different angles to play – I didn't necessarily think it was the most strategic course I've ever played.
Don't get me wrong, there are some excellent holes where you have to really think about whether or not you're going to go for it (namely #4 and 5). But in a lot of cases, you'll know exactly what shot you need to hit on any given hole.
13, you'll pretty much know where to put the ball each time – there aren't many other options.
In the end I think Tobacco Road should be on every golfers bucket list. I promise you it will be unlike anything you've ever played, and it will have you and your friends begging each other to go back out for another round. It truly is that (insert superlative adjective here.)
And to let you know just how I feel about it, if I were planning a trip for my golfing friends from Portland who don't travel much to golf, Tobacco Road along with Arcadia Bluffs would be two destinations I'd seriously consider.
Another note: I just took a look at Golf Digest's 50 Most Fun Courses list – and this isn't on the list. Pine Needles, which was also a great course and about half an hour away was #22. I'm sorry, but in terms of fun golf, Pine Needles isn't even on the same planet as this. Just one man's opinion, but seriously…
Have you played Tobacco Road? What did you think??
---
---
---