How to Plan a Golf Trip: 31 Things You Need to Know
Taking a major golf trip isn't all that different from bringing your entire family on vacation to Disneyland: the success of your trip will come down to how well it's planned.
After taking dozens of golf trips over the years, I've had many that have gone off without a hitch. I've had others, that have been, well, less successful.
Looking back, the most successful trips were almost always due to the fact that extra time and care was spent planning the trip.
But not all golf trips are created equal.
Sometimes you're driving an hour, staying at a resort, and everything is basically done for you.
Other times you might find yourself trekking hundreds of miles through remote and foreign lands – all in the name of playing a few bucket list golf courses.
Regardless of which type of golf trip you're planning, spending some extra time beforehand to understand exactly what your trip is, and how to prepare for it, will go a very long way towards making it something truly memorable.
My goal with this post is to help you through every step of the planning.
First we'll look at things to consider right now – the stuff you need to think about before you do any of the actual trip planning.
From there, we'll look at how to make the most of your itinerary.
Then we'll look at some essential packing items, followed up by some last-minute things to consider before you leave.
Hopefully, by the end of this, you'll feel confident in your ability to plan all aspects of your trip, regardless of whether you're doing it for just yourself, you and your spouse, a few buddies, or a couple dozen friends from your club.
Before You Start Planning Your Golf Trip
1) Who is going?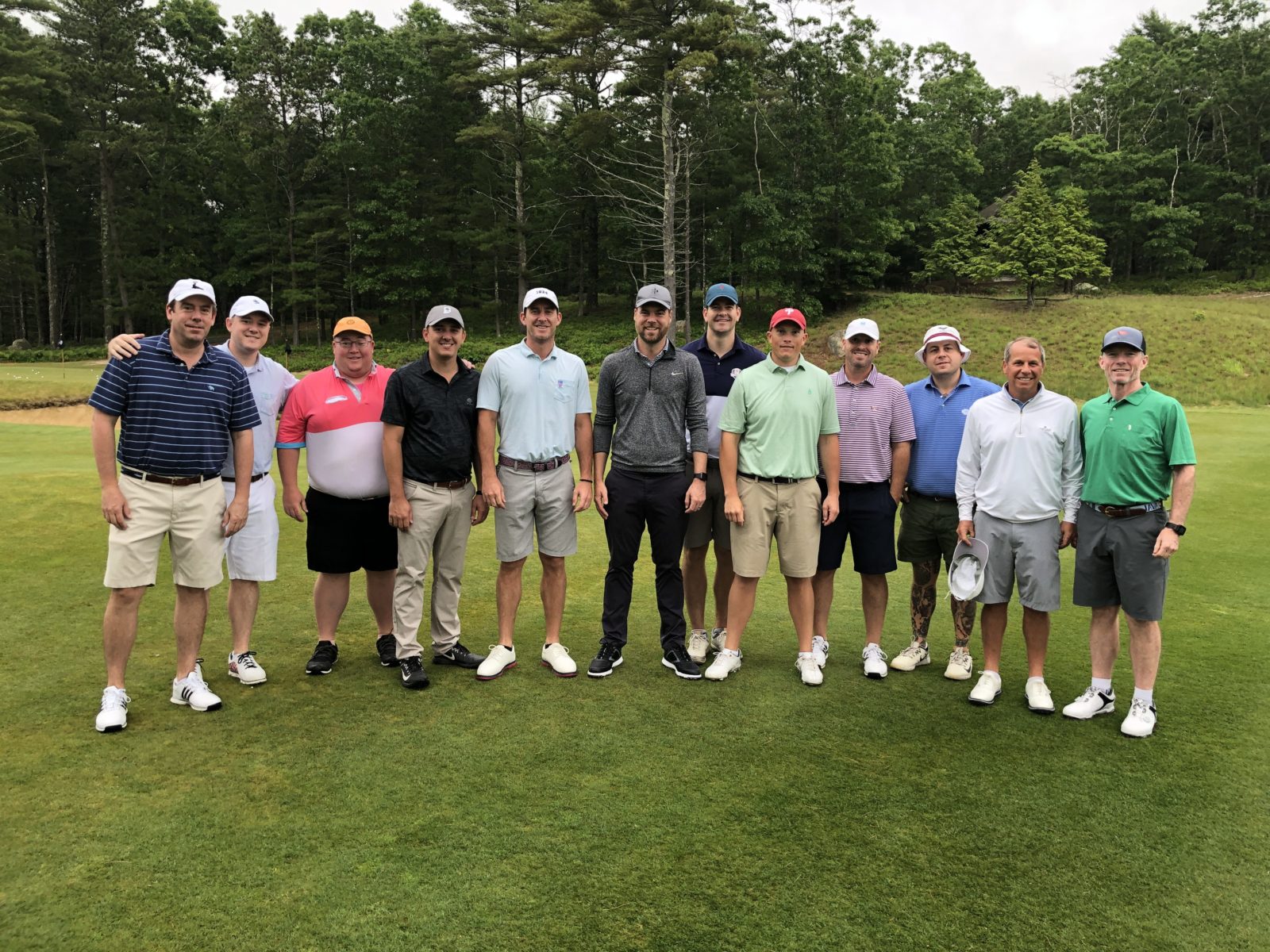 As you begin thinking about your trip, the most important question you need to consider is: who is going?
Is this a romantic getaway for you and your spouse? A solo excursion for yourself? A buddies trip for you and a 3 of your best friends? A larger group? A family trip?
The answer to this will dictate just about every other aspect of the planning.
For instance, if you're planning a romantic getaway then there's a good chance you won't want to bounce around from resort to resort. And if you're planning an epic trip for 24 people, then finding a place that can accommodate that a group that size is likely more important than the prestige of a top 100 club.
Get clear on who is going, and that will answer a lot of the next questions in your planning.
2) What are your priorities?
Not all golf trips are created equal.
Some trips are literally about golf and nothing else. On other trips, golf is just one aspect of what you're doing. So consider what other things you might be doing on the trip:
Do you want access to a spa
Good wine or beer?
Excellent cuisine
Fishing, shooting, or other outdoor activities?
Hiking trails
Luxury accommodations?
If any one of these are important, that will help narrow down your options when you're making your final decision on where to go.
3) When do you want to go?
When you go is almost as important as where you go.
If you've been thinking of planning an epic off-season trip to golf at say, Tetherow in Bend, Oregon – you'll be disappointed to find that the courses are closed 5 months out of the year.
Or maybe you've been thinking about desert golf in January, only to find out that the rates can be twice as high that time of year, when compared to the Summer.
Once you know, when you want to go, there where gets easier.
4) Where do you want to go?
You may already have a place in mind. If so? Great!
If not, the good news is you have a ton of options. There are some amazing golf resorts out there, regardless of which part of the world you live in.
Are you looking for someplace within driving distance? A bucket list, once in a lifetime destination? A secluded course with a private club-like experience?
Here are some things to consider to help you nail down where to go:
Is one course ok, or does there need to be multiple golf courses?
Are you visiting a private club or a public resort?
Are you ok driving between courses?
What area of the country are you considering, and what time of year do you want to go?
5) What's your budget?
Sure, we'd all love to head to Pebble Beach or Whistling Straits a few times a year, but let's be real, that isn't in the budget for most of us.
So how much do you want to spend?
This will dictate a ton about both where you go, and when you go.
For instance, if you're looking to spend around $1500 all in on a 3 day golf trip, Bandon Dunes may not be in the cards in July. But if you're cool with going in November, then all of a sudden that becomes a legitimate option.
6) Is it worth hiring a tour operator?
Does thinking about all of this just feel overwhelming?
Are you planning an international trip, and have no idea where to even begin your planning?
You might consider hiring a tour operator to handle all of the logistics for you.
This is especially worth considering if you're looking to travel to someplace like Scotland or Ireland, where tee times at places like the Old Course or Royal County Down can be very hard to come by, even if you're planning a year or two in advance.
And if you don't hire a tour operator you could end up looking like these two idiots:
7) Are you playing private courses?
If you're planning on playing some private courses on your trip, you'll want to plan even farther ahead. Depending on the exclusivity of the clubs you want to play, planning can be anywhere from slightly inconvenient to damn near impossible.
If there are private clubs on your itinerary be sure to consider all of the variables that go into it, like:
How are you getting access? A friend? A call from your head pro? A golf society or other online service?
Are you trying to play unaccompanied? If so what are the restrictions?
Are there certain days where there are guest restrictions?
Is there a dress code at the club?
Are favors being called in, and do you need to bring gifts for a host member or pro?
How will you pay for the rounds? Direct to member? Pro shop? Charged back to your home club?
Do you need to play with a member? If so, this will limit the size of your group.
Having clear answers to all of those questions will make your experience much smoother.
Related: Thinking of joining a private club? Here are 31 questions to ask before joining.
Golf Trip Planning
Ok, so once you've decided where you're going, when you're going, and who you're going with – it's time to get into the details: what do you need to consider when planning the actual trip.
8) 18 or 36?
How much golf are you planning to play? The most basic question to start with is 18 or 36 holes a day? This will dictate whether or not you need to do additional planning outside of your golf activities
9) Is one course the standout?
Are you taking a trip where one course is significantly more prestigious or interesting than the others?
If so, are you going to try and play multiple rounds there? Do you need to schedule your trip around availability for that course?
Often when this is the case, the better course can be in much higher demand, which can make planning tricky if you leave it until the last minute.
10) Are there stay and play options?
A lot of resorts will offer some fantastic stay and play deals, that may or may not be super visible when you first start planning.
Often the best deals will be in the shoulder or off-season, but finding the right deal can save you hundreds on the trip.
One of my favorite stat and plays in golf is at Sunriver Resort in Oregon. $99 a night in the shoulder season gets you a room, and unlimited golf, including one round a day at the wonderful Crosswater Club.
But even world-class options like Pinehurst or Whistling Straits have some stay and plays worth considering.
11) Are you walking, riding, or taking caddies?
It may not seem like this question matters much, but it can actually have a big impact on what you pack.
If you're walking 36 holes a day, then things like extra shoes, extra socks, and ibuprofen become much more important than if you're riding in a cart for your rounds.
Taking caddies? Then a light bag and cash become very important as well.
Also for courses with heavy caddie use, availability can be limited, so you'll want to make sure you request them in advance.
12) Book a rental car early
Booking a rental car can be a pain, and if you put it off too long, you may find yourself with a less than ideal car, or worse, no vehicle at all.
Personally, I've had the best luck booking through National Rental Car, or booking directly through the rewards portal for my Chase Sapphire Reserve credit card.
Be realistic about what you need too. Just because that Ford Fiesta is the cheapest option, doesn't mean it's going to be a good fit for 4 dudes with golf clubs.
Similarly, just because you're offered a free convertible Camaro, it doesn't mean it will be the most comfortable car for a golf road trip.
13) Decide if you're renting clubs or not
For years I've always traveled with my clubs. Even if that meant spending $300 in baggage fees on a budget Asian airline to have them.
But for as great as it is to have your own clubs, sometimes it's more trouble than it's worth.
For a recent trip to Quivira at Pueblo Bonito in Cabo, I opted for a rental set, since it was going to be such a quick trip.
Same for my last trip to play the Bahia and Pacifico Courses at Punta Mita. On that trip were traveling with our one year old, and the stress of having one extra-large bag, simply wasn't worth it.
If you're flying across the country to play Winged Foot? Probably worth the extra hassle. But if it's a short family resort vacation? It may not be as necessary.
14) Plan in time for "Extras"
This is one of the best tips I can give when it comes to golf planning. A lot of clubs and resorts have little extras that you may not think about when first planning your trip.
For instance, Bandon Dunes has the Shorty's Par 3, the Punchbowl, and the Preserve. Any of these 3 may get overlooked when you're planning, but the Preserve and Punchbowl are two of the most fun experiences at the resort.
Does the club you're going to have a sweet par 3 course? A can't miss milkshake? Something else? Consider these when booking your tee times, and try and leave time for some of those "can't-miss" extras.
15) How are you getting paid?
If you're just taking a trip with your spouse, this isn't quite as important.
But if you're doing the bookings for your friends, or a larger group? Make it really clear how payments will work.
I just recently booked a trip for 20 people to Bandon Dunes and had to throw down an $8k deposit.
Do you want to charge it and have people Venmo you? Pay you in full upfront?
Some resorts will take a deposit, and then allow individuals to pay everything else separately once on property.
Just make sure you have a plan so you're able to get the reservations you need, while not being out thousands of dollars in fees from "friends" that bail at the last minute.
16) Make sure you have everything you need to be "presentable."
Whether you're going to the local resort down the street, a 5-star experience, or a private club – always bring the things you need to make yourself presentable.
It's a golf trip, no matter where you go, there's always the chance that you'll need to dress up for dinner.
If we ever golf together, remind me to tell you about the time I played Maidstone and was asked to shave the night before. Shouldn't have been a problem, were it not for the fact I didn't have a razor with me.
So whether it's a jacket, collared shirt, or a pair of slacks – just make sure you're not the odd one out if the trip calls for a nice dinner or three.
Packing List: Make Sure You Bring Some Essential Items
17) Pack for everything
Does the weather report show 4 days of straight sunshine? Don't believe it! I can't tell you how many times I decided to skip packing rain gear, and thought the power of positive thinking would ensure we'd have perfect weather.
Alternatively, there's also been times I'd planned for cold and wet only to end up with 70-degree sunshine and not a pair of shorts in sight.
So do yourself a favor and pack for both sun and rain, your future self will thank you.
18) Get a durable travel bag
My first travel bag was a total piece of crap. It lasted me maybe 18 months before the canvas wore through and it rendered itself totally useless.
After that debacle, I invested in a Club Glove bag, and I've been using the same one ever since. Over a dozen countries, hundreds of rounds, and thousands of miles – and it's still performing like a champ.
Here's my review of The Last Bag from Club Glove.
Best Travel Bag
Club Glove Last Bag with Stiff Arm
I bought a cheap travel bag and after 4 trips it was worthless. Then I bought a Club Glove Last Bag. I've had it for 8 years and it's still going strong. Hands down, this is the travel bag to get.
Buy from Golf Galaxy
We earn a commission if you click this link and make a purchase at no additional cost to you.
19) Tylenol, Tums, Immodium Pepto etc.
Regardless of what type of trip you're taking, you'll likely be pushing yourself in one form or another.
Maybe it's 36 holes a day. Maybe it's a gallon's worth of Corona and Pina Coladas at the swim-up bar.
Whatever it is, pack your Dopp kit with all the essentials to make sure you can power through.
My short list is:
Tylenol or ibuprofen
Tums
Immodium
Pepto Bismal
Biofreeze
20) Pack extra socks
Want in on a little secret?
The key to feeling as fresh as possible during a 36-hole day? New socks.
Regardless of what the weather is like, change your socks between rounds. You'll feel like a whole new person.
Here's my go to:
Best Golf Socks
KENTWOOL Men's Tour Standard Merino Wool Crew Sock
Whether it's crew or no show socks, Kentwool continues to be my all time favorite sock. I wear both versions on the golf course and they're incredibly comfortable and durable.
Buy on Amazon
We earn a commission if you click this link and make a purchase at no additional cost to you.
09/30/2023 10:45 pm GMT
21) Do you need a jacket?
Bring a suit jacket or blazer. This goes back to looking presentable. There's a good chance you won't need it, especially if you're just hitting a casual spot with your buddies.
But the one time you find yourself unprepared for a formal dinner, the pain of showing up underdressed far outweighs the pain of adding an extra pound to your suitcase.
22) Bring rain gear
See the point above about packing for everything…
23) Bring 2 pairs of shoes
Similar to the extra socks rule, you should always bring two pairs of shoes as well.
There's nothing worse than ending up with a wet round and having to put wet shoes back on the next morning.
Personally, depending on the round I generally pack one pair of traditional golf shoes, and one pair of spikeless shoes that you can wear to the bar afterward if necessary.
Here are our favorite golf shoes of 2022.
24) Load up on golf balls before you go
I still vividly remember the day I showed up at TPC Sawgrass without any golf balls.
The prices of, well, all of the balls, were insane.
So rather than pick up something suitable for a round at TPC, I bought a box of Noodle golf balls for close to the retail price of a box of Pro V1s.
Fun fact, the Noodle's actually performed far better than expected.
But still, do yourself a favor and pick up some balls on Golf Galaxy or Amazon beforehand.
Here's our list of the best golf balls out there right now.
25) Sunscreen
This is another thing that can get marked up to crazy prices at a resort. If you're at a private club, there's a good chance it's available for free in the locker room – but don't risk it.
We've all gotten through 9 holes with the sun beating down, only to remember we forgot to apply sunscreen. The farmer's tan (errr, burn) that ensues isn't a good look for anyone.
26) Bring a rangefinder
Chances are you're not traveling to go play a highly mediocre golf course. If you're taking a real trip, there's probably something interesting or special about the trip and the course(s) you'll be playing.
Give yourself every advantage you can and make sure you pack your rangefinder.
On one of my recent Mexico trips, I forgot to put it in my golf bag, and I was kind of surprised at just how much I missed it.
It's one thing to not have it on your home course that you don't know well, but missing it on a new course when you're on vacation can make distances tricky – especially if your clubs are rentals.
Here are my favorite golf rangefinders.
Right Before You Leave
There's a few more things you should do right before you leave to ensure the trip gets going on the right foot.
27) Bring cash
There's nothing more awkward than finishing up your round, and realizing you don't have cash to pay your caddie.
Seriously, that's a situation you don't want to find yourself in, and if you do, you better hope your friends were smarter than you and brought extra.
Moral of the story? You should be that person and be the one to bring more cash than you think you'll need.
28) Make a playlist
More often than not, when I'm playing golf with my friends we're listening to music.
So put a little extra thought into it and create the perfect Spotify playlist before you go.
29) Download your courses
Do you use a GPS app or shot tracker like Arccos or Shot Scope?
Make sure to download the course information to your phone before you leave.
I've had countless trips, where I get to the course only to realize I don't have cell service, so I can't download the GPS information for where I'm playing.
Save yourself the trouble and take an extra 90 seconds to download them before you leave.
30) Consider 18 Birdies for Competition
Are you playing with a larger group where there's some sort of competitive element? Consider using the 18 Birdies app to keep track of everything.
During the pandemic, we did some virtual tournaments for the Eighty Club and the app did a great job of keeping track of the scores, leaderboard and more.
31) What is your go-to souvenir?
Finally, I always try and keep in mind what I need to get when I'm at a new golf course.
Personally? I collect scorecards and pencils. So I always make a point to make sure I grab them first, and put a clean one in my bag so that I don't forget it.
But if you're someone that goes for hats or other pro shop items, be sure you give yourself extra time to grab the things you need while you're on your trip.
What Did I Miss? What Are Your Best Golf Travel Planning Tips?
There you go, 31 things I consider before any golf trip that helps ensure the trip goes off without a hitch, regardless of who's going, where I'm going, or how long the trip is.
But we all have our own personal tips and tricks for making the most of our golf trips. What would you add that I missed?
Drop a comment below and let us know!
---
---
---