Half Moon Bay Golf Links Review: Does it Live Up to the Hype?
So I just returned from my second trip to Half Moon Bay where I spent a long weekend staying at the Ritz Carlton and playing the two golf courses there.
If you've ever been to the California coast, then you know, it's one of the most beautiful spots in the world. Every time I'm there, I'm in awe of the scenery and the setting for golf.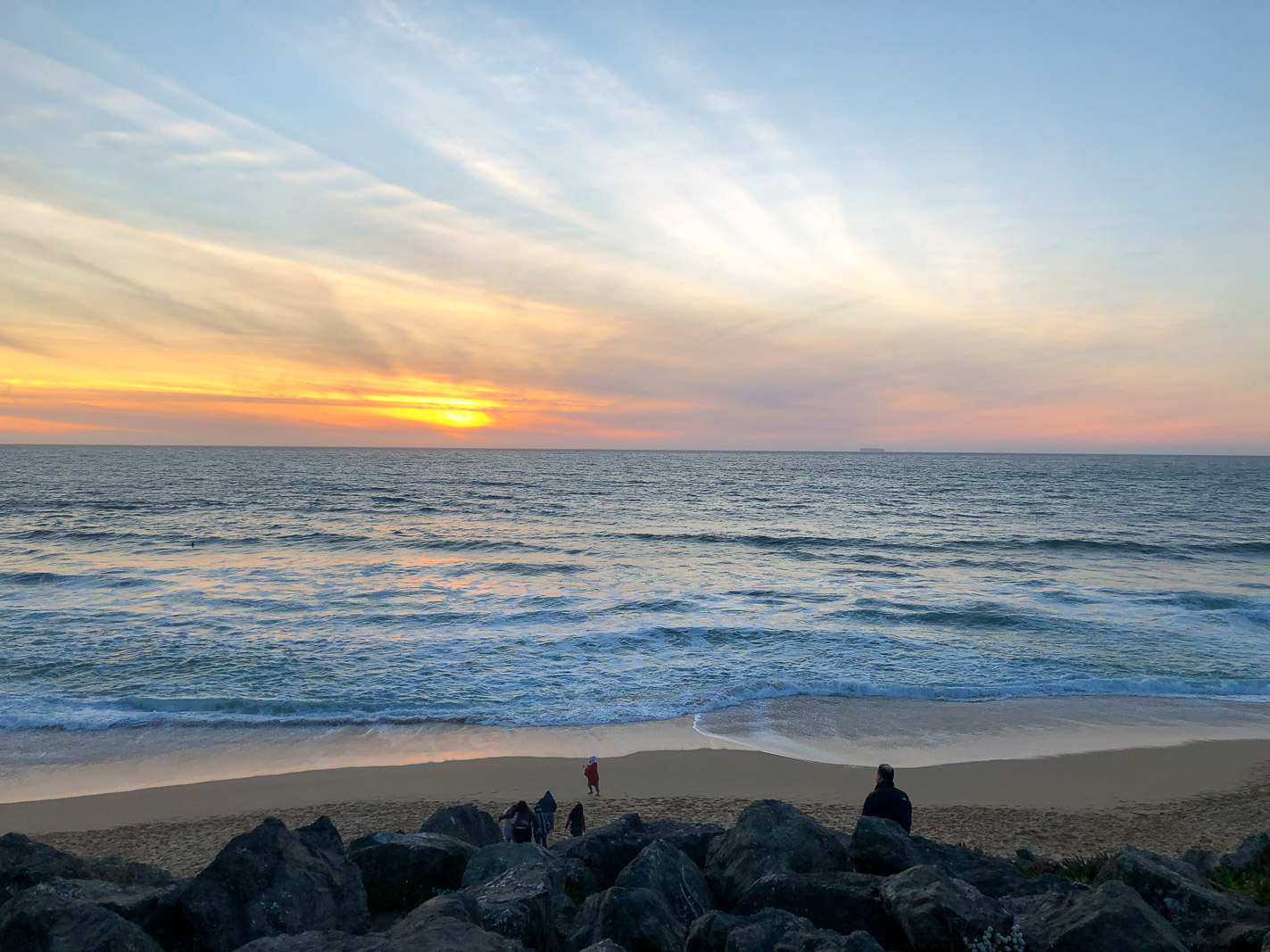 At least a few times a month on the site I get questions from readers asking about golf in the Bay Area and where I recommend. I also get questions asking if the resort at Half Moon Bay can compete with it's sexier sibling down south, Pebble Beach.
Today we're going to answer that question, and I'm going to give you my honest opinion of the Old and Ocean Courses, as well as do a review of the Ritz Carlton Half Moon Bay.
Ready to do this?
Let's go.
First Impressions of Half Moon Bay Golf Links
When you arrive from SFO and you're making the drive down the coast, as I mentioned, you're in awe of just how beautiful it is.
As you arrive at the Ritz Carlton Half Moon Bay, you know you're in for a treat, but you're put off for a moment when you look over to your left, and there's a…mobile home park?
I found this to be a little bit surprising. It's not like it's a big deal, but as you're coming down the driveway, and from a few holes on the Ocean course, you can see a pretty tightly packed mobile home park that has to be on one of the best pieces of land for a park like that anywhere in the world.
I only mention this, because for a resort that is touted as one of the most luxurious in the country, it seemed out of place.
But with that out of the way, once you pull up to the front of the hotel the experience and service is phenomenal.
Every time I entered or exited over the course of the next three days the bellhop remembered my full name, and called me as such.
Nice to see you, Mr. Ogle.
Hitting the course today, Mr. Ogle? By the way, Tiger is one up through six on Rory.
When we checked in we were treated to a complimentary glass of Napa Cabernet, and the hotel, while not the most over the top or extravagant Ritz-Carlton I've ever stayed in – was everything you would expect a 5 star hotel to be.
Ritz Carlton Half Moon Bay Accomodations
Since I'm already talking about the hotel, I might as well finish up talking about that – because it truly is an integral part of the Half Moon Bay experience.
The rooms are very nice, and appointed in way commensurate with what you'd expect from a Ritz-Carlton.
There are large soaking bathtubs, a Nespresso machine (one of my favorite features when staying in this caliber of hotel), a white noise machine, and all of the other amenities you'd expect.
On my most recently trip we probably had the worst room on the property simply because of the view that was half roof/half driveway. But I use the term "worst" very loosely – the room itself was fantastic.
However if you do go, if it's in your budget it's worth trying to get an ocean view room, or my personal favorite, a firepit room. Which yes, includes it's own gas fireplace on your personal patio off the 18th green of the Ocean Course.
A fire, a glass of wine, and a sunset? Doesn't get much better than that.
Ritz Carlton Half Moon Bay Dining
There are a number of dining options at the Half Moon Bay Resort.
The Conservatory is the primary option for all day dining, and is good, but as to be expected at a Ritz, expensive.
For breakfast, I actually preferred the short stroll down to the pro shop where Mullins is located. There's a sit down breakfast, or you can grab a breakfast burrito or sandwich from window.
The $8.95 Spanish Breakfast Burrito may have been the best deal on the entire property.
Certainly a better value than the $11 shots of Fireball at the turn 🙂
Navio is the fine dining restaurant at the Ritz, and I'd have to check my notes from my previous trip to do a proper review. But from my recollection, it was very good, and a step up from what you'll get at the Conservatory.
The Ocean Terrace at the Ritz Half Moon Bay
This is why everyone comes here, and is truly the centerpiece of the resort, if not the whole community.
The Ocean Terrace at the Ritz-Carlton Half Moon Bay is quite simply one of the greatest places to enjoy a drink and watch a sunset in the world.
The views overlooking the world class 18th hole on the Old Course, and the waves crashing against the beach are stunning.
The food and drinks there are good. My $28 burger was….good. Not world class, but very tasty.
But that's all to be expected. The setting is what makes this. I'd suggest an Aperol Spritz or glass of prosecco and some oysters to truly get the coastal, insanely bougie full experience.
Just make sure to watch your head, as it's not uncommon to see mishit shots come flying into the throng of spectators 🙂
Ritz Carlton Half Moon Bay Spa
Ok, against my better judgement, I'm going to admit this about myself: I love spas.
These days whenever I book a hotel I do my best to find one that has a solid day spa. The St. Regis Singapore a couple months back, was excellent.
And the spa at Half Moon Bay, as expected lived up to expectations, and is the perfect way to unwind after a day on the course.
The spa features a dry sauna, steam room, hot tub, and my personal favorite, a cold plunge. Any time you find a hotel spa that includes this, you know they're the real deal.
What was also nice was they had a separate co-ed room with a larger, and slightly less hot, hot tub, surrounded by showers. So if you're there with your significant other, you can enjoy at least some of the spa together.
Overall Experience at the Ritz-Carlton Half Moon Bay
Without saying anything about the golf, the experience at the Ritz Half Moon Bay is excellent.
The property clearly is a target for events and conferences, so you can expect to probably see one or two while you're there.
But the service is excellent, the accommodations are beautiful, the food is very good, and the views are world class.
But just be aware, this all comes at a price.
This is not a budget destination, so if you book a trip here, even if you get a good deal on the room, you can still expect to spend more than you might on your average golf weekend.
I've stayed on property almost the entire time during both of my trips here. That said, our last night this past go around we did head out for dinner at a restaurant called La Costanera which was about 15 minutes away.
Next to Andina in Portland, it was some of the best Peruvian food I've ever had – and it may very well have been the best Pisco Sour of my life.
The Old Course at Half Moon Bay
Now, what you've probably been waiting for: the golf!
I will say that it's difficult to separate the resort experience from the golf, as they do go hand in hand a bit – and frankly, and I know I'll get crap from some of you for saying this, but the resort is more of the highlight for me (with some notable exceptions, that I'll discuss in second).
The Old Course at Half Moon Bay was built in 1973 and was designed by Arnold Palmer and Francis Duane.
Whereas it's counterpart, the Ocean Course has more of a links feel and has better views throughout – the Old Course provides a decidedly more….suburban(?) experience.
Despite it's proximity to the Ocean you'd have no idea it was there until you get to the 17th hole.
The Old Course is generally considered to be the better (and certainly more difficult) of the two Half Moon Bay golf courses.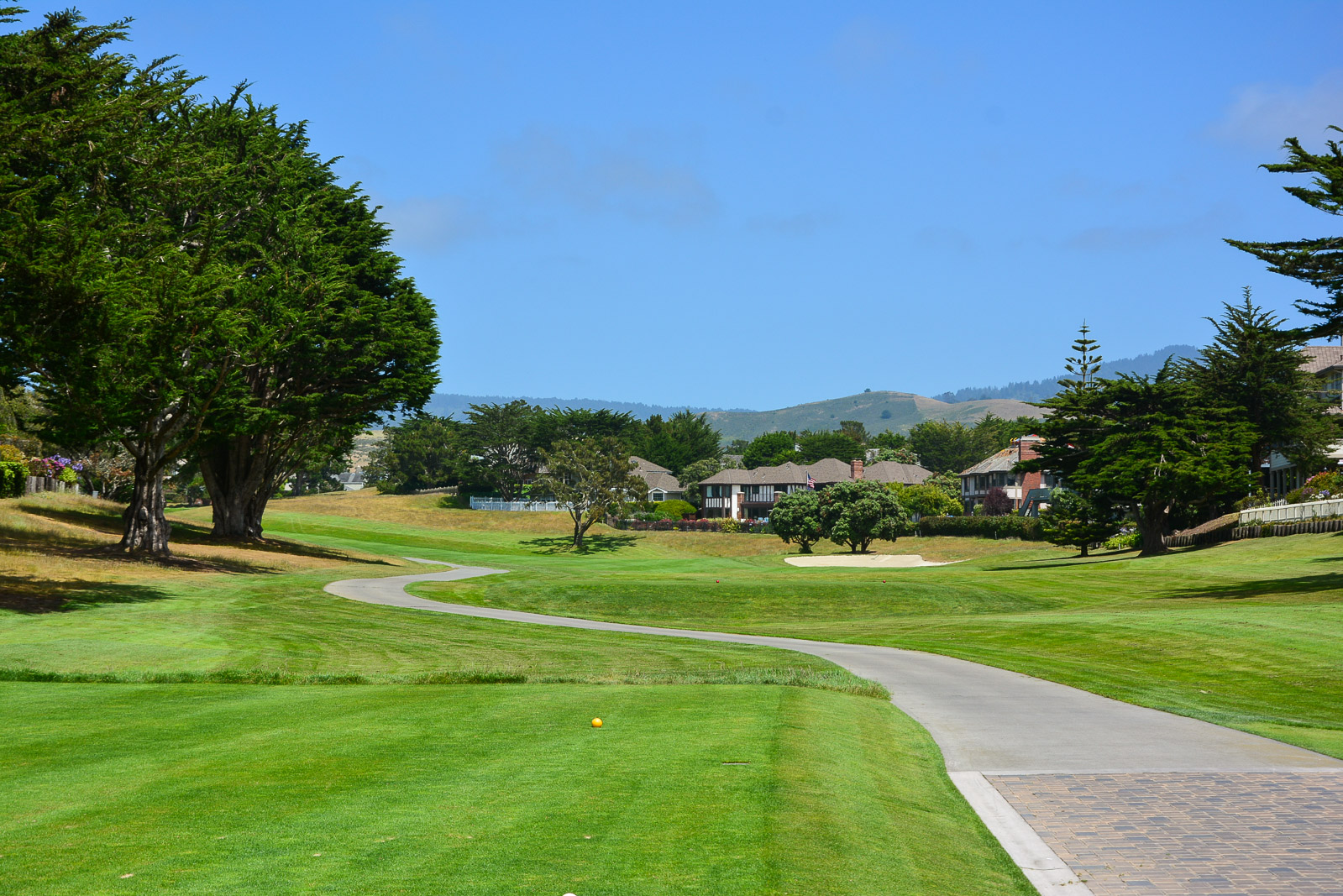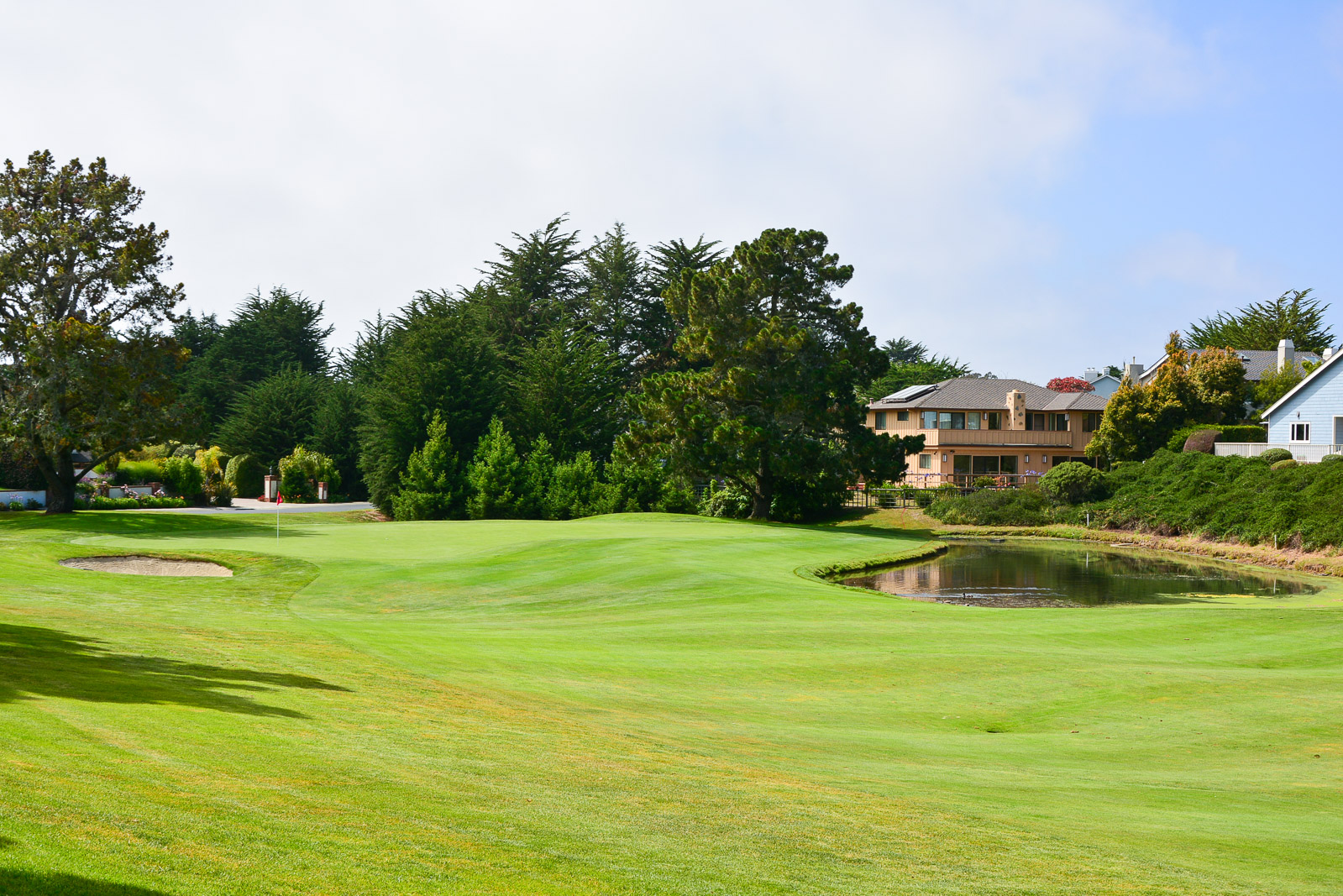 But the entire routing, short of the last two holes winds through a housing development, that for me detracted a bit from the experience.
In our group multiple houses were hit, multiple balls were lost, and when you think of an ocean vacation and round of golf, this isn't necessarily what you expect.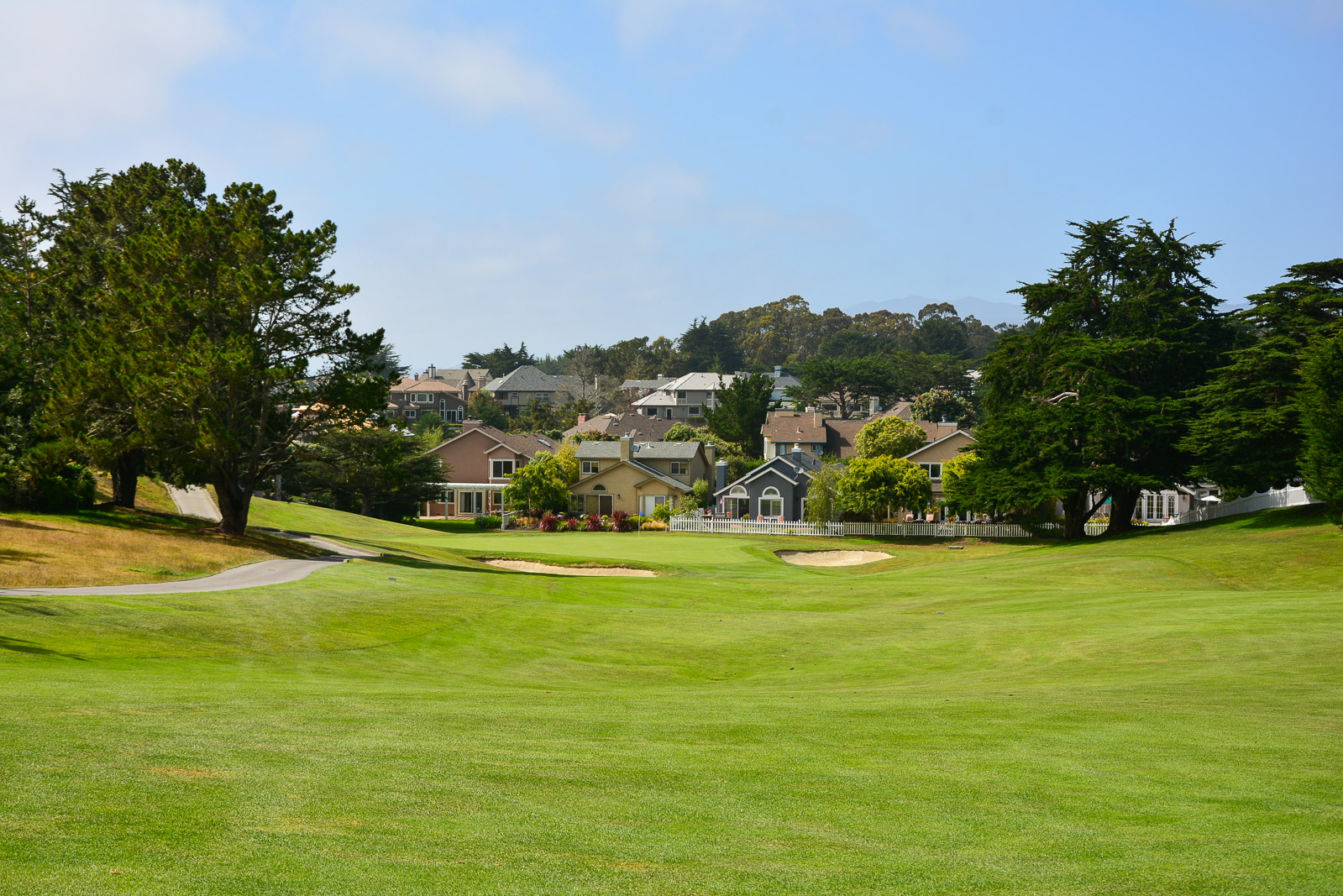 With that said, I do think there are some very good holes on the course.
I personally like the short par 4, 4th which gives you some excellent risk/reward options if you want to play aggressive and go for the green by cutting the corner.
9 playing back down toward the hotel is also another shortish par 4, that's a nice break from some longer and more challenging holes, and provides the best view on the front.
However, the rest of the round felt a bit more pedestrian up until the 15th hole – and if you're paying the full rack rate of $250, you might find yourself feeling the course a little lacking.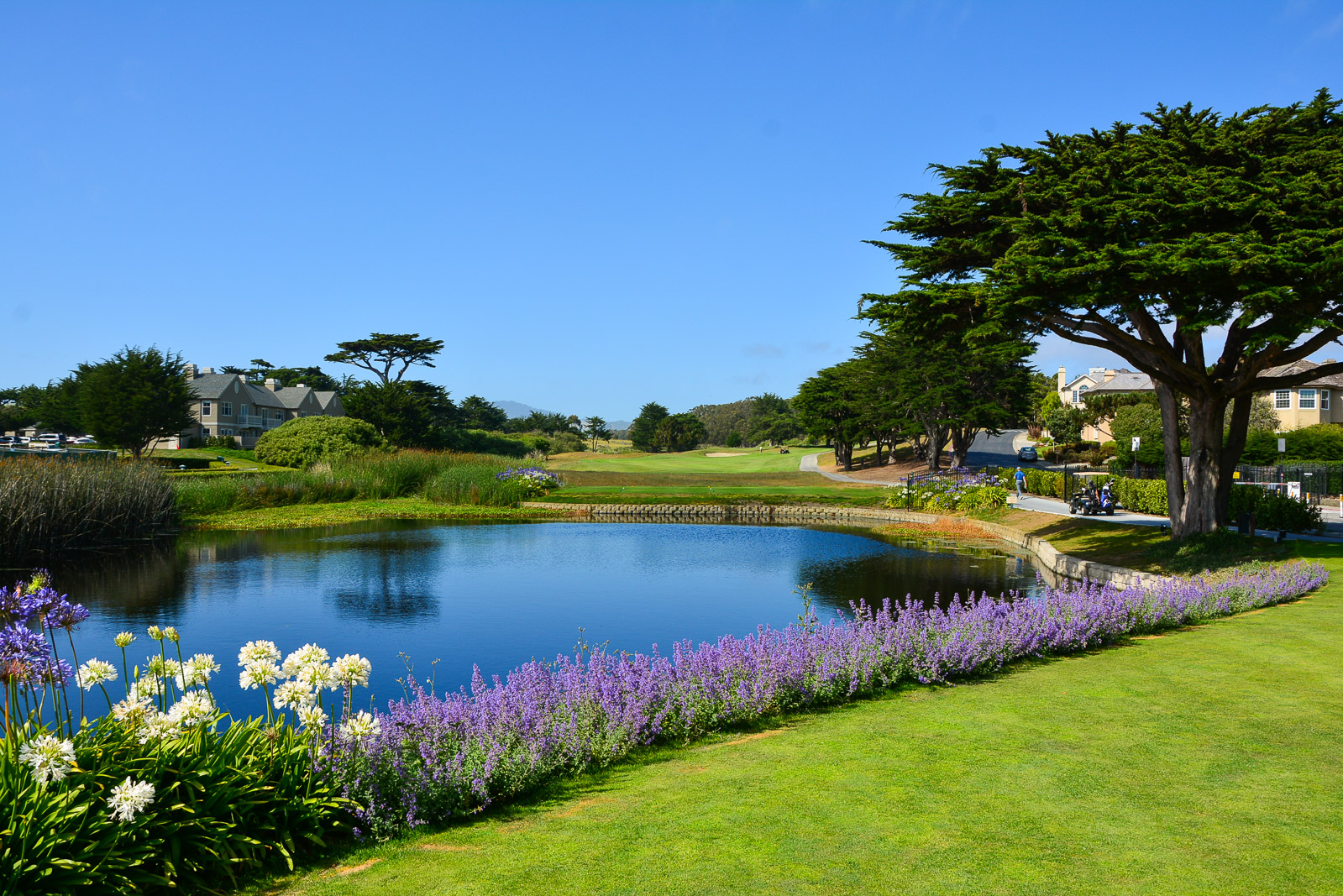 That said, I think 15 through 18 is a wonderful stretch.
15 is a par 5 with a lake bordering the left hand side of the fairway. It's reachable in two with a solid drive and a gutsy second shot.
16 is a par 4 that forces you to hit a mid iron over a ravine to the green.
17 is a par three that is a fine golf hole, but it's made much better by virtue of the fact it's the first time you've seen the ocean in 17 holes.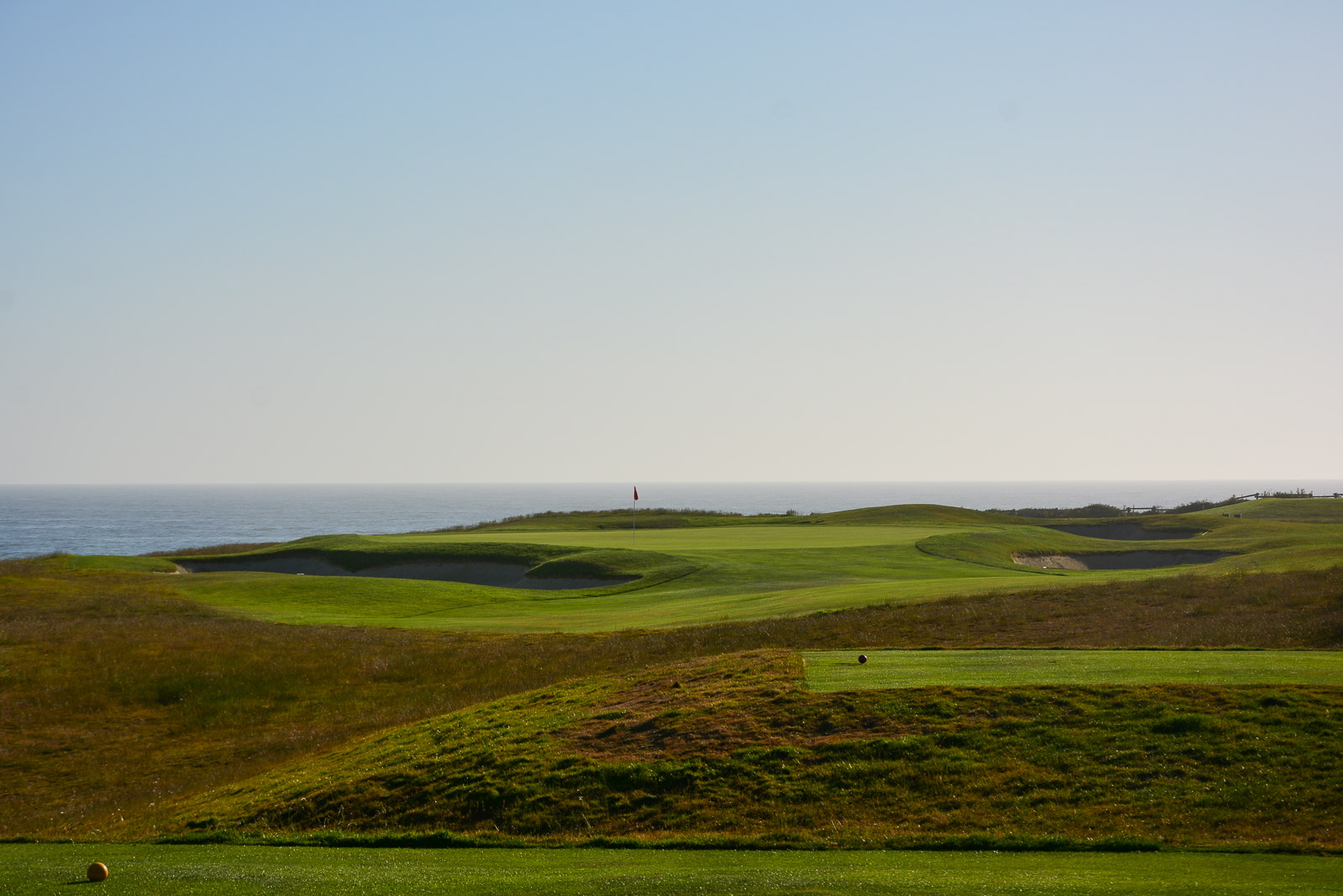 And then there's 18. 18 at the Old Course at Half Moon Bay Golf Links, is quite simply one of the best holes in golf.
It borders the ocean all down the left hand side, and asks you to hit a good drive without going down the ravine which is situated about 280 out.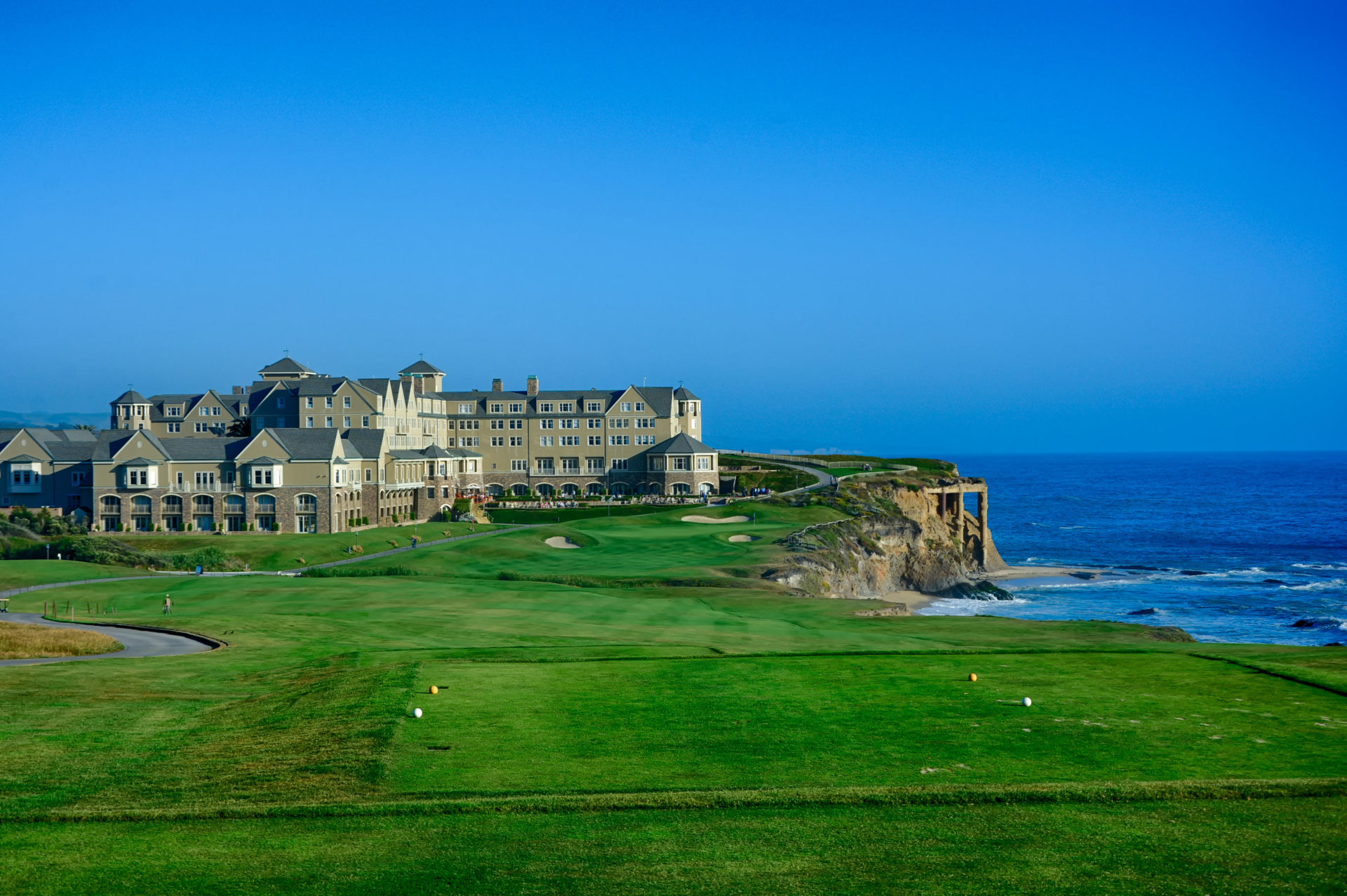 From there you'll have an approach shot that will test your nerves, as regardless of the time of day, there will be people watching.
Don't skull it.
The Ocean Course at Half Moon Bay
Like it's Sister, the Ocean Course is a pretty polarizing course.
Some people love it. Some people don't.
I'm somewhere in between.
The Ocean Course was built in 1997 and designed by Arthur Hills.
I've heard it referred to on more than one occasion "the worst use of coastal land they've ever seen."
That's harsh, it isn't that bad by any means.
But that isn't to say, it couldn't have been better.
The Ocean Course actually starts out really strong.
A wide open fairway to a very interesting and undulating green on 1 sets the stage.
A potentially drivable downhill par 4 with a very narrow fairway is an interesting hole to keep it going on the second.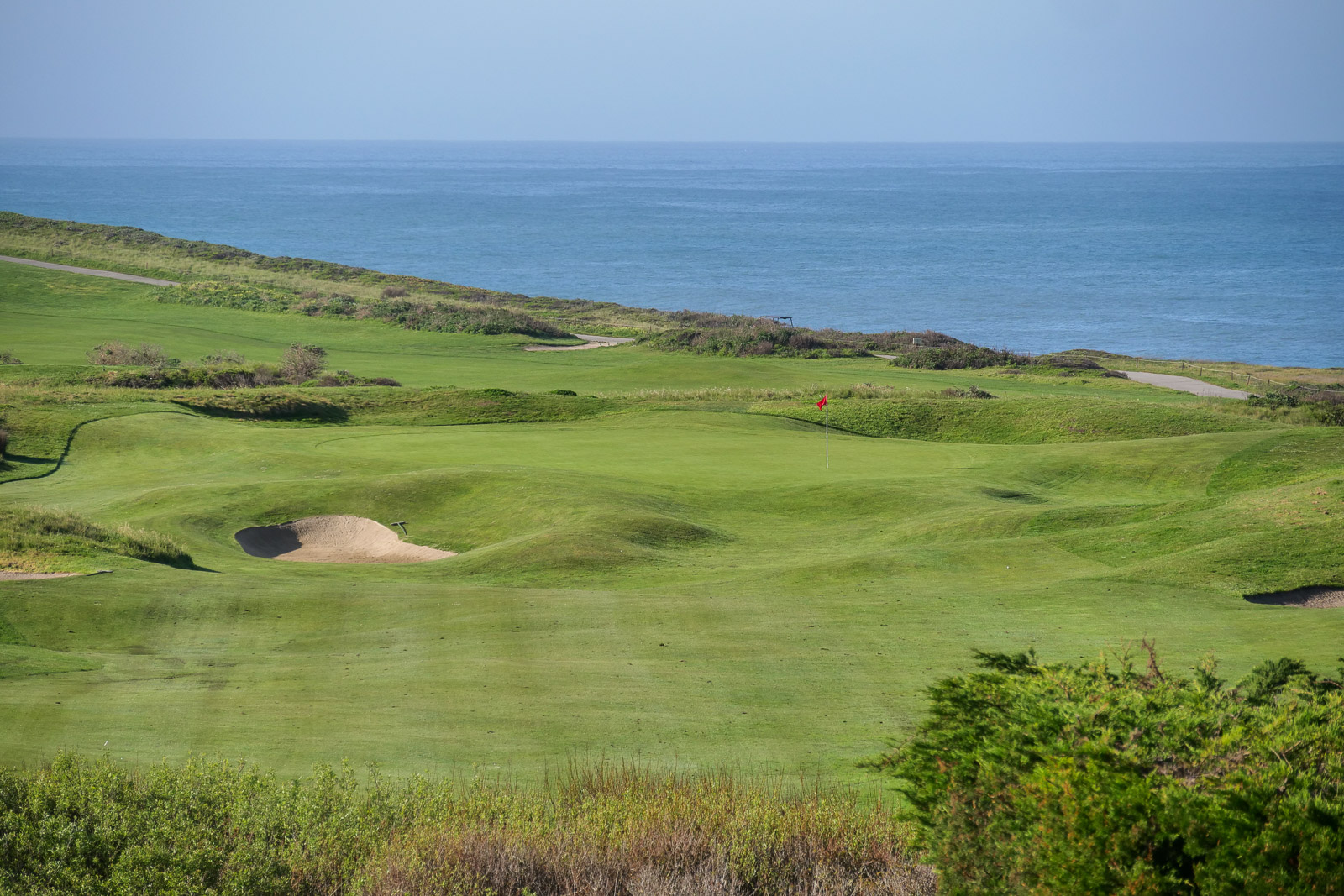 And the shortish par 3, 3rd was one of my favorite par 3s on the property.
But after that, things start to go downhill a bit.
There are multiple occasions where the holes just kind of lap back and forth, without having many distinguishing features.
To make this worse, the holes are very close together, and there are a few instances where the routing actually causes some very real danger as sliced balls can fly straight onto neighboring fairways or greens.
As with the Old Course, the final three holes are very good. With the climax being the scenic 16th which has the best view on the course.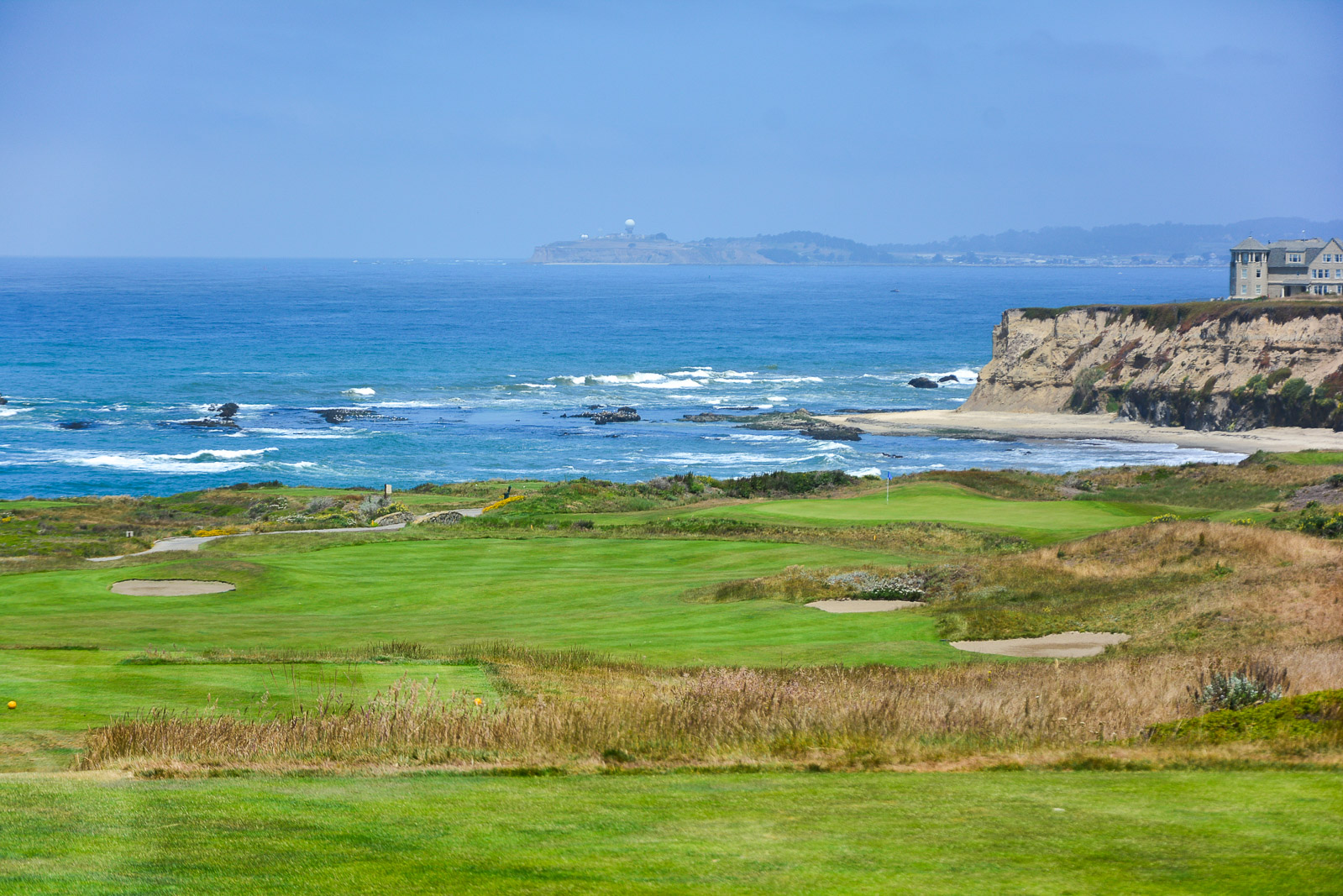 17 is an enjoyable par 3 on top of the beach cliff, and 18 is a par 5 with an uphill tee shot that forces you to hit over a crowded walking path.
Of course in our group before teeing off we said "there's only one rule, don't kill anyone!"
Next guy up? A rocket directly at a group of three ladies walking down the path. Missed them to the right in some brush by about 5 feet.
Oops.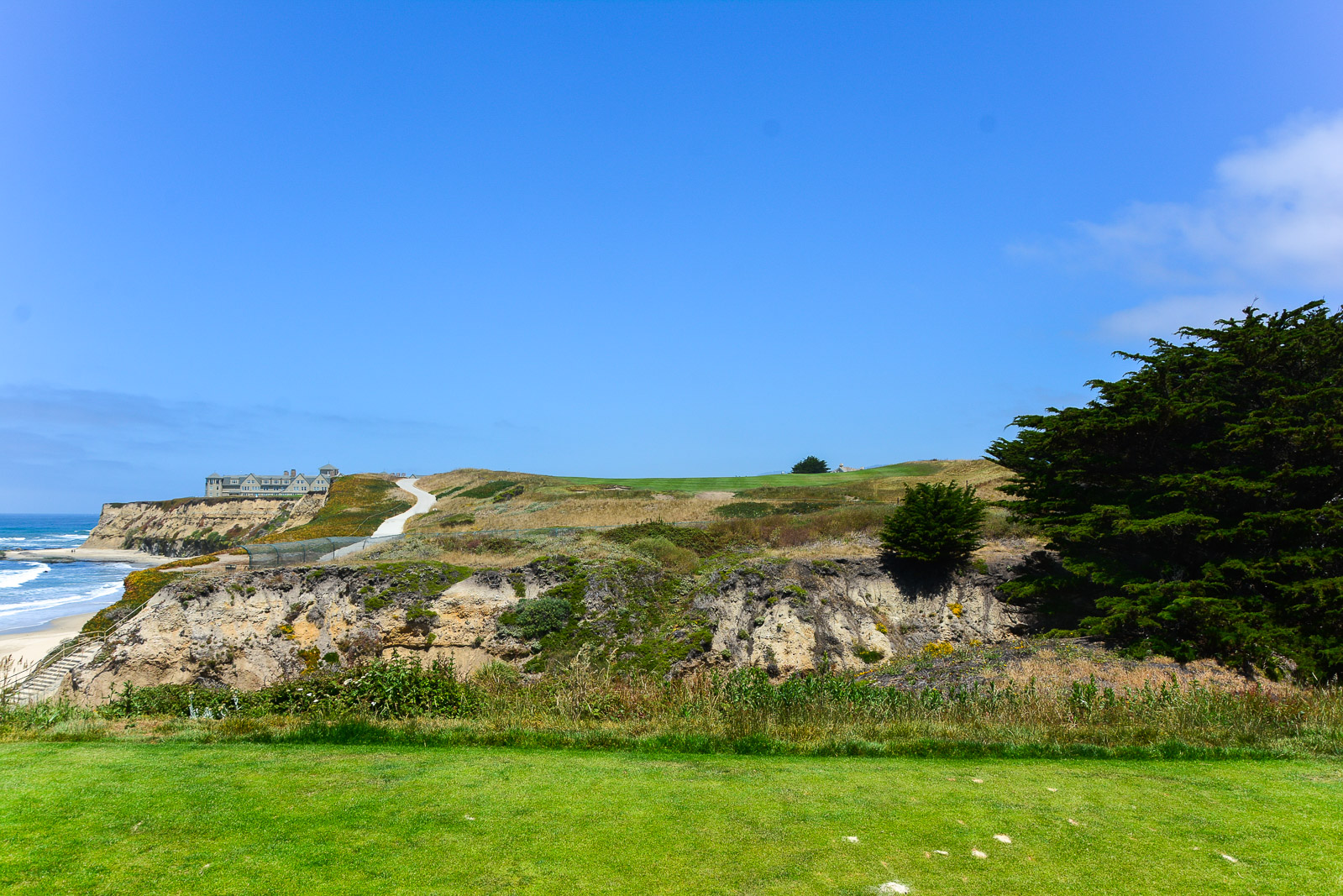 I will say that on this second time playing the course, I enjoyed it more than I remembered. The third was an enjoyable par 3, and the downhill tee shot on 13 was a highlight – save for again, the danger a hard slice causes to neighboring golfers.
My critiques of this course, and frankly, both of these courses should be taken with a grain of salt.
I've been extremely fortunate to play some very good golf courses, and it's hard not to compare these to the back catalogue of courses I've already played.
I actually have really enjoyed the time I've spent on both the Half Moon Bay tracks. And if you're someone who doesn't necessarily travel a ton for golf, and is just looking for a great vacation with some enjoyable courses, then I think you will absolutely love your experience at Half Moon Bay.
If you walk in expecting courses that rival Pebble Beach, Bandon, or other famous coastal courses, then I think you'll find yourself a little let down with the architectural quality of each of them.

Half Moon Bay Green Fees
Unlike Pebble Beach, where you're pretty much paying $500+ regardless of when you play, prices at both the courses at Half Moon Bay are variable.
The week I played, I think the rates were around $150 for each of the courses.
I think at that price they're both worth playing. $250, where it is in peak season, gets to be a bit of a stretch.
Conditioning, is usually not an issue here.
However on my most recent trip, the courses, particularly the Old were in pretty rough shape.
A plethora of rain over the previous weeks has caused the course to be extremely wet, and plugged balls were the norm. The greens had also been punched about two weeks prior and were still quite bumpy.
The greens on the Ocean course hadn't been punched and were in much better shape. The course was still wet, but despite still not getting much roll, we didn't have as much of an issue with plugged balls.
Final Thoughts on Half Moon Bay
Every time I come to Half Moon Bay, I know I'm going to have an amazing weekend.
The hotel is excellent, and you truly feel pampered and well cared for.
And while I woudn't call either of the golf courses as a whole (save for 18 on Old), world class, I do think they are very enjoyable, and for the average golfer will make for a wonderful few days.
I also do really like the fact that the courses are both so different. The Ocean is truly more of a links style course, whereas the Old feels more parkland, and championship-esque.
If you get the chance to spend time here, I highly recommend you do it. And even if you decide not to golf or stay at the resort, swing by the Ocean Terrace at sunset and enjoy the bag pipes and a cold beverage, there truly are very few better spots for it in the world.
---
---
---