Bushnell Tour V6 Shift Review: Better than the Pro X3?
It's easy to label the Bushnell Pro X3 the best rangefinder in golf.
It's the flagship device, from golf's flagship rangefinder company, at a flagship price.
But for $200 less, there's a contender that may just give the Pro X3 a run for its money:
It's not quite as beefy, it doesn't have some of the extra high-tech features (that most people don't really need), but it does everything you need it to do.
And spoiler alert, it does those things extremely well.
So should you save your money and buy the Tour V6 Shift instead of the Pro X3? How does it compare to lesser-known contenders like the Cobalt Q-6 Slope? And is it worth paying $150ish more to upgrade from the Precision Pro NX10 to go with the "name brand"?
We'll answer all these questions and more in this Bushnell Tour V6 Shift review.
First Impressions of the Bushnell Tour V6 Shift
I remember when I first tested the Tour V5, I handed it to my buddy with a big grin and said "try this."
"Whoa. This is good."
I was hoping for a similar reaction with the V6. I handed it to the same friend, who is a current X3 user, and his response surprised me.
I'll get to that in a second.
Out of the box, the packaging is pretty much exactly what you'd expect from Bushnell.
It looks and feels professional, but there's nothing over the top about it.
In the box you'll find: the Tour V6, a case, an instruction manual, and microfiber cloth.
Pretty much what you'd expect.
The case is high quality, and it's essentially the same case that the Pro X3 comes with, with slightly different dimensions to account for the more compact form factor of the V6.
The device itself feels excellent in the hands.
Every Bushnell golf rangefinder does.
There are a ton of fantastic rangefinder companies now that are putting out great products.
5 years ago, it was basically Bushnell or bust. These days there are some very worthy alternatives, and buying a Bushnell isn't necessarily a given.
But this is the most premium feeling Tour model I've used yet.
(Bushnell usually has two models at any given time: the "Pro" series are their most expensive models, and the "Tour" series is a bit more affordable.)
The Tour V6 has a beefy magnet on the back, and this is the most weather-sealed "Tour" model to date, with an IPX6 rating.
It's still not the fully waterproof IPX7 rating like the Pro X3 or competing Cobalt Q-6, but is more than enough for all the conditions you'll find on a golf course.
The Pro X3 is among the biggest and heaviest rangefinders I've ever used. I personally like a bigger and heavier rangefinder. It makes it feel sturdier and like it's well-built. But the Tour V6 hits a sweet spot where it feels high quality and well built, while still being a very manageable size.
It isn't as tank-like as the Pro X3, and that's probably a good thing for most people.
The slope switch is also on the side, which I love.
The Pro X3 uses a new type of switch, which I'm not crazy about. Sure, there's a better chance of it not getting accidentally switched while you're playing in a tournament, but the logo design on the side is easy, discreet, and does the job very well.
But what's it like to use the Tour V6 Shift?
Bushnell Golf Tour V6 Shift Performance
It took all of about 10 seconds to realize one thing about the Bushnell Tour V6 Shift: it works beautifully.
The V6 doesn't have the red backlit display of the Pro X3, but the ring around the optical viewfinder will light up red, along with a vibration when it senses you're locked onto a flag.
I've reviewed a lot of rangefinders, and the whole vibrate technology can be a bit misleading.
Many less expensive rangefinders will vibrate, but not necessarily because it's locked onto the flag. The technology that can sense whether you're shooting a flag or something else, is actually pretty expensive to implement. So some cheaper rangefinders like those from Precision Pro and Blue Tees, will vibrate, but they'll do it any time you range a distance – not just when it's locked onto a flagstick.
It makes for a nice tactile experience but doesn't give you any confidence that your distance is 100% accurate.
I'm happy to report that the Tour V6 Shift has some of, if not the best, vibration technology I've ever used.
In fact, it's more reliable and consistent than the Pro X3. I've tested these extensively back to back.
And while the "Jolt" technology in the Pro X3 is much better than in the older Pro XE – it still doesn't vibrate on flags quite as reliably as its $600 price point would suggest.
The Tour V6 has nailed it every time for me, and is on par with the Cobalt Q-6 Slope, which is the most accurate rangefinder I've tested, and a personal favorite.
The Jolt motor on the Tour V6 and the Pro X3 are noticeably different. The Pro X3 is a slightly more subtle, lower frequency vibration – which feels a little bit more high-end.
The Tour V6 is a higher frequency vibration. This is something you'd never notice or care about if you weren't comparing them back to back. I just figured it was worth noting.
Downsides of the Tour V6 Shift
I feel like I'm being overly disparaging of the Pro X3. Let's be clear, that's one of the best rangefinders ever created.
And there are a handful of noticeable downsides when going with the cheaper model.
The optics, while great on the V6, are a step down from the Pro X3, and similarly priced Cobalt Q-6 Slope.
Both of those other models have 7x magnification vs the 6x of the Tour V6 Shift. This doesn't seem like a huge deal, and for many people, it's not. But after using so many 7x magnification devices, I've found it really does make for a more enjoyable experience.
Also, I've noticed using the Tour V6 Shift, lining up your eye with the viewfinder can be a little bit trickier than with most rangefinders.
Have you ever looked through an older pair of binoculars and it's sometimes hard to line up your eye so that you can actually see through the glass?
The Tour V6 has a little bit of this. The more I've used it, the more I've adapted and it hasn't been as much of an issue – but it's something that jumped out at me pretty quickly, especially when compared to competing models.
Another thing to note is a little bit of heresy, but I want to mention it.
I've had a number of people complain to me about Bushnell's customer service over the last couple years. It's a large company, I've had quite a few readers tell me they've struggled to get repair or warranty fixes done in a timely manner or at all.
My only experience with Bushnell support has been with the Launch Pro. And I got a knowledgeable support person on the phone right away, so my personal experience has been great.
Smaller companies like Cobalt, Precision Pro, and Blue Tees are a little bit more nimble in this regard, and seem to have more reliable and easy-to-access customer service. Not to mention a couple of those either ship with multiple batteries, or in the case of Precision Pro, have "free batteries for life."
With the Tour V6, it only comes with one. Not a huge deal, but sometimes it's the small things that matter most.
Final Thoughts on the Bushnell Tour V6 Shift
So remember earlier when I mentioned my friend who I had try the old V5 model?
I gave him the V6 to use:
"This is the best rangefinder I've ever used. I love this. I'll trade you for the Pro X3."
Seriously.
He has the more expensive model, but preferred the cheaper one.
And you know what? I think I'm inclined to agree with him.
It doesn't have "slope with elements," a backlit display, app capabilities, and isn't technically fully waterproof.
But the Bushnell Tour V6 Slope is, in my opinion, the most well-rounded rangefinder Bushnell has released to date.
It has the right marriage of performance, build quality, features, ergonomics, and price to truly hit the sweet spot for most consumers.
If you're looking for a premium rangefinder right now, this is definitely one of my best recommendations.
For most people, I'd recommend it over the Pro X3. The X3 is great, but I'm just not sure it's an extra $200 great.
The bigger product comparison I'd struggle between is the Cobalt Q-6 Slope. I've grown to love the Q-6, and its been the one I've personally been using most this season.
You get extremely reliable flag lock vibration, red backlit display, and 7x magnification. But it doesn't have a built-in magnet, which is a big deal for some people. The Q-6 is also $50 more than the Tour V6 Shift.
So between those two it's a bit of a toss-up, and you should choose based on which of those features I just mentioned are most important to you.
The Bushnell is a step up in terms of quality over most of the less expensive devices I've used.
And if $399 feels a little too far out of reach, for $299 you can get the standard Tour V6. I rarely use the slope feature anyhow, so I think that represents a pretty killer deal – just like the V5 did.
All that to say, this is the best "Tour" model rangefinder Bushnell has ever put out, and I can see some arguing it's the best device they've made period.
I'm not sure I'd go that far, but I will agree that for most people – the Tour V6 Shift is the Bushnell rangefinder to get.
This page contains affiliate links. This means that if you click a link and buy one of the products on this page, I may receive a commission (at no extra cost to you!) This doesn't affect our opinions or our reviews. Everything we do is to benefit you as the reader, so all of our reviews are as honest and unbiased as possible.
Breaking Eighty Rangefinder Quiz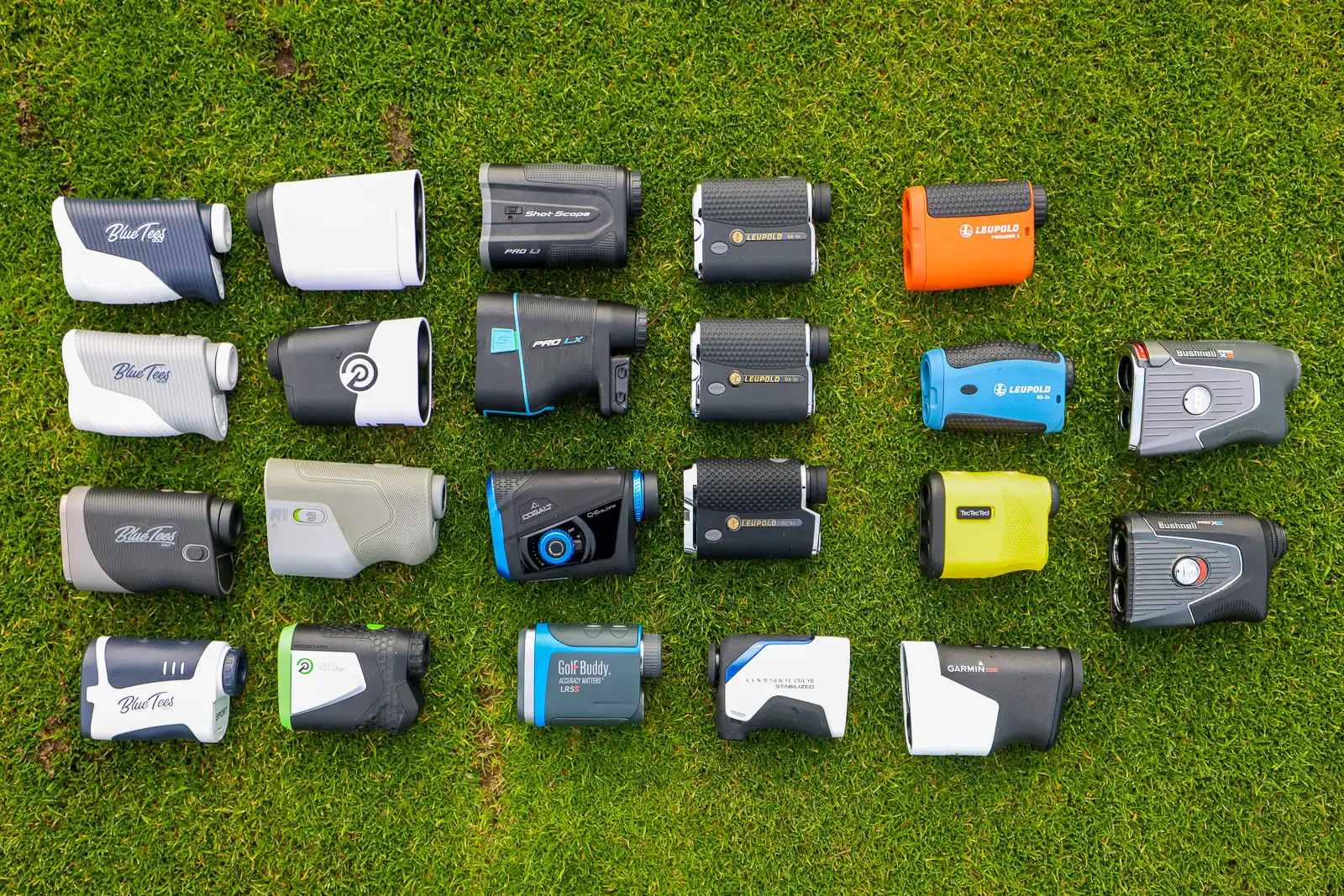 Good Things
Highest build quality of any "Tour" model to date
Extremely reliable "Jolt" feature
Comfortable and easy to use
Bad Things
Only 6x magnification
Minor viewfinder visibility issues
The Breakdown
---
---
---
---
---