Blue Tees Series 3 Max Rangefinder Review: Is it Good?!
Awhile back I had a chance to review the full slate of Blue Tees rangefinders: their Series 1, Series 2, and Series 2 Pro Slope.
While there were certainly some positives to take away, overall it seemed like Blue Tees was one generation away from really coming into their own and cementing themselves as front runners in the highly competitive world of budget golf rangefinders.
Recently, they announced the next generation: The Series 3 Max Golf Rangefinder.
The question is, does it fix the issues with their previous devices to stand tall as a fantastic option for golfers on a budget? Or does it just blend in with dozens of other budget rangefinders?
Let's jump in and find out.
First Impressions of the Blue Tees Series 3 Max
I'm going to skip the typical history of the company and all of that jazz, as I covered it all pretty thoroughly in my original Blue Tees review.
I figured you'd rather I get right down to business and just tell you if it's any good or not.
Spoiler alert: It is.
As far as first impressions go, one area that Blue Tees has done a very nice job with is their packaging.
The box and package make it feel like a device at least as, if not more expensive than the $259 price tag of the Series 3 Max.
One of the first things you notice is that the included carrying case has a bit of a unique design. Instead of being a traditional canvas case with an elastic strap, it's a more rubberized case with a magnetic clasp.
It's a nice departure and helps to set this Blue Tees rangefinder apart from some of its competitors. The only knock I'd have is that the magnet isn't incredibly strong. Due to this, it feels like the clasp is more for show than anything else. But I haven't had any concerns of losing the rangefinder over it.
The device itself looks nice.
The blue and white motif is a good look, and the logo embossed on the chrome slope switch is a nice touch. I honestly think I may like the overall silhouette a bit better of the Series 2, but both look solid.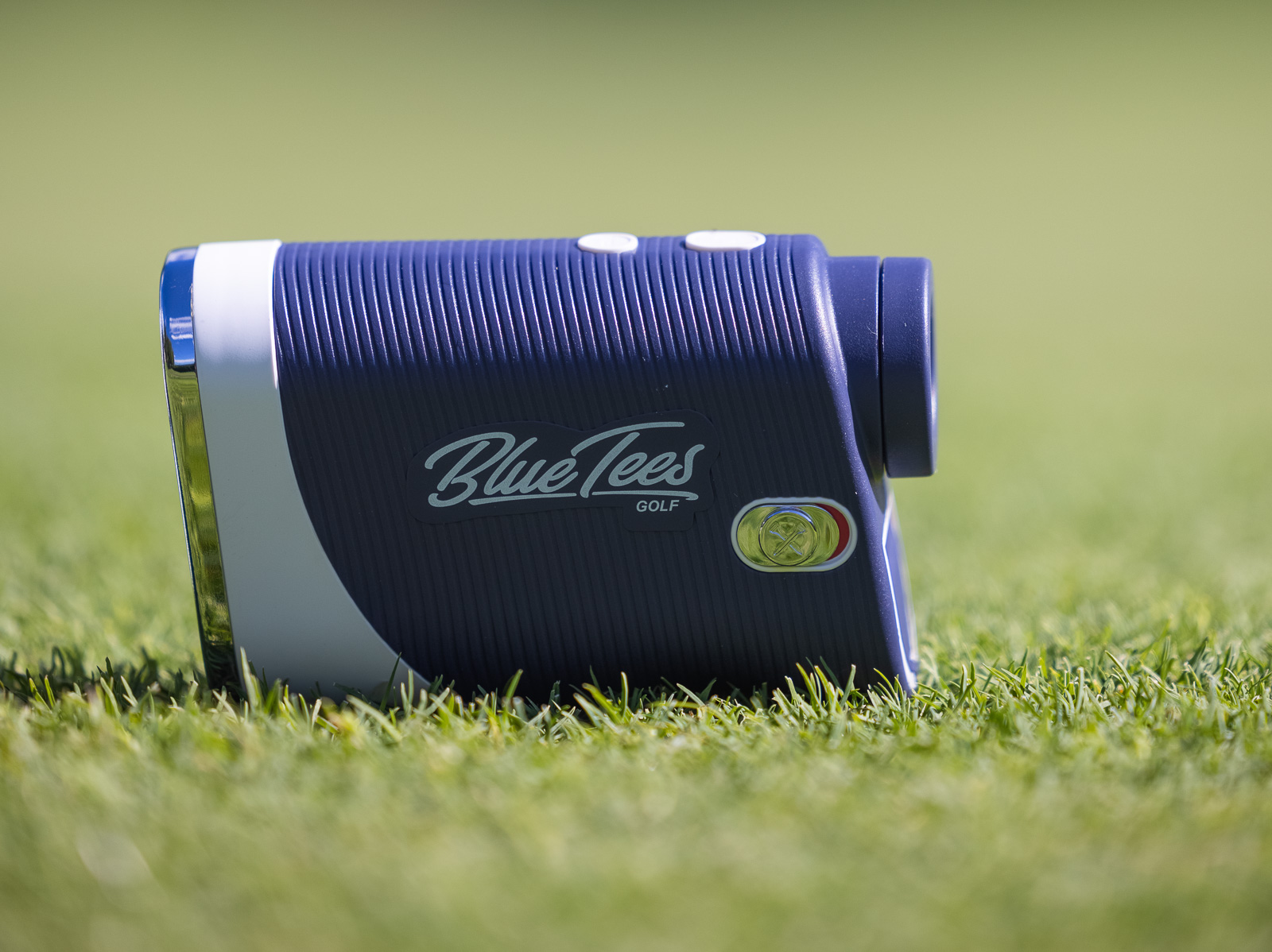 The Blue Tees Series 3 Max is fully weatherproof, but I will say that most of the budget rangefinders I've tried, still do feel like a step down from more expensive devices from the likes of Bushnell and Nikon.
And considering they can be anywhere from $50 to $250 less than some of those – this isn't unexpected. Costs have to be cut somewhere, and despite not feeling as nice as the Pro XE, Coolshot Stabilized, or even the Bushnell V5 – I don't think most golfers will be disappointed by the feel or build quality.
I was happy to see that one of the most well-executed features from previous models was fully on display here too: its focus ring.
I've often complained other brands have focus rings that are too stiff or difficult to adjust. All Blue Tees devices I've used are extremely easy to adjust the focus on, and this is the case with the Series 3 as well.
Breaking Eighty Rangefinder Quiz
Blue Tees Series 3 Max Performance
I can hear you now "Great Sean, we get it. It looks nice. But does it work??"
Honestly, this is where I had my biggest concerns.
Going into it I really wanted to like it. I found myself underwhelmed with their previous models, and I like the guys behind it, so I'll be honest: I just really didn't want it to suck ha.
I can happily report back that the Series 3 Max does not suck.
In fact, I was pleasantly surprised by just how good it is.
I received it a couple of weeks before I was able to get out on the course to really put it through its paces.
But 10 minutes in the backyard shooting at whatever I could find, had me pretty excited. It seemed to lock on easily and give fast and accurate results.
Once I finally got it out on the golf course, it only took a hole or two to see that this was a very different device from its predecessors.
It often felt like there was too much going on within the display of the older devices. With the Series 3, it felt more focused – especially when you had slope mode turned off.
You get the distance you need (very) quickly and easily.
There weren't extra modes that left you feeling confused about their purpose. I've found with some cheaper rangefinders, the original product was built as a general-purpose device. So it might have modes for hunting or other uses. Some budget companies leave those alternate modes, and all it does is confuse you and leave you wondering why the rangefinder isn't acting the way you want it to.
In two rounds I haven't had any issues with it not hitting the flag, or locking onto trees behind it.
The slope mode works well, and while it's not as advanced as the Pro XE or upcoming offerings from Precision Pro – it's totally solid and does exactly what it says it will do.
The switch for turning slope on and off is prominent and easy to use, making it very easy to make tournament compliant.
Related: Get 10% off the S3 with the "BREAKINGEIGHTYMAX!" Blue Tees coupon code.
Extra Features of the Series 3 Max
I still generally think Bushnell makes the best rangefinders in golf if cost isn't a factor. Yet, some of the upstarts are beginning to close the gap and give them a run for their money.
You can see examples of this with the Blue Tees Series 3.
For instance, its "auto-ambient" display is a feature I'd only expect to see in more expensive models. This essentially just changes the color from black to red, depending on the environment you're in. The goal is to make your distances easy to read during whatever conditions you're playing in.
The pulse vibration has almost come to be expected in any rangefinder over $200 these days – and this feature works great on the Series 3.
Finally, we're seeing more and more devices with built-in magnets on the rangefinders.
Looking at it, you wouldn't know it's there. And as I took it out on the course for the first time, I thought "hmmm, I thought there was a magnet built-in…"
But sure enough, upon putting it up to the golf cart, it latched on with vigor – and stayed put no matter what surface we rode over.
Downsides to the Blue Tees Series 3
At this point in the review, you might be saying "this sounds great! What's the catch?"
And while there's not a "catch" per say, there are a couple things you need to know.
The biggest one for me is the display and optics.
The display isn't bad. But it's not great either.
After recently using the gorgeous viewfinder on the Nikon Coolshot ProII Stabilized, the display on the Blue Tees device felt lacking.
The optical quality feels a step below the Bushnell V5, which comes in at $300 (but doesn't have many of the advanced features the Blue Tees does).
Honestly? Most people likely won't notice or care. Especially if you haven't used one of those more expensive devices. But if you compare them side by side, the difference is pretty stark.
The only other downside that comes to mind really just comes down to ego. A lot of golfers feel like they have to have a "high-end" brand or product.
I still consider Blue Tees a budget device. Despite upping their game on the packaging, their case, and overall quality of the rangefinder – it still doesn't feel quite as nice as higher-end models from Bushnell, Nikon, or Leupold. And there are some golf snobs out there who will treat it as such.
Final Thoughts on the Blue Tees Series 3 Max Rangefinder
I want to be really clear on this: I think the Blue Tees Series 3 is fantastic.
At its current price of $259 (or $234 if you use the code "BREAKINGEIGHTYMAX!"), it's about as good as it gets.
I'm not ready to say it's better than the NX9 from Precision Pro, but it's certainly as good.
Which one to get really comes down to your personal preference on a couple of features and aesthetics.
The Series 3 Max is leaps and bounds better than its previous models, and this device helps cement in my mind that Blue Tees is a legitimate company that's here to stay.
They've upped the performance, materials, and build quality – all while maintaining an impressively low price.
If you're in the market for a full-featured rangefinder in the $250 range, the Series 3 Max is an excellent choice.
Note: The team at Blue Tees was kind enough to hook up a special code for the Series 3 Max. You can get 10% off with the code "BREAKINGEIGHTYMAX!". If you decide to go with a different product, then you can use the code "BreakingEighty15" for 15% off. That just doesn't apply to the Max.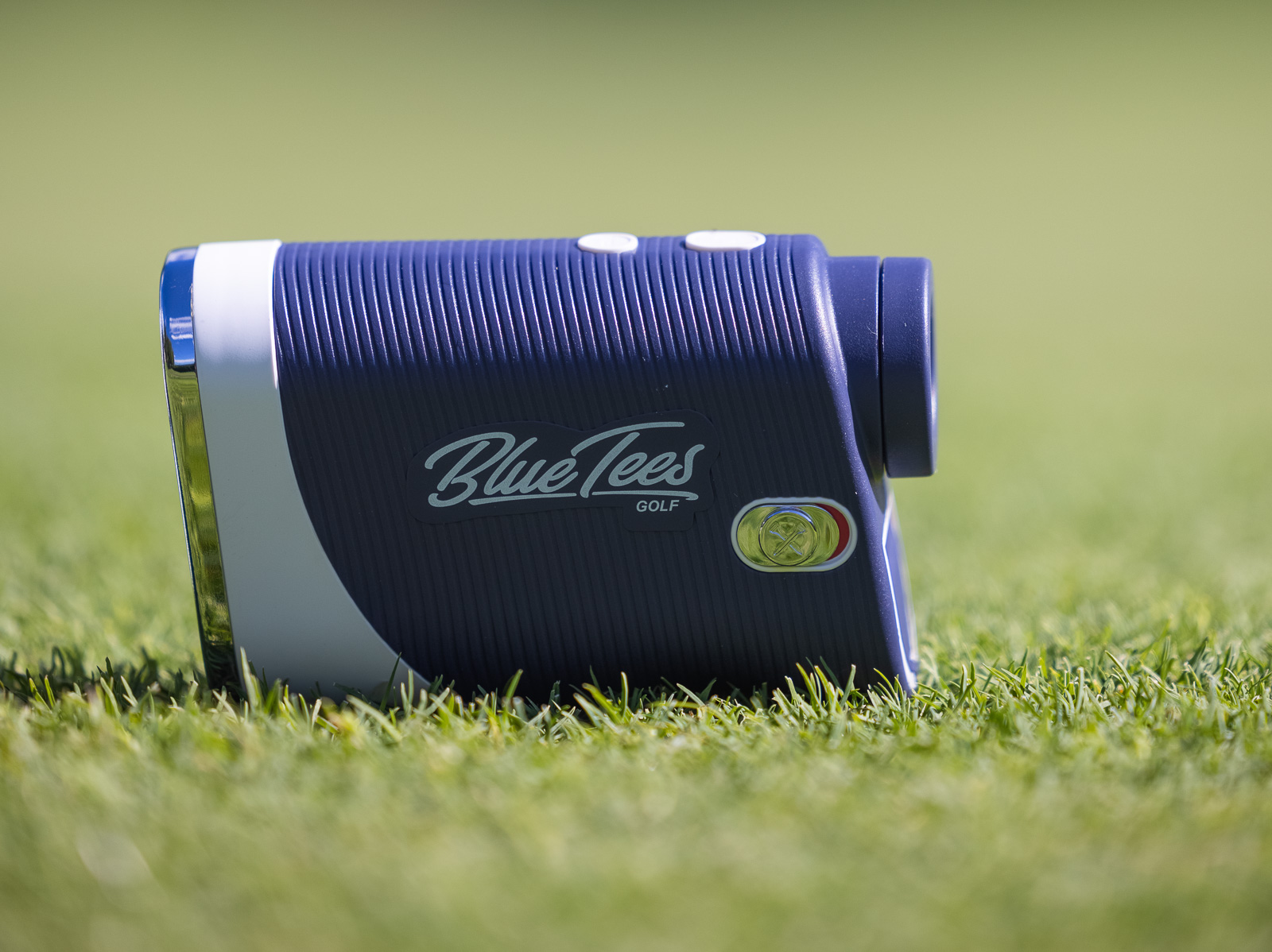 This page contains affiliate links. This means that if you click a link and buy one of the products on this page, I may receive a commission (at no extra cost to you!) This doesn't effect or opinions or our reviews. Everything we do is to benefit you as the reader, so all of our reviews are as honest and unbiased as possible.
Good Things
Very fast and accurate
Very feature heavy for price point
Significant improvement over Series 2
Bad Things
Optics and Display are average
Still looks "budget"
The Breakdown
---
Personal Affinity (20%)
9
---
---
---
---