Blue Tees Rangefinder Review: Is it a Worthy Budget Device?
If you're looking for a review of the Blue Tees Series 3 Max then check out our review on that right here.
At this point it's safe to say I know a fair amount about rangefinders, having tested nearly two dozen over the years.
We're at a time right now where finding the right rangefinder for you is increasingly difficult simply due to the number of options out on the market.
Today we're going to review one of the most visible new budget rangefinder brands: Blue Tees Golf.
I've been seeing instagram ads for Blue Tees Rangefinders for months now, and had a number of readers ask my thoughts on their devices.
Up until now I didn't have much to say, since I hadn't used them in person.
Fortunately after checking out 3 different rangefinders in their lineup, I do have an opinion – and that's what we're going to talk about today.
If you're looking for a rangefinder in the $200 price range, and have been considering Blue Tees? Read on.
The Blue Tees Story
We're at an exciting time in golf. No longer is the sport completely dominated by big box brands.
Sure they'll take the lion's share of the spotlight, but we're seeing smaller more specialized companies coming out left and right to leave their mark on the golf world.
Technology has made the direct to consumer business model much more appealing, and we're seeing companies like Blue Tees take advantage of this
Their story is similar to so many small businesses out there.
A group of 4 friends were looking to buy a rangefinder, went to Amazon, and got a product that sucked.
So they tried again, same story.
Which led them to the question "why are high-quality golf products so expensive?" or more importantly "why are affordable golf products usually so bad?"
These questions led to them forming Blue Tees, where they make affordable rangefinders that actually work well.
Or at least, that's the goal. Do they live up to those expectations?
Let's find out.
First Impressions of Blue Tees Golf
For the purposes of my review I took out the full range of Blue Tees rangefinders and put them through their paces during a 3 day trip to Bandon Dunes.
The models are:
Each of the rangefinders is a similar size, and the packaging is very well done for a product in the sub-$200 price range.
Out of the box you get the rangefinder, instruction booklet, traditional canvas rangefinder case, two batteries, and a microfiber cloth.
Presentation is well done and feels like it's a step above some of the other brands in this price point – but not quite on the level of industry benchmark Bushnell.
The devices are made of a lightweight plastic, and have a nice size to them. They're a little bit smaller than recent Bushnell models I've tested, and about in line with the NX7 from Precision Pro and the TecTecTec ULT-X.
I have fairly large hands, so all of these models can feel a little cramped at times – but not in a way that would keep me from purchasing one.
You can tell as their products have evolved, the design has as well. The Series 1 Sport, feels a little rough around the edges with generic "sport" text across the battery door.
This was cleaned up for the Series 2 models which look nicer, but still a far cry from the design and build quality of more expensive models.
Using the Blue Tees Rangefinders
You can focus the Blue Tees rangefinders simply by turning the viewfinder, and frankly I found this to be one of the best focusing elements of any rangefinder I've used. Often Bushnell models are too stiff and difficult to get in focus. All of the Blue Tees devices worked great.
The optics were actually pretty decent on the Series 2 for a rangefinder at this price point. Not as good as higher priced competitors, but it felt slightly sharper than other models in this price range.
Using any of the Blue Tees rangefinders is very straight forward and they are all easy to use.
There are three modes:
Mode 1: Scan – This will allow you to scan a scene and watch the distance change dynamically as you move across the landscape. Generally this is a more hunting focused feature.
Mode 2: Golf – Point it at the pin, and it will give you a distance and vibrate (on Series 2 models) when it finds the flag.
Mode 3: Speed (?) – This is a mode to track the speed of the ball. Seems like a little bit of a stretch, but will test it out next time I'm on the course (previously wasn't sure what it did.)
You can hold the mode button to switch between yards and meters.
However, in what may be the single biggest drawback of the Series 2 Slope – there's no way to turn the slope feature on and off. So if you're someone who plays in tournaments often, you may want to consider the non-slope Series 2 option.
Series 1 vs. Series 2 Blue Tees Rangefinders
You might be wondering the differences between each of these models.
The Series 2 and Series 2 Pro are the exact same form factor with the Pro being blue and Non-Pro being grey.
Only difference between these are the addition of slope.
The difference between the Series 1 and Series 2 are a bit more obvious.
The Series 2 is slightly longer, and the buttons have been moved to make for a more comfortable user experience.
There's texture added to the Series 2 also makes it feel a bit more rugged and durable in the elements.
The Series 1 doesn't have a vibration feature for when you lock onto the flag – which is arguably the biggest downside to going for the 1 over the 2.
The other big change I noticed is that in the Series 1 you have to hold the power button down to get a reading, and on the Series 2 you just tap it in order to get your distance. This honestly didn't bother me much in practice, so feel pretty neutral about it.
Blue Tees Golf Rangefinder Performance
All of the above doesn't mean much if the rangefinder doesn't perform accurately.
And well? My results were a bit of a mixed bag.
One of the things you notice pretty quickly when using Blue Tees in golf mode is that it isn't quite as fast as the Precision Pro or Bushnell models.
A target will come on and blink a few times before locking on the flag.
It's by no means slow, but it's probably half a second to a second slower than other models I've tested.
I'm told this was to account for shaky hands, and to get as accurate of as result as possible.
That said, I wasn't terribly bothered by it at first. Seeing the visual blinking target let me know it was doing it's thing, and if it got me an accurate number, then it was no big deal.
The problems would arise when I didn't feel confident in the number and would have to shoot it a few times to feel confident in my result.
I've found that many of the more budget-friendly rangefinders give you distances down to the 1/10th of a yard. On the surface this can feel more accurate and like a selling feature, but in reality I've found it makes the user experience more difficult.
Not only does it clutter up the screen with more to look at, but I very rarely get the exact same number after shooting multiple times with this device – or frankly, most others that go down to the tenth.
So one might say 187.4 yards, and the next 188.1.
In this case under a yard is an acceptable variance for me, but seeing both 187 and 188 can make you question the accuracy of the number.
Unfortunately in the case of all of the Blue Tees models I tried, around 20% of the time I'd get numbers that were 2-4 yards different when I'd reshoot.
Which leads to more questioning, and spending more time before your shot.
More often than not it worked well, I got the number I needed, and felt great about it.
But a handful of times a round I'd get a number that didn't feel right and I'd need to shoot a few more times to really get confident in the number. This would usually be when there was a difficult background, or something that made it more difficult for the device to lock on.
And honestly? This is the case for most of the rangefinders I've tested out in the sub-$200 price point.
If that's the market you're in, it's just something to be aware of – there's certainly an element of you get what you pay for.
One downside to the Series 2 Slope is that unlike competitive models like the Bushnell V5 or Precision Pro NX9, it doesn't have a magnet built in.
This is a feature I've found to be surprisingly useful, and while not a "must have" is a "nice to have."
You can buy a separate magnetic strap for Blue Tees, but at $40 – that feels pretty steep.
One other thing worth noting, has to do with the Series 2 model (not the Pro). I was occasionally getting really weird numbers that would show 7.8 yards or something similar.
I've experienced this with the early NX7 models as well. Basically it's caused when the base of your hand slightly hangs over the edge of the device too much, causing the laser to somehow pick it up and give an inaccurate reading.
I only experienced this with the Series 2 non slope model, and it was fixed by adjusting my grip – but it's something to be aware of if you go with this model.
Final Thoughts on the Blue Tees Rangefinders
As I mentioned before, the Blue Tees rangefinders are a bit of a mixed bag – but this is reflective in the price point.
None of them are as good as the Bushnell V5, but with the V5 slope model being over double the price of this, you wouldn't expect it to be.
The closer competitor are the models from Precision Pro.
In comparing the two directly the Precision Pro NX7 is a little bit faster, it usually feels easier to lock on, but it's also slightly more expensive.
The Nx9 has the built in magnet, and feels like one step up from the Blue Tees Series 2 Pro.
I did find the Blue Tees Series 2 models to work better than the TecTecTec ULT-X which is another close competitor.
So I think the decision to buy any of these come down to your needs.
The retail price for the Series 2 Pro is $299, at that price I'd have a hard time recommending it. But it looks like it's usually discounted to $199.
And if you can find it for less than that, then I think you've got a pretty good buy.
But honestly the easiest one to recommend might just be the Series 1 Sport. Even though I didn't like it quite as much as the Series 2, and it was a bit rough around the edges, right now it's listed for $139 on Amazon – making it significantly cheaper than most devices out there, but giving you a product from a brand that I know stands behind their products and offers great customer support – which you won't get from one of the dozens of random Chinese companies listing their rangefinders for sale.
Also bonus points to them for the subtle Wedding Crashers reference on the product page of their website.
Have you used a Blue Tees rangefinder? What was your experience like?
Blue Tees Series 3 Max Review
About six months after we first reviewed the Series 1 and 2 models, Blue Tees released their Series 3 Max.
Honestly? It's better in just about every way over the previous models, and if you're considering picking up a Blue Tees rangefinder, I would strongly suggest giving that a good look.
Here is our full Blue Tees Series 3 Max review.
Worth noting, the Blue Tees team hooked our readers up with a discount on all of their products. But if you want to use it for the Series 3 Max, you just need to use a different Blue Tees promo code. You can use "BreakingEightyS3" for 10% off.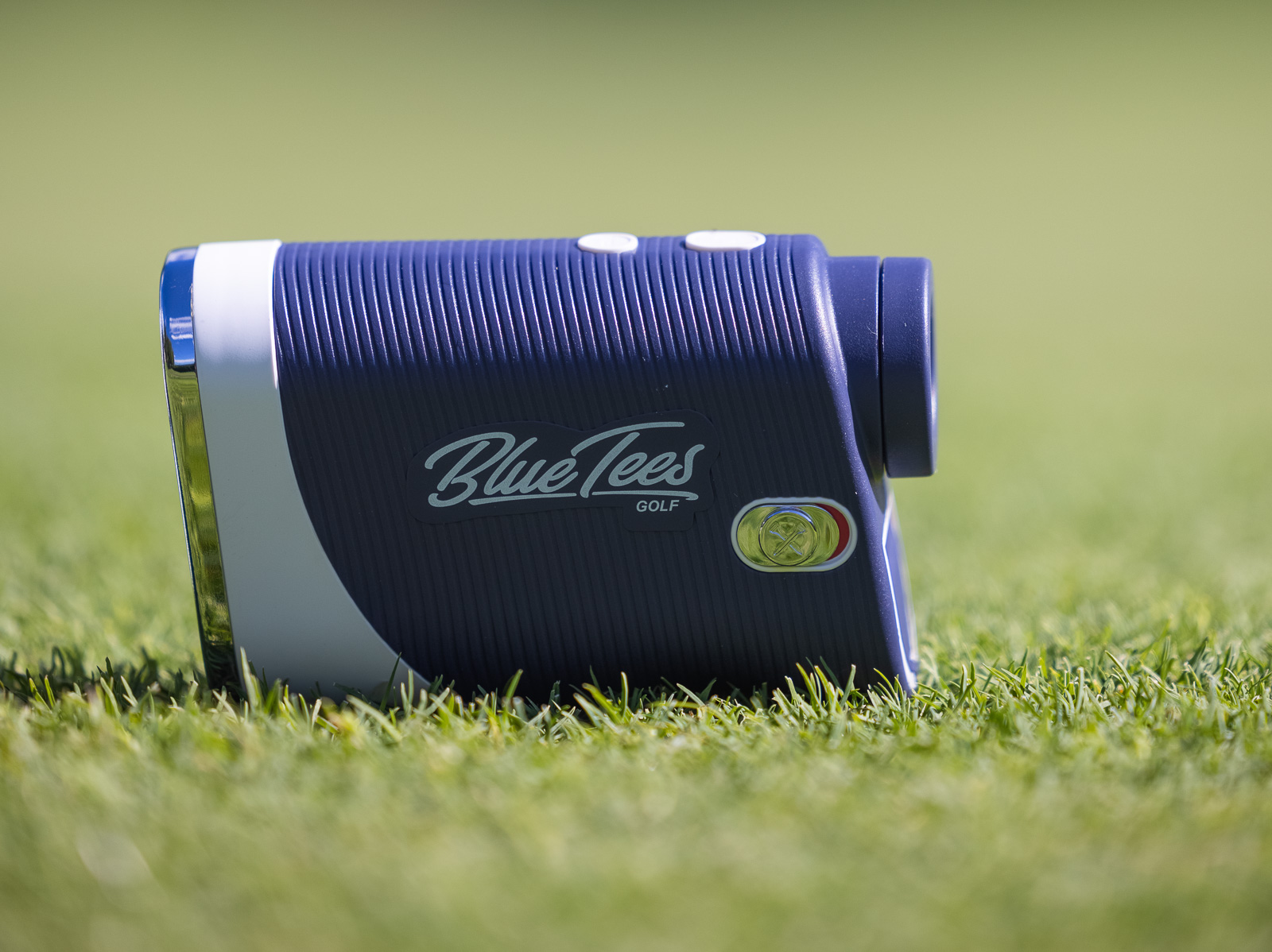 Good Things
Great price point
High quality packaging
Easy to use
Bad Things
Some reliability issues
Expensive magnetic strap
The Breakdown
---
---
---
---
---