Bushnell Tour V5 Review: It's Second Only to the Pro X3
This Bushnell Tour V5 review was initially published in June 2020. It has been updated in April 2023 to provide details on the new V6 model as well as to make updates about where the V5 currently sits amidst the competition in the golf rangefinder market.
Obviously, I get a lot of products sent to me for review. But there are few that I was excited about as the new Bushnell Tour V5 rangefinder.
I'm probably more familiar with Bushnell devices than any other golf product on the market. I've reviewed nearly every one since the Tour V3 came out back in the day – which is by far, still the most common rangefinder I see caddies carrying. It's simply that reliable.
But Bushnell has come a long way in just about every aspect of their rangefinders in the years since that came out.
So I've been excited to test out the latest. I found myself a little disappointed in the Tour V4, while the Pro X2, Pro XE, and now Pro X3 were each the best rangefinders I've ever tested when released.
My hope for the Tour V5 would be similar performance as it's more expensive sibling, but at a fraction of the cost.
Did it live up to expectations? Let's read on to find out.
April 2023 Update: The New Bushnell V6 Has Been Released
Before you jump into the rest of this review, you should know that Bushnell has just announced the release of the follow-up to the V5, the V6.
Most of the main features in the new V6 and V6 Shift (the slope-enabled model), are similar to the V5.
We've reviewed the new Tour V6 Shift, and spoiler alert, it's excellent.
In fact, I think it may be the most well-rounded rangefinder Bushnell has made to date.
If you can find an older Tour V5 model at a discount, you should go for it – you'll be very happy.
But if you're in the market and the price is the same, the new Tour V6 is just as fast, accurate, and has better weatherproofing and build quality.
Check our full Bushnell Tour V6 Shift Review.
Some Quick Thoughts About the Bushnell V5 in 2023
I originally gave the Bushnell V5 a perfect score when I initially reviewed it in June 2020.
To be clear, this is still a very good rangefinder. Especially when you are using it in a vacuum.
The problem right now in 2023 is that the competition has caught up a bit. There are a number of excellent rangefinders out there, offering similar tech and experiences for less money.
So I bumped the V5 down a notch for price and personal affinity.
To be clear, this is still one of the very best rangefinders on the market in its price point. But it's not as cut and dry as it was when it first came out, and I'm very excited to see what the V6 is bringing to the table.
First Impressions of this Bushnell Golf Rangefinder
One thing you notice with Bushnell when compared to most other rangefinder companies is just how well they nail presentation.
From the moment you open the box, it feels high end. The box and packaging are a step above everyone else, and this year they included a solid metal divot tool with Bushnell ball mark that was a nice touch.
While the packaging really doesn't matter after the first minute of ownership, it does help you to feel good about your purchase.
You know when you get shipped an item and it shows up in a janky box, that's half torn apart? You're immediately questioning whether it was a good purchase. Bushnell reinforces your decision to buy one of their products with great packaging, and to me, it makes a difference.
Out of the box, and in the hand, the Tour V5 is a fantastic size and is clearly built really well.
I've been using the Bushnell Pro XE as my primary rangefinder for the last year or so, and in many ways this was a nice change of pace. It's smaller, lighter, and while it doesn't have the waterproof metal construction of the XE, it still feels really high end and well made.
Best Rangefinder for Most People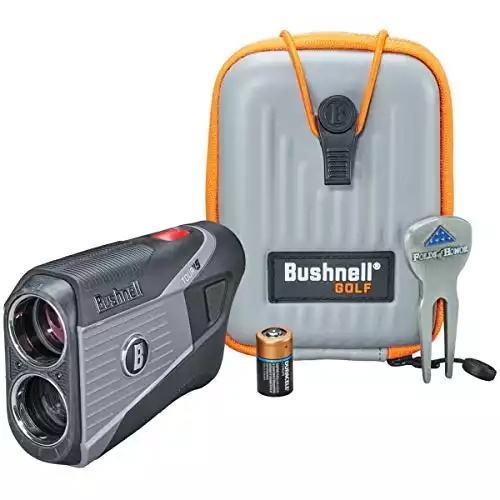 Bushnell Tour V5 Golf Rangefinder
The V5 doesn't have many of the bells and whistles of other models, but you know what? It's lightning fast, looks great, and most importantly? Is REALLY enjoyable to use. I love this thing.
Buy on Bushnell.com
Buy on Amazon
We earn a commission if you click this link and make a purchase at no additional cost to you.
Bushnell Tour V5 Performance: All I Can Say Is…Wow.
You can have the best packaging in the world, but if it doesn't actually work? Then it really doesn't matter does it.
I'll be totally honest here, from the moment I first used the V5 on the course, I was in love.
I literally let out audible chuckles and "ooooooohs" when I was using it for the first few holes.
And they continued on throughout that first round.
When shooting my first flag, I got an immediate distance with the satisfying jolt that I've come to love so much.
On top of that, the latest Bushnell models have a red ring that illuminates around the display when it locks on a pin to give you both visual and tactile feedback that you've got an accurate distance.
It isn't 100% necessary to have both, but it certainly is nice. This keeps you from having to constantly double-check distances and questioning the accuracy of your read.
By the third hole of my round, I turned to my buddy and was like "dude you gotta try this. I might even like it better than the XE."
That's some high praise.
As to be expected, the optics on the Tour V5 are first rate. This is one area where you really see Bushnell shine over much of the competition. Everything is clear and it's 6x magnification allows you to easily find objects at distance to shoot.
But almost more importantly than the quality of the optics, is the quality of the read out display.
With some of the less expensive rangefinders I've tested, this is where they miss the mark. They often have very busy displays, and put the yardage distances either too high or too low in the viewfinder.
This forces you to adjust your eye from the pin, to read the yardage. It's frustrating and really hurts the experience.
The Bushnell Tour V5 places it perfectly. It's not too big, and there's not too much going on in the screen.
This is actually the first rangefinder I've tested in quite some time that doesn't have built in slope features.
And you know what? I actually kind of liked it. The simplicity of it, and ease of use made using it a breeze.
For me personally, I've never used the slope features that much anyway. Give me the actual yardage and it's then easy enough to figure out how it's playing based on my elevation and weather factors.
Even the Pro XE which adjusts for temperature and humidity, can't tell you what the wind is doing.
Oh, and did I mention that despite being the stripped down version of the Tour V5, it does have a built in magnet for attaching to a cart. I've talked in the past about how I thought this was a game-changing feature, and I still believe it is.
Bushnell Tour V5 Rangefinder: Final Thoughts
Simply put, I absolutely love this device. It's easier and more simple to use than the slope models, it's wonderfully fast and accurate, and at $300? It's might very well be the best value in the rangefinder market.
But I know you're going to want comparisons, so here are my thoughts.
The Pro XE is still the best rangefinder on the market – but it's not that much better than the V5, especially if you pay the extra $100 to get the slope model. It's waterproof, has 7x magnification, and the most advanced slope calculations of any rangefinder out there. So if you want the best of the best? Go with that.
But most of us don't want to spend over $500 on a rangefinder.
If you're willing to spend the extra money, I think the $400 Tour V5 Shift is probably the best all-around rangefinder out there. If the slope features are important to you, and you have the budget, then that is a device that will last you years – and be enjoyable to use in the process.
But what if you're on a budget?
After all, there are a handful of solid devices out there that offer slope features, vibrations, magnets for a fraction of the price.
If that's your concern then I'd look at the Precision Pro. It's a great device, made by great people, and I personally found it more enjoyable and easier to use than the similarly priced TecTecTec devices I've tested.
But if it were my money? As much as I like Precision Pro, I think I'd probably spend a few extra bucks to get this version of the V5 – without the bells and whistles.
Like I said, I don't use the slope features all that much. And this was so enjoyable to use, that for an extra $50-100? I think this is the way to go.
We all have different priorities, so think about what you personally want, and what your budget looks like and make a decision from there.
But short story? The Bushnell Tour V5 is the best new rangefinder of 2020, and is one I will happily use day in and day out on the course.
Buy the new Bushnell Tour V5 on Amazon or their website.
Best Rangefinder for Most People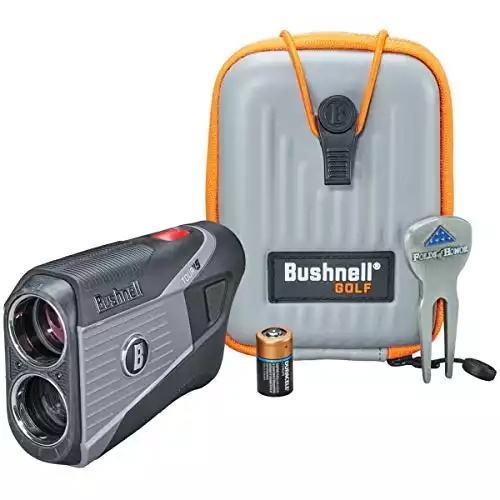 Bushnell Tour V5 Golf Rangefinder
The V5 doesn't have many of the bells and whistles of other models, but you know what? It's lightning fast, looks great, and most importantly? Is REALLY enjoyable to use. I love this thing.
Buy on Bushnell.com
Buy on Amazon
We earn a commission if you click this link and make a purchase at no additional cost to you.
This page contains affiliate links. This means that if you click a link and buy one of the products on this page, I may receive a commission (at no extra cost to you!) This doesn't effect or opinions or our reviews. Everything we do is to benefit you as the reader, so all of our reviews are as honest and unbiased as possible.
9.6
It really is that good.
Good Things
Excellent price for performance
Built in magnet
Very clear optics
Fast and accurate
Bad Things
Doesn't have built in slope
Display isn't backlit like Pro XE
The Breakdown
---
---
---
---
---