Sunday Golf Ryder Bag Review: Not Just for Sundays Anymore…
Over the last 5 years, there are few golf companies that have niched down as well as Sunday Golf has.
Rather than trying to do much, they focused on doing one thing really well:
Sunday bags.
Aka, a smaller golf bag that's meant to easily carry fewer than a full set of clubs.
They first launched with the svelte Loma Bag.
Then they released the more full-featured Sunday bag, the El Camino.
With the success of the brand, it was only a matter of time before they created a full-sized offering.
Introducing, the Sunday Golf Ryder Bag – the first bag from the company meant to carry a full set of 14 clubs.
I was definitely excited to check it out. Most of the golf bags I've reviewed lately have been more expensive bags. I've struggled to find a bag in the $200 price range that I could whole-heartedly recommend to people looking for a more affordable option, that's still comfortable and fully featured.
So does the Ryder bag deliver?
Well…mostly.
Let's dig in and you'll see what I mean.
First Impressions of the Sunday Golf Ryder Bag
I should preface this review with a disclaimer. Despite having had the bag in my hands for a couple weeks now, I have yet to actually get it out on the course to play with it.
Between travel and some never-ending rain here in Portland, I haven't been able to get out to the course.
So I'm going to write about everything I can, and then I'll update this review to specifically talk about performance and how it is to carry once I'm able to get it on the course.
Upon taking the Ryder out of the box, I was a little bit surprised, and frankly kind of happy, that the bag was smaller than I expected it to be.
Yes, it's a full-size stand bag capable of carrying 14 clubs – but it's definitely one of the smaller bags I've seen.
Considering Sunday's expertise is in creating more compact Sunday-style bags, I think the fact they continued down this path is smart.
But because of this, it probably won't be for everyone.
The scratch golfer likely isn't going to be using this bag. This is going to be geared more towards the casual weekend player, juniors, or beginning golfers. This is reflected in a lot of the choices they've made in regards to design and materials.
Sunday Golf Ryder Bag Build Quality and Features
Out of the box, you immediately notice a few extra features and presentation things that set it apart from other bags I've seen.
It comes with a little Sharpie, as well as a Sunday….car freshener? A little bit of an odd choice, but for a brand that touts making golf as fun as possible, they're fun Easter eggs. I also found a Sunday Golf sticker in the ball pocket.
On the front of the bag is a little logo for the "Frosty Pocket" which is an insulated cooler pocket for keeping drinks cold. It says it can fit 4 cans, but in my testing it fits 3. Perhaps 4 would fit if you had thinner White Claw style cans. But 3 standard 12oz cans is the max.
Other things I immediately noticed were the velcro pad for attaching a glove, as well as a pass-through for a cart strap, which is a nice design feature to see included.
The build quality is…fine.
The bag is made of nylon which feels durable, but is definitely a step below more top-tier bags made from similar materials like the Jones Trouper series.
The zipper quality is the same. They do the job, but overall they feel a step below more premium bags.
The exception to this is the waterproof valuables pocket, which is fully taped. The velour lining is soft and is done in red fabric which adds a fun pop of color.
While there are a number of pockets for storage, they're all on the small side.
Specifically, the garment pocket is very small for a full-size bag. There's plenty of room for a sweatshirt or pullover, but as someone who is frequently carrying a large camera during his rounds, the pocket on this bag isn't super functional for doing that.
That said, I'm not the target market for the Ryder.
Sunday Ryder Bag Performance
I've been walking around my house in the bag with it loaded up with clubs, and the self-leveling straps work great. The bag hangs at a comfortable level, and is easy to adjust based on your height and preferences.
Coming in at under 5 pounds, the Ryder Bag is pretty light for a full-size bag. So if you're someone who likes to carry and generally doesn't overpack their golf bag, I think you'll really like this bag.
The straps themselves are padded, but not nearly as padded as other more premium bags like the Jones I mentioned. However, it's strap system is much more user-friendly than the Jones bags, which can be notoriously hard to dial in for people who are trying to double strap it.
The flat bottom and built-in cart strap also make me think that this will work great for people who choose to ride as well, although I'll confirm this when I'm able to test.
One downside to the smaller size of the bag, is that while yes it can fit 14 clubs, they get pretty tight.
Having a full set in them, I did find in my early testing that clubs can get a little stuck on the bottom of the bag, making it a little challenging to easily get clubs in and out of the bag.
The carry handle is also relatively thin and is made from cheap feeling plastic. In taking the bag on and off a number of times, I really started to wish the handle was a little more substantial. This could be done by making it larger (Vessel or Sun Mountain for instance), or adding a rubberized texture that's more comfortable to grip (Jones).
It's not a huge deal, but this is one of those small quality-of-life things that can go a long way.
Final Thoughts on the Sunday Golf Ryder Bag and Who Should Buy It
The Ryder bag from Sunday Golf has a ton of features for its price point. Its smaller size makes it easy to carry around for just about any golfer. And one thing I love about Sunday? There's zero pretentiousness.
They're not trying to cater to the people who wouldn't be caught dead with anything less than a Mackenzie bag.
Sunday is just trying to create a solid bag for people that want to have fun on the golf course, and I like that. Golf needs more of this.
The Ryder bag has most of the same features of bags that are 50-100% more expensive, which I love. That said, there are quite a few other golf bags that also do this for the same or less money. There are offerings from Titleist, Callaway, and Taylormade that are all in the $150-225 price range, which are strong competitors.
I personally don't love having those giant logos emblazoned on the side of my bag. So in that sense, Sunday represents a fun alternative, for people who don't want to be a walking billboard for a billion-dollar company.
The caveat? The materials and build quality do feel a step below some other bags in this category.
The tag on the bag says the MSRP is $259. That would be too expensive. If you're going to spend that much, then for similar money I'd buy a Jones bag which will have better build quality, and a little bit more "cool factor."
But despite the MSRP as I understand it, the bag will generally be sold for $229.99.
Take that a step further and use our Sunday Golf coupon code "BE15" and you'll save another 15%.
This brings the price of the Ryder bag down to around $195.
And that feels like a reasonable price for this. You get nearly all of the features of a more expensive bag, in a compact package, under $200.
What you're sacrificing a bit in material quality, you make up for in usability.
So who should buy the Ryder bag? This bag will be great for you if:
You have a Loma or El Camino bag you love, and you're ready to upgrade to a full-size bag.
You're a junior golfer that wants something a bit smaller to carry around.
You're just starting out and don't want to shell out for a more expensive bag.
You're in the market for a sub-$200 golf bag that is easy to carry and doesn't skimp on features.
You don't want a run-of-the-mill bag from one of the big golf companies.
I think this is a great bag for the right person, as long as you get it at the right price!
Again, I'll update this post and give it a review score after I've been able to get it out for a full round. If you have any questions about the bag, drop a comment and I'll do my best to answer!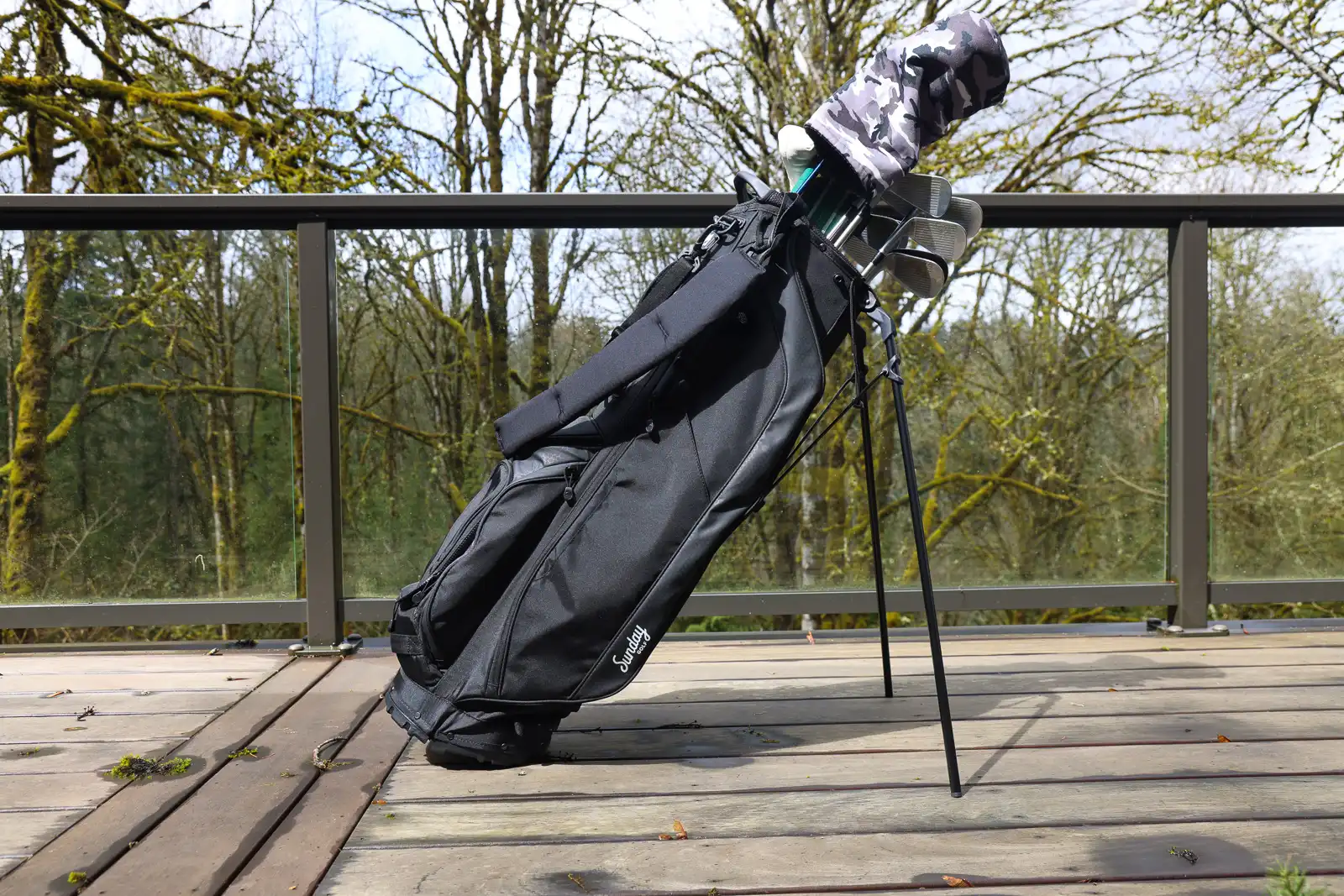 Other Related Posts to Check Out
This page contains affiliate links. This means that if you click a link and buy one of the products on this page, we may receive a commission (at no extra cost to you!) This doesn't affect our opinions or our reviews. Everything we do is to benefit you as the reader, so all of our reviews are as honest and unbiased as possible.
---
---
---