Jones Golf Bags: The Utility Trouper 2.0 is Their Best Yet
I've played with a lot of golf bags over the years, but there's one brand that consistently gets more attention than any other.
It's not a big name brand like Sun Mountain or Callaway.
And it's not one of the trendy super-premium brands like Vessel or Stitch.
It's Jones Golf Bags.
It feels like every course I go to, I hear people talking about Jones.
Literally, I showed up at Pebble Beach, and this was the lineup from our foursome: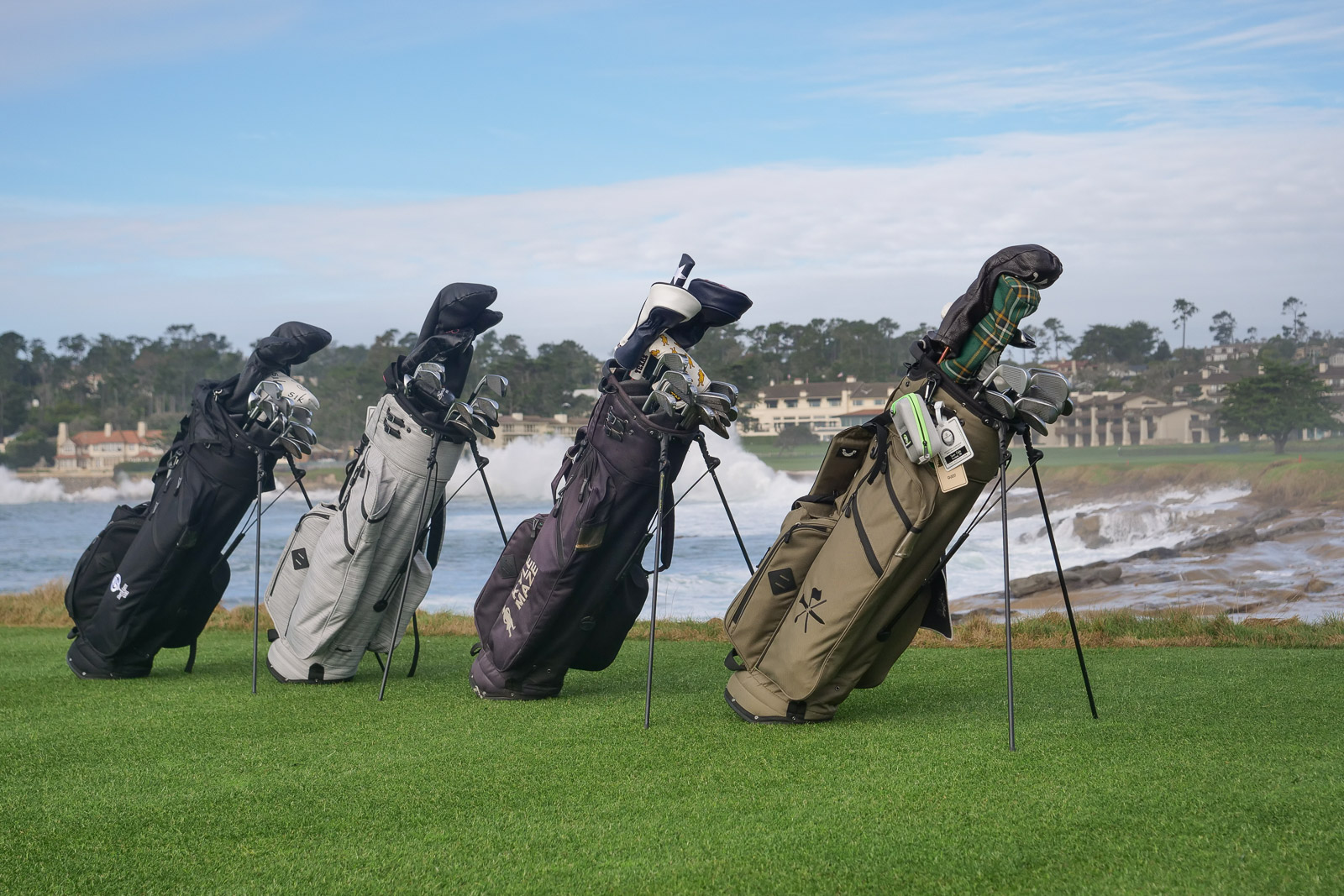 I've played with my original Utility Trouper for a couple of years now, and it's been fantastic. Through years of travel, dozens of rounds, and multiple rainy rounds – it's performed just as well as it did on day one.
But what happens when your favorite bag gets an upgrade?
Well, you've got no choice but to check it out.
Earlier this year, Jones Sports Co. rolled out the Utility Trouper 2.0 golf bag.
It features a very similar look to the original, with the same throwback style and smart touches – but did they actually make the bag better?
I set out to find out in this Jones golf bag review.
Jones Golf Bags: First Impressions of the Jones Utility Trouper 2.0
The first time I laid eyes on the new Utility Trouper 2.0 was when my buddy Jeff picked one up.
First thing he said: "don't even think about getting this colorway."
Sorry Jeff, I couldn't help myself. Now we get to be twins.
But seriously, this "Mid-Town Gray" colorway is one of the coolest-looking golf bags I've ever seen.
The turquoise zipper pulls add just the right amount of bling to make you stand out, without being over the top. And the bag still retains it's old-school charm that have made them so popular in the first place.
The other colors in the lineup are fantastic as well, and got some minor tweaks compared to the original offerings.
One of the things I've always loved about Jones golf bags is the minimal branding. The brand name isn't plastered all over the bag, which really lets the design speak for itself.
Short version, it didn't take long to see that one of the best-looking golf bags on the market, just got better.
Changes and Functionality Compared to the Original Jones Utility Trouper
The biggest changes to the Utility Trouper come in the way of the pockets.
They moved the cooler pocket from the side to the front and made it significantly bigger.
Whether you use it for drinks, balls, or anything else – this is a huge improvement to the versatility of the bag.
Speaking of improvements, if you've read my reviews of other bags, you know that I like a big apparel pocket. Some bags make this too tight, so it can be difficult to get things in and out of it. For me specifically, it's my camera.
The previous Utility Trouper always worked well enough here, but the new one feels like it has even more give – so that you're able to fit as much (or as little) as you'd like in there. It's always nice to have the option.
There are a couple lined valuables pockets, and I've found one, in particular, to be perfect for storing my rangefinder. The rangefinder pouch was one of my favorite features of the Vessel golf bag, and the fewer things I can have dangling off the bag the better. This pouch works great for that.
The attached carabiner is still there, which I continue to use for my JBL Clip 3 bluetooth speaker. (I think it's the best speaker out there for the walking golfer.)
How Do Jones Golf Bags Perform?
Cool colors and handy pockets are great, but how does this thing actually perform on the course?
Wonderfully.
The stand is super sturdy, and the bag while not ultra-lightweight at 5 pounds, never feels too every or cumbersome.
The 5-way divider design works well, and I haven't had any issues with clubs getting stuck.
I've now carried it for 3 rounds and it's one of the most comfortable bags I've used.
The straps are incredibly padded, so whether you're single or double strapping it, your shoulders should stay happy.
While we're on the subject of straps, let's talk about them.
My biggest complaint with the previous Utility Trouper was the fact I always had trouble getting the double strap on correctly. It would get tangled, or I'd put the wrong one on my shoulder first and it ended up requiring more thought than I wanted it to.
So is it any better?
Yes, yes it is.
I'm not sure how much they actually changed to the strap with the 2.0, but my experience has been much better this go around.
I think one of the keys with this is to make sure the straps are the right length and that you just have them setup before you play.
During one of my very first rounds with my previous Jones bag, a caddie who was double bagging totally messed with the straps – and I never got them back to where I liked them,
Out of the box with the 2.0 they've been great – and now I just don't want to change them.
It's nice to so easily have the option to either go single or double – and when flying with the solo strap, it definitely gives you some of that vintage vibe of the Jones bags from back in the day.
When rocking the double straps is it as good as a bag that has a highly engineered double strap system? No.
It still occasionally gets tangled, and sometimes I have to do a little finagling to get it on right.
But it's always super comfortable, it looks cool, it's versatile, and I know many people will prefer them this way than to how other bags do it.
How Does the Jones Golf Bag Compare to Vessel or Stitch Bags?
One of the questions I get asked the most is how the Jones Utility Trouper compares to Vessel and Stitch bags.
Honestly? They're quite a bit different.
First off, the Stitch bags have way less storage, much tighter pockets, and I think they serve a more niche market that is more of a minimalist walking golfer.
Jones golf bags can absolutely support that person too, but it's also a good fit for the person who does want to carry more stuff – and also still have a great looking, trendy bag.
The Vessel bag on the other hand is more full-featured, similar to the Jones. But again, you're looking at something quite a bit different.
The Vessel bag uses a synthetic leather that's a bit more water-resistant, has extra features like magnetic pockets, a valuables lock, and a more elaborate stand mechanism.
All of those things add both weight, and more importantly, cost.
The Vessel is around $150 more expensive, so it puts it in a little bit of a different category.
So with that price do you get a better bag? Not necessarily.
Sure it has a few more "luxury" features, and I'll be honest, I love that bag as well. But I think more people will prefer the classic, yet modern aesthetics of the Jones bag, and on the course – both perform similarly (aka, great).
Over the past year, I've also heard quite a few durability and customer support concerns from owners of both Stitch and Vessel bags.
I've got over 100 rounds on my older Jones bag, and I know many friends have the same, and I've heard very few complaints or issues about durability or longevity.
Is the Jones Utility Trouper Golf Bag Right for You?
So take all that for what it's worth. You probably already know which bag is the right one for you.
All of the ones I just mentioned are good, if not great golf bags. So you can't really go wrong.
If you're on the fence, then I'd check out the Utility Trouper 2.0. It's even better than the original, and there's a reason in my best golf bags roundup, I gave the original Utility Trouper the award for "Best overall golf bag."
And now? I'm updating the post to bestow the 2.0 the same title.
It's gorgeous, yet subtle.
Trendy, yet understated.
It has plenty of storage, yet won't weigh you down.
The straps are comfortable and versatile.
I love this bag, and I'm excited to put another 100 plus rounds on this one – just as I have the original.
And if you're in the market? I have a feeling you'll love it too.
Best Overall Golf Bag
Jones Golf Bags | Utility Trouper 2.0
Of all the golf bags we've tested the Jones Utility Trouper 2.0 has the best balance of looks, functionality, and price. It's our favorite overall bag, and the one I personally use most often on the course.
Buy Now
We earn a commission if you click this link and make a purchase at no additional cost to you.
Other Related Posts Worth Checking Out
Good Things
Looks great
Lots of storage
Comfortable straps
Bad Things
Dual straps occasionally cumbersome
The Breakdown
---
---
---
---
---