Vessel Player III Review: The Sexiest Golf Bag on the Market?
This review was originally published in February 2021, and has been updated in October 2022 to give a long term update on my experience using the bag.
There are golf bags, and then there are golf bags.
And from the second I laid eyes on the Vessel Player III, I could tell this was the latter.
I've been fortunate through Breaking Eighty to get hands on with dozens of golf bags over the years, and the more you see and the more you golf, you begin to realize just how personal a golf bag is.
Everyone golfs differently.
Some people only ride in carts and want to cram a dozen Coors Lights in the bag.
Others prefer walking with nothing but a half set of clubs and as little of a footprint as possible.
Many care more about aesthetics than functionality.
By now, I'm willing to bet that you have a good sense of what is important to you in a golf bag.
After a few rounds with the Vessel Player III I'm pretty excited to say that this bag, for maybe the first time ever, ticks off nearly all of the boxes on my personal list.
If you're too busy to read this whole thing? I'll save you and just say that this might be the best golf bag I've ever owned.
Vessel nailed it in pretty much every category.
Does that mean it's perfect? No I'm not sure any bag is, but this one is pretty damn close.
Related: Vessel unveiled the successor to this bag. Check out our Vessel Player IV review.
Here's the video review of the newer version of the Player III:
First Impressions of the Vessel Player III Bag
For all time I've spent around golf, I was actually not super familiar with Vessel until their recent launch of the Player III.
But the more I looked at it and read about the features, the more intrigued I became.
Upon receiving it, I took it out of the box and said "Yesssssssssssss."
Seriously, this bag is sexy.
I generally prefer clean, subtle, and understated when it comes to my golf accessories, and the Vessel Player III nails it. This is something I love about the Jones bag I've used for the last couple of years.
My problem with many of the bags from other industry stalwarts like Sun Mountain, Ping and so on, are the aesthetics.
Branding everywhere, lots of bright colors, and even though the bags are in many cases are great, I've rarely looked at bag from those brands and said "this is the one for me."
To be fair, you can get this bag in a few different colorways that are more…colorful…but my grey and black unit is perfect for me.
For the last couple of years, I've been using a Jones Utility Trouper 2 – which I think is a fantastic bag. In fact, I chose it as the best overall golf bag for most people for this year. It's lighter weight than the Vessel, and has a great throwback vibe that looks cool and always gets compliments on the course.
But the Vessel bag takes things to another level, and frankly, at close to double the price, it should.
I opted for the grey colorway which features black accents, and I personally think it is beautiful.
In my original draft of this post, I said that I like the fact the Vessel branding was minimal.
After looking at it more, I will say there's still a decent amount of branding on this bag. But it doesn't feel like it.
It's done in smaller and more subtle locations that I think work well.
Vessel Player III Materials
The material is synthetic leather that makes the bag much more water-resistant and easier to clean than a traditional canvas bag.
Living in Oregon and playing a lot during the off-season, rounds in the rain are frankly just going to happen. So this material, and specifically the lined waterproof zippers are a very welcome addition.
As to be expected, I've also noticed it's very easy to clean if you get mud or other dirt on it.
You quickly notice a few genuine-leather touches like on the handle and the zipper pulls, which help elevate the quality. As do the magnetic compartments for your rangefinder and water bottle.
One thing worth noting is that as far as carry bags go, this is on the larger side of things. It weighs in at 6 pounds with the 6-way divider (6.3 with 14 way).
80% of my rounds I'm using a pushcart, so the weight isn't my primary concern. I'd happily take higher build quality, more storage, and plenty of room for a little camera gear (a personal issue for me), than something ultra-light that doesn't give me flexibility in terms of packing.
That said, all of this is moot if it doesn't perform well on the course.
So, how'd it do?
Vessel Player III Performance
I've now been able to get out on the course a couple times with the Vessel Player III (Damn you, Oregon rain!) – and I must say, it lived up to every expectation I had for it.
The first thing I noticed is just how easy it is to carry. The straps are very padded and feel great. Even though you could say this is on the heavier end of a carry bag, it didn't feel that way.
I always tend to have too much stuff.
Water bottle, a case of balls (my game has….regressed), and in my tests with this bag, a full-frame camera and a large telephoto lens.
But it never felt heavy. Ever.
The straps fit perfectly, and the weight balances out nicely.
There were a few specific features that I love, that I wasn't expecting.
The first is the large garment pocket. This pocket is plenty big for just about whatever you want to put in it. Whether that's a waterproof layer, a large camera, or in my tests: both.
It all fits comfortably with room to spare.
It even fits with the large rain hood, which is perfectly matched with the rest of the bag. More on that in a minute.
The second feature I didn't realize I'd like so much is the magnetic rangefinder holder.
Right on the front of the bag is this pouch for a rangefinder. Oftentimes taking a rangefinder out of its traditional pouch can be a bit cumbersome at times, zipping and unzipping – or pulling the elastic band off and on.
This magnetic pocket is perfect and really did make accessing my rangefinder more seamless.
Going back to the rain hood (a necessity here in Oregon), it's the most robust I've seen.
No seriously, it's thick and made out of the same material as the rest of the bag. It also has a better system for putting it on that uses a loop and snap, as opposed to a bunch of snaps around the top of the bag. It makes it much easier to get off and on.
Editors Choice: Best Golf Bag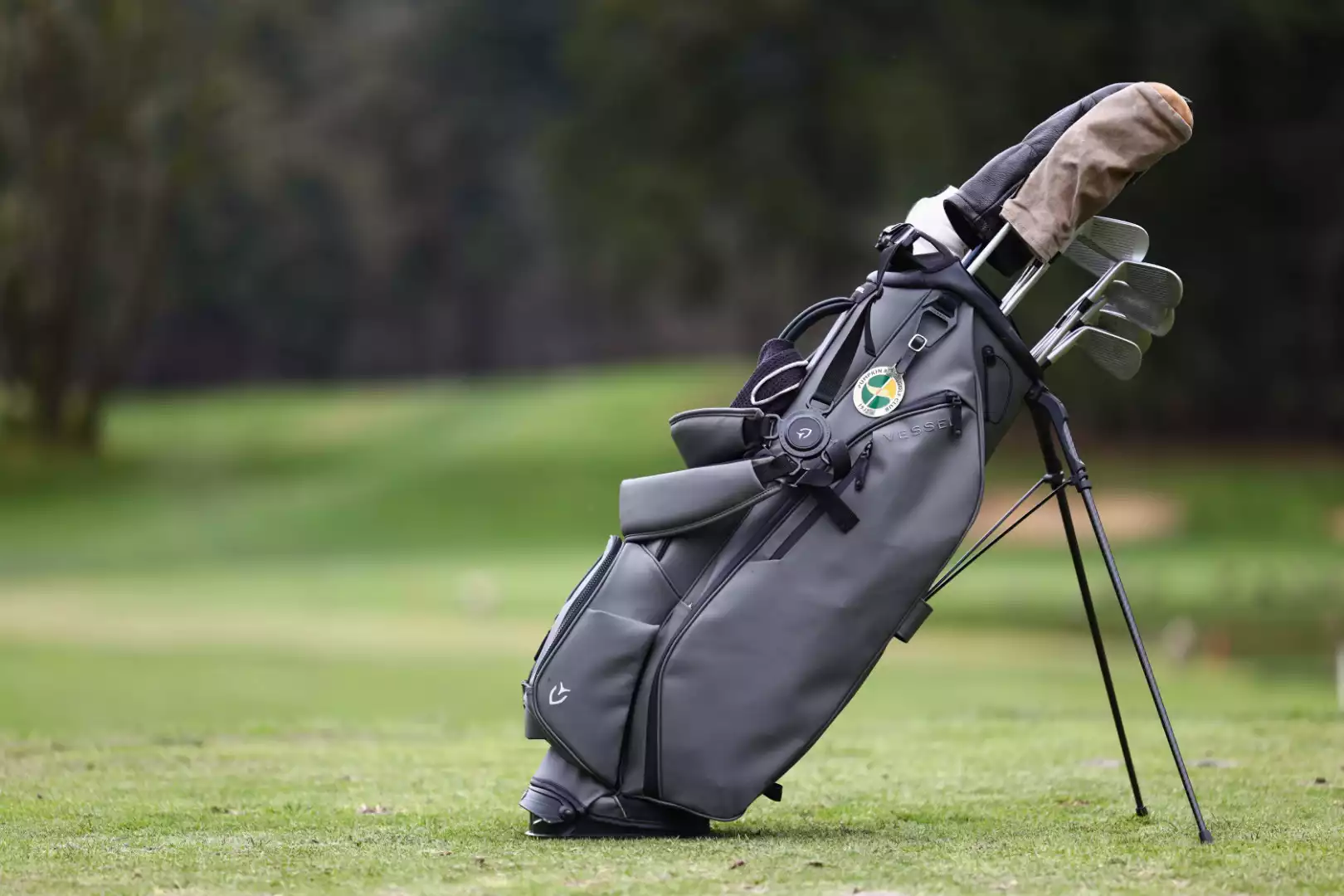 VESSEL Player III Golf Bag
The Vessel Player iii doesn't come cheap, but it's one of the best golf bags I've ever reviewed. Everything about it is high quality, and it's the bag that has become my baseline for comparison when I review any other premium golf bags.
Buy from Vessel
We earn a commission if you click this link and make a purchase at no additional cost to you.
Other Notable Features of the Vessel Player III
There are little touches throughout this bag, that make it clear a lot of time, energy, and engineering went into making it a phenomenal bag.
The stand is among the best I've seen. They call it the "Rotator Stand System," and it works wonderfully. The carbon fiber legs are also a nice touch, and are one instance where they're able to save some weight.
There are two insulated water-bottle holders that use magnets to stay shut when not in use. I generally like and enjoy the magnets used on these and for the rangefinder pouch. However, there is one of my water-bottle holders that doesn't seem to stay shut when I want it to. A minor quibble, but something I've noticed.
There's an exterior umbrella holder, a pen holder, and a towel ring that also serves as the ever-important bottle opener.
It's little touches like these that once again show just how much thought went into designing this bag.
They even included a hidden valuables pocket with a combination lock. May not do you much good if someone decides to just walk away with the whole bag, but how often does that happen? (Let's hope I didn't just jinx myself).
Final Thoughts on the Vessel Player III
Honestly, I'm hard-pressed to say anything bad about this bag.
If forced, I might note the fact it's on the heavier side, and has the potential to be much more so, since there is so much pocket space. But as mentioned that was less of an issue for me than I even expected it to be.
The biggest gripes actually have less to do with the bag itself, and those are: price and availability.
At $375 this is an expensive golf bag. No getting around it.
But most of us aren't going around and replacing our bags every year. And for something that has the potential to have such a fundamental impact on how we enjoy the game, this doesn't feel like that unreasonable of a price for what you're getting: a super-premium, good looking, feature-heavy golf bag.
The other issue is availability. As of this writing in February 2021, they are hard to come by. They've been sold out on the site for a while, and I don't have an estimate on when they will be back in stock. Keep checking back.
It's worth noting, if you're looking to invest in a high end golf bag, you should also check out the Stitch SL2 golf bag. It's a more walking oriented bag and the build quality is on par with the Vessel bags.
Bottom line? If you're looking for one of the best-looking, best-performing, and most trendy golf bags on the market, you don't need to look any further than the Vessel Player III. It lives up to the hype…and then some.
Editors Choice: Best Golf Bag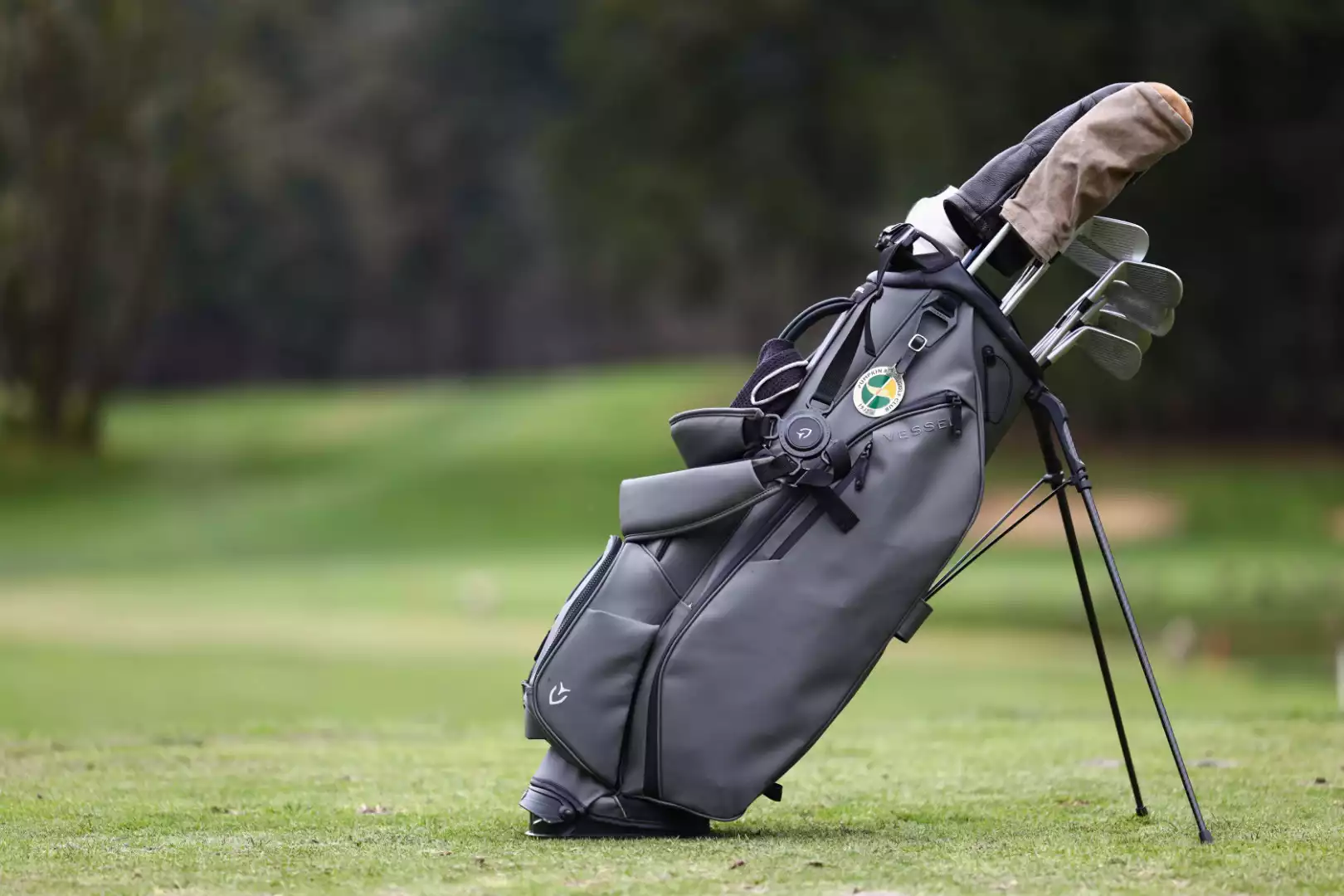 VESSEL Player III Golf Bag
The Vessel Player iii doesn't come cheap, but it's one of the best golf bags I've ever reviewed. Everything about it is high quality, and it's the bag that has become my baseline for comparison when I review any other premium golf bags.
Buy from Vessel
We earn a commission if you click this link and make a purchase at no additional cost to you.
UPDATE October 2022: As good as ever
I originally published this Vessel bag review in February of 2021.
I figured I'd give a quick update to say that, nearly two years later, I continue to be just as impressed with this bag as I was when I first reviewed it.
It's held up very well, and because of the material, it's easy to wash and looks just as good as the day I got it.
I've played dozens of rounds with this bag and traveled with it on a handful of cross-country trips.
The only knock or complaint I'd have about the bag is the weight. Caddies generally aren't a fan of this bag ha. At right around 6 pounds, it's far from the lightest bag on the market. And because there's plenty of storage space, if you're a packrat, it's easy to get that weight up into double digits.
The straps are super comfortable, so when I carry with it, I have no issues. But if you're a caddie double bagging it, then the weight may be bothersome.
All told, this continues to be one of my best golf bag recommendations. It's fantastic.
I'd also check out our review of the successor to this bag, the Vessel Player IV and Player IV Pro if you've been considering purchasing.
This page contains affiliate links. This means that if you click a link and buy one of the products on this page, I may receive a commission (at no extra cost to you!) This doesn't affect our opinions or our reviews. Everything we do is to benefit you as the reader, so all of our reviews are as honest and unbiased as possible.
Good Things
Looks fantastic and great material
Very feature heavy
Extremely comfortable to use
Bad Things
Expensive - but for a reason
Availability is limited right now
On the heavier side for a carry bag
The Breakdown
---
---
---
---
---