Sunday Golf Loma Bag Review: Is This Sunday Golf Bag Any Good?
Originally published in October 2021, this has been updated as of February 2023 to include updated pricing and specs.
I've always wanted a Sunday bag.
Don't get me wrong. I prefer to walk using a larger bag with my pushcart for the majority of my rounds, and I don't see that changing anytime soon.
And when there are a few beverages involved, or the heat is excessive, or I'm playing 36, I still love riding in a cart.
But a Sunday bag has always had a certain romanticism to me. I've always kind of admired the stripped-down, back-to-basics vibe that they project. It's like a spirit of, "forget all the gadgetry and technology and modern luxuries. Let's play some old-school golf."
If you love the game, you probably know what I'm trying to say.
Mostly, a Sunday bag is about practical comfort. They are small and they are light. That's the point.
So I was pretty stoked to get my hands on the Loma Bag by a San Diego company appropriately named Sunday Golf.
Did this bag live up to my hope and my romantic vision for a comfortable, kickin'-it-old-school round of golf?
Let's break it down.
A Minimalist Approach to the Golf Bag
For those who don't know, a Sunday bag is like a much smaller and lighter-weight version of a golf carry bag. There are fewer and smaller pockets and less space for clubs.
The idea is to sacrifice room for more stuff in favor of an easier bag to carry.
Your typical golf bag has room, of course, for 14 clubs. Most bags have an ample-sized pocket to allow for a bunch of golf balls, a large length-of-the-bag pocket for clothing and another couple of pockets for things like accessories, snacks and whatever else you might need to haul around the course.
A Sunday bag takes all of that and strips it down to the bare essentials. A smaller pocket for fewer balls. Very minimal clothing storage. A few small pockets for valuables and some basic accessories. And that's it.
It's like what a carry-on bag is to a full-blown suitcase.
Some Sunday bags come with kickstand legs, some with mini legs and some with no legs.
What's cool about Sunday bags is that sometimes you don't need all of your clubs and all of your gear. But if you only have a full-sized bag, you end up dragging it around to everything having to do with golf.
A Sunday bag gives you options.
Related: If you want a few more options, then you may want to consider Sunday Golf's El Camino bag, which is still a Sunday Bag, but is more feature heavy.
Not Just for Sundays
I live across the street from the course where I have a membership and play most of my rounds. Sometimes in the evenings, I'll jump on the third tee box and play anywhere from two to six holes – just an abbreviated solo round.
For these evening shorty rounds, I'm not worried about a score, so I don't really need all 14 clubs. And I don't need a bunch of gear. A handful of clubs, a couple of golf balls, possibly a beer or water – that's it.
I'm just trying to get in a few swings, maybe hit a few re-do chips or putts and enjoy the evening. A Sunday bag is absolutely perfect for that situation.
Other go-to Sunday bag scenarios:
A trip to the driving range where you just want to work on hitting a few clubs.

A round at a Par-3 course.

A round at an executive course.

A quick after-work 9 with friends where the objective is more about hanging out than shooting your best score.

A hot day where you still want to walk but with minimal baggage.

Any other situation that you can think of where you don't need your full array of golf gear.
The Loma Bag by Sunday Golf – the Lightest of the Lightweights
So one of the sweet things about a Sunday bag is that it's light. Well, the Loma Bag by Sunday Golf is the lightest of all Sunday bags. Seriously! It weighs 1.95 pounds empty!!
Look around the internet. What you'll find is a bunch of Sunday bag options, mostly weighing in around 3 to 4 pounds. Some of 'em go above 5 pounds. Occasionally, you'll find something just under 3 pounds.
But less than 2 pounds?! This bag is the flyweight champ of Sunday bags!
And that's a big deal. Because that's kinda the point of a Sunday bag, you know?
When I first picked up the Loma Bag, I was shocked at just how light it felt. Even after I loaded it with clubs and gear, I just couldn't believe how much lighter carrying this bag was than what I've grown accustomed to over the years.
I just never really considered how much difference even a few pounds can make – especially after playing several holes. Carrying the Loma bag honestly felt pretty similar to just walking the course without a bag at all. It's a totally liberating feeling that you have to experience to appreciate. There's no strain at all while shouldering and un-shouldering the bag or while walking with it on your back.
The Loma Bag Features
For as small and light as this bag is, it's pretty damn functional. You know going in that you're not going to be hauling a bunch of extras like rain gear, a lot of balls, extra gloves, cold-weather clothing, a ton of snacks, or whatever else you might be accustomed to jamming into your standard carry or cart bag.
But the Loma Bag has five pockets. They're small, but they give you pretty much the space you need for a day at the course. I found a space for my phone. A pocket for a few golf balls. Another pocket that worked well to fit a range finder. And a pocket to fit a bottle of bug spray with room leftover for a couple other small items.
But best of all is what they call the Frosty Pocket – an insulated zip-up pouch that's deep enough for two 12-ounce cans of your favorite beverage.
There are seven little tee holders. And there's a velcro strip large enough to fit a couple of golf gloves. There are a few different spots where you can clip a golf towel.
The built-in handle at the top is very useful for picking the bag up and for carrying it short distances.
And the Loma Bag comes with kickstand legs, which to me are an essential luxury for any carry bag nowadays.
Sunday Golf says that the Loma Bag is designed to carry six to eight golf clubs. I found seven to be what worked best for me. Eight was a bit too crowded. It got a little tough to easily take a club out and put it back in. Seven worked pretty well.
Also, the more clubs that I added, the more top-heavy the bag got, reducing the ergonomics when carrying.
Obviously, the more you add, the heavier the bag gets. But even with everything listed above, including three golf balls, two beers and seven clubs, the bag didn't weigh more than 7 pounds. And carrying it felt like nothing compared to a fully loaded Vessel Bag.
You could skip the beverages, the phone, the rangefinder and the bug spray and you'd reduce the weight that much more.
Related: Check out the Sunday Golf Ryder Bag. This is the first bag by the brand designed to fit a full set of clubs.
What I Don't Like About the Loma Bag by Sunday Golf
My lone complaint about this bag is the strap. For me, it's too long relative to the size of the bag. It doesn't quite balance properly. The bag tends to want to ride a bit horizontally, and at times the clubs start to slide out of the bag as you're walking.
Even after shortening the strap as much as it would go, this remained a bit of an annoyance. I'd prefer for the bag to ride a little higher; not so low-slung. I feel like a better-designed strap could make the bag much more comfortable.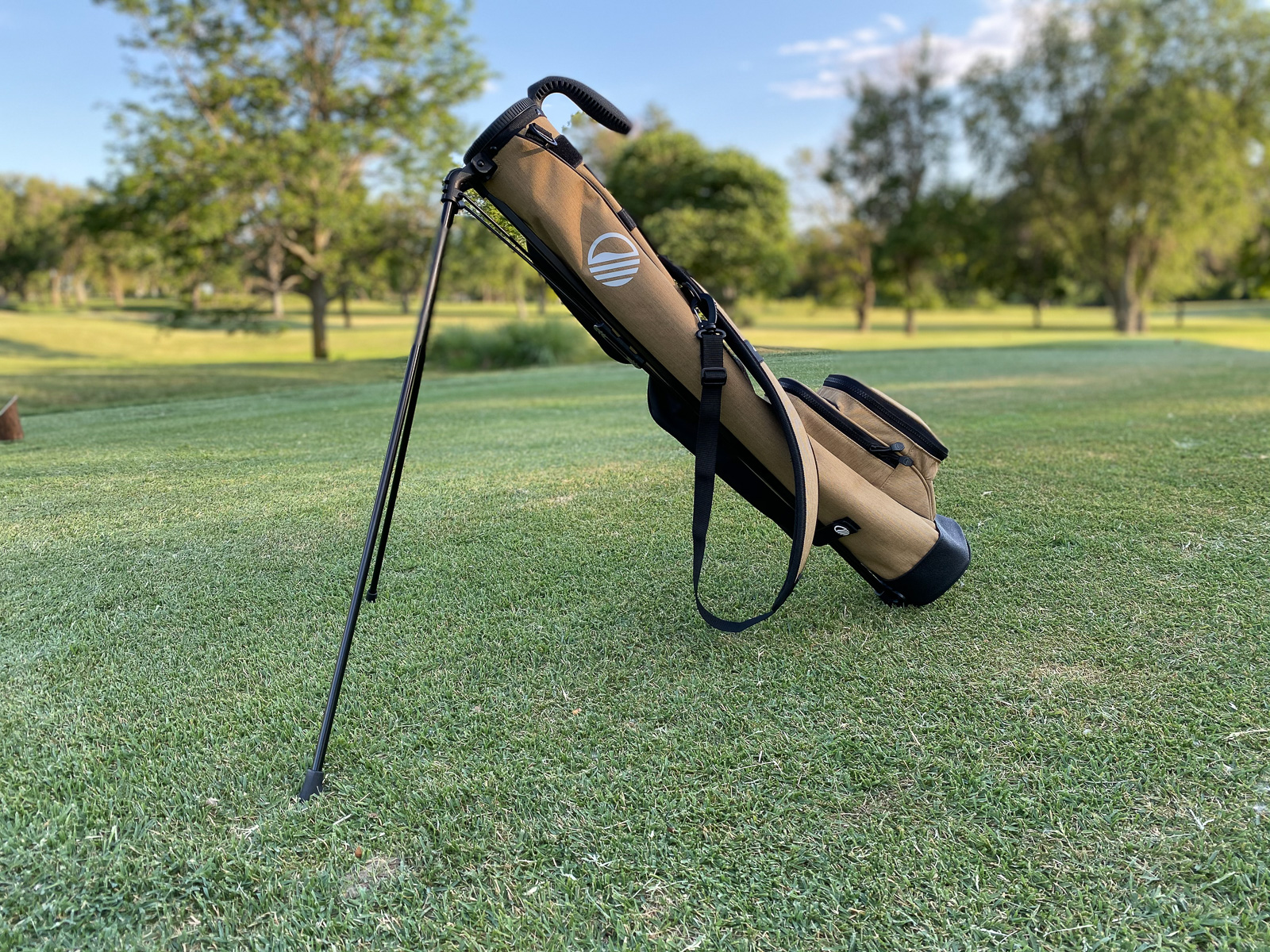 That said, the more I used it, the more accustomed to this little nuance I became and the easier it was for me to naturally adjust to find a comfortable sweet spot.
The strap issue was by no means a deal-breaker for me, but I do feel improving it could be a game-changer for this product.
In fact, I'd love to see a backpack-style, double-strap option. I know that would add some cost (and weight), but I think it'd be worth it.
Final Thoughts on the Loma Sunday Bag
I gotta say, I can see getting a lot of use out of this product.
It's not for the rounds where it's important that you give yourself every chance to do your very best. For those rounds, having all 14 clubs is of course critical.
And it's not for taking on a golf trip. For that, I'm going with something that's going to allow more storage for all of the various things I may need to bring along.
I don't see using it if the weather is volatile. If I need to bring rain gear or extra layers, I'm probably going to need more space than the Loma bag provides.
But for leisurely rounds? For abbreviated rounds? For quick trips to the range? And for a bunch of other common golf scenarios – yeah, this bag is actually far superior to bigger, bulkier, heavier alternatives.
And honestly, for 80 bucks (or less with our code)? You can't go too far wrong.
And don't forget, you can use our Sunday Golf coupon code "BE15" to save 15% on any Sunday bag!
Lightest Golf Bag
The Breakdown
---
---
---
---
---