Sun Mountain Mid Stripe Golf Bag: A New Player in Luxury Bag Market
There's no shortage of high-end golf bags on the market these days.
Whether it's Vessel, Stitch, Mackenzie, or a Titleist Linksmaster – there are a number of brands with bags well over $300, if not more.
I've never thought of Sun Mountain as a "luxury" golf brand, but they've always made very high-quality products. From their push carts, rain gear, to their excellent golf bags – you can expect quality.
However, with their latest release, the Mid Stripe bag, they're taking cues from the brand's heritage and aiming squarely at other high-end bag manufacturers.
The second I saw this bag, I knew I had to check one out for review.
It has some of the most unique colorways of any bag I've seen recently, and if it performs as well as it looks?
Watch out.
But does it perform, and does it look as good in person as it does online?
Let's find out.
First Impressions of the Sun Mountain Midstripe Bag
With 9 colorways to choose from, I genuinely had a difficult time choosing which style of Mid Stripe Bag I wanted.
But I decided to go with a very retro green option they call "Loden Moss/Inferno."
It's a bit bolder than what I'd usually choose for a bag, but I thought it looked cool, and really exudes the classic throwback vibe that this bag is going for.
And once it arrived? Let's just say I wasn't disappointed.
The bag looks stunning. The Mid Stripe has little touches all over the place that make it stand out from other similar bags.
Things like tan leather accents and bright orange zipper-pulls, compliment this green colorway very well.
There are some very good-looking golf bags on the market, but as we move into 2023, the Sun Mountain Mid Stripe golf bag may get my nod for the best-looking option on the market.
This is a vinyl bag, which is nice as it's a little more conducive to using it in inclement weather – which is a factor here in the Pacific Northwest.
It feels nice, but for me is a step below the Vessel Player iii, which is best in class in terms of materials (but comes at the cost of extra weight.)
Overall, from the moment I first got it, I've been very satisfied with everything about the bag.
Best Looking Bag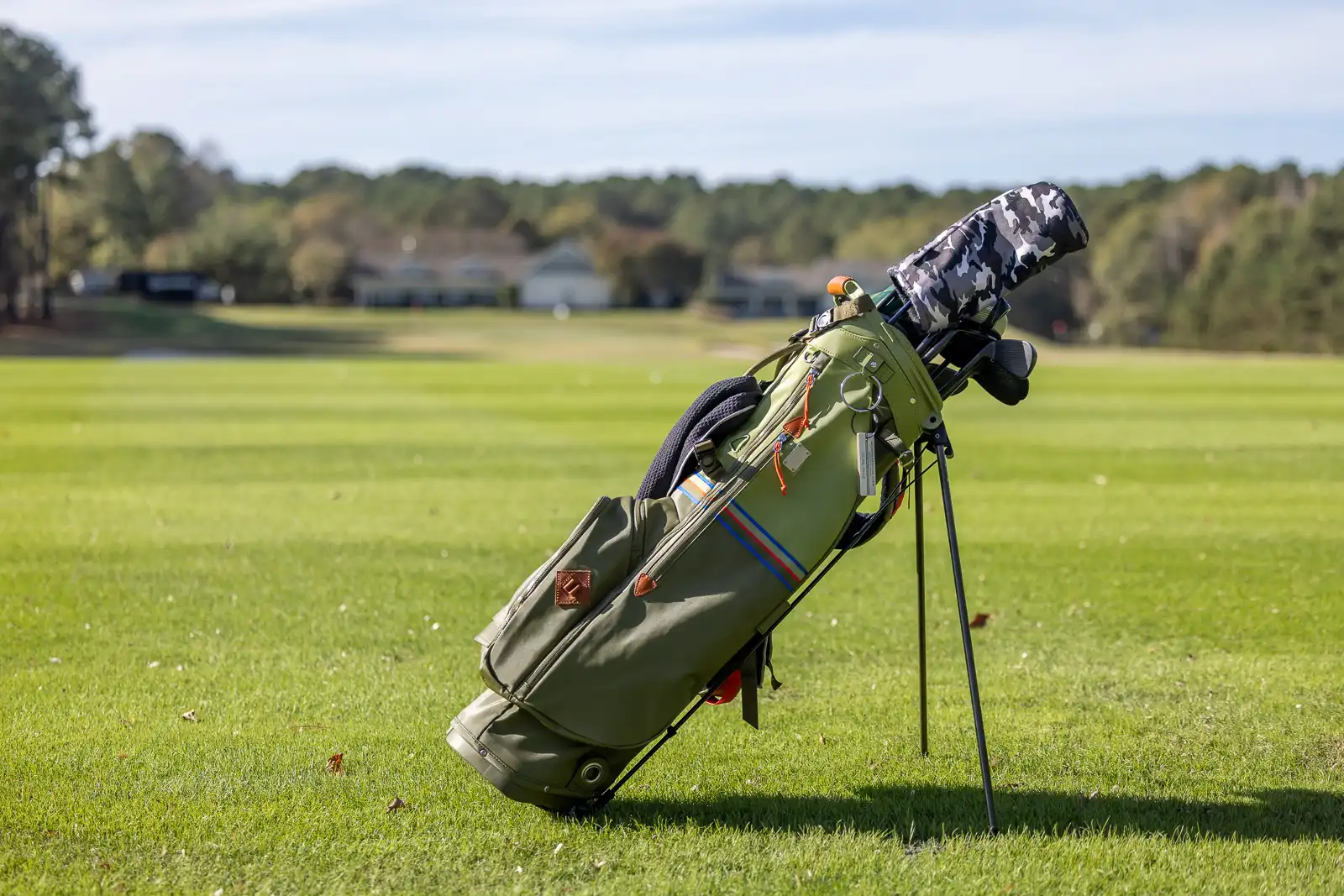 Sun Mountain 2023 Mid Stripe Golf Stand Bag
The Mid Stripe from Sun Mountain is the best example we've seen of throwback style with modern functionality. Quite simply, it's one of the best-looking and performing bags on the market.
Buy from Amazon
We earn a commission if you click this link and make a purchase at no additional cost to you.
10/01/2023 08:10 pm GMT
Sun Mountain Mid Stripe Bag Features
At a retail price point of $369, this bag is quite a bit more expensive than many of Sun Mountain's offerings, and pits them squarely against players like Stitch and Vessel.
Fortunately, not only does Sun Mountain deliver in the looks category, they deliver in features as well.
There's an available single strap option you can purchase if you really want to lean into the throwback vibes, but in my opinion, this is where vintage charm meets modern functionality. The Sun Mountain double strap system is incredibly easy to use, and super comfortable.
This is my big knock on the less expensive Jones Utility Trouper. It continues to be one of my most recommended bags, but I still struggle with the usability of its straps.
The bag has 7 pockets and the apparel pocket is a nice size. Personally, I like this to be as big as possible. I carry a large camera around during many of my rounds, so I like to be able to easily fit it in there, along with an outer layer.
The Mid Stripe accommodates this well. Much better than a Sitch SL2, but with slightly less room than the Vessel Player 3.
Where some bags will have two separate valuables pockets, this one has one larger one that is separated into two sections. I think I'd personally prefer if they were separate pockets, but it's a unique design that I think some people will really like.
The bag has built-in leather tee holders which are a great accent touch. Even cooler, each bag comes with a small box of tees that match the colors of your bag. I haven't seen another brand get down to that level of personalization, and it's a nice touch.
The bag doesn't have a dedicated cooler pocket, which many competing bags do. This would have been nice to see, but honestly, those don't really work all that well anyway – so it's not the end of the world.
There's a small chrome plate that can be customized with your initials. This absolutely lends to the high-end feel of the bag.
Mid Stripe Build Quality and Performance
As far as performance goes, this bag delivers. The pockets are all super functional, the straps are comfortable, and while it's on the heavier side at 5.6 pounds, it's comfortable to carry.
The Vessel tips the scales at just over 6 pounds, but the Stitch comes in at under 5. So if weight is a primary concern, keep in mind that this one is on the heavier side of stand bags out there.
The stand system works just as you'd expect it to.
My one major critique of this bag comes down to material quality.
To be clear, this is a high-end bag, and I think generally speaking the build quality is very good.
But for instance, the leather handle isn't quite as soft as the handle on some other bags I've used.
Many of the zippers don't feel quite as sturdy and stable as I'd hoped. I'm trying to figure out how to describe it, but they get a little wavy when you'd like them to hold their form a bit better.
This really isn't an issue right now, but I wonder if that's a sign that there may be durability issues down the road.
The vinyl material isn't quite as thick as what you'll find in the Vessel or the Stitch bags – but that also means it's not quite as the Vessel either.
The Vessel Player iii still gets my vote for the best build and material quality of any bag under $400.
Despite these quibbles, however, the Mid Stripe is still very good in this department. And when you throw in the attention to detail and overall aesthetic of the bag – I think it will be one of the most popular new bags in 2023 (and for good reason).
Final Thoughts on the Sun Mountain Mid Stripe Bag
This past week I was down in Georgia to visit Atlanta Athletic Club and Reynolds Lake Oconee.
I took the Mid Stripe bag down there on its maiden voyage.
In every single round of golf I played, someone asked me about the bag.
At nearly every bag drop, someone asked me what it was.
Just a few of the comments I heard on that trip:
"Damn, that's a good-looking bag!"
"I've never seen this before, what is it?"
"Man, this thing is clean."
"That's a really cool colorway."
Over 4 days I had at least 7 comments about this bag.
Using any other bag? I rarely get a single comment.
That's how much this stands out.
And part of it I'm sure is because it's new, and that makes it unique and novel.
But this is a testament to just how good this bag looks.
It won't be for everyone. If you're not into that retro/vintage style, then there will be far better bags for you.
But if you love the trend of throwback looks, but still want modern comfort, convenience, and performance?
You should look long and hard at the Sun Mountain Mid Stripe bag, as there are few bags on the market that rival it in terms of performance, aesthetics, and for the moment? Cool factor.
Best Looking Bag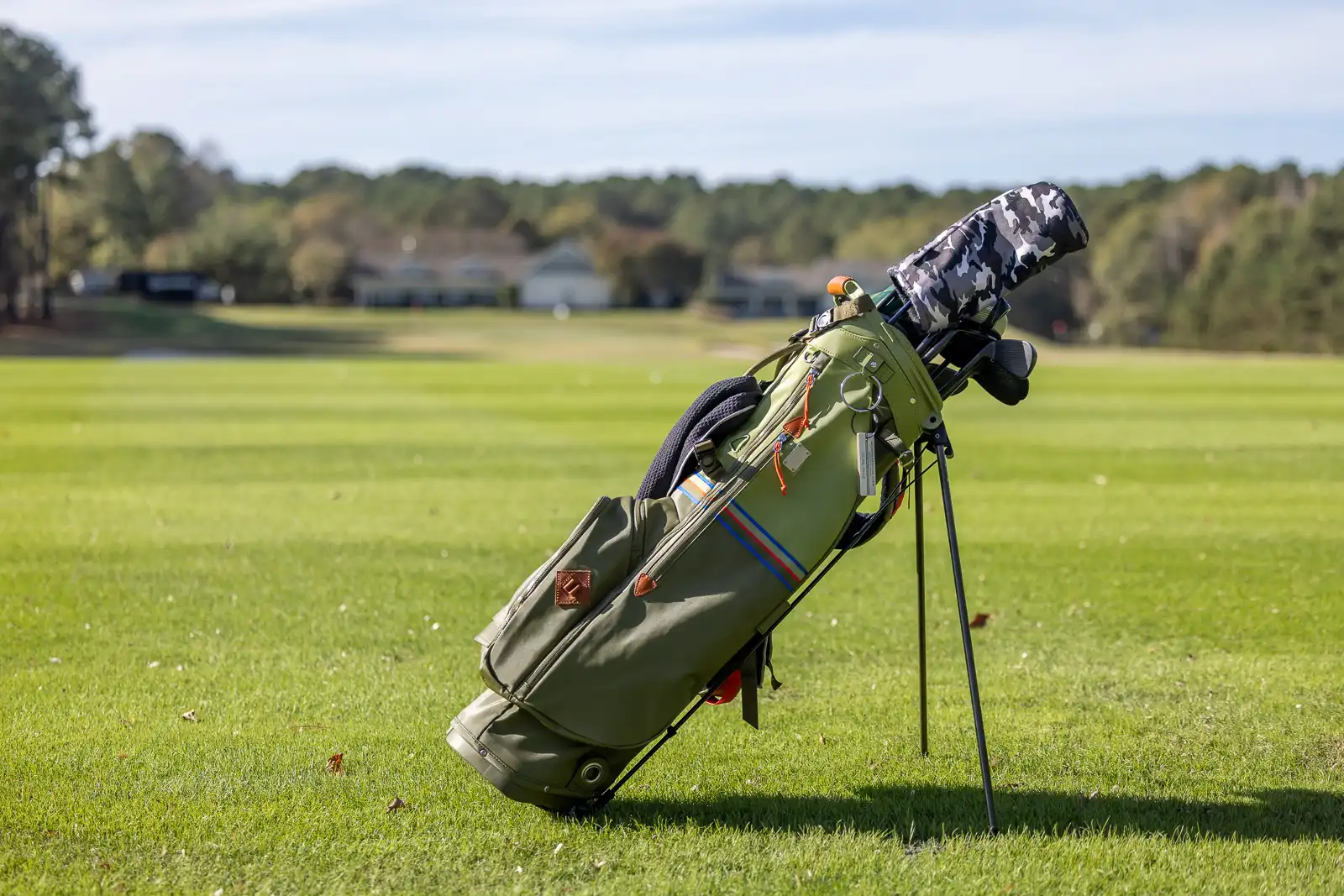 Sun Mountain 2023 Mid Stripe Golf Stand Bag
The Mid Stripe from Sun Mountain is the best example we've seen of throwback style with modern functionality. Quite simply, it's one of the best-looking and performing bags on the market.
Buy from Amazon
We earn a commission if you click this link and make a purchase at no additional cost to you.
10/01/2023 08:10 pm GMT
Good Things
Very comfortable to use
Extremely good looking
High quality attention to detail
Bad Things
On the heavy side
A couple minor durability question marks
The Breakdown
---
---
---
---
---