Payntr Golf Shoes Review: Do They Live Up to the Hype?
A couple weeks ago I was walking out of the clubhouse towards the range when I ran into one of my most fashion-conscious friends.
He's an opinionated guy, and has never been shy about giving his honest opinions about many of the golf products I've tested for this site.
In short, he can be hard to please.
As I was walking up to him, the first thing out of his mouth "damn, what are those?!"
"Those new Payntr shoes I was telling you about."
"Those look sick."
The next week I was playing in a 3 day tournament out at Pronghorn. At least half a dozen people asked me about the shoes, and complimented them.
I've seen a lot of new golf shoe companies come and go. And honestly, I've gotten kind of jaded with them.
Usually, shoe and apparel brands need a few years under their belt to really nail, sizing and materials. So much so, that I've stopped reviewing a lot of newer brands because I usually come away disappointed.
So when I got these Payntr X 003 golf shoes in for review, I was skeptical.
And honestly? I didn't expect to love them.
But guess what, every once in a while a product surprises you.
How good are the new Payntr golf shoes? Are they worth investing in for yourself?
Let's find out.
First Impressions of the Payntr X 003 Golf Shoes
The first thing I noticed when taking the Payntr golf shoes out of the box is they look even better in person than they do online.
And then when you put them on? They get even better.
The Payntr X 003 shoes feel like a spikeless version of a traditional shoe. You could swap out the soles for traditional spikes, and it would still feel right at home.
In fact, with the release of the new Payntr X 004 (their first spiked shoe), that's exactly what you get.
I mean this in a good way. The trend for many spikeless shoes is to lean more casual, and this feels more like a golf shoe, than some hybrid models I've reviewed.
The shoe has a presence. It's not heavy, but when compared to some of the more svelte spikeless models like the True Linkswear Lux Sport, or even to a lesser extent the Ecco C4, it feels more like a Tour shoe than a spikeless model.
Because of this, I was hoping to find that there would be some increased stability in the shoe, when compared to some of its spikeless competition. More on that in a minute.
The red, white, and blue motif of the shoe looks really good. The colors are done thoughtfully, and they don't overdo it and ruin the clean look of the shoe.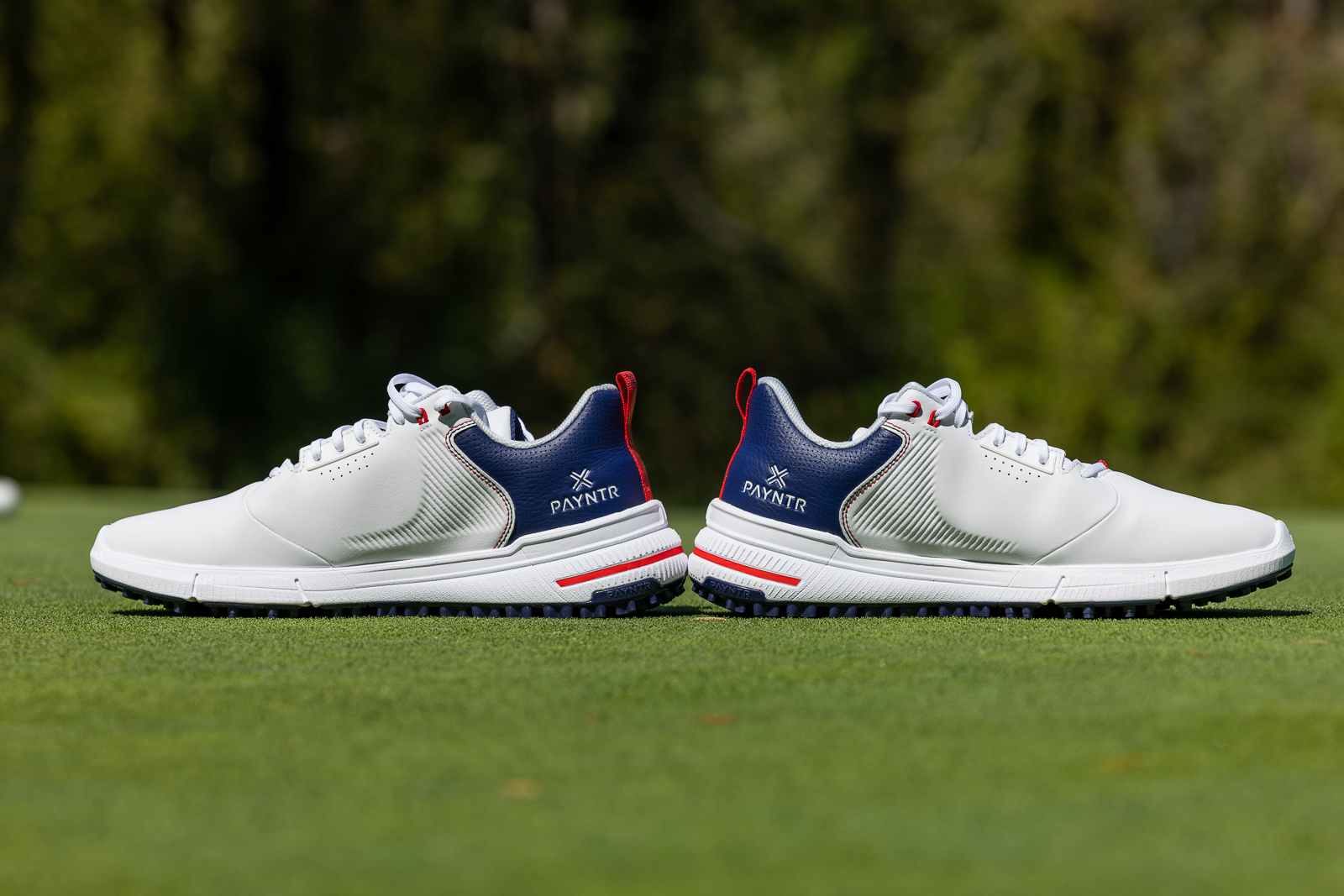 My only major question mark I had with the shoe upon my initial inspection is the sole. It looks good, and has "traction in 3 dimensions" but the plastic on it feels a little on the soft side, which makes me wonder what durability will be like long term.
The bottom line is that it's a very different shoe than what I've been wearing lately – but I kind of love it.
Payntr Golf X 003 Golf Shoes
Some of the most comfortable shoes we've ever worn, and they look good to boot. This is one startup footwear brand that's doing things right.
Buy from Payntr
We earn a commission if you click this link and make a purchase at no additional cost to you.
Payntr Golf Shoes Performance
As we know, it doesn't matter how it looks if it doesn't perform well on the course (well, at least for most of us).
After first holding the shoes, I was expecting these would take a couple of rounds to properly break in – similar to the more traditional Sqairz shoes I recently reviewed.
And you know what?
This is absolutely not the case. From the moment I put them on, they were far more comfortable than I was expecting them to be.
If anything they might run a touch big, but my size 12s fit me very well with plenty of space in the toe box.
On the course, they feel great.
And just as I'd hoped, they do feel very stable for spikeless shoes. On par with the class-leading Ecco C4 (which is my all-time favorite golf shoe).
However, all of my 5 rounds I've played in these Payntr shoes have been in dry summer conditions.
If the course was a bit wet, I'm curious to see how this sole would handle the water, and I'll update this when I end up wearing them in those conditions.
I don't have many complaints about this shoe, but one thing I'll note is that the material on the sole is kind of a rubbery plastic, as opposed to say some of the Ecco soles which feel harder.
If this is a concern for you, I'd check out the Payntr X 005 shoes, which have a more durable sole.
I mentioned my durability concerns, but another byproduct of this is that when you're walking on hardwood in the clubhouse? They can squeak a bit.
This has no bearing on performance while you're playing, but it's something I noticed when walking to the locker room.
Final Thoughts on Payntr Golf Shoes
If you look at the product page for the Payntr X 003 shoes, there's a ton of fancy-sounding stuff in there:
Clarino™️ microfiber upper, lightweight support and water resistance.
Pebax™️ propulsion plate, effectively harness ground reaction forces.
TPU Outsole, traction in three dimension for the life of the shoe.
Single Density PMX Foam™️ Midsole, maximum energy return, under foot comfort.
Neverwet™️ superhydrophobic solution, non-wicking and water-resistant protection.
Ortholite™️ Footbed, cushioning, fit, and comfort never change.
That's a lot of trademarked technology that sounds impressive.
Does the Pebax propulsion plate effectively harness my ground reaction forces?
I have no idea. But these shoes feel really good when I'm swinging a golf club.
Will the Neverwet superhydrophobic solution keep my feet dry in wet conditions?
I'm not sure, but I have no reason to believe it won't.
Payntr's tagline is "Performance Multiplied". It's clear that they want to create shoes that don't just look and feel good, but perform as well.
When you're a small upstart company, you have to do things to help build your credibility in the eyes of the consumer.
All of these different "technologies" they've built into the shoe?
It's their way of doing that.
But the good news?
They don't need it.
Payntr golf shoes stand on their own as being a fantastic spikeless shoe. They look good, and I'm excited to wear them for many rounds to come.
And the best part? The Payntr X 003 model only costs $140.
Yes, that's still a lot of money, but these days that's downright cheap for a shoe of this quality.
The Sqairz shoes I recently reviewed are $199. The Ecco C4 is $230. Even the True OG Feel is $155, and is a very specific shoe you likely won't use every round.
So to have a shoe with this much technology, that looks and feels this good, come in at $140? That's a welcome surprise in a golf environment where things continue to get more expensive.
If you're like me, you may be hesitant about taking a chance on a brand-new company you may not have heard of before. But in the case of Payntr? It's money well spent on a product that's very impressive.
Payntr Golf X 003 Golf Shoes
Some of the most comfortable shoes we've ever worn, and they look good to boot. This is one startup footwear brand that's doing things right.
Buy from Payntr
We earn a commission if you click this link and make a purchase at no additional cost to you.
Good Things
Look great
Benefits of both a traditional golf shoe and spikeless shoe
Fantastic price
Bad Things
Long term durability is a concern
Sole squeaks when walking on hard floors
The Breakdown
---
---
---
---
---