G/FORE Gallivanter Review: The Best Looking Shoes in Golf?
For the last few years, I've admired the G/FORE Gallivanter golf shoes from afar.
Every time I see someone wearing a pair of them, I can't help but think "man, those golf shoes are beautiful."
Because in my opinion, they are. I've even declared them the "best looking" shoe in golf.
They're the rare marriage between traditional and modern styling that truly work to create something new and unexpected.
But for as beautiful and eye-catching as they are, I've been hesitant.
Nearly every time I see them on the course, they're being worn by a good player.
It sounds funny to say, but there's part of me that just didn't think I was good enough to be able to do these shoes justice.
This week I finally got over that fear and put the Gallivanters to the test. Could I pull them off? Do they perform as good as they look? Are they going to take forever to break in?
I answer all of those questions and more, in this review of the G/FORE Gallivanter golf shoes.
First Impressions of the G/FORE Gallivanter Shoes
Taking these out of the box, they lived up to expectations. I opted for the "snow/twilight" colorway which is a pebbled white leather with a greyish blue sole.
There are a number of colorways and models in this shoe, so there should be something for everyone if this is a style that interests you.
Build quality is fantastic, and everything about the shoe feels high-end.
The shoes come with two sets of laces and the same nubbed insole that's on many other G/FORE shoes, such as the MG4+ I recently reviewed.
Despite being a traditional golf shoe, the spikes are integrated into the sole and are not removable.
I was curious if this would hurt stability or make them feel more like a spikeless shoe than a traditional shoe.
Those fears were quickly allayed when I felt just how sharp these spikes are. But we'll talk more about grip and traction in a minute.
The short version is that the shoes looked just as good, if not better than expected when I opened the box up and got hands-on with them.
The signature skull and crossbones on the sole is a fun touch. It's one of the ways G/FORE elevates this shoe to make it a bit more modern, and stand out from other traditionally styled shoes from companies like Footjoy.
Best Looking Golf Shoe
G/Fore Gallivanter Shoes
I'm not sure there's another shoe out there that says "I know how to play golf" than the Gallivanter. It's quite simply one of the best-looking shoes out there.
Buy from G/Fore
We earn a commission if you click this link and make a purchase at no additional cost to you.
G/FORE Gallivanter Performance
I wear spikeless shoes for about 75% of my rounds. And when I wear spiked shoes, they're always more performance-oriented models. I've never owned or played a round in a traditional-looking shoe like this.
And to be honest, I had my concerns.
The leather is very stiff, and the shoe was a little bit more narrow than I was expecting it to be. It's comfortable, but it's not necessarily like putting on a pair of Ecco C4s or TRUE Lux hybrids.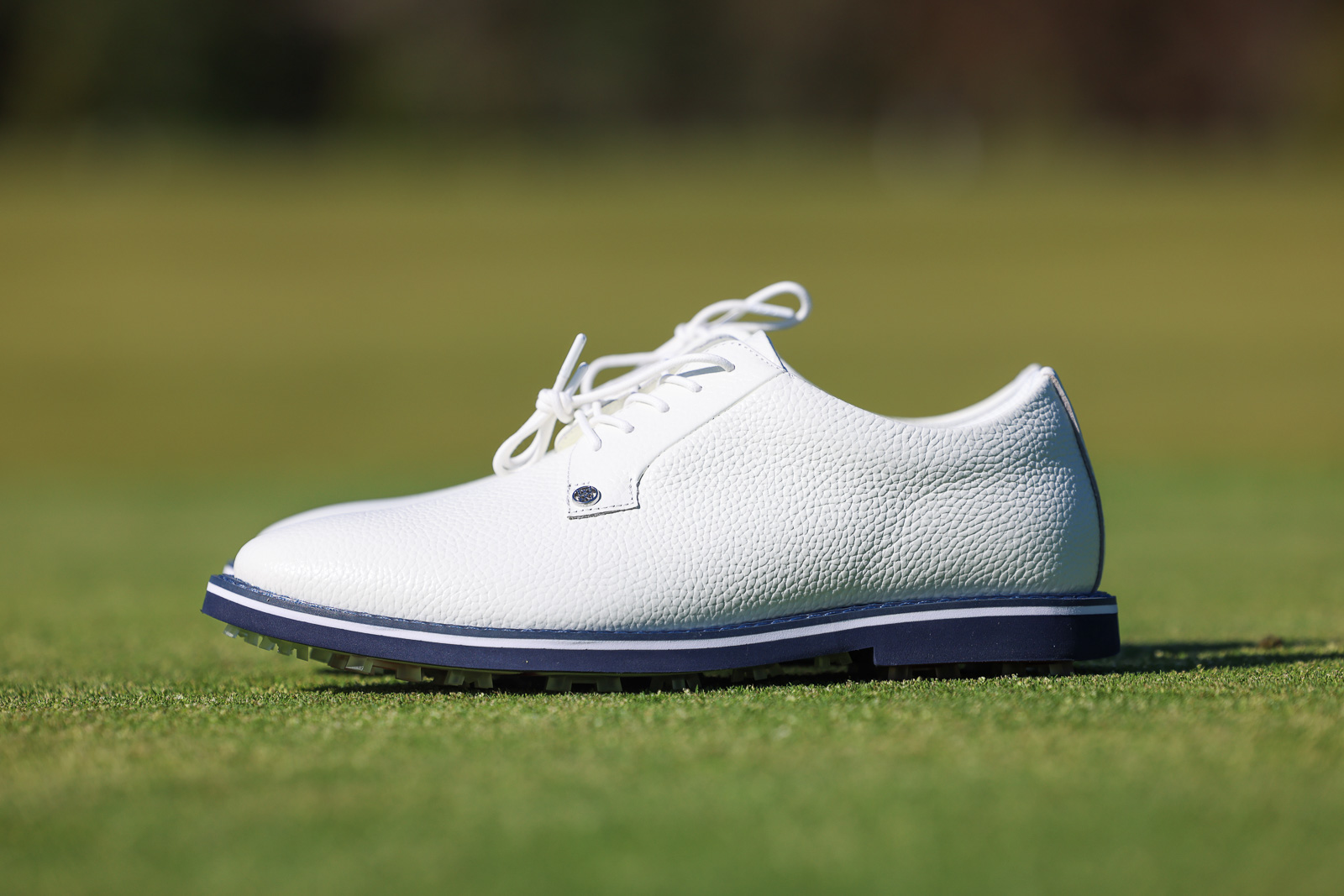 I was set to walk 18 holes for my first round in them. Beforehand, it crossed my mind that maybe I should wait to review these when I was riding in a cart to ease into them.
Nope! We're going to forge ahead and put these to the test walking.
To my surprise? Absolutely zero issues whatsoever.
I've always loved the look of these shoes, but they were much more enjoyable to wear and play golf in than I'd expected them to be.
First off, the grip is phenomenal. I felt so stable and planted in these shoes in a way that you just don't get from any spikeless shoe.
But more than that, there's something confidence-inducing about the Gallivanter golf shoes.
Remember how I said I didn't think I was a good enough golfer to wear them? While that may be true, every time I looked down at my shoes while addressing the ball, I'd have a surge of confidence.
"I'm fully planted, I look good, I'm going to stripe this ball."
That's the swing though that went through my head most often while wearing these shoes.
The sole definitely isn't quite as cushioned as some other models, so by the end of the round I could feel it a little bit in my heels specifically. But not that much more so than in any other pair of shoes I've tested.
The leather is very easy to clean. I've had these shoes for a little over a month and had been waiting to wear them until the course dried out a little bit from a wet winter. I expected to encounter some mud during the round I did wear them, but any scuffs or dirt washed off easily. The shoes are still just as pristine as when I opened up the box.
I'm a size 12 and these shoes fit me well. They're a touch tighter than I was expecting, so a thin pair of socks could give me a little more room. But overall they are very comfortable to walk in.
Final Thoughts on the G/FORE Gallivanter Shoes
For my first round with the shoes, everyone I played with commented on how good they looked. One person said "Man, those look great. But I suppose they should for over $300."
"Nah, they're *only* $225."
"Seriously? That actually seems like a good deal!"
To be clear, these, like all G/FORE shoes are expensive. But $225 actually feels like a very good price for these shoes. They both look and feel more expensive than that.
There are some Gallivanter models that you can snag for just under $200, and if you use our coupon code "G4BREAKING8010" you'll save 10% on top of that, which makes these a really solid value for what you get.
In my opinion, this is the single best shoe on the market for the "fashionable golfer."
RELATED: Want a fashionable shoe that's a little more casual? Check out the G/FORE MG4x2.
To that end, I don't really need to convince you when it comes to the G/FORE Gallivanter. They're a niche style, and you're going to know right away if they're the right fit for what you're looking for.
But if they are what you've been looking for? Then I have no doubt you'll be very happy, if not even a bit surprised with just how good these golf shoes really are.
I'm not a fashionable golfer but after a couple of rounds in them, I'm not gonna lie, they won be over. Highly recommended.
Best Looking Golf Shoe
G/Fore Gallivanter Shoes
I'm not sure there's another shoe out there that says "I know how to play golf" than the Gallivanter. It's quite simply one of the best-looking shoes out there.
Buy from G/Fore
We earn a commission if you click this link and make a purchase at no additional cost to you.
This page contains affiliate links. This means that if you click a link and buy one of the products on this page, I may receive a commission (at no extra cost to you!) This doesn't affect our opinions or our reviews. Everything we do is to benefit you as the reader, so all of our reviews are as honest and unbiased as possible.
Good Things
Look beautiful
Great build quality and materials
More comfortable than expected
Bad Things
Non-removable spikes may be an issue for some
Despite being reasonable value, still expensive
The Breakdown
---
---
---
---
---