G/FORE MG4x2 Review: The Ultimate Go-Anywhere Shoe
I never thought I'd be that guy.
You know the one. The guy who wears golf shoes, off the golf course on a regular basis.
There's been a huge rise in the popularity of spikeless golf shoes over the last decade. And during the first 5-7 years of this, wearing those shoes off the golf course would elicit about the same response as you'd get for having iron covers on your clubs.
You simply didn't do it, lest you risk getting laughed at mercilessly.
However, over the last few years, we've seen a rise in the "golf cross trainer."
Shoes that could both perform on the golf course, yet be versatile enough to wear off the course as well.
TRUE Linkswear has been on the forefront of this with models like their Lux Hybrid, All-Day Knit, and Future Staples – all suitable for wearing off the course.
But it's taken me a while to be ok with this. To realize that these shoes are indeed suitable a replacement for casual shoes around town.
Which brings me to the shoes I currently have on my feet at a coffee shop in Portland – the G/FORE MG4x2.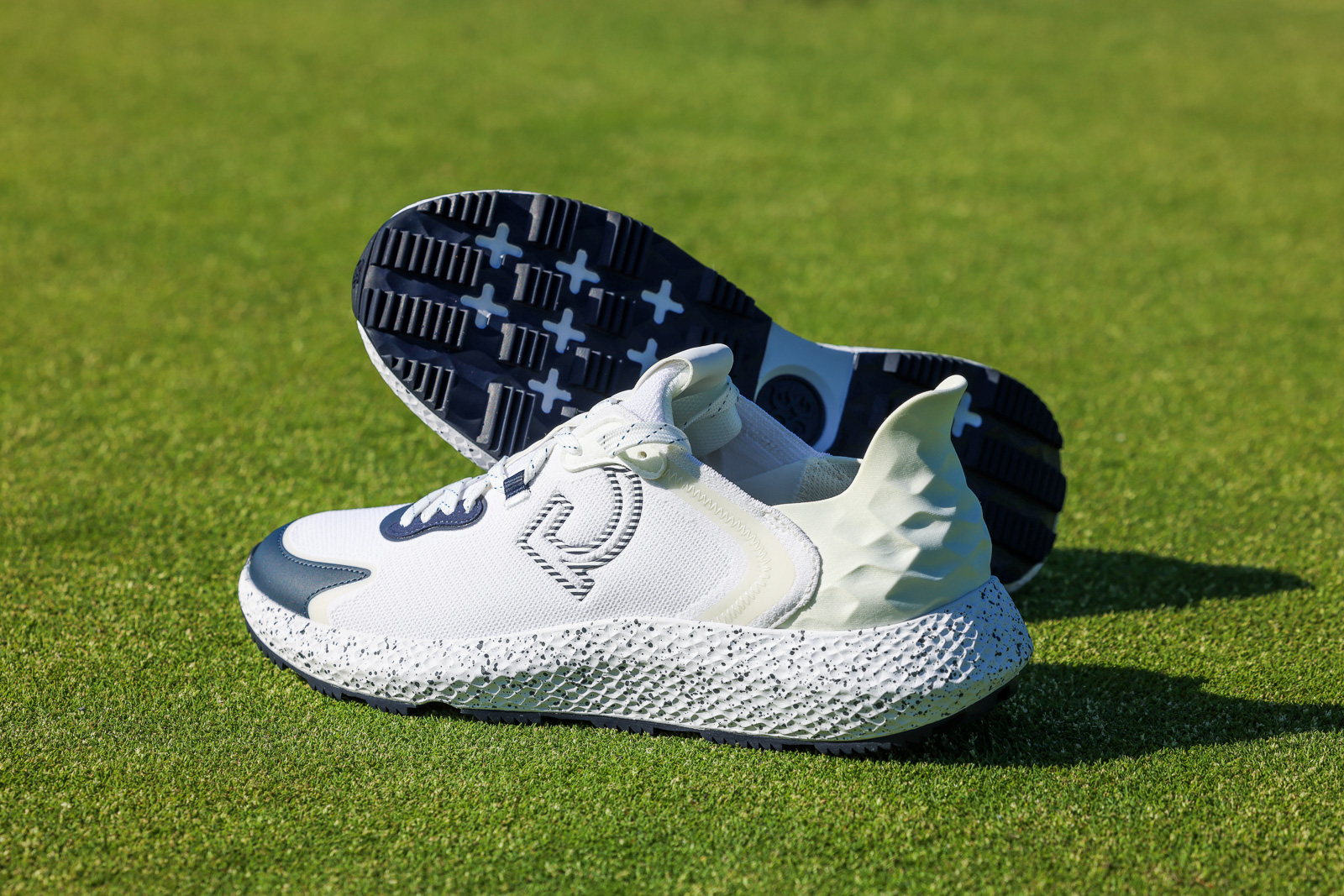 There really isn't a shoe brand out there that has become more synonymous with "golf fashion" than G/FORE.
I've already proclaimed the G/FORE Gallivanters as the best looking shoe in golf, and the MG4+ are among the most comfortable spikeless shoes I've worn.
But I was reluctant with the MG4X2. Maybe, like other G/FORE shoes, I didn't think I could pull them off with my more subdued personal style.
Or perhaps, I didn't think they'd actually be able to perform double duty both on and off the course.
But after 2 rounds of golf, and a handful of days wearing them out around town? I've got some thoughts.
Should you invest the princely sum of $225 in what is going to be a niche shoe for most people? Let's find out.
First Impressions of the G/FORE MG4x2
I received 3 pairs of G/FORE shoes at the same time for review – and I'd never worn a pair of them previously.
I saved these for last, because well, they're the most in your face.
I opted for the "Specks and Stripes" colorway of the MG4x2, and there's a lot going on with them.
There's a "speckled" and textured midsole, blue color-blocking in areas of the mesh upper, and a dimpled heal cup to go along with it.
Not to mention their signature "massage nubbed" insole.
That's a lot of textures, patterns, colors, and materials on one shoe.
And at first, I wasn't sure that I loved it.
It seemed a little too in your face for me to wear either on or off the course.
But I've found the same thing with the MG4x2 as I have the two previous models I've reviewed: they grew on me.
And then they kept growing on me with each wear, to the point where I'm now rocking them at a coffee shop on a random Tuesday morning.
As with every pair of G/FORE shoes, you immediately notice build the quality when you take them out of the box.
All of those textures and materials? That's not easy to do, and while there will certainly be people who don't love the styling, there's no denying it's a complex shoe from a technical perspective that feels very high-end.
As we head into Summer, I'm finding myself with a typical struggle of finding shoes to wear with shorts, that don't simply look like typical Nike running shoes.
And these feel unique and elevated enough to fit that bill.
But how do they feel and perform outside of their bold look?
Most Versatile Golf Shoe
G/FORE MG4x2 Shoe Performance
Both other pairs of G/FORE shoes I've worn were built more specifically for golf – and they are both extremely comfortable.
So it should come as no surprise that the shoe built to be worn as trainers as well as golf shoes, are incredibly comfortable.
Unlike a running shoe which needs to have a stiff sole to support the constant pounding of the pavement, the sole on the MG4x2 is softer, making it even more comfortable to walk around in than most running shoes I own.
During my two rounds on the course with them, they held up better than I expected.
I recently tested out the new Payntr X 005 shoe, and wore those the day before my first round in these G/FORE's.
You definitely notice a difference between a shoe that's primarily designed to enhance performance vs. one that's designed to be suitable in a variety of conditions.
If you were to talk to Payntr Golf Founder, Mike Forsey, he'd tell you golf is trending too far towards fashion rather than function.
G/FORE is the epitome of golf shoe fashion.
Do these shoes have the performance of say, the Payntr X 004? Nah, not really.
They're not shoes that will wow you with their stability, traction, or make you feel more confident in your golf swing.
But they're not intended to.
Considering that's not the goal of these shoes, I was very happy with the performance they did have.
Traction is surprisingly good, and while both rounds were on dry courses, I didn't have any issues with slipping.
The massaged nubbed insole has become my favorite insole in golf. It's not only soft, but the nubs really do enhance your comfort over the course of a round.
The soles on these definitely don't feel as durable as other high end spikeless shoes, like say the Ecco Biom C4. But that's part of what makes them more suitable for day-to-day wear as well.
The sawtooth design helps with grip and creates a surprisingly stable shoe.
These shoes are fantastic for practice range sessions, casual Summer rounds, or for trips when you don't want to pack an extra set of dedicated golf shoes.
Throw in the fact, you've got a bold-styled, comfortable shoe you can also wear out around town? That's a unique combination, that I'm enjoying more and more.
Final Thoughts on the G/FORE MG4x2 Shoe
This shoe has been around for a while now, and fortunately, G/FORE has a number of different colorways of it. You can definitely opt for something a little less in your face that will tone these down if you're not someone who likes shoes that scream "look at me!"
But the bold "Specks and Stripes" version has grown on me, and I've enjoyed them just as much off the course as I have on it.
The build quality seems a notch above offerings from TRUE Linkswear, and performance on the course is similar.
The mesh upper is water-resistant, which should be just fine for early morning dew-swept rounds – but for most people these will not be your primary, one and only pair of golf shoes.
As I've found with many G/FORE shoes, they serve a unique niche – and they do it extremely well.
If you're looking for one pair of shoes you can do just about anything in this Summer? There's an awfully good argument you can make for the MG4x2.
If you're interested in picking up a pair of these, you can use our G/FORE coupon code "G4BREAKING8010" to save 10% off your first order!
Most Versatile Golf Shoe
This page contains affiliate links. This means that if you click a link and buy one of the products on this page, I may receive a commission (at no extra cost to you!) This doesn't affect our opinions or our reviews. Everything we do is to benefit you as the reader, so all of our reviews are as honest and unbiased as possible.
Good Things
Fantastic build quality
Very comfortable
A shoe that is truly both on/off course
Bad Things
Very expensive
Looks are polarizing
The Breakdown
---
---
---
---
---