Ecco Biom H4 Review: Is it the Perfect Golf Shoe?
Each time Ecco Golf comes out with a new shoe, I get excited.
In over 6 years of reviewing their shoes, there's never been a bad one.
And in the case of the Biom series from the Hybrid 2, to Hybrid 3 to Biom C4 – they've just continued to get better and better.
In fact, despite reviewing some excellent shoes from the likes of Adidas, TRUE Linkswear, G/FORE, and more this year – the Ecco C4 continues to get my pick for best overall golf shoe on the market.
But over the last couple years, there has been a model that I somehow missed: the Ecco Biom H4.
I've seen it on the course, and I've heard very good things – the chance just never came up to test a pair for myself.
Until now.
And it was worth the wait.
Not only am I reviewing the Ecco H4, but even better, I snagged a pair of the Ecco H4 Erik van Rooyen special edition shoes.
After a couple of years of hype and a legacy of fantastic shoes to live up to – do they live up to expectations?
Let's find out.
First Impressions of the Ecco H4 Erik van Rooyen Shoes
The changes to the Ecco H4 in the Erik van Rooyen edition are largely (but not entirely) aesthetic, and in this case, they're a welcome one.
I've always thought the H4 was a pretty good-looking shoe, but the touches added to the EVR edition really show off the golfer's personality – and also speak to me personally.
When you think of big-name golfers to get their own shoe, Erik van Rooyen may not be the first to come to mind. A native of South Africa, he's had a handful of professional wins, but this shoe touches more on his love of music and fashion more than anything else.
As someone who has played guitar for close to 30 years (oh my god, when did I get so old), I've enjoyed the little nods to music in this shoe. The fashion side, well I can't speak to that as much…
Overall the H4 is a good-looking shoe, and I think I prefer it to the C4 aesthetically. Here it is compared to the Biom C4: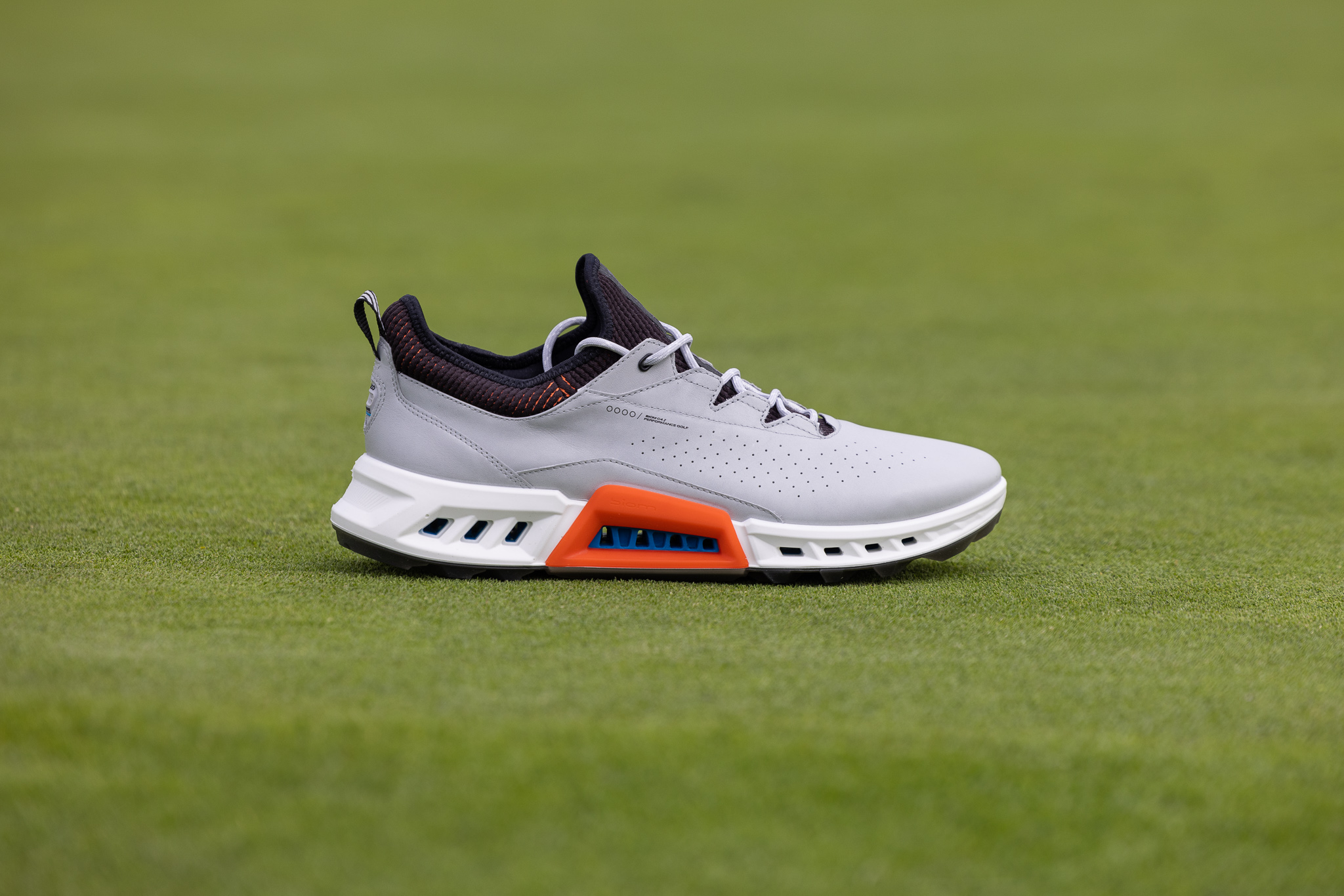 Picking them up out of the box, I'm reminded just how well-built Ecco shoes are. They both look and feel sturdy, while at the same time you never doubt that they won't be extremely comfortable.
In this updated version of the Ecco H4, the upper has been reworked around the toe area to provide a slimmer look. The tongue has also been redesigned to provide from previous H4 models to fit more ergonomically to the foot.
One cool feature is the NFC tag hidden in the tongue. You simply hold your phone up to it, and a link pops up taking you to a more detailed description of some of the cool aspects of the shoe. It's the first time I've ever seen this on a shoe, and while a little gimmicky, it's a fun touch.
As to be expected for a $200+ shoe, there's also plenty of tech built in that is designed to keep your feet and golf game happy. Here are the bullet points:
Crafted in durable ECCO leather with 100% GORE-TEX waterproof protection, so your feet stay dry
BIOM® NATURAL MOTION® technology brings you closer to the ground using an anatomical last
ECCO MTN GRIP outsole provides stability, traction and rotational support through three different sections
X-TENSA INVISIBLE TECHNOLOGY links the sole unit to the laces via internal enforcement for enhanced stability
ECCO FLUIDFORM™ Technology for a lightweight, ergonomically advanced sole that offers cutting-edge comfort and flexibility
Removable and washable Ortholite® insole for long-term cushioning and breathability
Overall, at first glance this shoe is exactly what I'd expect from Ecco: everything about it is of the highest quality.
Best Overall Golf Shoe
Ecco H4 Golf Shoes Performance
The entire time I've been wearing these, there's one thought that I couldn't get out of my mind.
The Biom H4 is essentially like the Biom C4 and the Biom G5 had a baby.
It's spikeless like the C4 shoes, but the upper feels like it's using a bit more of a durable material similar to what is in the G5.
It's not quite as cushy as the C4, but provides even more stability similar to the G5 – despite not being a spiked shoe.
This may not mean much to you, as you likely haven't played rounds of golf in both of those other shoes. But I say it to let you know this is a good thing.
The Ecco Biom H4 is incredibly stable and very comfortable to walk in. It doesn't quite have the same luxurious "I'm walking on clouds" feeling that I get from the Biom C4, but it's still among the most comfortable golf shoes you'll find.
One knock on the C4 is that despite a very soft leather outer, it does have the tendency to get pretty dirty. This doesn't feel like it'll be as much of an issue with the Goretex waterproof outer on the H4. It's a bit easier to wash off, similar to the way that the Biom G5 is.
Final Thoughts on the Ecco Biom H4
I honestly have nothing but good things to say about the Biom H4.
Sure, the Ecco aesthetic won't be for everyone.
Yes, Ecco shoes are expensive.
But you know all of that already – and if Ecco isn't for you for either of those reasons, I totally get it.
But I love these shoes.
They feel a little more planted than the C4 and they're more comfortable than the G5 – which puts them in a sweet spot for Ecco shoes in my mind.
Personally, I'd probably pick them up over the Biom G5 – in part because I typically play in spikeless shoes.
It's a toss-up between these and the Biom C4. The C4 is more comfortable, but I think the H4 edges it out a little bit in performance.
Either way both shoes are very comfortable, and both perform very well. So we're splitting hairs talking about which is better in each category.
I think for most people it will really come down to which one do you like the looks of more?
And of all the Ecco shoes I've tested over the years? I've gotta say, I'm a big fan of these. They're as good as anything has made before, and if you get the Erik van Rooyen edition, you're getting something that's even more special.
Best Overall Golf Shoe
This page contains affiliate links. This means that if you click a link and buy one of the products on this page, I may receive a commission (at no extra cost to you!) This doesn't affect our opinions or our reviews. Everything we do is to benefit you as the reader, so all of our reviews are as honest and unbiased as possible.
Good Things
Unique style and designs
Lots of stability and traction for spikeless shoe
Bad Things
Not quite as cushy as the C4
It comes with a premium price tag
The Breakdown
---
---
---
---
---