Bushnell Phantom Golf GPS Review: Accurate Readings for Under $100
The Bushnell Phantom 2 has recently been released. You can see our full review of it here.
Ok, let's face it, you're probably not good enough to actually a need a down to the yard reading of exactly where the pin is.
You're stoked if you just hit the green.
So you could spend a few hundred bucks on a bulky rangefinder that will tell you that yes, you really are too far away to go for it, or you could consider something like the Bushnell Phantom Golf GPS, save yourself a bunch of money, and have most of the information you need.
In this review of the Bushnell Phantom GPS we're going to help you figure out if it's worth buying at the $100 price point, and if it lives up to the reputation Bushnell has set for being the premiere rangefinder company out there.
First Impressions of the Bushnell Phantom Golf GPS
I've had multiple iterations of Bushnell Rangefinders over the last few years, and they've almost always lived up to, or exceeded expectations. The X2 is one of the best golf products I've ever reviewed but it's pushing 5 Benjamins to pick one up – and let's face it, only the most diehard golfer is going to do that.
When I first picked up the Phantom, I was impressed with its simplicity.
It's the perfect size to be able to easily toss in your bag, at just over 2 inches by 2 inches.
It comes with a usb charger, and a magnetic clip that allows you to attach the device to a belt or your golf bag.
On my first use I opened it up at home, and plugged it into my car usb port, let it charge for about half an hour on the drive out to the course, and it lasted for the full round I played.
On a full charge it'll last year about 2 rounds, but after that to be safe you'll want to charge it.
When I first started using it, it took me a couple minutes to figure out which button does what. If i was smart I would have just looked at the back of the device, where it tells you exactly what all the buttons do.
But after literally 3 minutes of using it, you'll get the hang of it. It's very easy to use.
One of the first things I noticed as well is just how strong the built in magnet is. It latched onto the belt clip much stronger than I expected it to.
It wasn't quite as solid when I attached it directly to a cart, but I haven't had any issues with it coming off during a round, and unless you're driving over really bumpy ground, I don't think you'll have any issues with it popping off.
Bushnell Phantom GPS Features
Part of the beauty of this product is its simplicity. It doesn't over complicate things and it makes it very easy to give you the information you need most: the distance to the front, back and center of the green.
With the push of a button, you can also get distances to bunkers and hazards which is also really nice to have access to, and I didn't realize it did this until like the 4th hole of my first round.
You also get access to the Bushnell app, which gives you a detailed overview of each hole on your phone, and works similar to a Golfshot GPS app might.
Unfortunately, it wasn't accepting my serial number when I tried to register for the device, and I haven't gone through the process of calling support to get access – so I haven't reviewed that part of the product.
I'll update this review if/when I do.
The Phantom comes with 36,000 courses loaded onto it, so chances are, you're not going to run into any issues of it not having your course.
When I loaded it up at Pumpkin Ridge after about 60 seconds it came up with a list of all the courses in the area sorted by distance. Worked great.
Bushnell Phantom GPS Performance
To put it simply, the Bushnell Phantom does exactly what it say it's going to do: it gives you accurate GPS distances and makes it incredibly easy to get the information you're looking for quickly.
You can easily scroll between holes, but it also automatically changes holes as you approach the next tee box.
I haven't used this by clipping it to a belt, and I'd imagine most people wouldn't be doing that either – but it worked very well both on a cart and clipped to my bag.
But I think for the vast majority of people, you'll be using it on your cart – that's really what it is made for and where it excels.
Final Thoughts on the Bushnell Phantom Golf GPS
This product won't be for everyone.
If you rarely take a cart, there's probably a better product for you out there.
If you already have a GPS watch that you like? This will be redundant.
If you're good enough to need exact distances, this won't totally replace a rangefinder.
But if you're an average golfer, who primarily rides in a cart, and you want accurate, easy to read distances then the Phantom is absolutely worth the $100 retail price.
Note: The low personal affinity score below is due to the fact most of my rounds are walking, and not using a cart. Also, having reviewed so many laser rangefinders, I've built using that into my routine. For the person this is designed for I think it's a great product.
Best Cart GPS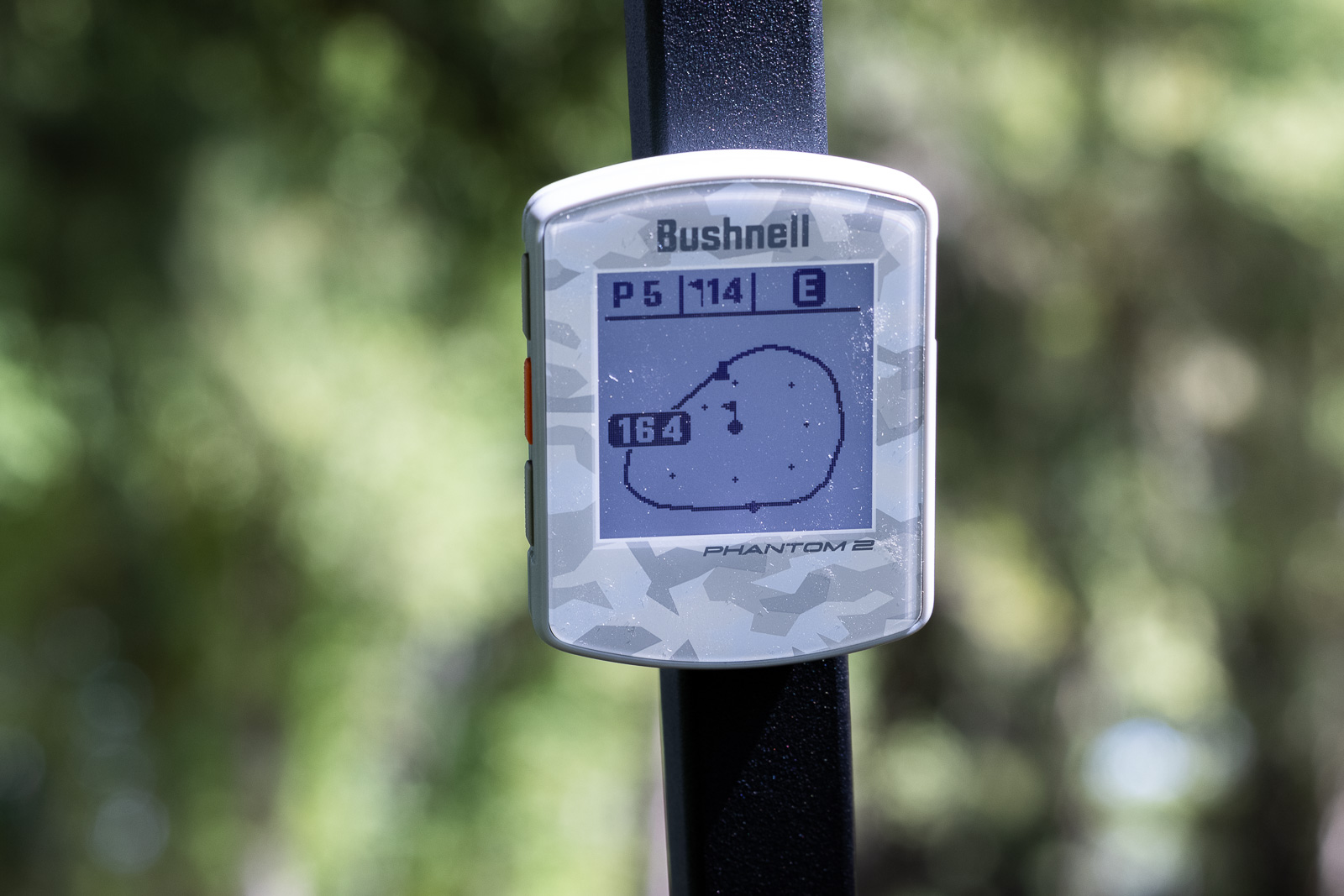 Bushnell Golf Phantom 2 GPS
Do you normally ride in a cart? Don't need the pinpoint accuracy of a rangefinder, but want green distances? Go buy the Phantom 2 right now. You won't be disappointed.
Buy from Bushnell
Buy from Amazon
We earn a commission if you click this link and make a purchase at no additional cost to you.
This page contains affiliate links. This means that if you click a link and buy one of the products on this page, I may receive a commission (at no extra cost to you!) This doesn't affect our opinions or our reviews. Everything we do is to benefit you as the reader, so all of our reviews are as honest and unbiased as possible.
Good Things
Easy to Use
Perfect Size
Accurate Readings
Bad Things
Limited Information
Magnet might not be strong enough on bumpy surfaces
The Breakdown
---
---
---
---
---