Mizuno JPX-900 Forged Iron Review
There's one commonality between almost every single person I've played golf with over the last few years.
Nearly every single one of them take a look at my irons, and just start laughing.
"You're a golf blogger??"
"Are those from 1998??"
"You broke 80 with THOSE??"
It actually became pretty comical. And even more so when I was on the 18th hole at Valley Club this January, caught a 7 iron fat, and completely broke the club head off.
I've had these same Nike Machspeed irons for about 6 years.
When I got them I really knew very little about golf, and was hovering around an 18 handicap – so even at the time, it's not like these were fit to any part of my game.
As time went on, I slowly updated some of my clubs, including a new driver, 3 wood, and putter – but alas the irons and wedge (note that it's not plural) had all stayed the same.
Well, after my unfortunate (and embarrassing) 7 iron incident, I knew the time had come to make a change, and finally get serious about some new clubs.
And what did I decide on?
The Mizuno JPX-900 Forged irons with 110 C-Taper-Lite shafts.
In this review I'm going to talk about the fitting process, my initial experience with these irons, and my impressions now that I've got a dozen rounds under my belt and can really speak to my experience with them.
I should also point out that if you've never read one of my club reviews before – they aren't technical. I'm not the guy going into all of the different weights of clubs, and telling you which one can help you eek out an extra two yards.
They are simply based on my experience as an 8ish handicap and how they compare to other clubs I've used.
The Mizuno Fitting Process
For starters I went down to GolfTec to go get fit for clubs.
I'd been there for one lesson a few months prior, and was shocked at how much of a difference an hour made.
I met with Chris at their Beaverton location, and he single handedly helped me fix my big miss, the banana slice. It's brought up a few more issues as I learn how to hit a new found draw, but that just comes down to practice.
I went back there to go through the fitting process, and tried all sorts of clubs. In the end it came down to the Mizuno JPX-900 Forged or the Taylormade M2. The Taylormade's gave me quite a bit more distance, but they weren't nearly as consistent as the Mizunos – and the JPX irons had such a good feel when you hit them well.
We tried a few shafts, and by far the best feel for my swing was the C-Taper-Lites. Not to mention the fact, that their matte silver look is super sexy.
A Second Opinion…
At this point I'd pretty much made up my mind on the Mizuno irons.
But I'd heard about a new Mizuno fitting process, where you can go into one of their authorized locations and in less than 15 minutes they'd fit you for clubs.
Now a typical fitting will take an hour and a half or more, so I was curious to see if I could moderately similar results from the shorter fitting session.
One Saturday while my wife was spending untold amounts of money at Ikea, I decided to walk across the parking lot to Golf Galaxy to see if I could try out the fitting.
The process starts when they attach a Mizuno branded device to the shaft that will help track statistics on your swing. I hit around 5 balls and then the technician went about having me try a few different combinations of irons and shafts.
The end result?
In less than 15 minutes they fit me for the exact same JPX-900 forged, C-Taper-Lite shafts, and even the same +2 upright adjustment.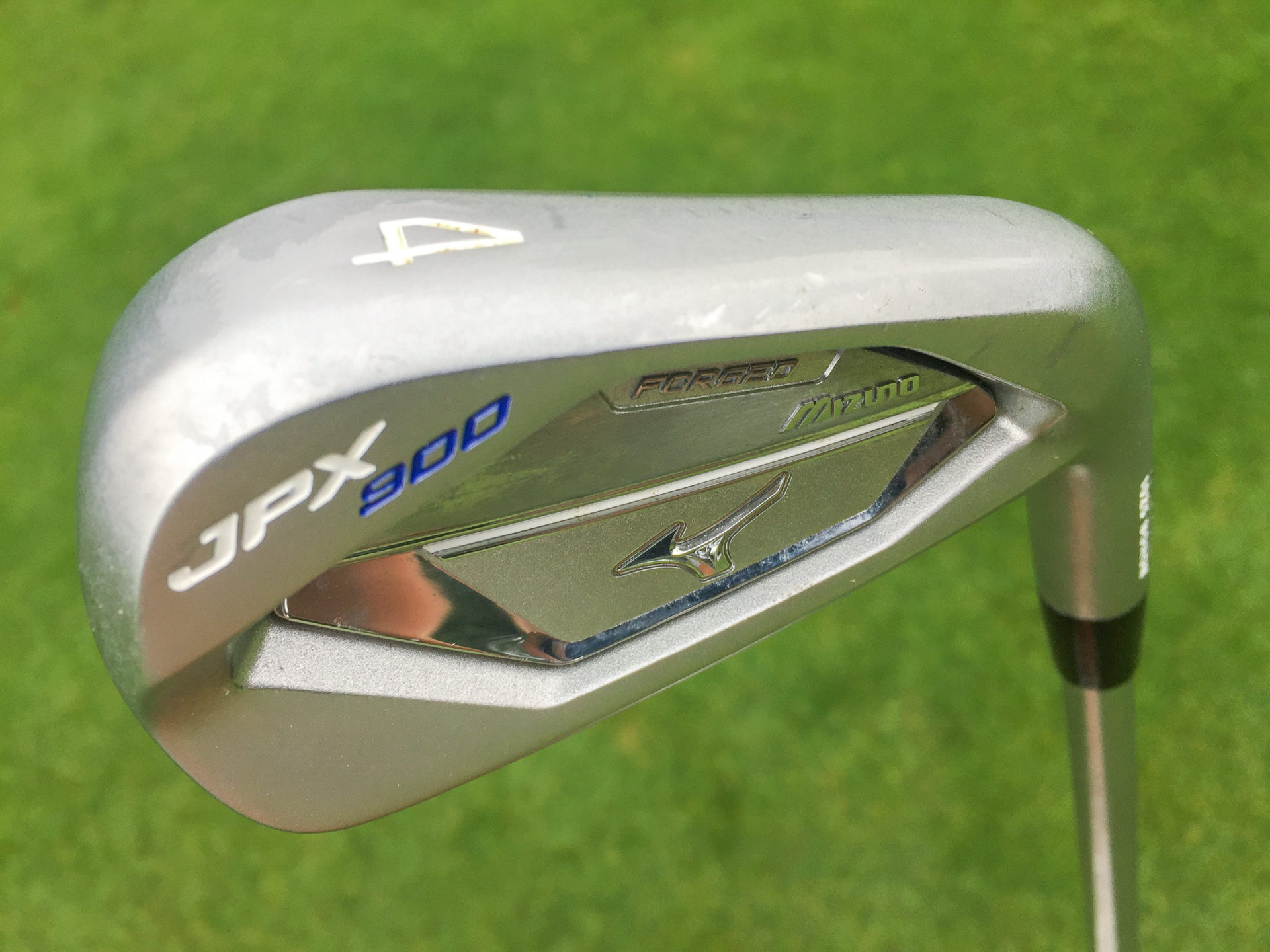 Now, I'm not sure what the odds of getting fit for the exact same setup from two completely separate fitters is, but it can't be common.
But the good news about this, is that I knew without a doubt these were the right clubs for me.
First Impressions of the Mizuno Irons
I ordered the JPX-900 Forged irons in 4 through gap and also ordered a set of 3 T7 wedges at 52, 56, and 60 degrees which I'll write about in a future review.
About a week later the clubs showed up, and boy did they look good.
No joke, in every single round I've played with these clubs, I've had people comment on how good they look. There's something about Mizuno clubs that most golfers just respect – regardless of their brand loyalties.
I was truly like a kid on Christmas morning. It had been such a long time coming that to finally have clubs I could be proud of was pretty special.
Obviously, I couldn't wait to get them out on the course. The next day I went out first thing in the morning to put them through their paces.
So….were they life changing, and everything I'd hoped they would be?
Well, not exactly.
You see, I've been playing giant, super game improvement irons for basically as long as I've been a serious golfer. And while the JPX-900 forged are more forgiving than the Tour version of the clubs, they were far less forgiving than my old Nikes.
Every few holes I'd hit one pure and it felt amazing but most of my shots were off center, topped, skulled or otherwise extremely mediocre.
The second round I played with them wasn't a whole lot better, and I just couldn't believe that these clubs that felt so good on the simulator felt so foreign to me on the course.
That said, the shots I was hitting weren't that bad. I was getting some good results off of bad shots, and the clubs were actually much more forgiving than I might be giving them credit for. They just didn't feel that good on my swings.
To say I was pretty bummed and nervous that I'd spent all this time selecting the perfect clubs and they weren't working for me is an understatement.
I truly was thinking I wasn't a good enough golfer to game these bad boys.
The Moment it All Changed
After my initial 2.5 rounds with the clubs (threw a quick 9 in there as well), I was gearing up to head to Ohio, followed by Philadelphia for our second Eighty Club event.
I'd be playing 8 rounds over the course of the trip – and I knew this would be a make or break time. Either I was going to grow into them and figure some things out, or have to find something else.
Luckily, it didn't take long to figure out which of those options it'd be.
We arrived for our first round in Ohio at Scioto Country Club – Jack Nicklaus' boyhood club, and perennial Top 100 in America course.
It has a reputation of being brutally hard, and with my concerns over my clubs – I was more than a little nervous.
We spent about 15 minutes of the range beforehand, and it was a 180 degree turn from my previous rounds. Every shot felt pure. My distances were spot on. And I could work the ball right or left on command – which is something I've never really been able to do confidently.
But we all know how those range sessions often go. If you're great on the range, it could be the exact opposite on the course.
So we get to the first hole, and I pull my drive a little bit to the left in the rough. I punch out to about a hundred yards, and this is when the magic started happening.
Gap wedge in hand, I took a swing and dropped it to a foot.
The iron felt so precise, and so soft coming off the club head, I literally giggled to myself in delight.
Yes, seriously. I giggled.
I would go on to continue hitting good shots, shoot a 79, beat @pjkoenig, all while battling a bout of food poisoning.
As the rounds on my trip progressed I became more and more confident in the clubs and my swing.
This culminated in a round at Huntingdon Valley in Philly – the 6th round of the trip.
My driver was off all day, hitting just 4 fairways on the day.
But my iron play? Unreal. I hit 12/18 greens that day.
I never had that kind of confidence or consistency with my old clubs, and it's nice to see some of the potential of what's to come.
Grab the Mizuno JPX-900 Forged Irons on Amazon
What is Unique About These Clubs?
The JPX-900 Forged are the follow up the popular JPX-850 from Mizuno. The 850s were widely regarded as a perfect blend of distance, feel and forgiveness – all hallmarks of the Mizuno brand.
And based on the rounds I've played with them, I couldn't agree more.
Are they the longest clubs? No.
Are they the most forgiving clubs? No
But they're longer than most, more forgiving than many of their peers, and the feel is top notch.
One of the most unique traits of the clubs is that they're forged with a metal called boron. It's extremely strong which allows them to make the face thinner, which increases ball speed, and thus distance.
When I was fit, it was by far the best marriage of distance and consistency I had.
If you're interested in these clubs, I'd also recommend taking a look at the comparison between the Tour, Forged, and Hot Metals that My Golf Spy did. When it comes to detailed, technical analysis they've done far more than I ever could.
Who Are These Clubs For?
Mizuno did a good job of covering the gamut with their three versions of the JPX-900. For the better golfer who wanted something a little more modern than the traditional Mizuno MP-18 clubs, the Tour is a great option.
For the higher handicap where forgiveness is an absolute necessity, the Hot Metals are perfect, and for golfers wanting to grow into a more workable club, and upgrade from a super game improvement club, the Forged is absolutely perfect.
It's worth noting though, that if you're like me, and picking up your first set of "big boy" clubs – there is an adjustment period.
The first few rounds everything felt off. But by the time I got to a dozen rounds played, they began to feel really damn good – and my scores were showing it.
These were all helped in large part due to my iron play, and were it not for a few putting woes and lost drives, these could have easily been 5 strokes less.
Final Thoughts
When I put the call out to my Instagram followers I had a lot of people recommend Mizuno. And considering how much I love my JPX-900 Driver, they were one of the first on my list to check out.
So when half an hour into my fitting it was becoming clear that the Mizunos were going to be a front runner, I began feeling pretty excited.
They're classic, yet modern. Workable, yet forgiving. Subdued, yet beautiful.
In short, I couldn't be happier. I'm absolutely in love with these clubs, and while we're still just getting to know each other, I can already tell this is a marriage that is going to last a long time, and take us to a lot of amazing places.
Grab the Mizuno JPX-900 Forged Irons on Amazon
Keep an eye out for my review of the T7 wedges soon.
Good Things
Amazing Feel
Great workability
Beautiful look
Bad Things
Less forgiving than Hot Metals
Spendy
The Breakdown
---
---
---
---
---