The Gleneagles Hotel Review: Scotland's Most Impressive Golf Resort
On my last trip to Scotland, my friend Dan and I found ourselves with a two day gap in between rounds that we needed to fill.
We played the Old Course at Machrihanish on the far southern end of Scotland on a Friday, and we didn't have anything scheduled until a round at Castle Stuart the next Monday.
So what do you do when you've got two days a car, and absolutely no plans while driving through Scotland.
Well, naturally, you find a place to play golf!
We talked about a few options, including heading over to Prestwick or back to North Berwick to experience that wonderful course again.
But both weren't exactly on the way to Inverness, and more importantly, last minute weekend tee times weren't exactly easy to come by.
And then it hit me, what about Gleneagles?!
The Kings Course at Gleneagles
I don't know why Gleneagles has never been on my radar more when planning my Scotland trips. We just missed the 2014 Ryder Cup on my previous trip here, and I think after hearing lukewarm things about the Centenary Course, I just never had a huge interest in going.
But considering we had no other plans, it was on the way, and after a quick phone call they said they could squeeze us in on the Kings Course – seemed like the perfect place to spend 24 hours.
I didn't know much about the Kings Course at Gleneagles aside from the fact that most people regarded it as the best of the three courses at the resort.
We pulled up, and the first thing you notice is the sprawling uphill opening hole, which was one of the most unique openers I'd ever seen on a golf course.
And it only got better from there.
Maybe it was the fact I didn't know much about the course, or perhaps it was a unique experience since most courses I'd played in Scotland were links (this is inland), but the Kings Course at Gleneagles was hands down my biggest surprise of the year.
I even have it among my favorite courses in my annual Top 100 list.
And also one of my ten most underrated courses in the world.
The course was unique, interesting, and fun.
It seemed like nearly every hole we found ourselves saying "whoa, this is cool!"
The course had excellent elevation change, great variety of both par 3, 4s and 5s, and it had perfectly placed blind shots that you simply don't see back in the United States.
The Gleneagles Hotel Review
As I mentioned above, the Kings Course was a big surprise for me,
But if you can believe it, the even bigger surprise was the Gleneagles Hotel.
I really didn't know anything about the hotel itself. I just assumed it'd be a pretty standard resort hotel. A couple restaurants, nice room, totally serviceable, but nothing too over the top.
Uh, I couldn't have been more wrong.
The Gleneagles Hotel is one of the most impressive hotels I've ever stayed in, and is one of the few I've been too that I'm actively trying to find a way to get back to – not just for the golf, just to experience the resort.
Five Stars in Every Way
We chose to stay at the Hotel simply by default. I booked the golf, Dan called and booked a room.
First off, the Gleneagles feels less like a hotel and more like a sprawling palace estate.
Despite the fact you could fit a small town's worth of people in it, I assumed that it probably was a summer escape for the Royal elite.
In reality, that's not the case.
It was actually conjured up by Donald Matheson who in the early 20th century was the general manager of the Caledonian Railway Company. They had some railways going through the country side, and thought it would make for the perfect escape for the rich and famous in the region.
So they spared no expense and set out to build a resort featuring the very "best of the best."
It opened in 1924, and nearly 100 years later this still very much remains the case.
The Rooms at Gleneagles Hotel
While we had one of the most basic rooms at the hotel, it was exquisite.
I believe it's the closest I'll ever feel to staying in a royal palace (at least until I get the invite back to stay at Loch Lomond). There were high ceilings, the decor was traditional but not outdated, the beds were extremely comfortable, and all the amenities were exactly as you'd expect from a five star place.
They also included some complimentary shortbread (that was some of the best I've had), along with a small stuffed bear in a Gleneagles t shirt – that I assume was a gift 🙂
If it wasn't, well, then thanks Gleneagles!
Dining at Gleneagles Hotel
But in all honesty, we didn't spend that much time in our rooms. With only one night at the hotel, we wanted to make the most of the experience, and it's safe to say we did that.
First off, being a Saturday night, the place was packed. And as you might expect, some of the events happening on property were, well, not made up of people who just walked off the golf course.
We're talking gala-level gowns and tuxedos. And to say we didn't pack anything formal would be an understatement.
We arranged to do dinner at The Dormy, which is one of nine different restaurants and bars. It was located close to the Kings Course, and considering our lack of proper attire, this was a much better choice than their fine dining options. I had the filet which was cooked to a perfect medium rare, and the accompanying cabernet was a perfect pair.
Attached to the restaurant was also The Blue Bar whisky and cigar lounge, Considering we were outside the United States, it's hard to pass up the opportunity to enjoy a real Cuban Cohiba and a rare scotch that's also impossible to get in the US. We made this our nightcap and was the perfect way to end the evening.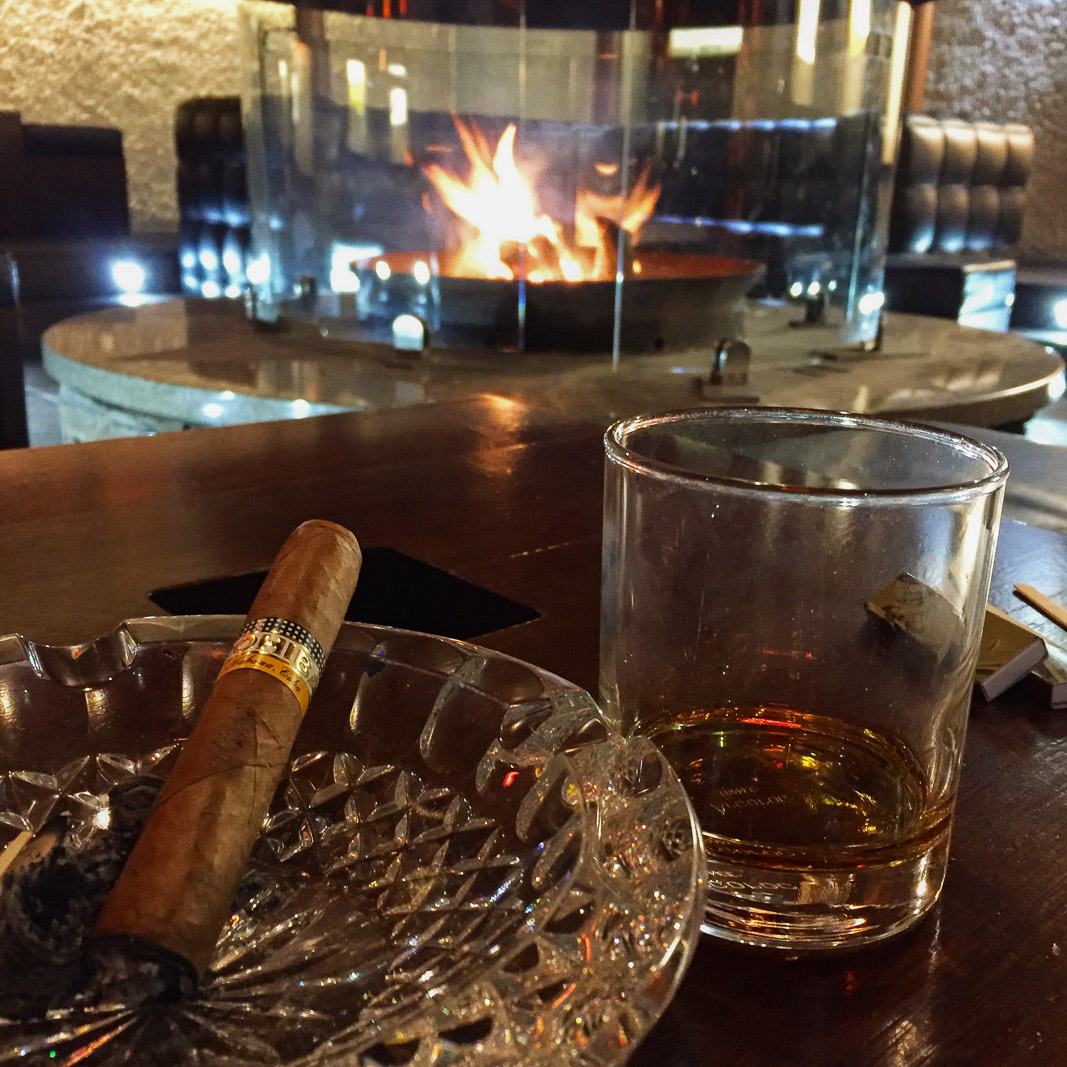 We also had a cocktail in the uber-elegant Century Bar. Next to the Connaught Hotel in London, it's one of the fanciest places I've ever been in my life.
They had a solid selection of rare scotches, and an interesting (and remarkably expensive) cocktail list.
Other Activities at the Gleneagles Hotel
One of the best parts about staying at a 5 star hotel (especially during a golf trip) is that there's usually a spa associated with it.
Often times, these are nothing to write home about – but The Health Club at Gleneagles was the single most impressive pool area I've ever seen.
It. Had. Everything.
And then some.
Multiple pools. Indoor and Outdoor.
Co-ed sauna and steam rooms.
More saunas and steam rooms in the locker rooms.
(REALLY) Cold plunge.
Controllable jets and fountains in the pool.
After a few days of traveling, and a demanding walk around the golf course, I can't imagine a better way to relax and recover than this pool. It was that impressive, and is a must experience if you stay in the hotel.
As you'd also expect from such a large property (that's kind of in the middle of nowhere), you can do just about anything there.
Tennis? Check
Shooting? Yep.
Falconry? What's that? I have no idea, but you can do that too!
The list goes on. I'd love to get back out and spend a few days on the property to experience the other two golf courses and everything else they have to offer.
Final Impression of the Gleneagles Hotel
I've stayed at my fair share of luxury hotels across the world, but few have left an impact on me in quite the way the Gleneagles has. It was huge, yet still felt personal and full of character.
It has something for everyone, and honestly the only real knock I'd have for it is the high price tag for, well, just about everything.
However, when you're crafting an experience as luxurious, classy, and memorable as the one you find when staying and playing at Gleneagles, it's worth every penny.
So, if you're on a Scottish boondoggle and need a place to say that's accessible to all areas of the country, has phenomenal golf, and will provide memorable experience outside of your rounds? Look no further than The Gleneagles Hotel.
You won't regret it.
---
---
---