Best Putting Mat Under $50: Is the SKLZ Accelerator Pro Worth It?
This post was originally published in April 2014, and updated in May 2022 for accuracy. I still have this putting mat 8 years after the originally review, and still recommend it for the price.
I don't know what it is about the SKLZ Accelerator Pro Putting Mat, but I've received numerous emails from readers asking if I've had any experience with it.
I hadn't, but based on all of the interest I figured I'd better pick one up and give it a shot!
The timing worked out pretty well as this last week I moved from a 485 foot square foot condo to a new house with many multiples more space.
So I was pretty excited to get this mat rolled out and put it through it's paces.
First Impressions of the SKLZ Accelerator Pro Putting Mat
Putting mats are one of those things that can be either extremely cheap or extraordinarily expensive depending on a number of variables such as size, quality of "grass", customizability etc.
The SKLZ Accelerator Pro is interesting to me, because it falls right in the sweet spot of what I'd expect most casual golfers to be looking for. It retails for $59.99 and at the time of this writing is under $50 at Golf Galaxy or Amazon.
Best Budget Putting Mat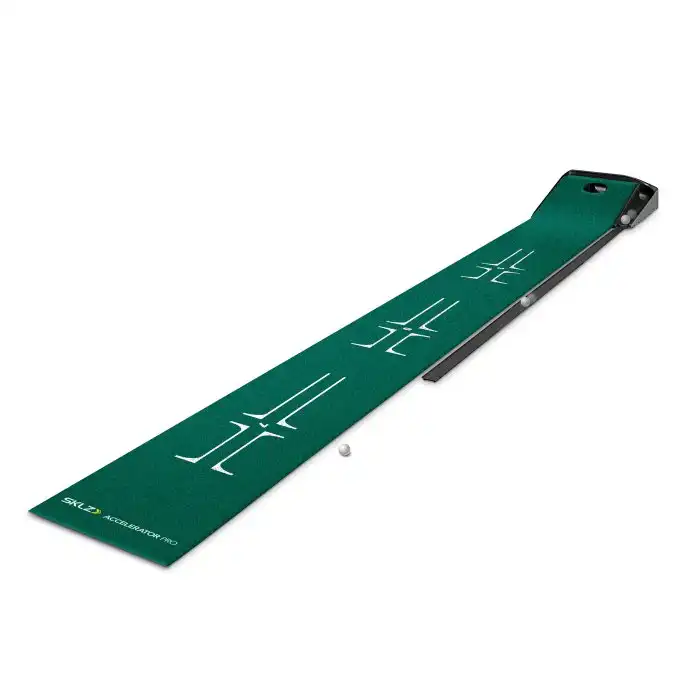 This means it's not so cheap that you know it's going to be a piece of junk, but it's not so expensive that it would be cost-prohibitive for the average golfer.
Because of this, I was really excited to get hands-on and see if it's the perfect "middle ground" putting mat.
Out of the box, it was actually a little bit lighter than I expected to be. Upon unfolding it the back of the mat where the hole is actually a relatively cheap, lightweight plastic – but that's not a huge deal assuming it works as advertised.
Setup is a breeze, as it took less than two minutes to unroll it and snap in the ball return track.
There weren't any issues with wrinkles in the putting service from the packaging, it laid flat pretty much right out of the box.
I pulled out a couple balls, dropped them on the mat, made a swing.
Right in the center of the cup.
In the hole, down the ramp, and 5 seconds later it was right back at the base of my putter ready for another go.
So far so good!
The next few shots all veered off to the right past the hole and immediately came back to me. This is one thing to be aware of. If your floor isn't completely level you will notice it with this product. Because of the thin mat and lightweight construction, even small undulations in my basement floor caused the ball to move one way or another.
After about half an hour of putting with the mat laid out in different directions, I've actually found this to be a bit of a good thing, as I can practice different putts simply by knowing which way it's going to roll.
SKLZ Putting Mat: Quality of the Green
Let's be real here, for 50 bucks you're not going to get the most top-of-the-line artificial putting surface in the world – but it actually exceeded my expectations. The ball rolls smoothly and consistently and I found the claims of a 10-11 on the Stimpmeter depending on floor surface to be pretty accurate.
How Well Does the Ball Return Work?
If I had one complaint about the unit, this would be it.
If you knock a ball left or right of the hole, the ball comes back to you quickly, exactly as it should.
However when you make a shot, it probably only comes back immediately 1/3 of the time.
Another 1/3 of the time it slooooowly rolls back down.
And the final 1/3 it just stays in the cup.
While this sounds like a huge hassle it really hasn't been that big of a deal. I always have two balls, and if one gets stuck I just hit the other one which knocks the previous one down – totally not a big deal – but if you're not expecting it, I could see being frustrated at first.
Is the Skills Putting Mat Good for Game Improvement?
For me, I could see this as being a total game-changer. Keep in mind I'm writing this from the point of view of someone who has never had space for something like this, and always had to drive out to the course to practice, but at the very least has lived up to expectations.
The markings on the mat are very helpful for judging whether or not you're hitting the ball straight and making good contact.
The mat stretches out to 9 feet, which is great. If I could double the amount of putts I make within 9 feet then that has a huge impact on my scores and handicap.
The mat is designed to get you to hit up the small hill into the hole in order to promote hitting 18 inches past the pin – hence the "accelerator" in the name.
Overall this works pretty well, although there are definitely shots I've made that I wouldn't have, and vice versa – so when it comes to practicing true on course conditions – this isn't necessarily the best device.
So far I've probably spent two hours with my Accelerator Pro and I'll say that I've seen improvements in my putting. I'm leaving fewer short, and holing out more putts in the 8 to 10 foot range.
Final Thoughts on the SKLZ Accelerator Pro Putting Mat
Whether you're just looking for something to help you kill five minutes when you need a break from work or are wanting a serious indoor practice tool – the SKLZ Accelerator Pro is a great choice for the price.
There are without a doubt going to be better products out there for more money, especially if you get into ones with electronic ball returns or custom-designed solutions, but I can say this is most likely the best putting mat out there for under $50.
If you have a little bit more money to spend, you might also consider the SKLZ Vari-break putting course. I haven't used it personally yet, but it seems to give you a bit more of an "on-course" experience with the adjustable breaks and lack of uphill putt.
Recommended? Yes.
Best Budget Putting Mat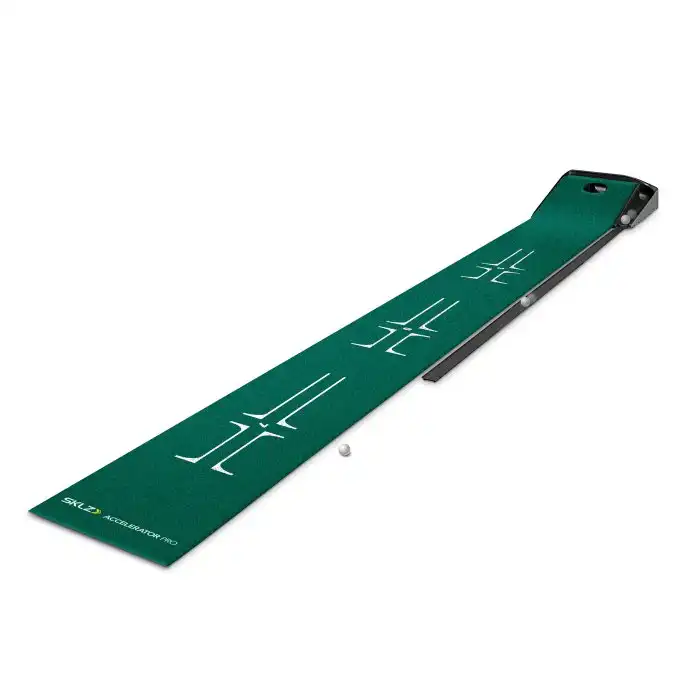 This page contains affiliate links. This means that if you click a link and buy one of the products on this page, I may receive a commission (at no extra cost to you!) This doesn't affect our opinions or our reviews. Everything we do is to benefit you as the reader, so all of our reviews are as honest and unbiased as possible.
Good Things
Relatively Inexpensive
Rolls smooth
Has a Ball Return
Bad Things
Construction a little flimsy
Ball return often hangs
The Breakdown
---
---
---
---
---