TecTecTec KLYR Rangefinder Review: Their Best Product Yet
Over the years I've not been shy about the fact that I haven't had a great experience with the handful of TecTecTec rangefinders I've used.
At the time, I was hoping it was just me.
But I even gave a TecTecTec to a couple friends to try out, they each came back with the same experience.
I really wanted to like them, because they had the potential to represent such a good value in the rangefinder world, but to be perfectly honest, I just didn't think they were very good.
Fast forward 3 years later, and I just got my hands on the new TecTecTec KLYR rangefinder.
Based on my previous experience I was skeptical going into this review.
Frankly, I was even a little nervous about it.
The worst part of this job is when I have to go back to a company that sends me a product to review and say "yeah, this wasn't very good."
It happens more often than you'd think.
Over the last few weeks I've taken the new TecTecTec KLYR out for 3 rounds, and guess what?
I'm happy to report that it exceeded all of my expectations.
It's a wonderful device at a fantastic price point. It certainly has a few quirks to it, that I'll cover in this review. But if you're just trying to decide if this is worth ther $199 price tag? You won't be disappointed.
Want to know more details and how it compares to other similar products?
Keep reading.
First Impressions of the TecTecTec KLYR Rangefinder
One thing that was always lacking with TecTecTec products was the packaging and presentation. It's not surprising considering they've traditionally gone after the budget market. So spending extra on your box and branding, might not make sense for some companies.
But as I've mentioned in countless reviews at this point, presentation matters.
It especially matters if you're a smaller company and you need to do something to impress and standout.
Clearly TecTecTec got the message, because the presentation for the new KLYR rangefinder is excellent.
They didn't just invest time into making the packaging better, but they built a brand around this product.
No longer was it just another one of dozens of companies with similar mediocre rangefinders. They're a brand with a vision.
Or at least that's the impression I get from the first 10 seconds of diving into their box.
The box is a very nice peach color, and they've elevated the TecTecTec name with a new logo, a cheeky monkey mascot, and even their own mini-manifesto printed on the box that reads:
"We are an optics specialist manufacturer with one goal in mind, on course joy. Our team understands the value of precision united with ease of use. TecTecTec! provides a best in class experience by only producing products meant for enhancing the game. KLYR is durable, reliable, ergonomic, accurate & extremely handsome. Have fun and enjoy life."
Bold statements, but I was excited to see them make the bold statement. And honestly, it made me even more excited to try the product out.
But, we all know that good marketing can still sell bad products, so I needed to see for myself it was any good.
More on that in a minute.
The first thing you notice about the device itself is that it's small. Not like microscopic, but it's definitely the most compact rangefinder I've used to date.
And after using it, I can say that it's compact in a good way.
It's small without feeling cheap.
Is the fact it's a little bit smaller than competing devices going to make that much of a difference for most people? No, probably not. But if you truly want the most compact rangefinder out there, this is a good place to look.
Inside the box is the device, a case, quickstart guide, belt clip, battery, and a ball marker.
I think the KLYR is a pretty good looking device. It comes in the standard black or white, but if you really want to standout, there's a bright yellow version as well – which is the one I have.
Frankly, considering how easy it can be to lose a rangefinder, there may be something to the bright yellow.
TecTecTec KLYR Rangerfinder Performance
All the fancy branding in the world doesn't mean anything if the product sucks – so how'd it do?
The very first thing I look for when reviewing a rangefinder are the optics.
How clear is the display? How big is the display? What is the magnification level?
This is where cheaper rangefinders always struggle. The viewfinder can be too small and often it's very blurry.
This is kind of what I expected to experience with the KLYR based on my previous experiences at this price point.
The reality?
The TECTECTEC KLYR is excellent.
Not just excellent for the price point, but it's as good, or close to as good as some devices costing $100-200 more.
The KLYR is kind of weird, because you've got this small device, and you expect the lens to be small as well. But when you look into it, it has one of the larger fields of view of any rangefinder I've used.
Everything just feels big when you're using it. This is a good thing considering you're trying to precisely locate a flagstick hundreds of feet away.
More importantly than being big, however, is that it's well, CLEAR.
The optics are among the best I've seen at this price point, and lightyears ahead of the last TecTecTec rangefinder I used.
The target lock vibration on the device works well, and I was confident with the readings I received.
One of my big complaints about previous products of theirs I used is that every time I hit the target button, I got a different number. It jumped all over the place, and with the KLYR I haven't had that issue.
The compact size may take a bit of getting used to, especially if you have larger hands. Overall I thought it was pretty comfortable to use once I adjusted my grip to account for it being smaller than most rangefinders.
The display organization is also improved as well.
One of my pet peeves is when companies try and put too much information in their rangefinder display. Many of them have extra modes and information that realistically most people won't use, and they probably should have just excluded them altogether.
Precision Pro did this with some of their earlier models as well, but nailed it with their recent R1 rangefinder. And this is always something Bushnell has done well. Less is more.
But the KLYR does a pretty good job of making it easy to see the information you want.
It also has standard features many people have come to expect these days such as a switch to turn slope off for tournaments, as well as a magnet for attaching it to a cart.
Best Compact Rangefinder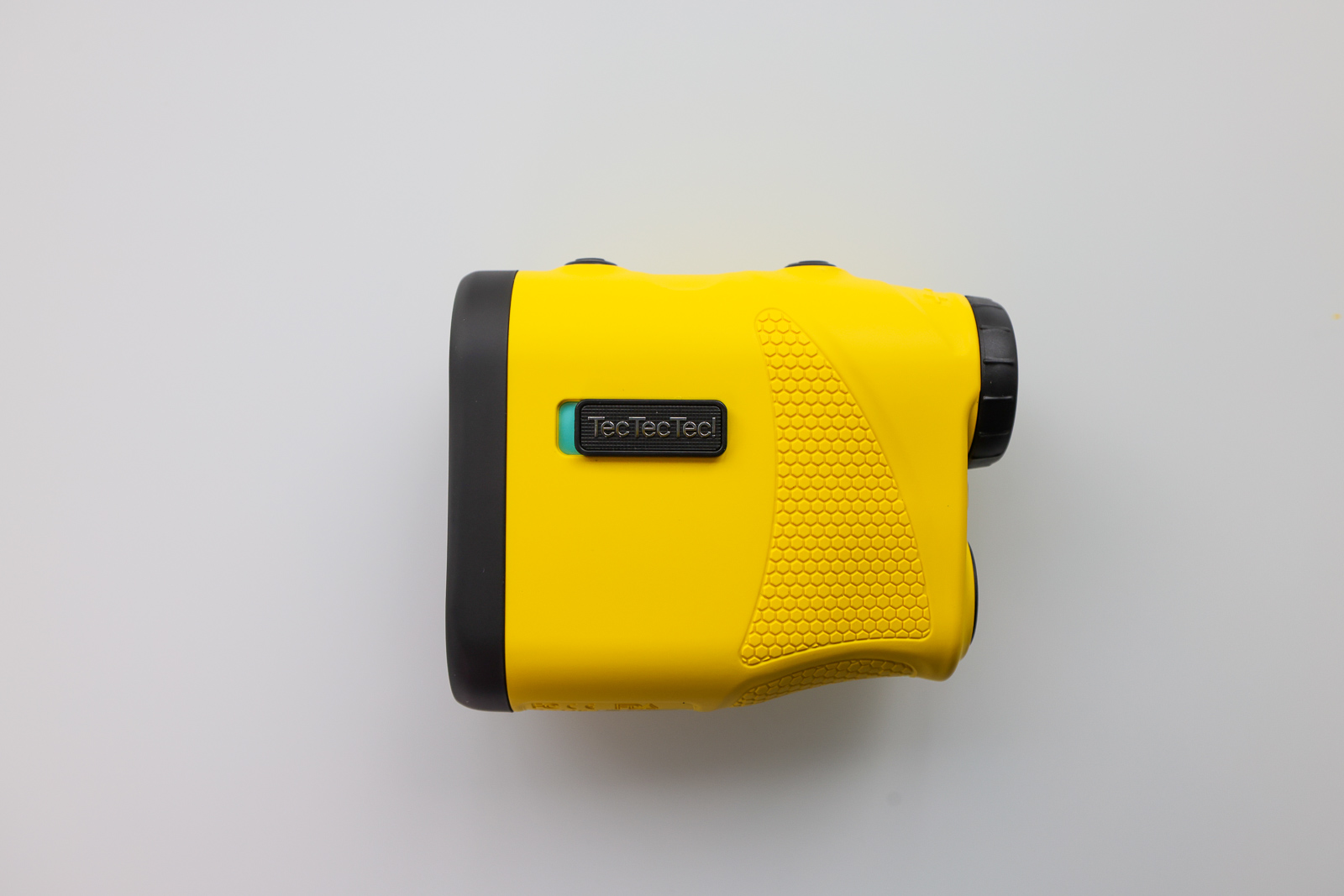 TecTecTed KLYR Rangefinder
The KLYR is miles ahead of the previous TecTecTec rangefinders we've tested. Its optics are fantastic and its compact size make this an excellent budget rangefinder.
Buy Now
We earn a commission if you click this link and make a purchase at no additional cost to you.
A Couple Quirky Decisions
As you can tell, I really like this device and I think it represents and excellent value under $200.
But they did make a couple quirky choices that don't hurt the product at all, but I figured are worth mentioning.
The first is the name: KLYR.
Hopefully, you've figured it out by now, but its pronounced "clear".
I must be dyslexic or something because for some reason I keep reading it as KYLR and wanting to pronounce it "Kyler."
That's likely just a me problem though.
The other quirky feature is the belt clip.
I get that TECTECTEC is really playing up the compact nature of this device, but I just can't see any golfer I know clipping their rangefinder to their belt.
Even a compact device like this is going to be very bulky if you're wearing it on you.
I'm the first person to recognize that the low-priced rangefinder market is getting to be very hot these days. And products from TecTecTec, Precision Pro, and Blue Tees are nipping at the heels of Bushnell who has been a little bit slower to roll out new products.
Because of this, companies need to do things to differentiate themselves and say "this is why you should choose us over them."
TecTecTec is clearly playing up the "compact" angle. Which is great, but wearing it on your belt feels like a bit of a stretch. I suppose you could take the same magnetic belt clip and put it on your bag, for a slightly more functional, and less nerdy experience.
That said, despite the odd spelling of the name, it absolutely fits. This is by far the most "clear" device I've tested from TecTecTec.
Final Impressions of the TecTecTec KLYR
Overall, I'm happy to report that this is a really good rangefinder.
It doesn't have more high end features like a backlit display or image stabilization, but at $199 – it shouldn't.
Usually, if a device includes some of those things at such a low price point, it's sacrificing on something more important (like optics).
I think the Blue Tees Series 3 Max, which you can get for just around $35 more with our code, is arguably a little bit better. It's slightly faster, a bit more ergonomically friendly for my preference, and does include a backlit display without sacrificing optics.
But honestly? The bigger viewfinder of the TecTecTec KLYR makes it just as enjoyable, if not moreso, to use.
As I write this, I'm really thinking hard to see if I can come up with a better recommendation for a golf rangefinder under $200.
And you know what? I can't do it.
If you have a hard budget of $200 and you want a device that looks good, has a nice feature set, and is enjoyable to use? The TecTecTec KLYR is absolutely a rangefinder you should consider.
TecTecTec has rolled out a new generation of rangefinders since the ones I tested years ago. I'm excited to check them out and see if they've made the same strides that they've made with the KLYR.
Best Compact Rangefinder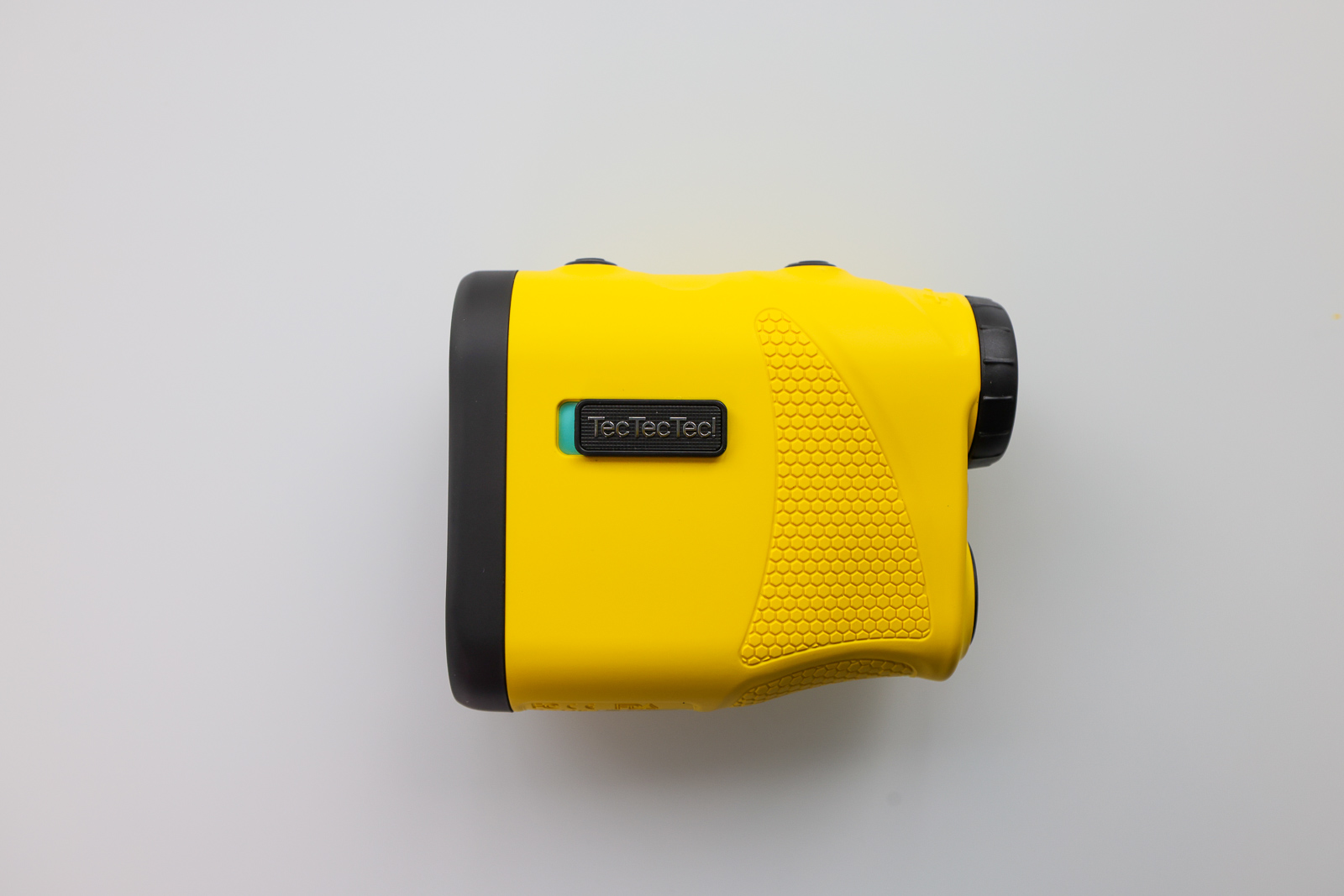 TecTecTed KLYR Rangefinder
The KLYR is miles ahead of the previous TecTecTec rangefinders we've tested. Its optics are fantastic and its compact size make this an excellent budget rangefinder.
Buy Now
We earn a commission if you click this link and make a purchase at no additional cost to you.
This page contains affiliate links. This means that if you click a link and buy one of the products on this page, I may receive a commission (at no extra cost to you!) This doesn't affect our opinions or our reviews. Everything we do is to benefit you as the reader, so all of our reviews are as honest and unbiased as possible.
Good Things
Excellent optics
Compact yet still functional
Nice feature set for the price
Bad Things
Belt clip is a little odd
Size may be too small for large hands
Not waterproof
The Breakdown
---
---
---
---
---