The Breaking Eighty Top 50 Golf Courses in the World (2015)
This was one of my first takes on my favorite courses that I've played.
It was published as our 2015 list, and it should be stated that this was a list of my personal favorite courses I'd played at the time – and is not a list of what I think the best courses are.
See our latest top 100 list for a full breakdown of how I rank courses.
The Breaking Eighty Top 50 Courses in the World 2015
#50: Pumpkin Ridge (Ghost Creek) – Portland, Oregon
The public side of the 36 hole property, Ghost Creek is one of those courses I could play day in and day out. While there are a few pedestrian holes, the majority stand out – especially #3, 6, 9, 16, and 17. When it comes to public golf in Portland, this is as good as it gets.
Full Recap: The Best Public Golf Course in Portland
#49: Pinehurst (#2) – (Pinehurst, NC)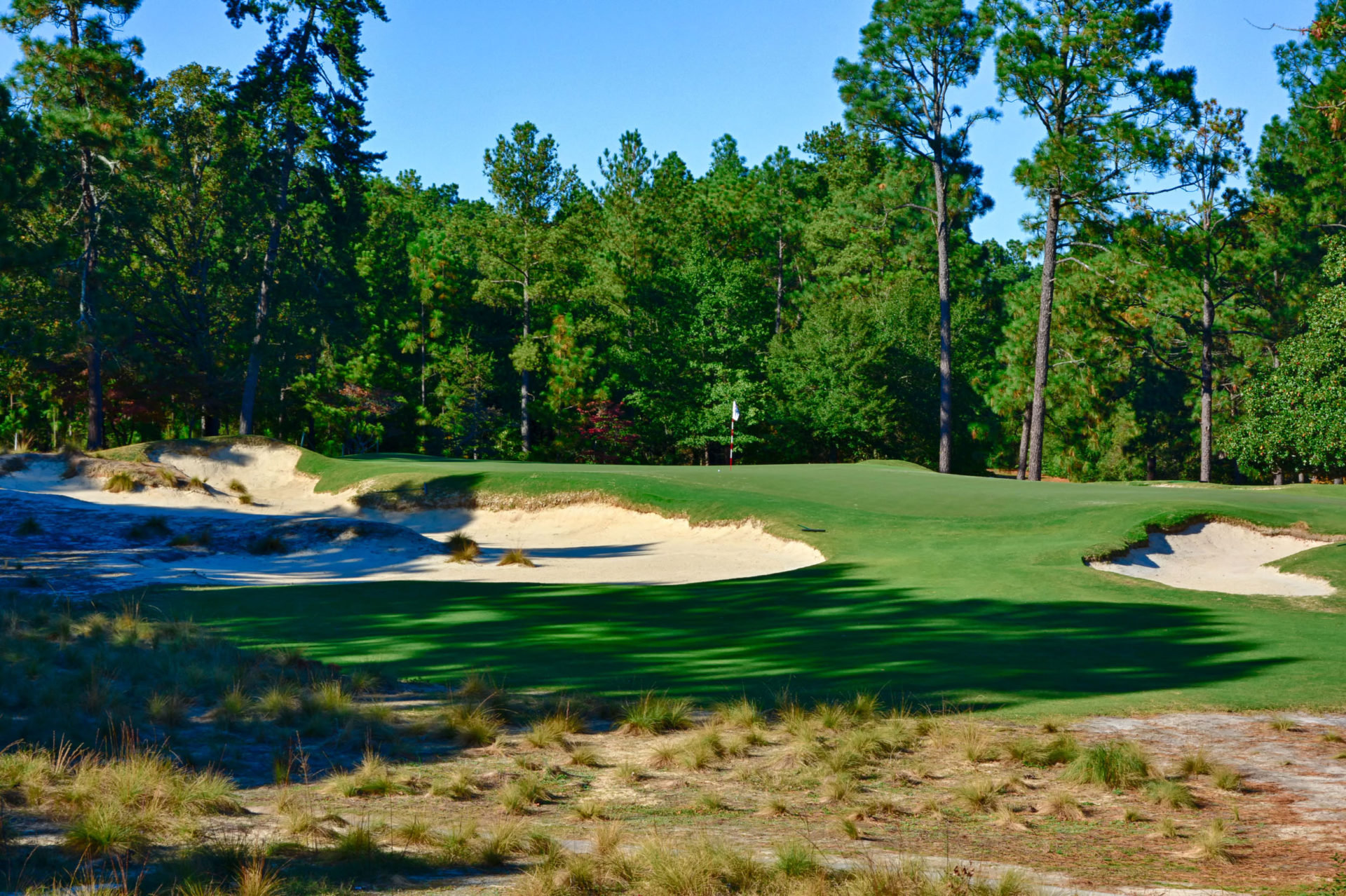 You're probably thinking, "how on earth is this so low?!". The reality of Pinehurst #2? It's a long, difficult golf course. It's worth doing once as a bucket list item, but at $450/round, there are other courses in the area that are immensely more enjoyable. Those Ross greens are pretty spectacular though.
Note: Remember, this is the ranking for my favorites, not my opinion of which are the best!
Full Recap: How I Shot My Best Round Ever on Pinehurst #2
#48: Pinehurst (#8) – Pinehurst, NC
Remember how I said there are more enjoyable courses in the area than #2? Frankly, I found #8 to be more fun and more enjoyable than it's historic big brother. Fun holes and elevation changes make this a solid, and more affordable option on a trip to NC.
#47: Nirwana Golf Club (Bali, Indonesia)
While I was living in Bali in 2011 I had the opportunity to play this course twice, and unfortunately I only remember bits and pieces of the course – as this was before my golf obsession really hit. I'll make it back there one of these days, and if so, there's a good chance it's ranking could climb.
#46: The Country Club (Clyde/Squirrel) – Brookline, Mass
This is another one that the purists will totally hate on me for. The Country Club is one of the most exclusive courses in the country, and playing it was such a special treat. If you asked me to rank it based on the design and architecture – it'd be top 50 in the world.
But for how much I enjoyed it? It's not quite as high. I enjoyed the back 9 much more than the front, but also my experience was skewed having played off season in some pretty nasty weather.
#45: Medinah (#3) – Medinah, Illinois
Another surprising one for many of you I bet. This a great example of a course where if given the opportunity, I'd choose to play here again over some of the courses I've ranked higher. It's a very difficult course, with great difficulty and par 3s that while enjoyable, are a bit repetitive.
Full Recap: Medinah #3
#44: Old Macdonald – Bandon, Oregon
Don't get me wrong I love Old Macdonald, and Golf Digest even ranked it as the #2 most fun course in the country! However, while a very enjoyable course with an interesting story (the hommage to CB Macdonald) the brutally long stretch of 9-12 leaves a sour taste in my mouth every time I play it.
#43: Forest Dunes – Roscommon, Michigan
Forest Dunes is in the middle of nowhere. But the Weiskopf layout is worth the trip. It's in a beautiful region of the country, and you can get some awesome stay and play deals in the fall. The draw is also only strengthening with the opening of their new reversible Doak layout set to open in the next year or two.
Full Recap: Forest Dunes
#42: Pronghorn (Nicklaus Course) – Bend, Oregon
This was the course that started it all for me. My very first top 100 public course I played. I love Bend and Pronghorn. The course has a few of my favorite holes in Oregon (13, 14 and 15) and is a treat to play every time I have the opportunity. Not to be missed on a trip to Central Oregon
Full Recap: Pronghorn (Nicklaus Course)
#41: Carnoustie – Scotland
Carnoustie is kind of akin to Bethpage Black here in the states. It's long, hard, public, and has sort of a no frills vibe going for it. While not nearly as scenic as some of it's other Scottish neighbors, I enjoyed my round here more than expected – and the history is second to none. Just be prepared for a beating.
Full Recap: Carnoustie Golf Club
#40: Tetherow Golf Club – Bend, Oregon
The exact opposite of Pronghorn, Tetherow is one of the most unique courses in the world. It's in the high desert, but the fescue grass has it playing like a links course. It's extremely high on the fun factor, and the greens can leave you some truly terrifying putts. This is one that with another round, I might rank considerably higher.
Full Recap: Tetherow: The Most Polarizing Course in Oregon
#39: Olympic Club (Lake Course) – San Francisco, CA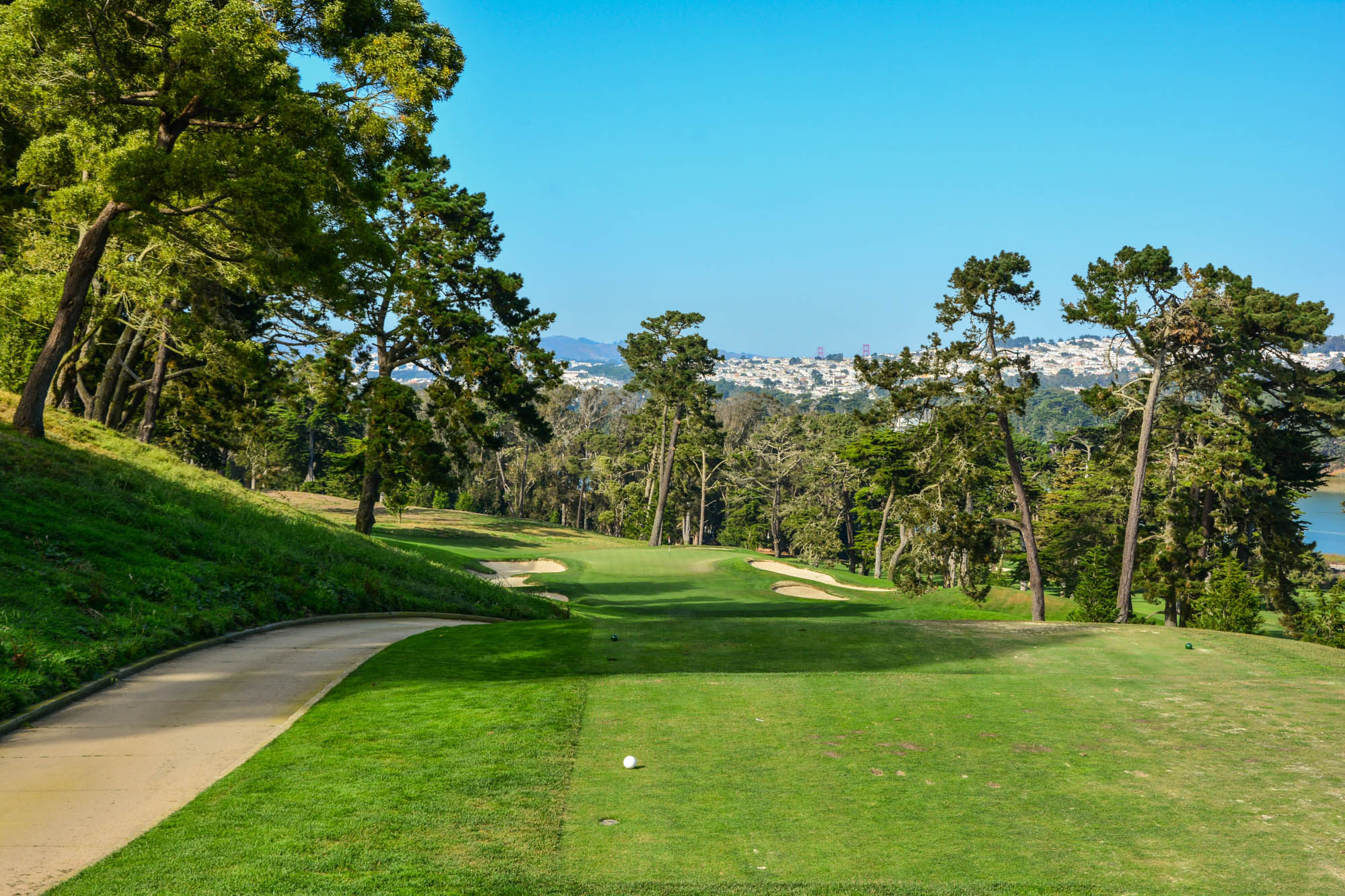 The Lake Course is one of the most difficult courses I've played, but it's always one where I enjoy getting beat up. There are some great views of San Francisco (assuming you get a clear day), and the history of the club is fantastic. One of the busiest and coolest locker rooms I've seen as well.
Full Recap: The Olympic Club (Lake Course)
#38: Atlantic Golf Club
Playing Atlantic was truly something special, as it's one of the most exclusive (and expensive!) courses in the country. We had the whole course to ourselves and it truly was an enjoyable day. But I found the Rees Jones design to get a little bit repetitive at times – and will definitely beat you up if you're not on your game.
#37: Turnberry (Ailsa Course) – Scotland
For a course perennially ranked in the top 20 in the world, I was expecting to like it much more than I did. Don't get me wrong, it's still a phenomenal course, but compared to some of the other courses I played on my Scottish road trip – it didn't do as much for me. Very excited to see the changes Trump makes to 9, 10, and 11.
Full Recap: The Most Scenic Open Rota Course – Turnberry
#36: Spyglass Hill (Monterey, California)
Spyglass may very well have the best opening 5 holes in golf – or at least close to it. However, once we turned the corner on 6 things went downhill for me. There were still highlights of course, but it all felt like a bit of a letdown after such a phenomenal start. Not to mention it'll beat you up, and you pay a fortune to have it do so.
#35: Dormie Club – North Carolina
Coore and Crenshaw are probably my favorite modern designers, and I look forward to hopefully playing many more of their courses in the future. Dormie Club was originally supposed to be a very exclusive private club, but the recession threw a wrench in those plans. Their loss is the public's gain – I'd take this over Pinehurst #2 8 times out of 10.
Full Recap: The Dormie Club
#34: Plainfield Country Club – Edison, NJ
Home of this year's Barclays, Plainfield is a fantastic Donald Ross layout. It starts to border on the "long, championship style" courses that aren't always my favorite, but I really enjoyed my round out here – especially the back nine.
Recap: Photo Tour of 2015 NYC Road Trip
#33: Wolf Creek – Mesquite, Nevada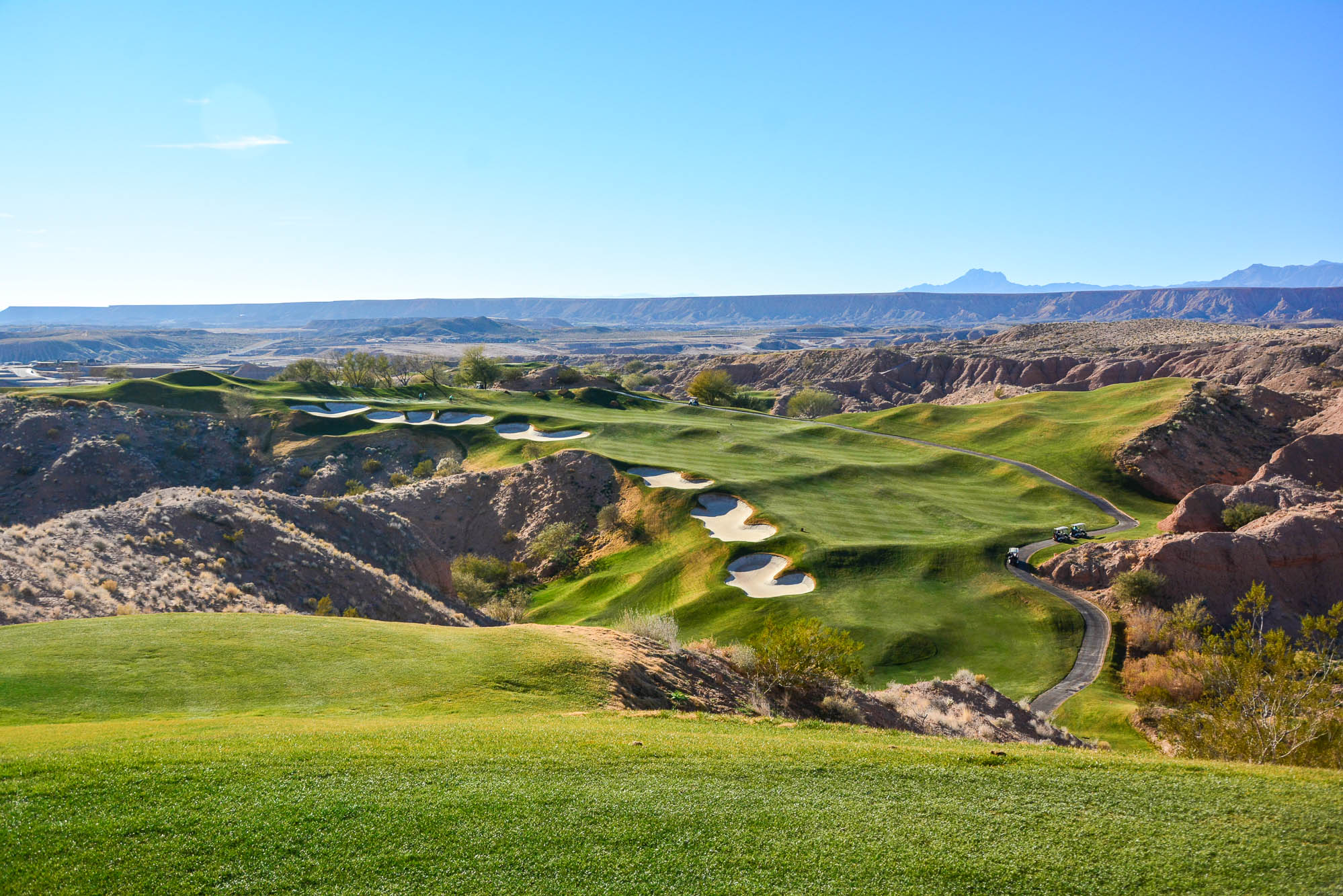 This is like the Six Flags of golf courses. Up, down, left, right – you won't find many courses for just flat out fun and unique experience. You pretty much have to take a cart, and you'll play holes that while not always the most strategic, may very well give you vertigo. This is one of those "must play at least once" type courses.
Full Recap: Wolf Creek Golf Club
#32: Oakland Hills (South Course) – Bloomfield Hills, Michigan
There aren't many major tournaments Oakland Hills hasn't hosted. This struck a better balance of difficulty and hole variety, than say Medinah or Olympic – and the greens are some of the slickest and most difficult I've putted on.
Full Recap: Oakland Hills (South Course)
#31: Bethpage (Black Course) – NY
What many consider Tillinghast's best work, barely cracks my top 3 of his. Bethpage is another course everyone should play at least once, due to it's accessibility and increasing lore in the golf history books. Expect lots of sand, extremely difficult rough, and a brutal walk that will leave you begging for more.
Full Recap: Bethpage Black
#30 Galloway National (Absecon, NJ)
On the outskirts of Atlantic City, Galloway is a course that's largely flown under the radar. It was in absolutely perfect shape, and while it's one of the more difficult courses I've played, I still found it very enjoyable and full of memorable holes.
The short par 4 12th, and par 3 17th are two in particular that really stand out.
#29: Trump International Golf Club – Aberdeenshire, Scotland
Speaking of brutal walks, this might have been the longest, toughest, most difficult walk of my life. – partially due to the torrential wind and rain, I'm sure. I was surprised by just how good Trump's course here really was. It had a modern take on links golf that kept things interesting and fun, even if I thought my lungs were going to give out at times.
Full Recap: Trump International Scotland
#28: Erin Hills – Hartford, Wisconsin
Host of the 2017 US Open, Erin Hills is another very difficult walk, and the course, which can be stretched out to over 8,000 yards is no slouch either. Another course with excellent stay and play deals, if you live in the midwest, this is a must play. I've never been to Ireland, but I feel like this might be as close as I've been.
Full Recap: Erin Hills: Home of the 2017 US Open
#27: Crosswater Golf Club – Sunriver, Oregon
I usually play Crosswater a few times a year, and love it every time. It has a solid variety of holes, forcing you to be very strategic at times (4th hole with extremely shallow green), and to flat out bomb it at others (687 yard par 5, 12th). While I do wish there were a bit more elevation at times, this is a must play when visiting Central Oregon.
Full Recap: Crosswater Golf Club
#26: Pacific Dunes – Bandon, Oregon
Another one that you might expect to be higher. I love Bandon and I love Pacific Dunes, but having played the course 3 times now I just don't love it as much as many other people do – as much as I wish I did.
Full Recap: Pacific Dunes
#25: California Golf Club of San Francisco – San Francisco, CA
Cal Club as most people affectionately call it, has some of the most brutal (and beautiful) bunkering I've ever seen – no surprise, considering Alistair Mackenzie helped with them. This course has flown under the radar, but it's among the best courses in a state full of phenomenal golf.
#24: Pumpkin Ridge (Witch Hollow) – North Plains, Oregon
I may be slightly biased on this one, considering it's my home course – but the setting and variety here is absolutely stunning. The par 5 14th is one of the best short par 5s in the world, and while it may not have the length to host a modern day US Open, it's a course that can still challenge some of the best players in the world.
#23: Myopia Hunt Club – Hamilton, Massachusetts
Walking off the highly unique short par 4, first hole, I knew I was going to like this course. It goes up, it goes down, it goes short, it goes long. It's tradition and history is deep and the course itself is extremely special.
With that said, it seemed on nearly every hole drives I thought were pretty good ended up in bunkers I didn't know were there 🙂
#22: Pronghorn (Fazio Course) – Bend, Oregon
The Fazio course at Pronghorn gets very little play, and as such is in immaculate condition. It's views of the Three Sisters mountains are unparalleled, and the par 3 8th over an ancient lava tube is one of the best and most unique par 3s you'll ever play.
Full Recap: Pronghorn (Fazio Course)
#21: Blackwolf Run (River Course) – Kohler, Wisconsin
When I think of the River Course, the first word that comes to mind is fun. Dye uses bunkers and water, to weave you through a tapestry of different landscapes, and he gives you multiple options on every hole – with the best example of this being the three distinct fairway options on the par 4, 9th.
Full Recap: Blackwolf Run (River Course)
#20: Waverley Country Club – Portland, Oregon
The only course I like more than Witch Hollow in Portland is Waverley, which is situated on the banks of the Willamette, and is Portland's most exclusive club. The recent renovation done by Gil Hanse, has made the course so much better and is worthy of a higher ranking on most lists I've seen.
I also think this course suits my game well, as bunker placement isn't much trouble for pros and is extra penal for higher handicaps. For me as an 8-1o handicap, I found them to be in the perfect positions to make me think about each of my shots.
Full Recap: Is Waverley Country Club the Best Private Course in Portland?
#19: Tobacco Road – Sanford, North Carolina

This might be the most controversial course here, it's very much a love it or hate it course. Personally? I love it. It's unique, rebellious, and features one unique hole after another. It's so good, I'm still trying to convince some of my golfing buddies to fly across the country to play it with me. And at under $100 a round most of the time? It's one of the best values here.
Full Recap: Tobacco Road
#18: The Course at Yale – New Haven, Connecticut
How Golf Digest doesn't have this as a top 100 course is totally beyond me. The conditioning may be lacking compared to many other courses, but the quality and diversity of the holes is absolutely incredible.
#17: Kingsbarns – Fife, Scotland
When I played Kingsbarns the Scottish fog was out in full force (as were the flashing read guidance lights) – but that didn't keep me from immensely enjoying the course. Kyle Phillips did a tremendous job of blending old and new, and making a course that's one of the most fun and enjoyable anywhere.
#16: Pasatiempo – Santa Cruz, California
This was another huge surprise. It was my first Mackenzie course, and is another one Golf Digest didn't have ranked highly. While there may be a few pedestrian holes, more often than not the course is world class with some of the best bunkering I've ever seen.
16 is easily one of the top 5 green complexes I've seen.
#15: Bandon Dunes – Bandon, Oregon
I used to have Pacific Dunes ranked ahead of Bandon, but having played them both a few times since, I just keep finding myself enjoying Bandon Dunes more. The ebb and flow of the course from inland to water constantly keeps you entertained and excited for the next leg of the journey.
Full Recap: Bandon Dunes
#14: Whistling Straits – Kohler, Wisconsin
One of the most well known, and highly ranked public courses in the country, Whistling Straits is grand in every sense of the word. Each of the 4 par 3s rests on the banks of Lake Michigan, and if the views don't distract you and kill your round, the nearly 1,000 bunkers on the course most likely will.
Full Recap: Whistling Straits
#13: Arcadia Bluffs – Arcadia, Michigan
Yes, I said it, I like Arcadia better than Whistling Straits. Whistling Straits is more strategic and demanding, but Arcadia is just a blast to play. Almost every hole has views of Lake Michigan, and while critics will look at holes like 11 and call it a "bobsled course" – that doesn't change the fact that for the average golfer it's a ton of fun to play.
Full Review: Arcadia Bluffs
#12: Hudson National – Croton-on-Hudson, New York
Apparently I have a thing for big downhill holes, as #5 at Hudson National is the epitome of this. Hudson was the first top private I played in the NYC area and I enjoyed it immensely. Fazio created a unique, and fun course that uses elevation change to create a true adventure of a golf course.
Full Review: Hudson National
#11: Somerset Hills – Bernardsville, New Jersey
Somerset was a huge surprise for me. When you think of Tillinghast you think of ball busting courses like Bethpage Black. Somerset is much more subdued and friendly – and I loved it. From the beautiful and severe #2 redan hole, I was hooked.
Integrating features of the land, like the old horse race track on the property make it all the more special.
Thank you Tim, Alex, and John for one of my best golf days of the year!
Full Recap: Photo Tour of 2015 NYC Trip
#10: Diamante Dunes – Cabo San Lucas, Mexico
Diamante is the top ranked course in Mexico, and for good reason. It's essentially a links experience in the desert, and was unlike anything I've experienced before. The views were amazing, and the "all-inclusive" atmosphere makes for a gluttonous, but incredibly rewarding experience.
I also took my favorite golf photo I've ever taken here.
Full Recap: Diamante Dunes
#9: Maidstone Club – East Hampton, New York
This is another one that barely makes the cut for Golf Digest. I've heard complaints that it has a weak opening and a weak finish – but I didn't think so. I thought the course eased you into the round beautifully, and then smacked you in the face with some world class holes.
It's not overly long or difficult by today's standards, but it had just the right amount of personality and quirk to make me fall in love with it.
Full Recap: 2015 NYC Golf Road Trip
#8: The Club at Black Rock – Coeur d'Alene, Idaho
This was the first top 100 course I ever played, and is another one where I could see purists cringe – but there's no denying the course is incredibly fun and scenic at the same time.
The par 4 11th hole with an approach in between two waterfalls is one of the most unique holes you'll ever play, and there's at least 3 or 4 other holes that would be in contention for a top 100 holes list.
Full Recap: The Golf Club at Black Rock
#7: Boston Golf Club – Hingham, Massachusetts
My Boston whirlwind was fun because we got to play 4 of the best courses in the city: Essex County, Myopia, Boston, and The Country Club. Everyone we talked to had a different opinion on how these ranked. I knew I would love Boston. I like modern course designs, and Hanse did an incredible job crafting memorable and strategic holes.
#5, "Shipwrecked," might be the most unique short par 4 I've ever played – and if you know me, you know I love short par 4s!
Also, thank you Jeff for bringing me along on your Boston whirlwind – looking forward to the next one!
#6: San Francisco Golf Club – San Francisco, CA
This proves I don't just like modern designs. SFGC was one of the most special experiences I've ever had on a golf course. It's one of Tillinghast's earliest designs, and similar to Somerset Hills, stands out as being quite a bit different than his other work.
It took me two years to get on the course, but a really big thank you to the two people who helped make this happen. I sincerely hope we can do it again one day, and that I can find a way to return the favor!
#5: North Berwick – East Lothian, Scotland
Often overlooked by many on Scotland trips in favor for Open Rota courses, North Berwick is one that should never be missed. It's home to the original (and best I've played) redan green, and at just over 6400 yards won't scare anyone with it's length.
However, the quirkiness of the course made me fall in love with it. The 16th psuedo-biarritz green might be my favorite green in the world, and the 13th green tucked behind a stone wall is something you won't find anywhere else.
Full Recap: North Berwick
#4: Bandon Trails – Bandon, Oregon
In my previous top 25 list, Bandon Trails was the outright winner. Which many have been shocked by as traditionally it's the lowest ranked of the four courses at Bandon. My rationale? It's the most unique.
Hundreds of courses have ocean.
Very few weave dunes, meadows, and forest together in a way that flows so well. And as for 14? I don't hate it as much as everyone else. Just calls for a different strategy!
Full Recap: How I Broke 80 at Bandon Dunes in the Coolest Way Possible
#3: Cruden Bay – Aberdeenshire, Scotland
You want to talk about adventure golf? It doesn't get much more adventurous than this. It's amazing this course was built so long ago, because it has so many features that I love in the more modern courses I play – you know except for so many blind shots.
There are few things as rewarding in golf as the view from the 9th tee box after the hike to get up there.
#2: Royal Dornoch – Dornoch, Scotland
What's there to say about Dornoch? It's one of the oldest courses in the world, and the more courses I play, the more I see course designers that have been heavily influenced by the course. Tom Watson once said it's "the most fun he's ever had on a golf course."
For me, it's not hard to see why. It's a bit of a trek to get there, but totally worth it.
Full Recap: Royal Dornoch
#1: Pebble Beach – Monterey Peninsula, California
I should preface this by saying, I had lowered my expectations for Pebble after hearing so many people say it's overrated.
I'm sorry, Pebble Beach is an absolutely phenomenal golf course. Not only are the water holes unique and beautiful, but even the inland ones (with one or two exceptions) were still world class.
Someone recently told me Pebble beach was boring. If you think Pebble Beach is boring, I can't imagine what course you would say is fun.
For me, I've yet to see a better combo of fun and excellence in architecture and design. It's that good.
Full Recap: Pebble Beach, a Camaro, and an MVP
Other Notable Courses
Narrowing this list down to 50 was extremely difficult, and if I were to go back and reorder them right now there would probably be some changes.
But here are some courses that are very good, but didn't quite make the cut.
Cog Hill #4 – A very difficult public track, that paved the way for high end public golf.
Kaluhyat – This was originally in the top 50, but barely got bumped out after my most recent Boston trip.
Bay Harbor (Links/Quarry) – Spectacular views and a Jekyll/Hyde set of 9s that keep the round interesting
Essex County Club – A ton of history, and a fantastic back 9. With another play, I bet I'd have this in the top 50.
Blackwolf Run (Meadow Valleys) – A very fun course and not to be missed on any Kohler trip.
Coeur d'Alene Resort – One of the most unique golf experiences you can have. From the pre-round massage, to the heated cart seats, to the famous island green – you'll remember this round for a long time.
So, with that, what courses aren't on this list that you think I should go play? What's your #1 course?
---
---
---